The year is coming to an end, and it's about time we started planning how to end 2019 in the coolest way possible. With Christmas on the way, in addition to the new Frozen 2 trailer which came out recently, we can't help but crave for a winter getaway to some cool (pun intended) places with chilling weather. That being said, you don't have to go all the way to Switzerland and beyond for winter destinations! Just visit these amazing chilly destinations in Southeast Asia instead! 
Thailand
First off, let's start with our neighbouring country, the Land of Smiles, Thailand. This country is so huge in latitude, we often forget about the regions beyond Bangkok in northern Thailand. Did you know that Northern Thailand can be quite chilly in December as the local climate differs from ours on the equator? In fact, temperatures can sometimes drop to as low as 7℃!
Chiang Rai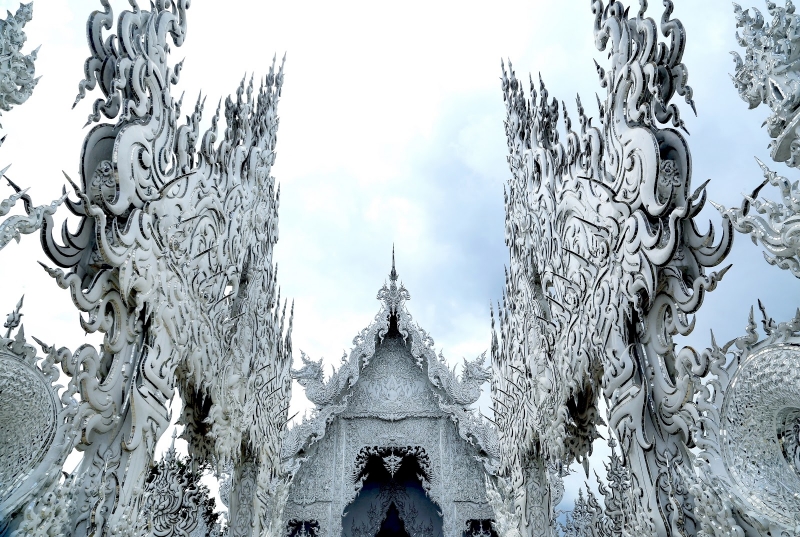 About six hours away by flight from Kuala Lumpur(stopover in Bangkok), Chiang Rai is one of the top destinations in Thailand yet to be fully explored by Malaysian travellers. With temperatures ranging between  28 °C – 15 °C, you will surely be eager to spend your holiday outdoors in the pleasant weather. Actually, the nice weather is a true blessing because Chiang Rai has tons of beautiful attractions to visit. 
Among the must-visit attractions include the White Temple, Blue Temple and Black House. If you are feeling a little more adventurous, you can even check out the stunning Khun Korn Waterfall and Huay Mae Sai Waterfall! Take note that it will require some trekking to reach those places. On the other hand, for one of the most amazing sunrise views in Thailand, consider hiking to the peak of Phu Chi Fa.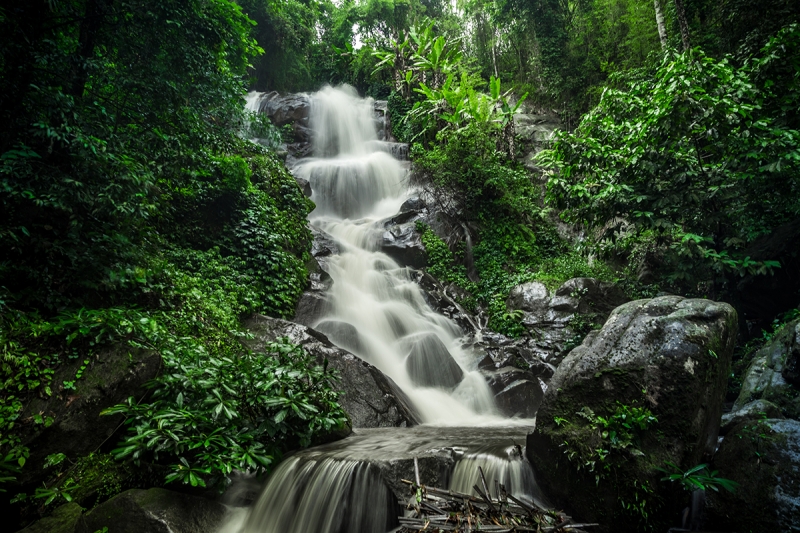 Note: While Chiang Rai is generally cold, it is expected to be even colder this December, with a temperature of about 8 °C. Make sure to pack appropriate clothing! Brrr….
Chiang Mai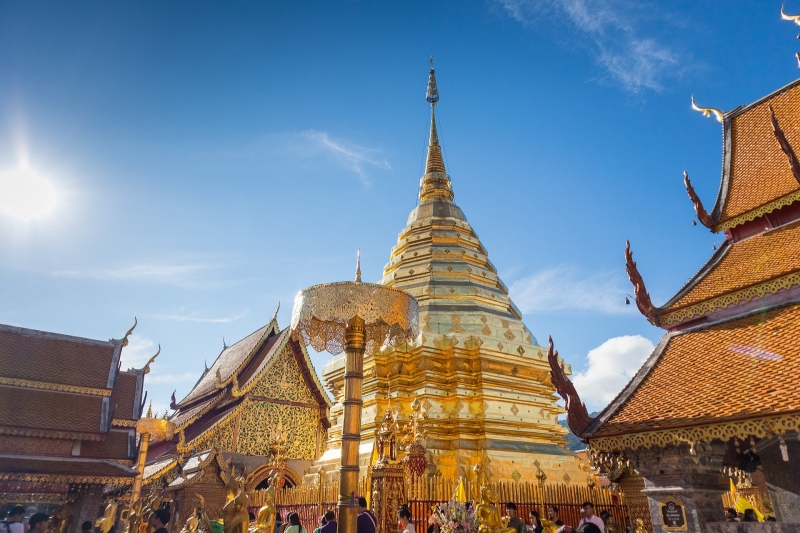 Located right next to Chiang Rai is another beautiful location that you can visit for a chilly getaway – the "Rose of the North" Chiang Mai. Since this city is quite near to Chiang Rai, the temperature profile is quite similar. However, unlike its neighbour, you will be able to fly direct to Chiang Mai from KL, and it takes only about three hours! 
While there, you should definitely visit some of the gorgeous temples around, such as Wat Suan Dok, Wat Pha Lat, and Wat Phra That. The temples themselves are stunning, and are usually located on higher ground, which gives you even more amazing views. You can even have conversations and discussions with the monks at some of the temples! 
For waterfall chasers, take your time visiting Bua Thong Waterfalls (also known as Sticky Waterfalls). If you're not content with enjoying the falls from the bottom, you can actually climb to the top of it because of mineral deposits that protrude out of the water.  However, if you are indeed planning to climb it, do practice caution! Otherwise, you might slip and end up in a…sticky situation. *Ba-dum-tsss*
If you want to relax and have a massage, you could head to Chiang Mai Women's Correctional Institution, where you can get massaged by a prison inmate. It might sound a little weird, but it's definitely a unique experience, and a good cause to boot!
Bangkok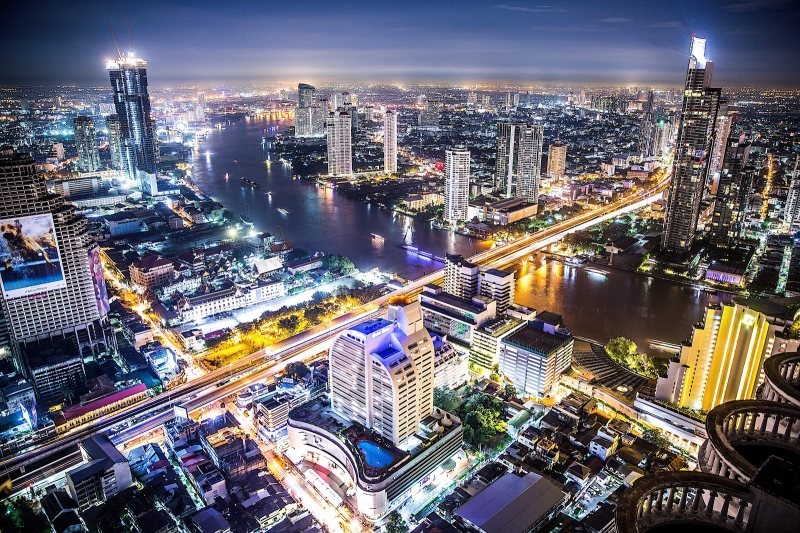 While Bangkok would not usually make a list like this, this year is quite an exception. If you haven't heard, Bangkok is predicted to experience quite a low temperature this December, which is about 15 °C! That is the perfect temperature to explore the most visited city in the world. With direct flights from Kuala Lumpur of about 2.5 hours, you simply cannot miss this opportunity.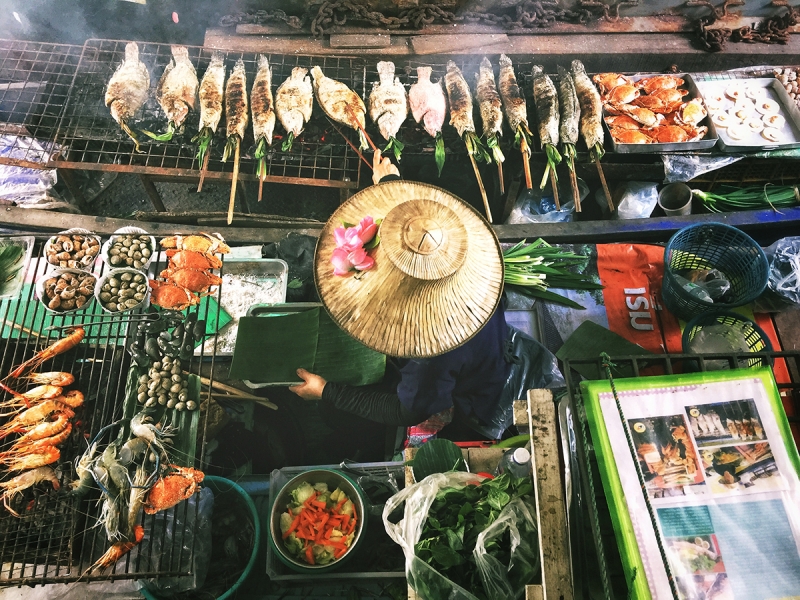 Hop between the staggering Wat Arun, Wat Pho, and the Grand Palace to admire Thai architecture in its most pristine form. Take a day trip to Ayutthaya Historical Park to witness the ruins of the old city of Ayutthaya. Eat all the amazing spicy tom yum, pad thai, grilled bananas and street food along Khao San Road or visit one of the city's famous floating markets for a memorable retail experience! There's just so much to explore and fall in love with in Bangkok!
Also read: 18 Top Things to Do in Bangkok
Vietnam
Next on the list is Vietnam. Famous for amazing coffee, spectacular landscapes, and hearty pho, it is one of the best destinations to travel to in the region, especially if you're in search of cooler temperatures during the end of the year!
Hanoi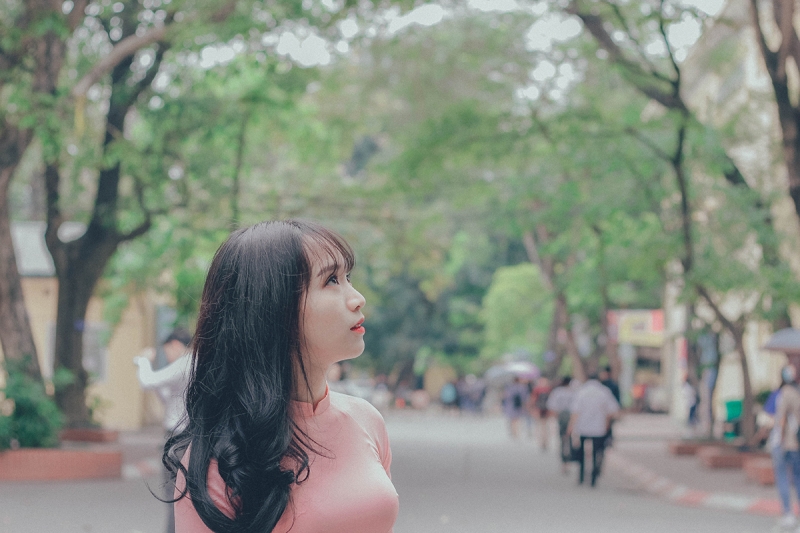 Also known as Little Paris of the East, Hanoi is the capital of Vietnam, and a must visit for any first-timer in Vietnam. It is about a 3.5 hour direct flight from Kuala Lumpur, and has an average temperature of 18 °C, ranging between 21 °C and 15 °C in December. It's the perfect time of year to put on that Christmas jumper you never get the chance to wear and to enjoy an aromatic cup of Vietnamese coffee in the chilly air. 
Must-visit attractions include the Old Quarter, Turtle Lake, Ngoc Son, Temple of Literature, and Dong Xuan Market. For performance art enthusiasts, make sure to visit Hanoi Opera House and catch a world-famous water puppet show! You can learn so much of the local culture and history from these amazing shows.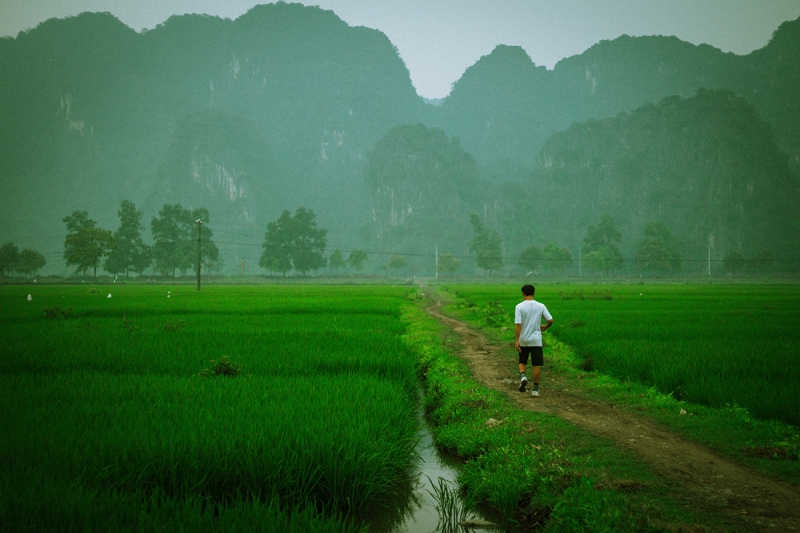 What's more, there's plenty to explore outside the city too! Make sure to dedicate some time for Ninh Binh, Perfume Pagoda, Ba Vi National Park, and of course, the magnificent Ha Long Bay. 
Also read: Exploring Hanoi for First Time Travellers
Da Lat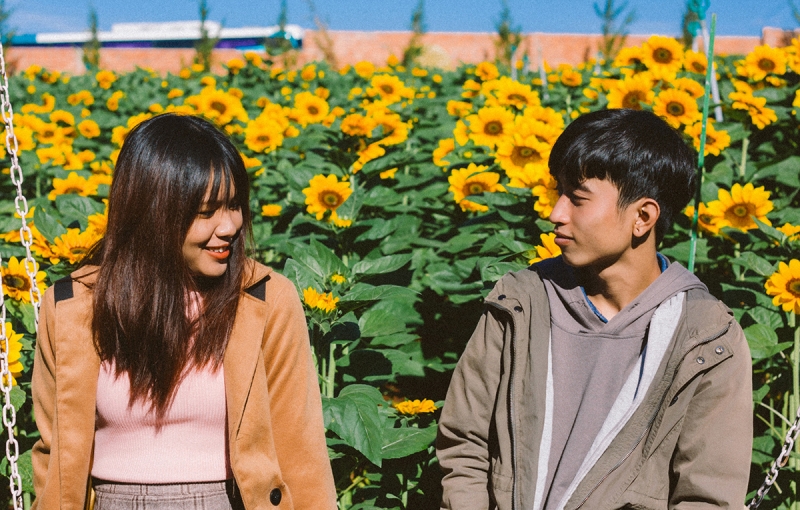 Going by many names, such as "City of A Thousand Flowers", "City in the Fog" or even "Little Paris", Da Lat is like a fantasy come to life. It is located 1,500 meters above sea level, which makes the surrounding temperature quite chilly, with an average temperature of 17 °C. Take it from us, Da Lat is the kind of place you certainly must visit at least once in your lifetime! And since this little travel gem enjoys cool temperatures in December, now is the best time to make plans! 
Expect to visit a lot of Insta-worthy spots like Crazy House, 100 Roofs Bar, Da Lat Train Station, and Bicycle Cafe. Nature enthusiasts, make sure to also visit Datanla Falls, Elephant Falls and Pongour Falls for some of the best natural landscapes!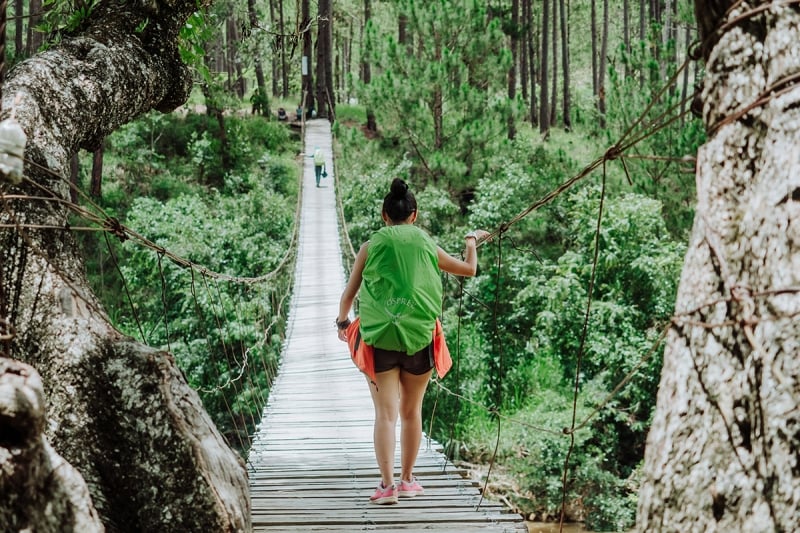 Most importantly, surround yourself with vibrant and colourful flowers at Da Lat Flower Park in the city center and Garden Hydrangeas at Xuan Tho. You could also go for a romantic stroll at Valley of Love or push yourself to the limit by climbing to the peak of Lang Biang Mountain at 2,167 meters above sea level! 
Also read: The Ultimate Guide to Da Lat, Vietnam's Alluring Hidden Gem
Sapa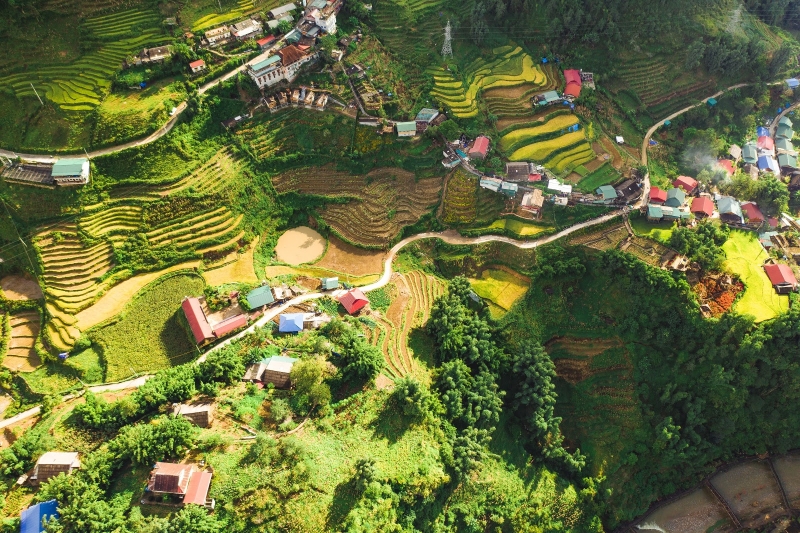 Hidden deep within the Vietnamese mountains lies the ambient town of Sapa, where the traditional culture of the aboriginal tribes is kept alive and thriving. This town has an average temperature of 12 °C, ranging between 15 °C and 8 °C and is easily one of the most breathtaking destinations in the country. 
The downside is that reaching Sapa takes a bit of work. That being said, the easiest way is to first take a direct flight to Hanoi, and then switching to ground transport to reach this mountainous area. Though it takes some effort, Sapa is not a place you want to miss. 
One of the highlights of Sapa is the opportunity for visitors to visit the diverse local tribes and understand their way of life. You can even choose to spend a night or two in the villages if you wish to maximise your experience. 
Another main highlight of Sapa is reaching the top of Fansipan, the highest mountain in Indochina, which is about 3,143 meters above sea level! If you're looking for a workout, you can hike up this mountain through scenic hiking paths within about half a day. However, if you're not a fan of strenuous activities and simply want to enjoy the view, you can take a ride in a cable car to the peak instead!
Much like the rest of Vietnam, Sapa has breathtaking waterfalls too, such as the Love Waterfall, and Silver Waterfall. Make sure to also visit the picturesque Muong Hoa Valley and Cat Cat Village to top it all off!
Also read: 3D2N Sa Pa Itinerary: Uncovering The Hidden Gem Of Vietnam
The Philippines 
When we talk about the Philippines, white sandy beaches with clear turquoise water often come to mind. But did you know that this wonderful paradise of picturesque islands is also home to some pretty chilly destinations too?
Tagaytay
If you are looking for a more relaxing and slow-paced getaway, then Tagaytay is the place to be. The average temperature is at a comfortable 23 °C, which is very suitable for you to spend more time outdoors. 
Among the main attractions in Tagaytay is the iconic Taal Volcano and Lake. Taal Volcano is said to be the smallest active volcano in the world, and you can actually hike up to the caldera, at which you will be able to see the beautiful Taal Lake. Yes, there's a beautiful lake on the volcano, which is a unique sight to say the very list, definitely worthy to be on your bucket list.
Other attractions include the Sky Ranch, Picnic Grove, Tierra de Maria, Caleruega, and People's Park in the Sky. Being the highest point in the city, you can see the entire cityscape of Tagaytay from this park, as well as the majestic Taal Volcano. 
Baguio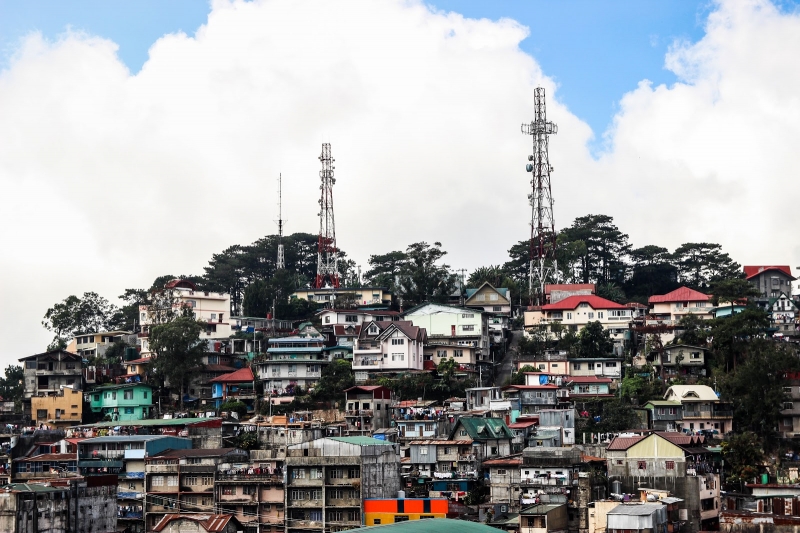 For those curious about the ancient cultures and heritage of the Philippines, you can check out the city of Baguio. Located about 1,470 meters above sea level, Baguio derives its name from the Ibaloi word "bagiw", which means "moss", due to the cool local climate. It certainly deserves the name as the average temperature is only about 14 °C! 
Make sure to check out artistic villages such as Tam-Awan Village, or Ifugao Woodcarvers' Village to observe the preserved local heritage, or perhaps visit the weekly Pasakalye Art Festival to admire local paintings, sculptures, and live sketches.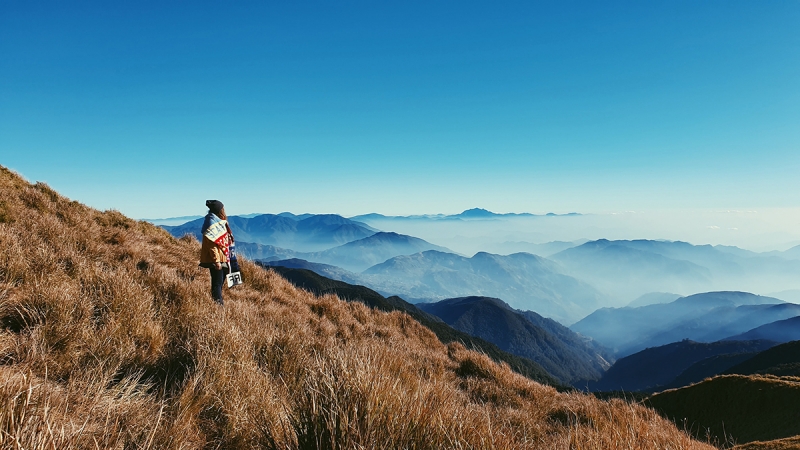 Live and breathe the local life by shopping where the locals shop at Baguio Night Market or Baguio City Public Market. Nature lovers, visit Mount Pulag National Park for the most spectacular cloud formations. If you camp overnight, you might even be able to view the majestic Milky Way in all its starry allure when the skies are clear!
If you have the time, take a day trip or two to visit La Trinidad, a neighbouring city which is popular for its strawberry fields, and the colourful Colors of Stobosa. 
Sagada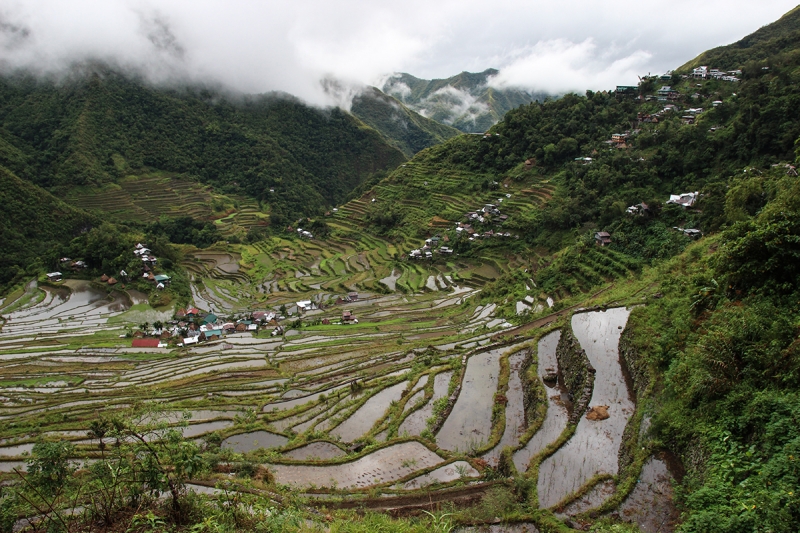 No trip to the Philippines is complete without fully indulging in the beauty of nature. Of course, some physical endurance, and the willingness to get your clothes and shoes dirty goes a long way to help you do that. For one of the best nature escapes in the Philippines, you've got to visit Sagada. There are multiple ways to get here once you arrive in the Philippines, so make sure that you plan ahead of time. 
Among the must-do things here include trekking to the Sugong Hanging Coffins and Echo Valley; dipping yourself in the freezing cold Bomod-ok Falls, spelunking at Sumaguing Cave and Lumiang Burial Cave, hiking up Mount Ampacao, and watching the sunset at Lake Danum. Oh, you definitely must also visit the Kapay-aw Rice Terraces. It's going to be a lot of cardio, but it will be an amazing experience. 
Also read: A Malaysian Globetrotter's Guide To The Philippines: 20 Experiences To Scratch Off Your Bucket List
Laos
While Laos is seldom on the bucket list of some travellers, it has so much to offer in terms of history, culture, food, and nature. And because it is less touristy than its neighbouring regions, you can have a splendid getaway in this beautiful country without being crowded by tourists!
Luang Prabang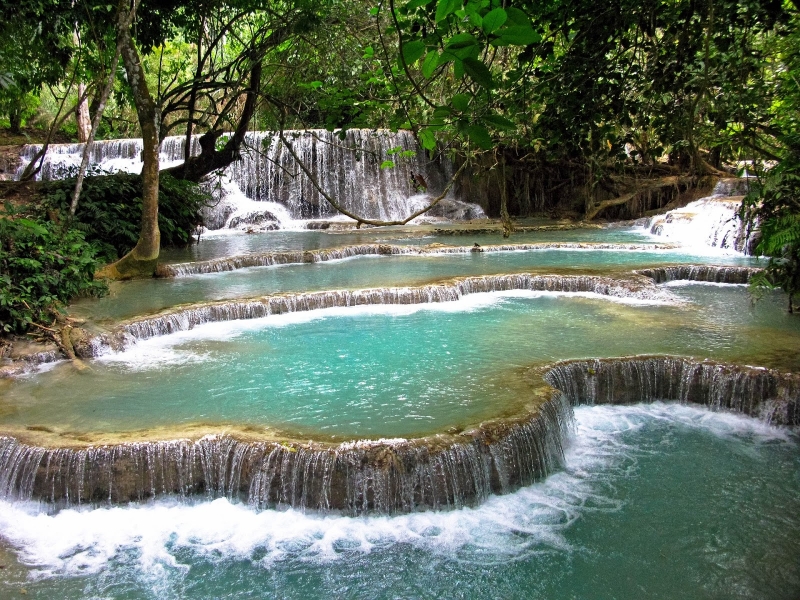 Located right next to the Mekong River, this city is often called the "Heart of Laos" and is full of wondrous temples and scenic locations. With an average temperature of 21 °C, Luang Prabang is 5.5 hours away from KL by flight. You will likely have to transit in Bangkok as there are no direct flights to this wonderful location. 
In Luang Prabang, you can find 33 enigmatic temples scattered throughout the city, the famous one being Wat Xieng Thong. Wake early in the morning to observe the alms giving ceremony, a tradition that has been preserved since the 14th century. Climb 300 steps of stairs up to Mount Phou Si for an amazing panoramic view of the city. Also make sure to visit the majestic Kuang Si Waterfall! As you listen to the thunderous roar of the cascading falls, take a minute to take in the wondrous sight and immerse yourself in nature.
Vientiane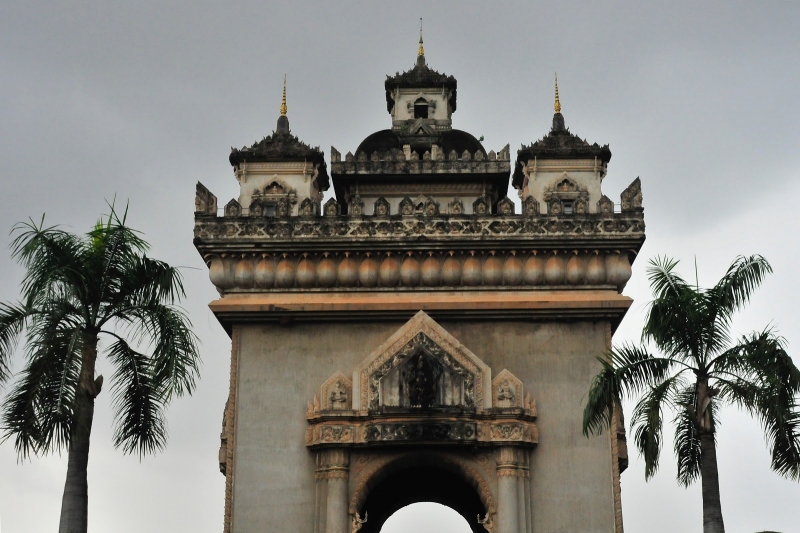 The capital and largest city of Laos is where you can find a mix of eastern and western influence in the architecture and food. Meaning "city of sandalwood" or "city of moon", depending on the school of thought, Vientiane is only three hours away from Kuala Lumpur and when it gets cold in December, posts an average temperature of 21 °C.
One of the main attractions here is the Patuxai Victory Monument that resembles the Arc de Triomphe in Paris. The difference is that it has symbolic carvings of Hindu deities, with pillars that resemble traditional Laotian buildings.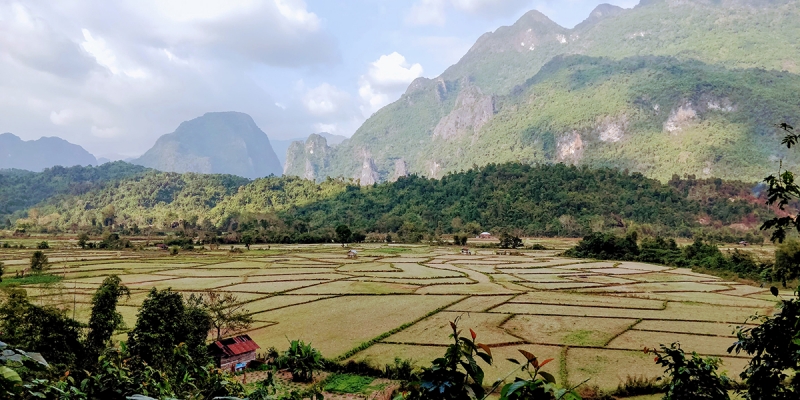 Apart from that, you can visit Xieng Khuan Buddha Park which has more than 200 religious statues scattered throughout, with a reclining Buddha that is 40 metres high being the centrepiece. Other iconic landmarks include Pha That Luang, Wat Si Muang, and Wat Si Saket. This city is so rich in culture and history, you will be overwhelmed! 
Malaysia
Last but not least, we cannot forget our own country that is blessed with so much natural beauty. If going to foreign countries takes too much effort or money, Malaysia has several destinations that you can visit for a couple of days or more to enjoy some cool weather too!
Cameron Highlands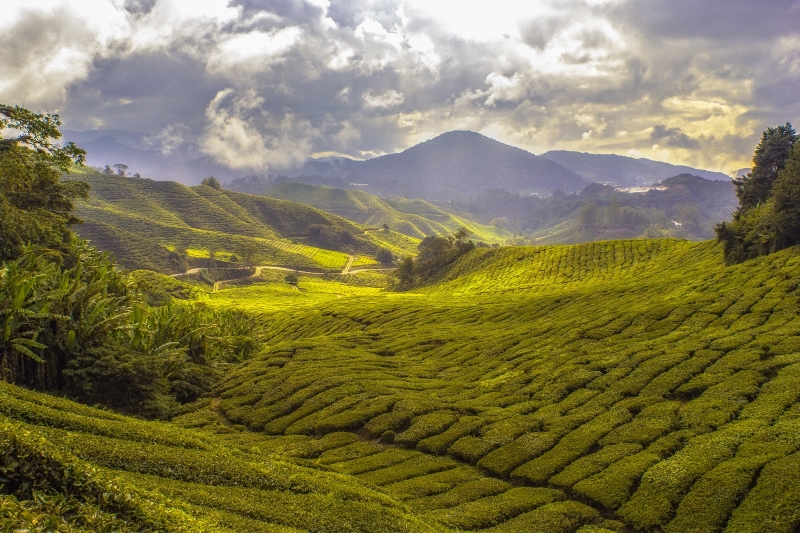 Oh, our beloved Cameron Highlands! It needs no elaborate introduction. With its vast tea plantations, colourful strawberry farms, lavender gardens, and rolling hills, it's easy to see why it's one of our most treasured getaway destinations! If you're up for it, you can even hike up Mount Brinchang and trek through the Mossy Forest for something most visitors don't do! It will be magical. 
Bukit Tinggi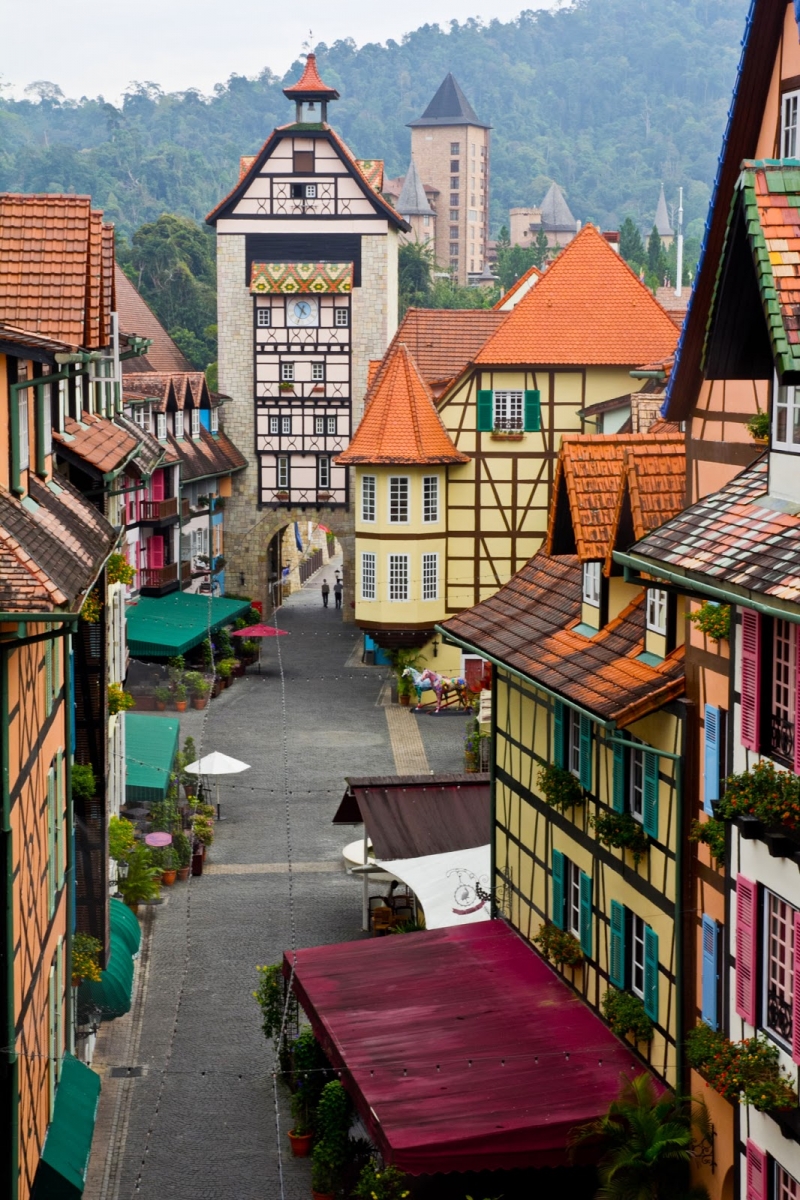 Have you ever wished that you could visit Europe and Japan, but never seemed to have the right opportunity? At Bukit Tinggi, you can check off both of these items on your bucket list at the same time! And you don't have to spend a lot on flight tickets either! 
Colmar Tropicale French Village is where you can surround yourself with buildings that resemble the town in Beauty and the Beast and feast on some authentic French cuisine. You can also enjoy a fresh cup of coffee while you let the cool breeze brush against your face. 
On the other hand, the Japanese Village at Bukit Tinggi, complete with its own zen garden, is a massive ode to Japanese architecture and culture. Fancy some sushi and fresh green tea? This is the place you'd want to visit!  Where else can you say "Bon appetit" and "Itadakimasu" simultaneously but Bukit Tinggi? 
Kundasang
If France and Japan aren't your cup of tea, perhaps you prefer visiting New Zealand with its vast pastures and alluring natural scenery? Then you'll want to visit Kundasang (Sabah), the highest settlement in all of Malaysia! Located at 1,900 metres above sea level, Kundasang is pretty much Malaysia's own New Zealand, especially with attractions like Desa Dairy Farm in the shadows of Mount Kinabalu! 
Other than the beautiful farm where you can enjoy awesome scenery and try delicious homemade ice cream, you can also go paragliding, soak in the natural Poring Hot Spring, hike up Sosodikon Hill and Maragang Hill and stare into the starry night sky. 
So what are you waiting for? The year is coming to an end, it's time to make use of your hard-earned annual leave allotments!