What would you do if I told you right now that there's a destination right under our noses that offers some of the best travel experiences in the world? That's right, Malaysians, I'm talking about the Philippines. With its gorgeous islands and stunning natural beauty, the Philippines is a traveller's paradise! Don't believe me? Let me change your mind! Whether you prefer relaxing on the beach or hiking a picturesque volcano, one flight is all it takes to dive into the Philippines' wonders!
Can't wait to start your adventure in the Philippines? Then let Cebu Pacific fly you to your next dream destination! Watch this video to know why Cebu Pacific is your best choice for an affordable start to your Philippine vacation.
Let's get right into it then! Here's a list of 20 quintessential experiences every Malaysian traveller should scratch off their Philippine bucket list. Get ready for an epic travel experience!
Blissful island getaways for beach bums
1. Enjoy a relaxing vacation on the world-famous Boracay Island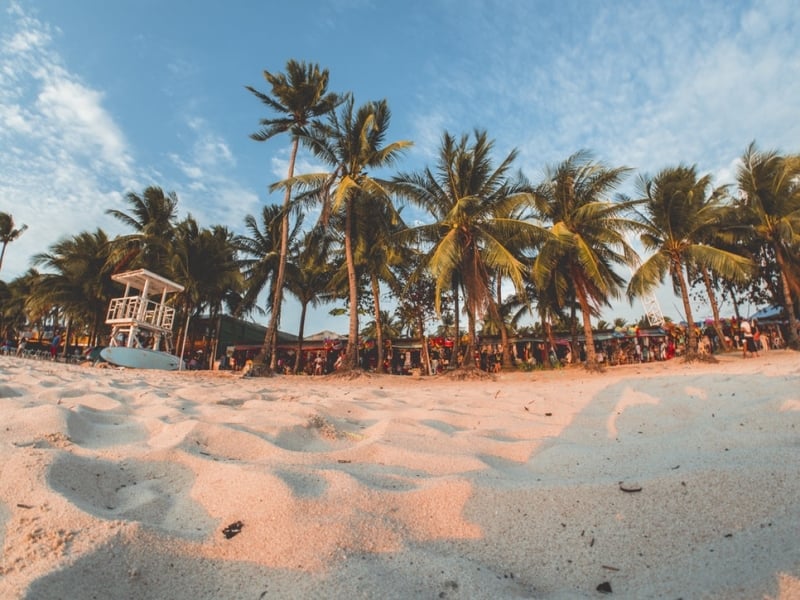 Of course we had to start this list with Boracay! Easily the most famous of all destinations in the Philippines, Boracay is the epitome of a blissful island vacation. When in Boracay, make a beeline for White Beach, known for its soft white sand that stretches over four kilometres! As you walk along the shore set against an ambient backdrop of swaying palm trees and crystal clear waters, your worries will surely fade away!
You could also visit Diniwid Beach, Ilig-Iligan Beach or the Puka Shell Beach as well. And while the parties have significantly toned down since its six-month environmental rehabilitation last year, there is still plenty of nightlife to enjoy in the many pubs and bars in the area! The only problem here is not wanting to leave for your flight back home!
2. Go kayaking on the bluegreen waters of Sohoton Cove at Siargao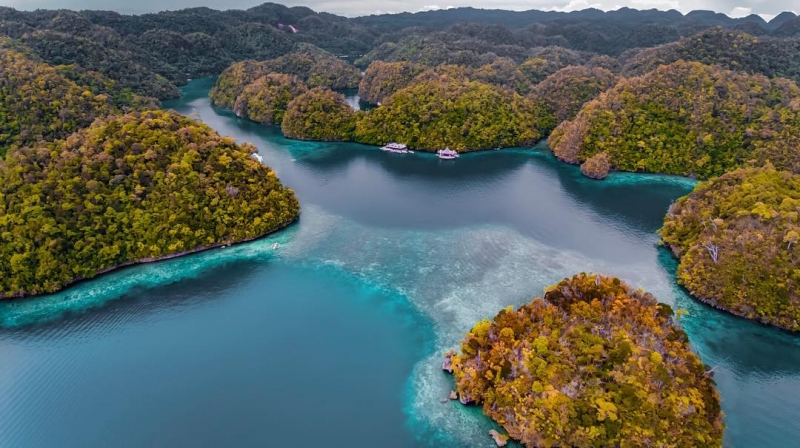 If you're looking for a more exciting island getaway, then Siargao is the place you'll want to visit. Featuring idyllic beaches set against photogenic palm trees, this tear-shaped island offers the perfect balance between a relaxing beach getaway and thrilling seaside activities. One attraction we highly recommend is Sohoton Cove National Park. At this scenic location, you can go on a soothing kayaking journey on waters that are a mesmerising shade of blue and green combined. All this whilst surrounded by verdant, picturesque scenery.
What's more, Siargao is also known as the surfing capital of the Philippines. In fact, some even say that it's the best surfing paradise in all of Asia! The municipality of General Luna (also known as Cloud 9) is where surfing aficionados can catch some awesome waves but If you're just starting out, we suggest gentler surf spots like Jacking Horse or Daku.
3. Explore the pristine islands of Coron and El Nido in Palawan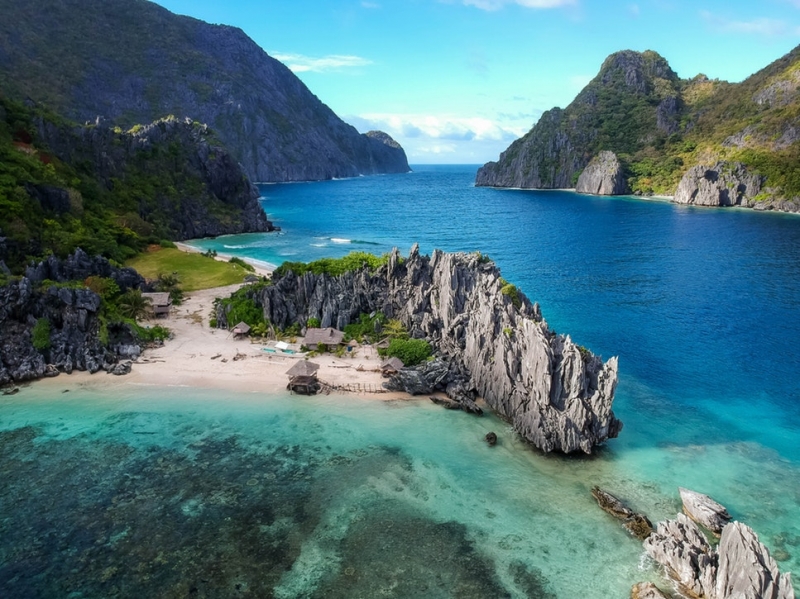 Many travellers often refer to Coron and El Nido in Palawan as some of the most beautiful places in The Philippines. I beg to differ. I think they're some of the best in the world! While El Nido is lovely in its own right thanks to its alluring lagoons and secluded beaches, Coron truly captivated my heart when I first laid eyes on it.
Filled with Insta-worthy scenery almost anywhere you look, this remote tropical island is genuinely one of the most diverse landscapes in the Philippines. On one hand, there are pristine beaches and the emerald green waters of Coron Bay, and on the other, there are towering limestone cliffs and a majestic mountain in the form of Mount Tapyas. Make sure to visit the idyllic Kayangan Lake and the Twin Lagoon, both popularly considered as hidden natural treasures on the island.
4. Fall helplessly in love with the dreamy coastal scenery of Batanes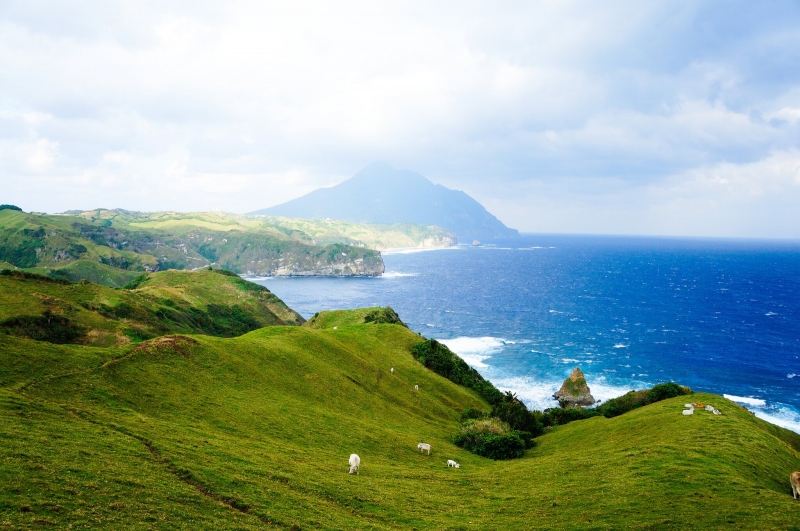 Surrounded by rolling hills, lofty cliffs and deep canyons, Batanes is akin to a location taken right out of a fairy tale. The "Home of the Winds" is not as well-known among international travellers as some of the islands mentioned above but thanks to its wondrous scenery, it more than holds its own. This surreal natural haven is a popular hotspot for local travellers, and that's not a surprise given the island's unique landscape and untouched natural beauty.
Chadpidan Beach with its rustic boulder-lined shore is the go-to attraction here. If you have the time, you should also take a detour to the Insta-worthy Homoron Blue Lagoon and frolic in the waters whilst surrounded by verdant hills and volcanic boulders.
5. Swim alongside the handsome sea turtles of Apo Island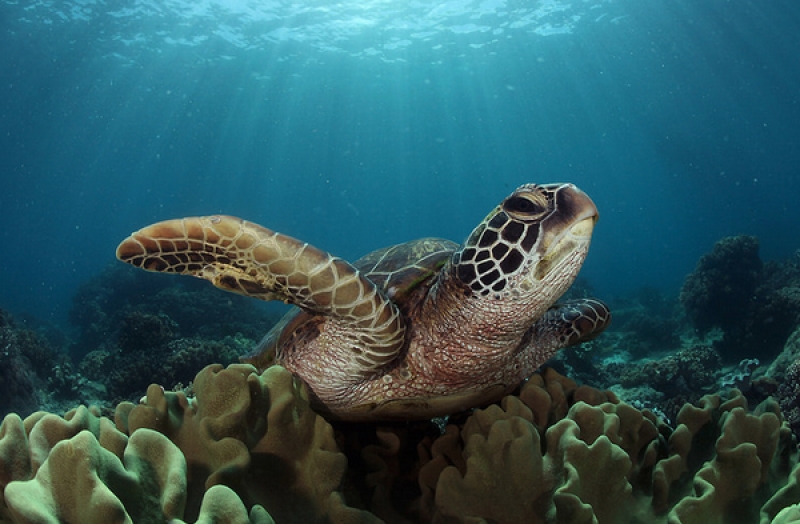 If you're anything like me, you'll probably still remember the standout scene from Finding Nemo (2003) where Dory and Marlin hitch a ride on a group of turtles. While I can't confirm (nor deny) that the turtles swimming off Apo Island in Negros Oriental are just as chill as the ones in the movie, it certainly is quite a unique experience to swim alongside them in the ocean!
As you do so, you can get an up close and personal experience with these majestic creatures. However, do make sure to keep a distance from the turtles. The last thing you want to do is stress them out by getting too close to them, right?
Apart from the turtles, you'll also be able to see plenty of beautiful aquatic life forms on the ocean floor. And as a personal tip: while turtles might appear slow on land, these guys can really swim so you'll need to be at your best if you want to keep up!
ADVENTURE AWAITS – BOOK YOUR FLIGHTS TODAY!
6. Rent a boat and go dolphin watching at the oasis known as Manjuyod Sandbar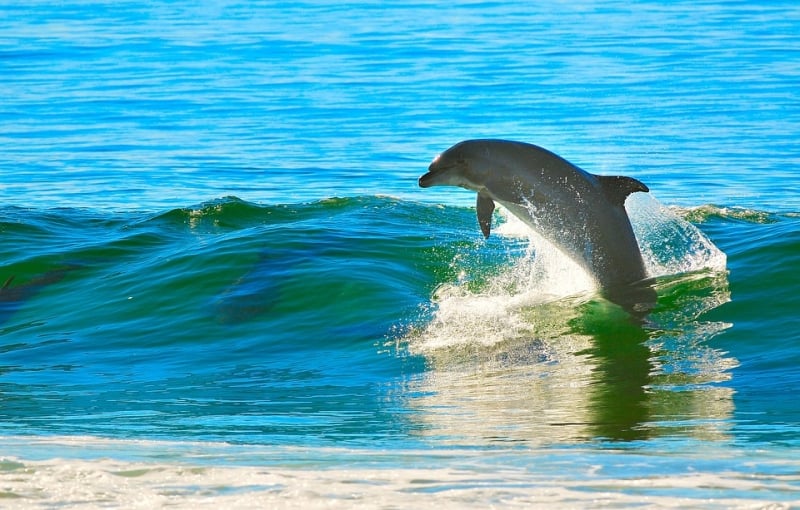 The Manjuyod Sandbar is a mesmerising oasis located in Bais City and is sometimes known as the Maldives of the Philippines. Pristine beaches and ambient beach shacks aside, the most unique activity here is dolphin watching. At Manjuyod, you'll be able to hop aboard a small boat and head out into the water and attempt to catch a glimpse of a jolly dolphin jumping out of the water.
Of course, success will be purely down to your luck on the day you visit. After all, the dolphins won't simply appear on cue! So luck will be an integral part of this activity. If you do get lucky and spot a dolphin out of water, you can be sure that it'll be a sight you won't soon forget! Don't forget to cross your fingers now!
7. Witness the magical Sardine Run of Moalboal, a natural wonder unlike any other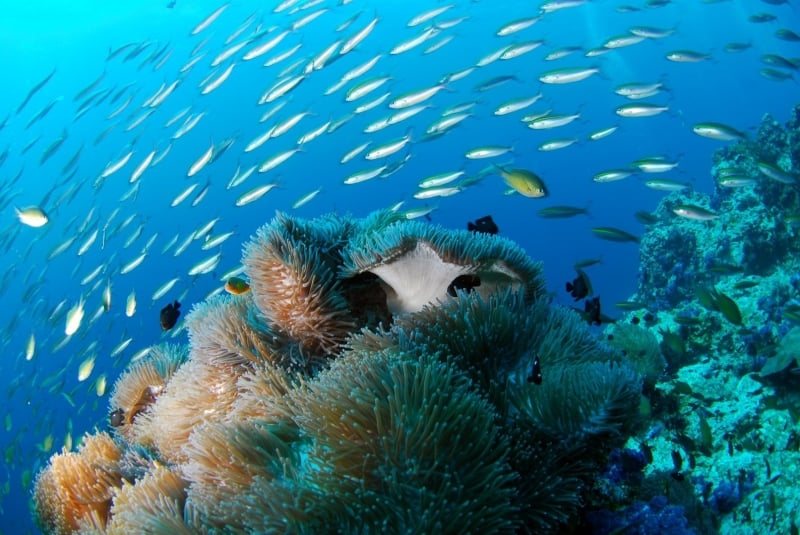 There's a stark contrast between reality and fantasy, but sometimes that line can definitely be blurred. What do I mean? Well, for example, we can't all be Aquaman but if you were to head to Pescador Island in Moalboal, you can be a part of one of the underwater world's most magical wonders.
The Moalboal Sardine Run is a daily natural marine phenomenon where millions of sardines swim in formation as they feed on plankton found in reefs on the ocean floor. The sight of hordes of fish (sometimes numbering so much they block out the sun!) is truly a mesmerising sight to behold! Trust me, you don't want to miss this surreal once-in-a-lifetime experience!
Ambient cities to explore for a complete cultural immersion
8. Take time to discover the charming attractions in Manila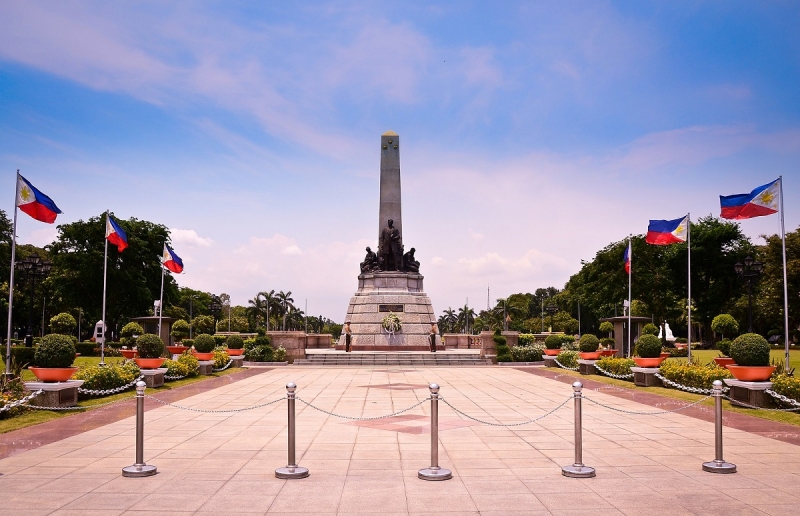 Without a doubt, Manila is the city that most people visit first in the Philippines. It is the gateway to the country's beautiful heritage and a fitting introduction to the many wonderful experiences that await. From incredible museums and galleries to ambient historical centres, delicious street food, unique urban parks and exciting nightlife, there's plenty to do in Manila! It's definitely more than just another bustling metropolis.
Even if you're short on time, we highly recommend that you visit these places: Spanish-era Intramuros, Rizal Park, Greenhills Shopping Centre, and the National Museum Complex. Consider that the "Manila Travel Starter Pack" if you will!
Also read: 48 Hours in Manila: Top Things to Do for the Weekend Warriors
9. Immerse yourself in the rich cultural heritage in the City of Vigan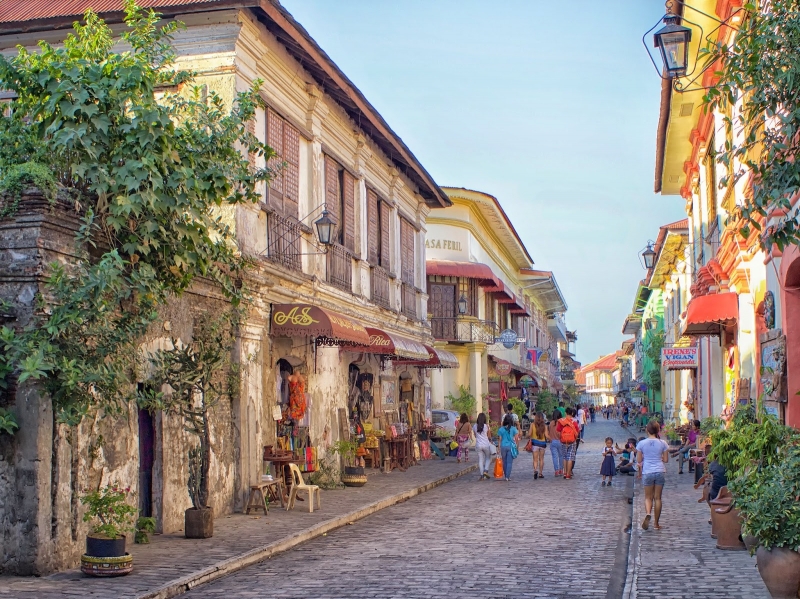 Strolling through the cobbled streets of Vigan, you might be forgiven to think that you've somehow travelled back in time and wound up in some random Hispanic neighbourhood. That's the charming vibe of Vigan (I shall refrain from making any vegan puns), a city far removed from the chaotic scenes of Manila rush hour traffic.
A UNESCO World Heritage City, Vigan captivates visitors with its Spanish colonial-style buildings and architecture, an ode to the city's colonial past and Hispanic heritage. Given the general ambiance of the city, the perfect way to explore it is to hire a traditional kalesa and embark on a slow horse-drawn carriage ride through the city.
Fun fact: Did you know that Calle Crisologo in Vigan is the most well-preserved Hispanic street in Asia? Couples will love the vintage brick walls and quaint cafes that exude a romantic vibe. Date plans anyone?
10. Trace the history of the Philippines to its core at Cebu City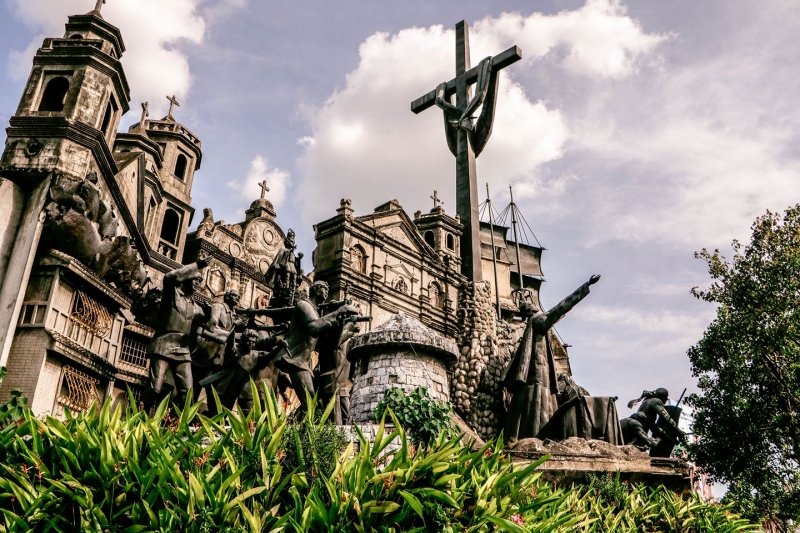 The best way to describe Cebu City would be that it reminds me very much of my hometown of Penang. It's got popular beaches, a rich cultural heritage, amazing food, and a diverse selection of modern and traditional attractions. If that's anything to go by, you should already know that exploring Cebu City should be one of the top priorities on your Philippines bucket list!
Also read: Fly To Cebu NOW — Here's Why And Where You Should Go
Despite its duality as a city, Cebu City's main attraction is still its cultural connection to the past. Thanks to its array of historical monuments like Magellan's Cross and Fort San Pedro, Cebu is the perfect place to rediscover the historical roots of the Philippines and one destination history buffs won't want to miss.
BOOK YOUR TICKETS TO CEBU NOW!
11. Go on an epic food tour in the city of Pampanga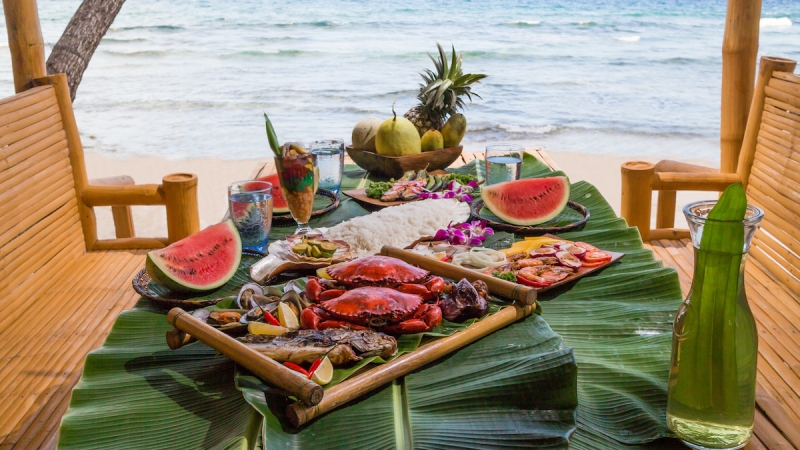 What's a Malaysian without food, am I right? Well, to all you foodies out there, allow me to introduce you to Pampanga, the culinary capital of the Philippines! If you're yearning for a taste of the best dishes the Philippines has to offer, then a foodie tour in Pampanga is a must!
Some of the city's most popular local dishes are sisig (a savoury, sizzling dish made of pork and chicken liver and served with calamansi, onions and chili peppers), tocino (local salty-sweet bacon), aligue (crab fat, usually served with fried rice), and morcon (spiced chorizo). Of course, there's a lot more street food to sample in the city so make sure you bring an appetite!
Natural havens for adventurers and nature lovers
12. Be mesmerised by the enigmatic Puerto Princesa Underground River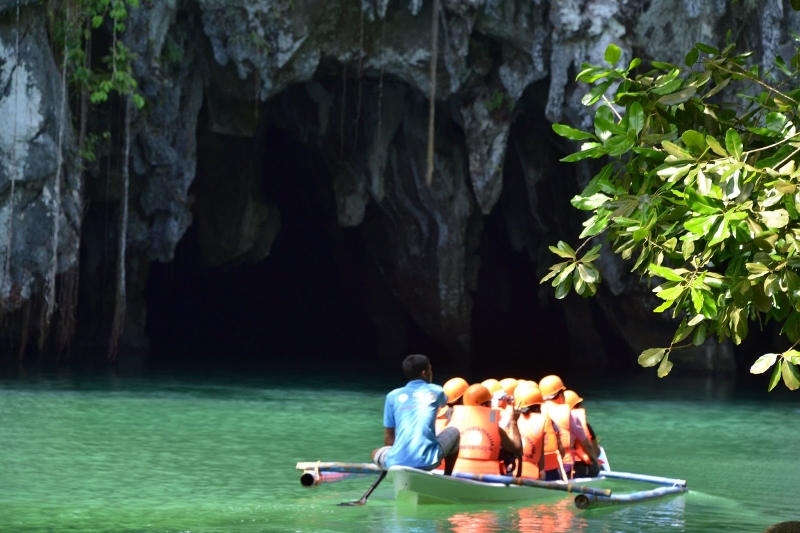 No matter how many times I do it, I can't say this enough: Palawan is truly a magical place of beauty. Case in point? The Puerto Princesa Underground River. This eight-kilometre long river is a UNESCO World Heritage Site and a must-see when visiting the province. It snakes its way around a fascinating limestone karst cave system and was once thought to be the longest of its kind.
The best way to explore this alluring location is to go on a guided boat tour. As you paddle your way around, you'll be treated to interesting bits of trivia courtesy of your guide. Though in all honesty, you'll probably be too preoccupied with the beautiful scenery to hear much of the info!
13. Embark on a hiking adventure at the active Mount Mayon volcano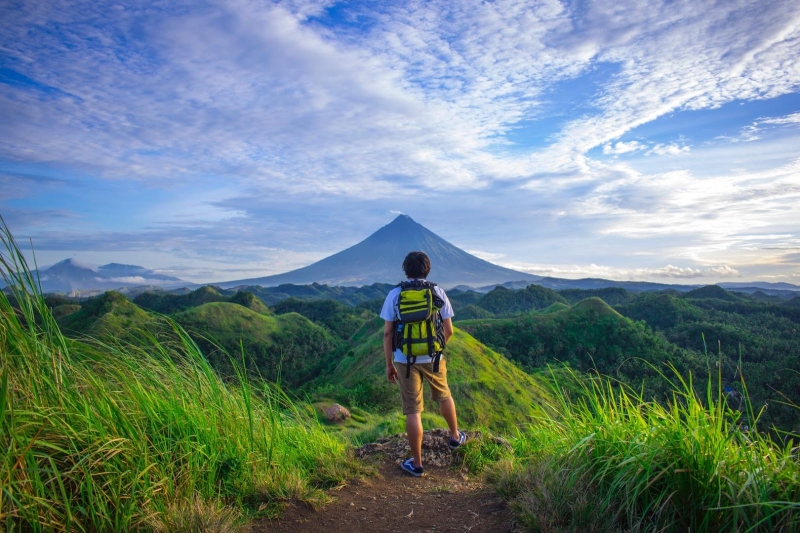 Did you know that the Philippines is home to no less than 25 active volcanoes? While a volcanic eruption is nothing to laugh about, it's undeniable that volcanoes are also home to some of the most mesmerising scenery in the world. For those willing to risk the arduous journey, the reward is a view that will last a lifetime. Mount Mayon is an active stratovolcano located in the province of Albay in Bicol Region.
It's defining characteristic is its near perfect shape that makes it look like it belongs in a Bob Ross painting. Considered one of the world's most beautiful volcanoes, Mount Mayon continually thrills hiking enthusiasts with its steep climb and awesome views at the end. Take it from me, it's no walk in the park so make sure you come prepared. In addition, you'll also want to check on Mount Mayon's eruption status before planning your trip.
14. Admire the incredible scenery of the famous Chocolate Hills in Bohol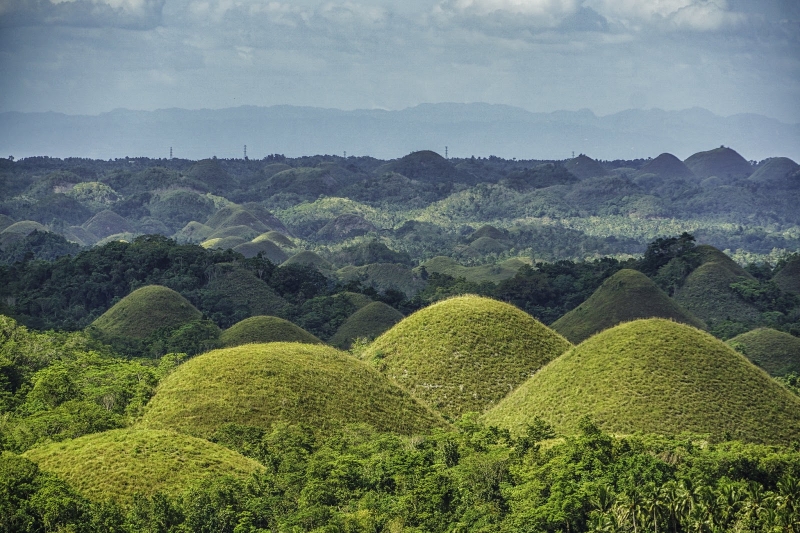 If hiking up a volcano seems too extreme of a task, then let's do a complete 180 and talk about the enigmatic Chocolate Hills in Bohol. These iconic hills are one of the most easily recognisable sights in the country, often found on postcards and other souvenirs. It consists of a series of grassy hills that spread across multiple municipalities in Bohol.
You might be wondering why they're called Chocolate Hills when they look so verdant and green. That's because the grass on the hills turn a deep shade of brown during the dry season. And thanks to their unique shape, when that happens, they look like giant chocolate Kisses on the ground!
15. Light up your Instagram feed with stunning photos of the Banaue Rice Terraces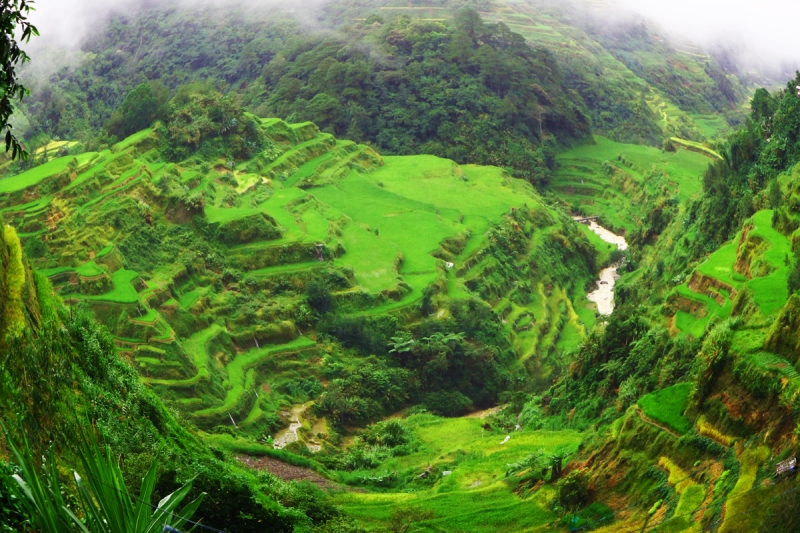 When most people hear "rice terraces", they immediately picture the scenic Yuanyang Rice Terraces in China. However, what if I told you that the Banaue Rice Terraces in Ifugao is equally enchanting and has even been dubbed the eighth wonder of the world? I bet that got your attention!
Constructed more than two millennia ago by the indigenous people of Luzon, the Banaue Rice Terraces rise, tier upon tier, alongside majestic mountains. Some of them even reach as tall as five thousand feet! You can choose to hike up to the best vantage points or simply hire a tricycle for ₱200 (RM16). Either way, you'll be at a loss for words when you gaze upon the rice terraces in all their glory.
16. Take a short day trip from Manila and visit the alluring holiday town of Tagaytay
If you ever feel like the hustle and bustle of city life is getting to you, then I suggest taking a day trip to the holiday town of Tagaytay. It's just a short distance away from Manila but the difference is quite noticeable! With breathtaking views overlooking majestic hills and Taal Lake, it's the perfect break from the city you'll need to recharge and to get close to nature.
Some of the experiences you won't want to miss here include hiking up Taal Volcano for an incredible panoramic view, immersing yourself in foodie therapy at Mahogany Market and much more!
17. Capture the awe-inspiring beauty of the Milky Way from atop Mount Pulag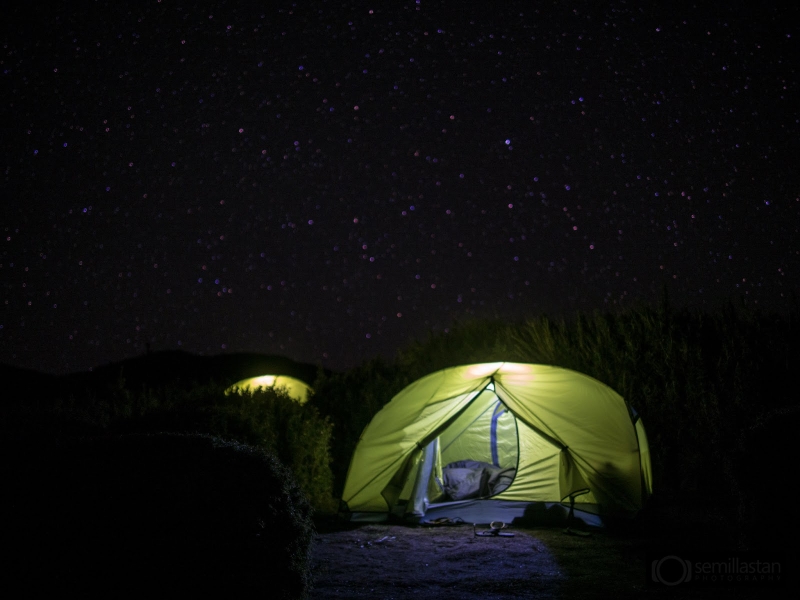 I'm sure this is one activity that most Malaysians will truly enjoy. Just imagine. The sun has set and the skies are clear, illuminated only by the moon and the stars. Looking up, you see the awe-inspiring vista of the Milky Way, like masterful artistry across the evening sky. You lay on your back atop the grassy mountain and enjoy the peace and quiet as you stare at what is arguably the most beautiful sight anyone will ever see in life.
That is what it feels like to camp out on Mount Pulag, one of the most bucket list-worthy locations in the world. Need I say more?
18. Go for a thrilling whitewater rafting experience in Davao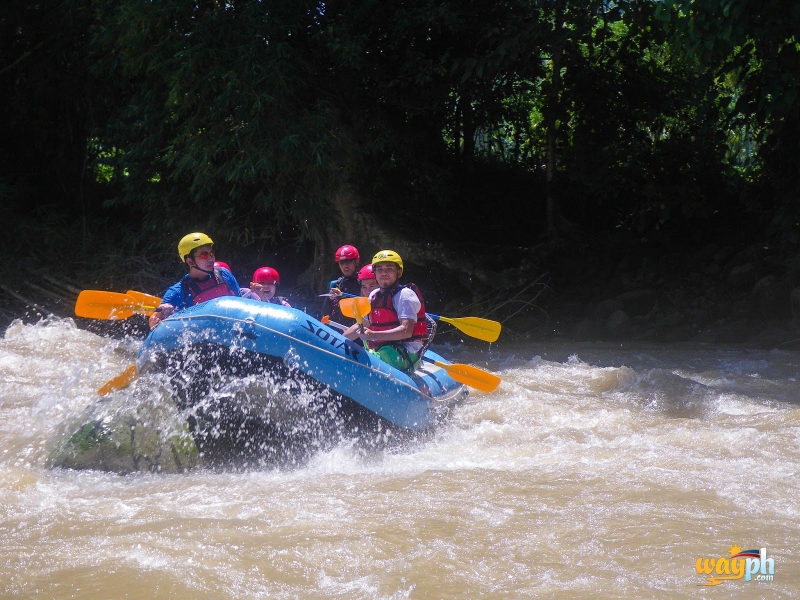 Home to Mount Apo, the highest peak in the country, Davao is another one of the Philippines' esteemed island destinations. Apart from being able to hike up the active stratovolcano, you can also hang with endangered eagles in the Philippine Eagle Centre and bum out on pristine beaches.
However, for those seeking a memorable adventure, Davao is also where you can experience the thrill of whitewater rafting. The currents are rapid and unforgiving, so come prepared to challenge yourself and keep your raft the right side up! Also, pro tip, it probably wouldn't hurt to bring some extra clothes!
Underrated gems for the hipster travellers
19. Discover the hidden charms of Lake Sebu, one of the best-kept secrets of The Philippines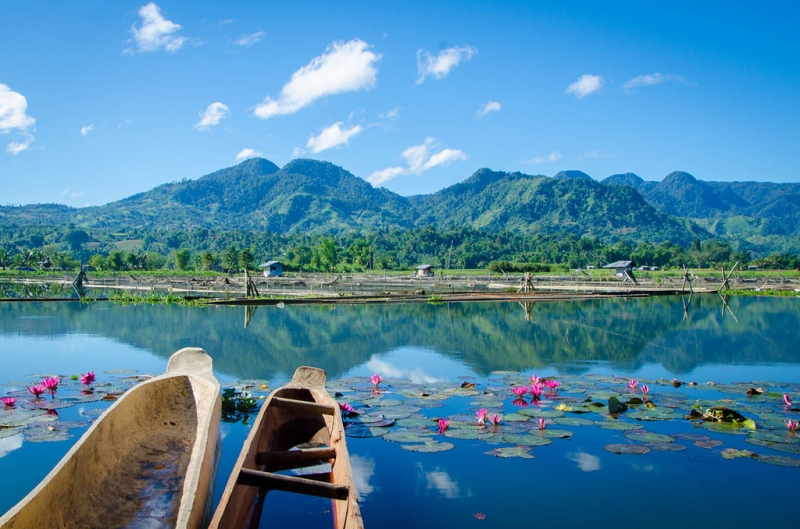 Fancy yourself a travel connoisseur who uncovers hidden gems before they make it big in the mainstream? Then go ahead and put Lake Sebu on your bucket list. This charming destination in South Cotabato is one of the country's best-kept secrets. You won't find many tourist groups here!
Instead, you'll be surrounded by plenty of cascading waterfalls and idyllic lakes against a backdrop of lush forests. Apart from the lovely sights, you can also discover the culture of the indigenous Ubo and T'boli tribes here. And if that's not enough to pique your interest, Lake Sebu is also home to the Philippines most exciting zipline ride! The 7 Falls Zipline is the highest zipline in Asia and is truly a treat for adrenaline junkies.
20. Visit mystical Siquijor and embrace the supernatural!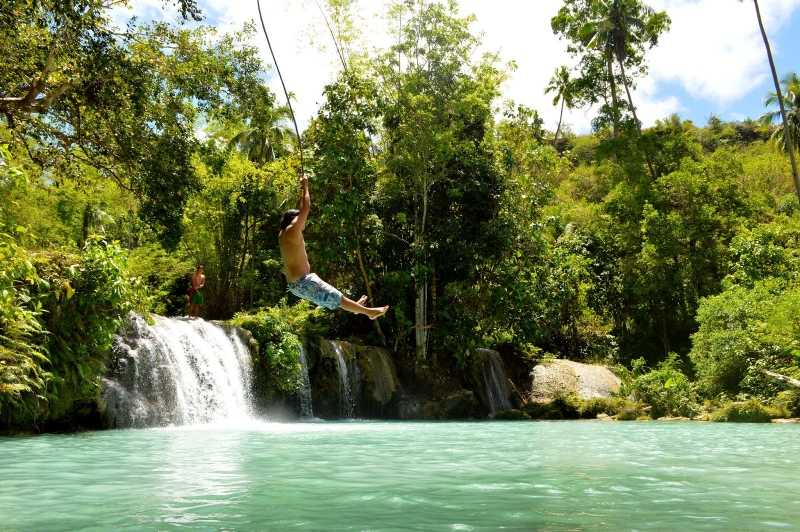 Okay, no, I'm just kidding. However, Siquijor is considered one of the most mysterious places in the Philippines, with some believing it to be the birthplace of many supernatural creatures and stories. While I'm not sure if there are any dire wolves lurking in the bushes, what I can tell you is that this mystical island is breathtakingly beautiful.
Visitors often find themselves enchanted by the alluring waterfalls and natural scenery. There are also some parks and beaches, such as Kagusuan and Salagdoong that are well worth the visit. Siquijor isn't as well-known amongst international travellers, so seize the opportunity and explore it before word gets out!
So much to experience, so little time!
In short, the Philippines is a destination that has a little bit of something for everyone. Whether you prefer exploring ambient cities or hiking majestic mountains, you're bound to find something to enjoy.
In fact, while this list may serve as a good starting point for those visiting for the first time, there are actually plenty of other activities to try! So much so that it'd be impossible for us to cover them all in one article. The only way you can experience the best of the Philippines is to travel there yourself!
What are you still waiting for lah? Book your tickets to the Philippines now for a vacation you won't soon forget! With its year-round affordable fares, Cebu Pacific is your go-to-airline for flights to the Philippines! Fly directly from Kuala Lumpur or Kota Kinabalu and discover an intricate network of domestic connections. Getting to the destinations mentioned above will be a breeze!
For more information, please visit Cebu Pacific's official website, Facebook, Instagram, Twitter and Youtube.
---
Brought to you by Cebu Pacific Air.