Ever since catching the travel bug in 2013, I've backpacked to many wonderful places and enjoyed plenty of unique experiences. Top of the list is finally being able to set foot in Japan and Korea in 2016 but despite all the glitzy destinations I've travelled to, Bangkok holds a special place in my heart. 
It was one of the very first destinations I've ever visited with my family when I was young. It's safe to say that many Malaysians enjoy visiting the capital of Thailand. One because it's affordable and not that far from Malaysia, and secondly because of its incredible street food (tomyam and mango sticky rice, anyone?). 
If you ask me which destination is suitable for a first-time backpacker, then Bangkok certainly takes the cake! To help you get started on your itinerary, here's our list of the best experiences in Bangkok for Malaysian backpackers! 
1. Take a stroll along Khao San Road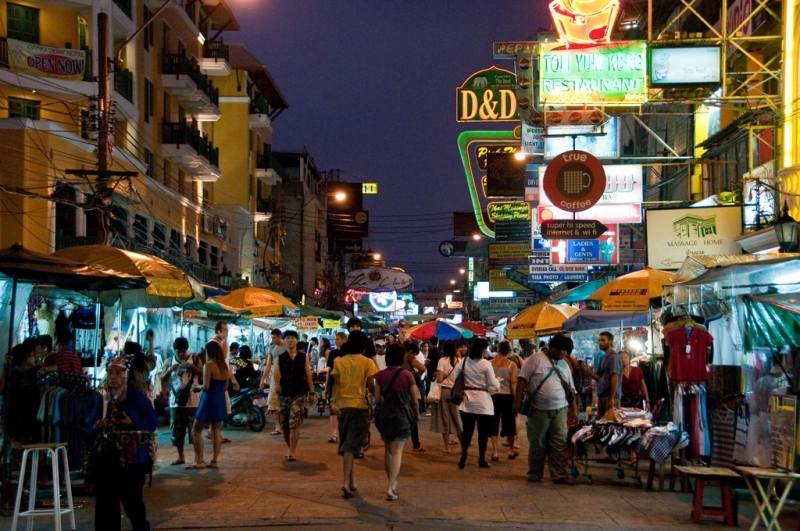 Ask any seasoned backpacker and they'll tell you that Khao San Road is THE place to be for travellers. Known affectionately as the backpackers' hub, Khao San Road is an intriguingly crowded area lined with eateries, bars and roadside stalls (more food!). 
Most backpackers choose to hang out at Khao San Road so it's a lively and happening place to meet like-minded travellers. At night, it turns into the unofficial party area of Bangkok with plenty of clubs opening its doors and offering travellers a chance to revel in Bangkok's enticing nightlife. 
However, due to the crowded nature, I'd advise you not to seek accommodation here unless you're fine with getting little sleep and trudging around like a zombie during the day! 
2. Alternatively, hit up Bangkok's Chinatown a.k.a. Yaowarat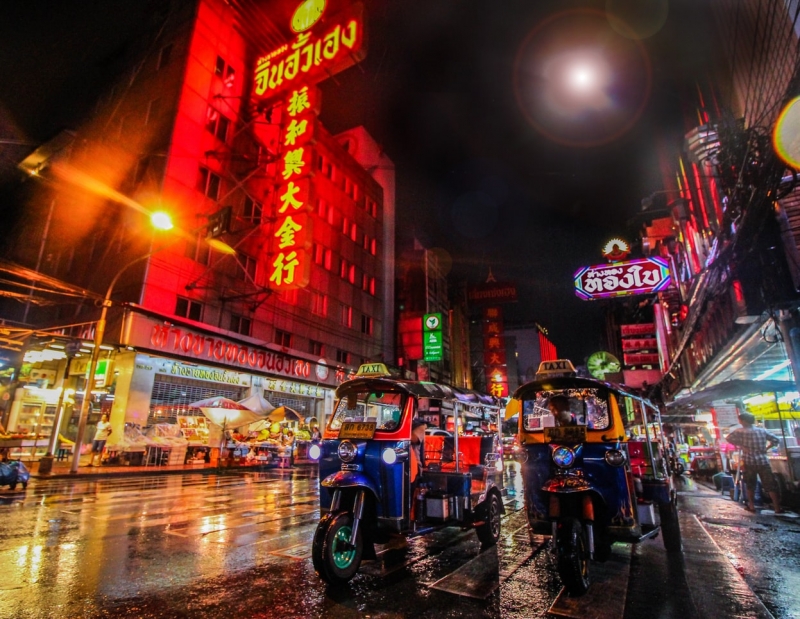 If you crave a different kind of ambience, then Yaowarat, Bangkok's world-famous Chinatown, is where you should head to. As the name suggests, stepping into Yaowarat is akin to setting foot in a whole new world without ever leaving Bangkok. 
The streets and alleys here are plastered with huge blackboards full of Chinese characters, letting you know exactly when you've entered the area. This culturally rich area is full of alleys and cultural attractions, with authentic Chinese food and bargain shopping being the main ones. 
3. Also check out the Insta-worthy Ratchada Night Train Market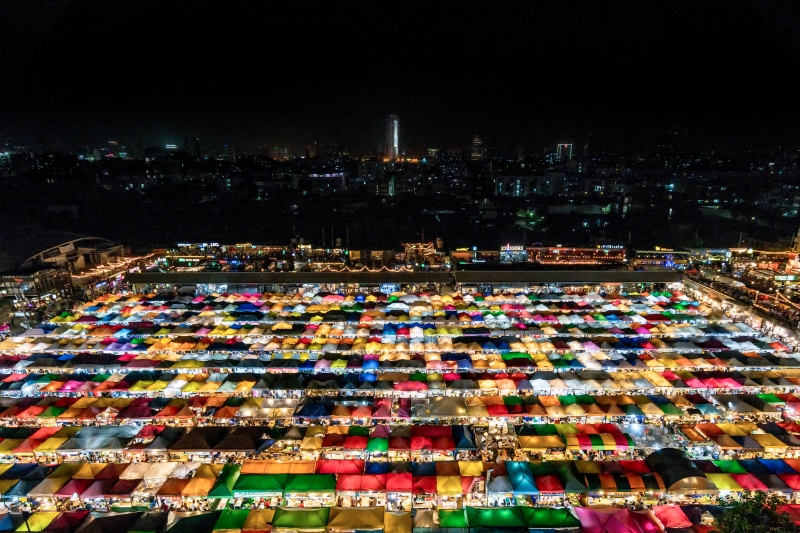 I'm sure you've seen at least one or two pictures of Ratchada Night Train Market on Instagram. This awesome outdoor night market is as vibrant as it is easy to reach. Located right next to the Cultural Centre MRT Underground Station, this massive pasar malam sees plenty of visitors every night. 
The market is split into several long avenues, each selling their own range of unique wares. In one alley, you might find antiques, second hand toys, local handicraft and souvenirs while in another, you could chance upon general pasar malam type clothes, bags, and, most importantly, more food! 
Towards the back end of the market is a general bar area adorned with fairy lights (#potd time anyone?, where there are several bars offering refreshing drinks and VW Vans blaring out ambient music ala Artbox. Trust me, you don't wanna miss this experience! 
Wanna know a secret? Because Ratchada Night Train Market is so popular amongst locals, the prices here are a lot cheaper than the famous Chatuchak Market. Shhhh, don't tell anyone else!
4. Experience heart-pumping shopping therapy at the Maeklong Railway Market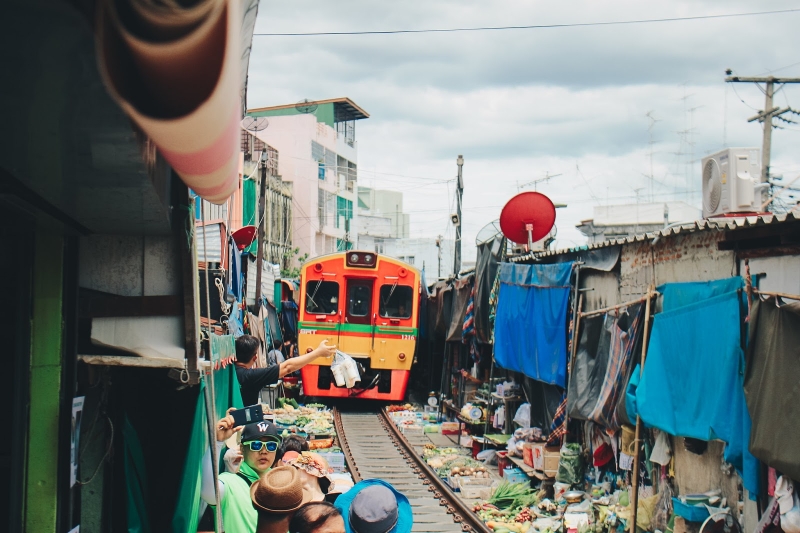 They say great rewards await those who take great risks. Well, I think no one has taken that saying to heart more than the vendors of the Maeklong Railway Market! For one, the market operates on a functional railroad, meaning that trains still frequently pass through the area! 
You might think this would be a chaotic scene but one of the market's most unique attractions is how it can instantly transform into a clear passage when a train approaches. Before you even see the locomotive, you will hear it from far away. At this point the vendors will begin calmly moving their shops and wares in order to open up a clear path for the train to pass through. 
Once it has, it's back to business as usual. Incredible, isn't it? Here, you'll be able to buy fresh produce and food as well. Just make sure to clear the tracks when you hear a train approaching. Choo choo! 
5. Also check out a floating market in the morning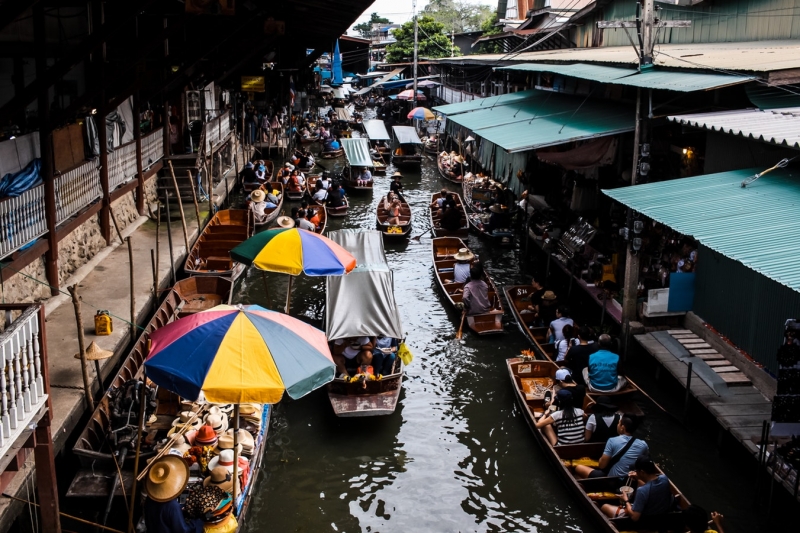 Wah, Bangkok got a lot of different markets hor? Yep, if all the night markets and happening bars on Khao San Road aren't enough, you can also visit a floating market in the morning. It's one of the experiences that Bangkok is famous for! 
Much like the morning markets in Malaysia, experiencing Bangkok's floating markets mean encountering vendors selling fresh produce, ready-made food, and souvenirs too! The only difference is that all the trading (and haggling) takes place on floating sampans! 
Bangkok's most popular, touristy floating market is probably Damnoen Saduak. But here's the problem, it's so popular that it can sometimes be overcrowded. For a more pleasant experience without the marine traffic jam, go to Khlong Lat Mayom instead. 
6. Enjoy a scenic cruise on the Chao Phraya River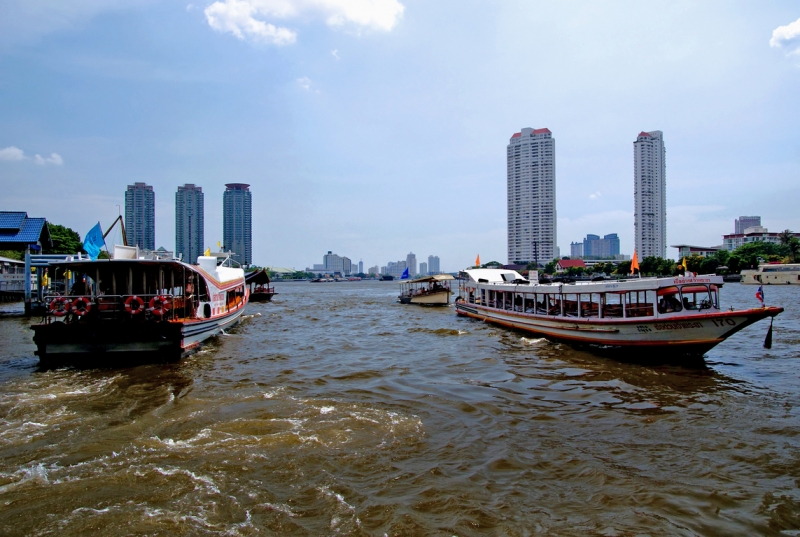 7. And visit Bangkok's majestic Grand Palace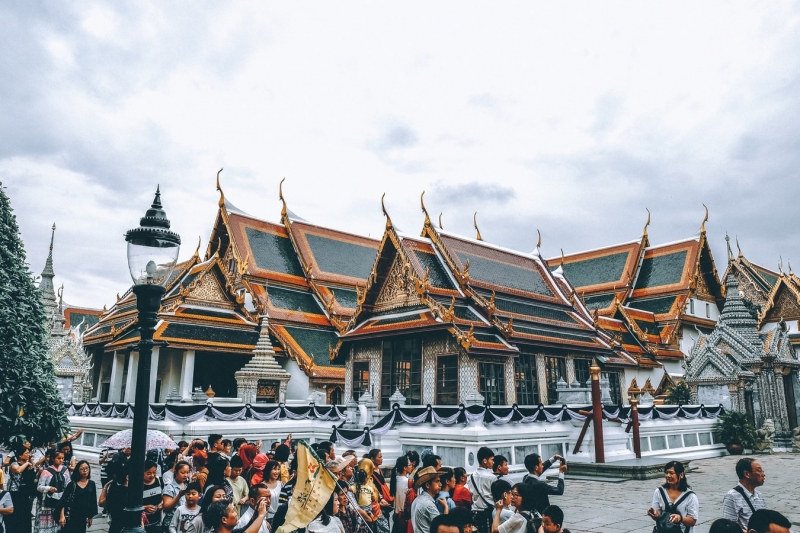 Of all the major attractions in Bangkok, perhaps none are as important as the Grand Palace. Covering an area of approximately 214,000 sq. meters, the Grand Palace is a massive structure that would usually take up hours of your time just to see everything there is to see. 
The palace is open daily from 8: 30 a.m. till 3: 30 p.m. Do take note that there is an entrance fee that you will have to pay to visit this culturally significant attraction. The palace is also home to Wat Phra Kaeo, which is the temple of the Emerald Buddha, which is an attraction in and of itself. 
Reminder: when visiting the Grand Palace and temple, do make sure to dress modestly and cover your shoulders and legs. You could rent some clothes at the entrance but the queues are sometimes unbelievably long, so it's best to come prepared. 
8. Visit the city's iconic Wat Arun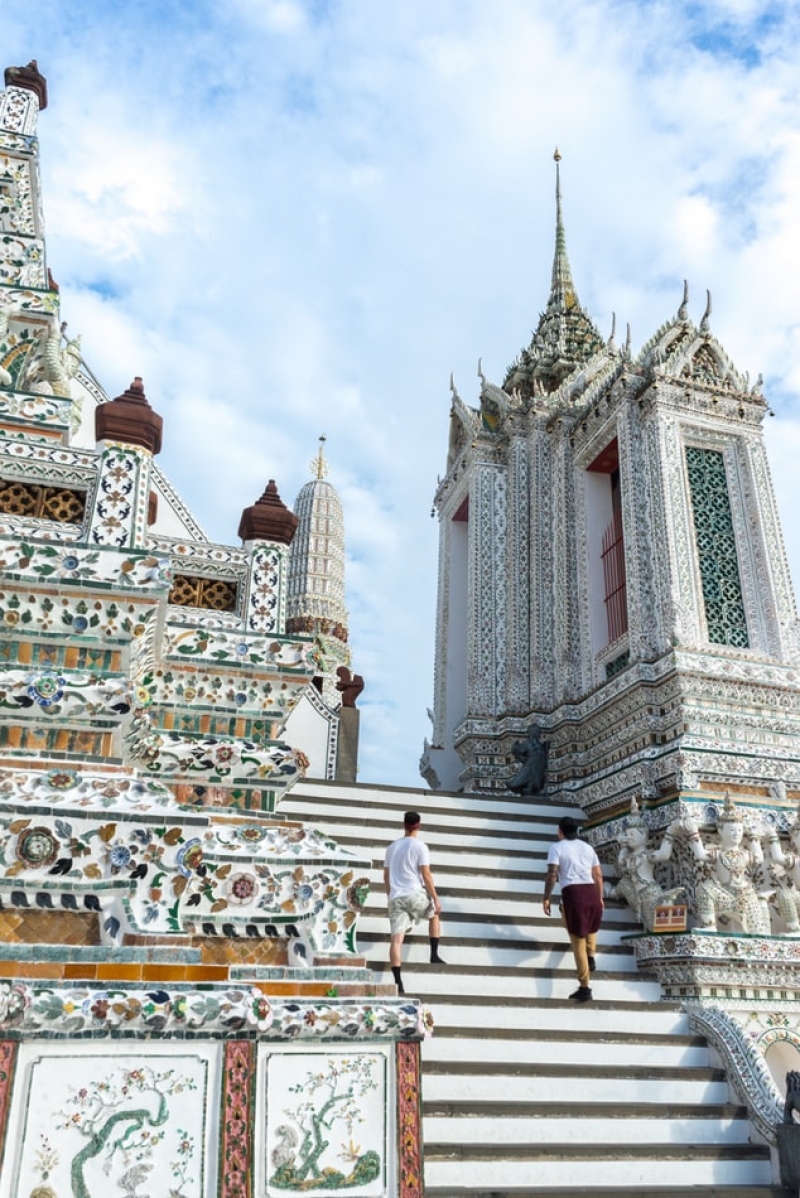 From Bangkok's most important attraction to its most iconic and alluring. Wat Arun's 80-metre tall central tower, the Phra Prang, towers above everything else in the complex and is easily recognisable even from far away. 
If you make it to the top of the tower, you'll be treated to incredible views of the Chao Phraya River, with the aforementioned Grand Palace standing majestically in the background. Apart from the spectacular panoramic view, Wat Arun's tower is also famous for the many mosaic stones which adorn the structure. These enigmatic stones tell represent the life journey of Buddha from birth to death.
Interestingly though, the temple was named after a Hindu deity: Aruna, god of the dawn. Despite its nickname as the Temple of the Dawn, Wat Arun is actually most alluring in the evening, when it is illuminated by hundreds of golden lights!
9. Visit Wat Pho and the Reclining Buddha in the heart of Bangkok's old town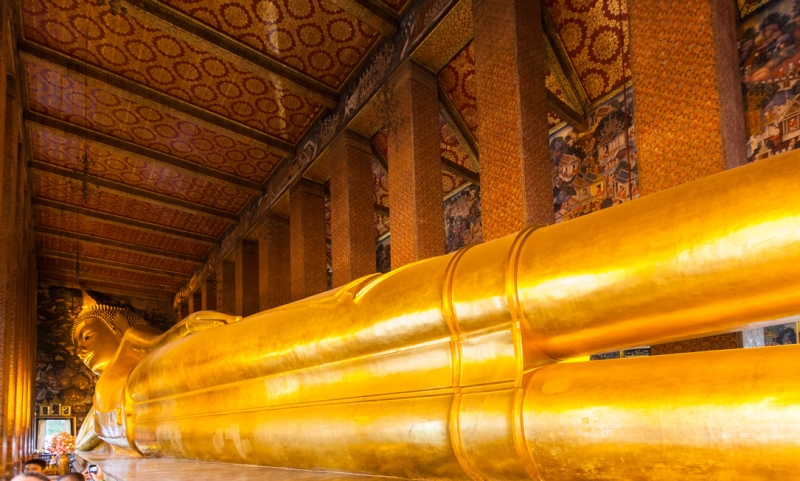 Again, make sure to dress appropriately! 
10. Climb the 318 steps to the top of Wat Saket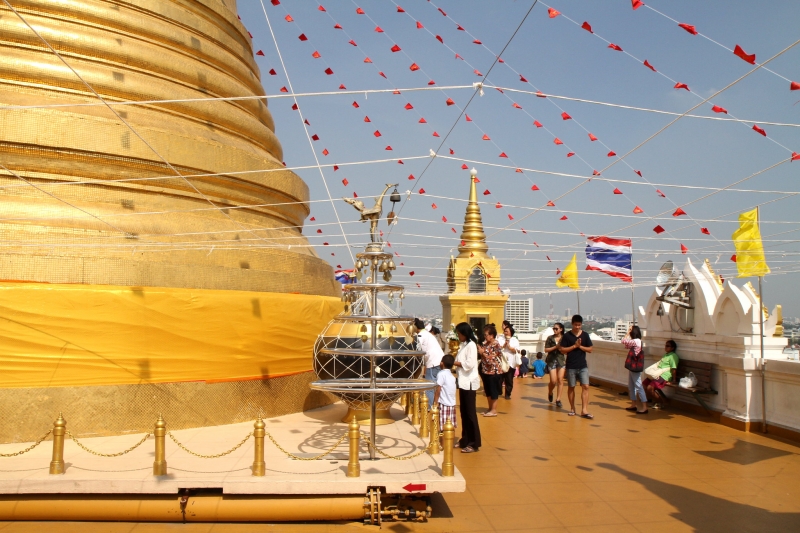 Whew, talk about an exhausting climb! If there's one thing Malaysians dislike more than unbearably hot weather is stairs! Well, if you want to visit Mount Saket a.k.a Temple of the Golden Mount, be prepared to climb the 318 steps to make it to the top! 
Of course, along the way, you'll be able to see plenty of charming Buddhist statues and even a few small waterfalls. It'll all be worth it though because once you reach the top, you'll be able to enjoy incredible views from the high-banked mountain of the temple!
Fun fact: Did you know that Wat Saket is one of the oldest temples in Bangkok? It was built in the 19th century!
11. Go for a traditional Thai massage to soothe those aching muscles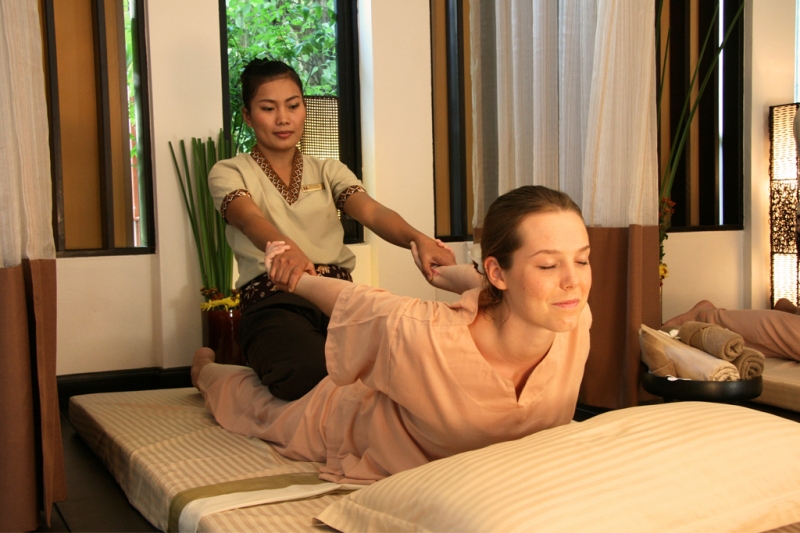 Eh, just to be clear, we mean legitimate massages ah! 
12. And then escape the hustle and bustle of the city at Lumpini Park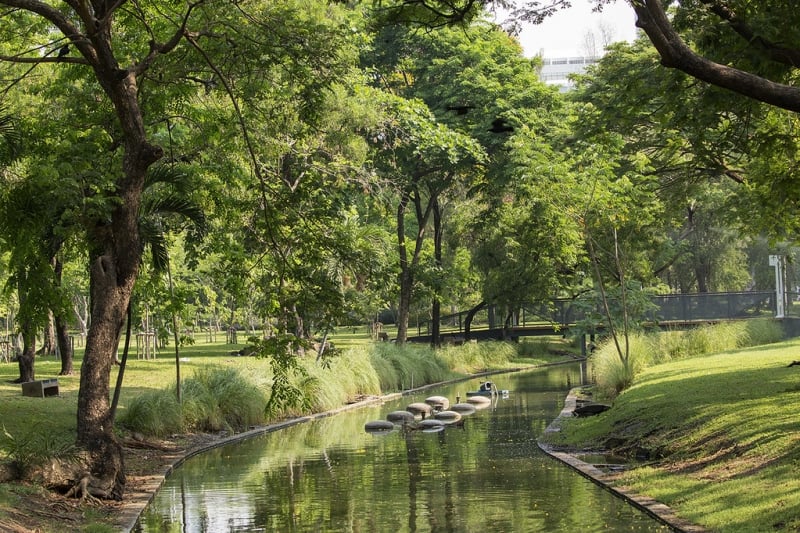 13. Or chill out with the white tigers of Dusit Zoo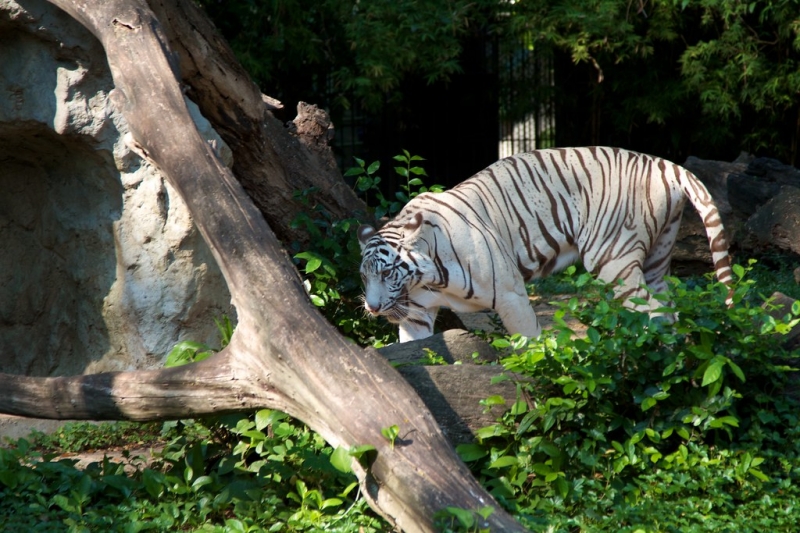 They're a bit different compared to our harimau Malaya. I guess they don't get enough sun in Bangkok kot! 
14. Before setting out to explore the abandoned Sathorn Unique Tower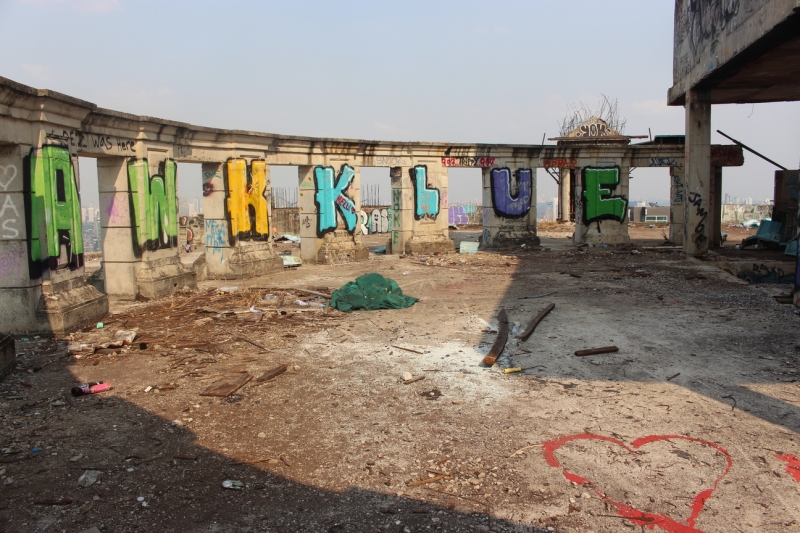 In the heart of Bangkok, you'll likely notice a towering structure with a unique appearance that appears to have been abandoned midway through construction. That, my friend, is the Insta-famous Sathorn Unique Tower. 
It was meant to be a luxurious 49-storey hotel but construction was halted due to the financial crisis a few years earlier and the building was ultimately abandoned. However, travellers looking for an adventure can actually scale the building (for a fee, naturally) for some alluring views of the city below. 
The post-apocalyptic interior, also makes for an ambient photoshoot background. 
15. Take a stroll at the romantic Asiatique the Riverfront, a night market specially built for tourists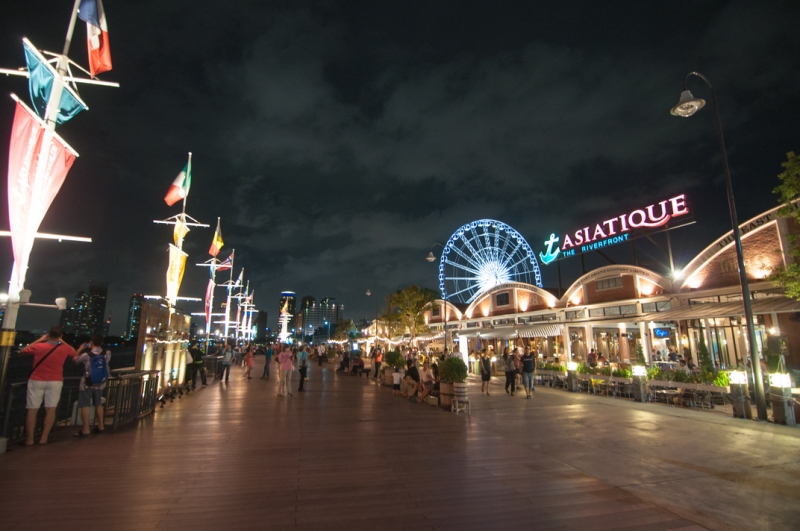 Asiatique the Riverfront is a special night market built along the Chao Phraya River that's designed to attract tourists to the area. Unlike the street markets mentioned earlier, Asiatique has a more modern feel to it, with plenty of modern shops, restaurants, bars, and even a ferris wheel within the vicinity. 
To get to Asiatique, you'll have to board the free boat shuttle from Sathorn Pier. The well-maintained market is very well laid out but due to it being a touristy area, expect prices to be a little bit on the high side. 
16. (Window) Shop at Siam Paragon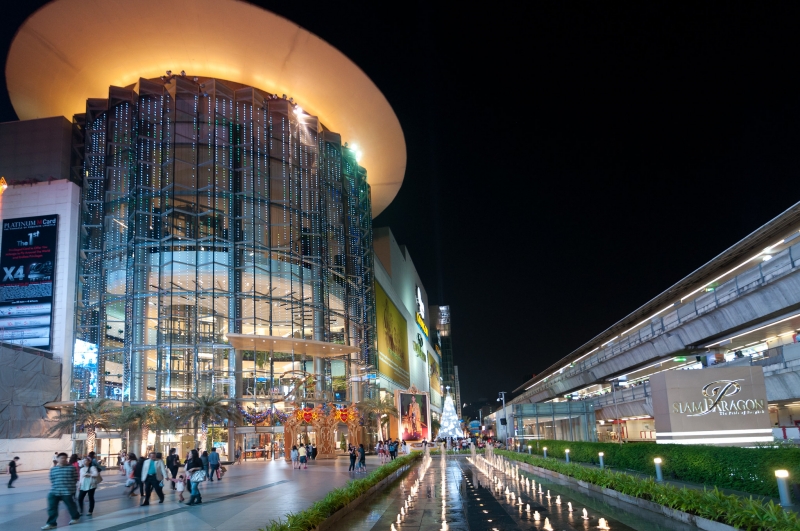 Let's face it, we Malaysians like nothing more than to lepak in a mall. I mean, it's what most of us do during the weekends and on public holidays! To that end, Siam Paragon will be a dream come true for avid Malaysian shoppers. 
This high-end shopping complex features over 250 stores, countless eateries, a huge multiplex cinema, Southeast Asia's largest aquarium and even luxury car showrooms! You know, in case you suddenly feel like purchasing a Lambo! 
Siam Paragon is one of Bangkok's most impressive malls and certainly worth a visit even if you don't plan on buying anything! 
17. Go on an epic foodie adventure
Of course, how can we talk about Bangkok without mentioning its wide array of delicious street food la? Spread throughout the entire city are foodie hotspots where you can find some of the most delicious street food in the region (maybe even the world!). 
From classics like pad thai, mango sticky rice, and succulent grilled meat on a stick to more modern creations like Thai milk tea (please, no more boba T_T), you can be sure that you'll likely be munching on something every couple of hours in Bangkok! In fact, Thai street food is so popular that there are even official food tours! Talk about dedication to food! 
My favourite place for street food in Bangkok is, apart from Yaowarat, Sukhumvit Soi 11, a quaint street in downtown Bangkok where both sides are lined with street food vendors.
18. Cafe hop between the city's photogenic cafes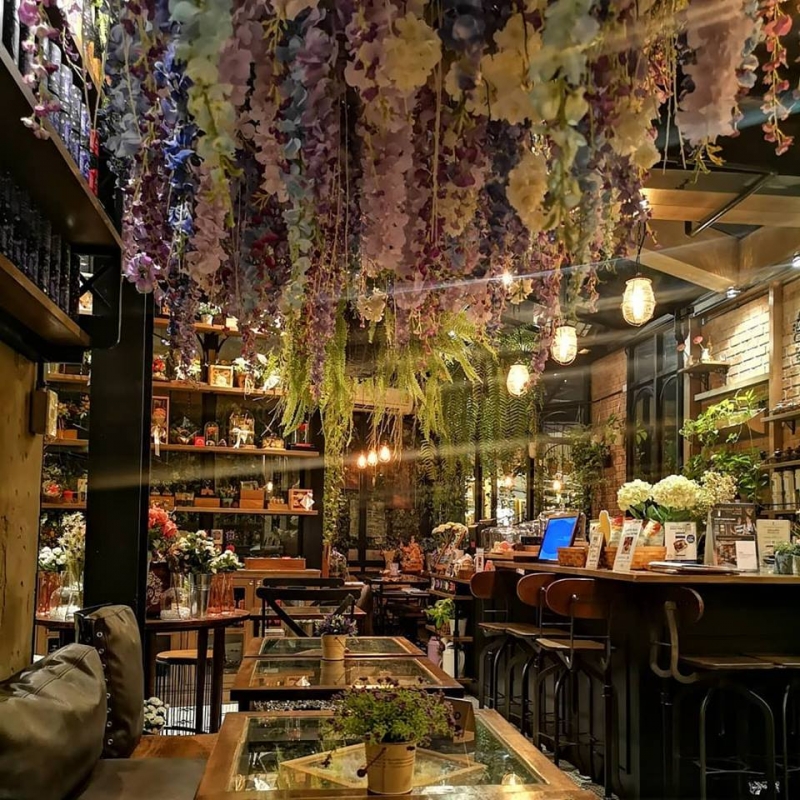 If you're someone who likes your coffee or afternoon tea with an incredible view, you're in luck. In recent years, much like in Malaysia, Bangkok has seen an increase of ambient cafes and brunch spots in the city. 
My favourite is The Blooming Gallery in Khlong Tan Nuea, mostly because of its alluring decor that's easy on the eyes. Filled with natural motifs and plenty of greenery and potted plants, the cafe offers a much needed reprieve from the concrete walls of the city.
However, there are many more cafes in Bangkok that are perfect for the hipsters to hang out at, so why not spend an afternoon hopping between these cosy cafes?
Bonus: Take part in Songkran 2020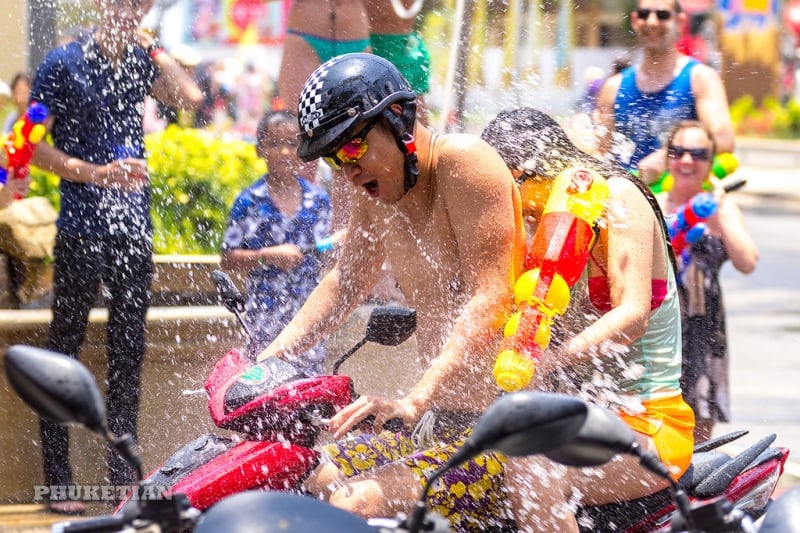 I'm pretty sure this is one the bucket list of most Malaysian travellers. The Thai New Year starts on 13 April and last until the 16th in 2020 and so, if you're looking to join in on its famous water festivals, now would be a good time to start planning ahead! 
Time to pack up and head to the Land of Smiles!
What more can I say? It's time to start planning that backpacking trip to Bangkok!
Also read: 17 Top Things To Do In Hanoi For First Time Travellers