Although Vietnam is well-established as one of the top tourism hot spots in the region, most travellers, including those from Malaysia often only travel to a select few destinations. Off the top of my head, I can name Hanoi, Ho Chi Minh City, Halong Bay, and maybe even Phu Quoc for the beach lovers. 
What many people are unaware of however, is a little city called Da Lat. Located in the Central Highlands of Southern Vietnam, this picturesque city is surrounded by ambient pine forests, rolling hills, and plenty of alluring lakes and waterfalls. Today, let's take a look at this hidden gem the locals lovingly refer to as "the City of Eternal Spring"! 
1. Visit the Summer Palace of Bao Dai, the last emperor of Vietnam
Bao Dai was the last emperor of Vietnam, having ascended the throne at a tender young age amidst a chaotic political climate. Of all the estates he owned, none are as famous today as his Summer Palace in Da Lat which he once used as a retreat to escape the summer heat. 
Today, all 25 rooms within the palace are open to visitors where they can take a step back in time and familiarise themselves with Vietnam's royal history. There are plenty of well-preserved artefacts housed in the palace, including an engraved glass map of Vietnam. 
2. Hop aboard a mini roller coaster and plummet down Datanla Waterfalls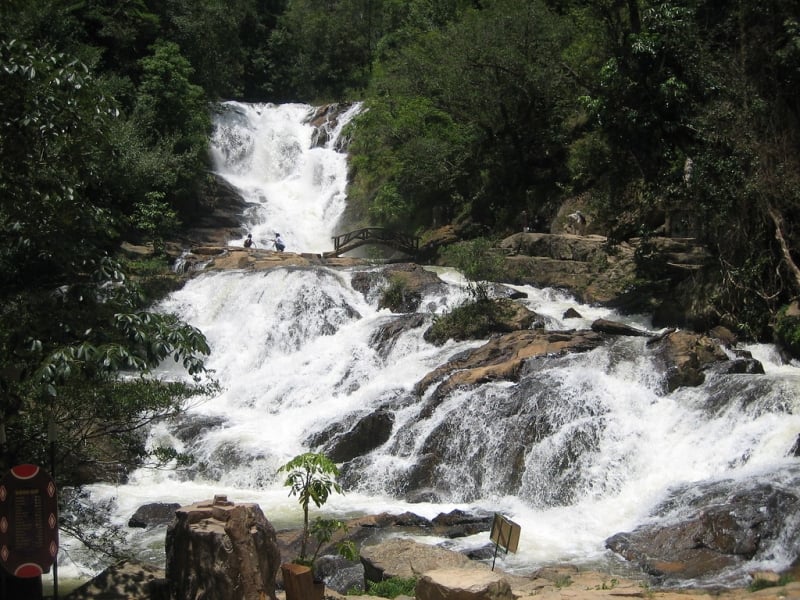 As a whole, Da Lat is a far cry from the bustling cities of Hanoi and Ho Chi Minh. There's plenty of wonderful natural scenery to admire here. One of these is Datanla Waterfalls, one of the most famous set of waterfalls in Southern Vietnam. 
Located just a short distance away from the city centre, Datanla Waterfalls is a must-visit for avid adventurers. Not only can you trek through verdant forests and listen to the thunderous rush of the cascading falls, adrenaline junkies can also take a ride on the mini roller coaster which will take you from the top of the falls to the limpid pools below in a flash!  
3. Soak up the melancholic atmosphere of the Lake of Sighs (Ho Than Tho)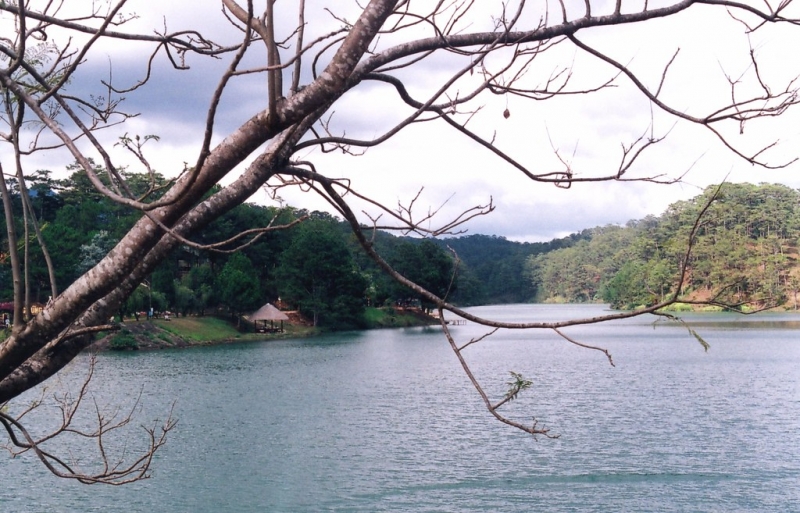 I know, you're probably wondering why this place has such an ominous name like the Lake of Sighs. It's because, according to Vietnamese legend, this is the place where many star-crossed lovers met in secret but were never able to be together. A sad tale, isn't it?
However, nowadays, almost ironically, Ho Than Tho is one of the most popular dating spots among young Vietnamese couples! The scenic lake is an ideal spot to spend some time with your significant other. You could rent a paddle boat and head out onto the lake to admire Da Lat's scenery from a different point of view or even hire a horse-drawn carriage to experience life as a fairytale prince and princess for a day! 
4. Sip on a cold drink and admire the sunset at the trippy 100 Roofs Cafe 
Compared to Hanoi, ambient cafes and bars are a little hard to come by in Da Lat. However, one such establishment that truly deserves all the accolades is 100 Roofs Cafe. From the very moment you lay eyes on its quirky exterior, you'll know you're in for a unique experience. 
Filled with a labyrinth of winding tunnels, otherworldly decor and hidden rooms, 100 Roofs Cafe certainly exudes a sort of charm not unlike that of Middle Earth (from Lord of the Rings). One activity I recommend is to head there in the early evening, order a nice cold drink, and head to the lovely rooftop garden. There, you can enjoy the luxury of a nice brew as you watch the sun dip beneath the horizon. 
5. Visit Linh Phuoc Pagoda and its iconic bell tower
The Linh Phuoc Pagoda is one of the most important of its kind in Vietnam. This is thanks in large part to its iconic bell tower. Standing at around 37 metres, it is the tallest of its kind in the entire country! Inside the main hall, you will see colourful murals and paintings depicting the story of Buddha from his birth up until achieving Nirvana and eventual death. 
On the outside, Linh Phuoc Pagoda is surrounded by plenty of lovely scenery. That's why even on the outside, you will often find plenty of tourists, snapping up pictures for that perfect #potd.
6. Surround yourself with colourful blooms at Da Lat Flower Gardens
Due to its temperate climate, Da Lat is a city that is filled with plenty of colourful blooms throughout the year. To witness the majesty of the city's flora, you need only take a step into the city's most famous attraction: the Da Lat Flower Gardens. 
Stretching over 7km sq., the gardens houses no less than 3,000 different species of flowers and cacti. And, unlike botanical gardens anywhere else in the world, the flowers here bloom at different times throughout the year. Which means, no matter when you visit, you're guaranteed some lovely scenery. 
Pro tip: However, if you wish to see the gardens in its full glory, visit during the summer months! 
7. Stay a night in the whimsical Crazy House (Hang Nga Guest House and Art Gallery)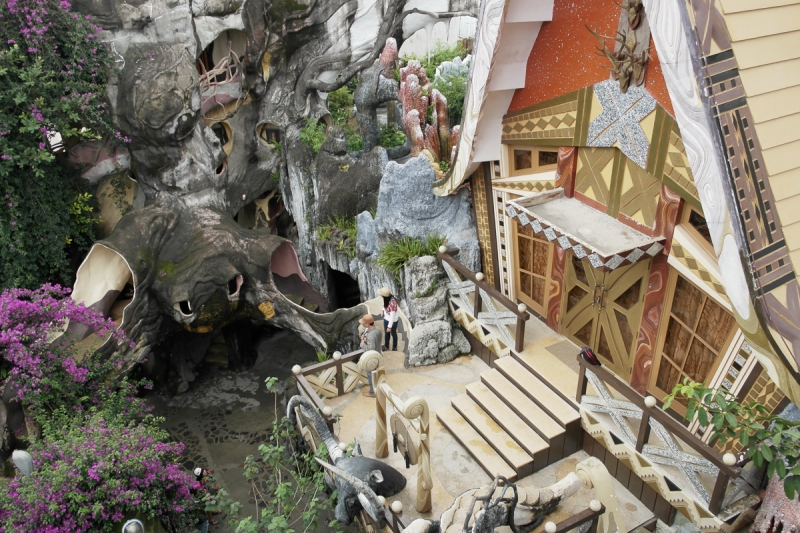 When you think of bizzare looking buildings, you probably think of Barcelona and some of Antoni Gaudi's finest works like the Casa Batllo, Casa Mila, and more. However, in the heart of Da Lat, you can also find a Gaudi-esque building, Hang Nga Guest House and Art Gallery, better known as Crazy House. 
Designed like a tree, Crazy House certainly stands out and leaves an impression on anyone who passed by. Despite appearance, it's actually not a theme park or museum, but rather an operational guest house. There are over a dozen rooms (each with their own unique theme) guests can stay at. Next time you're in Da Lat, skip the hotels, this is where you need to stay! 
8. Stuff yourself with authentic street food at the vibrant weekend Night Market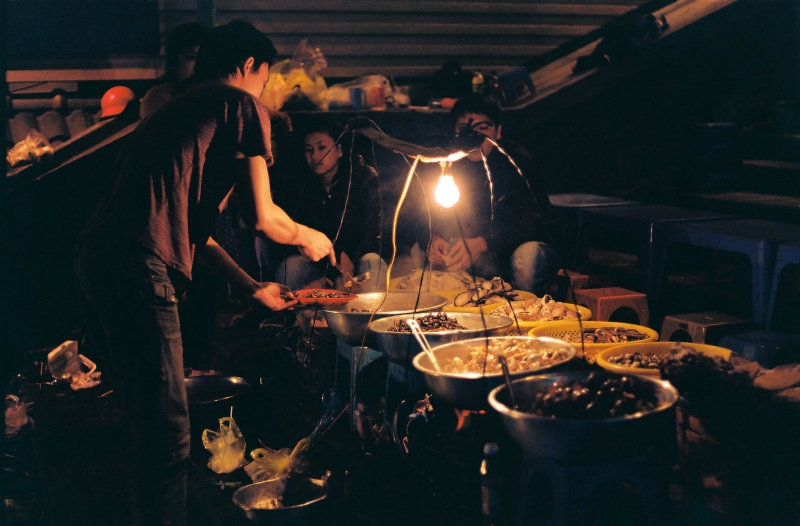 The central market area of Da Lat is always teeming with activity, even on weeknights! Here, you'll find plenty of vendors selling their wares, filling the area with the unmistakable aromas of Vietnamese street food. 
However, during the weekends, the place really comes alive when the night market is in town. You can shop for souvenirs, savour authentic street food or simply socialise with the thousands of other visitors who throng the night market, it's all up to you! 
While the crowd may hinder some people, experiencing the Da Lat Night Market at its height of activity is truly a memorable experience. 
9. Take a leisurely stroll along the banks of Xuan Huong Lake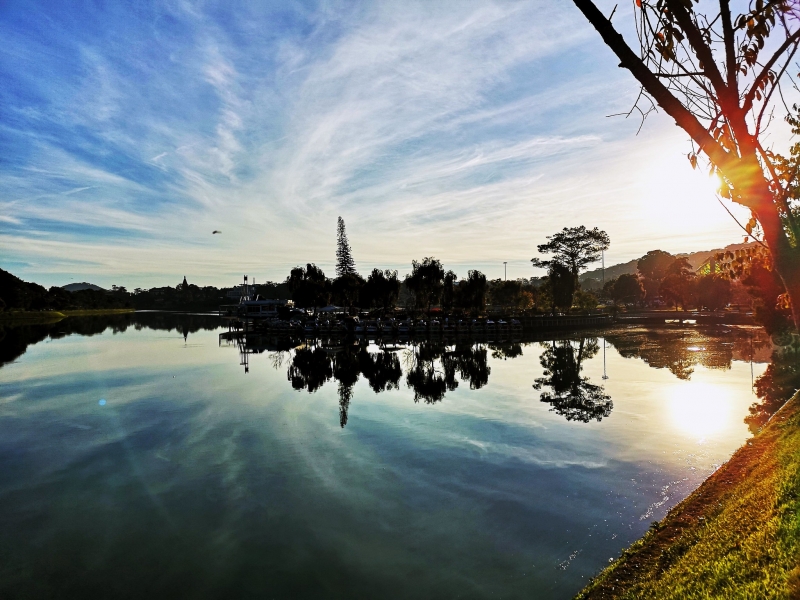 The man-made Xuan Huong Lake is one of Da Lat's most recognisable landmarks. Boasting alluring gardens, the lake is one of the most frequently-visited hangout spots by locals. Here, you will find plenty of people having a picnic, cycling and even enjoying a ride in a horse-drawn cart! 
There are also plenty of cafes and eateries around the lake as well! One thing that avid and aspiring photographers will love about Xuan Huong Lake is the line of willow and peach trees surrounding the lake, providing the perfect backdrop for ambient photos. It's easily one of the most Insta-worthy locations in Da Lat, so you definitely don't want to miss out! 
10. Take a step back in time at Da Lat Train Station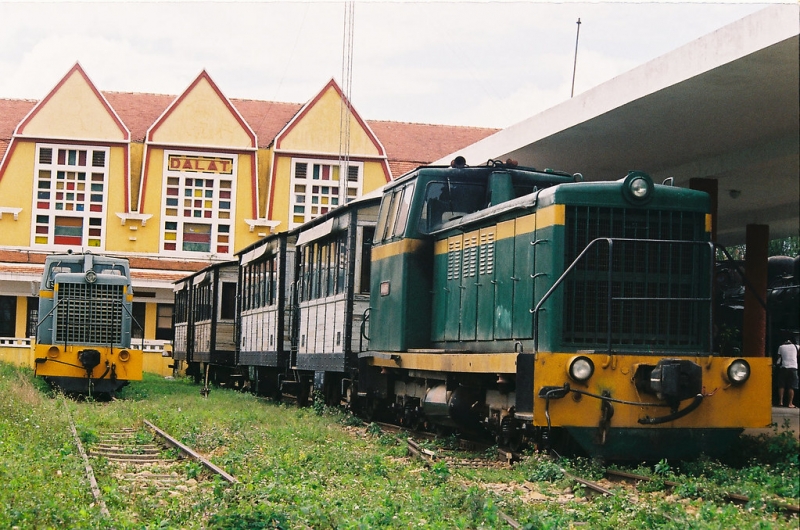 The Da Lat Train Station is a major throwback to the days of old and it's easy to see why. As you take a step into this station built in 1943, you'll be instantly swept up in a sense of nostalgia as you spot the traditional ticket windows and steam train on display. 
But apart from being a good place for a few Instagram shots, you can also take a ride on the wood-burning steam train up to a quaint village called Trai Mat. Along the way, you'll be able to admire some pristine countryside scenery. Do take note however that the train only operates when there are four passengers, so be prepared to wait if there aren't enough patrons for it to run. 
11. Trek to the cascading Elephant Falls
30km away from the city centre lies the village of Nam Ban. And beyond that is a scenic mountain pass which houses the cascading waters of Elephant Falls. Unlike Datanla Waterfalls, Elephant Falls sees less tourists, allowing visitors to truly take in the sights and sounds of the area. 
There are two main ways to get to this location, both of which offer quite a bit of thrills (and some spills). The first is to trek downward on a steep, uneven path of stone steps. The second, more adventurous way to get to Elephant Falls is to enter a small cave that snakes underneath the falls itself! Obviously, with this option, you should anticipate getting splashed by water intermittently, but it's definitely the more exciting options! 
12. Stare in awe at Pongour Falls, the largest waterfall in Vietnam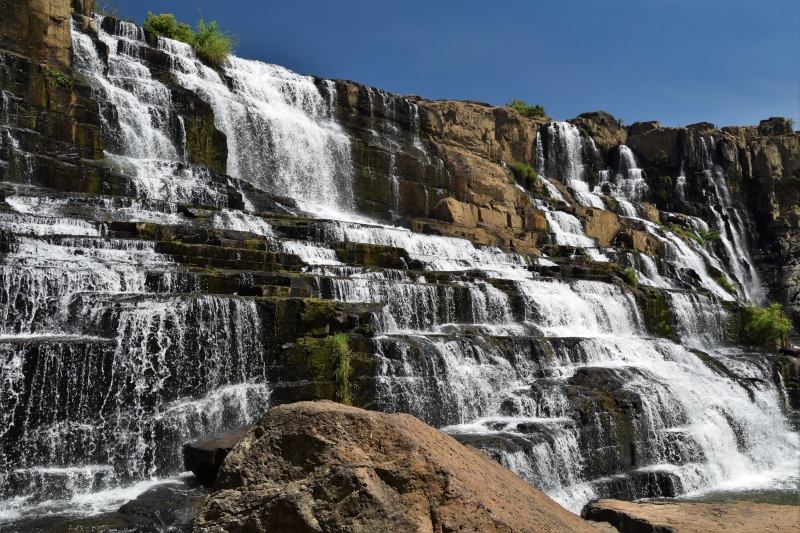 Didin't I tell you that Da Lat had plenty of waterfalls? Pongour Falls is the largest waterfall in all of Vietnam, stretching over 100m in length. At 20 metres high, Pongour Falls is also one of the taller waterfalls in the country. Even from a long distance away, you can hear the water cascading off the side of the mountain into the rocks below with thunderous aplomb!
13. Hitch a cable car ride to Truc Lam Pagoda
Truc Lam Pagoda is one of the newer attractions in Da Lat, having only recently been built to completion. Despite not having the heritage of most of Vietnam's other pagodas, Truc Lam Pagoda has already risen up the popularity ranks as the city's prettiest shrine. 
Located in the Phuong Hoang Mountains and beside Tuyen Lam Lake, Truc Lam Pagoda features an iconic bronze bell, enigmatic pagodas and plenty of images of Buddha. You can even take a cable car up to the pagoda and admire the scenic views along the way! 
14. Spend a romantic afternoon at the Valley of Love
Despite its name, the Valley of Love isn't an actual valley. Rather, it's a theme park that is famous amongst newlyweds and Vietnamese couples. The area is surrounded by rolling hills, mystical lakes, and colourful gardens. It's the perfect spot for a date! 
Apart from taking a romantic stroll, visitors can also try horse riding or rent a swan-shaped paddle boat and head out onto the lake. To amp up the atmosphere, there are also theme park attendants dressed as cowboys around the park! 
15. Immerse yourself in nature at Bidoup Nui Ba National Park
If you're in Da Lat and suddenly felt like doing a day trip, then we suggest heading to Bidoup Nui Ba National Park! Standing at 2,288 meters in altitude at its highest, Bidoup Nui Ba National Park is a massive forested area that sits on a plateau high above the city of Da Lat.
Filled with various flora and fauna, the area is also home to various indigenous communities of Da Lat, most of whom are more than happy to lead visitors on a hike and show them the best of Da Lat's natural beauty. If you ever needed a break from the city, this is the perfect spot, we guarantee it! 
Also read: Underrated Destinations in Vietnam You Should Visit in 2020
So much to see in Da Lat
And there you have it! There's so much to see in Da Lat and we've barely even scratched the surface with this list! All that remains now is to start making plans and make that trip to the City of Eternal Spring happen!