Since 8 August 2021, certain SOP relaxations came into effect for fully vaccinated Malaysians. Here's what we know so far: 
(Updated 17 September 2021 – morning) 
When will SOP relaxation come into effect?
The relaxation of SOPs takes effect starting 10 August 2021. 
To whom will the SOP relaxation apply?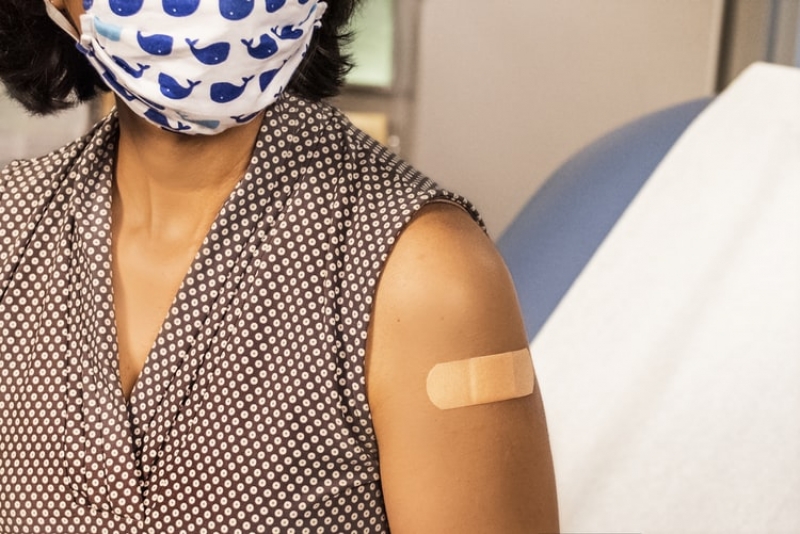 The SOP relaxations are valid for all fully vaccinated individuals. However, it's not just the case of getting your second dose. According to National Security Council guidelines, "fully vaccinated" means one of the following: 
a) If you're a recipient of a double-dose vaccine (Pfizer, Astrazeneca, Sinovac etc.), you are considered fully vaccinated 14 days AFTER your second dose. 
b) In contrast, if you're a recipient of a single-dose vaccine (Johnson & Johnson, CanSino etc.), you are considered fully vaccinated 28 days AFTER your first dose. 
How will SOP relaxation be monitored?
To enjoy the benefits of the new relaxed SOPs, you will have to be able to produce a valid vaccination digital certificate. You will receive this after your vaccination(s). 
Where can we enjoy the SOP relaxation?
Most of the SOP relaxations will benefit those who are living in areas currently under Phase 2, 3, and 4 of the National Recovery Plan. However, certain relaxations will also apply for fully-vaccinated individuals living in Phase 1 areas. 
The current breakdown of NRP Phases is as follows: 
Phase 1: Kedah, Johor
Phase 2: Melaka, Penang, Perak, Kelantan, Pahang, Sabah, Selangor, Kuala Lumpur, Putrajaya 
Phase 3: Negeri Sembilan, Perlis, Sarawak, Terengganu
Phase 4: Labuan
What can you expect under these SOP relaxations? 
1. Semi-lifting of travel bans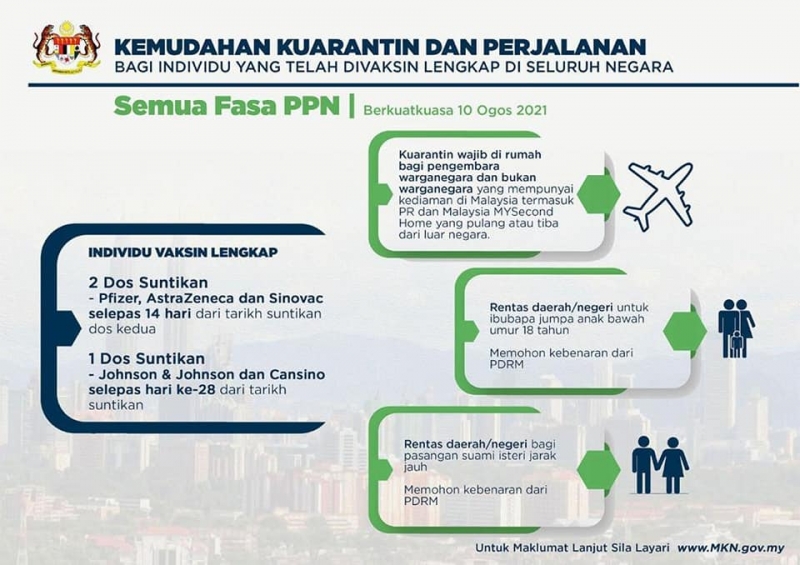 The general blanket ban of interstate travel remains. However, under the new SOP relaxations, certain individuals (including those in Phase 1) can apply to travel interstate (or interdistrict) for specific purposes. 
a) Fully-vaccinated SPOUSES can apply for a travel permit to travel across states and districts to reunite with their partners. Relevant documents will include NRIC, wedding certificate, digital vaccination certificates of both spouses, and a document providing proof of residence at the address. 
b) Similarly, fully vaccinated PARENTS can also apply for a travel permit to visit their children who are under the age of 18.
In addition, fully-vaccinated individuals in areas that are currently under Phase 2, 3, and 4 ONLY will be allowed to travel across districts. They must be able to provide a valid digital vaccination certificate at check points. 
2. Slight relaxation of quarantine rules 
This applies to: 
Malaysians

Permanent Residents

Expats under the Malaysia, My Second Home programme who own a place of residence in the country. 
Those from the above who are fully vaccinated will be allowed to serve their mandatory quarantine at home upon returning to the country from overseas travel. They must be able to provide: 
a) A negative RT-PCR test taken at least 3 days before arriving in Malaysia
b) A VALID vaccination certificate (depending on the type of vaccine) 
c) What's more, they must also have a suitable place of residence to undergo quarantine. 
In addition, they must be asymptomatic when undergoing medical examination at international arrival ports. The length of their quarantine is subject to the Ministry of Health guidelines. 
3. Dining in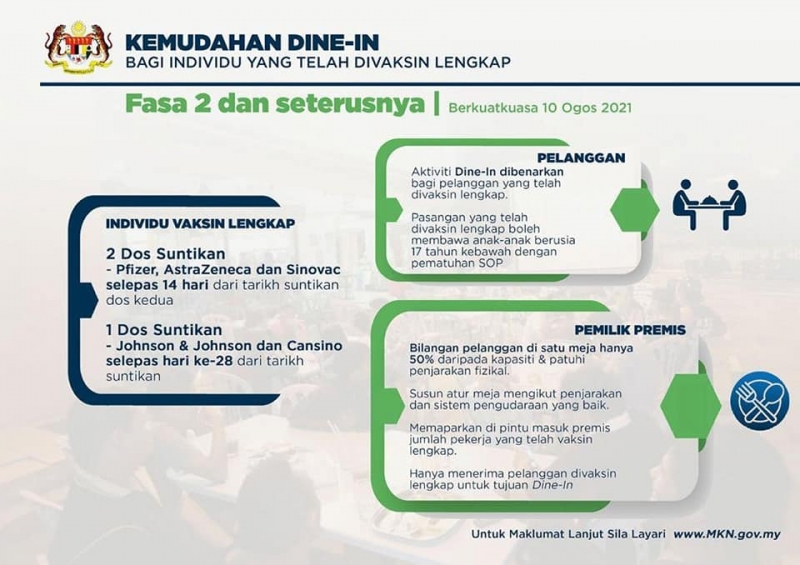 After 19 August 2021, this privilege is now extended to all those who are fully vaccinated in all areas regardless of NRP Phase. 
a) Only fully-vaccinated patrons will be allowed to dine in. A notice must be displayed at the front of the premises to reflect this.
b) The owner of the premises must also display a sign informing patrons of the number of staff members who have received their vaccines. 
c) The premises must be able to adhere to proper social and physical distancing. This includes limiting the number of diners at a table and ensuring adequate ventilation. 
d) What's more, fully-vaccinated parents who wish to bring their children (under 18 and unvaccinated) for dine-ins must ensure that they adhere to the SOPs strictly. 
4. Sports and social activities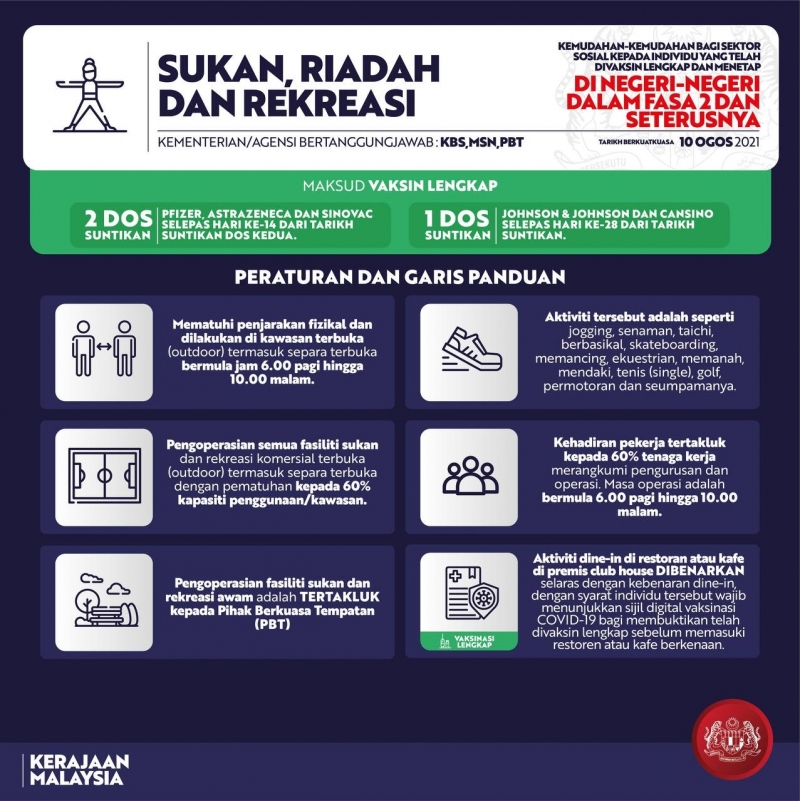 With the new SOP relaxations, a few more social sectors will be able to reopen. Individuals who are fully vaccinated will also be able to enjoy a wider range of sports and exercise activities. 
a) Thus, all outdoor sports and recreational activities will be allowed between 6 a.m. and 10 p.m. Examples of these include jogging, skateboarding, bicycling, fishing, hiking, golf, archery, horse-riding etc. You MUST observe physical distancing at all times.
b) All private outdoor (or semi-outdoor) sports facilities will be able to operate at 60% maximum capacity. This also applies to the number of staff members on duty. However, the operation of PUBLIC sports and recreational facilities will be under the discretion of the local/state authorities. 
c) In addition, you can participate in non-contact sports like tennis. However, you can ONLY participate in singles matches. 
d) For now, changing rooms and shower rooms remain closed due to ventilation guidelines. 
Note: Following the announcement on 19 August, fully vaccinated individuals in areas under NRP Phase 1 may also enjoy these SOP relaxations. 
5. Tourism activities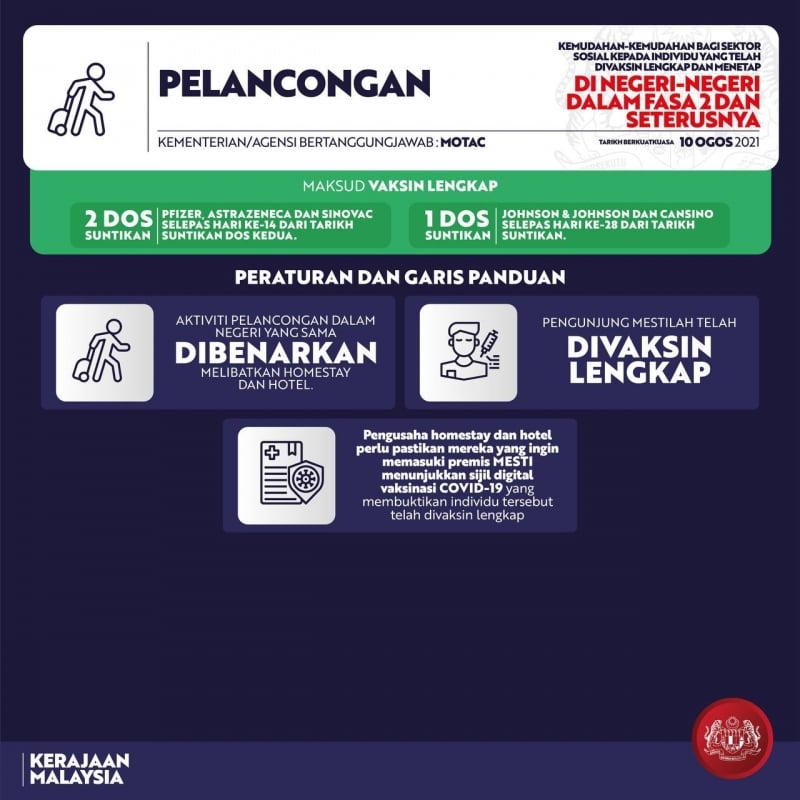 This applies to those in Phases 2, 3, and 4 of the NRP. Under the current SOP relaxations, fully-vaccinated individuals will be able to enjoy SOME form of tourism WITHIN their own state. At the moment, only hotels and homestays can operate. 
Visitors MUST present a valid digital vaccination certificate upon entry. 
Also read: Airbnbs in Genting That Are Perfect For A Cool Getaway In Misty Hills!
6. Religious activities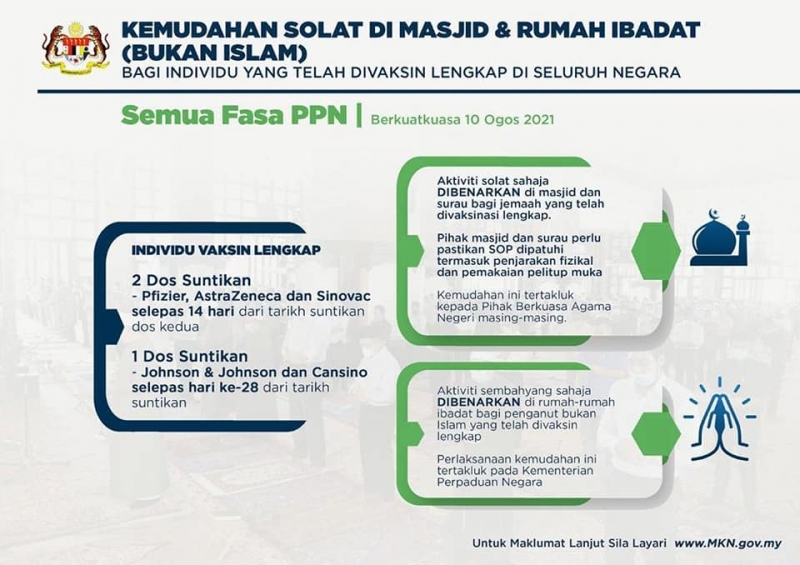 In general, places of worship can welcome worshipers again under certain conditions. 
a) All those attending prayers and services must be able to provide a valid digital vaccination certificate. 
b) Despite this, all current COVID-19 SOPs must remain in place. This includes the wearing of face masks, proper social and physical distancing, and more. 
The allowance of places of worship to reopen is subject to the approval of the State Religious Authority (for Muslims), and the National Unity Ministry (for non-Muslims). 
7. Sectors Reopening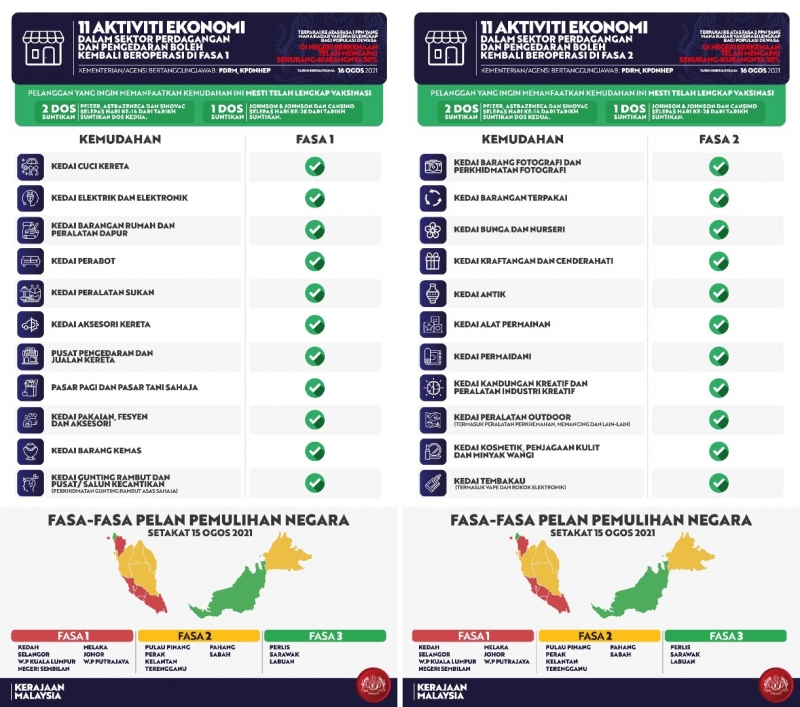 In addition, following an announcement by the National Security Council on 15 August 2021, the following sectors and businesses will be allowed to reopen to fully vaccinated Malaysians starting 16 August 2021. 
For areas under NRP Phase 1: Car wash, electrical and electronic stores, kitchen hardware stores, furniture stores, sports equipment stores, car accessories workshops, car dealerships, morning markets and farmers' markets, clothing and apparel stores, jewelry stores, and beauty and hair salons. Pasar Malams and Sunday Markets are now also allowed to operate. 
For areas under NRP Phase 2: Photography stores, used items stores, florists, handicraft and souvenir shops, antique shops, toy stores, carpet and textile shops, creative arts stores, outdoor tools stores, cosmetics stores, tobacco stores
In addition, theatres, cinemas, and other forms of live entertainment and performances have also been allowed to resume. 
Always be cautious
As much as I would like to sound excited about these SOP relaxations, I also understand that some of us are still anxious and worried (rightfully so) about the current situation. 
For some of us, these SOP relaxations are a welcome addition to our lives after spending the majority of 2021 at home. However, if you are planning to dine out or go on a staycation, please ensure that you remain cautious at all times and stay safe! 
If you need a quick, visual summary, click here! 
Also read: Top 8 Best Airbnbs in Penang For Your Next Staycation