Penang is one of the top destinations in Malaysia that is famous for its delicious food. With its abundance of mouthwatering delights, it is arguably THE food capital of the country! Of course, there are also plenty of fun attractions too! Ranging from cultural sites and whacky museums to stunning scenery, Penang has it all! 
But what about places to stay for your trip? Of course, there is no shortage of classy hotels in Penang but if you want some truly stunning accommodation options, we've got you covered. In Penang, there are plenty of amazing Airbnb options to choose from! Some of them offer breathtaking views while others provide homey comforts, allowing you to fully experience a luxurious staycation! Check them out: 
1. A luxurious view of the ocean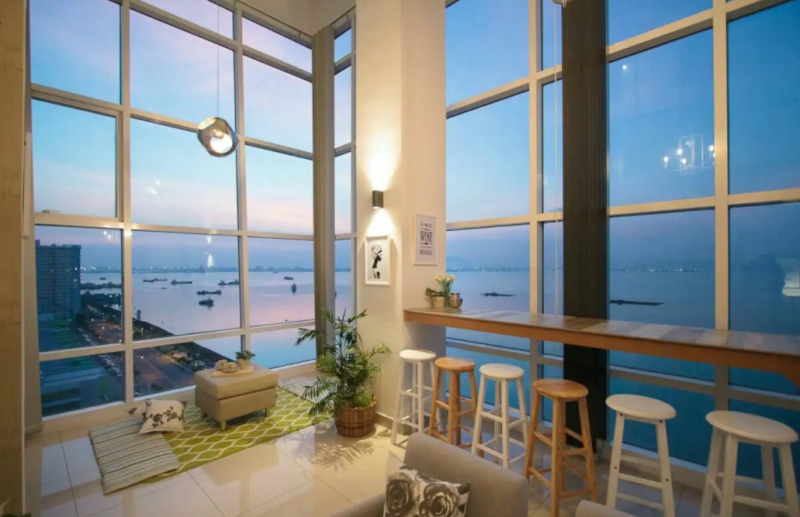 Listing Name:Maritime*THE PANORAMA | 日出无敌全海景 @ GEORGETOWN
Listing Type:Entire home
Max. no. of guests:7
No. of bedrooms:2
This luxury apartment at Maritime is just five minutes away from popular food hunting spots in Georgetown. Located along Karpal Singh Drive, about 20 minutes from the airport, the apartment offers stunning views of the harbour. This Scandinavian-style home is clean, simple, and so homey it feels almost like a dream home!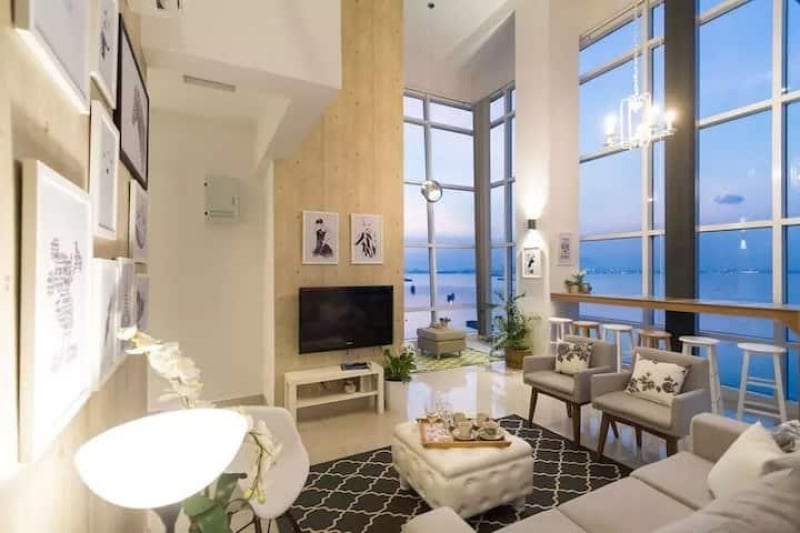 The highlight is of this stay is the 180° living area that's surrounded by floor-to-ceiling glass windows. Apart from the tasteful interior decor that's easy on the eyes, this spacious area also offers panoramic views of the ocean, hence the name of the apartment! Imagine having breakfast in the morning while looking out on the open ocean. Ooof, that is MY kind of staycation! 
Apart from that, the apartment also comes with WIFI, a fully functional kitchen, and even a gym and pool on the fifth floor of the apartment. The only problem you might have is never wanting to leave! 
2. A charming abode filled with nostalgia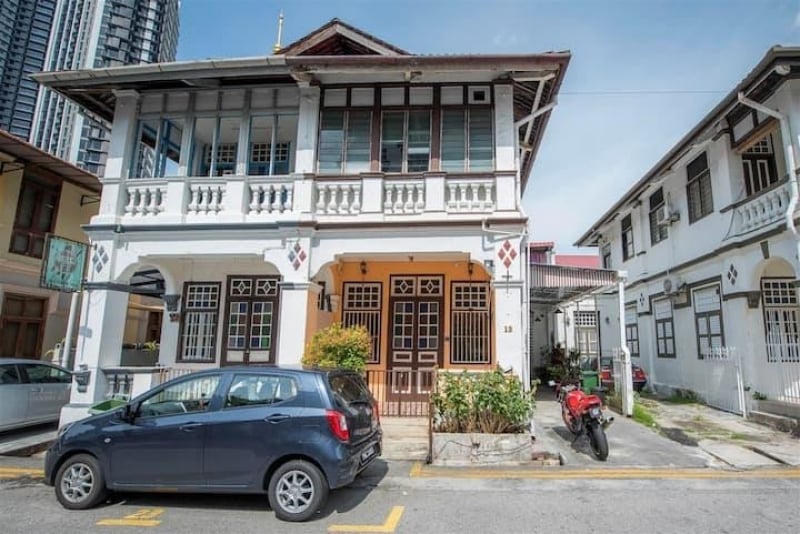 Listing Name:Heritage Loft Suite @ 3 Pax @ Jacuzzi Gurney Drive
Listing Type:Private room in townhouse
Max. no. of guests:3
No. of bedrooms:1
If you like vintage decor and nostalgic vibes, then you don't want to miss this retro-style Airbnb in Penang. Housed within a pre-war colonial townhouse that was built in 1928, Heritage Loft Suite offers homey comforts with a whiff of nostalgia.
Located along the bustling Bangkok Lane, the townhouse is just a short walking distance away from Gurney Drive and just 3km away from the city centre. Perfect for those who want to hunt for the best eats in Penang!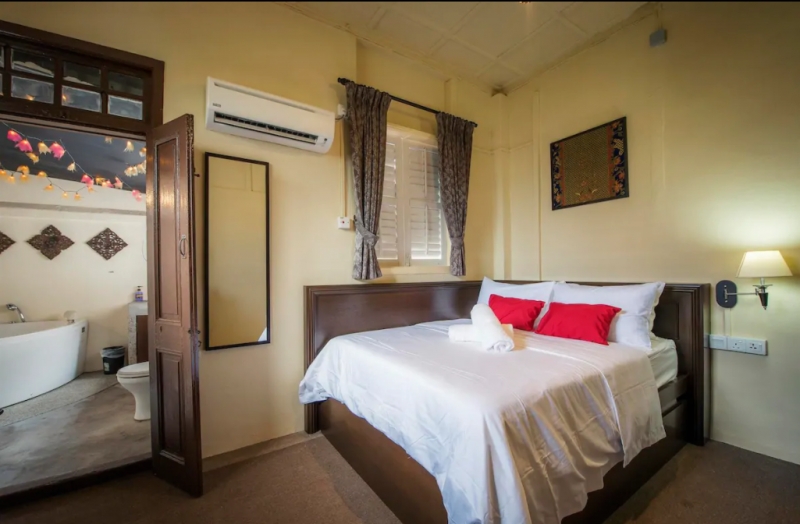 While the decor is a major throwback to times long gone, the accommodation also provides plenty of modern comforts. WIFI, television sets, and minibars are all available at the listing. There's also a shared kitchenette where you can make simple meals. 
3. Admire Penang's mesmerising night view
Listing Name:Penang Arte S Studio Homestay
Listing Type:Entire apartment
Max. no. of guests:2
No. of bedrooms:1
Arte S Penang is the second tallest building in Penang, towering majestically over the cityscape. Featuring a studio apartment with an ensuite bathroom, it's the perfect staycation choice for couples. It's also located in a great position, just a short distance away from popular attractions like Penang Hill, Kek Lok Si, and more, not to mention plenty of eateries around.
On-site, you'll find a pool, a sauna, a gym, and much more! However, the most impressive location of the apartment is on the 35th floor. Here, you'll find an ambient garden with two pods that double up as a jacuzzi and activity space. From there, you'll be able to take in a truly spectacular view of Penang's skyline. This is especially memorable at night when the skyline is illuminated by the colourful lights of the city. It's no wonder so many guests call this Penang's most beautiful Airbnb!   
4. A lovely getaway in a vintage shophouse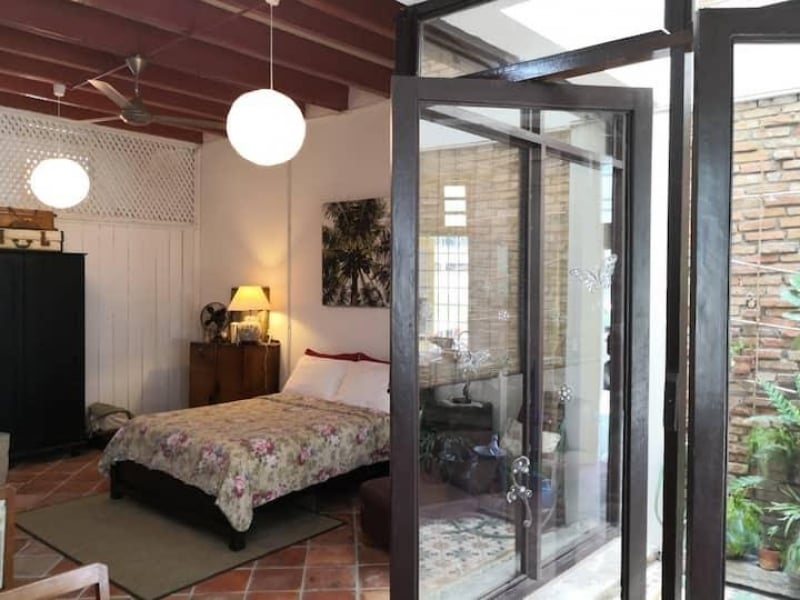 Listing Name:The Shophouse studio in George Town
Listing Type:Entire house
Max. no. of guests:2
No. of bedrooms:1
The Shophouse Studio is a three-storey shophouse that's located in the heart of Georgetown. While it may not look like much, the shophouse is actually over 100 years old! Of course, thanks to some tasteful renovation, it is now one of the top Airbnb options in the city! Not only is it clean and comfortable, but a stay here is also quite therapeutic, thanks to the melodic singing of birds in the morning. 
Located next to a traditional Hainanese bakery, you'll also be able to enjoy the mouthwatering fragrance of freshly baked buns throughout the day. Careful not to drool over yourself!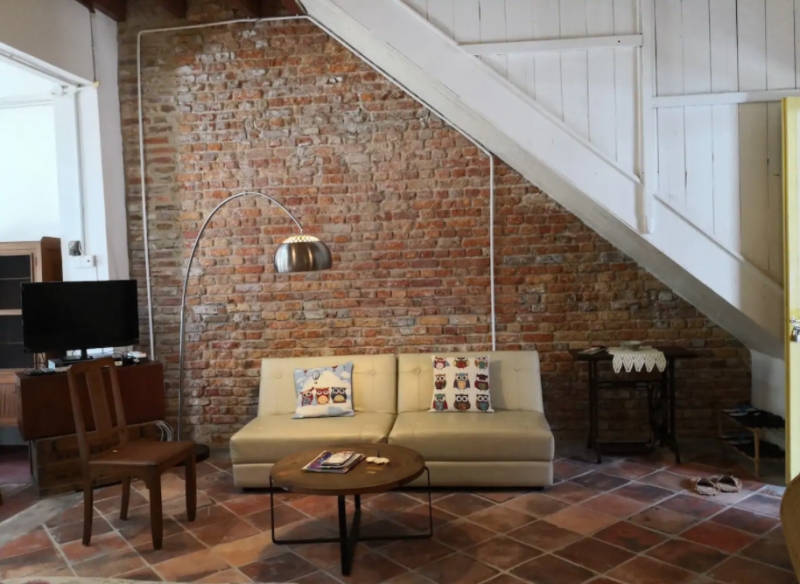 While there are three storeys, only the ground floor is being rented out at the moment. Featuring a sofa and bed, it can comfortably fit three, which makes it a good option for small group getaways. 
5. The perfect accommodation for a weekend movie marathon
Listing Name:2-4 pax HIGH TECH cinema Studio高科技影院套房from RM199+
Listing Type:Entire apartment
Max. no. of guests:4
No. of bedrooms:1
If you're looking for a semi-futuristic, hi-tech accommodation for your staycation in Penang, you can't go wrong with this awesome studio apartment. apart from the ambient lighting and decor, the highlight of the apartment is the 210″ home cinema and 7.1 surround sound system! Marvel marathon, anyone?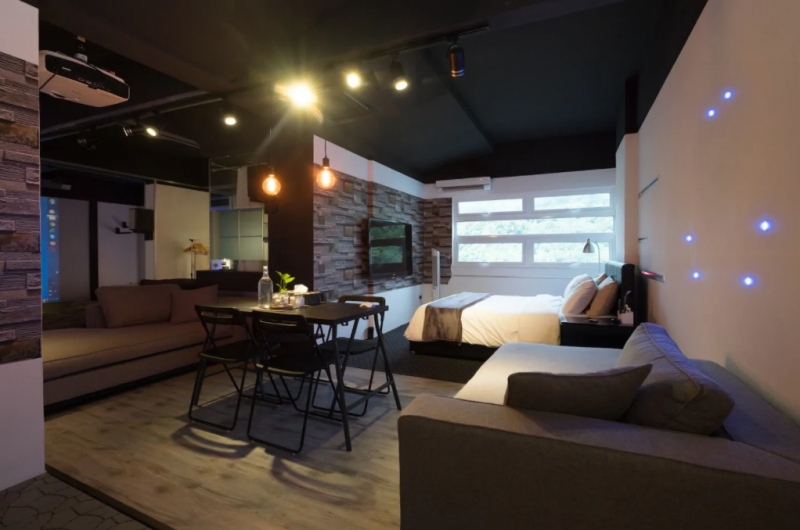 6. The best option to admire the sunrise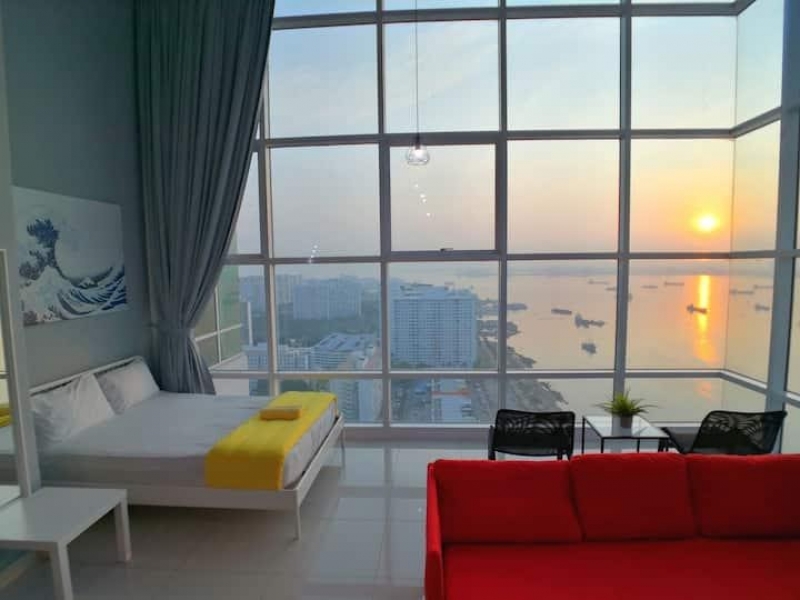 Listing Name:180° Sunrise Seaview Seaside Duplex 无敌日出全海景海边套房
Listing Type:Entire apartment
Max. no. of guests:8
No. of bedrooms:2
This is the second listing on our list that's located at Maritime Suite. What can we say? We just can't get over the mesmerising coastal views! This modern Airbnb is extremely homey, enjoying plenty of sunlight during the day. The best part is that the bedrooms faces the ocean. So, if you want, you can wake up to a beautiful sunrise in the morning!
And, with two storeys, you can easily fit a group of 6 to 8 occupants! So, if you're looking for a staycation with your family or close friends with a view to boot, don't miss this recommendation! 
7. An European-style home you won't soon forget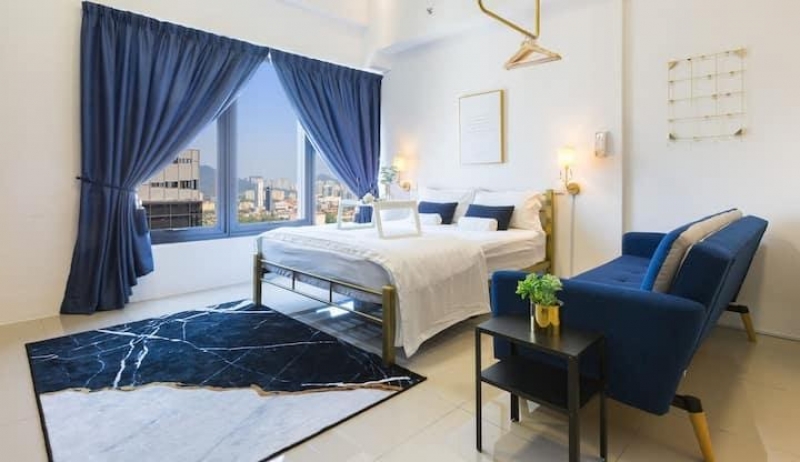 Listing Name:180° Sunrise Seaview Seaside Duplex 无敌日出全海景海边套房
Listing Type:Entire apartment
Max. no. of guests:8
No. of bedrooms:2
If you've ever dreamed of owning a northern European home, then this Airbnb will make your dreams come true! With Insta-worthy backdrops in every corner, this European-styled apartment is a joy to live in!
In general, the overarching colour scheme is blue and white, giving off a gentle, elegant vibe. With a queen-size bed, a sofa, and a floor bed to boot, it's a comfortable place to stay for a family of four. 
8. The perfect family staycation!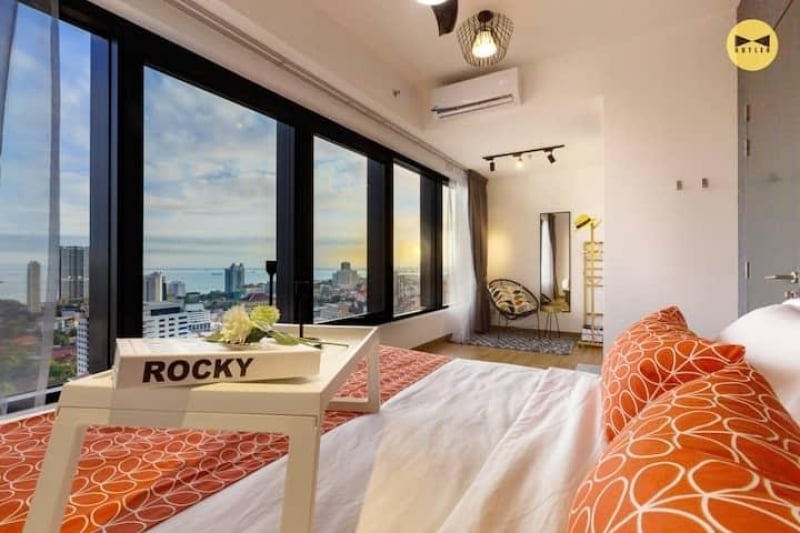 Listing Name:50%OFF【Sunrise】Seaview 1BR •FoodAround •CityCenter
Listing Type:Entire apartment
Max. no. of guests:6
No. of bedrooms:1
Located on Macalister Road,  this trendy apartment is the ideal choice for a family staycation. Featuring a large king-sized bed, a sofa bed and a few floor beds, it can fit six pretty comfortably. From the 23rd floor, you'll be treated to fantastic views all day long! There are also plenty of amenities in the building, including a pool, playground, and gym.
The best part? It's so close to the city centre that it's the perfect spot for foodies to start their food hunt from! 
Are you ready for your Penang staycation yet? Bookmark these Airbnbs and make your next trip to Penang a truly memorable one! Of course, remember to stay safe, always! 
Also read: 7 Airbnbs Near KL For A Balinese Staycation