Genting Highlands is easily one of Malaysia's most popular travel destinations by far. Known for its cooling weather, exciting attractions, and therapeutic vibes, it is one of the top choices in Malaysia for a quick, cool getaway. Most Malaysians will probably think about First World Hotel or any other of the luxurious resorts when it comes to Genting, but did you know that there are also plenty of homey Airbnbs to choose from?
Located at the foot and middle of the hill, these Airbnbs in Genting boast fantastic views, ideal locations, and a cozy ambience that makes it hard to leave.  In short, they're perfect for a family staycation or an overnight outing with a bunch of friends. Here are our top eight picks for the best Airbnbs in Genting for your next trip to the City of Entertainment! 
1. A romantic villa in the hills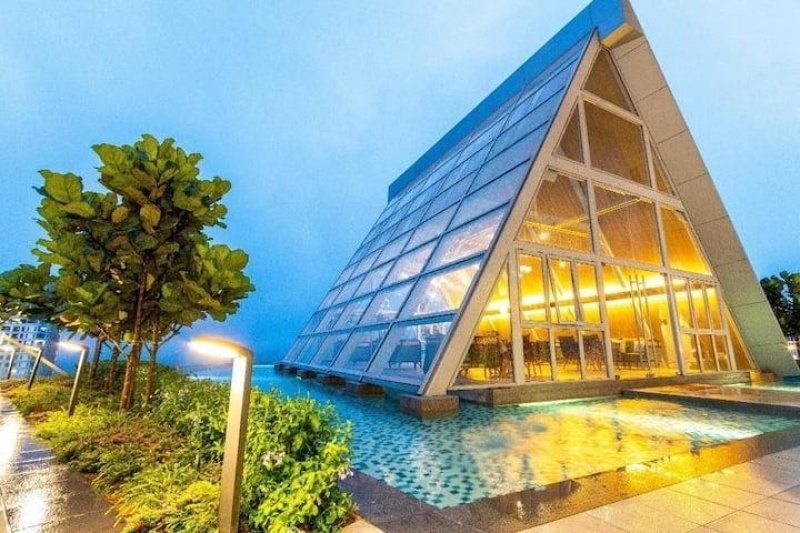 Listing name: Genting Windmill Upon Hills 2 BR & Awesome View
Listing type: Entire condominium 
Max no. of guests: 6
No. of rooms: 2
Windmill Upon Hills is an Airbnb in Genting that's located in the midhill area of Genting. It features a wide array of amenities and facilities including a gym, a pool, jacuzzis, and saunas. On the 41st floor, there's even a whimsical glass restaurant that's built over water! It comes as no surprise that this spot in particular is a popular location for Instagram photoshoots at this establishment.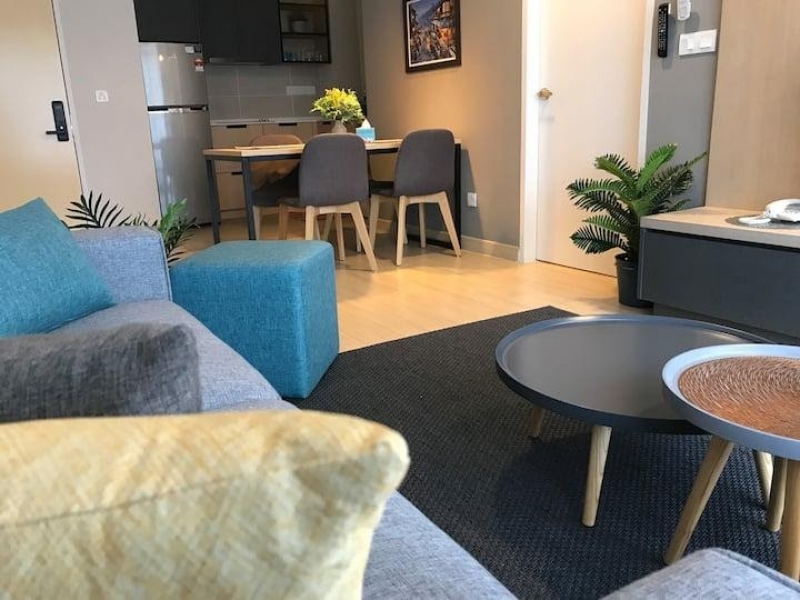 Inside, the decor gives off a comforting, homey vibe. This two-bedroom unit also comes with a living room, a kitchenette, laundry facilities, and more. So instead of feeling like a guest, you'd feel like you were living in your dream home! Just imagine: Sipping coffee while looking at the verdant scenery from your balcony. Oh, how therapeutic! Of course, another plus of this accommodation option is that it is only a ten-minute drive from Genting Premium Outlets! 
Also read: TOP 8 BEST AIRBNBS IN PENANG FOR YOUR NEXT STAYCATION
2. A luxurious staycation for a group of friends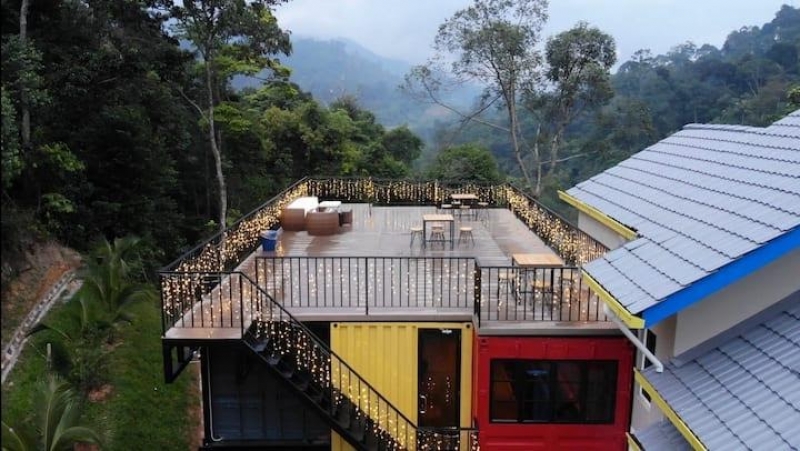 Airbnb listing: Box Pool Villa @Genting Highland Foot / G.Sempah
Listing type: Entire villa
Max no. of guests: 16
No. of rooms: 4
Box Pool Villa is a private 9,000 sq ft villa located at Genting Sempah. It boats wide-open spaces that are perfect for outdoor activities between friends and family. Located idly next to verdant hills and forests, a stay at this Airbnb in Genting guarantees not only a chance to recharge but also some fresh air. The colourful villa is also extremely attractive and IG-worthy, featuring plenty of wooden furnishing that's pleasing to the eye. It also gives the property an air of luxury!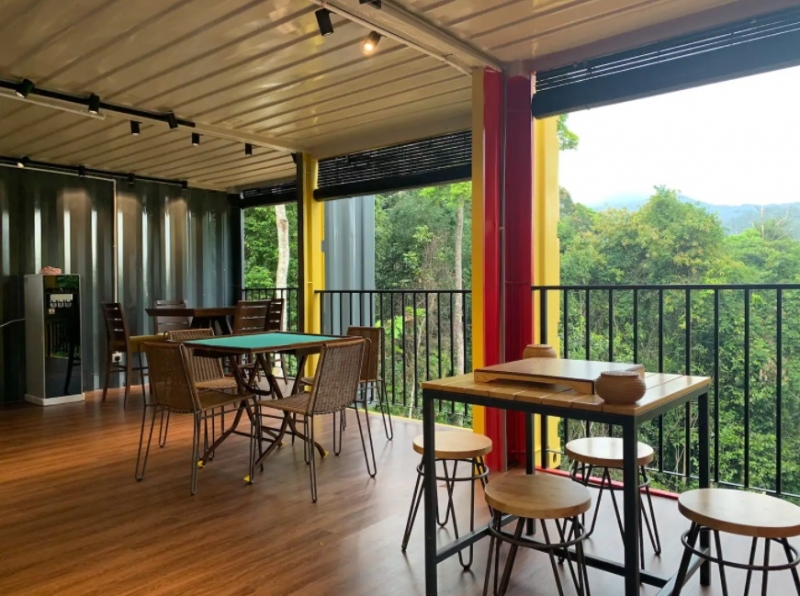 There are multiple different attractions to keep you entertained, including a swimming pool in a shipping container, karaoke, snooker tables, and more. At night, you can even gather at the BBQ pit for a nice cookout! Ah, such a welcome break from city life! 
3. An ambient French Villa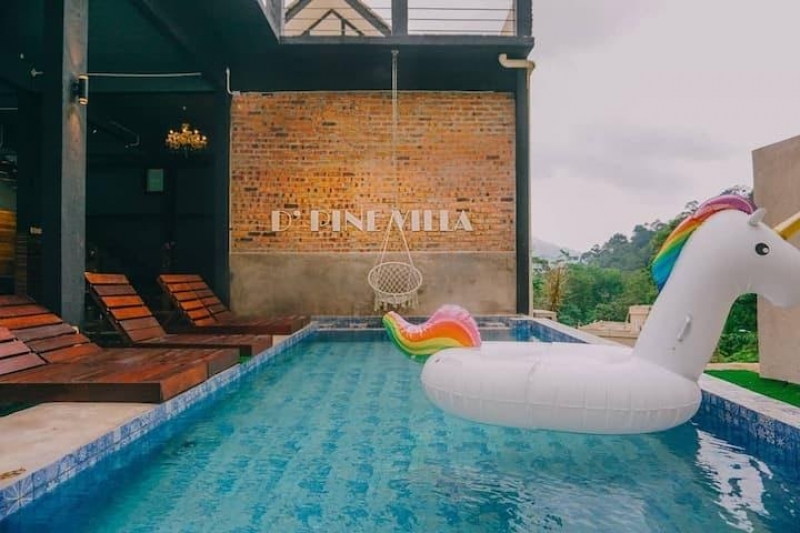 Airbnb listing: D'Pine Villa
Listing type: Entire villa
Max no. of guests: 16
No. of rooms: 5
This Airbnb in Genting is a majestic villa that's built to resemble a classic French building, with black and white colour tones permeating throughout the premises. The best part about this villa is the wide activity space that functions as the game area. It includes a BBQ area, snooker tables, karaoke equipment, and more.
In addition, the kitchen and dining area also allows you to prepare some scrumptious home-cooked meals. Since there's also an outdoor cinema by the pool, why not cook up a nice dinner with your friends and have a memorable movie night to end the day? Sounds like a dream staycation to me!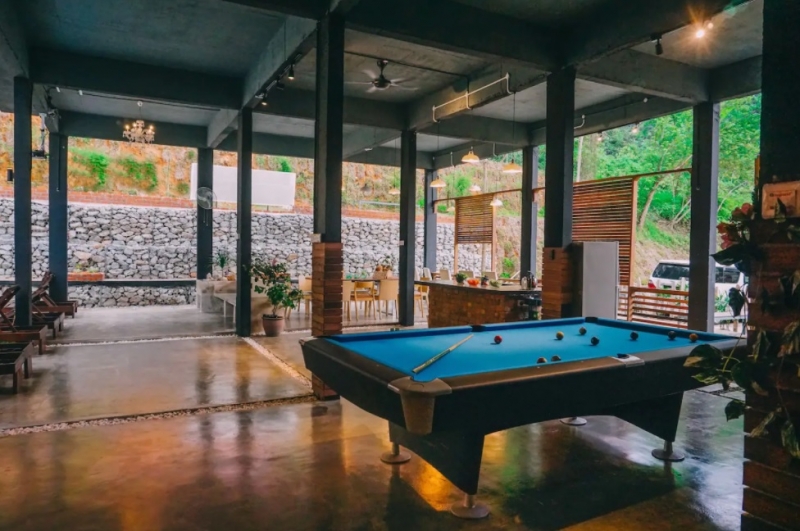 4. A natural haven with creature comforts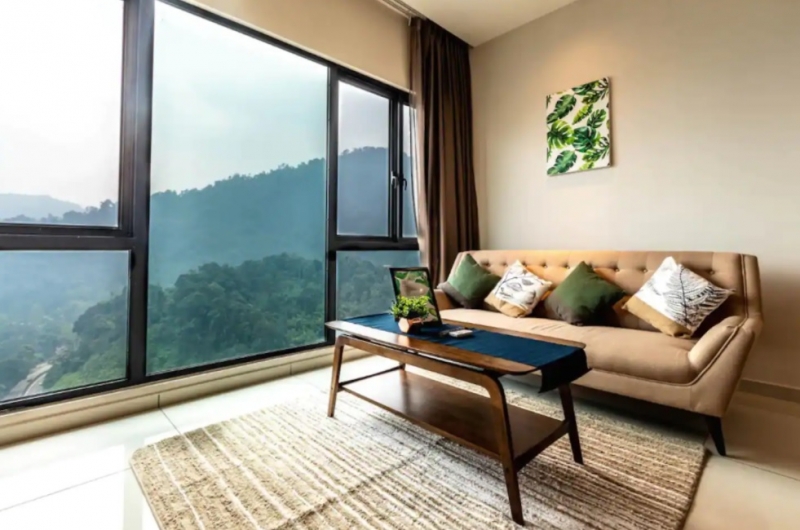 Airbnb listing: Tucana Luxury 2Bedder I Geo38 Genting
Airbnb type: Entire apartment
Max no. of guests: 4 
No. of rooms: 2 
This Airbnb in Genting is one of the apartment units of Geo 38 Residence. It is located in the mid-hills of Genting and is within close distance of several famous attractions, convenience stores, and eateries. Fully furnished with impressive views of the surrounding hills, it is one of the best staycation options on this list.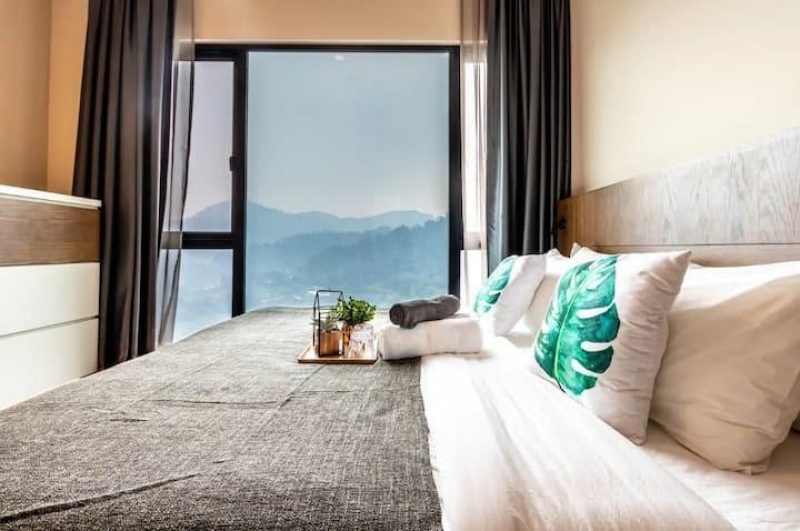 The best feature of this Airbnb is the ceiling-to-floor windows, allowing you to admire the misty hills of Genting from the comfort of your own room. Waking up to this magical sight is akin to being transported to the hills of Switzerland! If all you want is a chance to relax and unwind, then we highly recommend checking out this listing!  
5. A simple but homey abode by the hill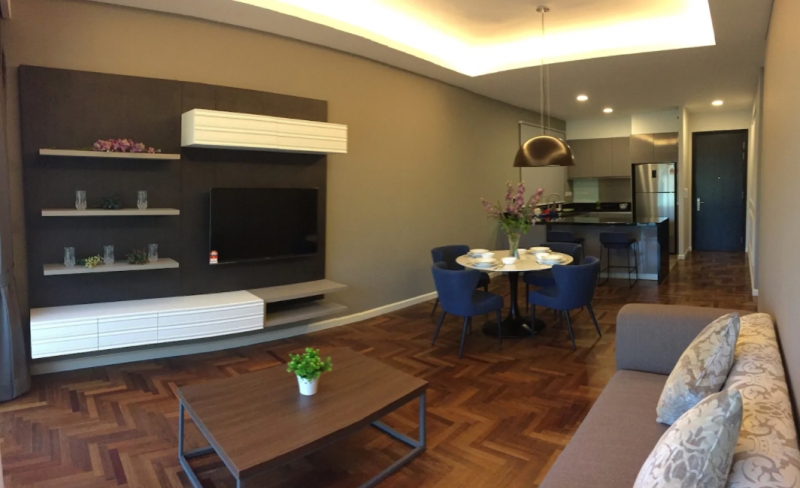 Airbnb listing: Vista Genting Luxury Suites 3Bedroom
Airbnb type: Entire apartment
Max no. of guests: 6
No. of rooms: 3 
Vista Residences is located in an ideal location, just a few minutes away from the popular Genting Premium Outlet and strawberry farm. Restaurants and convenience stores are all within walking distance too! This is one of the Airbnbs in Genting that proves that simplicity can sometimes be the best option for a staycation.
It has the amenities we've all come to know and love about a home away from home and is able to fit up to six people. This makes it ideal for family getaways.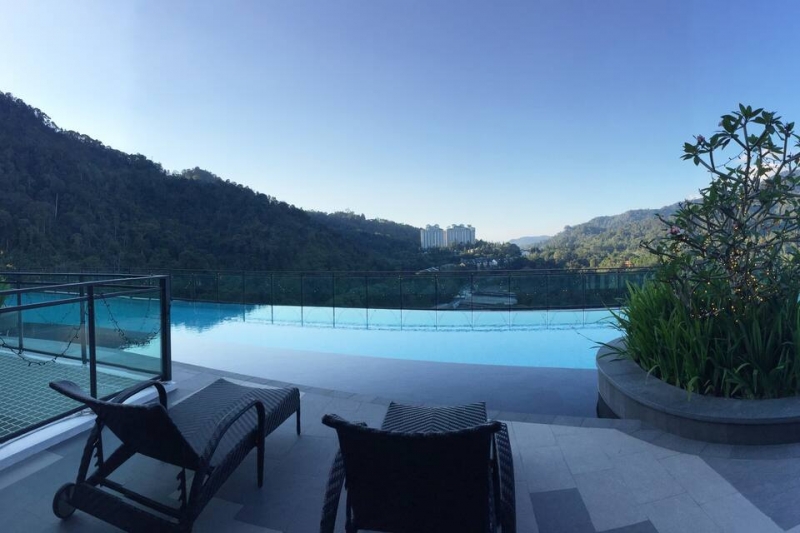 You will also find a gym, an outdoor swimming pool, a playground, and a garden in this apartment block. From a distance, you can even see the famous resorts of Genting (on a clear day). 
6. A relaxing Chinese-style stay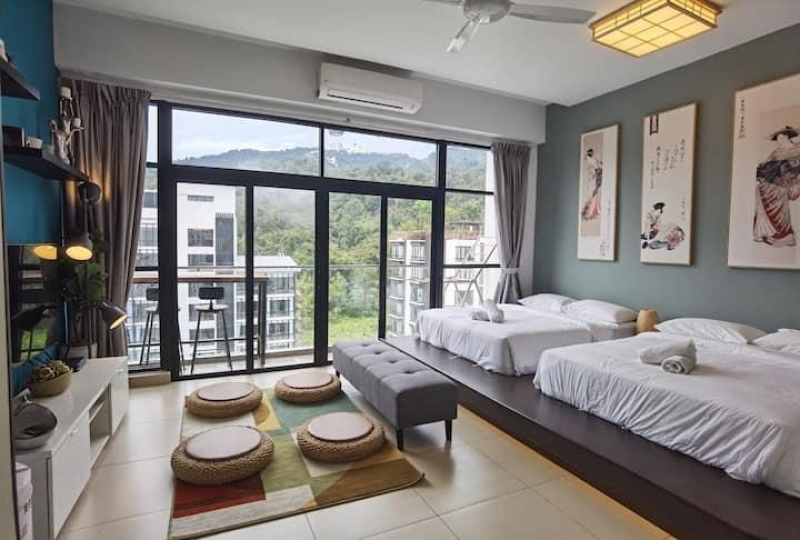 Airbnb listing: Garden [email protected] Genting Highlands
Listing type: Entire apartment
Max no. of guests: 8-10
No. of rooms: 2
This Airbnb in Genting is located in Garden Suite Residences in Midhill Genting Highlands. A spacious abode, this apartment block features plenty of Chinese-inspired interior decor, punctuated by Chinese paintings on the walls of the living room. 
While the decor provides a throwback to ancient Chinese aesthetics, the rooms are furnished with modern amenities, including a flat-screen TV, WIFI, and more.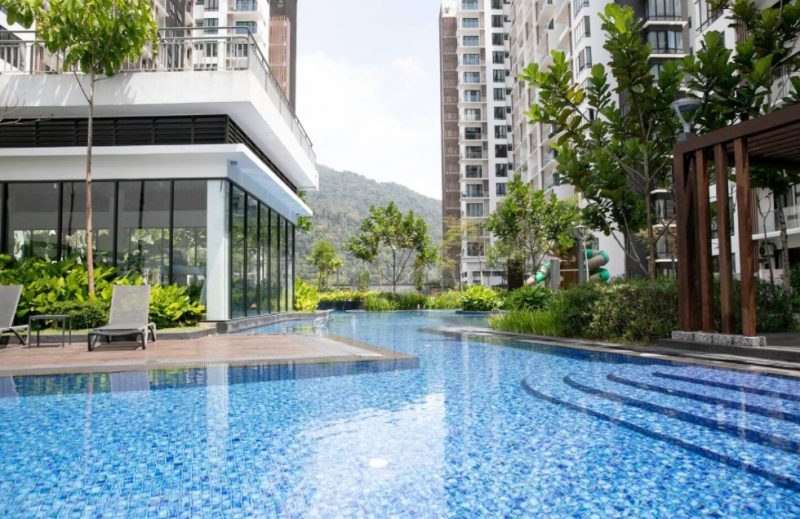 Also read: AIRBNBS IN SABAH THAT WIL MAKE YOU FALL IN LOVE WITH NATURE
7. A hotel-style home with an incredible view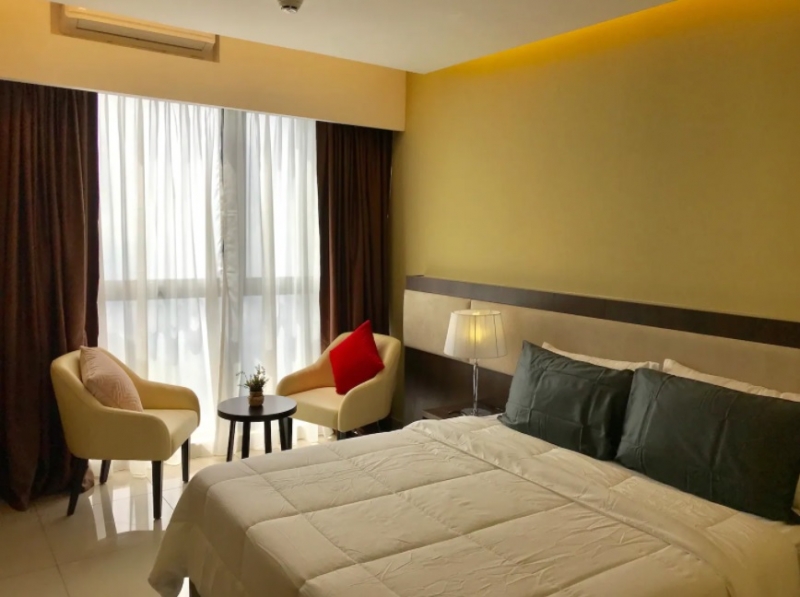 Airbnb listing: Grand Ion Delemen Genting Highland
Listing type: Entire serviced apartment
Max no. of guests: 2
No. of rooms: 1
If you ever wanted to experience what it's like staying at the peak of Genting, this is the one for you. Located towards the top of the hills, this serviced apartment is one of the top Airbnbs in Genting. Offering hotel-style accommodation (minus the luxurious prices), Grand Ion Delemen is a stay that's perfect for couples looking for an intimate and memorable staycation.
With plenty of convenient amenities, it'd be like living in your dream home!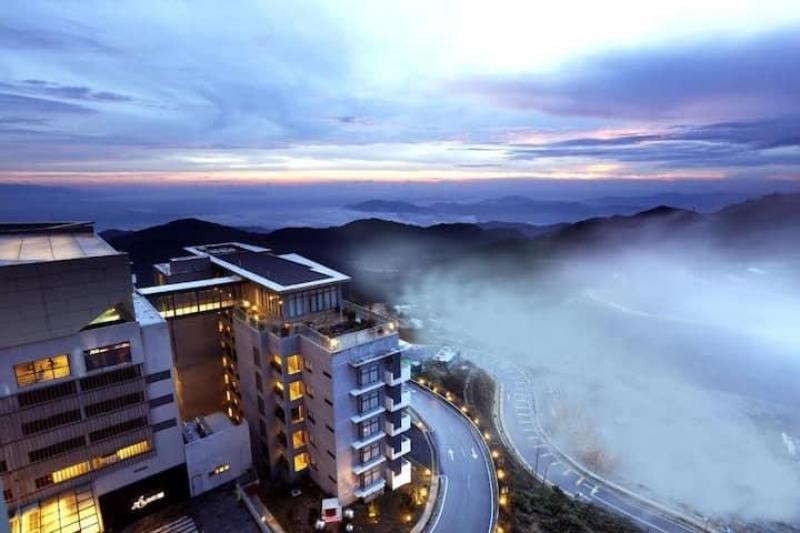 As you might have already guessed, the most impressive part about a stay here is the view from your window. As you look out from your bedroom, you'll be able to see the beautiful mist-covered hills. The sight is akin to a picture right out of a fairy tale book! What's more, you'll also be able to catch the sunset in the evening!
Apart from that, you'll also find plenty of facilities to keep you entertained. These include a lovely garden, a 24-hour gym room, a sauna, and plenty of on-site restaurants. 
8. A dreamy glamping experience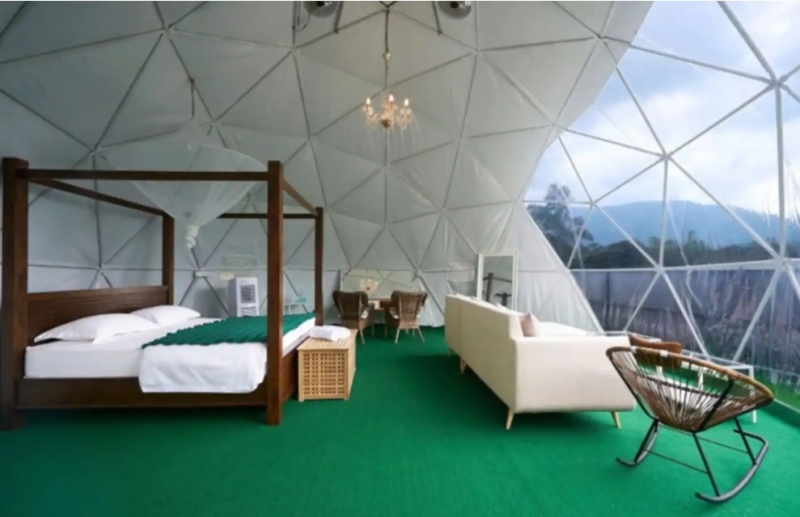 Listing name: Glamz At Genting
Listing type: Private room in dome house
Max no. of guests: 2
No. of rooms: 1
If you'd like to try glamping (glamorous camping), then this Airbnb in Genting might just be your cup of tea. Located in the mid hill of Genting, GLAMZ at Genting offers a luxurious stay and a chance to get close to nature. Housed in an open space, it is one of the few places where you can catch a break from city life and rejuvenate your soul. And of course, the cool air and starry skies at night are a plus too!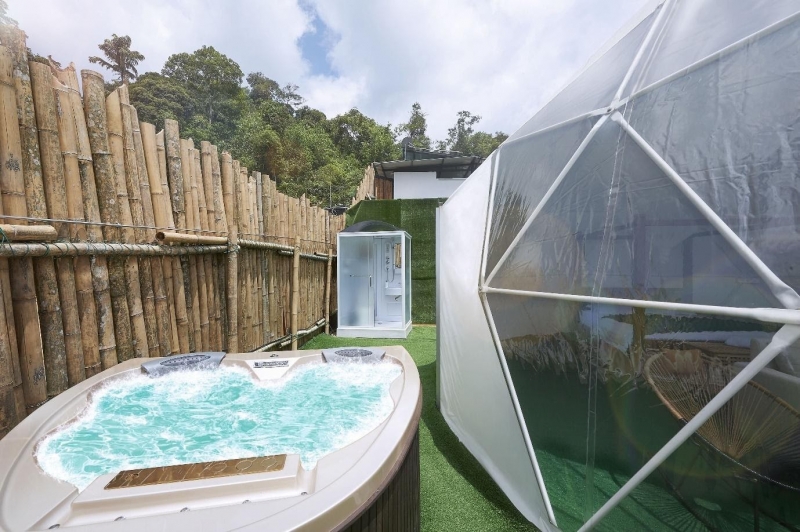 There are also plenty of activities outside your cozy little dome. You could take a dip in the outdoor jacuzzi, plan a BBQ dinner with friends, or even sign up for a jungle walk! Regardless of what you do, you're bound to be in for a memorable stay! 
After looking at this list of Airbnbs in Genting, don't you already feel like planning a staycation there? Then bookmark this list and when things start getting better (in terms of the pandemic), you're all set for a memorable stay unlike any other!