Here's a fact bomb for you: Malaysians are expected to become the second most seasoned travellers in Southeast Asia within the next few years. That's according to projections made by the Malaysian Association of Tour and Travel Agents (MATTA).
It's estimated that by 2021, Malaysians will make about 14.2 million trips out of the country annually! This represents a marked increase of 3.5% from 12 million in 2016. That means that 1 in every 3 Malaysians will be making at least one overseas trip per year. It's not a far cry then to say that Malaysians simply love to travel.
As a Malaysian, I love travelling too. I travel quite a lot actually and one of the questions I get asked a lot is, how do I afford to keep travelling? With the Ringgit currency and performance fluctuating on the forex market, this becomes even more important today.
No, I'm not a Crazy Rich Asian. In fact, nothing makes me happier than being able to travel whilst keeping my budget in check. That being said, there are several tricks and travel hacks I often use to make life a lot easier.
If you're like me then you probably love a good money-saving hack as well. Well, today, I'm sharing some of them with you! These are what I often use to keep my travel costs low and manageable. Hey, it might even help you start your own life on the road!
During the planning stage
It's a commonly-known fact that some destinations are more expensive to travel to than others. If you want to save money, then be open-minded and flexible about where you travel to.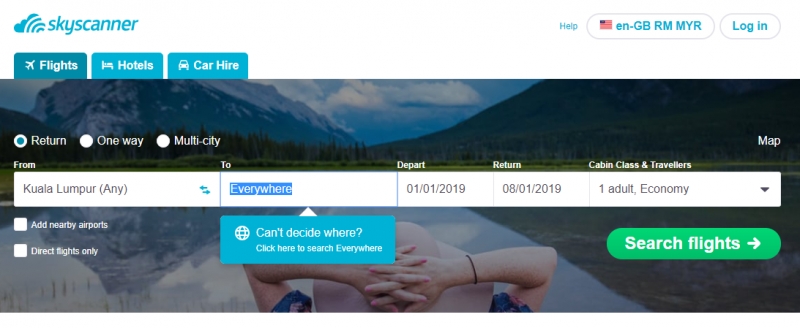 Whenever I feel like travelling, my first point of reference is Skyscanner, a travel meta-search company available on web desktop, mobile and app. I'll be honest, I sometimes visit Skyscanner even when I don't have any particular destination in mind! By utilising the unique "Everywhere" search option, I can browse every possible location that I can fly to from the departure point of my choosing.
I have discovered enticing hidden gems that are often more affordable and budget-friendly than mainstream, popular destinations. While most of my friends were jetting off to Bangkok or Phuket for their vacations, I opted to visit places like Chiang Mai (lovely weather in January by the way) and Hua Hin, away from the massive crowds and mainstream tourist attractions.
Honestly, I wasn't even thinking about these places until I realised there were cheap, direct flights there. So, if you're on the lookout for an affordable destination too, you should give this a go!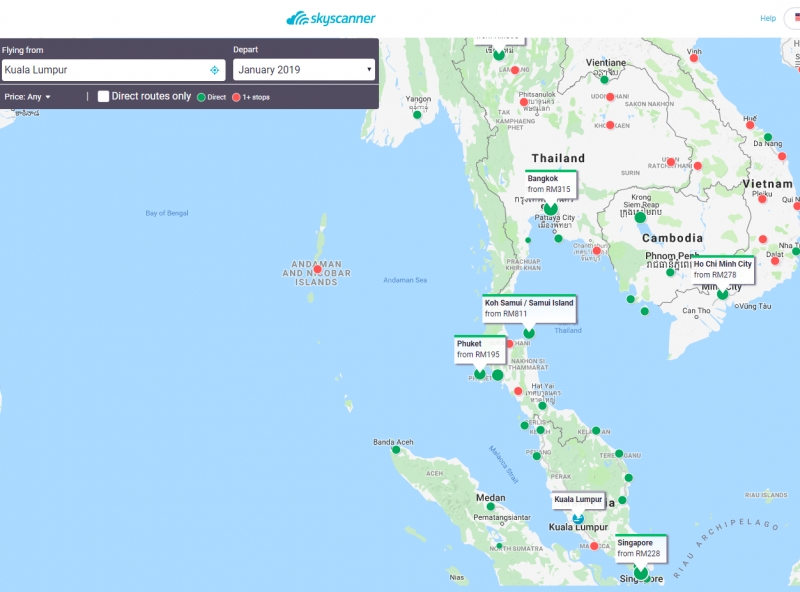 Speaking of affordable destinations, the Skyscanner Map, is a great visual tool to help you see all available destinations and travel routes at a glance. The green dots represent the direct flights that you can take from your departure point, while the red dots represent destinations that involve one or more stopovers. How convenient!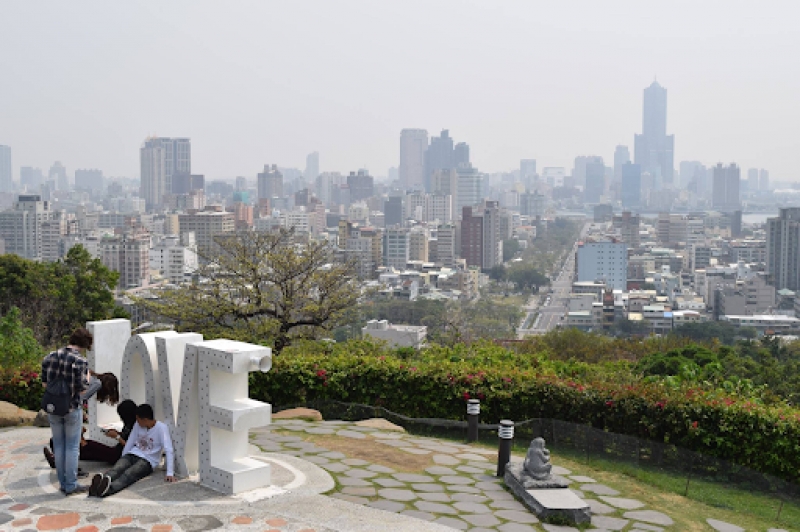 Not too long ago, I was getting ready to travel to Taiwan for a long-needed break from work. Initially, I looked up flights to Taipei since most of my friends fly there when they visit Taiwan. However, just before booking the tickets, I decided to try out the Skyscanner Map. And what a decision that proved to be. 
To my pleasant surprise, I realised that I could fly direct to Kaohsiung from KL instead. Not only was it cheaper, it also gave me a chance to visit southern Taiwan. Needless to say, I quickly booked the flight. And that's how I fell in love with the city of Kaohsiung!
What many travellers aren't aware of is that it's actually more affordable to visit multiple destinations in one go than it is to make several different trips. This is because it is much cheaper to book several multi-city flights rather than doing several round-trip bookings. One nifty trick to help you save money is simply to travel longer!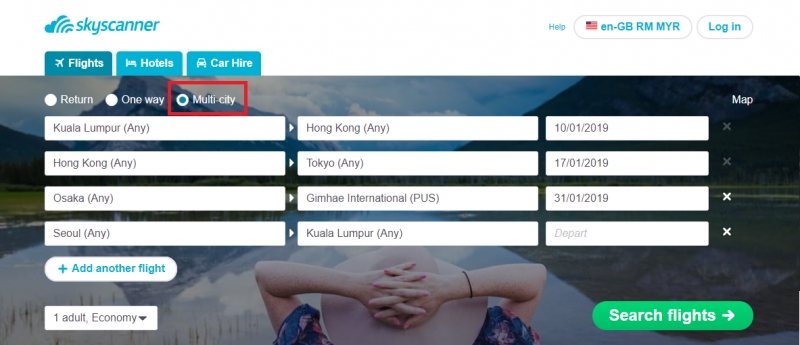 If there are several destinations you would like to visit that just so happen to be close to each other (like the screenshot above), then it makes sense to try and visit them all at once. Not only do you save time on travelling, it is also often cheaper to fly to destinations that are in close proximity to each other.
Simply select the "Multi-City" option on Skyscanner's search interface and fill in the destinations you wanna visit. The site will then conveniently bring up the most affordable multi-city options for you to pick from.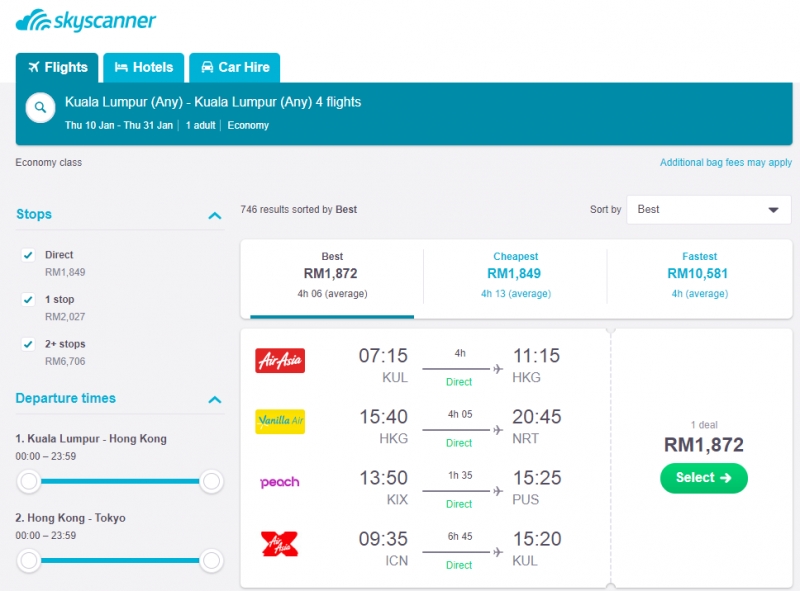 In 2017, I flew from KL to Hong Kong (RM260) and spent a few days there. I then hitched a budget flight to Tokyo for about RM250. Next, I travelled to Osaka and flew from there to South Korea (Busan) for less than RM300. If I had separated these locations into three different holidays, it would easily have cost me a lot more!
For example, a return flight to Hong Kong on the cheapest budget airlines would set you back at least RM600 while a return ticket to Tokyo can cost up to RM1,500 if you're flying from KL. If you're visiting Seoul, even during the cheapest months (June till August), it would cost about RM1,200 at least!
Based on airfare alone, I managed to save a whopping RM1,800 (including my RM700 flight back to KL from Seoul). It definitely pays to visit multiple locations in one go!
If you travel during peak season, then expect to be spending a lot more on flights and accommodation. However, if you have a specific destination in mind but you're not particular about dates (which is often the case for me), then there's an ingenious way to narrow down your costs.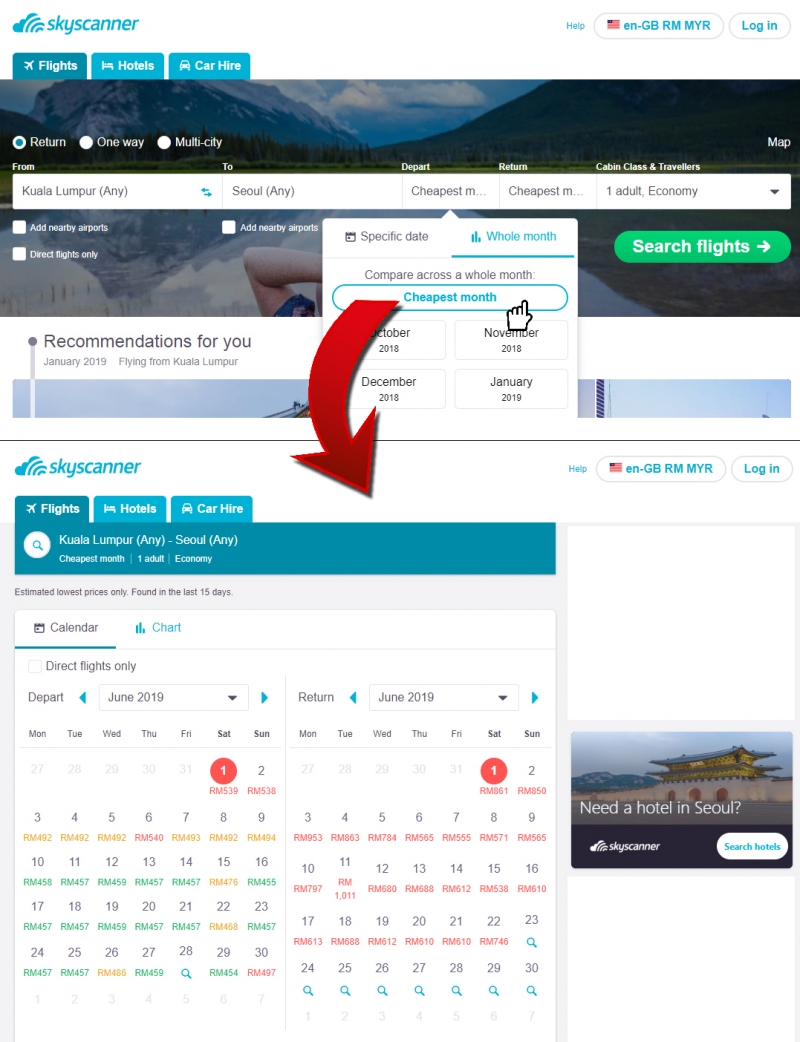 One of the best features on Skyscanner is its "Cheapest Month" search option. Basically, select a destination, and then pick the "Cheapest Month" option instead of filling in specific dates. Skyscanner will automatically show you the cheapest month to travel to that particular destination for you. Then, simply select one of the dates showing a green price which indicates the month's lower one-way prices, for both your departure and return.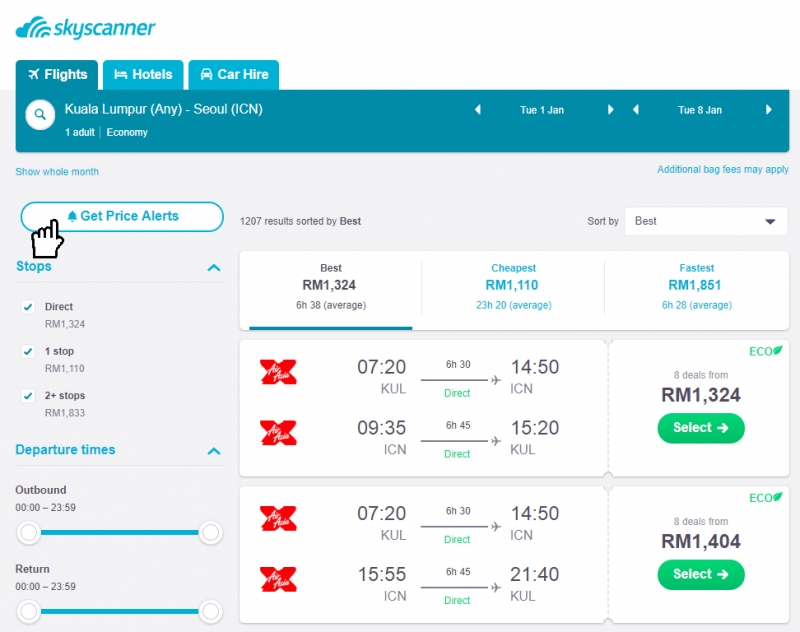 And if you're not quite ready to finalise your booking just yet, simply subscribe to their free "Price Alerts" feature and you'll stay notified whenever prices drop for your selected flights. That's how I stay up to date with flight prices and how I almost always manage to snap up the most affordable deals.
4. Pack light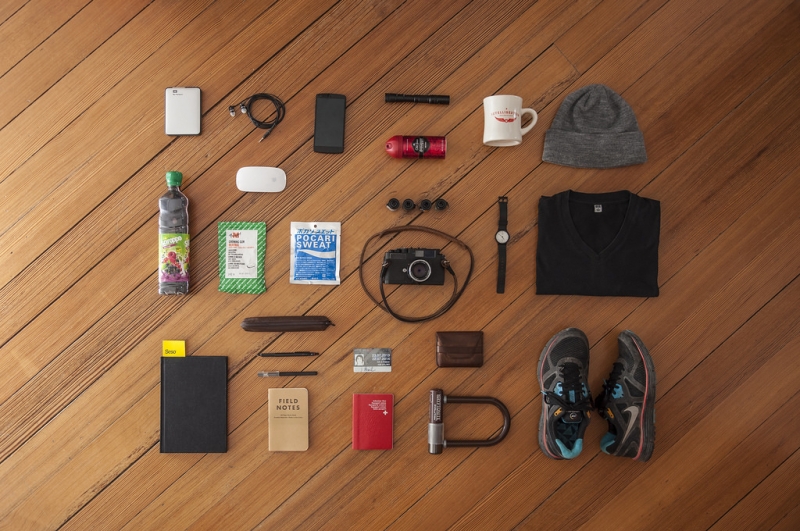 No matter how much you save on flight tickets, it can be easily undone by add-ons. One of the priciest add-ons for flights is baggage allowance. If you want to save money while travelling, then I advise you to travel as light as you possibly can.
When I travel, I pack only the essentials and look for accommodation options where there are laundry services nearby. This is is so I can pack fewer clothes. Packing light and sticking to a "carry-on-only" rule can really help save you money! Beside that, it also minimises the risk of you losing your baggage at the airport.
5. Exchange your currency before leaving Malaysia or go cashless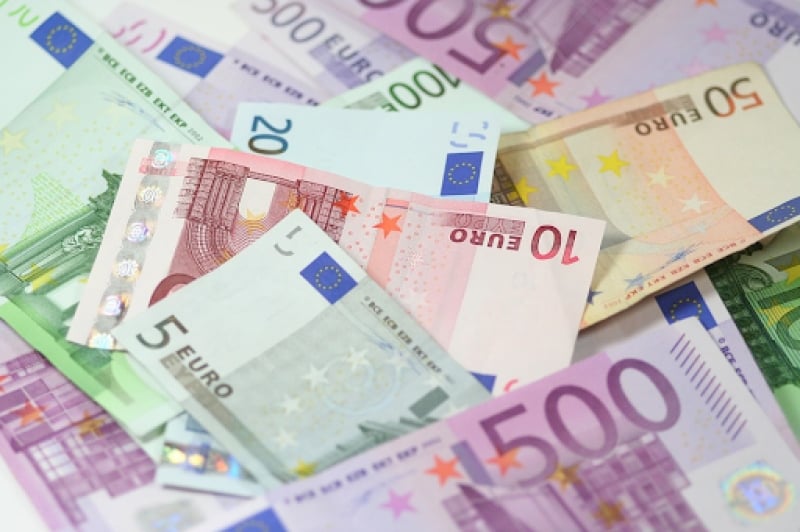 Now, I'm not saying the rates for Euros in Spain aren't as good as the ones in KL. However, it's also a lot harder to find currency exchange outlets when you're overseas than it is at home. Most of the time, people resort to getting their cash at the airport. According to my experience, that is hardly ever a good deal.
So, the best thing to do is to get your money exchanged before leaving, or simply go cashless. That being said, do note that some credit cards actually charge you for international transactions. Basically, just be careful when you swipe that card!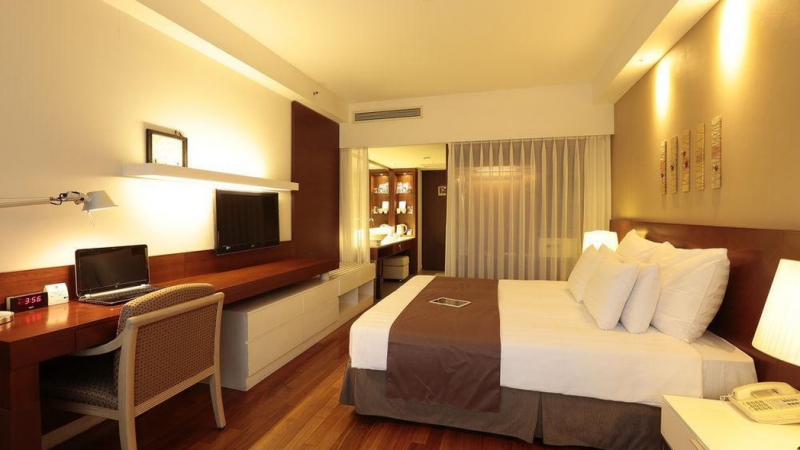 Another major expense of travelling usually comes from accommodation fees. And just like it is with flights, I have some general tips that can help you keep to a reasonable budget.
Hotels are often the most expensive type of accommodation, followed by guesthouses and hostels. Depending on how you're travelling and who you're travelling with, it's advisable to browse through and compare different accommodation options before making a choice.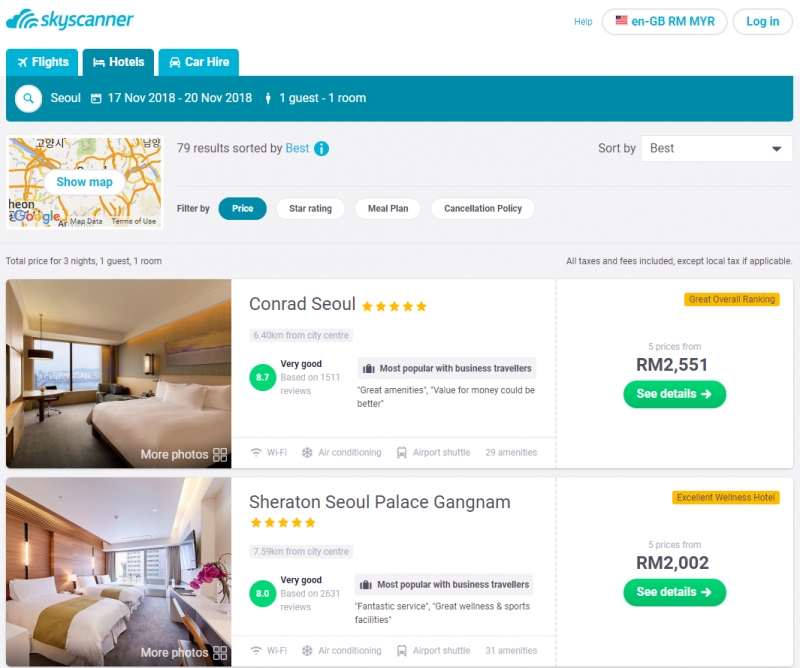 Other than to search for flights, I also use Skyscanner to hunt for the best deal for my accommodation. With over a million accommodation options in its database, you can easily compare prices, ratings and location for different hotels, hostels and guesthouses at a glance.
The useful filters also help you narrow down your search by price, rating and meal plans so you're bound to find the perfect accommodation for your trip. You can even sort the selections according to what you prioritise most. I usually sort by ratings and filter the price range, but you can do it however you like too!
Another handy tip when using Skyscanner to search and book a hotel is the map function located in the top left corner just below the search bar. When you click on it, it takes you to a map interface with all the available hotel plotted on the map.
This helps give you an idea of where each hotel is located and whether or not they are located near public transport hubs or places of interest. My advice is to go for a reasonably-priced hotel near a subway station as this gives you more accessibility.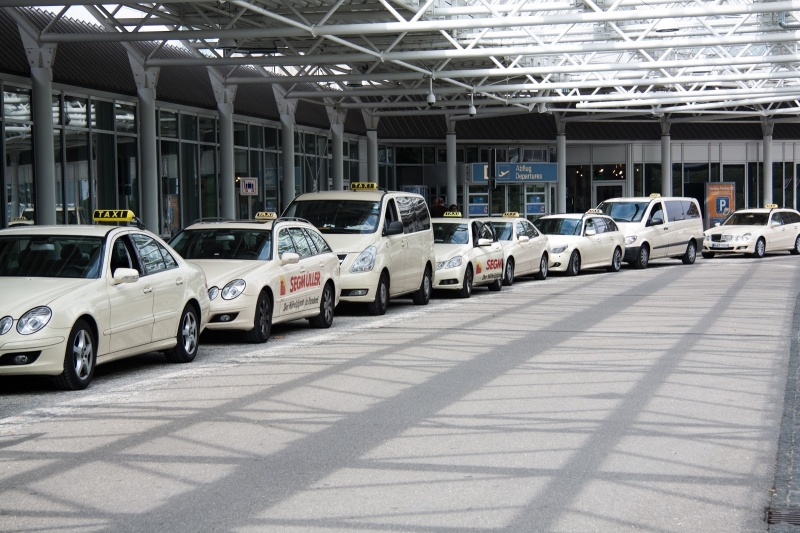 One important aspect of keeping your travel budget low that some travellers neglect is knowing the best way to get to your hotel or the city centre from the airport. Airport transfers can cost a lot if you're not careful with your options. And, they can sometimes take up a chunk of your precious time too. I mean, have you tried waiting in line for a cab during peak hours?
Of course, you might say that you could just as easily hail Uber or Grab services or even hitch a ride on public transport. While that may be true in some places, bear in mind that there are some countries where Grab and Uber pickups are frowned upon at airports (remember back in the day when Malaysian taxi drivers would try and scare off Uber drivers?).
In addition, public transport won't always be conveniently available, especially when you visit less-developed destinations. You might be able to tough it out if you're travelling alone, but if you're travelling as a family, it definitely won't be a walk in the park.
That's why, to save money and especially time, I recommend pre-arranging for airport transfers to help you travel with peace of mind. Picture this: you arrive at the airport after a long flight, instead of waiting for a cab or frantically trying to connect to the airport WIFI to help navigate the unfamiliar public transport system there, you can leisurely stroll to the front, meet your designated driver and be on your way. How convenient!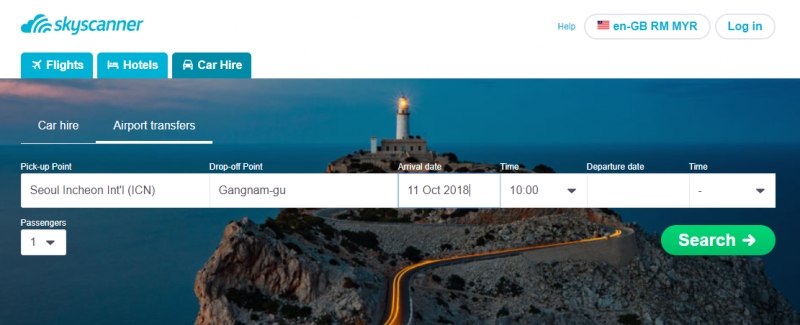 Simply head to the Car Hire section and select "Airport Transfers". Fill in the details and the site will pull up a list of available options for you. Make your pick and your ride will be waiting for you at the airport upon your arrival.
The price is fixed and you actually pay online before you depart on your trip. Not only does this help make your transfer from the airport go more smoothly, it also helps ensure you don't get scammed or overcharged by local transport (something Malaysians are familiar with, unfortunately).
What's more, depending on whether you're travelling solo or in a group, you can opt for a shared vehicle or a private one instead!
During the trip itself
8. Check for discounts and freebies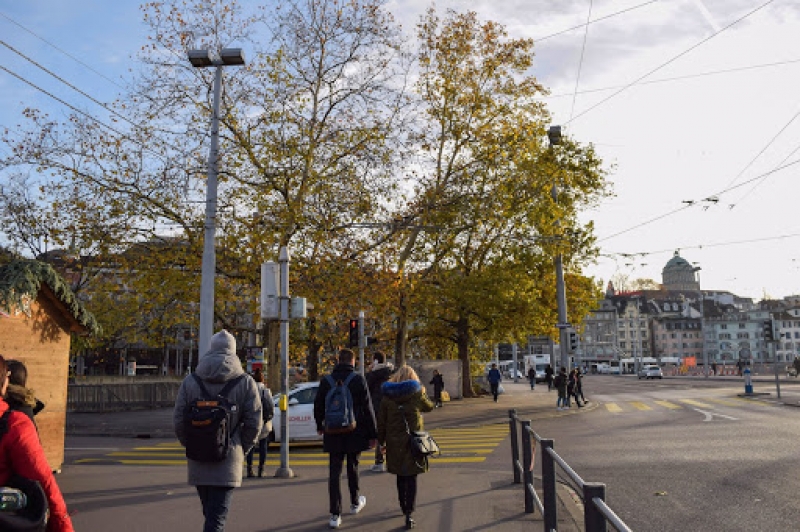 This is one of the most criminally underused travel hacks out there. Whenever you visit a new place, one of the first things you should do is hit up the official website of the local tourism organisation or some of the area's top attractions.
More often than not, you'll find tourist brochures and coupons that you can use to redeem discounts and freebies. If you don't feel like checking online, simply approach the front desk of wherever you're staying.
Most hotel/hostel concierges can hook you up with various discounts. Some can even help arrange tours for you for a slightly lower price. And when you're travelling, a little bit goes a long way.
9. Get yourself a City Pass or Public Transport Card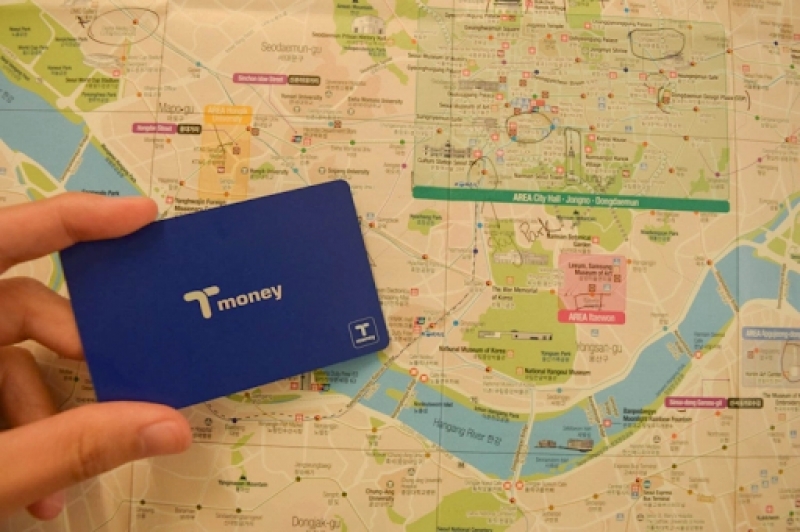 One of the best ways to consistently save money while travelling is to fully utilise public transport. What's more, it'd be helpful to check if there are any tourist passes or transport cards that you could use. The first thing I did when I arrived in South Korea was get a T-Money Transport card. That decision wound up helping me save a ton on public transportation.
These passes/cards might seem insignificant but they can seriously cut down your transport expenditure. They can even get you discounts and rebates for using public buses, trains, and subways. Some passes, like the Swiss Travel Pass, even gets you free entry to certain museums and attractions!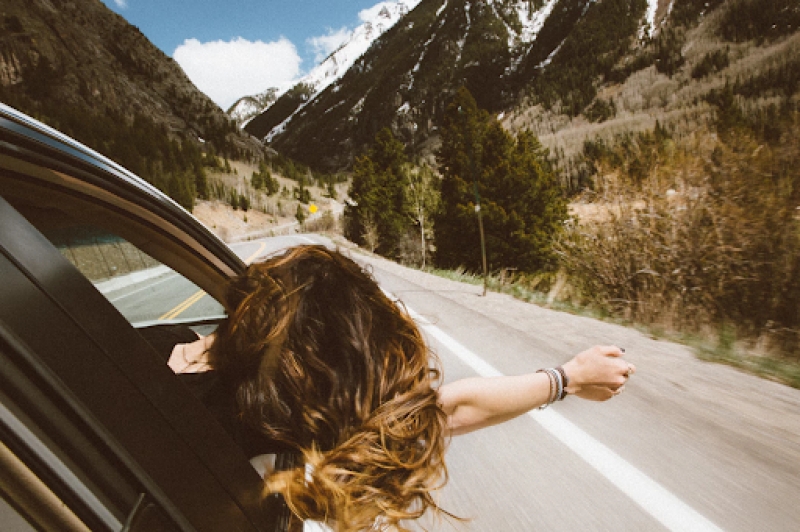 Of course, for all the wonders of public transport, there are certain limitations as well. If you're looking to explore some of the lesser-known regions, especially those in more rural areas, it might be better to rent a car instead. Take it from me, it's much easier to drive to Australia's famous Twelve Apostles limestone stacks than it is to take a public bus.
It's also worthwhile to consider renting a car if you want a more private experience, more so when travelling in a group. If the price of fuel and parking in your destination is cheap, it can even prove to be a more sensible choice than simply relying on public transport!
One of the challenges to that though is finding the right car rental service. To make your life easier, Skyscanner's car rental search feature enables you to compare prices for different makes and models at a glance with its numerous filters that help you find the appropriate vehicle for your journey.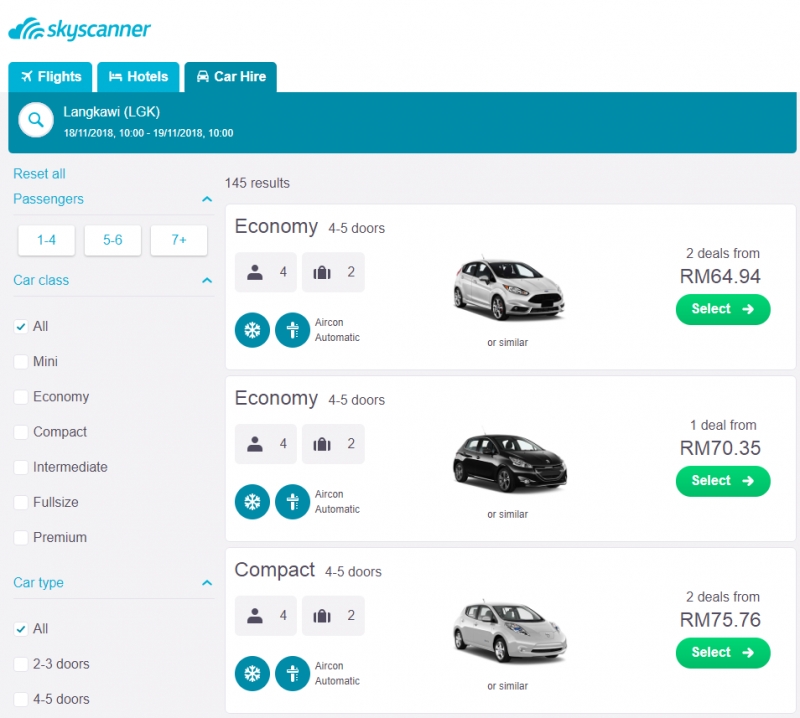 You simply need to set a pick-up date and time at the airport or city where you'll be arriving and you can be off on your own epic road trip adventure. If you need to drop off the car in a separate location, simply indicate it during your initial search!
BONUS Tip: Patronise local food carts, markets, and convenience stores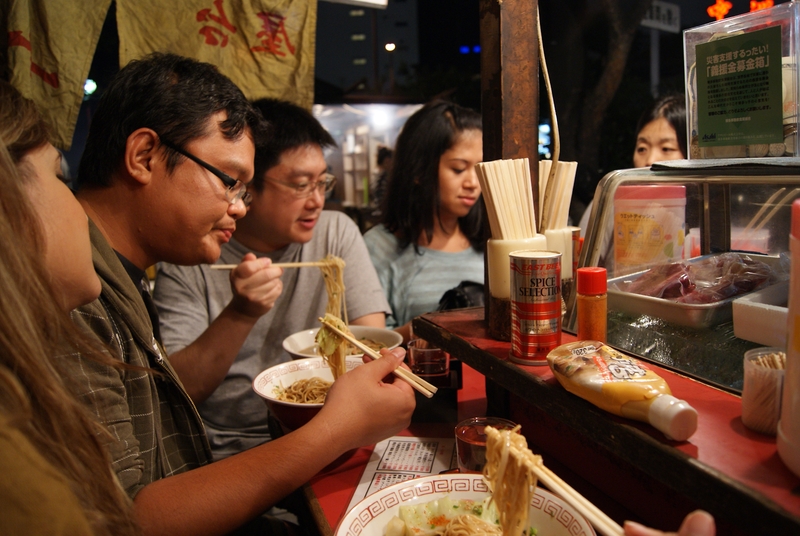 One of the easiest ways to quickly lose track of your spending is by eating at expensive restaurants. By all means, indulge once in awhile, but if you're on a tight budget, then look towards local food carts, markets and even convenience stores to satiate your appetite.
Not only are food carts affordable options, they also provide delicious street food that resonates deeply with the local culture. In places like Japan and Taiwan, convenience store meals are legit dining experiences too! In fact, that's one of my personal favourite ways to eat!
To further save on food and drinks, bring along a refillable bottle or tumbler for water. In cities like Zurich (Switzerland), there are plenty of water fountains with which you can fill up your water bottles. Believe me, buying bottled water in some places can really burn a hole in your wallet.
And there you have it, 10 helpful tips that you can use to save money while travelling. So, even though our Ringgit isn't doing all that well at the moment, with a little bit of clever planning, you can still make that dream vacation happen!
Skyscanner is a leading global travel search engine with awesome features such as the Everywhere search option and the Cheapest Month selection, Skyscanner is your one-stop solution for finding the most affordable flights to your destination!

You can also conveniently compare prices and book accommodation and car rentals with Skyscanner, making it the only platform you'll need to plan your entire journey. What's more, the mobile app features a user-friendly interface which helps you filter search criteria easily and allows you to book your dream vacation from the comfort of your own home!
Click here to download Skyscanner on iOS and Android, or visit www.skyscanner.com.my to learn more about Skyscanner today!