Longing for an escape to Southeast Asia for your upcoming trip? There are many gorgeous destinations in the region that are often underrated and overlooked. Whether it's lively nightlife, white sandy beaches, or ornate cultural and religious sites, these places have so much to offer. Let's take a look at the must-go destinations in Southeast Asia this year!
It's never too early to book those flights and kick-start your Wondrous Escape to experience the beautiful culture in these Southeast Asian destinations!
Book your flight from Kuala Lumpur to Vietnam, Cambodia, Myanmar & Laos and enjoy up  to 50% OFF your flight with AirAsia.
Booking Period: Now – 26 March 2023
Travel Period: 3 April – 30 November 2023
Hurry while seats last!
Must-visit Southeast Asian Destinations in 2023
Vietnam
For your upcoming trip to Southeast Asia, don't miss out on Vietnam, a country with vibrant culture, delicious food, and tons of must-go attractions. 
Ho Chi Minh City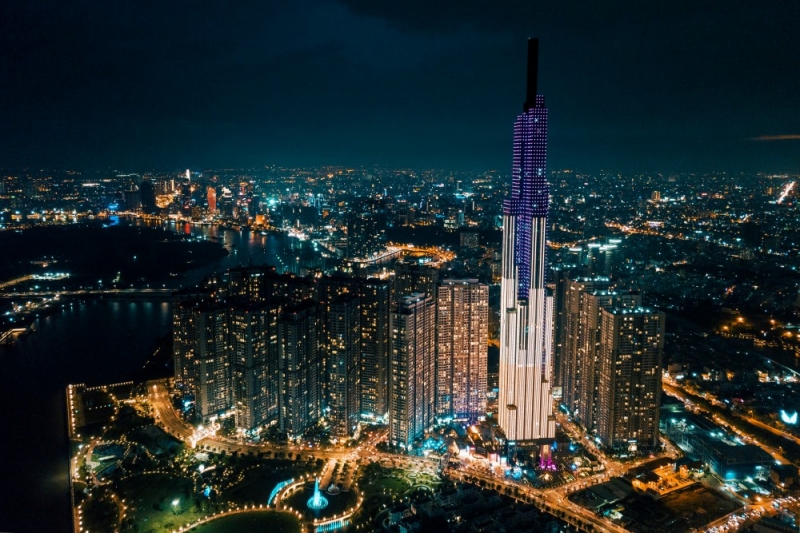 Ho Chi Minh City, formerly known as Saigon, is one of the most popular places to travel to in Vietnam. While Ho Chi Minh City is the country's biggest city and the main business and financial hub, you will still be able to catch a glimpse of its rich history in places like the War Remnant Museum, Ao Dai Museum, and Fine Arts Museum.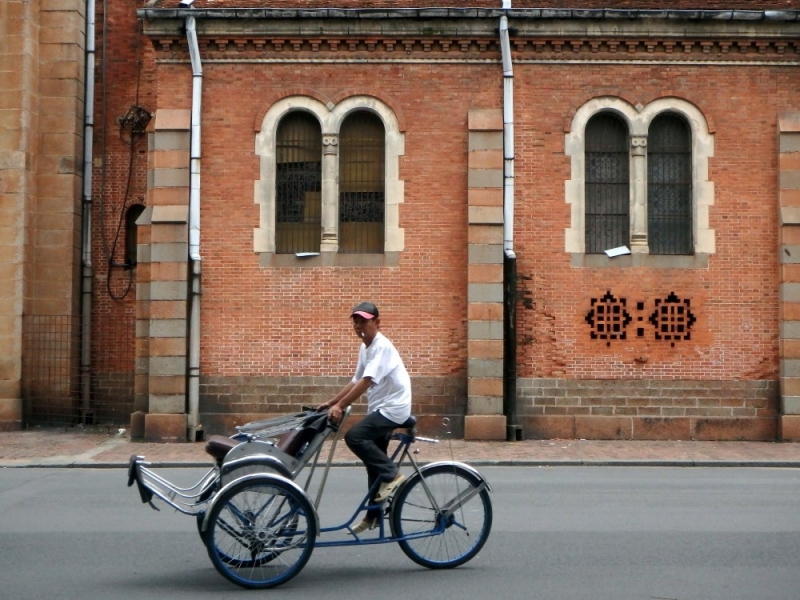 Besides, in places such as the Notre Dame Cathedral of Saigon and Tan Dinh Church, you will feel as if you have landed in Europe back in the mid-19th century, due to the architectural design of the buildings. Meanwhile, pay a visit to the Quan Am Pagoda, a Buddhist temple dedicated to goddess Guan Yin, or the Ten Thousand Buddha Temple with large Buddha figures and thousands of smaller statues. What's more, if you're looking for entertaining things to do in Ho Chi Minh City, spend a day at the Suoi Tien Theme Park, a Buddha-themed amusement park and water park featuring Vietnam's history and legends.
Da Nang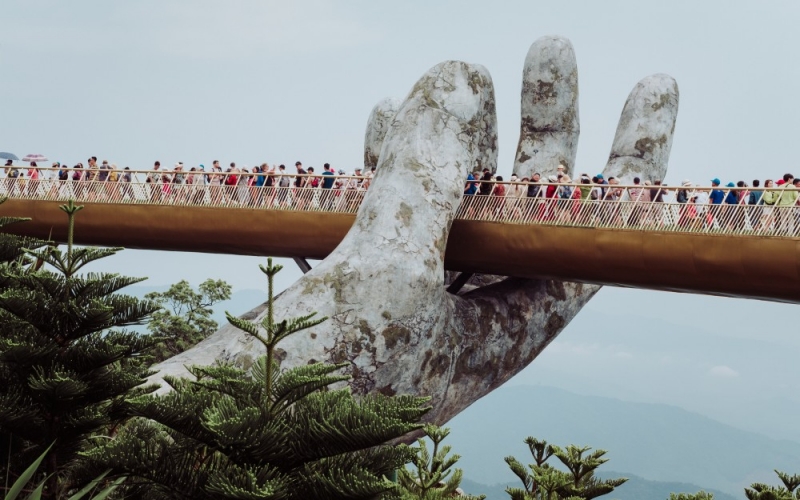 If you haven't been to Da Nang yet, then it's time to plan a trip to this gorgeous city in Vietnam. This underrated destination is filled with delicious food and fun attractions, with the most famous attraction being the iconic "hand bridge" in Ba Na Hills. Take the cable car up to the hills and visit the Golden Bridge, where you can admire the surreal surroundings while traversing between two massive stone hand sculptures holding onto the bridge. 
Da Nang is also home to the Sun World Ba Na Hills Amusement Park, where you can enjoy activities such as photo-taking with the French colonial-style buildings, and statues of famous people, or spend time at the indoor Fantasy Park, Jurassic Park, and a wax museum.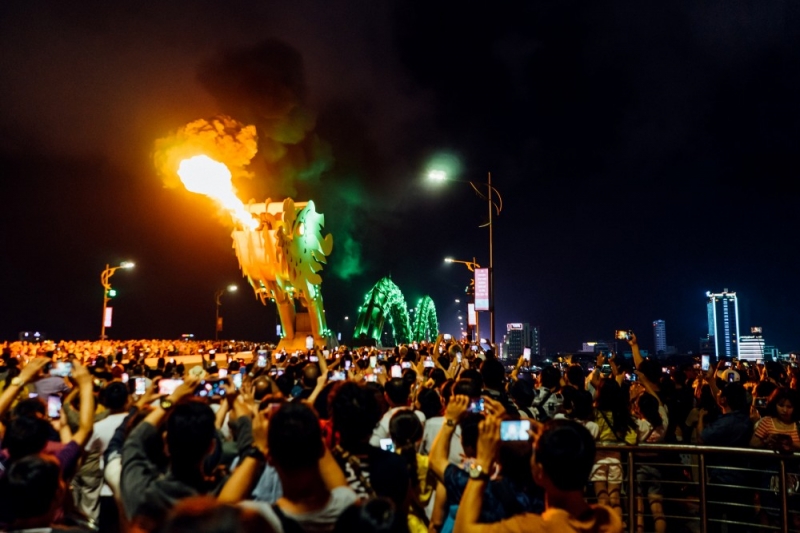 Besides that, complete your journey to Da Nang with a fire-breathing show at the Dragon Bridge. Spanning 666 metres long, the Dragon Bridge connects the two banks of the iconic Han River, and provides the fastest lanes to Da Nang's international airport and attractions like My Khe Beach. Every weekend, you can board one of the cruise ships at night or stand by the Love Bridge to watch the show. 
Hanoi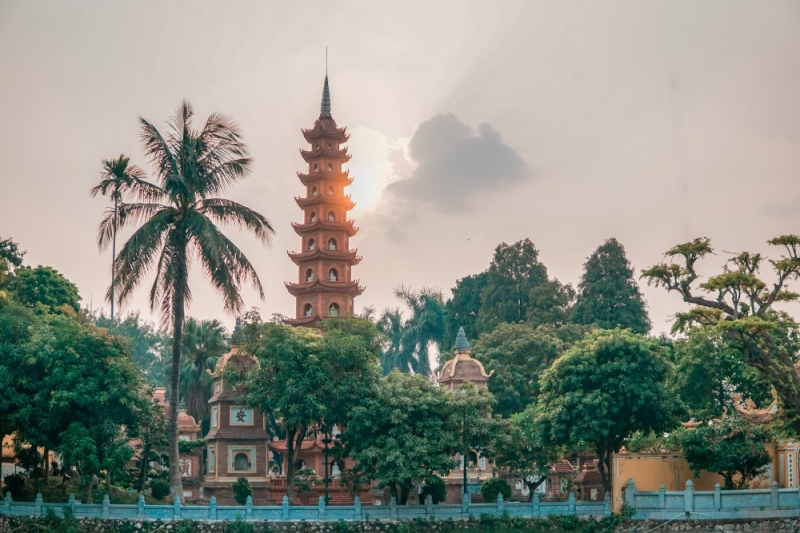 Hanoi is Vietnam's capital city and it is full of rich history, amazing art galleries, and delicious coffee. For a more relaxing day, check out the Tran Quoc Pagoda, Hanoi's oldest Buddhist temple that's situated on a small island near the city's West Lake. Other serene temples worth visiting include the One Pillar Pagoda and Ngoc Son Temple, both ancient temples that evoke a sense of tranquillity. 
Aside from that, enjoy live music and dance shows at the Hanoi Opera House, a classic music hall built by the French more than a century ago. Alternatively, visit the Hoa Lo Prison Relic, a museum that was once a prison. 
When in Hanoi, don't miss out on the local food and coffee, especially egg coffee. At night, shop for food and souvenirs at the famous night markets such as Cho Nha Xanh and Hanoi Night Market.
Phu Quoc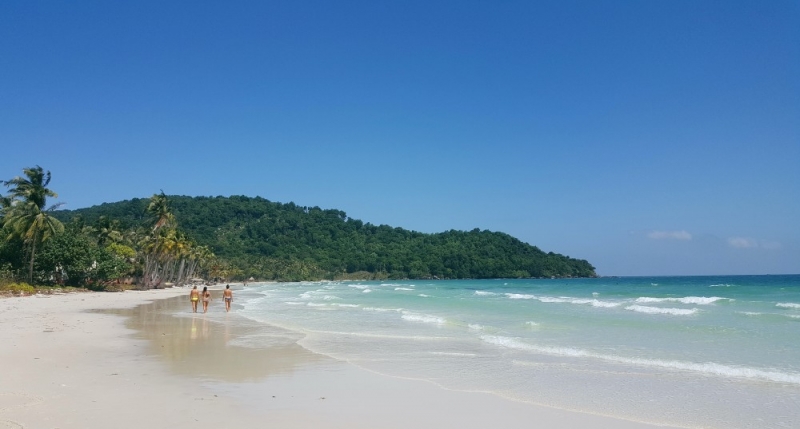 If you love tropical jungles and pristine beaches with crystal clear waters, then Phu Quoc is a great place to travel to. Phu Quoc is the largest island in Vietnam, famous for its white sand beaches and exciting water sports activities. Aside from taking a boat ride or swimming at the beach, you can also enjoy a romantic sunset at Long Beach.
The island is home to traditional fishing villages such as Ham Hinh, where visitors can try dining in a floating restaurant with delicious seafood and cuisines made using the island's popular black pepper. Besides that, Phu Quoc is also famous for its fish sauce, so it is also great to visit a fish sauce factory and see how the condiment is made.  
Also read: TOP 6 THINGS TO DO IN PHU QUOC THAT MAKE IT AN IDEAL 2022 GETAWAY DESTINATION
Nha Trang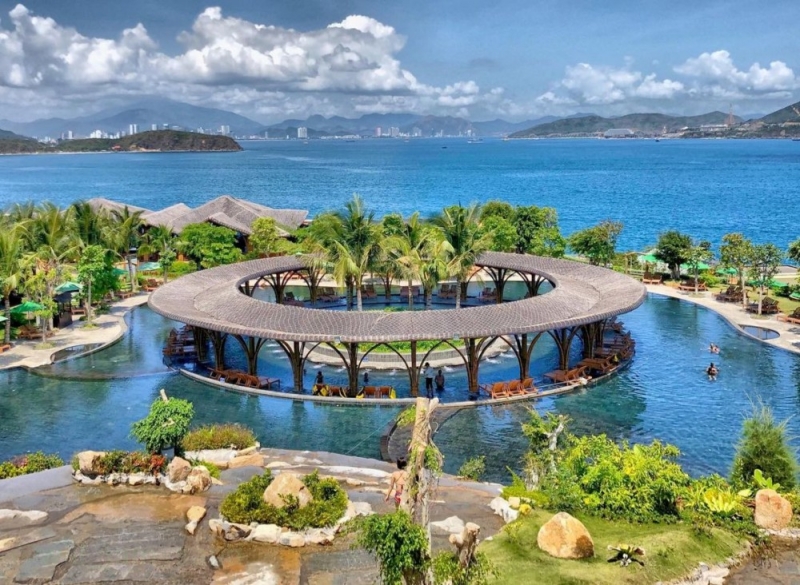 Similar to Phu Quoc, Nha Trang is another coastal resort city you can travel to for stunning beaches. Hop on a cable car ride and you'll arrive at the city's Hon Tre Island for a short escape from urban life. 
What's more, you can visit Tran Phu Beach for fun activities like parasailing, paddle boarding, snorkelling, and jet skiing. After that, experience therapeutic mud baths with skin healing benefits or join in on  an exciting beach party at the Sailing Club. Nha Trang is also referred to as Vietnam's seafood capital due to the rich marine life here. Therefore, reward yourself with a seafood feast before ending your journey!
Cambodia
A trip to Southeast Asia is not complete without visiting Cambodia. The country has more to offer other than the famous Angkor Wat.
Phnom Penh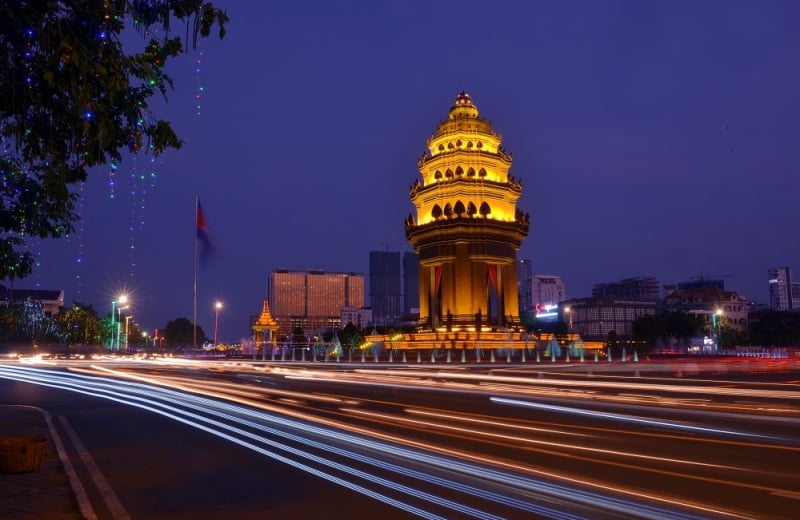 Phnom Penh is Cambodia's capital and the largest and most populous city in the country. It is home to notable attractions such as the Silver Pagoda, Royal Palace, and National Museum of Cambodia. 
Once you land in the centre of the city, you will be greeted by the Independence Monument, a monument built to memorialise the country's independence from France. The 20-meter-tall Independence Monument looks even more stunning at night with its bright lights and shining fountains. Aside from sightseeing, indulge in activities such as shopping at the Russian Tuol Tompoung Market, Orussey Market, and Phnom Penh Night Market.
Siem Reap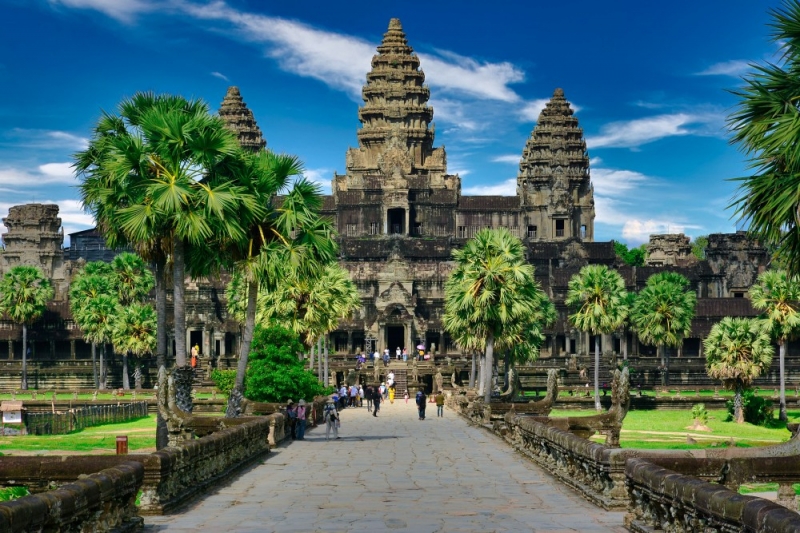 Siem Reap is home to the spectacular Angkor Wat, a 162.6 hectares huge temple complex with a Guinness World Record as the world's largest religious structure. Angkor Wat is one of the most important archaeological sites in Southeast Asia, and carries the remains of the different capitals of the Khmer Empire, from the 9th to the 15th century. While you're here, take your time to admire the design of the towers, the religious statues, or sit by the pond to enjoy the reflecting sunset. 
Aside from temple-hopping in Siem Reap, the nightlife scene here is also worth exploring. At night, visit Pub Street Siem Reap, a bustling street full of bars, pubs, clubs, and restaurants to eat, drink, and party!
Myanmar
Yangon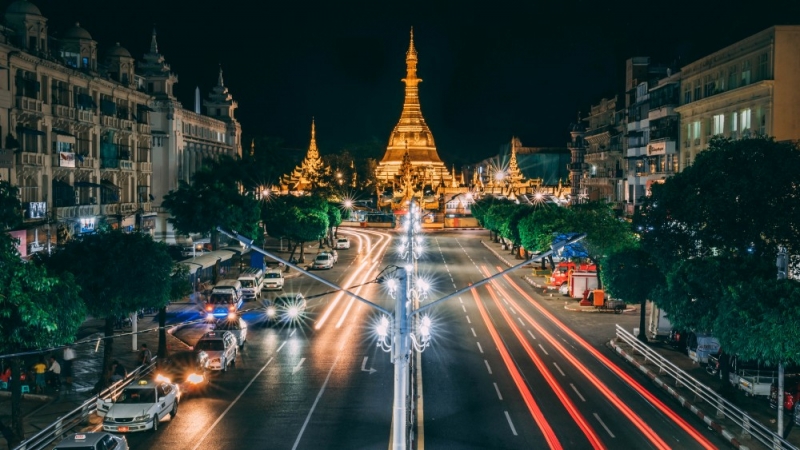 If you're planning on travelling to Myanmar, then you must visit the country's largest city, Yangon. Here. you will witness a colourful mix of British colonial architecture and lofty Buddhist pagodas. The notable attractions here include the magnificent Shwedagon Pagoda and its visitor centre, Sule Pagoda located in the heart of downtown Yangon, and Botahtaung Pagoda by the Yangon River. These golden pagodas look stunning both day and night.
In addition, you can also enjoy a calming walk at Kandawgyi Natural Garden and Thakhin Mya Park. Alternatively, tour the Holy Trinity Anglican Cathedral Yangon and St.Mary Cathedral, both Catholic churches with terrific architectural design and vibrant pink colours.
Note: Do keep in mind that Malaysian passport holders need to apply for a Visa before travelling to Myanmar.
Laos
Vientiane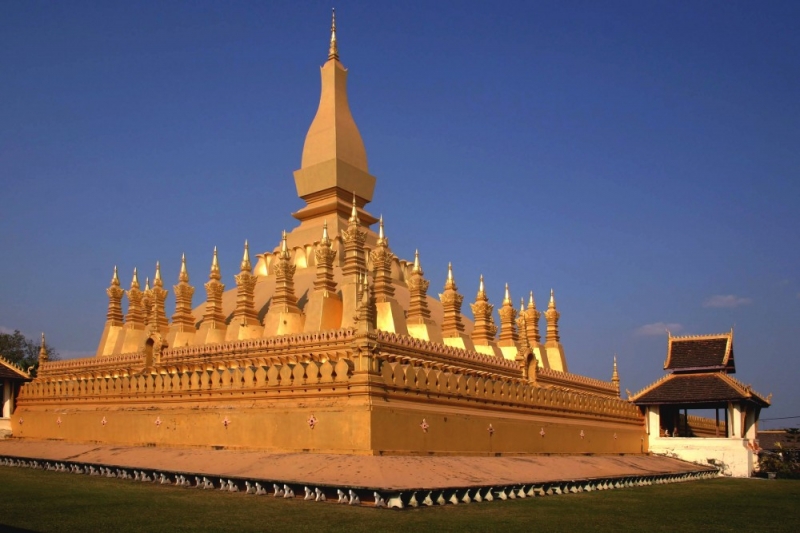 Vientiane is the capital of Laos. Despite being the country's largest city, Vientiane is a city with a slow beat. The main attractions in the city are Pha That Luang Vientiane, a massive golden Buddhist stupa, the Patuxay Monument which is dedicated to the fighters who fought for independence from France, and Buddha Park (Wat Xieng Khouane Luang) which houses more than 200 Hindu and Buddhist statues. 
Besides, fulfil your journey to Vientiane by exploring the Talat Sao Morning Market, and learning about how to make local fabrics at the Lao Textile Museum. In the evening, go photo-taking and have fun at the night market in Chao Anouvong Park, or catch the sunset and shop at the Vientiane Night Market.
Also read: 5 DESTINATIONS UNDER RM1,500 TO FLY TO FOR VIBRANT SPRING FESTIVALS
So there you have it, a list of must-visit Southeast Asia destinations that will for sure bring good memories to your trip! Start planning your trip now so you don't miss out on all the fun things to do.
It's never too early to book those flights and kick-start your Wondrous Escape to experience the beautiful culture in these Southeast Asian destinations! Fly to Vietnam, Cambodia, Myanmar & Laos with up to 50% OFF when you book with AirAsia. 
Flights are available daily from Kuala Lumpur to Ho Chi Minh City, Da Nang, Hanoi, and Phnom Penh; and daily from Johor Bahru and Penang to Ho Chi Minh City!
Booking Period: Now – 26 March 2023
Travel Period: 3 April – 30 November 2023
Hurry while seats last!
---
Brought to you by AirAsia