Travelling to different countries to celebrate vibrant festivals and immerse yourself in a foreign culture is something that most travellers long for. If you're someone who loves experiencing festivals around the world this spring, read on and find out the countries you can fly to for only less than RM1,500, so you can save up some budget while having fun exhaustively during your trip!
Also read: 4D3N In Da Lat, Vietnam: Top Things To See, Eat And Do In The City Of Eternal Spring
1. Japan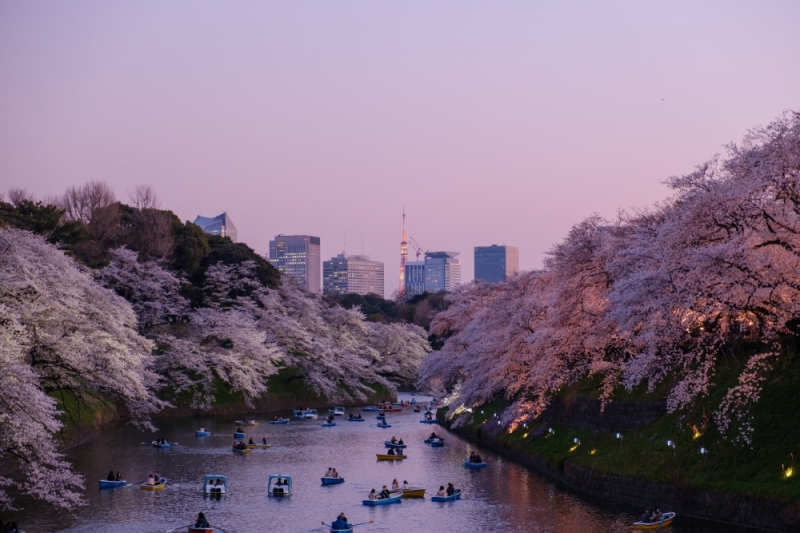 A dream country to many travellers, Japan has a unique culture and alluring vistas, especially in cities like Tokyo and Osaka. In various seasons, Japan presents different kinds of beauty, such as snowy white cities during winter, pinky cherry blossoms during springtime, colourful maple trees in autumn, and lively summer days. Among these seasons, one of the most loved is undoubtedly the sakura season!
The cherry blossom season in Japan takes place between late March and early May, depending on the region. For travellers who want to witness the beauty of the dazzling pink blooms in real life, this is when you want to travel. No matter which region you go to, the sakura will be there to welcome you. 
In cities like Tokyo, Osaka, and Kyoto, there are even Cherry Blossoms Festivals dedicated to hanami (flower-watching), where crowds gather under the sakura trees and have picnics or parties together. At this time, many would go to the parks early to secure the best spot for cherry blossom viewing. People would bring home-cooked meals for a little picnic session while watching the pink flowers. It is also a great opportunity to spend some precious quality time with your loved ones.
2. South Korea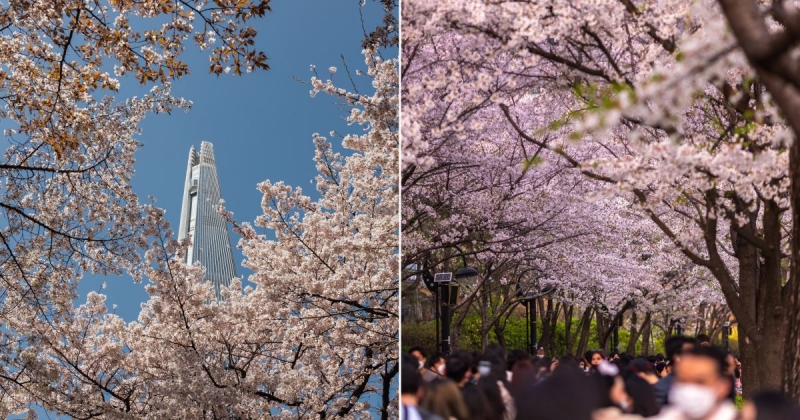 Similar to Japan, South Korea has also been a popular destination over the years. Particularly with the rise of Korean pop culture and Korean dramas, fans from all over the world would love to fly to South Korea just to experience Korean culture, enjoy the delicious food, as well as sightseeing. 
South Korea looks even more stunning during springtime, with the blooming of cherry blossom trees. In places like Seoul, Busan, and Jeju Island, the cherry blossoms in full bloom are as enchanting as if they came straight out of a Korean romantic drama. In South Korea, the cherry blossom season also brings with it different floral festivals, such as the annual Yeongdeungpo Yeouido Spring Flower Festival which marks the full blossoming of flowers in spring. You wouldn't want to miss out on the spectacular sight of more than thousands of blooming pink cherry trees along the Han River! 
Most of the cherry blossom trees in Korea are also believed to be of different species than the ones in Japan. Notably, the weeping cherry trees in Seoul National Cemetery, when in full bloom, are a sign of protecting the country. Each year, an event is held there to commemorate and pay respects to those who sacrificed themselves in past wars. 
3. Taiwan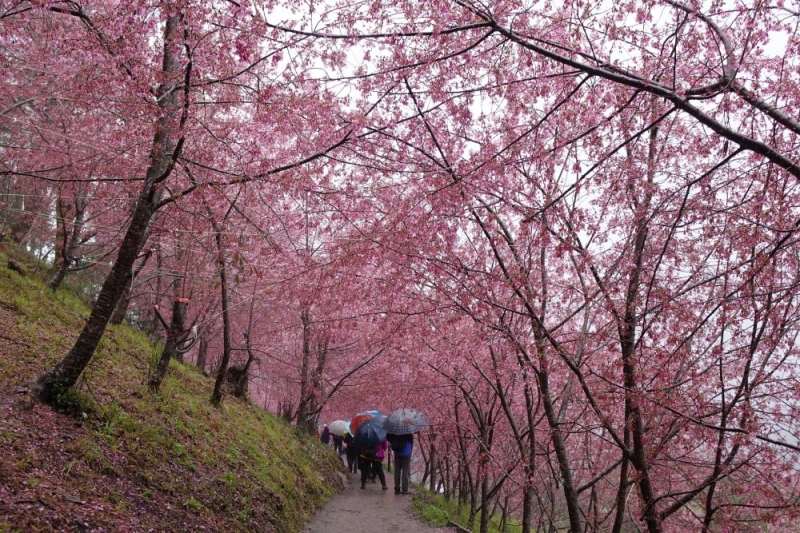 Another well-loved destination to fly to for vibrant spring festivals is Taiwan. Speaking of Taiwan, we may think of the lively night markets with delicious local food, the magnificent Taipei 101, or even the charming wishing lanterns. But did you know that, other than festivals like Lunar New Year and the Lantern Festival, you can also catch a glimpse of the dazzling cherry blossoms in Taiwan during springtime? 
After the new year, the upcoming season people look forward to the most in Taiwan is undoubtedly the cherry blossom season. The blooming of cherry blossoms startsas early as January to April each year. One of the most prominent festivals of this time is the Alishan Cherry Blossom Festival located in Chiayi County. Visitors would come and celebrate the festival from March to April, while more than 19 thousand white and pink cherry trees bloom and form a picturesque scene.
Of course, some cherry blossom-themed food during the festival makes it even better. In Taiwan, some of the most popular cherry blossom-themed foods include the Taiwan cherry blossoms chocolate and sakura mochi roll. The beauty of the Alishan Mountain Range also attracts many hikers, as many hike up the mountain to catch the extraordinary sunset or sunrise.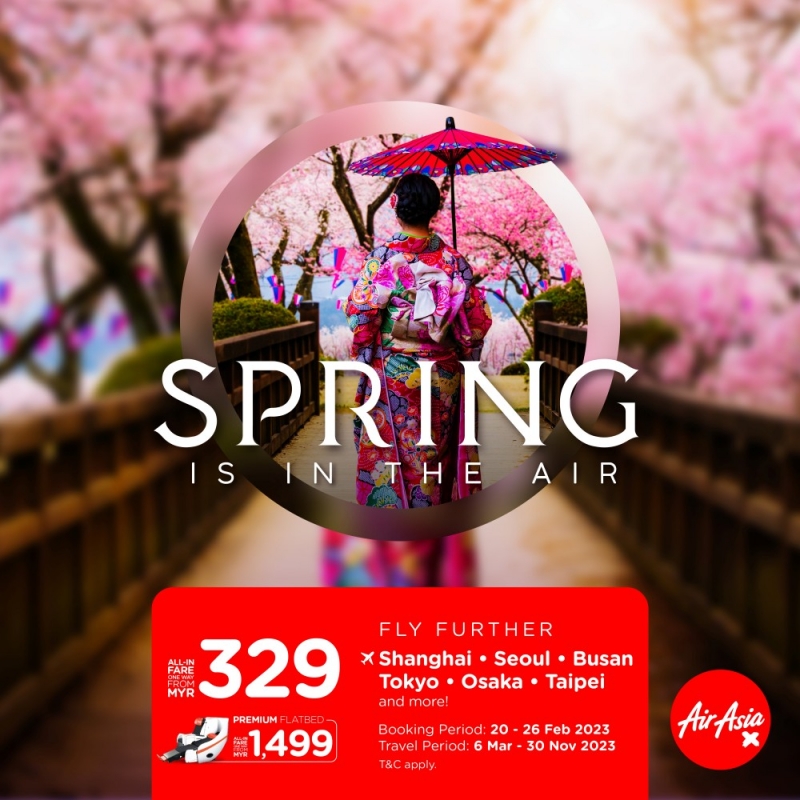 It's never too early to book those flights and kick-start your journey to celebrate Taiwan's lively cherry blossom festivals!
Book your flight to cherry blossom hotspots in Asia with AirAsia and enjoy all-in one-way fare starting from MYR329 and premium flatbed starting from MYR1,499 only.
Booking Period: 20 – 26 February 2023
Travel Period: 6 March – 30 November 2023
Hurry while seats last!
4. Thailand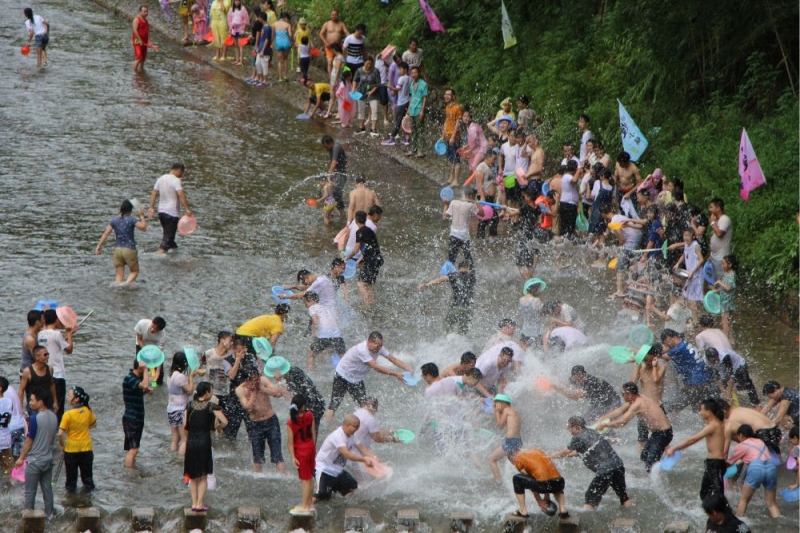 There's no doubt that Malaysians love travelling to Thailand. As one of our neighbouring countries, Thailand is a popular destination with a rich culture, fascinating food options, healing beaches, as well as breathtaking royal palaces and ancient buildings. However, if you plan your visit to Thailand well,  you can also join the fun water fights during the Songkran Festival!
Thailand's Songkran Festival falls on the 13 Apr every year, and the event lasts for three consecutive days. The most celebrated festival in Thailand, Songkran, which also means "passing", marks the beginning of the traditional Thai New Year in the Buddhist calendar. Water is believed to be purifying, which cleanses your bad luck from the past year and blesses you with happiness in the new year. 
You can participate in the wet water festival in most touristy areas like Phuket, Bangkok, Chiang Mai, and Hat Yai if your Thailand trip happens to be on one of the days. Aside from water splashing activities like playing water guns and elephant trunk spraying,  there will also be events like parades, dance performances, and food vendors.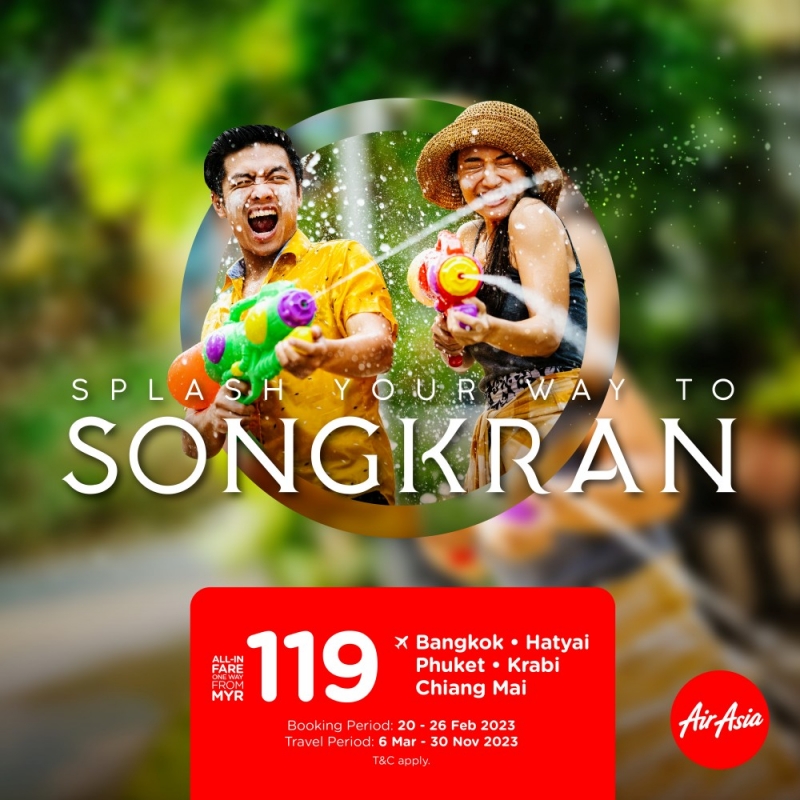 All that's left to do now is to book a flight and experience the joy of the Songkran festival in Thailand!
All-in one way fare starts from only MYR119 to Hat Yai, Phuket, Krabi, Chiang Mai & Bangkok.
Booking Period: 20 – 26 February 2023
Travel Period: 6 March – 30 November 2023
Hurry while seats last!
5. China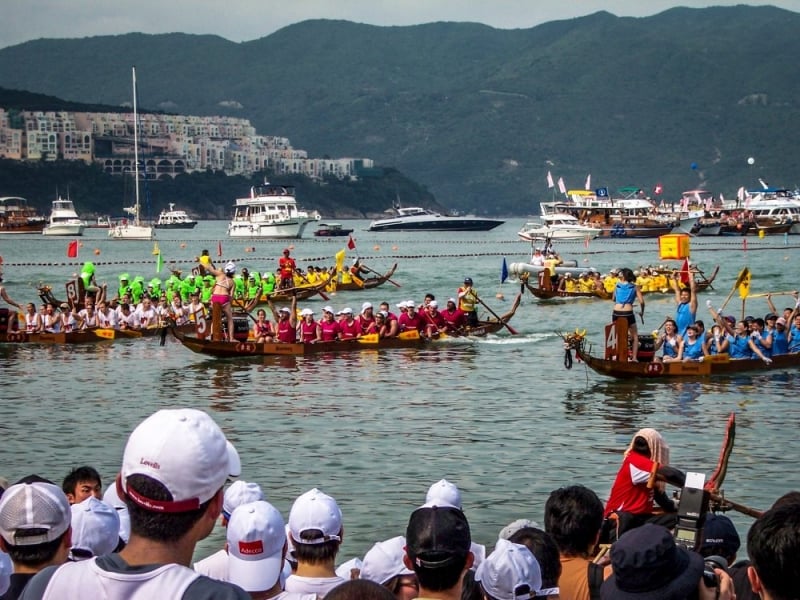 Image credit: Joshua J. Cotten
Having recently opened its doors to the public, China is a popular destination known for its vibrant historical heritage, scenic natural beauty, exotic food, and many more. It is also a famous country to fly to due to its high affordability. 
The traditional Chinese Dragon Boat Festival commonly falls in late spring, in the month of May or June. This day is also widely celebrated in Malaysia, where zongzi (savoury glutinous rice wrapped with bamboo leaves) will be eaten to memorialise the famous Chinese poet Qu Yuan. In countries like China on the other hand, dragon boat racing is the most essential activity during the festival. While there are also dragon boat races in Malaysia, the atmosphere is much more vibrant in China, thanks to the plethora of activities that take place in the area. 
Also read: 10 Destinations In Cambodia You Didn't Know You'll Fall In Love With
So there you have it, a list of countries with destinations you can travel to for under RM1,500! What's more, you can even time your visit well and take part in their vibrant spring festivals that will leave you nothing but a wonderful memory! 
Ready to plan your trip to these destinations and celebrate the lively spring festivals?
Book your flight to cherry blossom hotspots in Asia with AirAsia and enjoy all-in one-way fare starting from MYR329 and premium flatbed starting from MYR1,499 only.
All-in one-way fare to Hat Yai, Phuket, Krabi, Chiang Mai & Bangkok starts from only MYR119.
Booking Period: 20 – 26 February 2023
Travel Period: 6 March – 30 November 2023
Click here to book your tickets now!
---
Brought to you by AirAsia.