Phu Quoc: the largest island of Vietnam, which lies a 1 hour and 15-minute ferry ride away from the mainland. Many people think of Ho Chi Minh or Hanoi for city excitement, and Nha Trang and Da Nang for beautiful coasts and nature. While these destinations are certainly stunning in their own right, why not visit Phu Quoc on your next Vietnam holiday, too? From family-friendly excitement to stunning natural landscapes, here are the best things to do when you're in Phu Quoc!
Book your FREE SEATS to Phu Quoc with the airasia Super App and fly directly from Kuala Lumpur for only RM74* (RM185 for a round trip)!
Booking period: Now to 2 Oct 2022 
Travel period: 1 Jan to 28 Oct 2023
*Inclusive of zero base fare, airport taxes, MAVCOM fee, fuel surcharges and other applicable fees.
1. Discover what makes Phu Quoc the "pearl island"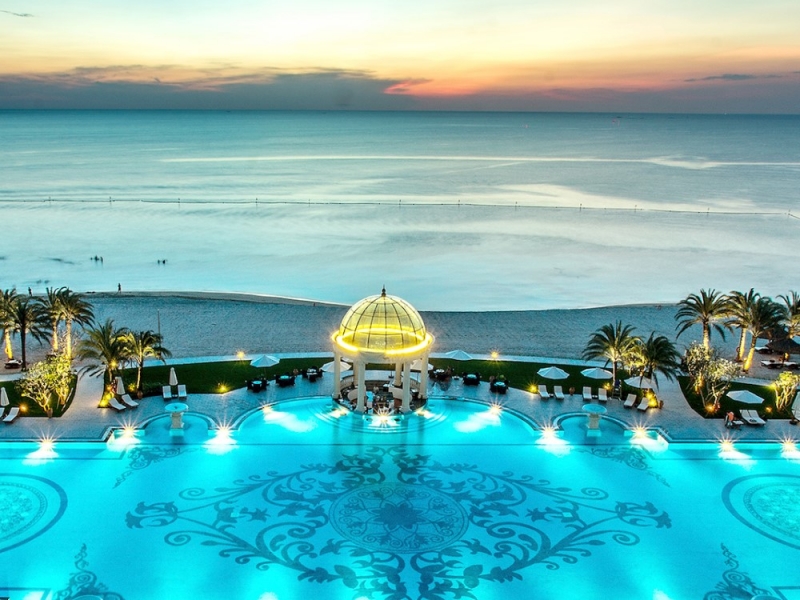 As the number one entertainment, hospitality, and amusement park chain in Vietnam, Vinpearl is the most popular all-in-one option for anyone staying on islands like Nha Trang, Da Nang, and of course — Phu Quoc. 
On Vietnam's largest island alone, you'll find five-star accommodations like Vinpearl Resort & Spa Phu Quoc, VinOasis Phu Quoc, and Vinpearl Discovery Coastalland Phu Quoc. To accompany your stay, head to VinWonders Phu Quoc, the largest theme park in the country.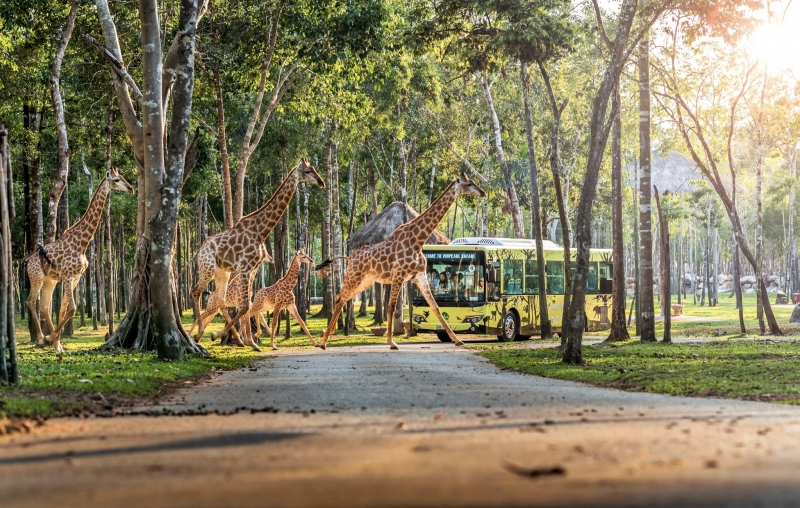 Plus, that's not all! Vinpearl Safari Phu Quoc, the country's largest safari-standard semi-wildlife conservation park, lies a 20-minute drive from VinWonders. 
Safe to say, if you're staying at this part of the island, you'll have more than enough things to do on your Phu Quoc holiday.
2. Be charmed by Vietnam's own Grand Canals of Venice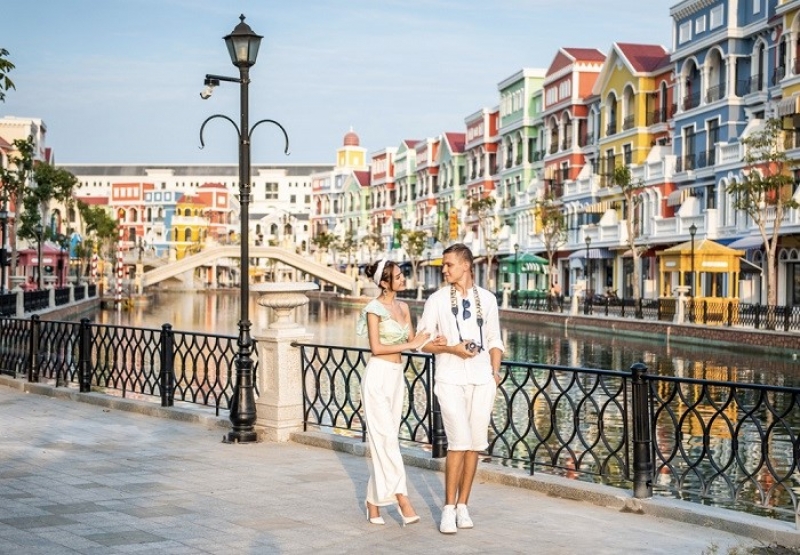 If visiting a theme park or safari isn't your cup of tea, fret not. Simply head five minutes further down from VinWonders, and you'll find yourself at the vibrant and magnificent architectural complex of Grand World Phu Quoc. 
Within this entertainment and shopping hub, you'll find plenty of things to do on your Phu Quoc holiday. The number one activity? To hop on a gondola ride along what is perhaps the world's best imitation of the Grand Canals of Venice; this is also fittingly called the Venice River, or Lake of Love (where you'll even have your very own gondolier to serenade you and your special someone). 
Aside from whetting your visual appetite, satisfy your taste buds with a range of cuisines at the restaurants of Grand World Phu Quoc. We recommend checking out the Chinese restaurants at miniature Shanghai City, decked out with lanterns and street performers to put you right into the mood.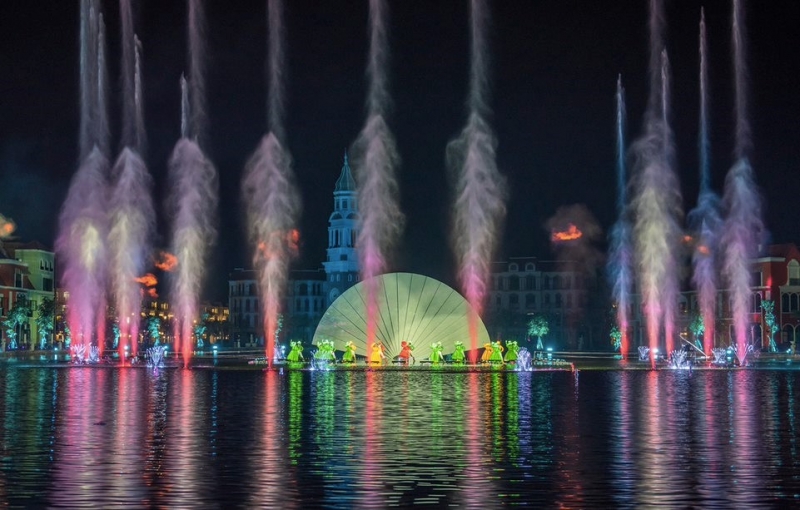 Throughout the day, there'll be carnival processions and European-style masquerade balls to add to the merriment. Come nightfall, watch as The Colors of Venice light show paints the lake with a mesmerising art display using state-of-the-art 3D and LED projection technology. 
Also read: Europe in Southeast Asia: 7 Charming Towns for a Europe-Inspired Getaway
3. Unwind at the beach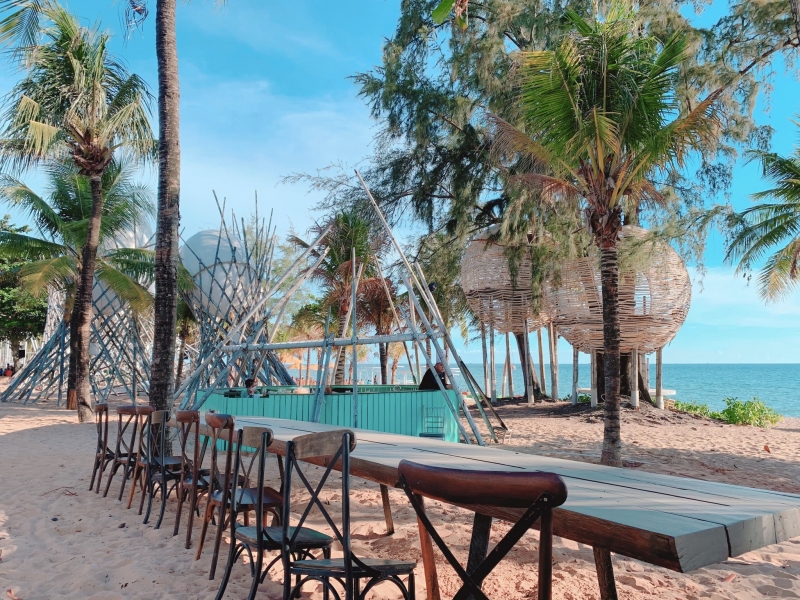 Moving on, what would an island vacation be without its array of beaches? These breathtaking coastlines include Sunset Sanato Beach on the west, Sao Beach and Khem Beach in the south, and Starfish Beach in the north. 
Sunset Sanato Beach is a famous attraction in the area, thanks to its many offerings here. A beach club, a resort stay, and unique beach sculptures here mean plenty to marvel at.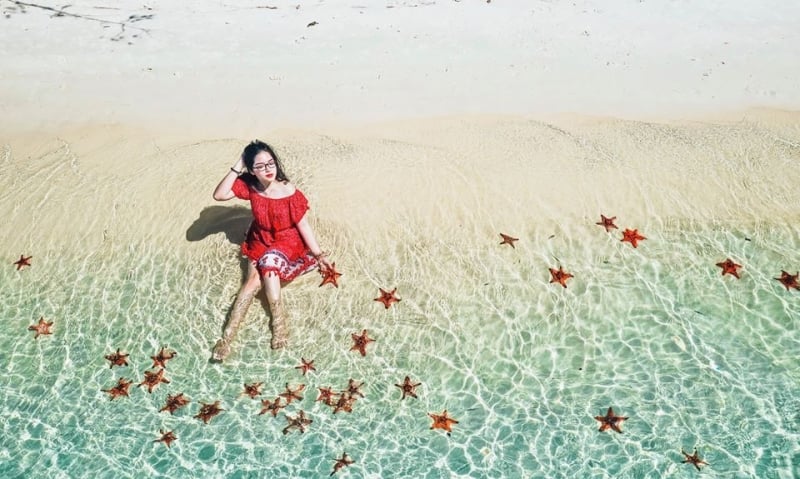 Way up north, Starfish Beach attracts crowds for its one-of-a-kind coastline. From its name, it's no surprise that the shoreline thrives with an abundance of starfish, making any photo op here a worthy one. 
Note: Plan your holiday to Phu Quoc from November to April (i.e. now!) when you'll be more likely to see plenty of starfish at Starfish Beach. That said, visitors have generally advised against coming in the middle of the year (May to August), when it's monsoon season and starfish are hard to spot. 
Most importantly, when you're here, remember not to touch or pick up the starfish, as that will risk endangering the sea creature.
Also read: 11 Best Beaches in Vietnam You Must Know About
4. Bask in breathtaking panoramas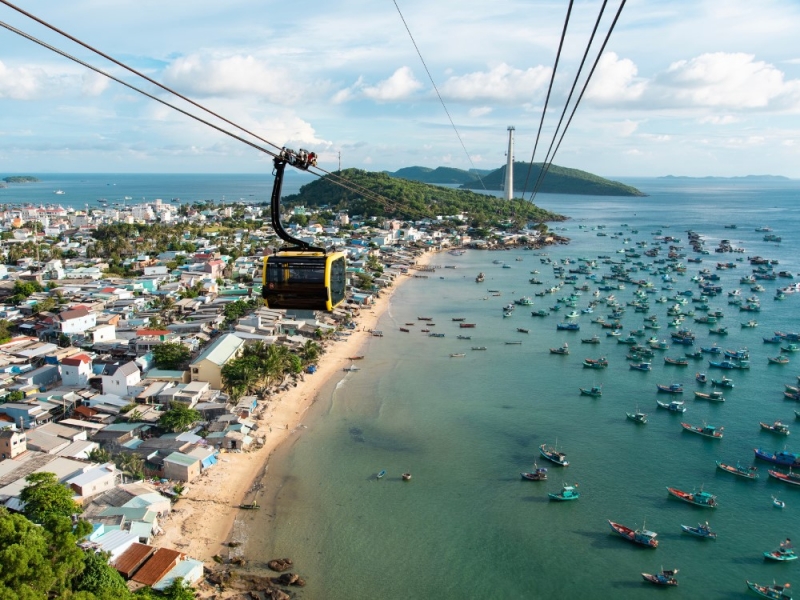 With all these coastal marvels, the best way to admire all of this — in the shortest amount of time — is to hop on the Phu Quoc Cable Car. This 15-minute ride starts at the southwestern tip of the main island, and will transport you 8km across a panorama of docked boats in glistening waters, quaint village landmarks, and evergreen terrains in the distance (though, a surprise lies within!). 
Plus, all cable cars come fitted with benches and tables, ensuring a smooth and comfortable ride. Trust us — you might very well be reluctant to get off.
5. Immerse yourself in even more excitement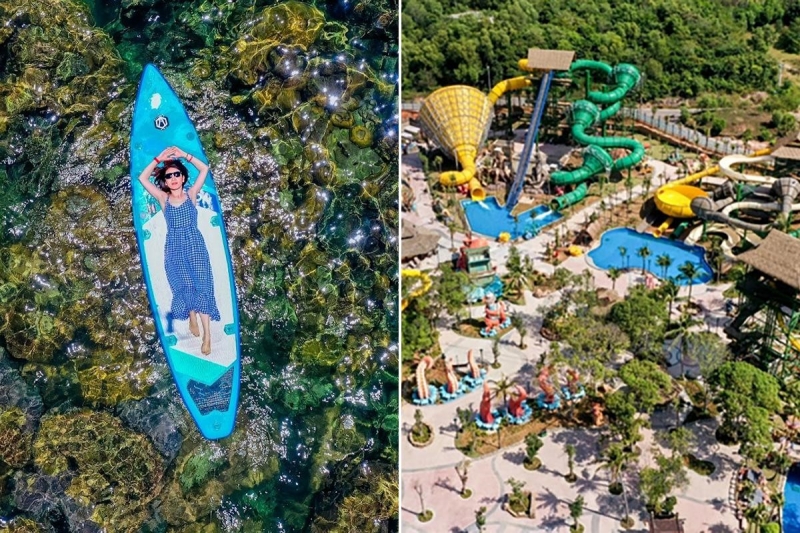 Luckily, the beauty doesn't stop once you alight. Take a look at Hom Thom Island, where nature and entertainment meet in one spot. 
How does this work? Well, at first, your cable car ride might have you thinking that you're coming to a nature reserve. However, tucked within the hilly evergreens of your destination is Sun World Hom Thom Nature Park Complex, a family-friendly theme park spanning the entire island. The chief attractions are Aquatopia Water Park and Exotica Village, where more than 20 thrilling water rides and the country's first wooden roller coaster lie respectively. 
After the excitement, head to the nearby Bai Trao Beach to bask in a golden hour landscape of coconut trees and rock formations.
6. Learn about the island's culture and history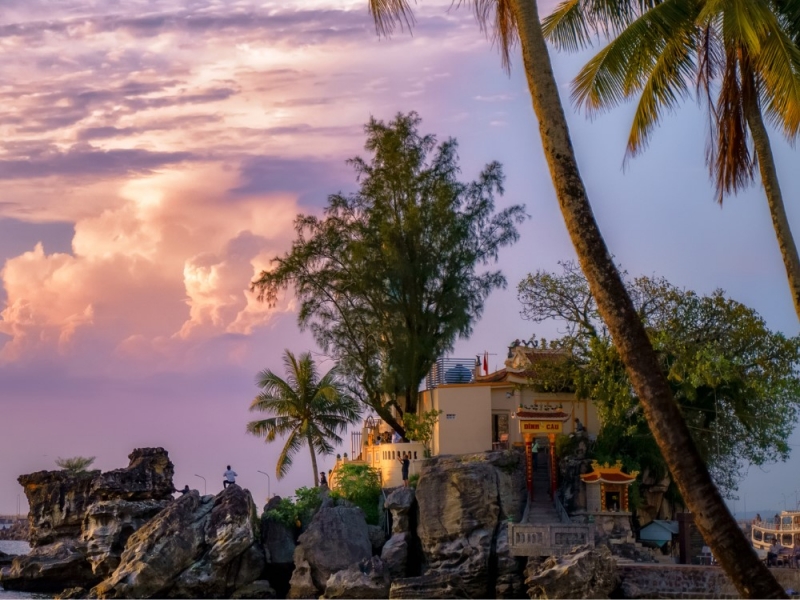 Most importantly, among all the things to do in Phu Quoc (or any new destination, for that matter), immersing yourself in some culture and history should always be in your itinerary. 
For this, visit Coi Nguon Museum, a family-owned museum that tells of the island's history through displays like shipwreck and archaeological artefacts. Entry is only VND20,000 (~RM3.84), and takes just 45 minutes to explore. 
Then, walk five minutes towards the coast. You'll arrive at Dinh Cau Temple, a waterfront shrine dedicated to the Goddess of the Sea. The temple is also dedicated in honour of the local fishermen. In fact, fishing and snorkeling are two of the most popular activities in Phu Quoc, with November to April said to be the best time for this.  
After your time inside, head to the nearby night market stalls which open at 5pm. We recommend doing as a local would: by buying some street food and sitting by the waterfront near the temple to watch the sunset. 
Also read: 10 Places to Visit in Vietnam for Culture & History
Tips for your Phu Quoc holiday
Getting around
With so much to do in Phu Quoc, figuring out the best way to get around the island is a must. Luckily, Grab is the most common and affordable way to commute; it's cheaper than taxis and prices are fixed. 
Expenses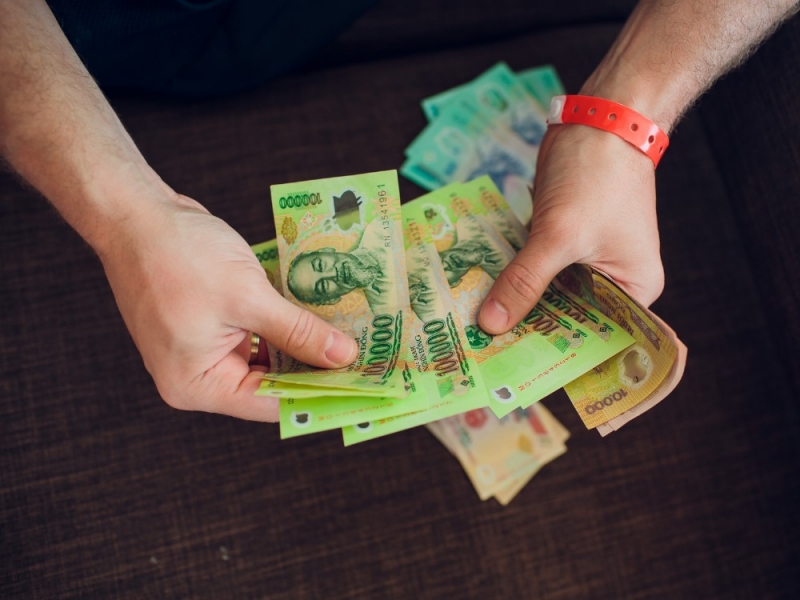 On that note, the most reliable payment method is by cash, with both VND and USD currency accepted across the country. Be sure to exchange currency before you board the flight, i.e. in Malaysia itself, so you won't have to worry about this when you land. However, once you land at Phu Quoc International Airport, buy a SIM card, as you might not be able to find this elsewhere on the island. 
When shopping for anything, always look out for price lists to ensure that you're paying the market price. Where prices are not made clear, you may try bargaining for a better rate.
What to buy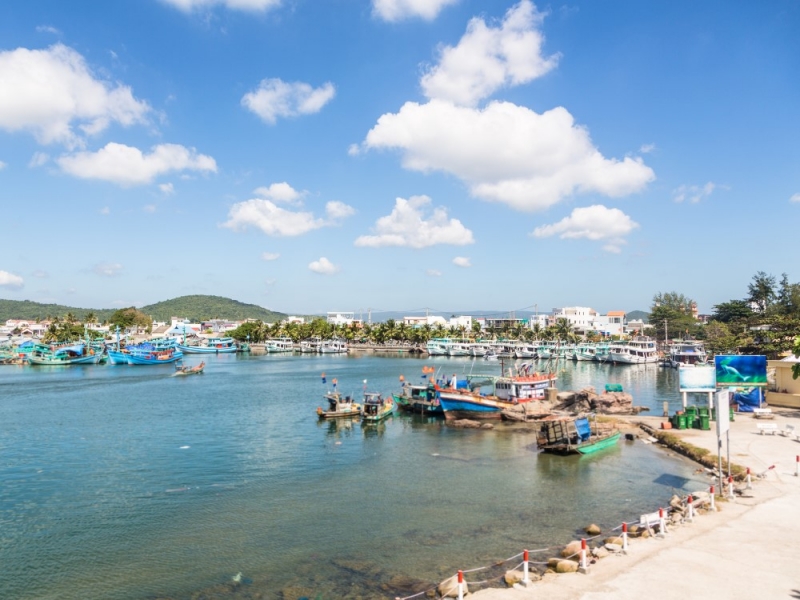 On top of your night market food purchases, make an effort to support the island's economic activities of tourism, fishing, and agriculture. To do so, buy the following items: fish sauce, pearls, and pepper — and bring a piece of Phu Quoc home with you. 
With summer almost over in Vietnam, your Phu Quoc holiday will promise to be a more enjoyable and comfortable one. Plus, along with the cooling weather, you're guaranteed to have time for both relaxing and excitement. 
Are you excited to explore even more of Vietnam?
In just 1 hour and 50 minutes from Kuala Lumpur, you'll reach Phu Quoc — thanks to direct flights from AirAsia! Book your flights from now till 25 Sep 2022 on the airasia Super App and enjoy all-in return fares* at RM185 only! Limited FREE SEATS available, so book now!! 
Booking period: Now to 2 Oct 2022
Travel period: 1 Jan to 28 Oct 2023
*Inclusive of zero base fare, airport taxes, MAVCOM fee, fuel surcharges and other applicable fees.
---
Brought to you by AirAsia.