Ah, durian. The King of Fruits is truly a polarising delicacy. Those who don't know how to appreciate it can't stand it while those who enjoy it can't get enough of it. It's currently nearing the end of the durian season in Malaysia. I can still see a few stalls here and there, but generally, it's dwindling down to its end. 
If you've not had your fill of durians this season, or you simply crave durian all the time, don't worry. I've compiled a list of the best durian snacks you can buy online to satisfy your cravings, even during the off-season! Let's check them out! 
Also read: 11 Durian Stores That Offer Delivery Services in Peninsular Malaysia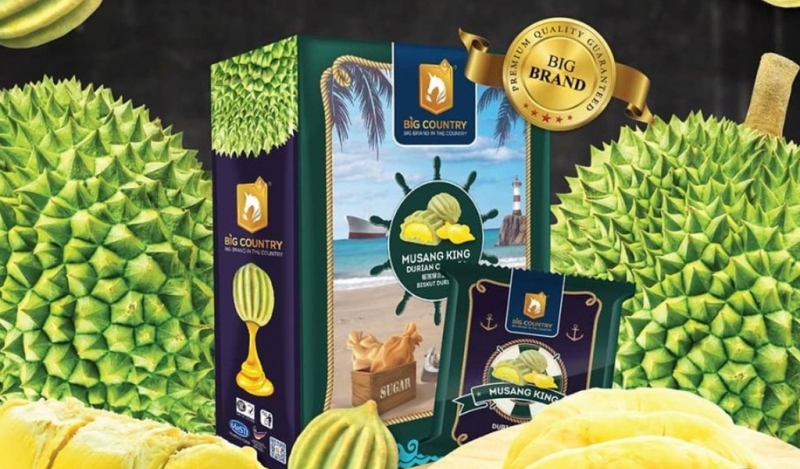 Shaped like mini-durians, these delicious cookies come with a crunchy green exterior. Inside, what you have is gooey filling made with real Musang King durian! To add even more excitement to the cookies, the filling bursts in your mouth when you bite into it! 
What's more, these in-demand cookies are also Halal-certified so anyone can enjoy them. In short, it is the perfect durian snack for every durian lover in Malaysia! Get them before they sell out!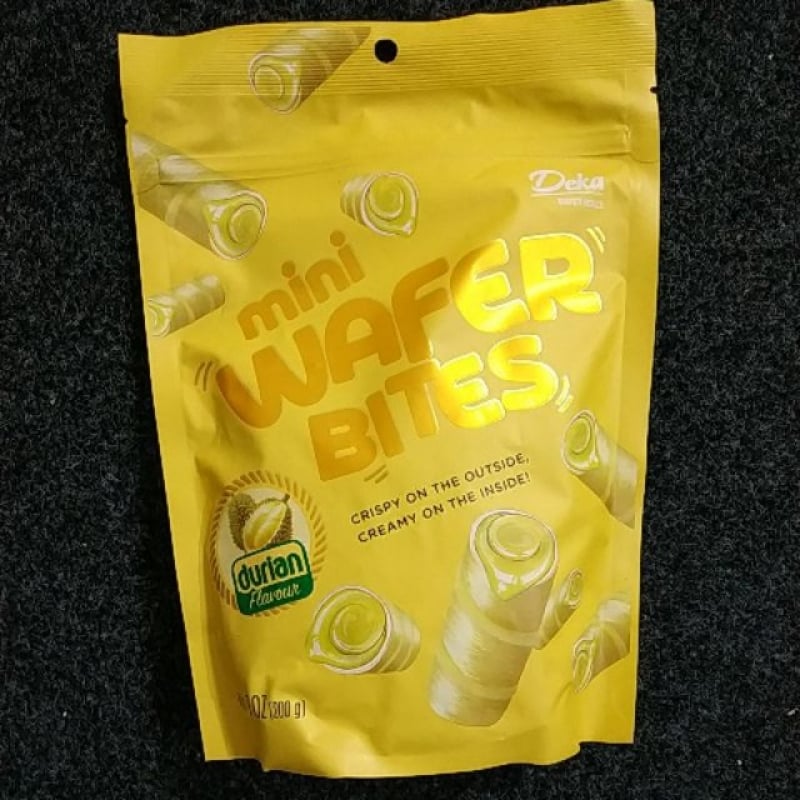 Speaking of durian snacks that are both crunchy and creamy, I personally really enjoy these adorable mini-wafers. It's a pretty straightforward combination: Crunchy wafer skin wrapped around fragrant, creamy durian filling. 
Each time you sink your teeth into a piece, it makes this satisfying sound, followed by the sweet filling that floods your mouth. The only warning I would give is that these are super addictive and you won't be able to stop at one!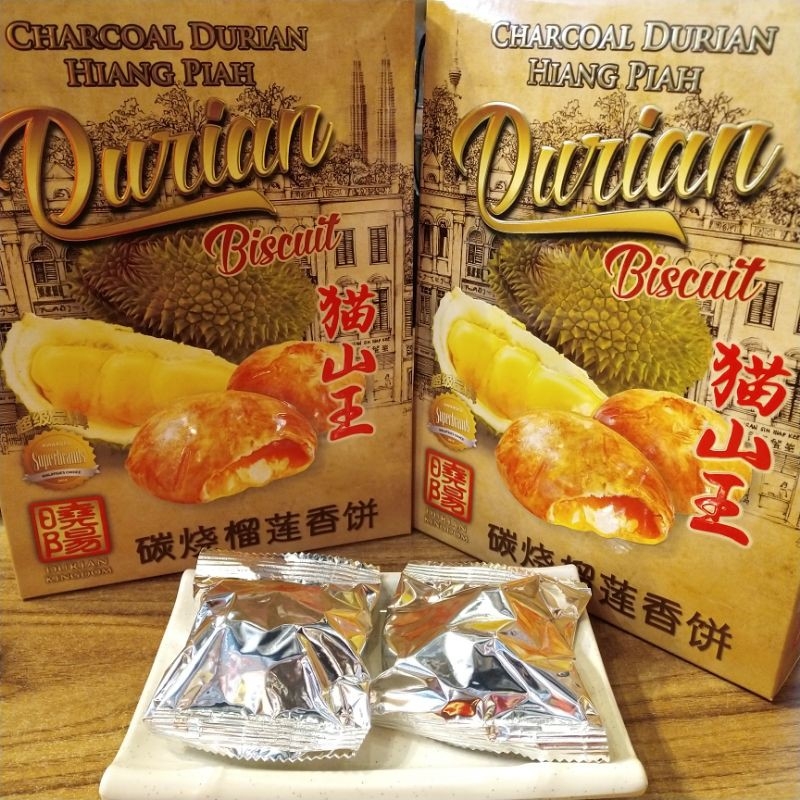 For a more traditional kind of durian snack, check out these flaky durian hiang piah. For those not in the know, hiang piah (or heong piah) is a Chinese puff pastry that contains gooey, sweet malt sugar in the centre. It is one of the most popular tea-time snacks in the community. 
These durian puffs are baked over a charcoal fire, which gives it a slightly smoky aroma. In addition, the combination of malt sugar and durian filling is absolutely delicious! If you want to truly pamper yourself, stick it in a preheated oven for one minute. Trust me, it completely elevates the flavour and texture!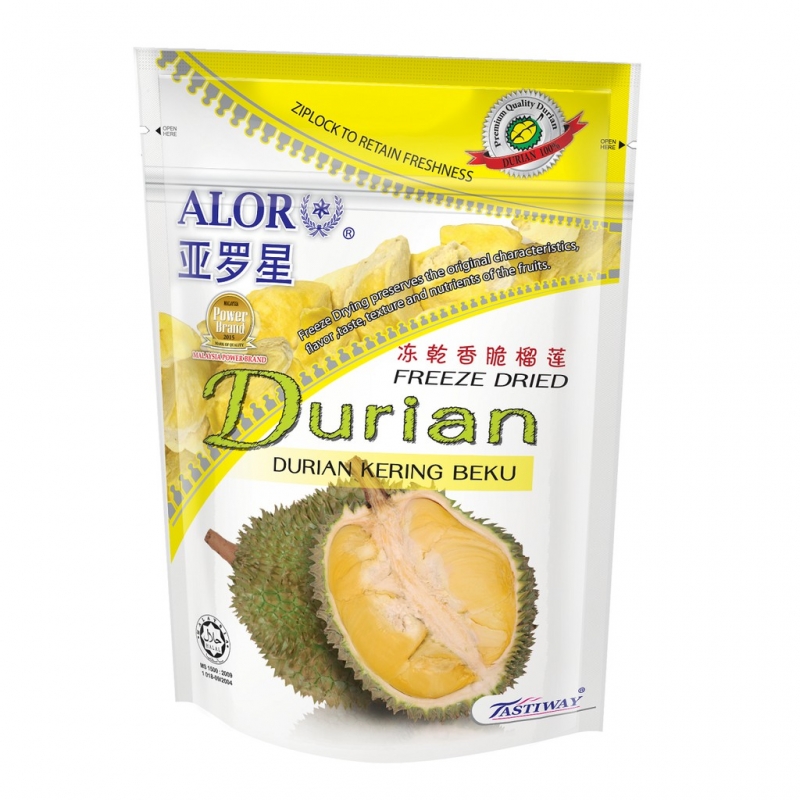 If you're craving durian during the off-season, you're in luck! Thanks to freeze-drying technology, which has taken the durian industry by storm, you can now enjoy "fresh" durians even when they're not in season! 
Freeze-drying is basically freezing fresh fruit using a low-temperature dehydration process. The ice is then removed and what you have is basically dried fruit that has retained its original flavour. 
Once you pop a piece of this freeze-dried durian in your mouth, it will slowly transform back into the familiar texture of durian flesh! It is just as flavourful and fragrant as the original fruit! Just don't forget these are actual durian flesh, so eating too many at once is probably not a good idea!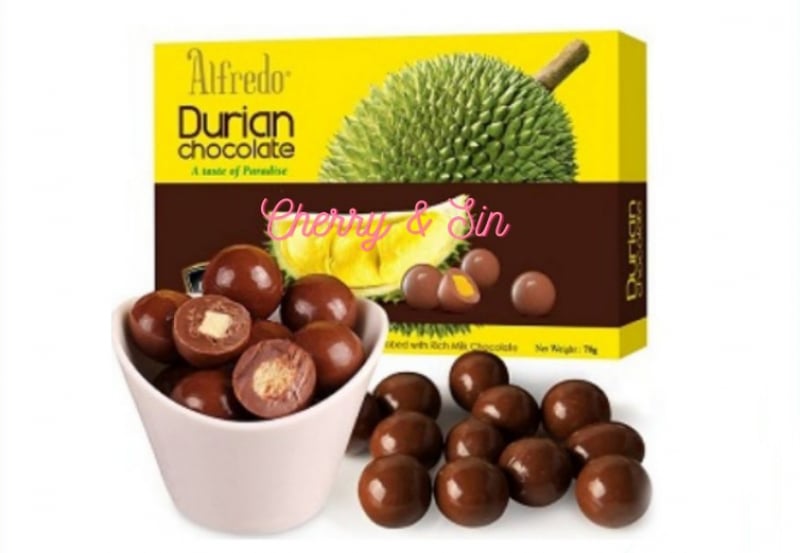 For an even more indulgent durian snack, try freeze-dried durian chocolate! As the name suggests, this is basically sweet milk chocolate with a piece of freeze-dried durian in the middle. It's a sinfully delicious combination of sweet and savoury!
In addition to milk chocolate, you can also opt for white chocolate too.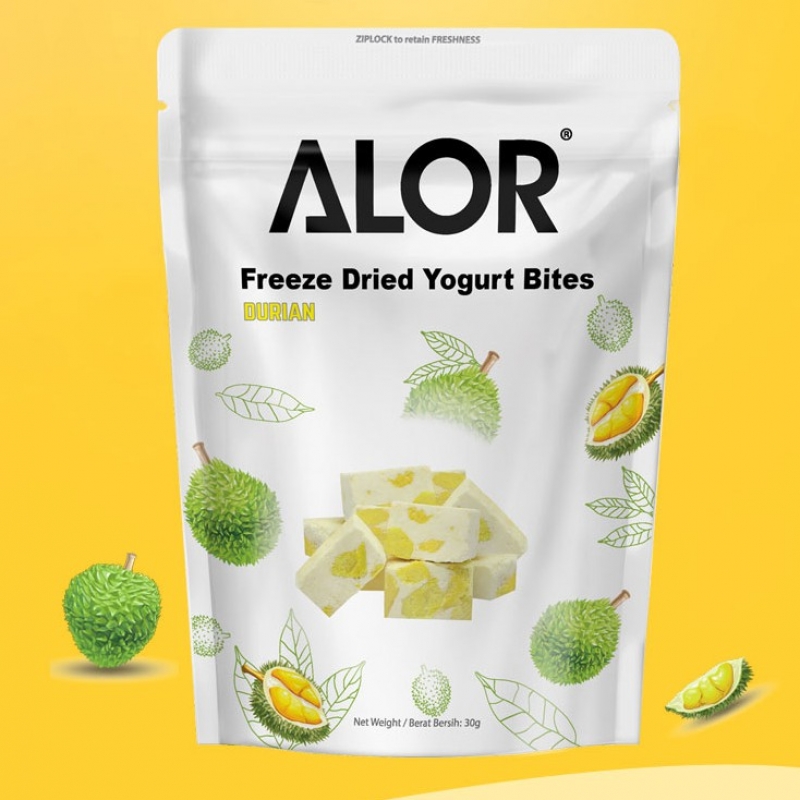 For those who are slightly more health-conscious, these durian snacks are the perfect answer to your cravings. As you might have already guessed, these are freeze-dried yogurt that contains pieces of durian in them! 
They come in bite-sized pieces, so it's just as easy as picking up a handful and popping them in your mouth!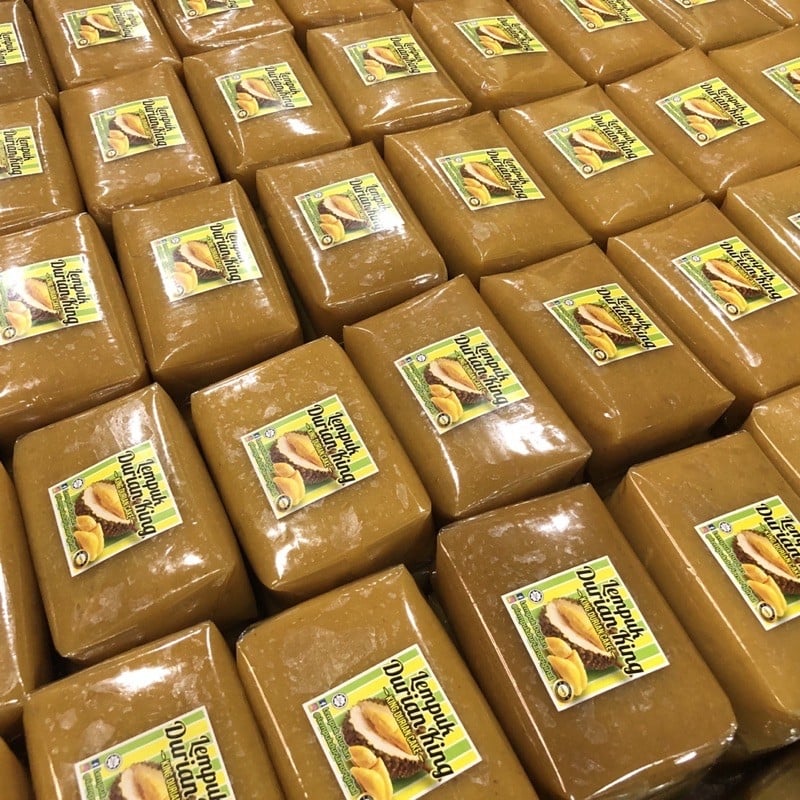 This is one durian snack I'm sure not that many people have tried. Lempuk is a traditional Malay durian cake from the East Coast of Peninsular Malaysia (Kelantan, for example). It is basically a sweet treat that is made by cooking durian flesh with sugar or Gula Melaka on a low fire until it thickens. 
Lempuk can be eaten on its own or used as a spread or condiment for bread. It is incredibly sweet though so if you have any chronic conditions, you might want to save this for truly special occasions!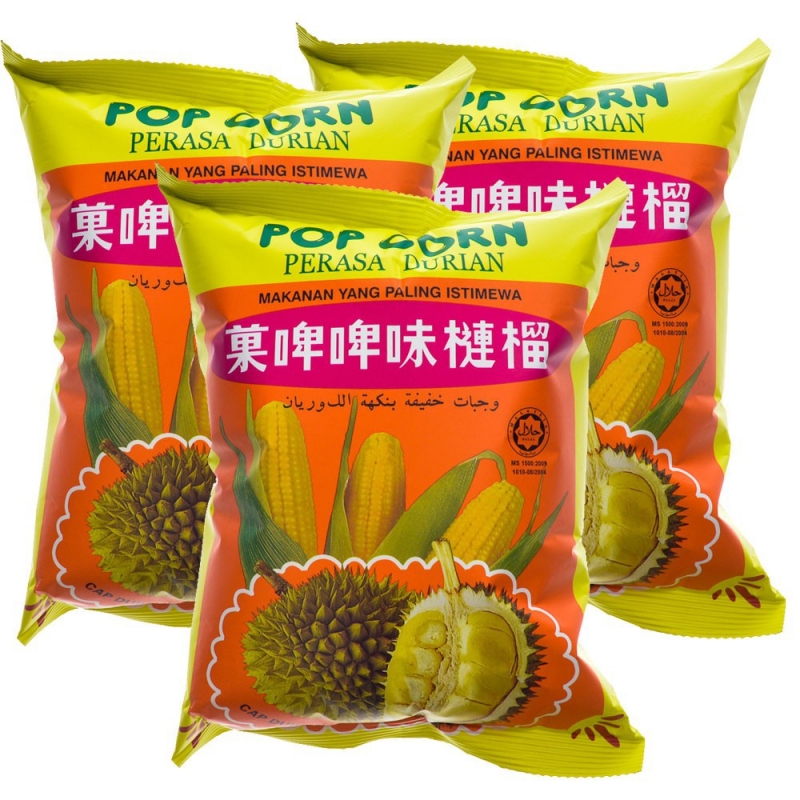 One of the more common snacks that durian lovers get to enjoy is durian-flavoured popcorn. This limited-edition flavour by myEureka is truly a premium experience. Crunchy, sweet, and savoury, it's the perfect snack for a night-long Netflix marathon. 
It comes in a can like Pringles and the moment you open it, you'll be able to smell the fragrance of the durian flavouring. Try it yourself. I can guarantee you'll love it!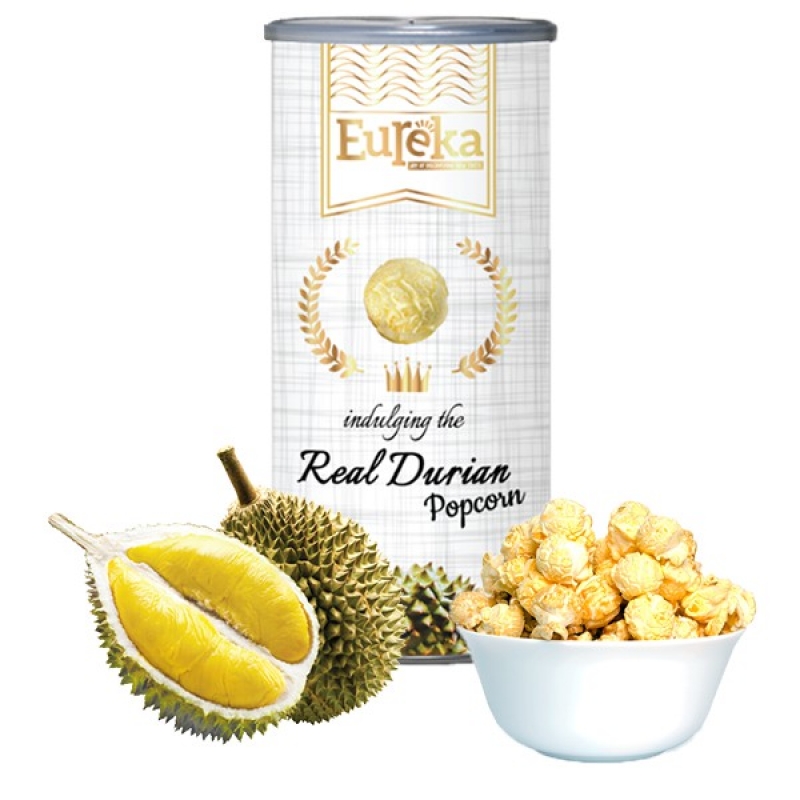 Alternatively, these durian chips (called pop corn) are also super popular. These are basically puffy corn snacks with durian flavouring. It's a nostalgic snack for those who remember queuing up for Toki tomato snacks back in primary school. 
It has the same texture but instead of the tangy tomato, you have pungent durian!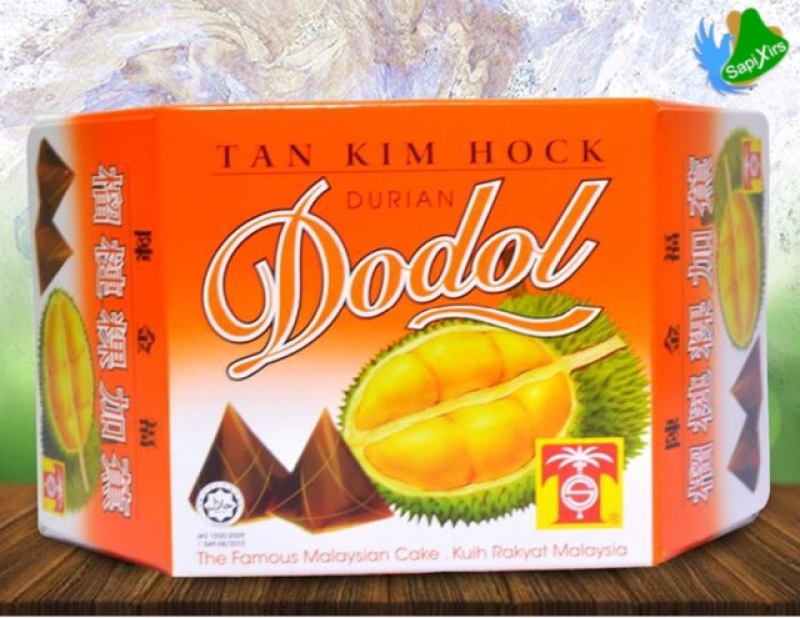 Finally, we have arguably the most time-tested durian snack of all: dodol! This classic favourite snack needs no introduction among Malaysians. Sweet, gooey, and satisfying with every bite, dodol is the essential durian-flavoured snack/souvenir to buy when travelling in Melaka. 
However, if you truly crave these toffee-like treats, you'll be happy to know that you can now order them online! How convenient! 
Also read: 12 Local Brands That Sell The Best Premium Malaysian Snacks Online
Durian to last the year
And there you have it: Top 10 durian snacks you can order online to satisfy your cravings. Just because durian season is coming to an end doesn't mean you have to wait a whole year before tasting the sweet King of Fruits again! Just promise not to order everything, okay? Save some for me!