Is it just me or has everyone else become more peckish during lockdown? It feels as if I'm either perpetually hungry or looking for something to snack on every 15 minutes. I suppose it's normal since eating is one of the only things we can do when we're bored at home these days. 
However, if you're tired of your typical Lays, Doritos, or even Mamee and want to try something more artisanal, try these 12 premium Malaysian snack brands instead! Fully local, these amazing artisanal brands offer some of the most atas snacks you'll find on the market. And some of them, speaking from personal experience, are simply unforgettable! 
Note: Some of the pages that we link to are not official store pages. However, we have checked extensively and the prices reflect the same range as the respective brands' official websites. 
Also read: 12 Adorable Plushies And Pillows You Won't Be Able To Resist Buying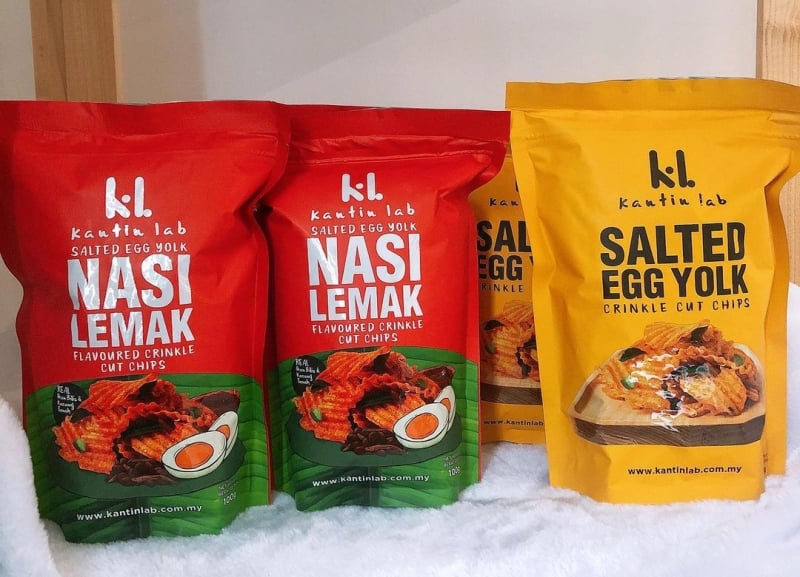 Out of all the gourmet Malaysian snacks, Kantin Lab is my favourite. Founded by a young group of four friends, Kantin Lab epitomises the belief that gourmet food doesn't have to be expensive. The main aim of this local brand is to bring Malaysians comfort food at affordable prices, just like how we all looked forward to spending recess at our kantin sekolah back in the day. 
Kantin Lab sells premium crinkle-cut potato chips made from the finest quality ingredients. At the moment, the two flavours on offer are Nasi Lemak and Salted Egg Yolk. Both come in premium, resealable foil bags. 
I personally prefer the Nasi Lemak flavour because it is SO fragrant and has a real kick to it. Inside, you'll also find peanuts and savoury anchovies as well! Basically it's like actual nasi lemak, except with chips instead of rice! 
Click here to try them yourself or visit Kantin Lab's official website!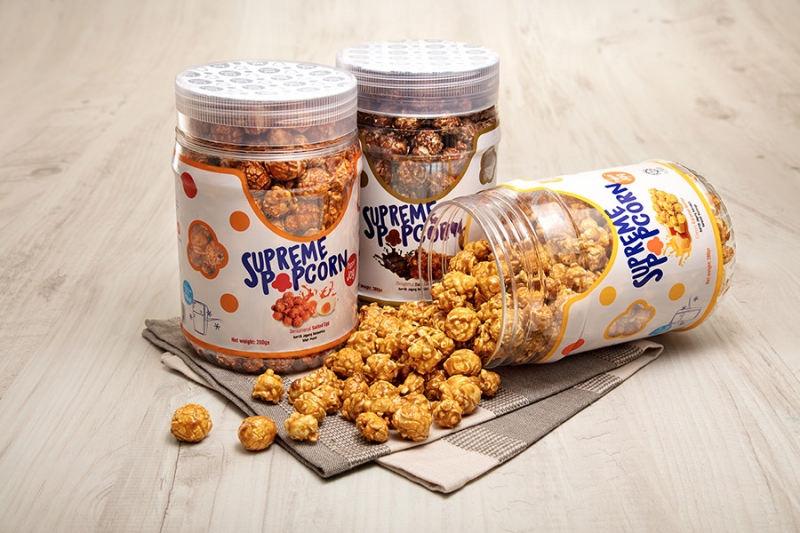 One of the things I've missed the most during lockdown is going to the movies. True, most of us have Netflix and even Disney+, but it's just not quite the same. One way to potentially get around that is to binge-watch your favourite movies with a tub of popcorn! And for that, my friends, I recommend Supremeo. 
Using imported kernels, each piece of Supremeo popcorn is fully coated and promises a truly mouthwatering experience. Each bite is crunchy, sweet, and savoury at the same time! The best part is that their products are relatively affordable too! Take your pick from classic butter caramel, dark chocolate, or salted egg yolk (limited availability). 
My favourite is the butter caramel flavour. It's so, so good!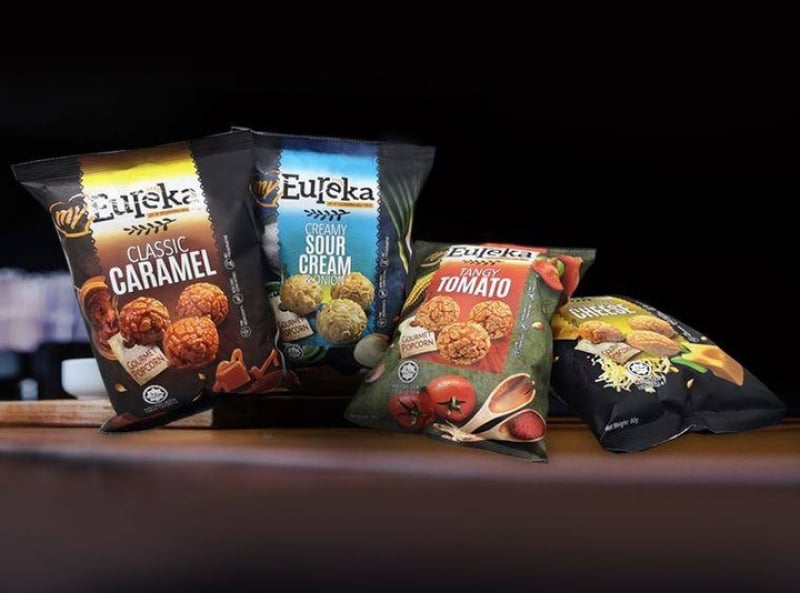 Alternatively, if you want a wider range of flavours for your popcorn, check out myEureka! Started by a group of friends who simply love popcorn, myEureka offers a more diverse range of flavours, ranging from classic caramel to more unique takes on popcorn such as sour cream and tomato flavoured popcorn. 
myEureka is more widely available in stores, even though you might sometimes mistake them as potato chips because of their packaging and flavours! However, if you can't quite find the flavour you're looking for, you can always check out their store online! 
Experience the diverse flavours of myEureka here!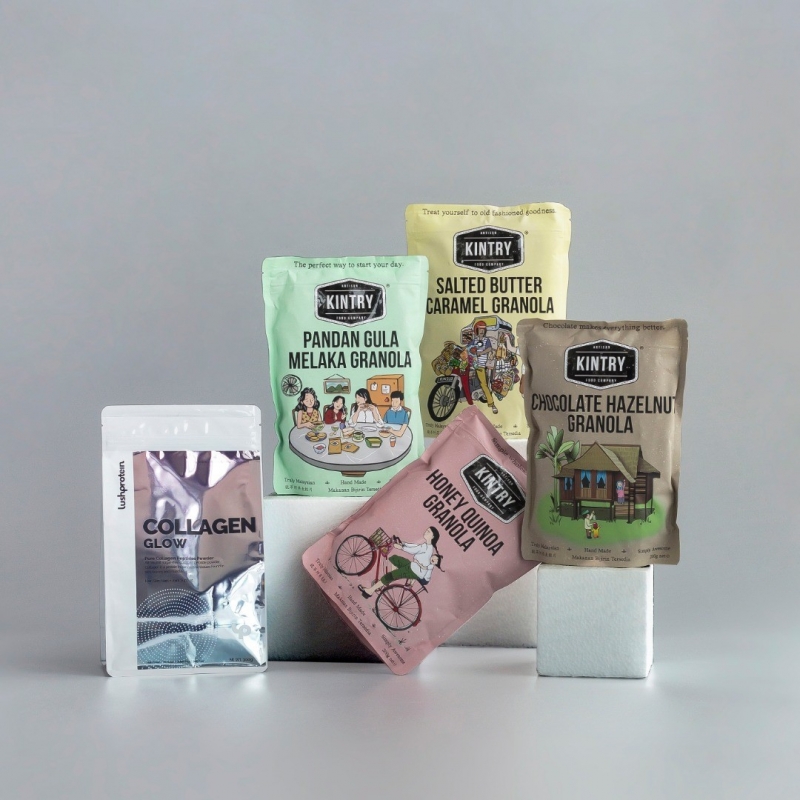 One particular aspect of local Malaysian snacks that I like is the concept of healthy snacks. Kintry is one such brand that uses premium natural ingredients to offer addictively delicious healthy snacks to Malaysians that will make you think of home. 
Some of their best artisanal snacks include their salted egg potato chips (of course), homemade cookies (Macadamia cookies are my favourite), and granolas (I highly recommend the pandan gula melaka flavour). If you're having trouble deciding what to get, why not just get a gift box and sample a little bit of everything? Plus, they make the perfect care pack for friends and family too!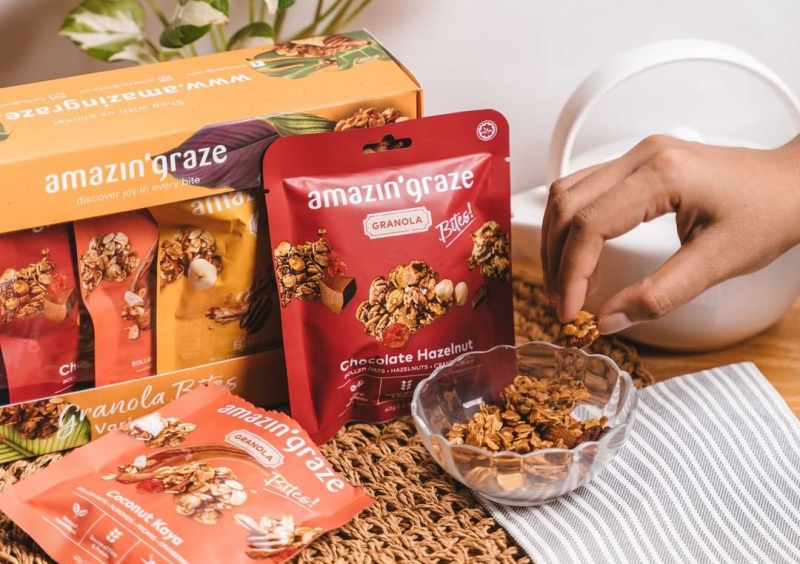 Amazin' Graze is arguably one of the brightest stars in the local Malaysian snacks industry. What started as a humble startup by three young Malaysian women making classic granolas and nut mixes has now grown into a truly international brand with products available in Singapore, Hong Kong, and even Australia! 
You can treat yourself to a wide variety of snacks at Amazin' Graze, from nuts (I recommend just getting a variety box) and granolas (Banana bread flavour is love) to brownie chips and even premium nut butters, Amazon' Graze has it all! And, like Kintry, they offer variety packs as well so you can sample everything and then come back for the ones you like! 
Treat yourself to a healthy snack today!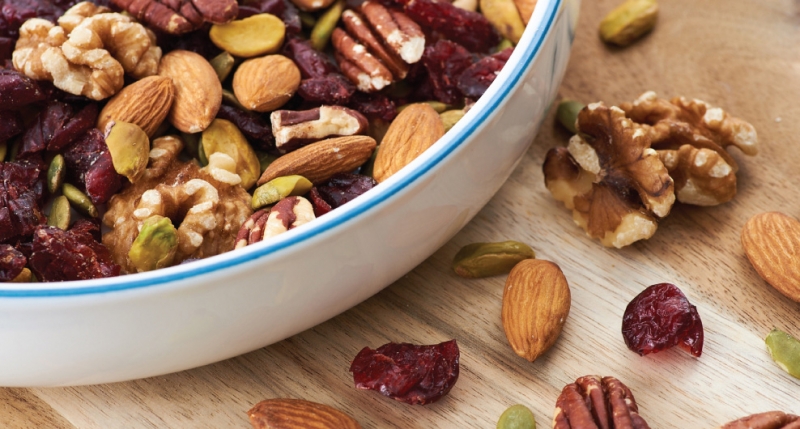 Another healthy snack brand from Malaysia that I really like is Signature Market. Apart from a large variety of nuts, granolas, and cookies, this wholesome Malaysian snack brand also offers healthy herbal teas, dried fruit (trust me, their Wild Berry Blast fruit mix is addictive!), and even jams. 
All their products come in premium-feel packaging and are competitively priced too! If you never thought that healthy snacks can be as delicious as your typical Lays or Doritos, Signature Market is one of those healthy snack brands that will change your mind.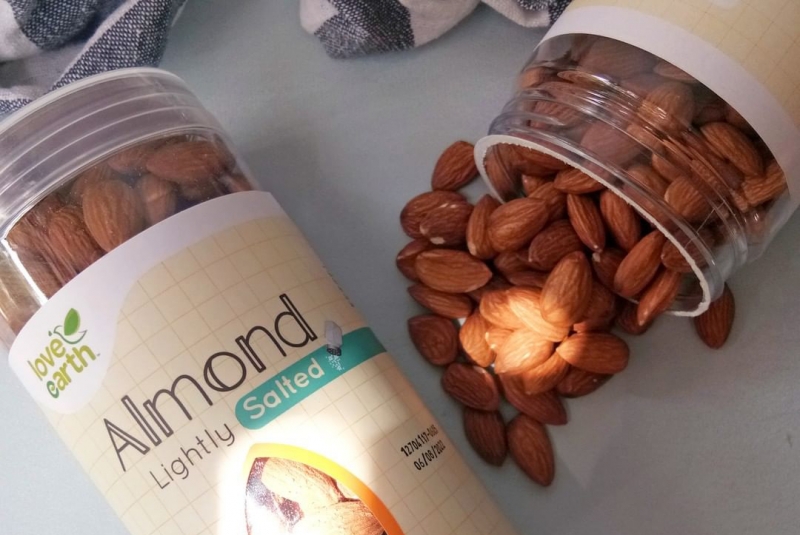 One final local healthy snack brand that more than deserves a shout-out is Love Earth. Founded by Natasha, Jason, and Samantha (who each have truly spellbinding stories to tell), this fully organic store's main goal is to emphasise healthy food choices and selections. 
Offering a range of products including beverages, nut mixes, beans, dried fruit, honey, and more, you're sure to find something you…love…in their store. Not sure where to start? Try their 10-in-1 pack and go from there!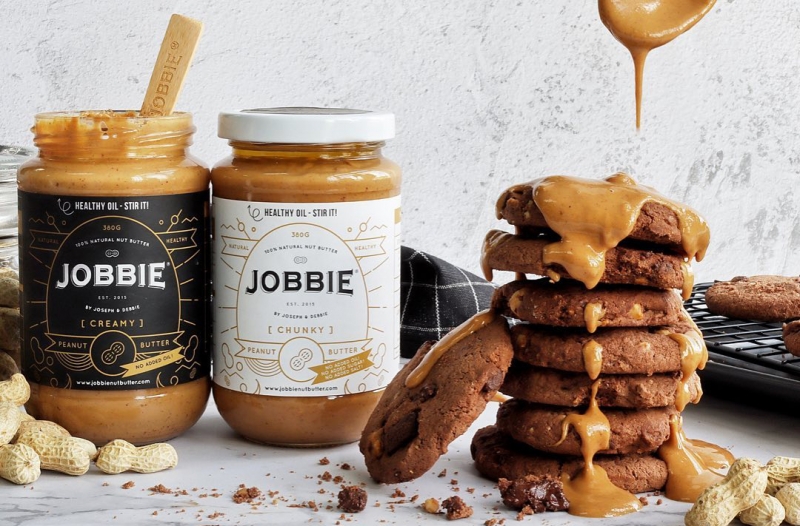 I'm sure most tech-savvy Malaysians already know about Jobbie. After all, it is one of Malaysia's earliest premium nut butter brands on the market! In fact, real fans might even remember the days when it was called Walao-Eh!!! Peanut Butter! 
Jobbie's story is one of true Malaysian perseverance and spirit. Joseph and Debbie, the founders, actually started out selling their peanut butter from a booth in Berjaya Times Square and hand-delivering orders in the early days. Today, Jobbie has grown to be one of the most popular nut spread brands in the country! 
I consider myself a peanut butter enthusiast and I have to say, their chunky PURE peanut butter is..chef-kiss amazing. Sure, prices are a little premium, but you definitely get what you pay for. 
Add some excitement to your peanut butter sandwich here!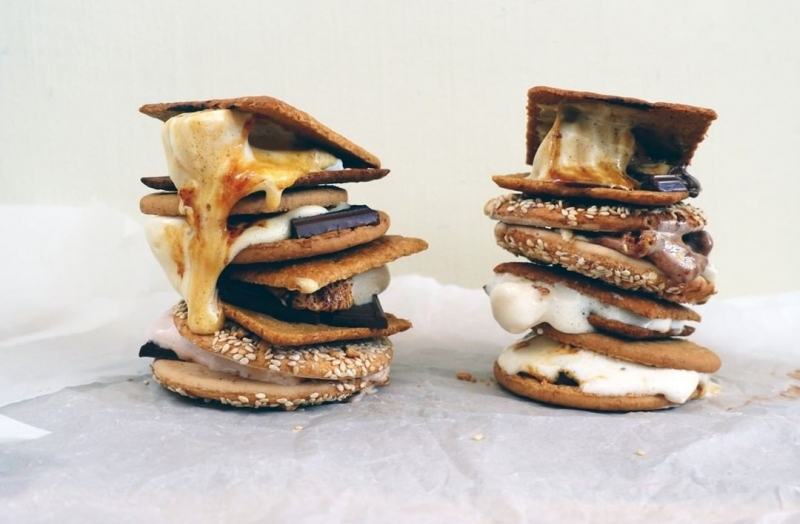 Who doesn't love marshmallows? Whether you like melting them and eating them as s'mores or popping them into your mouth right from the bag, they can be addictively delicious. Huey&Wah Cafe is Malaysia's first-ever gourmet marshmallow cafe. 
Located in Penang (Pulau Tikus), the cafe has come up with an ingenious number of ways to elevate the humble marshmallows into truly unforgettable treats. With the NRP Phase 1 and 2 still in effect, you can't visit the cafe at the moment. Instead, you can buy some of their famous marshmallows to satisfy your cravings! 
Check out their official Shopee store here!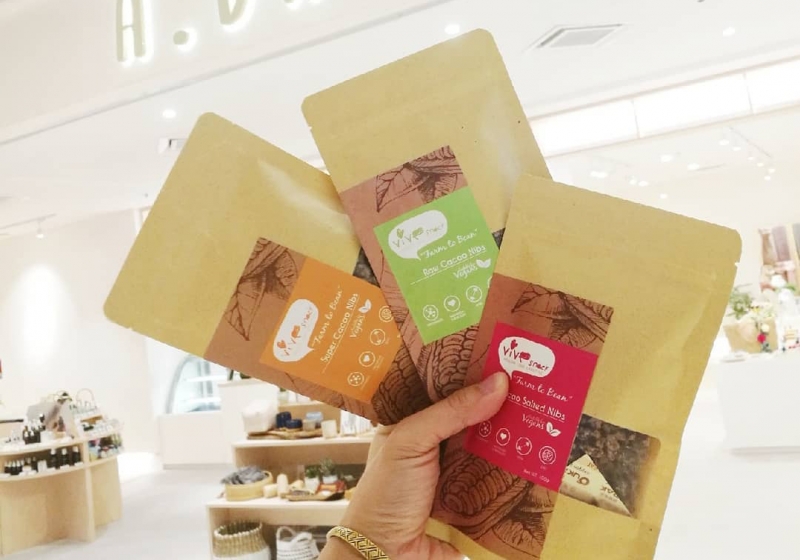 Who says only Belgian and Swiss chocolate are delicious? You've clearly never tried proper Malaysian chocolate from Vive Snack! Established in 2015, this organic chocolatier specialises in artisan chocolate made using the finest local ingredients. 
Their chocolate bars are irresistible. So too are their signature cacao nibs and butter spreads. As a dark chocolate fan who enjoys the subtle bitterness of chocolate, I highly recommend their hazelnut dark chocolate bar. It's made with 75% dark chocolate and offers you a guilt-free dessert!
Buy one and try it yourself now!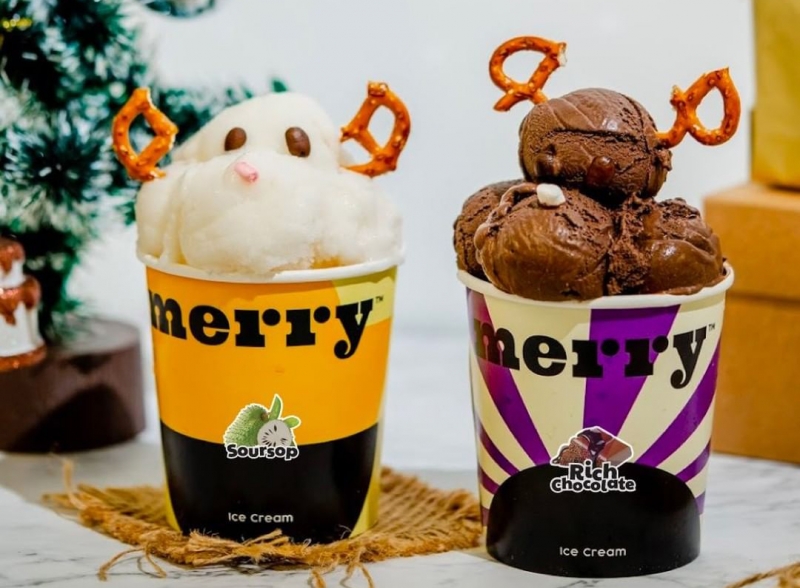 This may be the Penangite in me speaking, but I think Merry is the best local ice cream brand on the market! Set up in Penang as the state's first ever Malaysian-inspired ice cream shop, Merry offers Malaysians flavours that will reawaken the child in you. 
Featuring classics like rich chocolate, mint (my favourite), and strawberry cheesecake as well as Malaysian flavours like soursop, gula melaka, and hawthorn berries, Merry is now my go-to brand for ice cream! It started with one small cup of mint ice cream, then turned into three cups, and now, I've just ordered a set of three tubs. It's that good! 
Try the BEST ice cream in Malaysia today! 
Note: Delivery on Shopee is limited to the Klang Valley only. For other states, check out their official website.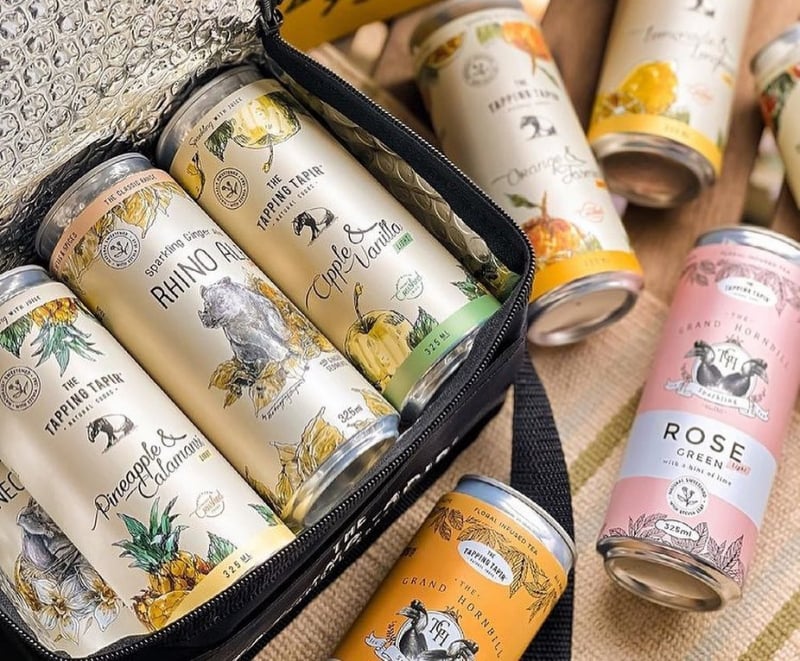 Finally, how about a local Malaysian drink to wash down all those snacks you've eaten? Founded in 2013, The Tapping Tapir celebrates the complex flavours that can be extracted from the simplest ingredients. They offer naturally flavoured sodas that are immensely refreshing, especially in the hot Malaysian weather. 
They have a truly wide variety of flavours but I personally prefer the light tanginess of Orange & Jasmine. If you're not sure what you want, try their Rainbow Pack and decide later! 
Check out their Shopee page here!
Get your dose of premium Malaysian snacks today!  
And there you have it: 12 incredible local gourmet snack brands that will get you hooked! Whether it's sweet or savoury you're looking for, I'm sure you'll love these Malaysian-born brands that will add a spark of excitement to your stay-at-home life. 
Craving durians? Then check out: 11 Durian Stores That Offer Delivery Services In Peninsular Malaysia