Thanks to the popularity of Kpop Culture in Malaysia (Twice ftw okay?), South Korea has become one of the top travel destinations for Malaysians. This is especially true during March and April, when cherry blossoms are in full bloom.
Most people opt to visit Seoul since it is a more prominent location. But a little less popular but still famous destination is Busan, a charming port city in the south of the Korean Peninsula. Filled with stunning coastal scenery, an exciting food scene, famous beaches and a colourful cultural village, Busan is a far cry from the ultra metropolitan vibes of Seoul. It's like KL and Penang for local comparison.
I visited South Korea in 2017 and Busan was easily my favourite stop. Here are the top 10 things you have to do in Busan, South Korea's not-so-hidden gem.
1. Have a seafood feast at Jagalchi Fish Market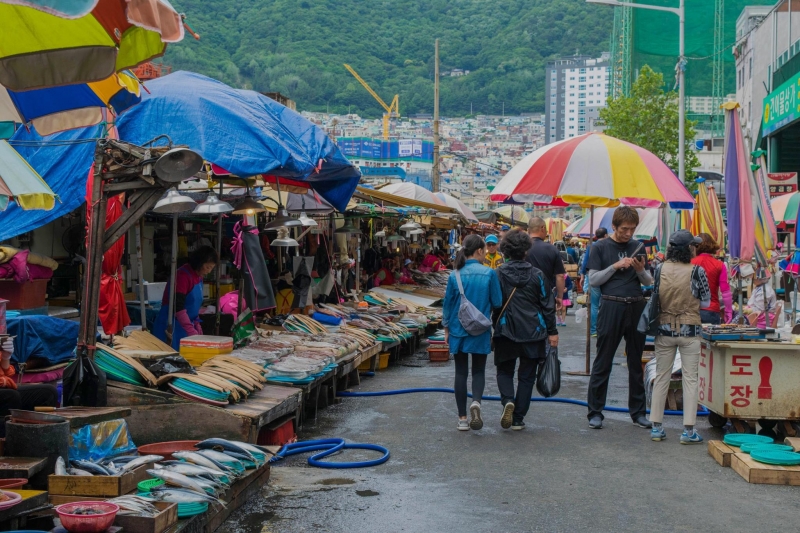 Jagalchi Fish Market is one of the biggest and most popular seafood markets in the world. This massive, bustling wet market should be one of the first things to do in Busan if you want to get close to the local way of life.
Apart from the fresh fish on sale, Jagalchi is also THE place for a sumptuous seafood feast. Everything from fresh raw fish to savoury seafood porridge (I recommend giving the abalone porridge a try, it's amaze-balls) is available here. While some of the dishes are a bit pricier, the trade off is an unforgettable feast for your taste buds!
In October each year, you can also join the Jagalchi Cultural Festival where you can join various cooking classes and engage in more mouth-watering delights!
Getting there: Hop aboard Busan Subway Line 1 and stop at Jagalchi Station. Take Exit 10 and follow the signage!
2. Enjoy Busan's coastal vistas at Taejongdae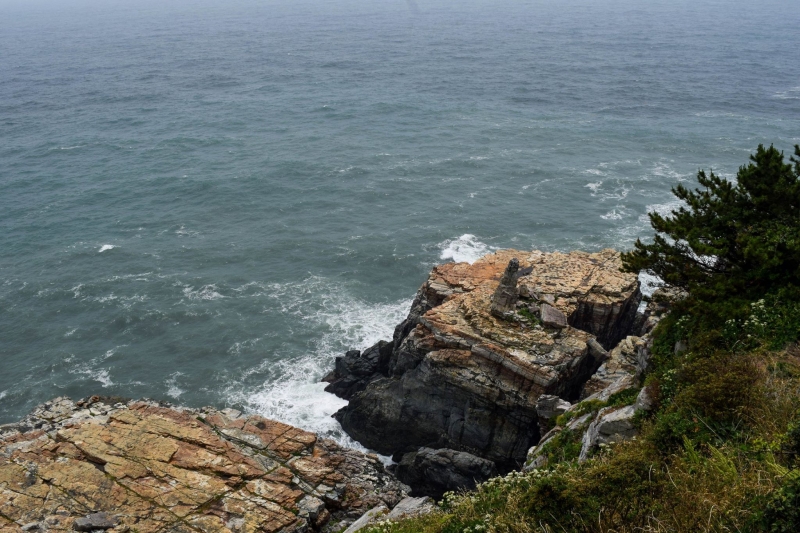 The Taejongdae Scenic Area is one of Busan's most scenic natural attractions. There are rustic coastal views and plenty of unique scenery to enjoy. You can choose to hike up the area or purchase a ticket for the Danubi Train which allows you to hop on and off at various locations at your own convenience.
Getting there: Hop aboard the Busan Subway Line to either Busan Station or Nampo Station. For Busan Subway Station, take exit 7 and locate the bus stop for buses 8, 30, 88, 88-A. For Nampo Station, take exit 6 and locate the bus stop (opposite LOTTE Department Store) and wait for the same buses. Alight at Taejongdae Bus Stop.
3. Get Insta-crazy at the Gamcheon Cultural Village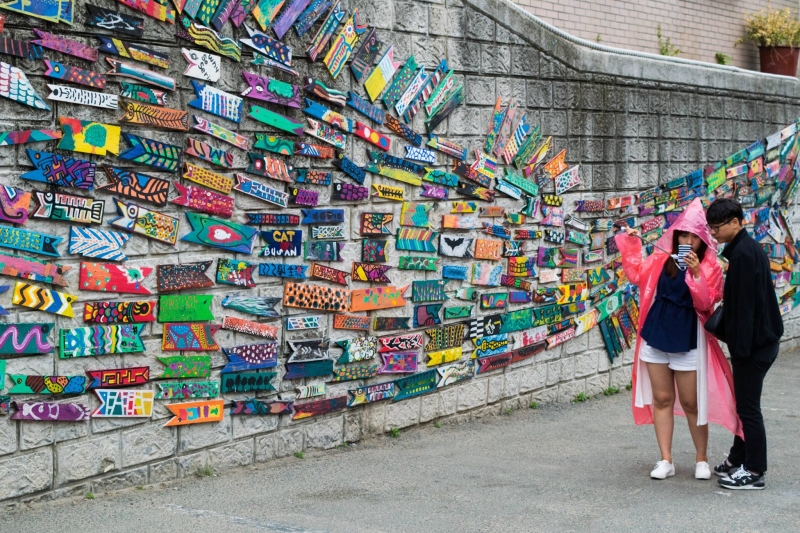 Of all the things to do in Busan, visiting the Gamcheon Cultural Village is one of my favourite. One of the city's most prominent locations, there are plenty and I mean PLENTY) of Instagrammable spots. The village itself isn't too big but there are many alleys that you could easily miss if you move too quickly.
You'll find a few shops renting themed outfits ranging from Hanbok to school uniforms, all so you can get better #potds! This colourful location is a must-visit in my opinion and will easily take up half your day. It's totally worth it for the serene vibes and incredible views.
Getting there: Take the subway to Toseong Station (Line 1). Locate exit six and head towards a small bus station board in front of the Pusan National University Hospital building. You'll be looking for the Cancer Centre. Hop on the market village bus to Gamcheon Culture Village. There will be an English announcement on the intercom so you won't miss your stop.
4. Stuff yourself with street food at BIFF Square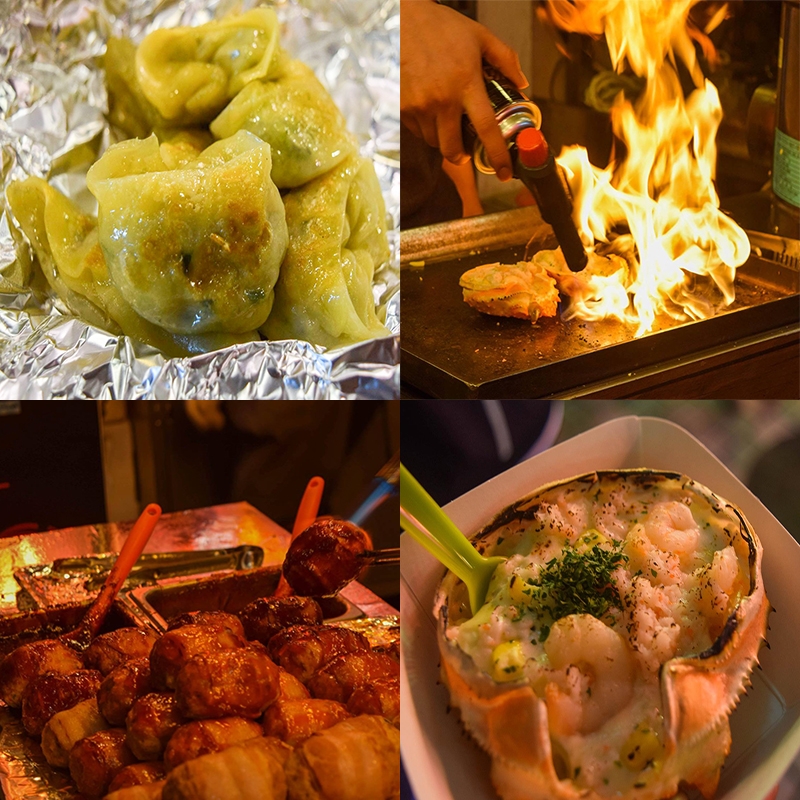 The Busan International Film Festival (BIFF) Square is THE place to be to enjoy nightlife in Busan.There are plenty of eateries and shopping complexes around, but most importantly, it is here where you will find a large selection of street food carts. In a way, it's like their pasar malam :p
Stuff yourself with delectable favourites like tteobokki, kimbap, eomuk and more. I highly recommend the ssiat hotteok. I only had it twice but have been craving it ever since! You can also snoop around and find some quaint stores selling unique souvenirs (mostly in bookshops for some reason) that you can bring home.
Just be careful what you buy because many of the handicrafts have hidden meanings.I bought a dog-bird statue for my girlfriend because I thought it was oddly cute. She was not amused. Apparently, dog-bird (gae-sae) in Korean meant…well, not a good thing to describe your girlfriend!
Getting there: Take the subway to Nampo Station. BIFF Square is just a block away.
Also read: What to Eat in Busan
5. Take a scenic detour to Haedong Yonggunsa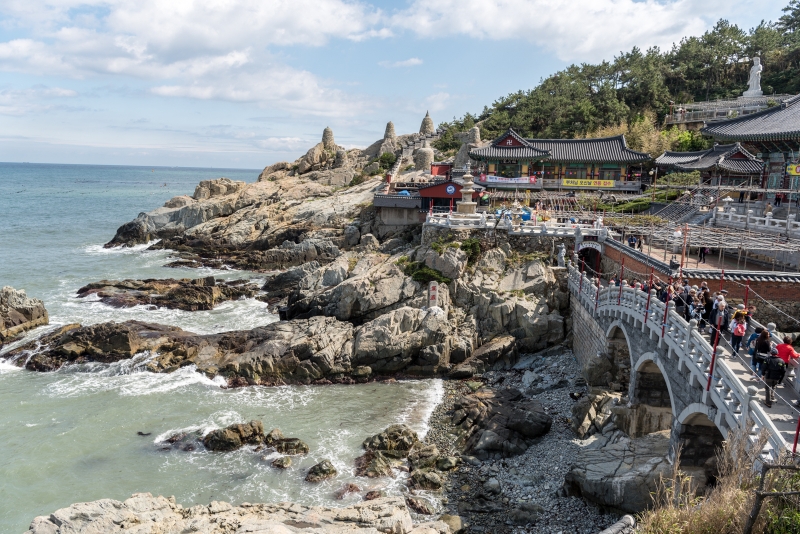 Most temples in South Korea are located high up in the mountains, which makes Haedong Yonggunsa even more special. Located along the shoreline, this majestic temple offers visitors captivating coastal views amidst a serene atmosphere.
Many people come here during the new year to make a wish and catch the break of dawn. If you want an even more beautiful experience, visit in April. This is when cherry blossoms in the area are in full bloom and you'll be treated to a truly memorable sight. Truly one of the most unique things to do in Busan. 
Getting there: Take a ride on the Busan Subway Line 2 and hop off at Haeundae Station. Locate the bus stop outside Exit 7 and take Bus 181 to Yonggunsa Temple.
6. Chill out at the exciting Haeundae Beach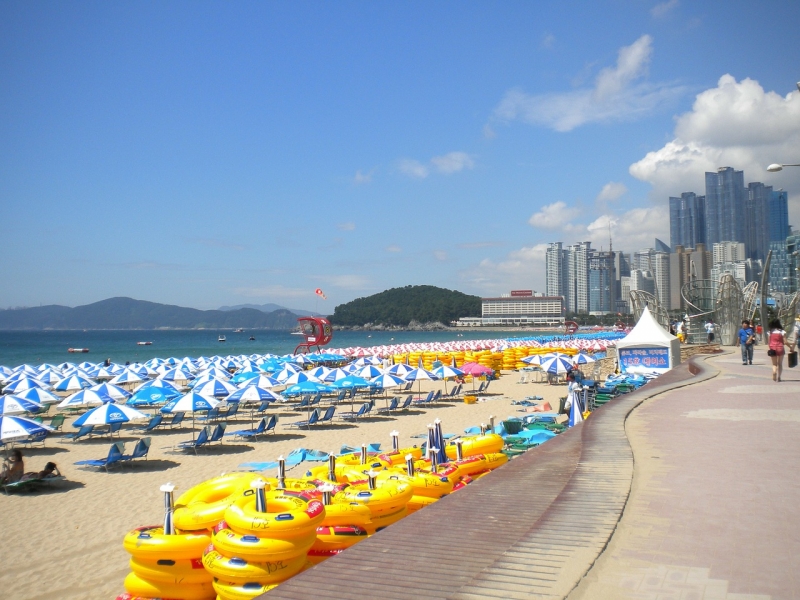 Haeundae Beach is Busan's iconic waterfront, famous even in many parts of the world. Obviously, the most fun time to visit would be during summer, where the sun is out and the beach is full of activity. The beach stretches roughly 1.5km long over a wide area of about 50 metres, creating a alluring coastline in front of a shallow bay. Don't be shy, get in the water while you're there!
There are plenty of hotels and resorts around the area if you're looking for the perfect beach getaway too!
Getting there: The beach is located right outside of Haeundae Station (Subway Line 2).Take exit(s) 5 or 7.
7. Admire the majestic underwater creatures of SEA Life Busan Aquarium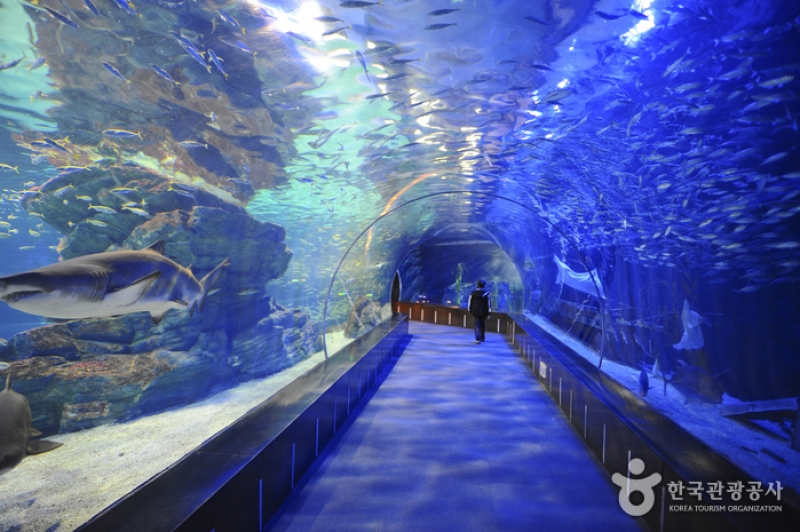 Just a short walk away from Haeundae Beach is the SEA Life Busan Aquarium. Housing over 250 different species of marine life, this attraction is rightfully one of South Korea's most impressive state-of-the-art aquariums.
The most unique experience in the SEA Life Busan Aquarium is the tunnel walk. Designed to simulate a walk on the ocean floor as different aquatic species surround you, the tunnel walk truly lets your imagination run wild! Kids will especially enjoy this unique experience though young children might get a little claustrophobic, so do take note of that.
Getting there: the aquarium is just a short walk away from Haeundae Beach.
8. Dig into rustic Korean food at the Gukje Traditional Market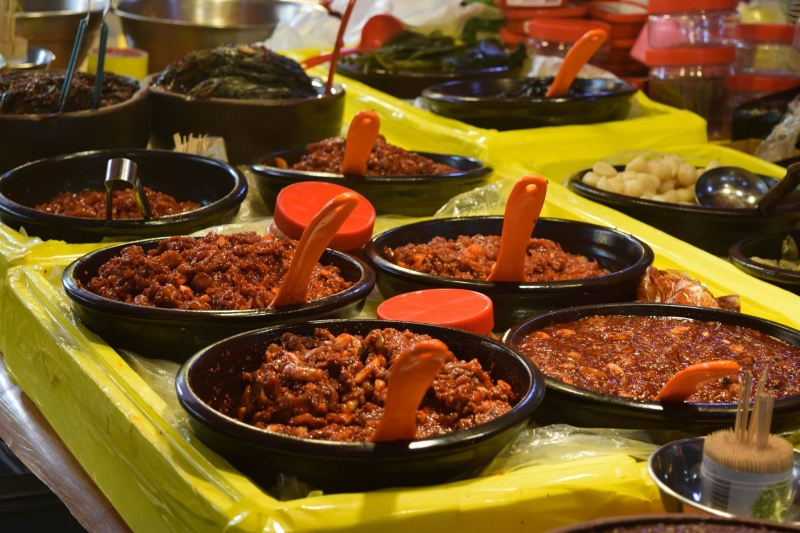 Gukje Market is one of the oldest traditional markets in Korea, dating back to the Korean War. It is also one of the largest markets in the country, packed to the brim with different stalls and even extending into many smaller markets around the area.
While I prefer BIFF Street for the vibe, I can't deny that Gukke Market is where you'll be able to experience the most rustic flavours of Korean cuisine. Wei, hungry la writing this! The food here is generally sold by kind ahjummas in largely rundown stores in alleyways.
My advice? Go for the kimchi, kimbap, and pajeon (Korean pancakes). If you accidentally eat something really spicy, like I did, don't be shy to go up to one of the stores and ask for chanmul (cold water). I offered to pay but the ahjumma refused to accept, telling me to keunyang meogo (just drink it).
Getting there: Make your way to Jagalchi Station (Subway Line 1) and take Exit 7. Follow the signs and you'll find your way easily enough.
9. Shop till you drop at Shinsaegae Centum City, the biggest shopping mall in the world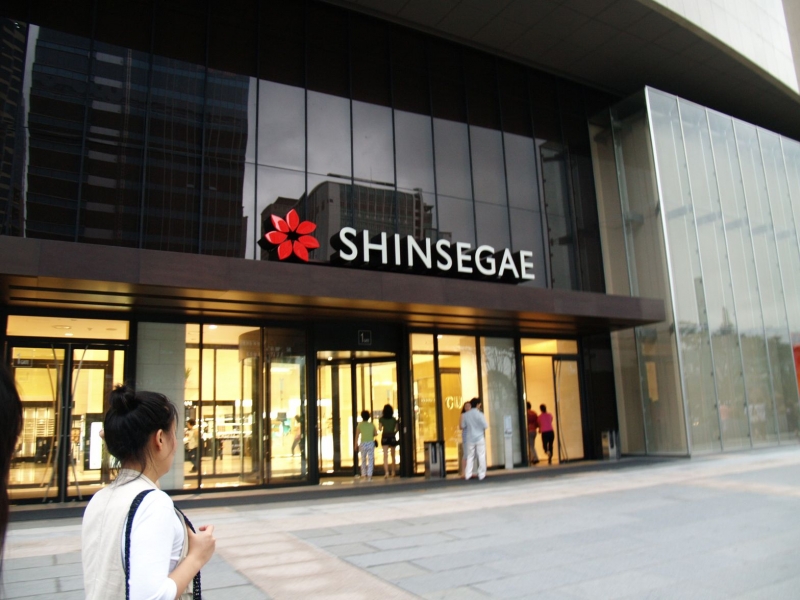 Okay, to be fair, I'm not much of a shopaholic but I recommend checking out Centum City. It's the biggest shopping mall in the world afterall! Apart from stocking almost every luxury brand in the world, Centum City is also home to one of Busan's most popular dating attractions: an indoor ice-skating rink.
The ice rink can accommodate up to 500 patrons at any one time. In the day time, it relies on natural light but at night, it turns into a truly romantic location thanks to the ambient lighting. So, if you're visiting with your significant other, you can bring them here after they're done shopping for a romantic way to end the day.
Getting there: Centum City is located at Exit 12 of Centum City Station (Subway Line 2)
10. Brave the Oryukdo Skywalk and take in the sights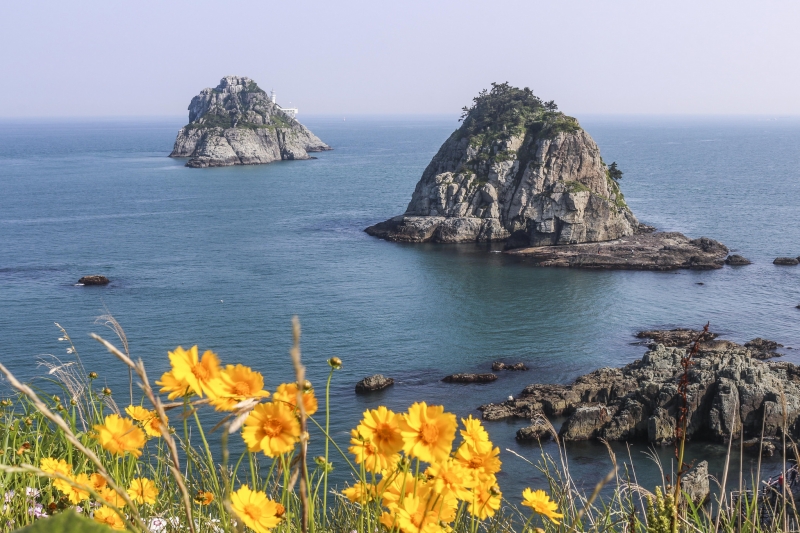 Oryukdo is a collection of islands off the southern coast of Busan. It is made up of five major islands (occasionally six depending on the tide) that serve as a symbol of Busan's maritime heritage.  
Apart from the stunning views of the endless sea, you can also brave the harrowing Oryukdo Skywalk for a better view of the surrounding landscape. If you're a fan of Running Man, you've probably seen the episode where Lee Kwangsoo, Yoo Jaesuk, and Ji Suk Jin had to wipe down the panels. Yes, it's THAT Skywalk. Don't look down!
Getting there: Take Bus 27 or 131 from Exit 5 of Pukyong National University Station (Subway Line 2)
Bonus: Join the Jinhae Cherry Blossom Festival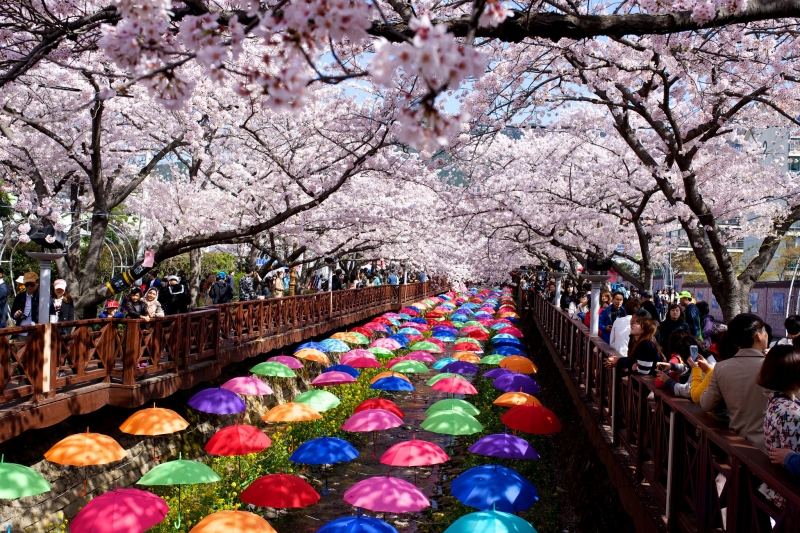 If you're visiting Busan between March and April, you wouldn't want to miss the Jinhae Cherry Blossom Festival! Held in the area of Jungwon Rotary amidst plenty of cherry blossoms, this annual festival is a celebration filled with cultural performances.
Although it is one of the locations in Busan that's not quite as easily accessible by subway, it's certainly worth the detour!
Getting there: From Seoul Nambu Bus Terminal, take an intercity bus to Jinhae. Then, from Jinhae Intercity Bus Terminal, make your way Jungwondong-ro Road just a short distance away.
And there you have it, 10 essential things to do in Busan. On a personal note, I adore Busan as a city. It's just one of those places that offers so many exciting activities but still retains its laidback sense of rustic hospitality. I highly recommend planning a trip there to experience it for yourself, and I certainly will be heading back there myself in the near future!
Also read: Must-visit hidden gems in Busan that tourists don't know about