Traveling and the Harry Potter series have a lot in common. They offer the perfect escape from the humdrum of our oh-so-ordinary lives, they broaden our imaginations, and they remind us that magic does exist – it's just out there waiting to be discovered.
When searching for that dose of magic and Harry Potter, most Malaysians jet off to the opposite side of the planet, chasing experiences in North America or Europe. While we can't deny that London is pretty cool especially for Potterheads, believe it or not, there's wizardry right here in Asia as well. So hold off on booking that thirteen-hour flight for now! The door to the wizarding world is much closer than you think. Ready to take a peek? Alohomora!
1. Take a Bite in Jakarta, Indonesia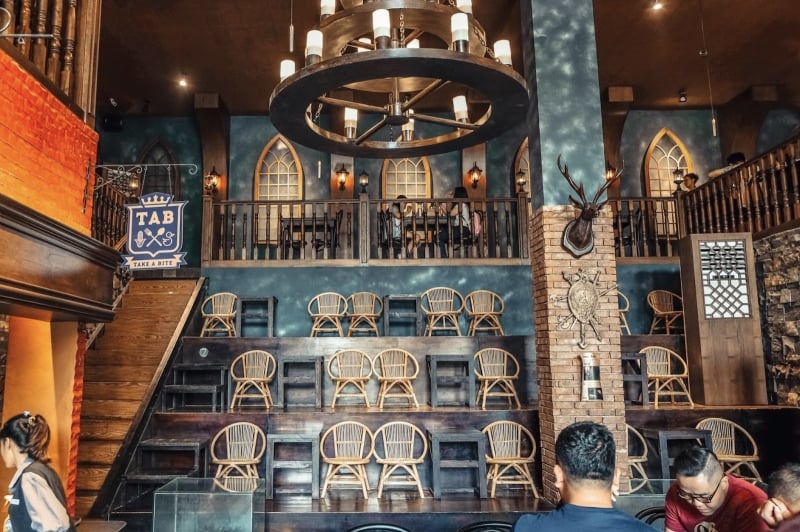 Looking for a Harry Potter hangout in Indonesia's capital city? Apparate on over to Take a Bite cafe in the district of Pluit! The rustic chandeliers, high ceilings, and arched-window wallpaper certainly bring to mind a secret wing at Hogwarts that not even Filch knows about. 
While the cafe does serve certain muggle favorites like Haagen-Dazs ice cream, you should (obviously) prioritize their many themed specialties. If you're feeling peckish, order the Buckbeak Burger or the Hagrid Chicken Leg, and indulge in tasty beverages like the Mad-Eye Potion, Polyjuice Potion, and – oh, how could we forget? – butterbeer! The cafe also offers a variety of board games that customers can enjoy during their visit. 
Address: Jl. Pluit Permai No.10, RT.1/RW.7, Pluit, Kec. Penjaringan, Kota Jkt Utara, Daerah Khusus Ibukota Jakarta 14450, Indonesia
2. 943 Kings Cross Cafe in Seoul, South Korea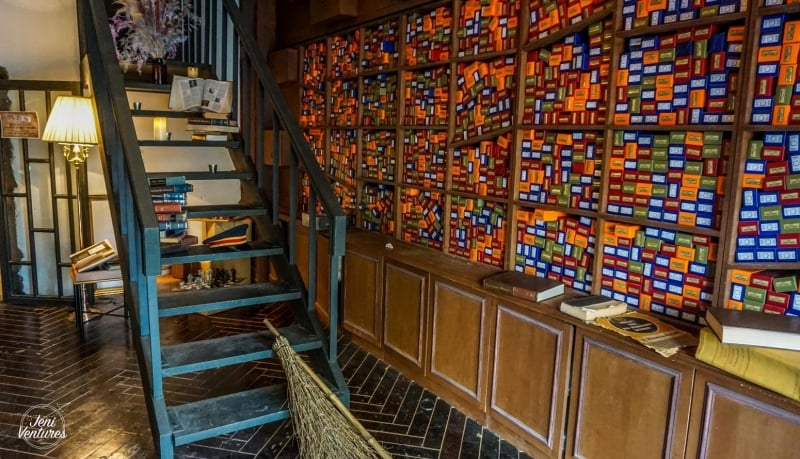 A hideout for dusty old wizards is probably the last thing you'd think of in the land of K-Pop, but believe it or not, Seoul is home to one of the biggest Harry Potter cafes on this list. The 943 Kings Cross Cafe has four floors of wizarding wonders, with many decorated corners that are perfect for the Gram (including a trolley embedded in a platform wall). There are also free props available for all your photo ops, a variety of coffee and cakes, and plenty of space for sitting customers! 
While the entrance is designed to look like Ollivanders, the upper floors are decked with armchairs and antique-looking furniture, giving off a lazy Hogwarts common room vibe – ideal for an afternoon hangout! 
Address: 24 Yanghwa-ro 16-gil, Seogyo-dong, Mapo-gu, Seoul, South Korea
3. Platform 1094 in Singapore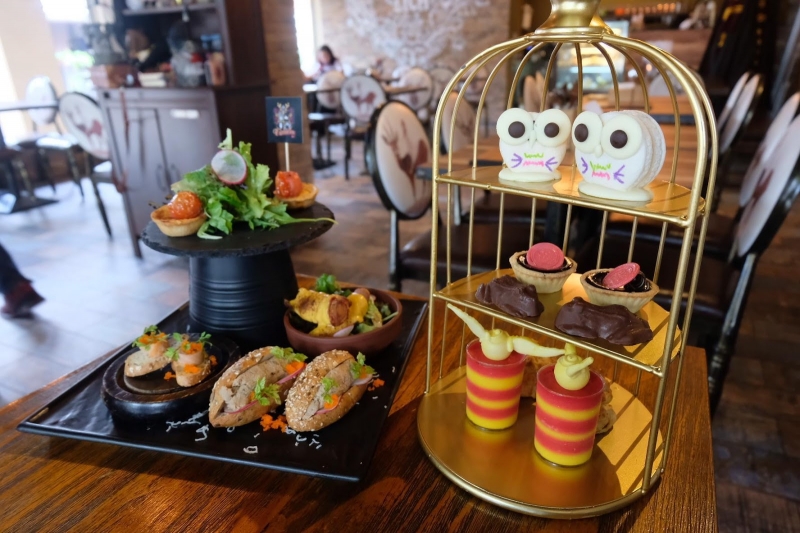 Located in an unsuspecting muggle neighborhood in Singapore, Platform 1094 is a haven for Potterheads looking to add a little spark to their day. The cafe's delicious themed drinks go a step beyond quirky names. Specialties like the Flaming Brew and Green Frog Flexi bring special effects into the experience, allowing guests to truly feel like students in potions class. 
Platform 1094 is open for all meals of the day, offering magical cocktails at all hours. If you're stopping by in the late afternoon, don one of the restaurant's free-to-wear cloaks and treat yourself to a Harry Potter-inspired afternoon tea! Chocolate frog, anyone?
Address: 1094 Serangoon Rd, Singapore 328192
4. Always Coffee & Butterbeer in Hanoi, Vietnam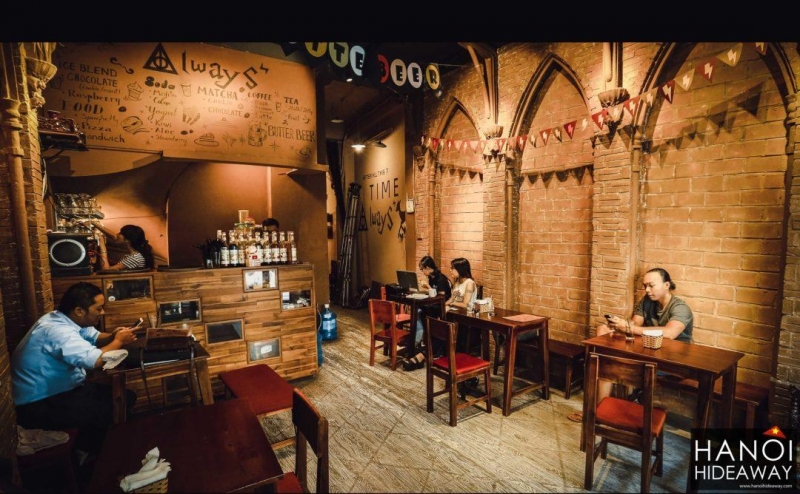 If you find yourself in Hanoi with a hankering for some refreshing butterbeer, Always Coffee & Butterbeer is the perfect spot. The cafe-bar offers a cozy respite from the hustle and bustle of Vietnam's capital city. Customers can take their pick between the front cafe room, with old stone walls reminiscent of Hogwarts' mysterious corridors, or the laidback hangout space in the back, with comfy couches and walls decked with Harry Potter memorabilia. 
Beyond butterbeer, the cafe also serves a selection of delicious themed drinks, such as the Forbidden Forest Fruit, Felix Felicis, Polyjuice Potion, and much more. If you're interested in a tarot reading, check the cafe's schedule for a chance to peer into your future like a scene straight from Divinations class. And a surprise bonus: the owner bears a striking resemblance to the Boy Who Lived himself! 
Address: 8B Hàng Tre, Lý Thái Tổ, Hoàn Kiếm, Hà Nội, Vietnam
Also read: 17 Top Things To Do In Hanoi For First Time Travellers
5. Hogwartz the Pub in Bali, Indonesia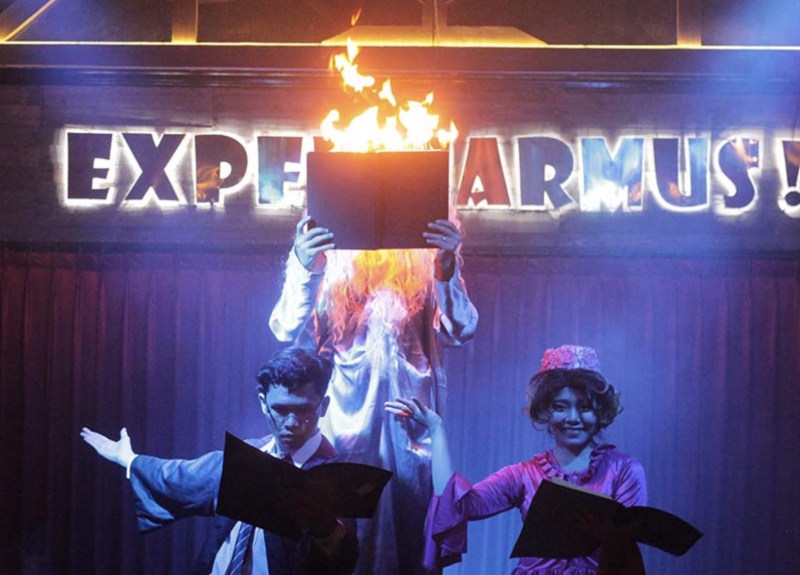 The Hogwartz House of Magic Pub is the Harry Potter experience you didn't know you needed. It's safe to say that Bali, famous for its sacred Hindu temples and gorgeous beaches, is one of the last places you'd associate with Rowling's famous boy wizard, and yet Hogwartz the Pub has continuously proven to be a hit with travelers and locals alike. 
Located in Kuta, the Potter-themed sports bar is owned by one of the few known Balinese magicians. Multiple times a week, customers are treated to a Harry Potter cabaret, magic shows, live music, and the most unlikely performance of all, a Voldemort Dance. If your muggle heart hasn't been won over yet, consider this: word has it the pub serves some of the best beef satay in Bali!
Address: Jl. Buni Sari No.1, Kuta, Kabupaten Badung, Bali 80361, Indonesia
Also read: 20 Fun Things You Must Add To Your Bali Itinerary
6. A Magical Airbnb in Tagaytay, Philippines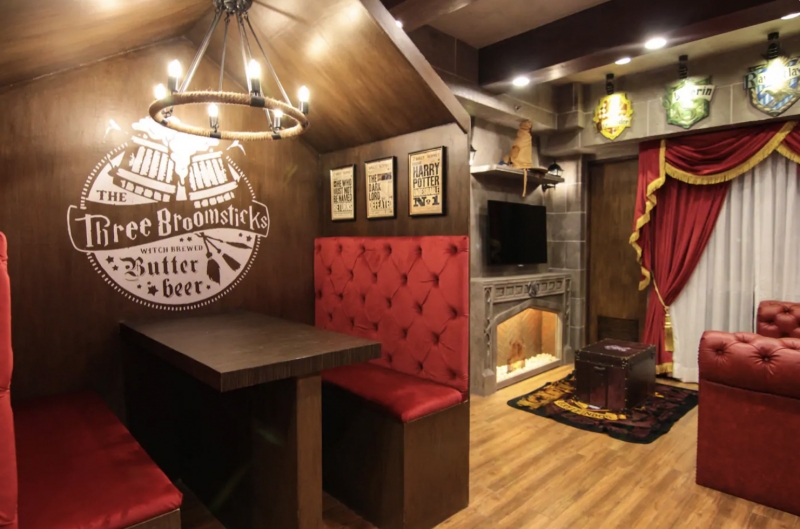 Whether you've considered visiting Tagaytay or not, this Airbnb might just have you rushing to book your tickets right now. For RM280 a night, up to six guests can stay at this Potter-themed apartment and play pretend that it's their very own private wing of Hogwarts. 
According to Sky Suites, every corner was carefully designed to be Instagram-worthy. Instead of just tacking on some cute decorations, however, the entire condo unit was renovated to ensure guests receive top-level comfort as well as a Harry Potter experience they'll never forget. This magical Airbnb also has stunning panoramic views of Taal Lake, an on-site pool, and a Smart TV – that's right, it's a Dudley Dursley level of spoilt!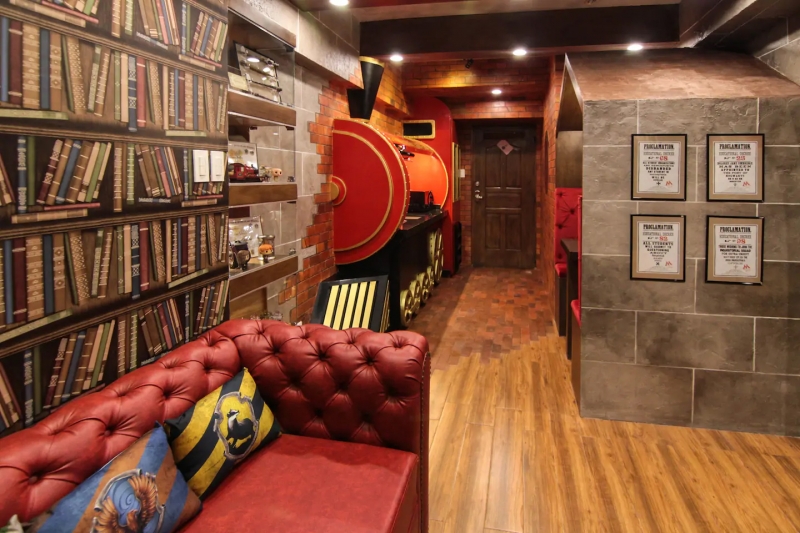 7. 9 ¾ Cafe in Hong Kong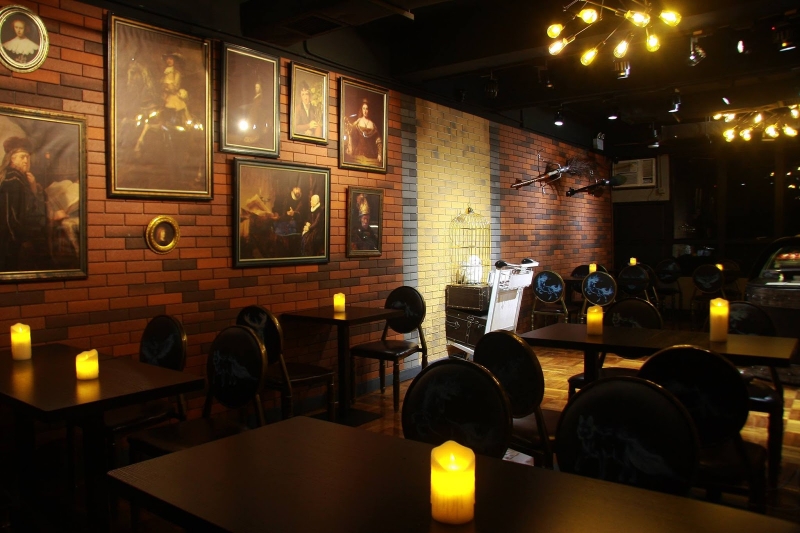 Tucked away like a secret wizarding establishment, the 9 ¾ Cafe is a perfect escape from the bustling crowds of metropolitan Hong Kong. If you're looking for photo ops, you won't be disappointed. 
The cafe-restaurant has a range of magical decorations on display like a Firebolt, floating dementor, and a half-vanished trolley complete with Hogwarts trunks and a caged Hedwig. And if you're in the mood, order your butterbeer with a little extra magic in it (okay, it's alcohol!) or try one of the cafe's famous glowing drinks.
Address: Shop 404 4/F Prosper Commercial Building 9 Yin Chong Street Mong Kok
8. Po Tid in Busan, South Korea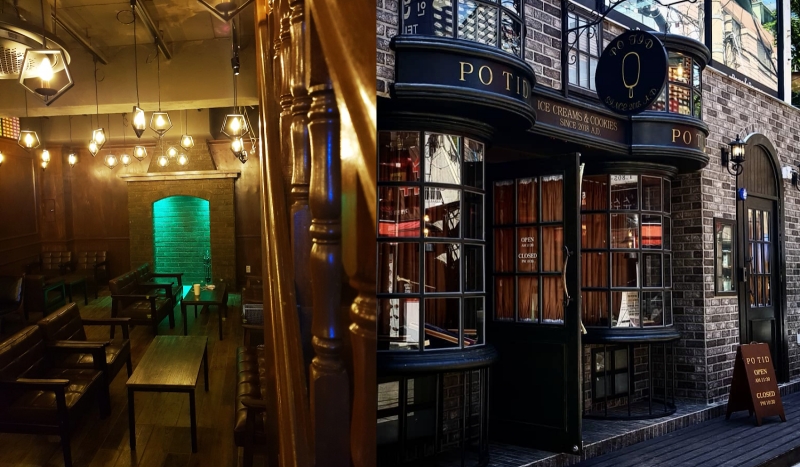 Believe it or not, this isn't Ollivander's. In fact, it's not even a storefront in London; this is none other than Po Tid Ice Cream and Cookies in Busan, South Korea. Po Tid takes a more minimalistic approach to its decorations (making it all the more realistic!) but the Harry Potter wands in the window display leave no room for confusion about where it takes its inspiration from. 
Despite looking like the perfect place to sip some Firewhiskey, Po Tid is best known for its scrumptious ice cream and cookies. Stop by if you're in Busan or better yet, travel by Floo Powder!
Address: 30 Jungang-daero 680beon-gil, Bujeon 2(i)-dong, Busanjin-gu, Busan, South Korea
9. Potterhead Malaysia in Penang, Malaysia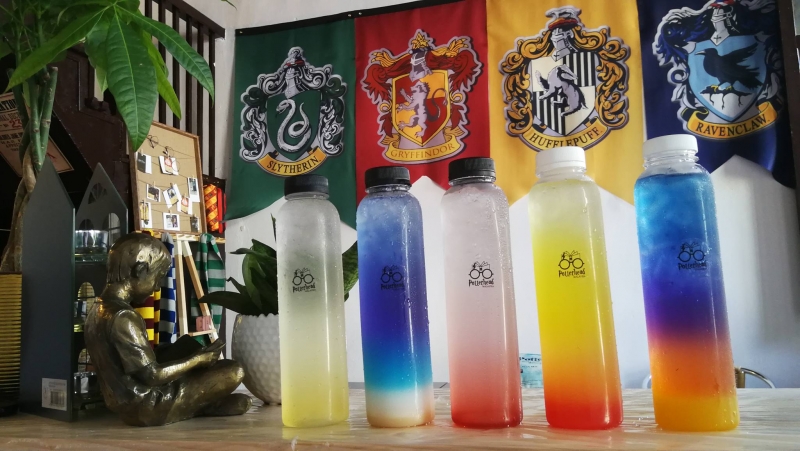 If you're looking for a Harry Potter hideaway that's closer to home, look no further than Georgetown. You'll find Potterhead Malaysia nestled in one of Penang's heritage buildings, inconspicuous enough to keep muggles off its scent. 
While it's no doubt one of the smaller cafes on this list, Potterheads will still squeal in delight at the adorable decorations and Harry Potter board games available to play. So come down to Potterhead Malaysia, grab a seat, chow down on tasty snacks, and cool-off with some creamy butterbeer. And if you're looking for a healthier and more hydrating alternative, why not try one of Potterhead Malaysia's colorful juice-based potions? 
Address: 11, Lebuh Keng Kwee, George Town, 10100 George Town, Pulau Pinang
10. Museum CONTEXT in Hong Kong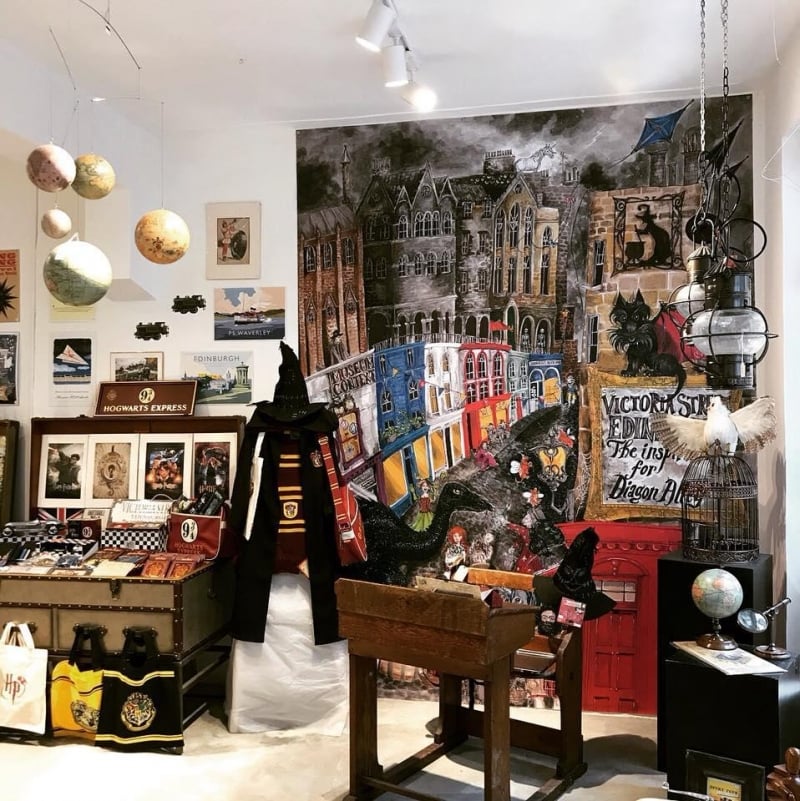 If your home decor or wardrobe is missing a little magic, Museum CONTEXT has exactly what you need. As far as Harry Potter merch goes, this Edinburgh-born store is easily one of the top places in Asia to get your fix. 
You'll find far more than the usual Hogwarts totes and wizard hats here; expect everything from Skele-Gro water bottles to wall-length Harry Potter tapestries and wizard chess-sets. Mark this down as a must-see in Hong Kong if you're a fan of the wizarding world! 
Address: 19 1F Yun Ping Road, Hong Kong
11. Go visit The Wizarding World of Harry Potter in Osaka, Japan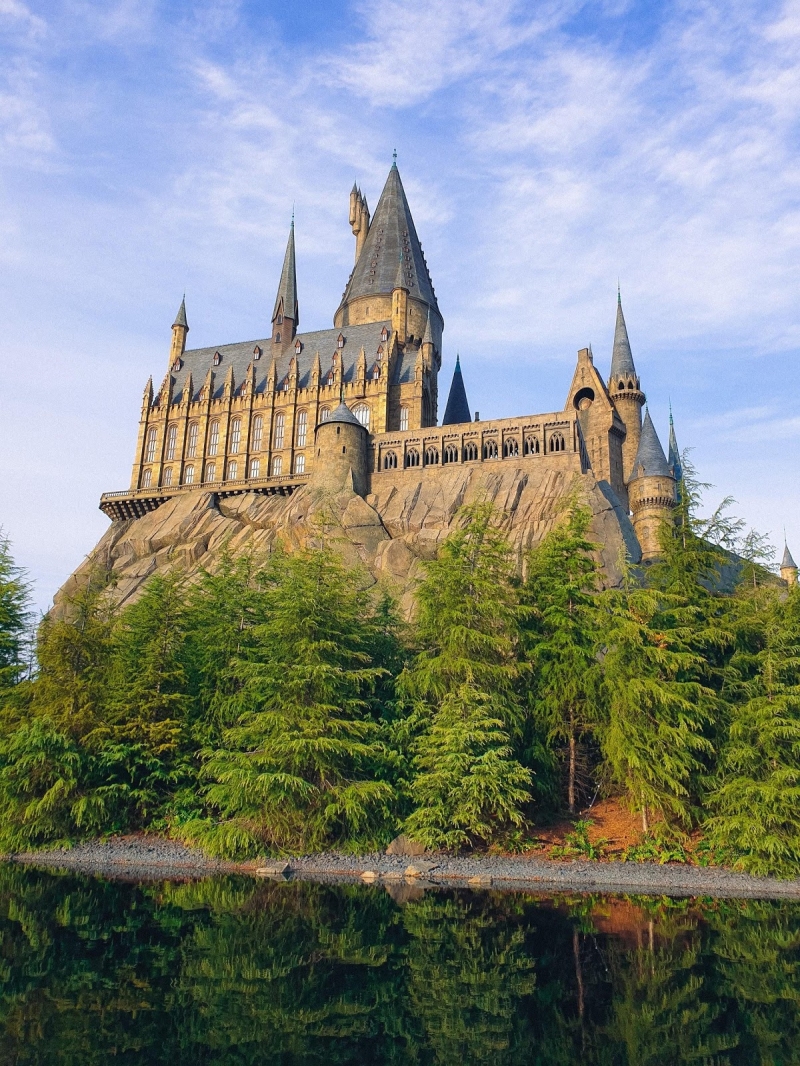 There's no need to fly to Florida or Los Angeles to immerse yourself in the Wizarding World; Osaka's Universal Studios has its very own magical park! As far as Potter experiences go, this one is extremely hard to beat. Here, you'll see whimsical Hogsmeade and the great Hogwarts Castle come to life right before your eyes. 
There's no end to the adventures that await you here. You can get cozy at the Three Broomsticks with a pint of butterbeer, indulge in wizarding candy at Honeydukes, shop for robes and wands, experience flying through the castle grounds, and so much more.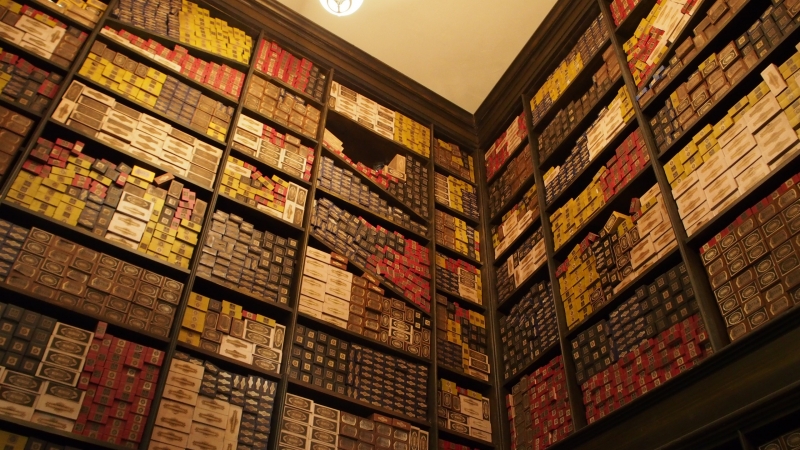 Unknown to most, Asia's Hogwarts Castle is the only one surrounded by a glittering Black Lake, making it the most similar to the castle that appears in the movies. Watch the water closely, and you might just catch the shadow of the Giant Squid that lurks beneath.
So what are you waiting for? Pack your trunk, ready your wand, and see how many of these experiences you can tick off your list. Mischief managed!
Also read: 8 Fairytale Locations From Your Favorite Disney Movies You Can Visit