Mysterious, magical Cambodia. A land that's home to glorious Angkor temples, secluded white beaches, lush mountain terrain, and the mighty Mekong River. And although the spotlight is often on the ancient Khmer empire and natural landscape, the modern delights of Cambodian cities can be just as compelling.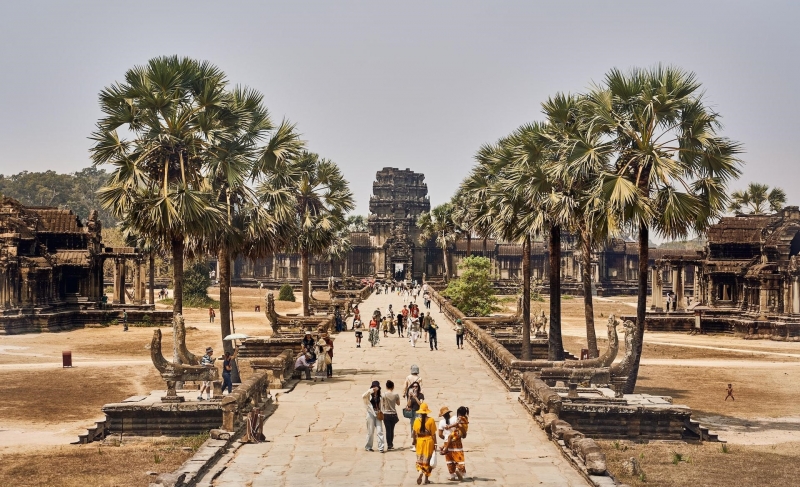 The quiet yet magnetic pull of Cambodia has long drawn in travellers from all over the world. If by some reason, you've missed seeing all the enchanting destinations in Cambodia in your past travels, then consider this a sign that it's time to make it happen. Here are the cities, islands, lakes, mountains, and more that you shouldn't miss in this Southeast Asian kingdom.
It's never too early to start planning your much-deserved trip to Cambodia. And now,you can get to Phnom Penh much more quickly with AirAsia's new routes.
Starting 10 Dec 2022, AirAsia is offering direct flights from Penang to Phnom Penh. Flights will also be available from Johor Bahru to Phnom Penh by Jan 2023.
Book your flights now and enjoy all-in one-way fares starting at RM179 only
Things to know before visiting Cambodia
Best time to visit Cambodia
Travellers planning to explore Cambodia tourist attractions will find the country at its best during the dry season. Between the months of November and April, Cambodia enjoys clear skies and pleasant temperature, even if you're wandering outdoors and visiting the Angkor temples.
Cambodian currency
Cambodia's local currency is the Cambodian riel (KHR), with RM1 equal to ៛899. Unlike other Asian countries, the US dollar is also widely accepted in many tourist destinations in Cambodia.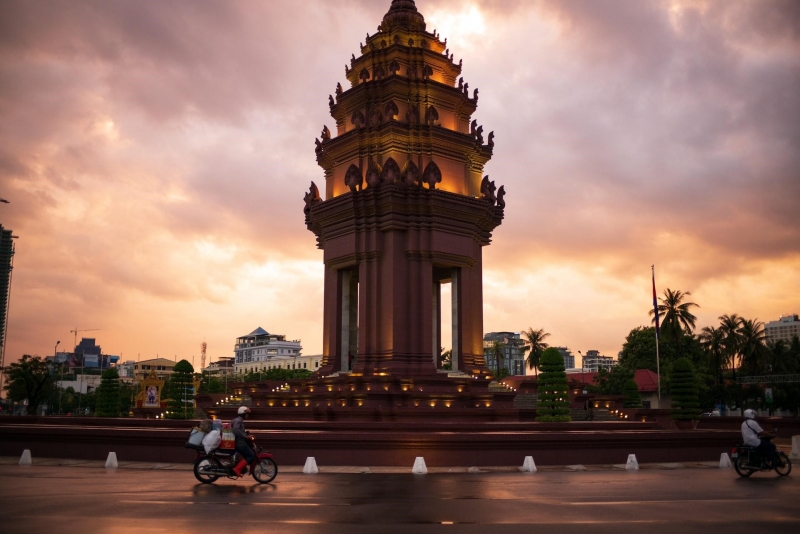 Getting around
Hop on a tuk-tuk for the most fun experience speeding around Cambodian cities. For more convenience, try ride-hailing apps like PassApp and GrabTukTuk. And when travelling across different cities, buses, trains, and air flights are available.
Budget in Cambodia
Expect to spend at least RM23 per day on food, or up to RM55 if you're planning to enjoy the occasional meal at international restaurants. Hotels in Cambodia typically range from RM100 to RM300, depending on your budget.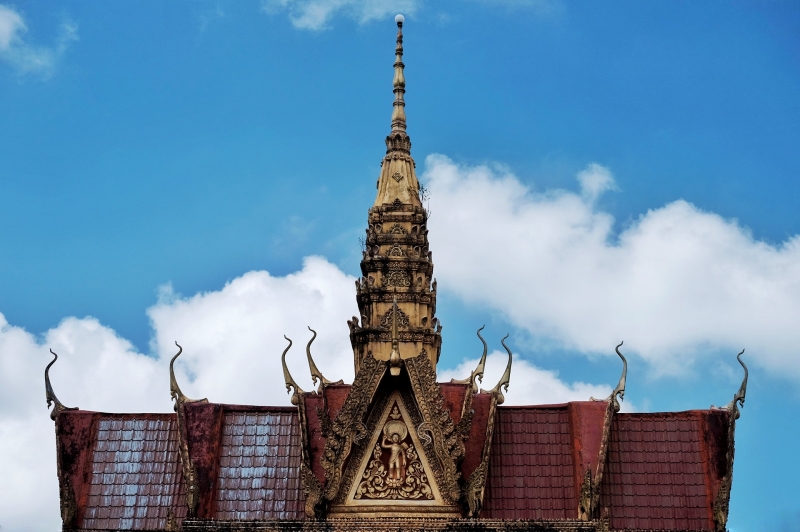 Soak in the most magical destinations in Cambodia
1. Angkor Archaeological Park
Few places in the world measure up to the temples of Angkor. A UNESCO World Heritage Site, Angkor Archaeological Park is a staggering collection of ancient ruins and jungle temples, the remnants of the once-glorious Khmer empire. Each temple is magnificently built, with gorgeous carvings and sculptures of deities, nobility, warriors, and dancers transporting generations of travellers to ancient Cambodia.
At the heart of the sprawling park is the awe-inspiring Angkor Wat, a mega-temple complex that's the largest religious monument in the world. Most travellers dream of witnessing the sun break over Angkor Wat. Even with the crowds, the spell-binding sight is worth waking up early for.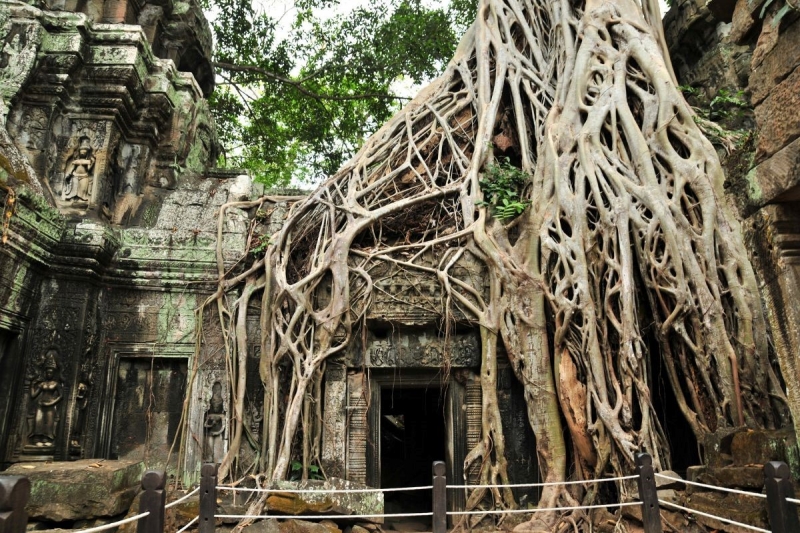 The walled city of Angkor Thom is one you must explore, most notably famous sites like the mystical Bayon and the Terrace of the Elephants. Other great sites include jungle-engulfed Ta Prohm, the beautifully restored Banteay Samre, and the exquisite carvings of Banteay Srei.
Before leaving, stop by Phnom Bakheng to watch the sunset. Although most temples at Angkor Archaeological Park are open only from 7.30am to 5.30pm, Phnom Bakheng is open until 6.30pm for its popular sunset experience. Just come an hour or two early — it takes quite a while to reach the top of the temple!
Pro tip: Avoid succumbing to temple fatigue, and don't pack in too much during your trip. It would take weeks to see everything, so pick a few highlights that you can take your time to enjoy. 
2. Phnom Penh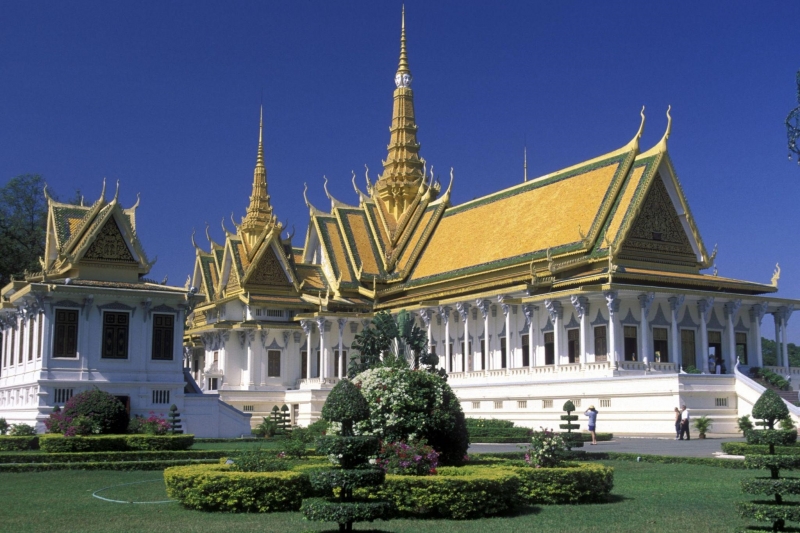 The capital of Cambodia, Phnom Penh is definitely one of the destinations in Cambodia you shouldn't miss. Here, history and urban delights can be enjoyed in equal measure. The striking spires of the Royal Palace are always an arresting sight, along with the stunning Wat Phnom. The National Museum is also worth a visit, with four galleries showcasing Cambodian art and artefacts.
On the other hand, Tuol Sleng Genocide Museum is a more sobering site where travellers can learn more about Cambodia's suffering under the Khmer Rouge. Less than 20km from Phnom Penh, Choeung Ek Killing Fields is another important site of these brutal mass murders.
Despite its rustic charm, the city is a thriving hub of art, culture, and food. Eat your way through the city's street food stalls for a taste of local delights. A few must-try fare: num banh chok (Cambodian noodles), samlor korkor (stirring pot soup), and num chet chien (Cambodian fried banana nuggets). Willing to try something a bit more extreme? Fried insects are a delicacy in Cambodia — munch on deep-fried tarantulas and scorpions, if you dare.
3. Koh Rong Samloem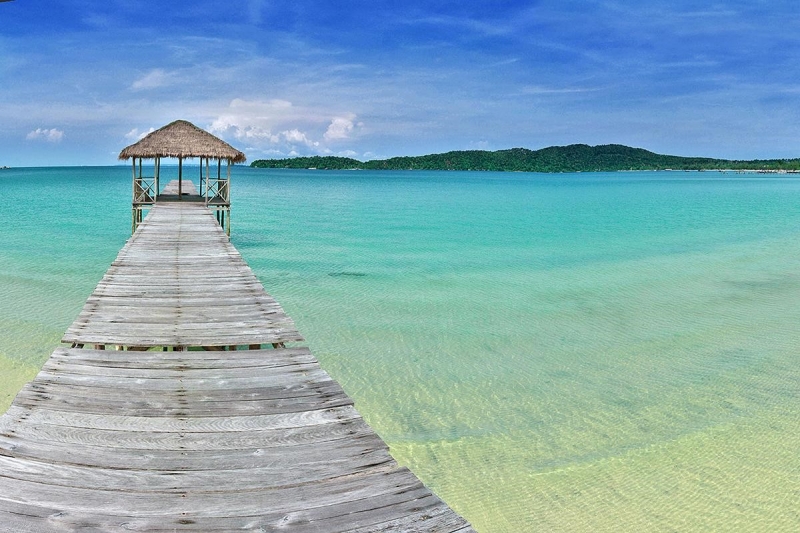 Let it be said that Cambodia offers much more than ancient monuments and rich history. When wondering about the best places to visit in Cambodia, we say beaches and islands deserve to be part of the conversation. We say, the sun-kissed Southern Islands are the perfect side trip for temple hunters ready to sit back and relax.
Start at Koh Rong Samloem, an island off the coast of Sihanoukville. This serene white-sand isle boasts the most pristine coastline in the entire country; its natural beauty is undeniable, with dazzling azure waters, gently lapping waves, and a lush jungle backdrop just past the shoreline. Colourful marine life means scuba diving and snorkelling are popular activities on the island, too.
Travellers can go on day trips to Koh Rong Samloem, but resorts are also available if you want to spend the night in this beach paradise.
4. Siem Reap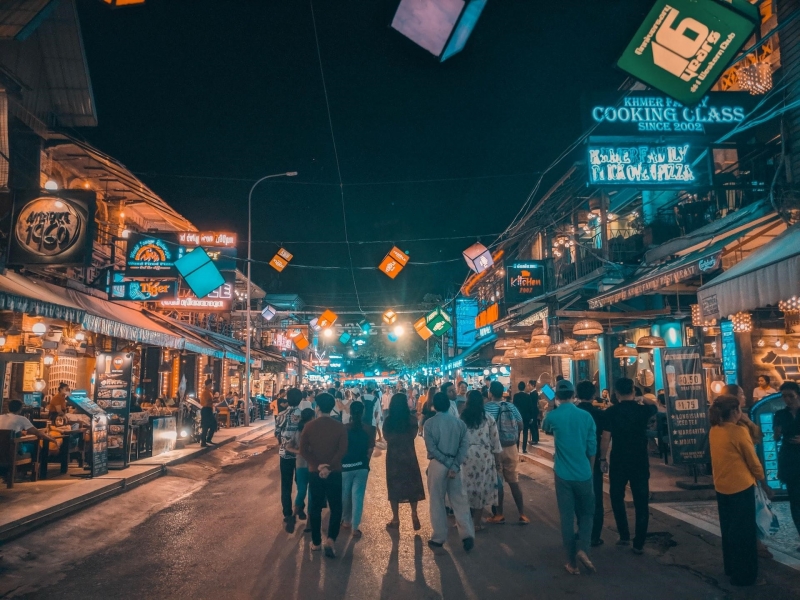 Siem Reap is evolving into more than just a gateway to the Angkor Archaeological Park. Nowadays, it's a vibrant town thrumming with the youthful energy of backpackers. Through the years, Siem Reap has developed a fantastic selection of cafes, restaurants, and nightlife spots that are arguably the best in Cambodia. We recommend scouring Pub Street for the most happening spots for food and drinks.
Additionally, look no further than Siem Reap when shopping for souvenirs in Cambodia. The city is home to hip boutiques, as well as the Old Market. For something more unique, Kandal Village is a treasure trove of artisan shops selling locally-made clothing, accessories, ceramics, and homeware.
5. Ratanakiri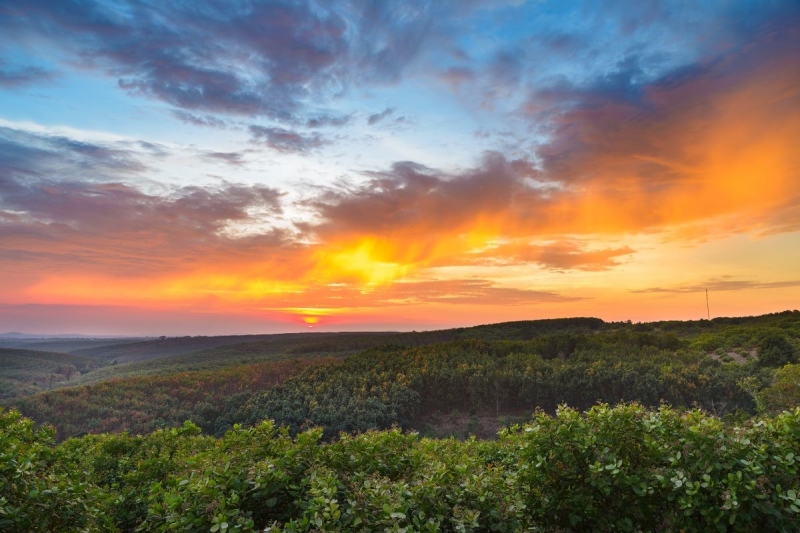 Escape the tourist circuit by venturing into the wilderness of Ratanakiri. Among the best destinations in Cambodia for nature lovers, this remote province offers unforgettable adventures to travellers willing to make the eight-hour trip from Phnom Penh.
Treks typically begin at Banlung and then meander through rocky hills, steep mountains, bamboo forests, and indigenous communities. There's an impressive variety of hiking trails, from day-long treks to multi-day excursions, so you can immerse yourself in this quieter side of Cambodia for however long you want!
If you're looking to walk lesser-travelled corners, connect with local tribes, and get lost in nature, then Ratanakiri is worth exploring.
6. Battambang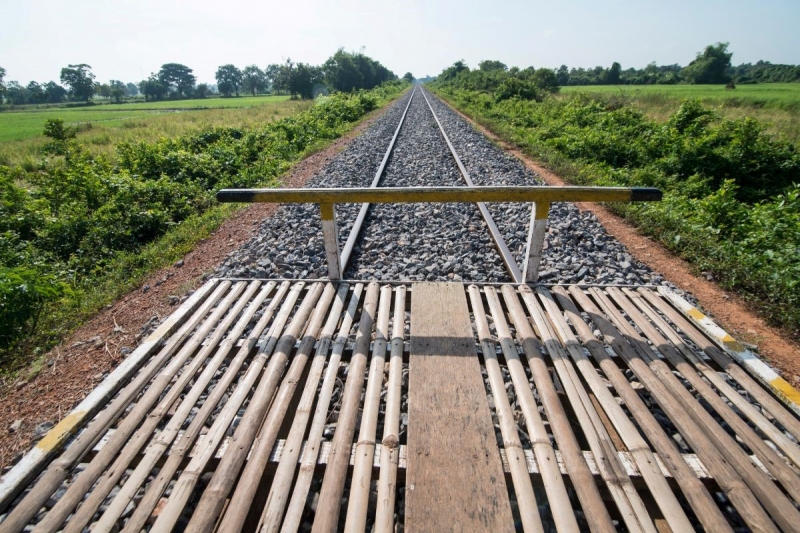 Travellers who skip Battambang after visiting Cambodia are missing out; many say this underrated French colonial city is among the country's greatest hidden gems. For one, the foodie scene is buzzing, offering a great mix of Khmer, French, and other Asian and Western influences — sometimes all on the same plate! The city is even home to the only winery in Cambodia, Prasat Phnom Banon Winery.
The unspoiled rural setting also makes the perfect backdrop for the city's most unique tourist attraction: Battambang Bamboo Train. Instead of an actual train, you'll have to board what looks like a wheeled bamboo raft powered by a small engine. It starts slow, but you'll soon be careening down the ancient train tracks at rising speeds!
Combine that with a picturesque countryside perfect for bike rides and the nearby Wat Banan Temple that's often free of the tourists that swarm Angkor Wat, and Battambang is on the top of our list of must-visit destinations in Cambodia.
7. Kampot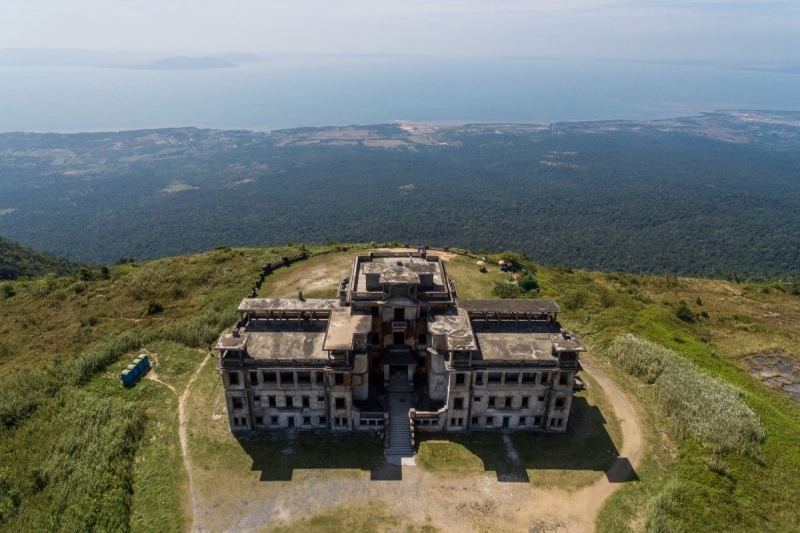 A sleepy town in southern Cambodia, Kampot is a charming blend of quiet provincial life, outdoor activities, and French colonial architecture. Praek Tuek Chhu River flows from downtown Kampot, offering enticing kayaking and paddleboarding opportunities to explorers who want closer encounters with flora and fauna along the riverside. Can't be bothered to paddle? Take a sunset cruise from town instead.
Hop on a bike or scooter for a pleasant ride along the countryside, then visit pepper plantations and salt fields for a peek at local livelihood in Kampot. Atop Bokor Mountain sits Bokor Hill Station, a French colonial retreat built in the 1920s.
8. Tonlé Sap Lake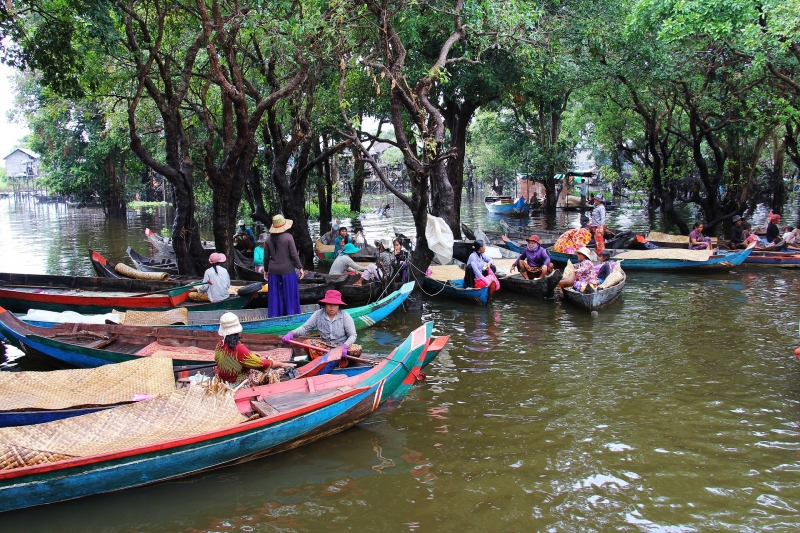 A part of the mighty Mekong River system, Tonlé Sap Lake is the largest freshwater lake in Southeast Asia. The massive lake's rich ecosystem sustained the ancient Khmer empire, and now nourishes the floating villages and local communities living around the water.
Travellers ride boats to make their way to these fascinating floating villages like Chong Khneas and Kampong Phluk. These aren't tiny tribes of a handful of houses; some floating villages have clinics, schools, and even souvenir shops for tourists drifting by.
Keep your eyes peeled for wildlife, too. Tonlé Sap is a birdwatcher's paradise, but there are a wide variety of fishes, reptiles, and mammals, as well. If you're lucky, you might even spot a leopard prowling past the shoreline.
9. Kratie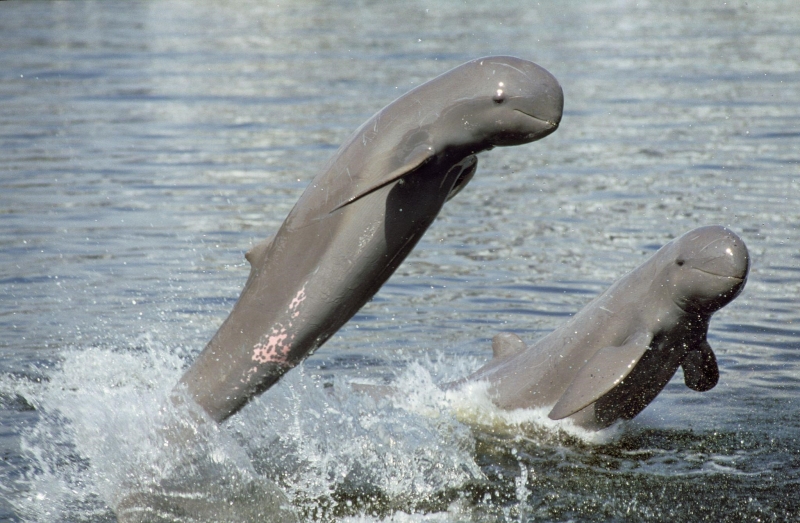 Laidback Kratie sits on the banks of the Mekong River, a small town that's the capital of a province with the same name. 
The highlight? Undoubtedly, the freshwater Irrawaddy dolphins that live in this calm and startlingly clear part of the Mekong. Although their numbers are dwindling, there's still a good chance you'll spot at least one of these rare creatures in the waters.
Travellers who can't get enough of the wildlife can also visit the Mekong Turtle Conservation Centre, committed to protecting the Cantor's giant softshell turtle. Other Cambodia tourist attractions in Kratie include the 100 Pillar Pagoda, Phnom Sambok Pagoda, and Mekong Discovery Trail. It's also one of the best destinations in Cambodia to watch the sunset over the Mekong!
10. Mondulkiri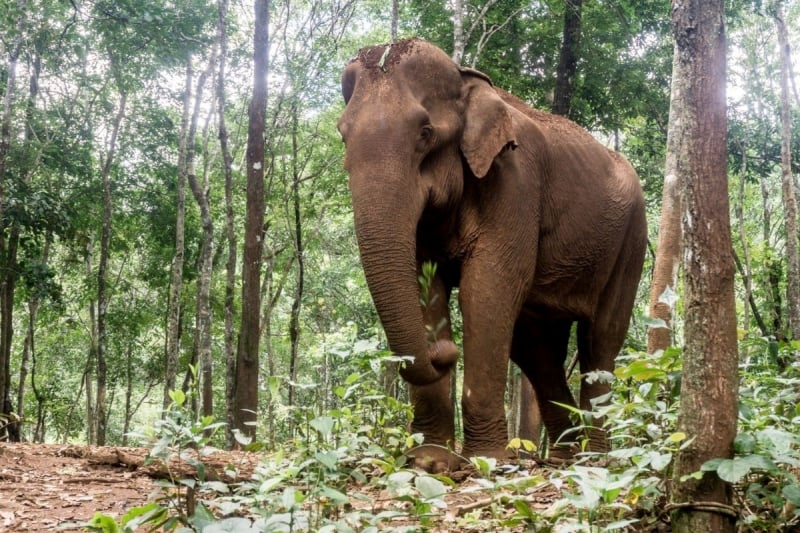 Embark to Cambodia's untamed frontier: Mondulkiri, home to several ethical elephant sanctuaries where you can enjoy close encounters with these magnificent creatures. Spend your days exploring this province on jungle treks through unspoiled scenery, small villages, and majestic waterfalls.
Although Mondulkiri is the largest province in Cambodia, it's the least populated. But wild animals thrive in this upland landscape, from bears and leopards to monkeys and colourful birds. So, this is a great place to visit if you're one of those people who prefer animals to people!
Now that you've seen a handful of the best destinations in Cambodia, do you think it's time to visit or revisit this Southeast Asian country?
Ready to plan your trip to The Kingdom of Wonders? Here's good news: AirAsia is launching new flight routes to Phnom Penh from Penang and Johor Bahru. Now, travelling to Cambodia is faster and easier than ever.
AirAsia's Penang to Phnom Penh route launches on 10 Dec 2022, while Johor Bahru to Phnom Penh route will be available in Jan 2023.
Flights start at RM179 (all-in one-way fare) only.
---
Brought to you by AirAsia.