Since the pandemic first gripped the world and cities went into lockdown, we have all journeyed around the sun twice. As countries around the world, including Malaysia, begin lifting COVID restrictions, it's finally time for us to start readjusting back to life before staying at home, and that includes travel. 
However, we can understand how some of us might be struggling to get back into the mood for travel. Wanting to travel during the pandemic and actually travelling now that borders are open again can be somewhat different. Don't worry though, because we've got just the fix. 
Rather than embark on that grand European adventure or that trip to the Americas, why not start with these destinations below that offer hassle-free travelling? Here are the 10 best places to visit in 2022 to get back into the mood for travel! 
Ready to jet off on your next post-pandemic adventure? Book your flight with AirAsia today on the airasia Super App and enjoy incredible discounts!
From now till 15 May 2022, enjoy 30% off all seats on all flights when you book a trip for between 23 May 2022 to 31 Oct 2022! It's time to make travel happen again! 
1. Revisit your favourite locations in Thailand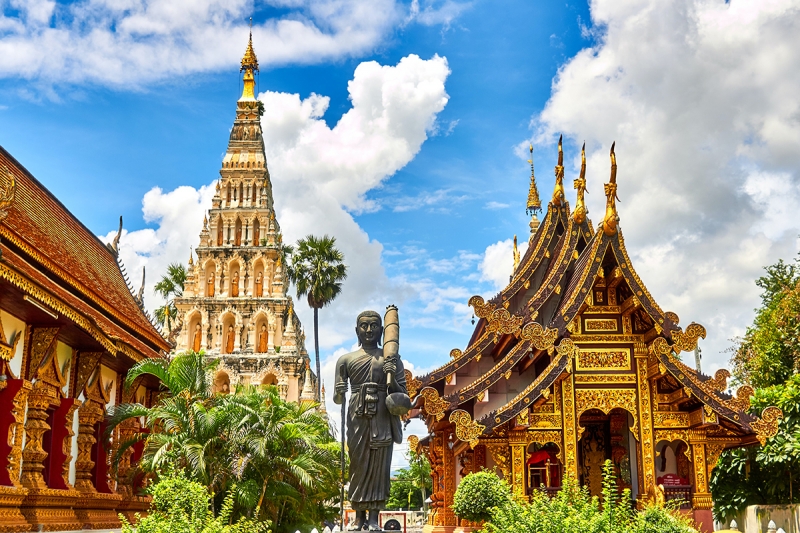 It's safe to say that one of the top destinations to visit in 2022 for Malaysians is Thailand. The Land of Smiles recently rolled back many of its travel restrictions for fully vaccinated tourists, making a visit to popular destinations like Bangkok, Phuket, Krabi and more a breeze! 
The majestic Wat Arun in Bangkok is still just as alluring during the sunset, and the Chatuchak Weekend Market still just as vibrant. Don't forget to also check out the bustling Jodd Fairs night market, one of the newest attractions in Bangkok filled with sumptuous street food and awesome Insta-worthy vibes. Malaysians who enjoy shopping can also revisit the famous Khlong Hae Floating Market in Hat Yai! 
Apart from the busy cities, our favourite Thai islands like Krabi and Phuket are still just as pristine! Whether it's basking in the alluring natural scenery, enjoying the warm sun on the white sandy beaches, or simply enjoying the laidback vibe of the island life, you are sure to rediscover the joys of island staycations in Thailand! 
2. Appreciate the rich heritage of Cambodia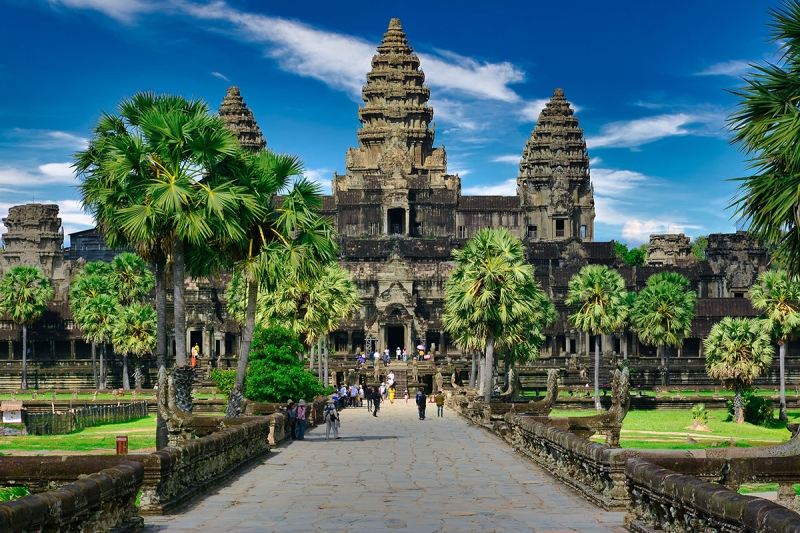 When we mention Cambodia, most travellers immediately think of the majestic Angkor Wat and the rich history that it stands for. That said, Angkor Wat isn't the only way to appreciate the rich heritage of Cambodia. 
If you're looking to immerse yourself in historical sites and sights as you ease yourself back into the mood for travel, check out places like Bokor Hill Station, the ancient Preah Vihear Temple, Bayon Temple, and Choeung Ek, where you can learn about the tragic history of the Khmer Rouge. 
In addition, if you're visiting Angkor Wat, or are planning to visit, we recommend hopping on a hot air balloon ride over the temple complex for a brand new experience you won't soon forget! 
3. Hunt down historical towns in Vietnam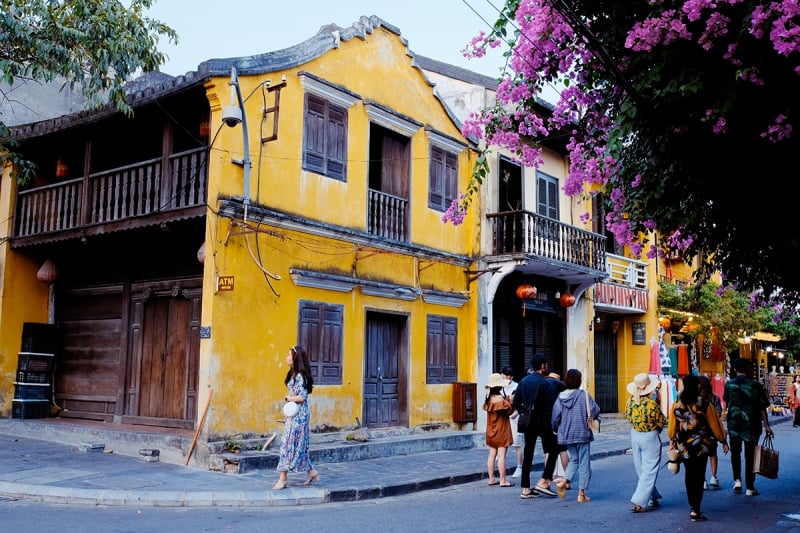 Much like Thailand, Vietnam has also been a top destination for Malaysians, especially destinations like Hanoi and Ho Chi Minh City. However, as travel restarts in the region, why not take the opportunity to rediscover Vietnam and visit some of its lesser-known cities? 
The towns of Hue, Hoi An, and Da Nang are all incredible destinations long overshadowed by their more illustrious cousins. Hue was once the seat of power of the Nguyen Dynasty and its historical Dai Noi Citadel, built in the 19th century, is an ode to the city's storied past. 
Hoi An, on the other hand, is a coastal town that is best known for its pristine canal-laden Ancient Town, where you can learn about the fascinating history of this city which was once a melting pot of cultures. Finally, there's Da Nang, a former French colonial port that is now famous for its Marble Mountains, and its Insta-famous Golden Bridge. 
If you want to rediscover the joy of exploring lesser-known towns, then Vietnam is definitely one of the best destinations you can visit in 2022!  
4. Ignite your love for urban exploration in Singapore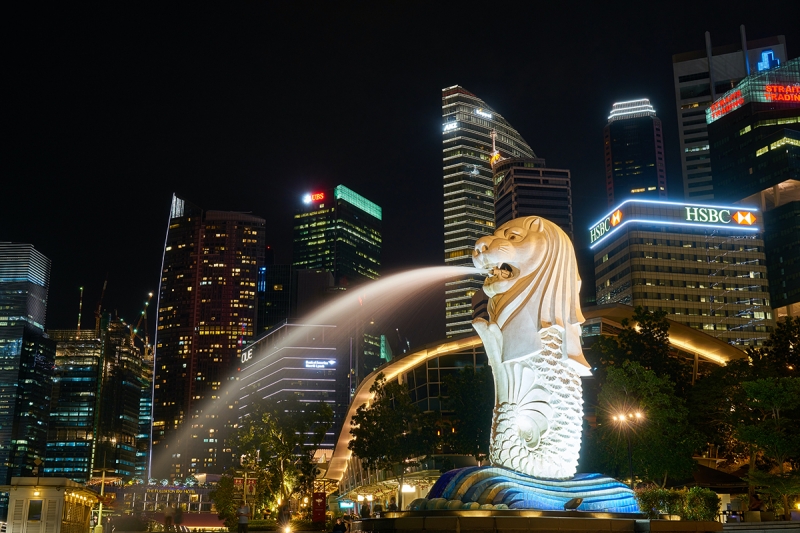 When it comes to restarting your globe-trotting adventures, Singapore is undoubtedly one of the best choices, thanks to the recent easing of restrictions for fully vaccinated tourists. For us Malaysians, Singapore is a destination that offers plenty of unique experiences, but also one in which we can find reassuring echoes of familiarity, thanks to our countries' shared culture. 
If you're still feeling a little travel-weary, then a visit to Singapore and its many urban attractions will dispel your worries. You can rediscover the excitement of travel at Universal Studios Singapore, marvel at the man-made wonders of Gardens by the Bay, or go on an Instagram-fuelled adventure to find the best photo spots in Singapore to decorate your social media feed! 
In fact, I'm sure many of you are also excited by the sheer prospect of just flying into Changi Airport again. After all, it is one of the world's best airports and Changi Jewel is often considered an attraction in and of its own. That means that the vacation vibes begin the very moment you land! 
5. Escape daily life with an island vacay in the Maldives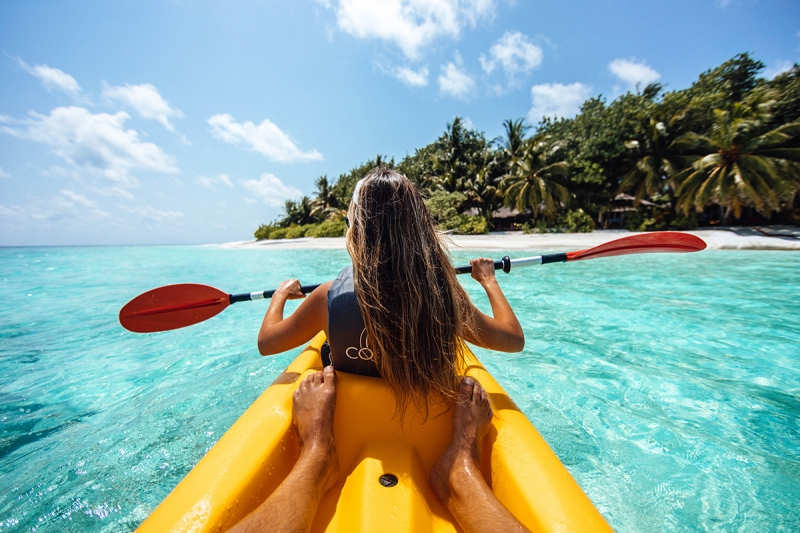 After two years, it's finally time to readjust our stay-at-home habits. Instead of attending to Zoom calls and spreadsheets, let's fill our daily routine with healthy doses of sun, beach, and sea in the Maldives! 
With the Malaysian border now fully open, beach bums in Malaysia can also now jet off to the perfect island getaway visa-free! The Maldives and its mesmerizing shoreline need no introduction. Think floating villas, sapphire blue water as far as the eye can see, and sunsets that bathe the entire island in an ambient glow. 
Apart from diving, snorkeling and lazing the day away on the beach, you can also head out on a night excursion to admire the beautiful Blue Tears phenomenon along the Maldives' many beaches. In terms of food, Malaysians need not worry about not finding the right type of cuisine. There are plenty of Halal food options available, in addition to loads of fresh, succulent seafood, and even a swoon-worthy underwater restaurant! 
While the Maldives may not be the cheapest destination to visit, there are definitely ways to make it work too. For example, if you're travelling on a budget, you can opt to stay at local guesthouses instead of expensive resorts. They may not boast the same five-star facilities as big-name resorts, but they are certainly just as comfortable to stay in! 
6. Embrace the island life in Indonesia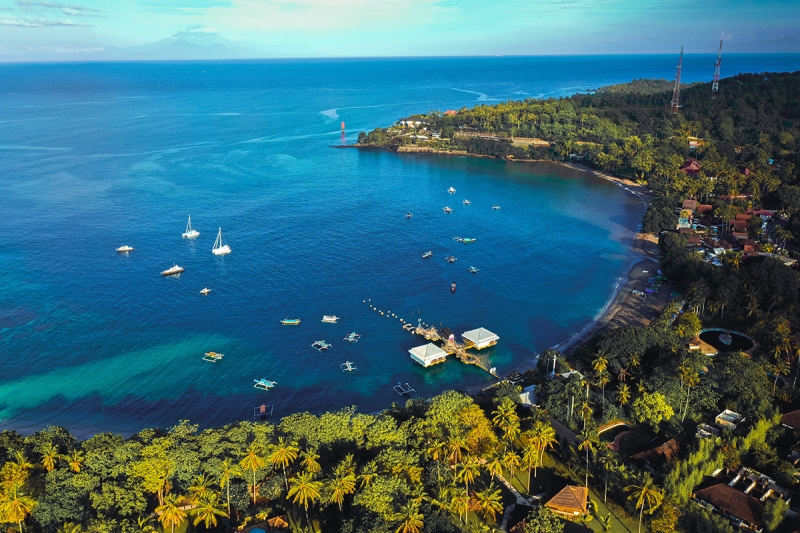 I'm sure many of us have had to deal with facing our screens for a majority of our time during the past two years. To refresh your daily view and reconnect with the therapeutic joy of travelling, why not head to Indonesia and hop between its many incredible islands? 
Among all of the alluring islands in Indonesia, Bali is easily the most famous and the easiest for vaccinated tourists to visit. Beyond the familiar shoreline of Kuta Beach, however, there are also plenty of rustic islands that are far away from the tourist hordes. Think of the pristine islands of Lombok and its many stunning natural sceneries, the enigmatic island of Java and its many historical sites, and Sulawesi with its deep emerald waters. 
If bumming on the beach isn't to your fancy, then we suggest checking out some of the hidden gem locations instead. Our favourite is Bandung, the capital of the West Java province. Here, you'll find majestic volcanoes, swoon-worthy plantations, and forested nature escapes. Just don't forget to bring your camera!  
7. Discover the hidden gems of India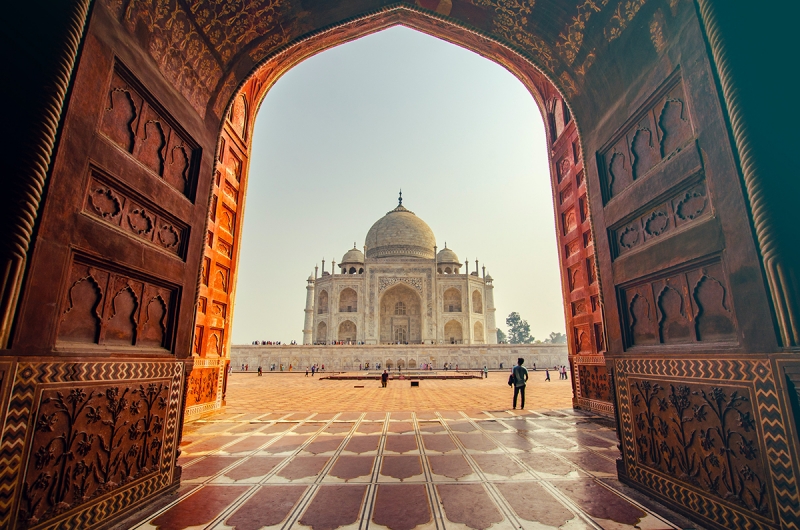 When it comes to discovering new places to travel to in 2022, India is perhaps one of the best options for Malaysians. While its bustling cities and iconic landmarks, like the Taj Mahal, are generally well-known, there are plenty of unique experiences that can only be found beyond the city limits. 
Ranthambore National Park is easily the most popular natural attraction in India. Located in the north, it is one of the largest wildlife reserves in the country where you can observe wildlife in their natural habitat and take in the refreshing natural scenery. Jim Corbett National Park is another wildlife sanctuary where you can spot Bengal tigers from a distance. 
For a little bit of natural history, visit the Ajanta Caves, a cave full of rock-cut Buddhist monuments dating back to the second century BC! For a more alpine experience of India, head to Valley of Flowers National Park where you can admire colourful alpine meadows, set against a backdrop of majestic mountains. 
8. Discover Johor Bahru, Malaysia's jewel in the south!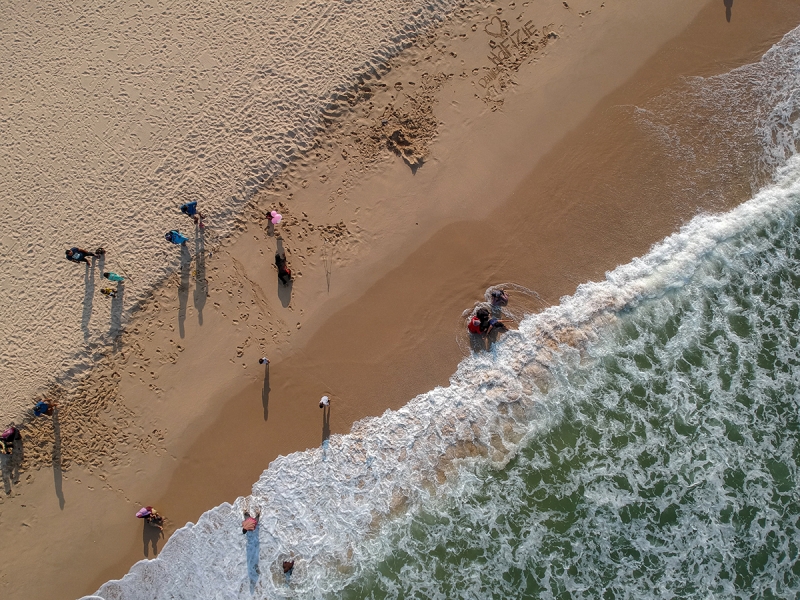 If ever there was a destination in Malaysia that rightly deserves the nickname "hidden gem", it certainly has to be Johor Bahru. This bustling city is home to plenty of incredible sights, world-class attractions, and some of the most unique food that you can feast on. 
Arguably the most popular attraction in Johor Bahru is Legoland Malaysia, the first of its kind in the region. Be it fun rides, exciting family-friendly activities, or a memorable stay at the Legoland Resort, this famous destination offers a little something for everyone. 
Another must-visit destination in Johor Bahru is the pristine coastal town of Desaru Coast, known for its alluring beaches and relaxing vibes. For those who seek a more exciting experience, head to the Desaru Coast Adventure Waterpark for a splashing day of good fun before digging into sumptuous meals at the areas many luxurious hotel restaurants. 
For a more rustic experience of the local cuisine, we recommend that you hit up the town area in Johor Bahru and look for some delicious Laksa Johor which is made using spaghetti noodles! In addition, don't forget to try kacang pool as well, one of the heartiest breakfasts you can get in Malaysia! 
9. Rediscover the therapeutic rainforests of Sarawak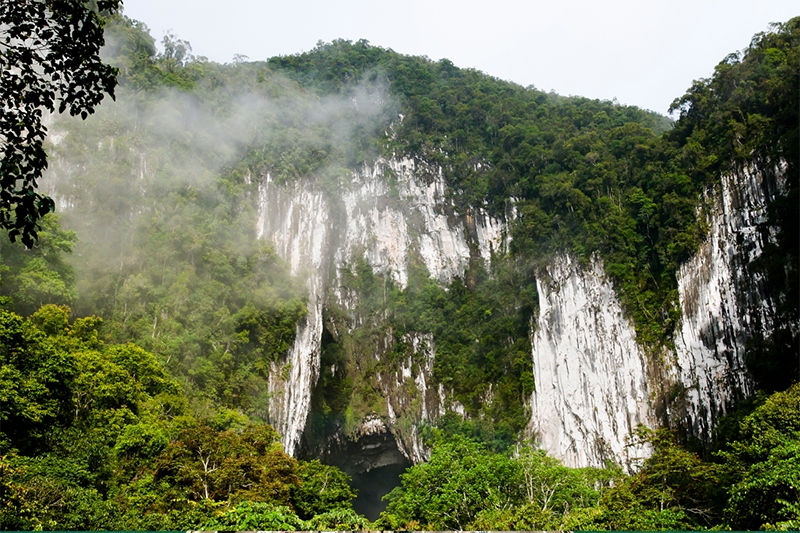 Having spent such a long time cooped up at home, it's time to cast off that stay-at-home gloom and rejuvenate your spirit by diving deep into nature. In Malaysia, one of the best destinations to do that is Sarawak. 
Embrace (the literal) breath of fresh air as you discover the beauty of Sarawak's ancient rainforests by trekking through natural gems like Mulu National Park, Santubong, and Bako National Park. For the truly adventurous, don't miss the chance to also check out Bengoh Range, lovingly called the Jurassic Park of Malaysia by local hiking enthusiasts. 
In addition, you can relax and unwind with hot springs at Kampung Panchor, or explore enigmatic caves like Niah Caves. There's just so much to do! In fact, from the moment you touch down in Kuching, there's already plenty to explore, such as the Sarawak Cultural Village and the Insta-worthy Kuching Waterfront! 
10. Embark on an epic revenge food tour in Penang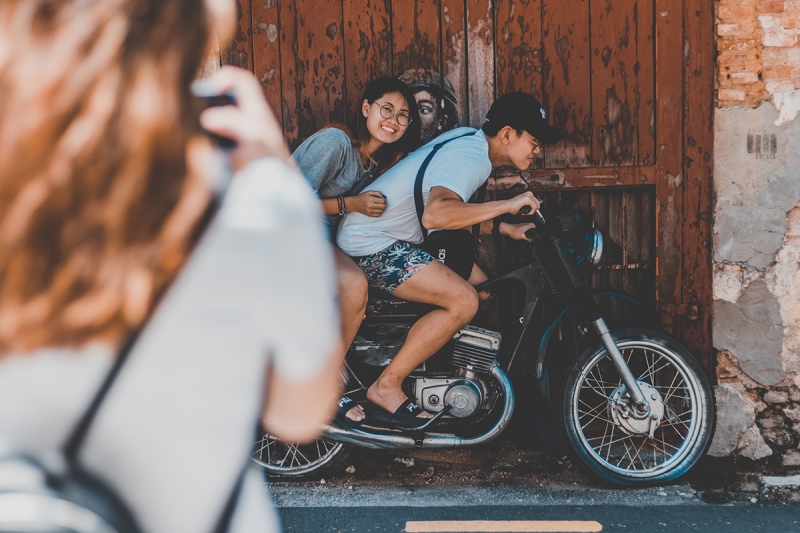 While Malaysians now have the option of travelling overseas, domestic destinations remain a popular option, especially Penang. In fact, during the recent Hari Raya holidays, Penang saw a massive influx of tourists, punctuated by a sharp increase in traffic over the long weekend. 
Given how Penang is such a haven for foodies, this is hardly surprising. Whether it's hunting down popular street food with years of history, like the recently re-opened Air Itam Laksa and the famous Siam Road Char Koay Teow, or hopping between unique cafes like Urban Daybreak or China House, your palette will have an incredible time at this beloved Malaysian getaway spot. 
Add to that the plethora of awe-inspiring vistas (think the sunset at the Clan Jetties or the Bali-esque views at Kampung Agong), ambient nature escapes (The Habitat @ Penang Hill), and rich cultural nuance (the bustling area of George Town), and what you have is the perfect place to visit to rekindle your love for travel! 
All that's left to do now is book those flights and restart your travel life! 
Need more reasons to travel? Look no further than AirAsia's incredible 30% Off All Seats, All Flights promo! Enjoy incredible savings when you book your next trip to your favourite destinations on the airasia Super App! 
Booking period: Now till 15 May 2022
Travel period: 23 May 2022 to 31 Oct 2022
Hurry while seats last!
---
Brought to you by AirAsia.