South Korea's Jeju Island has always been one of the most famous island destinations among travellers due to its unique culture, delicious food, fun experiences and of course, its astonishing natural beauty. 
Every year during springtime, Jeju turns a vibrant shade of pink as it welcomes the blooming of dazzling cherry blossoms, making it an even more charming destination than it already is. If you want a rejuvenating spring vacation while admiring a sea of pretty pink flowers, here are 10 places to heal and chill in Jeju during the cherry blossom season!
Also read: 10 Unique Things To Eat When Travelling In Jeju
Jeju cherry blossom season: 10 places to heal and chill
1. Noksan-ro & Jeonnong-ro Cherry Blossom Street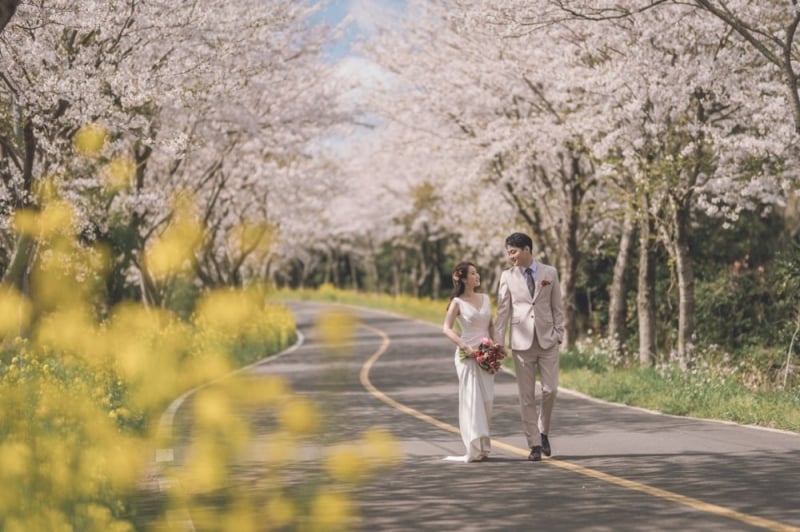 When it comes to admiring cherry blossoms in Jeju, there are plenty of options to choose from. After all, the country's most romantic island is famous for its alluring natural scenery. However, the best locations to visit during cherry blossom season to admire lovely hues of pink are Noksan-ro and Jeonnong-ro Cherry Blossom Street, with the latter being a hot spot for both cherry blossom and canola flower viewing.
Noksan-ro also goes by another name — Jeongseok Airport Road. Listed as one of the 100 most beautiful roads in Korea, this 4.5km stretch of road is famous for offering a picturesque view in spring: a vibrant combination of blooming canola flowers and king cherry blossoms! You'll be at a loss for words as you traverse this beautiful path! If you love the magnificent sight of canola flowers, do not miss out on Sanbangsan and Gasiri Wind Power Plant, both hidden gems for those who want to admire vibrant fields of blooming canola flowers.
Likewise, the Jeonnong-ro Cherry Blossom Street, located just five minutes away from Jeju International Airport, offers unforgettable cherry blossoms scenery. In fact, the street plays host to the annual King Cherry Blossom festival in April, where you can enjoy cherry blossom viewing coupled with street food and shopping at a flea market. 
2. Immerse yourself in nature at Jeju's therapeutic forests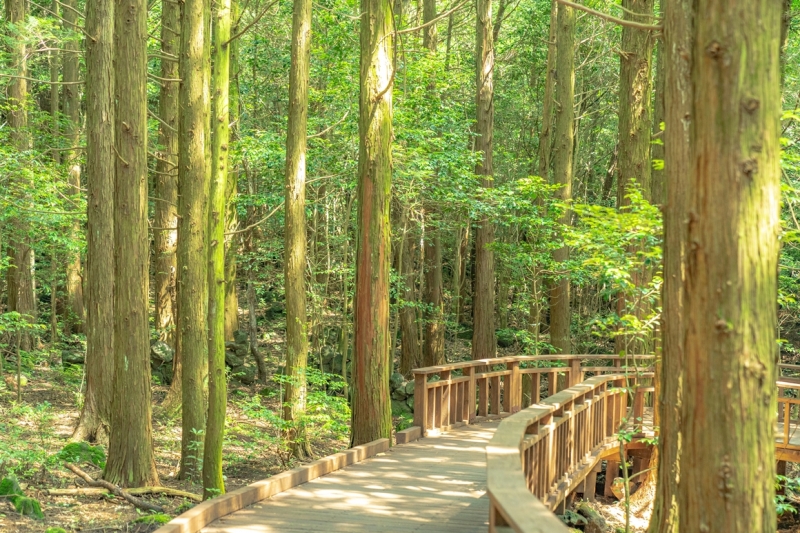 If you're looking to disconnect from the hustle and bustle of city life, then a trip (or a few trips for that matter) to the therapeutic forests of Jeju is just what you need! First, there is the Seogwipo Healing Forest, one of the best places to go in Jeju for a healing journey. There's an 11km long forest trail with barrier-free walkways, suitable for travellers who want to take a therapeutic walk in the forest. 
What makes the Healing Forest stand out from other similar attractions though, is the guided tour. As you traverse the serene forest with your guide, you'll be invited to immerse yourself in the natural surroundings in different ways. Expect tranquil walks as you listen to the sounds of the forest, learn how to make friendship bracelets, and enjoy freshly-brewed tea. Once you're hungry, you can also indulge in a Charong Healing Lunchbox, a traditional Jeju-style bamboo basket that contains plenty of healthy, wholesome ingredients!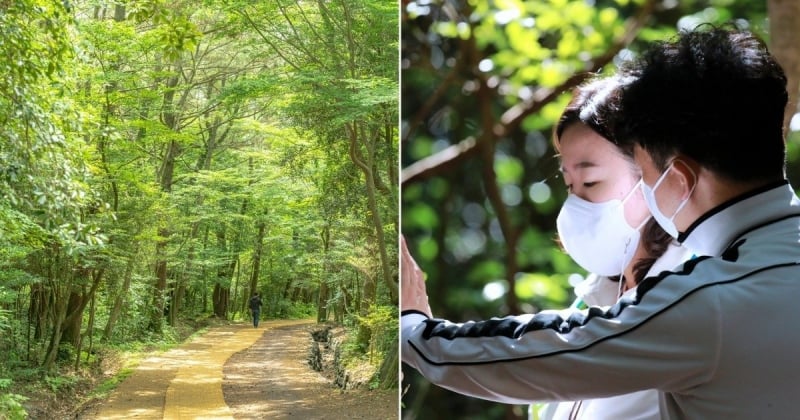 In addition, you can also take the time to explore the whimsical Sanyang Gotjawal Forest, where, apart from serene trekking paths, you'll find quirky art installations that make for fantastic photo spots. You can also visit the adjoining Ecoland Theme Park, reachable via a 4.5km train tour through verdant forests. Along the way, you'll stop by five different stations, each with its own unique attractions! 
3. Hallasan National Park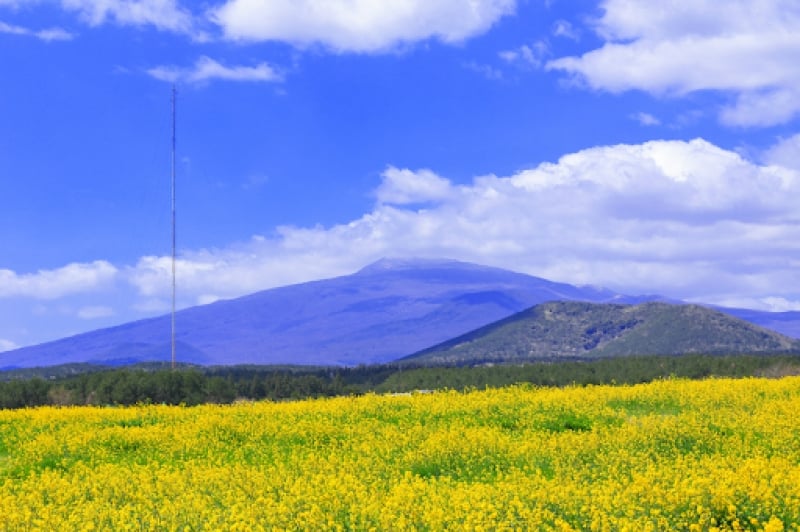 Another popular spot to check out cherry blossoms in Jeju is Hallasan National Park, although this particular location may need you to move your muscles a little, in addition to healing and chilling amidst scenic vistas. 
If you visit Hallasan in May, you may also be able to able to catch rosebays — bright pink azaleas that are native to Jeju Island — in full bloom. What's more, thanks to the cool climate during spring and cherry blossom season, it's one of the best times to hike along one of Hallasan's scenic paths.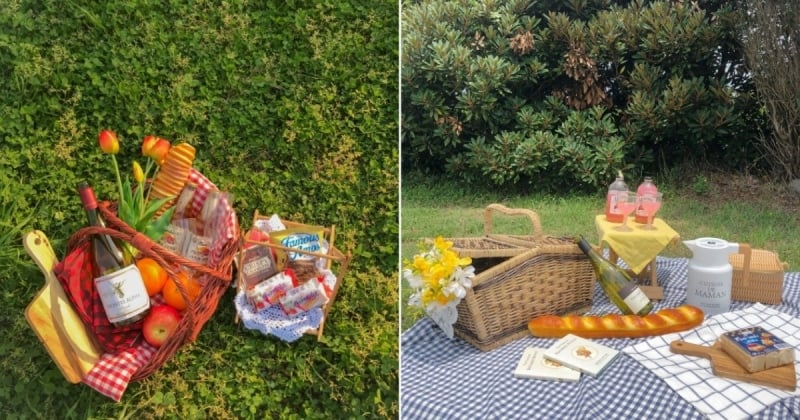 If you enjoy hiking, then you should probably also include some of the other "oreum" in Jeju to your bucket list. While not all paths allow you to reach the very peak of Hallasan, we can guarantee you that the view on each path is just as impressive as the other! 
Simply put, oreums are small volcano cones, like Abu Oreum, Geum Oreum, and Saebyeol Oreum, that provide amazing leisure hikes amidst picturesque surroundings. You can even pack your own lunch to have a picnic around some oreum as well! 
4. Jeju Olle Trail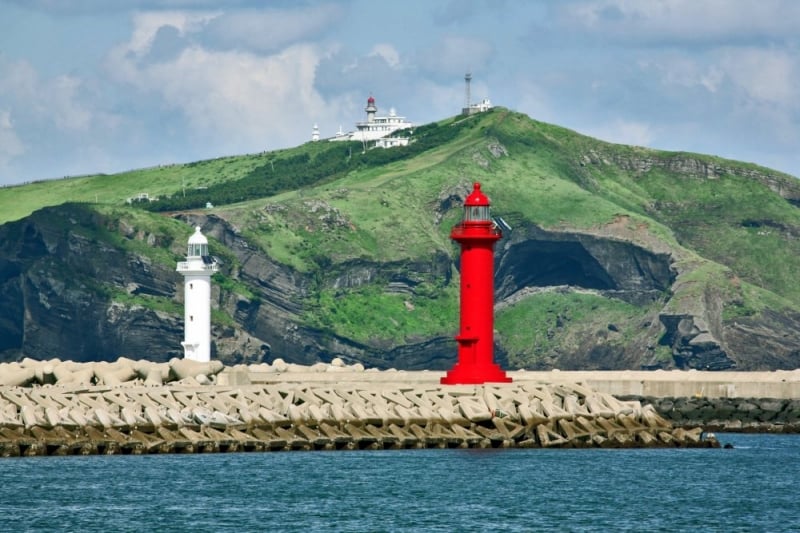 Walk and hike your troubles away in Jeju via the Jeju Olle Trail to enjoy the sights of spring! Established in 2007 by the Jeju Olle Foundation, Jeju Olle Trail is a 437km-long footpath on Jeju Island which has 21 linked numbered main routes, six sub-routes, and a short spur that connects to Jeju International Airport. In a simpler manner, you can picture Jeju Olle Trail as a trail that encompasses the entire Jeju Island, with fun activities on each path.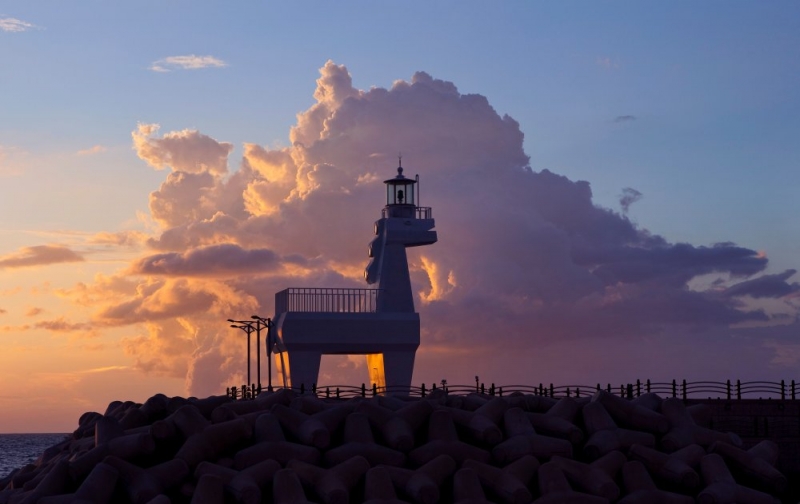 When you trek along the Jeju Olle Trail, you get to enjoy both the culture and nature of Jeju fully, as it follows a self-guided tour that reaches most nature and historical attractions, such as the Gapado and U-do islands, Jocheon Town, Pyoseon and Gwangchigi Beaches, and more. You'll also come across several quaint villages along the Olle Trail that offer a glimpse into life as a local in Jeju. Each route also has different difficulty levels and amounts of time, so you can choose one depending on your own experience and condition.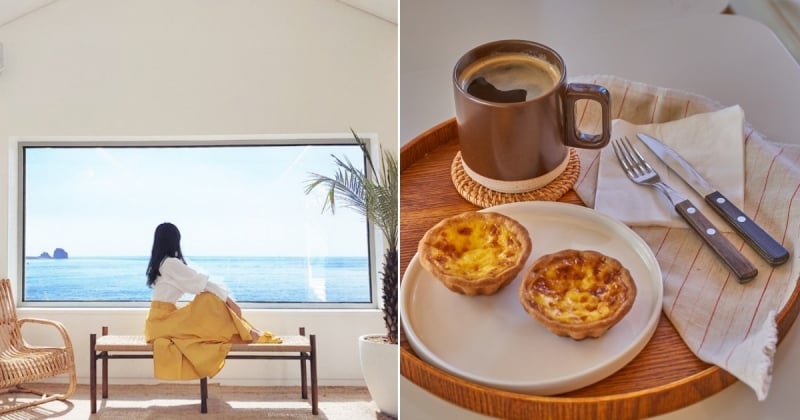 Of course, hiking is not all when trekking along the Jeju Olle Trail, as you will stumble upon many ambient cafes that serve up scrumptious desserts and refreshing drinks. 
5. Jeju Herb Garden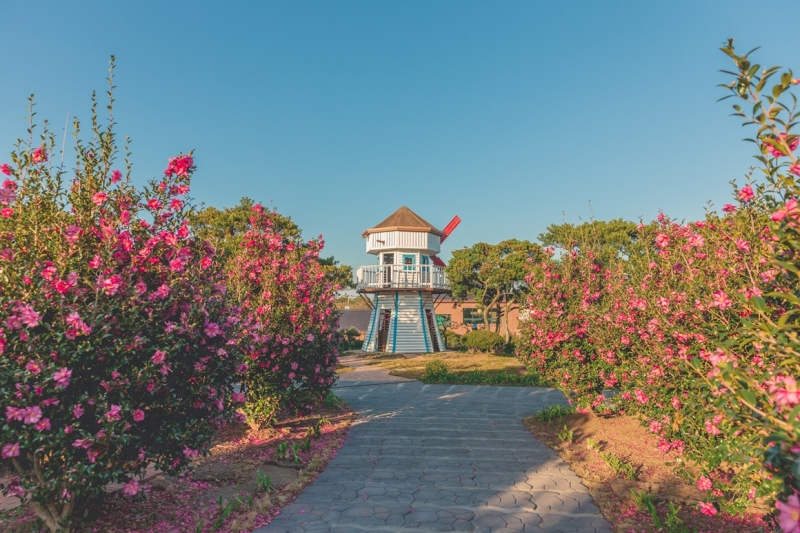 Jeju Herb Garden, also known as the Jeju Herb Dongsan is a massive herb park that spans around 16.3 acres, with several flower gardens, an art space, a windmill, foot baths, an Herb Garden Observatory, and a European-style herb cafe. 
There are approximately 150 types of herbs and wild flowers for you to explore, and when you're done walking through the gardens, such as the rosemary square, knot gardens, and the Camellia Forest, take a rejuvenating golden foot bath before leaving. Aside from that, you can also relax and recharge in the aromatherapy room, or immerse yourself in the joy of soap-making. 
If you're coming with your other half, don't forget to stop by and show appreciation at the forest of lovers and Lovers Stonewall Road, or enjoy a brief date at the Grim Sanghoe art space.
Address: 170 Donoreum-ro, Pyoseon-myeon, Seogwipo-si, Jeju-do, South Korea
Opening hours: 9am to 10pm
6. Seongsan Ilchulbong (Sunrise Peak)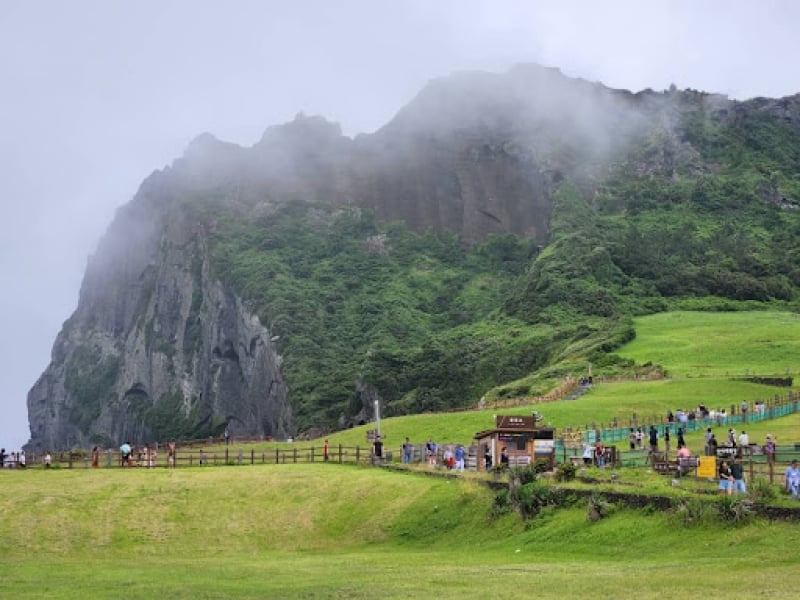 Another iconic location to check out in Jeju is Seongsan Ilchulbong, also known as Sunrise Peak. Simply put, it is a unique tuff cone formed by hydrovolcanic eruptions from over five thousand years ago! The climb to the top of the peak, on the rim of the crater, takes between 40 minutes to an hour. Along the way, you'll be treated to wonderful views, including a stunning panorama at the very top.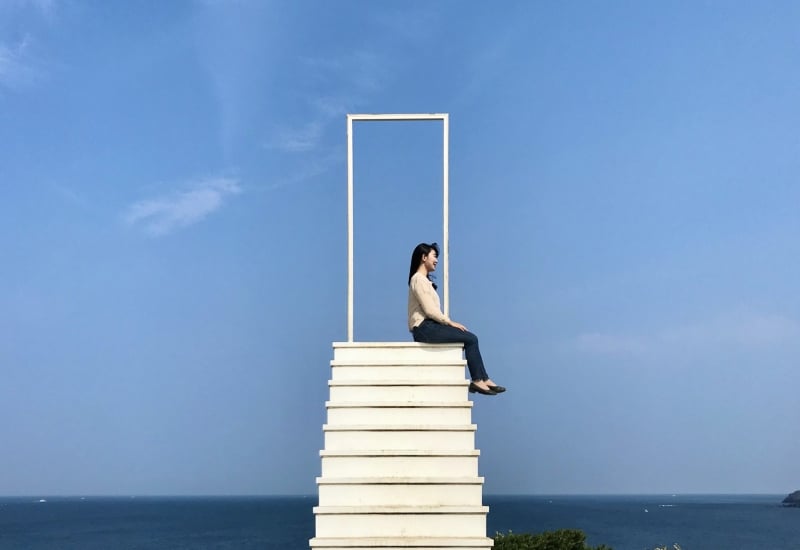 Typically, Seongsan Ilchulbong is most popular on New Year's Day, when people flock to the location to catch the first sunrise of the year at the Seongsan Sunrise Festival. That said, Sunrise Peak is stunning throughout the year, especially during spring, when you can observe plenty of colourful blooms, including vibrant canola flowers, at the foot of the peak.
Apart from just hiking to the peak though, there is a little port at the foot of the peak where you can see haenyo, Jeju's famous female divers in action. Watch as these incredible women dive into the waters and returning with a plentiful harvest! In addition, you can also head to Gwangchigi Beach where you can enjoy some peaceful horseriding while admiring Seongsan Ilchulbong, or visit Orda Cafe where you can snap a picture of their iconic Stairway to Heaven photo spot! 
Address: 284-12, Ilchul-ro, Seogwipo-si, Jeju-do
Opening hours: 7:30am to 6pm
7. Cheonjiyeon Falls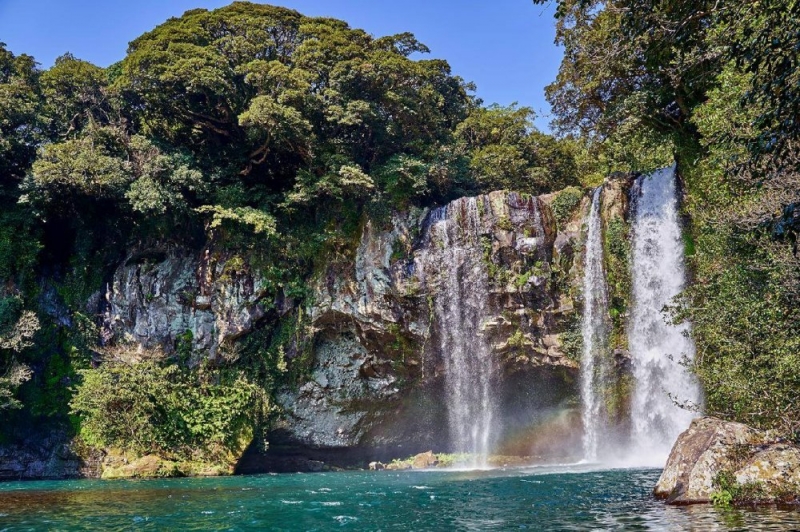 With a nickname as eye-catching as "the Pond of God", it's no surprise that Cheonjiyeon Falls is another one of our recommended locations to visit in Jeju to heal and chill. This IG-worthy location has long been a popular tourist attraction on the island, especially during spring. 
While the iconic waterfall isn't known to be a cherry blossom spot, a visit to these majestic falls certainly fits the season. After all, the area surrounding the cascading subtropical falls is filled with an abundance of flora and fauna!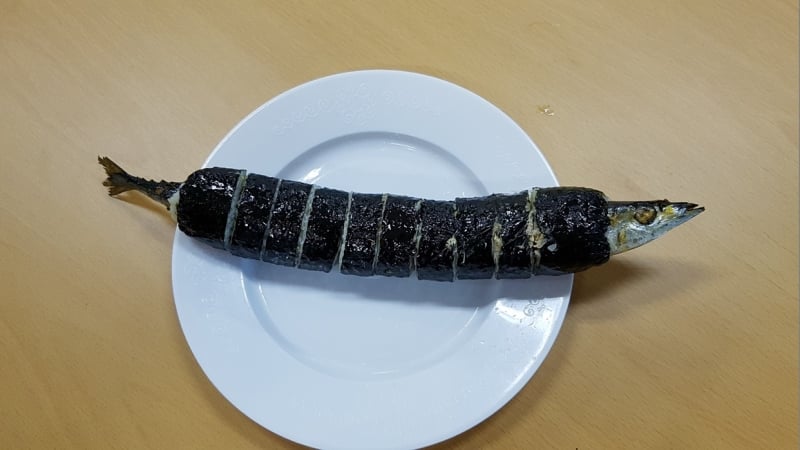 After a therapeutic visit to the waterfall, continue your journey to Seogwipo Maeil Olle Market, an indoor wet market selling household products and delicious seafood eats. Don't forget to try out the famous Jeju mackerel kimbab, and other South Korean delicacies like mandu and kimchi pancakes before leaving! 
Address: 2-15, Namseongjung-ro, Seogwipo-si, Jeju-do, Korea
Opening hours: 9am to 10pm
8. Gapado Island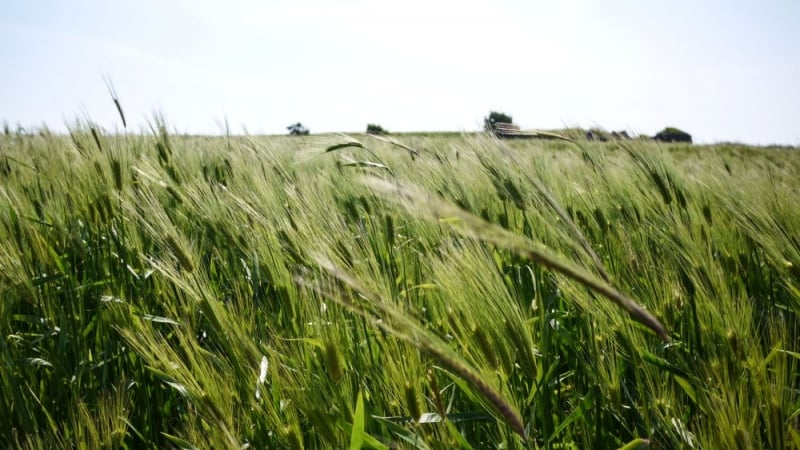 Indulge in the magnificent sight of the sea and green barley fields in Jeju's Gapado Island during spring. One of the best places to heal and chill, this island is located in between the Moseulpo Port and Marado Island (around 20 minutes ferry trip away from Seogwipo), and is best known for its lush green barley field. 
During springtime, these green barleys, called "hyangmaek", which is also a native species on the island, make up a unique, picturesque sight. The festival that takes place for a month also sees the barley field turn from pea green to golden brown.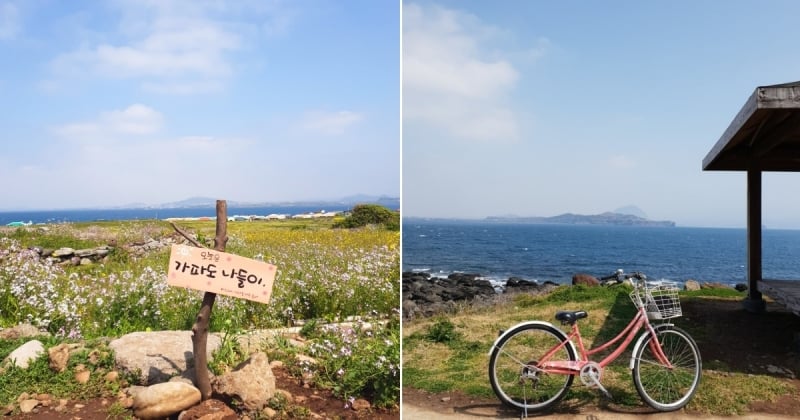 The spring season is also when the Gapado Green Barley Festival is held, where you can walk along the tall barleys that drift with the wind while enjoying a cup of mixed barley and grain powder drink called gaeyeok. If walking is not your cup of tea, try cycling around Gapado instead. Just imagine, exploring the island while the cool spring breeze blows across your face. Ah, such bliss! 
Address: 329-10 Hallim-ro, Hallim-eub, 특별자치도, Jeju-si, Jeju-do, South Korea
9. Snoopy Garden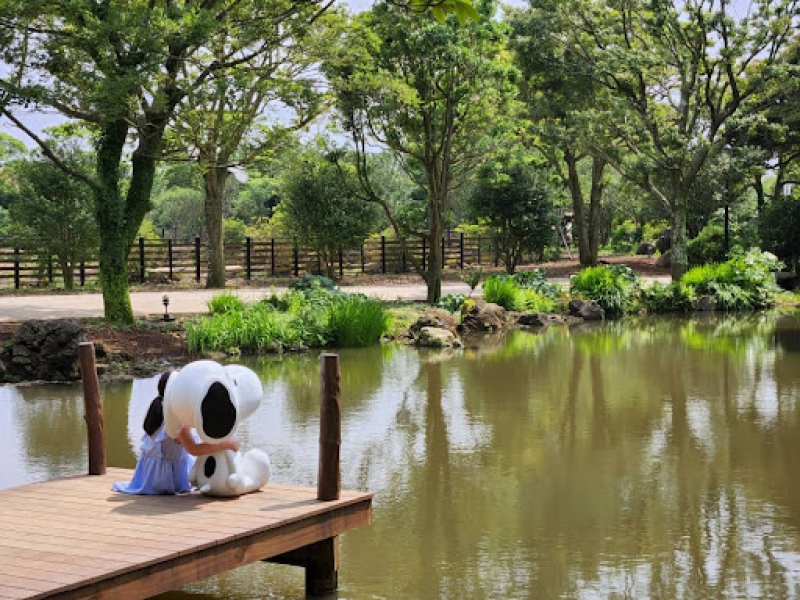 The Snoopy Garden is one of the newest attractions in Jeju Island, having first opened in 2020. Here at this 20-acre garden, you can enjoy a temporary escape from the city as you walk amongst colourful spring blooms. 
But this attraction isn't just a floral garden. As the name suggests, this Insta-worthy attraction is an ode to the popular cartoon series, Peanuts (think Snoopy, Charlie Brown, and the rest of the gang). So you'll find photo-ops, comic strip exhibits, as well as a cafe in addition to the beautiful outer garden. 
Speaking of photo ops, Snoopy Garden first gained attention when popular K-Pop idol BTS Jimin visited the place and uploaded a photo of himself on his Instagram channel. Fans of the group can hunt down the famous spot and recreate his famous photo!  
Address: 930 Geumbaekjo-ro, Gujwa-eup, 특별자치도, Jeju-si, Jeju-do, South Korea
Opening hours: 9am to 6pm
10. Handam Beach and Coastline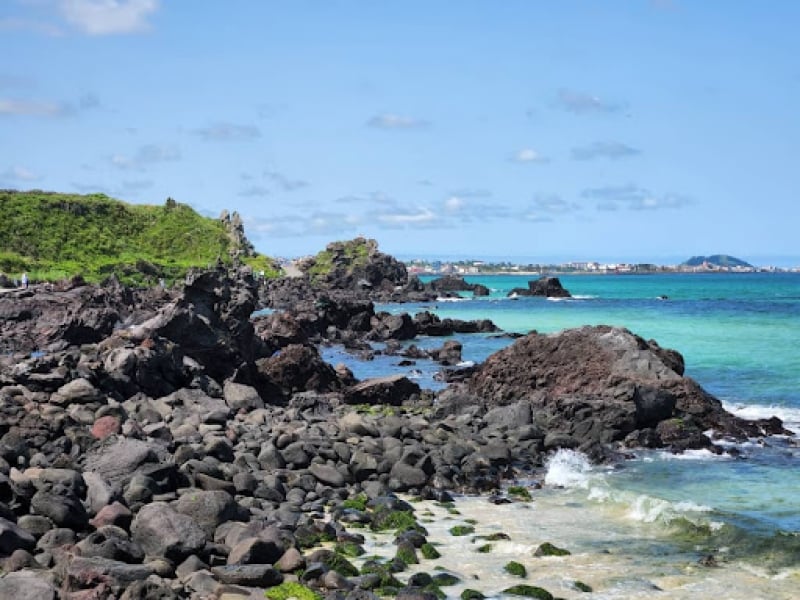 Located at the northwestern edge of Jeju-do is where you'll find Handam Beach, a beach along the Aewol-ri Village coastline that's part of the coastline improvement plan. The plan aims to create harmony between the view and the people, creating more opportunities for islanders and tourists to relish the ocean. 
A 1.2km long trail is paved along the coastline and made close to the ocean, so people can take a relieving walk along the ocean while listening to the sound of waves and enjoying the sea breeze. Aside from walking, there is also a pleasant transparent kayaking activity available here for visitors where you can admire the crystal clear waters from up close! It's no doubt that this is one of the hidden gems in Jeju that allows a comprehensive healing and chill experience.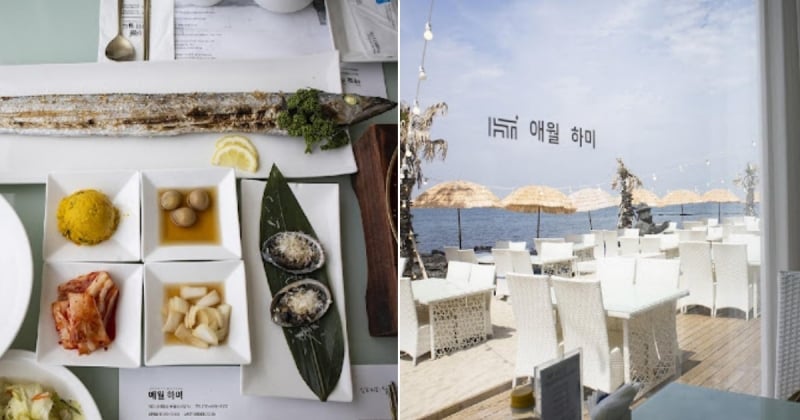 It is also here where you can find a cluster of swoon-worthy dessert cafes to chill at, many of which are found facing the ocean at Aewol Cafe Street. With cherry blossom season around the corner, the desserts and drinks here add a hint of spring flavours. You may also find Jeju Starbucks Spring merchandise that you can collect and purchase as a souvenir! 
Address: 2137-1 Haean-dong, 특별자치도, Jeju-si, Jeju-do, South Korea
Opening hours: 9:30am to 7pm
Bonus: Jeju Cherry Blossom Festival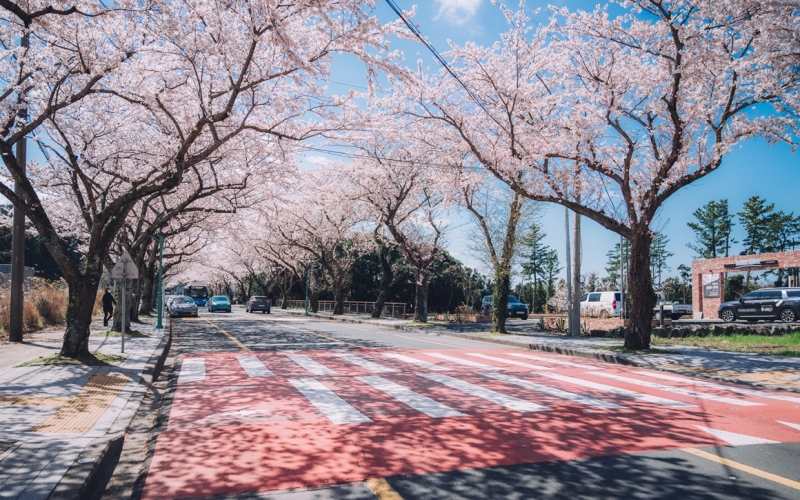 Jeju embraces the blooming of cherry blossoms at around the end of March each year, usually the first among all places in South Korea. This year, the expected blooming season for Jeju's cherry blossom will be around 23 to 30 March. 
In Jeju, expect dazzling pink blooms at places like the aforementioned Noksan-ro and Jeonnong-ro Cherry Blossom Street, Aewol-eup Cherry Blossom Street, and Jeju National University. A long-time hot spot for cherry blossoms viewing, Jeonnong Road is where people gather and celebrate the Jeongnong-ro Seosara Culture Street Festival. Even at night, the cherry blossoms shine brightly with the night lights. The food stalls, handcraft-making events, and performances also make the place additionally vibrant. 
Also read: THE PERFECT JEJU ISLAND HEALING TRIP FOR YOUR MIND AND SOUL
So there you have it, a list of places to go during your trip to Jeju Island to heal and chill. Jeju is undoubtedly a great destination for those who want to unwind and relax, what's more, during the cherry blossom season, the view is even more stunning! Hurry and plan your trip to Jeju Island soon!
---
Brought to you by Jeju Tourism