Located at the southmost point of South Korea, Jeju is an archipelago of islands with world-renowned geographical features and biodiversity. It has a history which dates back centuries—a culture which, against a landscape of harsh rocks and soft coral, has given rise to an island full of life, tradition, and one-of-a-kind cuisine. While there is no shortage of things to eat on Jeju, here are some of the foods which are not to be missed:
1. Black pork BBQ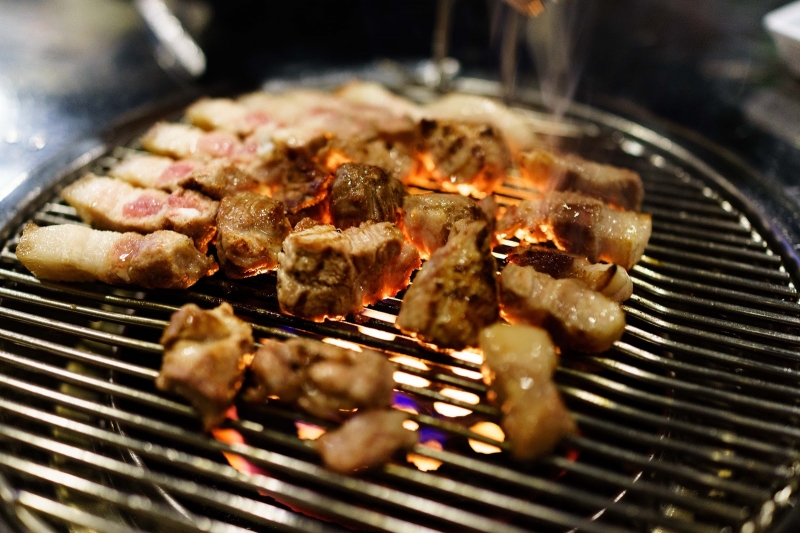 The meat for black pork BBQ comes from domesticated black pigs native to Jeju. When grilled, black pork is known to be crispier and juicier than its regular counterpart. Since it is harder to find black pork BBQ elsewhere, don't forget to give it a try when you visit Jeju!
It is easily the quintessential delicacy of Jeju Island. It is so popular that there is an entire street of restaurants known as "Black Pork Street" selling it. If you are looking for a place a little more well-known, Donsadon is Big Bang member G-Dragon's favourite eatery to frequent whenever he is in Jeju. And the quality of the food there certainly meets expectations.
2. Gogi-guksu (Pork)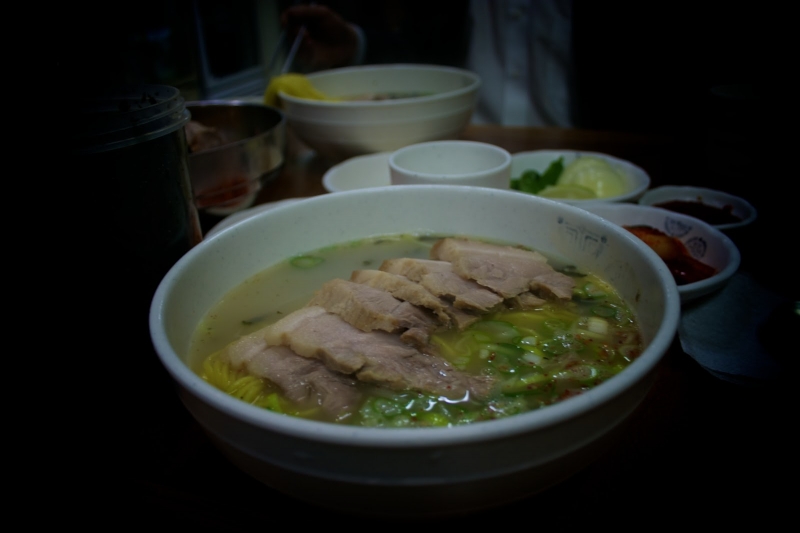 Gogi-guksu is an aromatic broth with pork and noodles. The broth is made by boiling pork bones for hours, and the result is a frothy, slightly milky soup with flavours that explode in your mouth.
Add in noodles and pork meat cooked to perfection, and you have the traditional gogi-guksu so well-liked by both locals and tourists. It's so popular that there are even shops that stay open 24/7 to keep up with the demand. Hit up Jeju City's Noodle Street to check out some of these shops! Our favourite? Jamae Guksu.
3. Seafood hotpot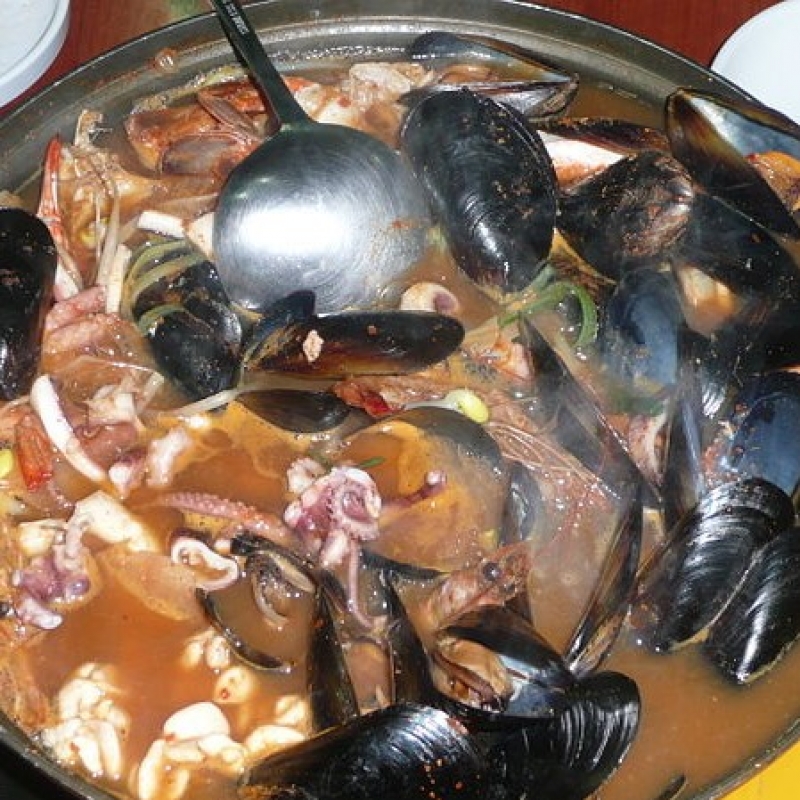 Surrounded by clear waters and beautiful coral reefs, Jeju naturally produces some of the freshest seafood in South Korea. A trip to Jeju is incomplete without a taste of its seafood, and the seafood hotpot (haemul tteukbaegi) is the most efficient way of sampling all the shrimp, squid, shellfish, cuttlefish, and octopus that Jeju has to offer.
If you see jeonbok or obunjagi in the name of the dish, you're in luck, because abalone will be one of the ingredients of the hotpot! For some spicy seafood hotpot, check out Samseonghyeol Haemultang in Jeju City.
4. Abalone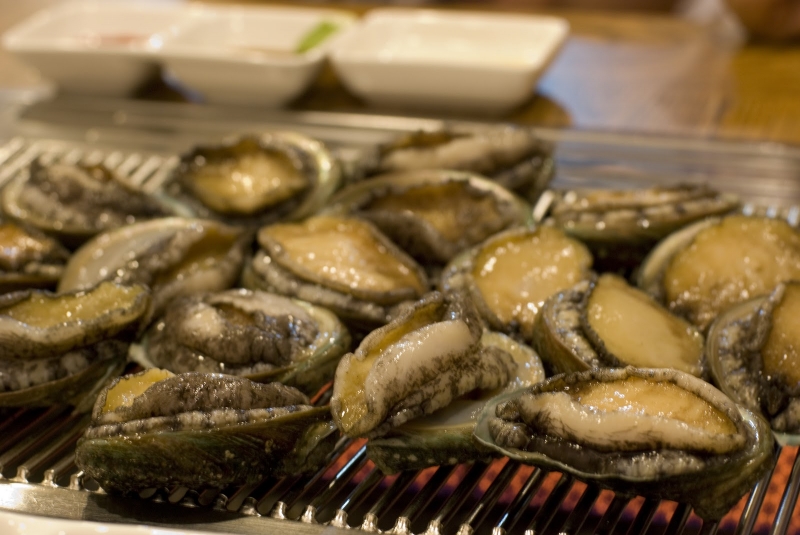 Abalone is Jeju's top seafood. Restaurants in Jeju offer unique ways of eating abalone, but if you're looking for an insider tip, locals like to have abalone grilled with butter. Myeonjin Jeonbok offers plenty of different cooking styles which celebrate this wonderful ingredient from the ocean, all of which are worth trying!
One of their most popular dish is raw abalone, eaten fresh off the shell. If you're not not a fan of raw seafood, fret not. Their grilled abalones are pretty mouth watering too, accentuated by a smoky, tasty aroma. Looking for a healthier option? Then you'll love their abalone rice porridge too!
5. Hairtail fish stew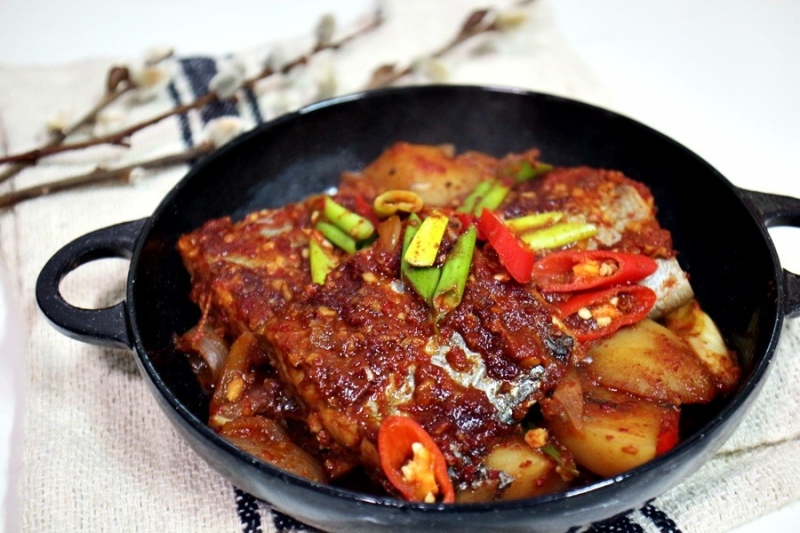 Long, thin, and silvery, hairtail fish are a member of the cutlassfish family. In Jeju, hairtail fish is usually braised with vegetables as part of of a sweet and spicy stew. Hairtail fish tastes best eaten fresh, and while you can always buy it at a farmer's market and prepare it yourself, dropping by professional restaurants for delicious, fuss-free, expertly fixed stews is a much better option if you ask us.
Hence, we recommend Matna Sikdang in Seogwipo. It serves great hairtail fish paired with multiple side dishes such as kimchi and rice. The perfect seafood meal for a modest budget!
6. Hanchi mulhoe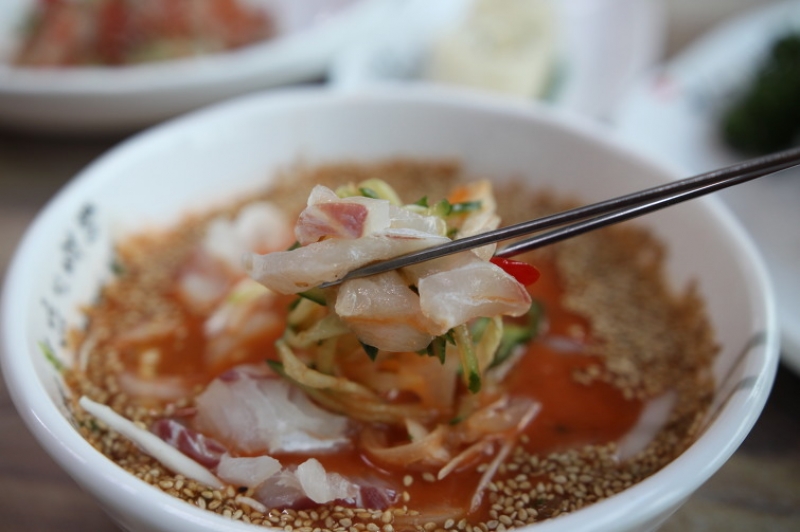 Best enjoyed during summer, hanchi mulhoe is an icy soup of raw cuttlefish served with vegetables, soybean paste, and red pepper paste. As odd though as the description may sound, hanchi mulhoe is actually a popular dish among locals. In fact, it's actually one of the go-to hangover dishes in the region, which undoubtedly tells you everything you need to know about its soothing properties.
Hanchi mulhoe is an incredible cultural heritage, as it is both eaten and served in haenyeo jips (restaurants) by the famed haenyeo—women divers, most of whom are in their 70s and 80s. These ladies have been diving since their teens to collect fresh seafood from the reefs as a way of supporting their families and are pretty much part and parcel of Jeju's cultural heritage.
7. Momguk (Pork)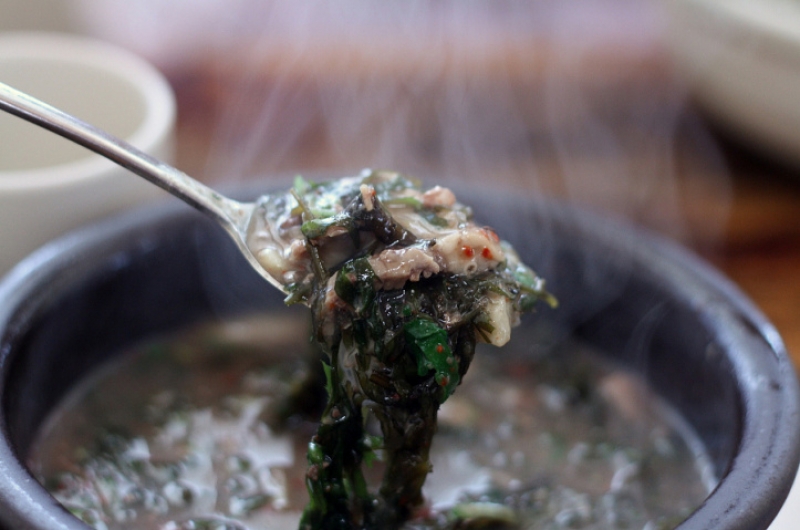 Mom is also known as mojaban elsewhere in South Korea. It refers to the gulfweed used in gulfweed soup (momguk). Similarly to gogi-guksu, momguk is one of Jeju's traditional dishes. It is made by first boiling pork bones to give the soup its rich flavour and then adding in gulfweed, pork meat, and buckwheat flour to thicken the texture.
Warm, comforting, and nutritious, momguk is largely served at large family gatherings as a way of bringing people together. You can try momguk at Guksu Madang, which makes their gulfweed soup with onions and sour kimchi for an extra punch!
8. Hallabong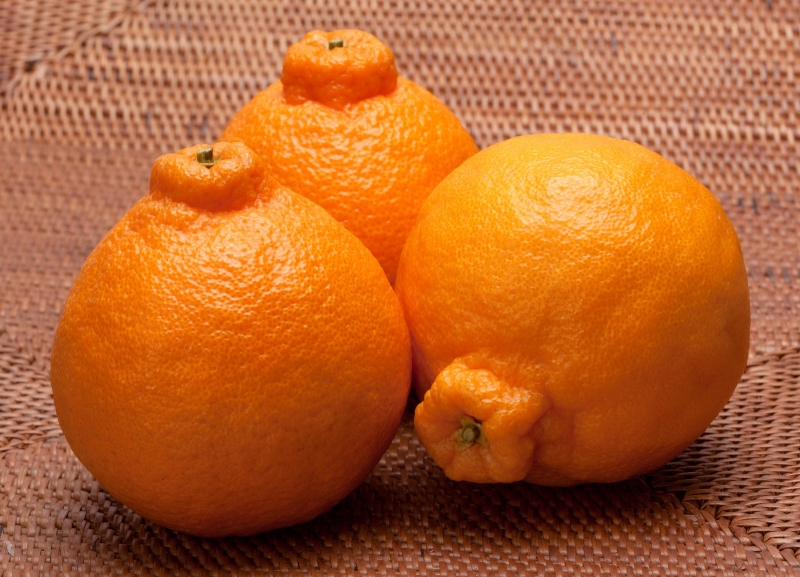 Hallabong is a type of mandarin orange known for being seedless and particularly sweet. It is arguably he representative fruit of Jeju Island, named after the mighty Hallasan, the tallest mountain in all of South Korea.
Hallabong can be found anywhere in Jeju and is sold not only in its original form but also as a juice, as a tea, and as a flavour of other products such as chocolates. Omnipresent though it might seem on Jeju, no hallabong will taste as sweet outside of its "homeland", so be sure to stock up on them while you're there!
Insider tip: Fruit can be pretty pricey in South Korea, especially local produce like hallabong. Apart from that, it's not advisable to bring fruit home as a souvenir. Instead, head to Dongmun Traditional Market where you can find plenty of hallabong-flavoured chocolates to bring home!
9. Green tea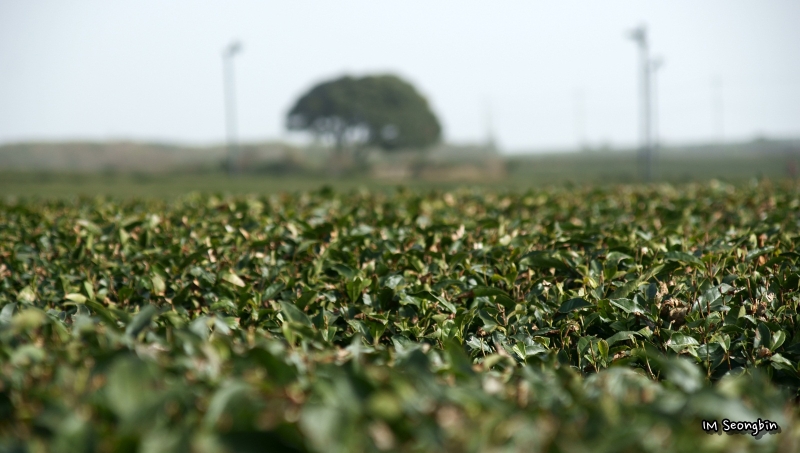 The O'Sulloc Tea Museum is a café, tea farm, and educational centre in Jeju aimed at introducing the public to the processes behind planting, harvesting, and vending tea. Entry to the museum is free, so you're welcome to take a walk around the exhibits and the tea plantations.
More importantly, O'Sulloc Tea Museum's café is known for having great green tea drinks (surprise!) and green tea roll cake. If you're in the mood for a snack, try out the café's desserts and other beverages too. If you're not, the museum shop has plenty of food souvenirs that you can take home!
10. Udo peanuts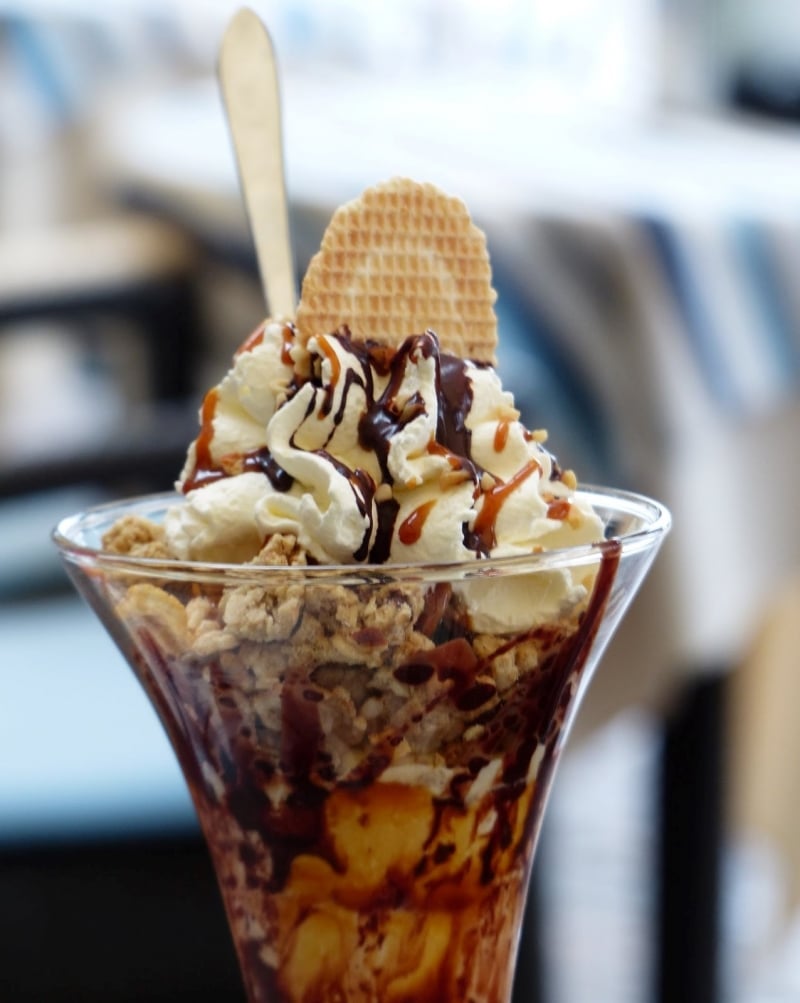 Jeju Island's mini-me, Udo Island, is known for its production of peanuts. Delicacies created by residents using the crunchy and aromatic peanuts include: Peanut bread, peanut burgers, peanut lattes, peanut ice cream, and even peanut wine.
With such variety, the best way to sample Udo peanuts is by travelling around the island and popping into the shops that attract you. Since every shop owner has a unique take on what can be made with Udo peanuts, why not try each and every dish? After all, Malaysians are all about good food, so a day-long foodie trip should be right up our alley, right?
You won't be able to stop eating
With so many different delicacies to try, your time on Jeju is likely to run out before you run out of things to eat. Foodies, make sure you have plenty of space in your rucksacks and in your stomach before you hit the road. Jeju is waiting for you, and you'll want to make sure that you don't miss out on any second of it!
Also read: Top 15 Things To Do On Jeju Island For Malaysian Travellers