Switzerland, the country widely considered one of the most beautiful places in the entire world. Thanks to its alluring alpine scenery, sophisticated culture, and stunning natural landscape, Switzerland has long been held in high regard by the international travel community. 
Whether you consider Switzerland a slice of heaven on earth or simply a touristy novelty, the fact remains that this landlocked nation is arguably in many a Malaysian traveller's bucket-list. However, a trip to Switzerland is often a once-in-a-lifetime opportunity, so you'll want to be well-prepared before making plans! 
Having visited Switzerland myself in 2017, I've decided to come up with this simple guide to help you get started on your dream Swiss vacation! 
General info
Getting there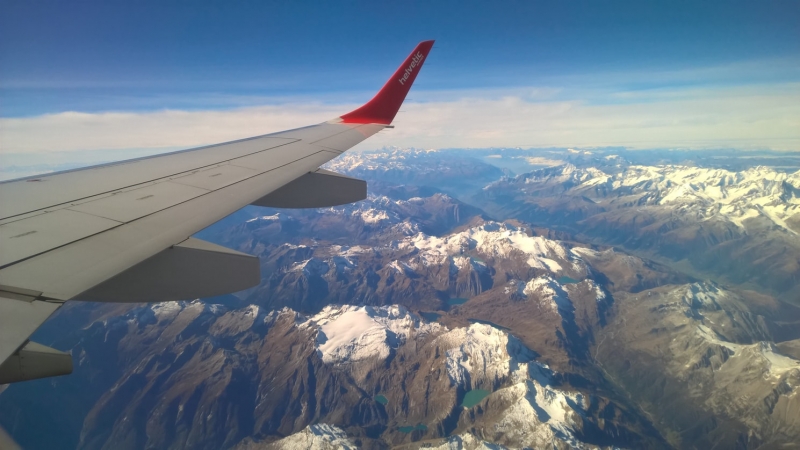 The most common flight route between Malaysia and Switzerland is KL to Zurich (Switzerland's busiest airport) with a stopover in either Abu Dhabi or Doha. You could also catch a direct flight from Singapore or fly into Geneva but that would be more expensive. Regardless, expect the journey to take upwards of 14 hours, including time spent during layovers. The average price for a return ticket is about RM2,500 and above. 
However, you can sometimes find flights for less than that, especially between the months of September and January. This is because these months are typically considered the low season.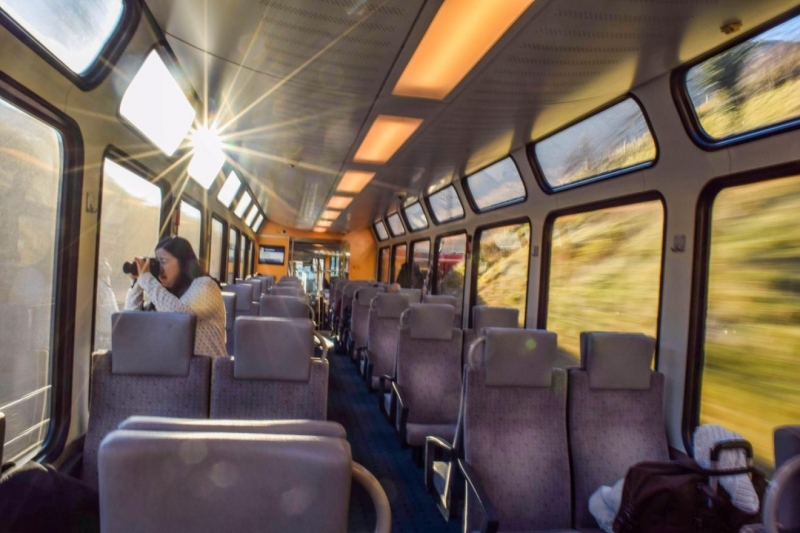 Alternatively, if you're including Switzerland as part of a stop in a wider tour of Europe, you can also reach it by train. This is especially a memorable experience if you're heading to Switzerland from Austria, France, or Germany as you get to witness incredible alpine scenery on the way.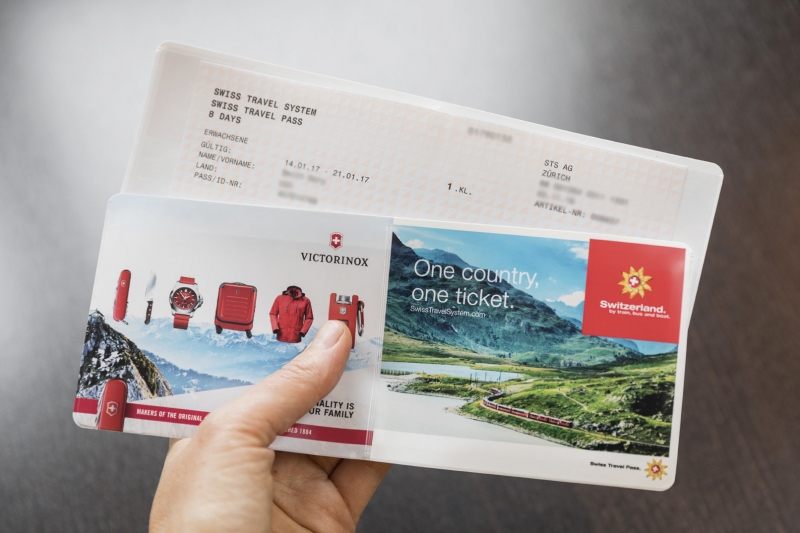 Pro Tip: If you're travelling to multiple countries by train, consider getting a Eurail Pass. If you're only planning on visiting Switzerland, get the Swiss Travel Pass instead. Not only does it cover unlimited travel on public transport, it also gives you free entry to most of the museums in the country and other various discounts and benefits.
All you need to know about local transportation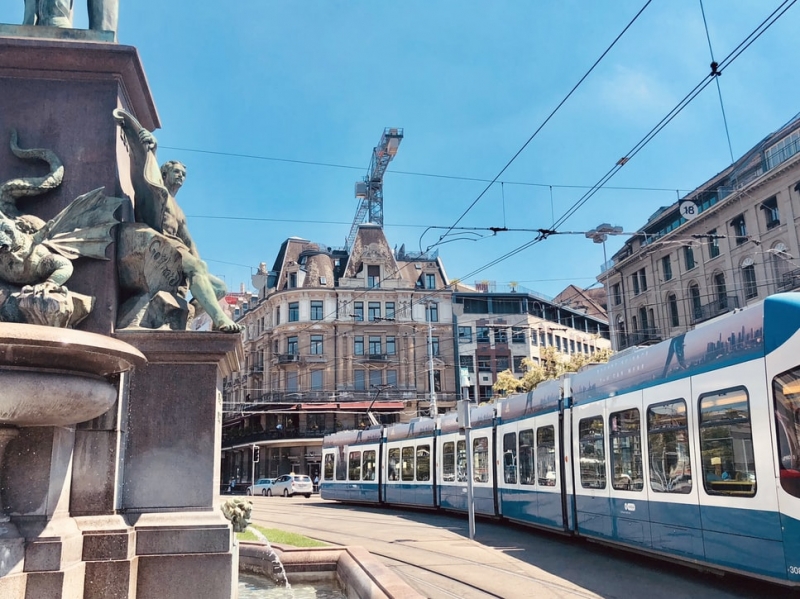 As mentioned above, procuring a Swiss Travel Pass will make your life infinitely easier in Switzerland. Depending on which city you're in, there are a multitude of different transport systems. In larger cities like Zurich and Geneva, apart from public buses and trains, there are also trams and funiculars that travel from one part of the city to another.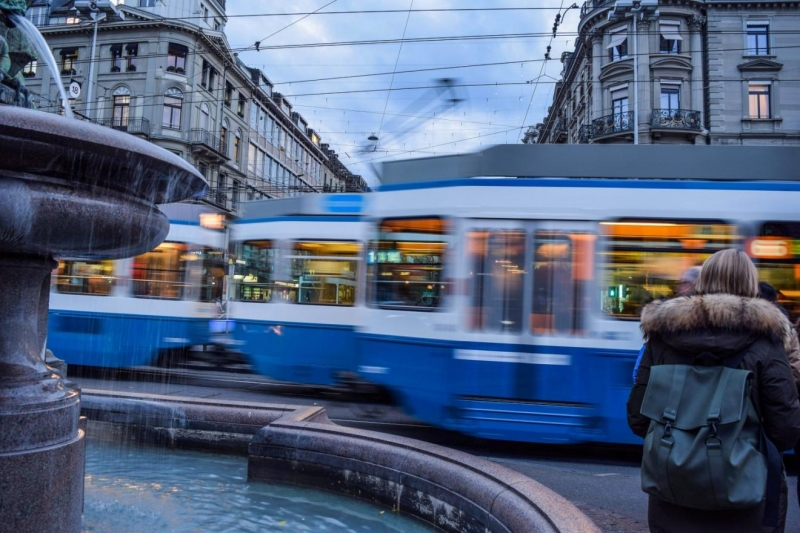 However, in smaller towns like Interlaken and Zermatt, public transport will be slightly more limited. On the flip side, you'll often be able to rent a bicycle or explore these lovely towns on foot, enjoying the fresh mountain air as you do so. Zermatt especially is a wonderful place to explore on foot! 
Fun fact: Did you know that the burning of fossil fuel is prohibited in Zermatt? This is to ensure the air quality in this tourist hotspot retains its pristine freshness. Because of this, only special electric-powered motor vehicles are allowed in the city with the only exceptions being ambulances and funeral hearses. 
What's the weather like?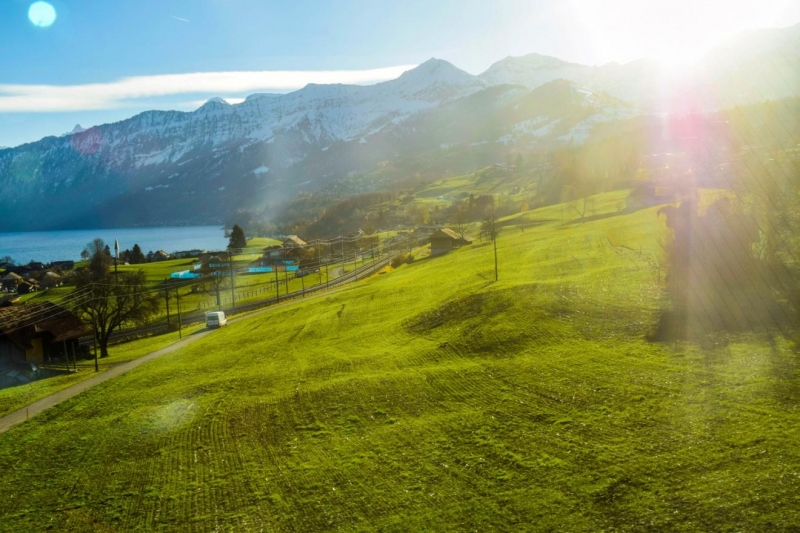 Wonderful! Okay no, seriously. The climate in Switzerland is quite moderate and usually boasts fair weather throughout the year. Malaysians who want nothing more than to escape the heat will love it here. Even during Summer (July to August), temperatures rarely go above 30°C! 
However, the best time(s) to visit is easily during Spring (March to May) and Autumn (September to November). The weather during these seasons is chilly and you can expect average temperatures in the range of 8 to 15 °C.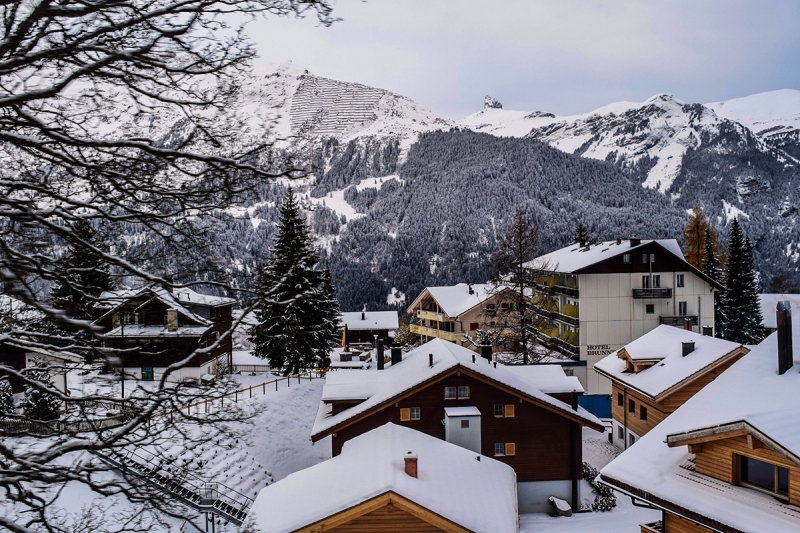 That being said, even during autumn there may be snowfall in places with higher elevation, like Zermatt and Interlaken. In fact, you can almost certainly expect to see snow when you visit the mountains in November! 
Winters in Switzerland used to be miserably cold but these days, due to climate change and global warming, it is less devastating. However, you can still expect temperatures in the negative range from January to February.
What sort of accommodation options are there?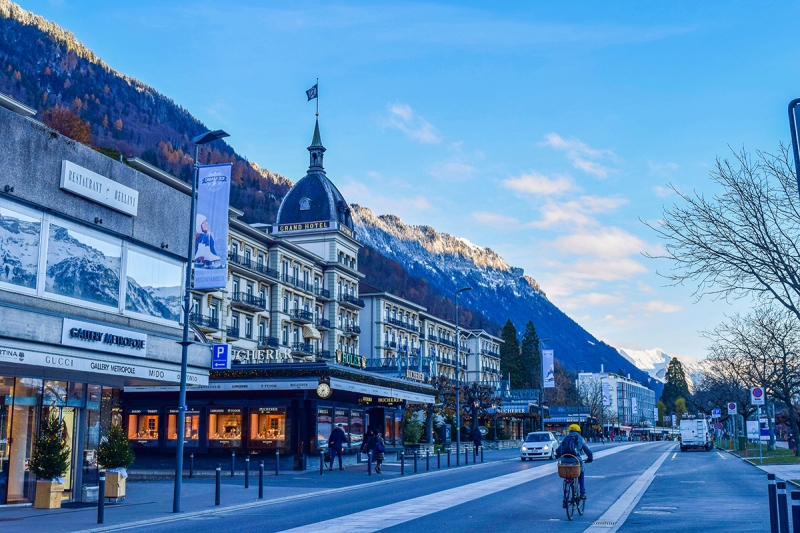 There are a wide range of different accommodations in Switzerland. From the typical hostels and backpacker lodges to budget and business hotels and even luxurious resorts. There are also ski resorts and heritage hotels in certain cities. 
The budget range for accommodation in Switzerland can be rather gaping. You could fork out between an average of RM200 per night for a bed in a hostel and up to RM2,000 per night in a luxury hotel! The price also depends on the city and location. For example in Zurich and Geneva, you'll be able to find plenty of accommodation options, so prices are more competitive. 
In contrast, there may be less options in alpine areas like Zermatt, so prices may sometimes be higher depending on the season. However, rest assured that you will be getting your money's worth, especially when you look out the window and find a view like this!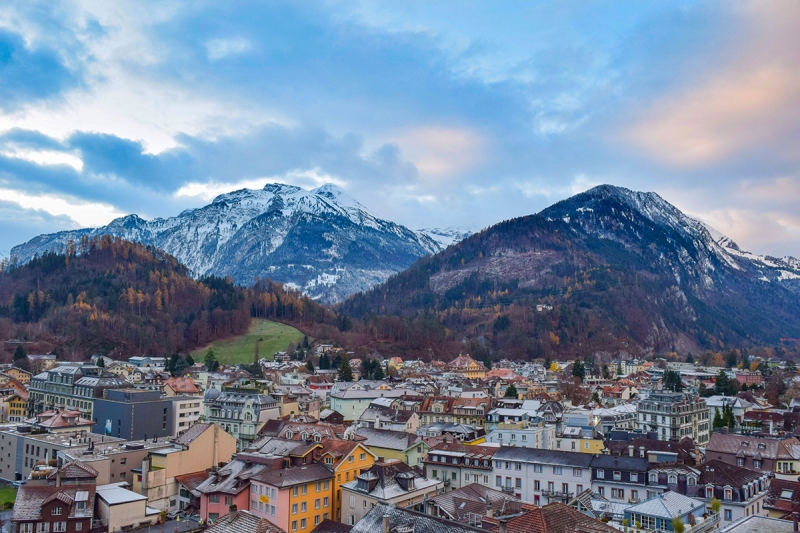 What is the national language of Switzerland?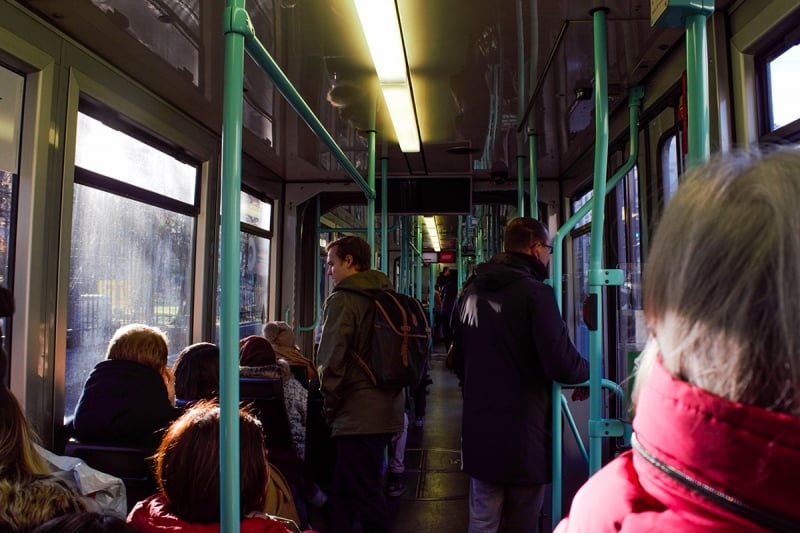 Technically, Switzerland has multiple national languages. Since Switzerland is a landlocked nation which borders France, Italy, Germany, and Austria, culture and language is largely dependent on which area of the country you're talking about. 
Geneva, for example, is located in the west, closer to the border with France. Therefore, French is the commonly used language. The north and northeast (neighbours to Germany and Austria) communicate generally in German. The south borders Italy, so Italian is largely spoken there. The good news: most, if not all, Swiss speak fluent English! So communication probably won't be an issue! 
Travel in Switzerland
Top destinations to visit
1. Zurich
As Switzerland's largest city and busiest transport hub, Zurich is often the very first destination travellers set foot in when they arrive. However, size isn't the only thing this charming city has, as there are plenty of fun things to experience too! 
Some of the must-visit locations in Zurich I highly recommend are: Altstadt (the old town of Zurich), Lindenhof, the iconic Grossmunster and Fraumunster Churches, the vibrant Niederdorf neighbourhood, Bahnhofstrasse (shopping street), an excursion to Uetliberg, the FIFA Museum and much more! 
Fun fact: As you travel around Zurich, you will notice plenty of water fountains throughout the city. The water for the fountains actually come from Lake Zurich which runs through the city. Don't worry, the water from the lake is so clean that it is perfectly safe for drinking! 
2. Lucerne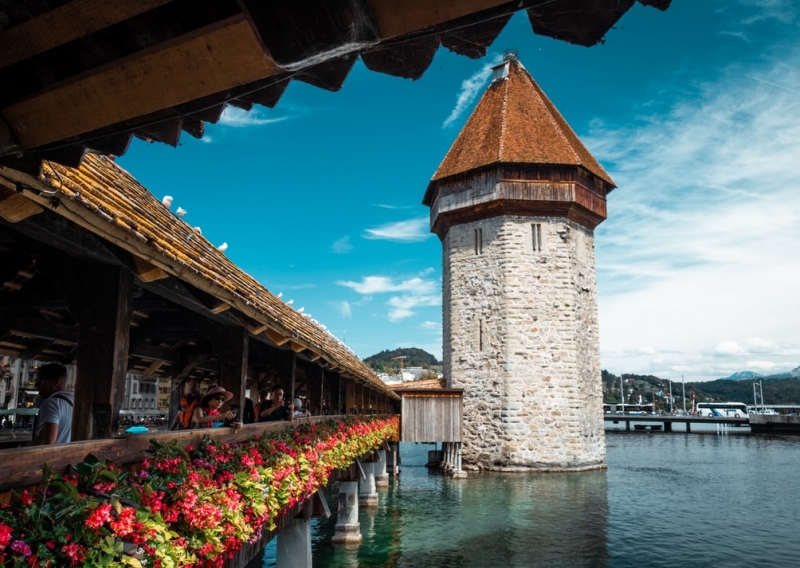 Lucerne is easily one of the top travel hot spots in Switzerland and it's easy to see why. Built on a pristine lake surrounded by scenic mountainous views, the town of Lucerne will charm you right off the bat! This ambient town projects a relaxing yet romantic vibe and is where the country's annual International Music Festival takes place!
Apart from the celebration of young local and global musical talents, you should also check out the town's iconic Chapel Bridge and Lion Monument. If you're hoping for some incredible views, then don't miss the chance to gaze out at Lake Lucerne or ride the funicular to Mount Pilatus for an incredible panoramic view of the town! 
For more activities in Lucerne, click here!
3. Interlaken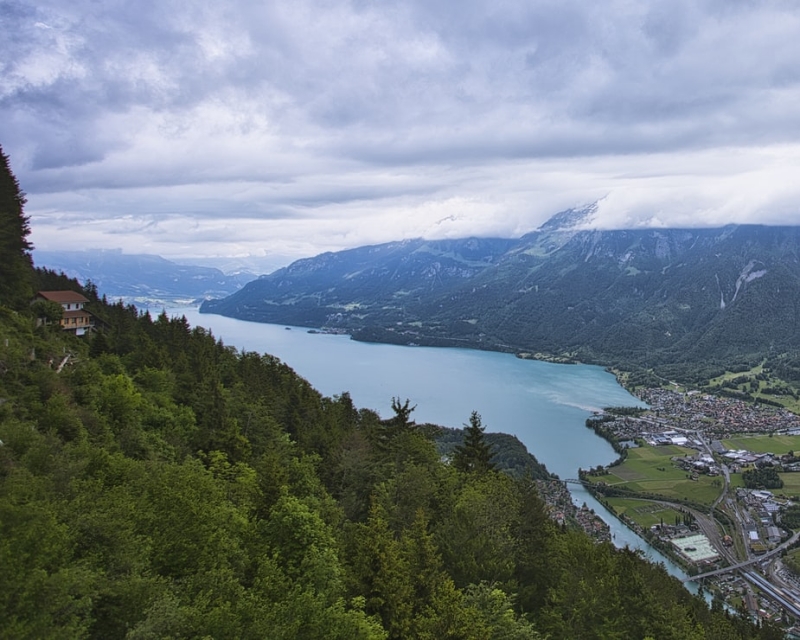 Translated into German, interlaken means between two lakes, and Interlaken (the town) certainly lives up to its name. This lovely town is nestled between Lake Thun and Lake Brienz. It is arguably the most popular summer destination in Switzerland but it is also frequently visited by tourists throughout the year. 
Most famously known as the gateway to Switzerland's alpine mountains, Interlaken is the base camp for many travellers who wish to enjoy stunning alpine vistas. From here, you can journey to Harderkulm, glimpse the peak of Mount Eiger and visit the highest railway station in the world, Jungfraujoch.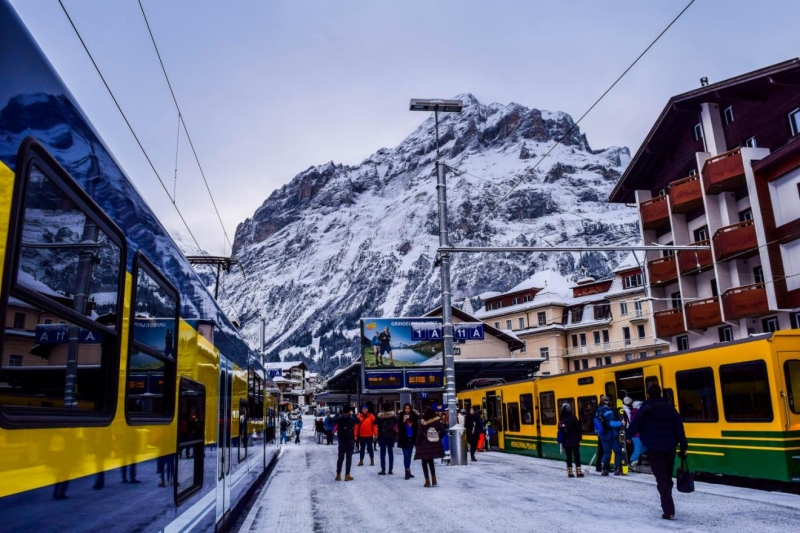 What's more, there are also plenty of mountain railways, cable cars and ski resorts in the area, making it one of the top destinations for skiing in the country too! And, if you're brave enough, you can also engage in some skydiving here! If the fall doesn't give you an adrenaline rush, the view certainly will! 
Click here for more things to do in Interlaken
4. Lake Geneva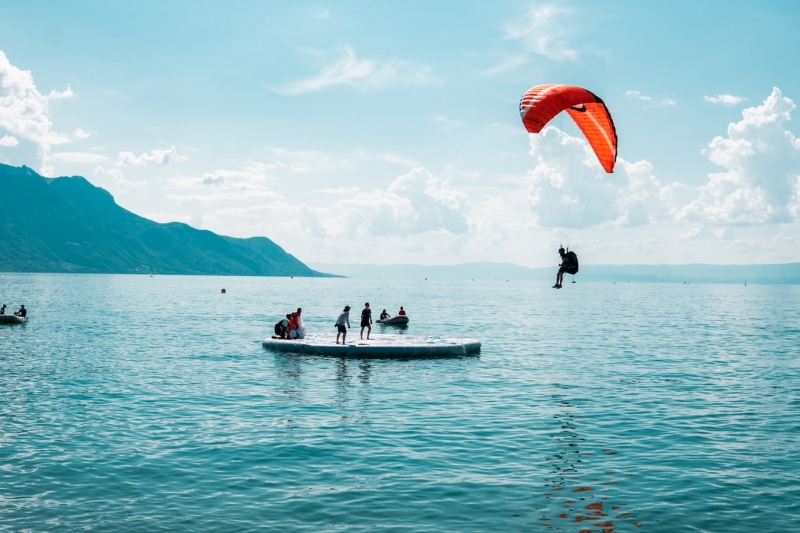 Despite its name, Lake Geneva (Lac Leman as the locals call it) doesn't just belong in the city of Geneva. Rather, it straddles the border between France and Switzerland, surrounded by majestic snow-capped mountains and lapping at the shores of some of Switzerland's most important cities. 
In Geneva, one must not pass up the chance to visit the famous Jet d'Eau fountain, the atmospheric Opera House, and, for science geeks, CERN. Over in the town of Lausanne, you'll be able to escape the hustle and bustle of the city into the serene suburbs, surrounded by lovely alpine views. Lake Geneva also shares the shoreline with Montreux, home to the Insta-worthy Chateau de Chillon, and host to the annual Montreux International Jazz Festival which takes place in July. 
Fun fact: Lake Geneva is actually the largest alpine lake in all of Europe! 
5. Lake Lugano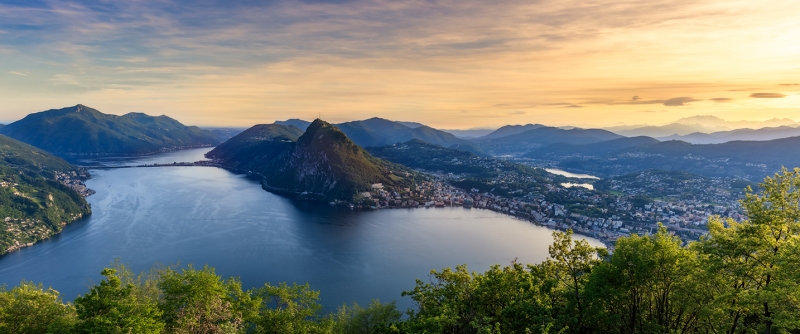 From a lake bordering France, we now move to a lake on the Swiss/Italian border. Lake Lugano lies in Ticino, Switzerland's only major Italian-speaking region. The area surrounding Lake Lugano enjoy a milder climate with pleasant weather throughout the seasons, perfect for a meditteranian vacation. 
Stepping into the nearby cities of Lugano, Locarno, and Bellinzona, you'll feel as if you've crossed the border into Italy. Lively piazzas, Renaissance architecture, fine wines and cuisine, all hallmarks of the Italian experience, here in Switzerland! Of all the things to do around Lake Lugano, the most must-do activity is heading to Monte San Salvatore for an incredible view of the surrounding area, like the one pictured above! 
6. Zermatt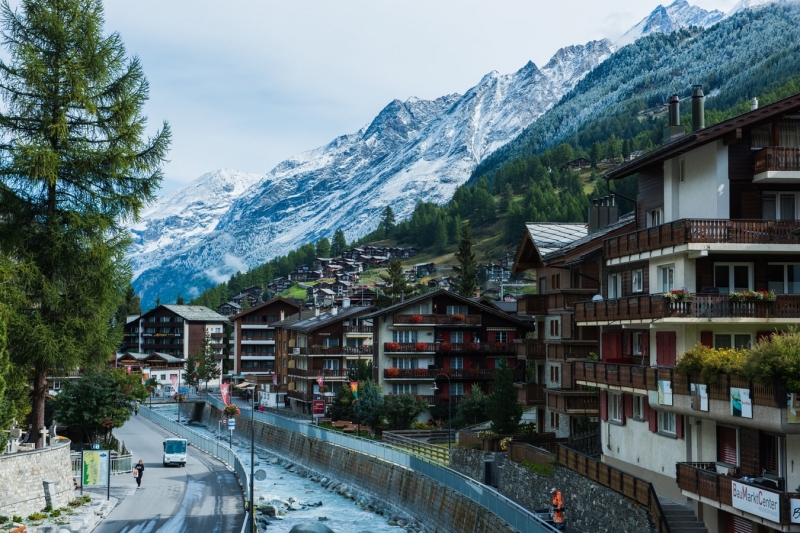 Personally, the moment I stepped into Zermatt, I thought to myself, if Santa Claus exists, he probably lives here! Okay, to be fair, when I visited, snow had just begun to fall and there was fresh snowfall on the ground. But in all seriousness, it's hard not to fall in love with Zermatt.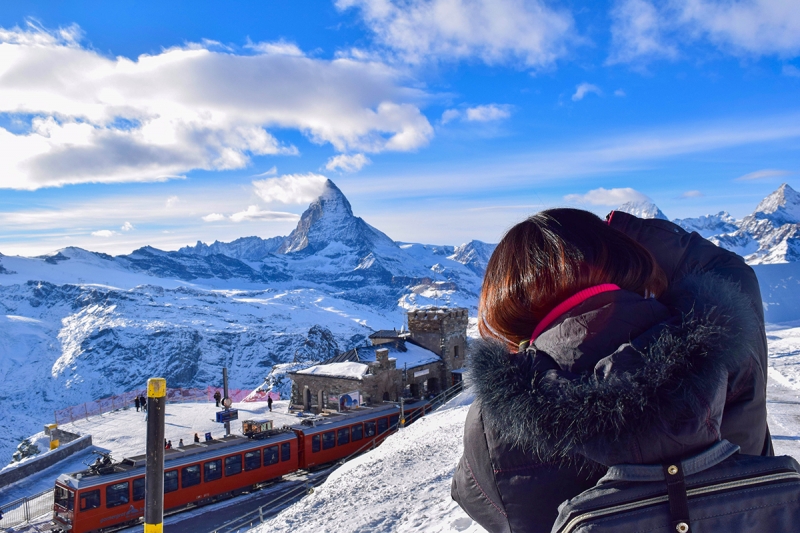 As mentioned earlier, there are no fossil-fuel vehicles in the area, which means you'll be able to enjoy the crisp alpine air in Zermatt as much as you like! The main attraction in this fantasy-like town is Gornergrat, a rocky ridge of the Pennine Alps, overlooking the Gorner Glacier. More famously, it is home to the Matterhorn! If you don't recognise the majestic Matterhorn from the postcards, then you'll definitely recognise the peak from Toblerone chocolate wrappers!  
7. The Rhine Falls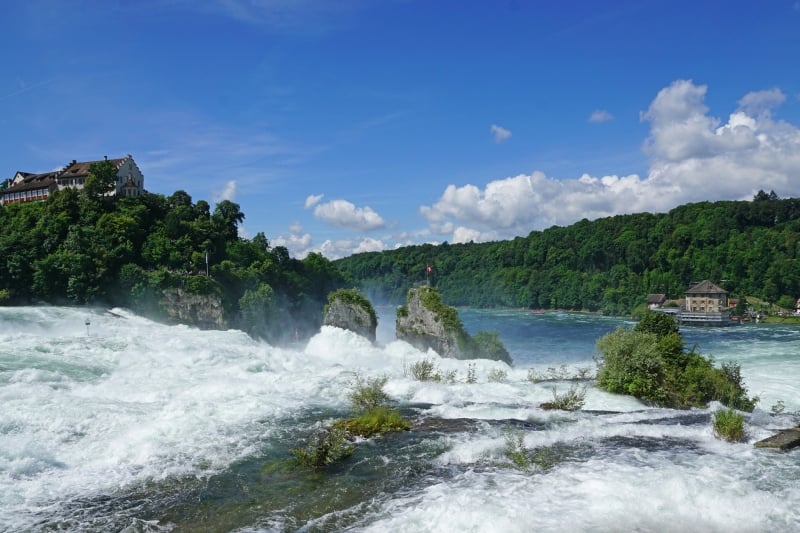 The Rhine Falls (Rheinfall to the locals) is located at Schaffhausen and is the largest falls in Central Europe, spanning 150 meters! To visit this majestic natural wonder, I'd recommend visiting between June and July. This is when snow on the mountain melts, leading to a swell in the volume of the water. 
It is truly a sight to behold as the gushing water spills over a 21-metre high ledge. Supposedly, the limestone which makes up the iconic ledge dates back to the Jurassic era! Of course, an unforgettable boat trip should be on your agenda here. Not only do you get excellent views of the thundering falls up close, but you can also admire the scenic views on both sides of the river shore.
8. Swiss National Park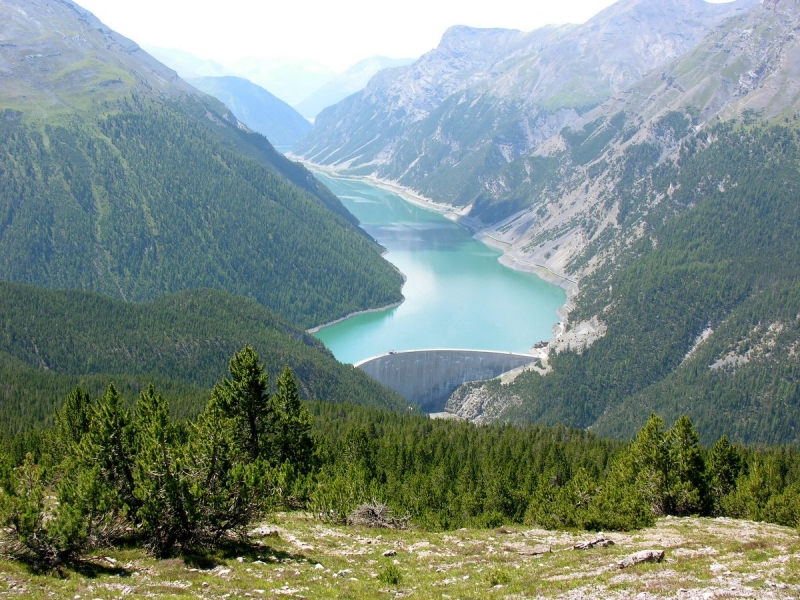 You must be thinking, if Switzerland has so much beautiful natural scenery, are there any national parks to visit? Of course the answer is a resounding yes! And the one national park you shouldn't miss is Swiss National Park (duh!). 
The park was founded in 1914 in the Engadine Valley. Believe it or not, it is the oldest reserve in the Alps and one of the biggest, stretching over 170 square kilometres. It is home to enigmatic pine forests, pristine flowing rivers, limestone crags and a plethora of flora and fauna. There are also a multitude of trekking trails which can bring you close to many of the lovely wildlife that call this place home, including deer, ibex, foxes and more than 90 species of birds!
Unique Experiences
Now that we've talked about the must-visit places, what about some of the must-try experiences? Well, there are actually plenty! Too many to count even. But from my personal bias, I think these five activities are definitely not to be missed! 
1. Crafting your own chocolate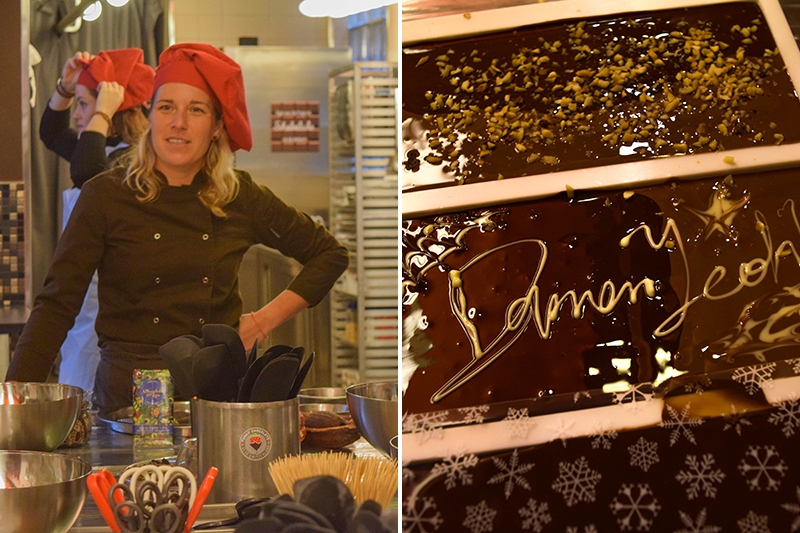 Hmm…is there anything more sinfully delicious in this world than Swiss chocolate? Apparently, yes! While it's always nice to indulge in Toblerone and Lindt chocolates, it's even better when you make your own artisan Swiss chocolate!
In most tourist towns and cities, you will find plenty of chocolate shops such as Funky Chocolate Club in Interlaken which offer short, 2-hour long workshops which teach you the skills to be a master Swiss chocolatier! You'll usually start with a taste test before learning how to make your own unique chocolate bar from scratch! And of course, you'll be able to sample the fruits of your labour at the end of the day! Just try not to eat it all before you get home. 
2. Hop on a magical scenic train ride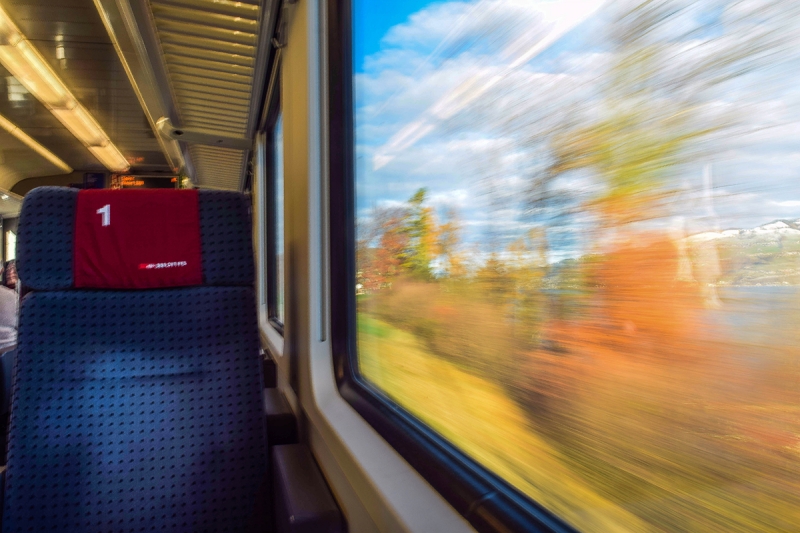 It's no secret that a train ride in Switzerland are an attraction in and of itself. Featuring large panoramic windows, trains in Switzerland pass through plenty of alluring scenery as they go from point A to point B. Trust me, you'll want a window seat for sure! 
Even more impressive are the trains that take you up the alpine mountains (such as Zermatt to Gornergrat)! As you leave the confines of the city behind and ascend, watch as the cityscape magically give way to mountain vistas in your window! There are also special train routes specifically designed to allow passengers to enjoy the view, such as the famous Glacier Express! 
3. Skiing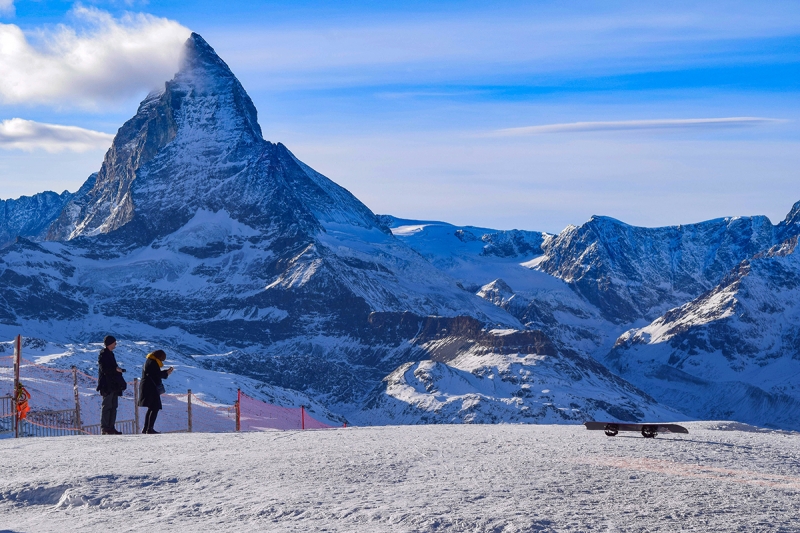 This one's a no-brainer, isn't it? With so much glorious snow and luxurious ski resorts throughout the country, of course skiing has to be on your agenda! In fact, most tourist towns that offer the activity also offer ski equipment rentals, so you don't have to worry about bringing your own! 
And even though the best time for skiing is between December and January, there are some places, like Jungfraujoch, where you can even ski in the summer! Now that's an incredible story to tell! 
4. Sample the best cheeses in the world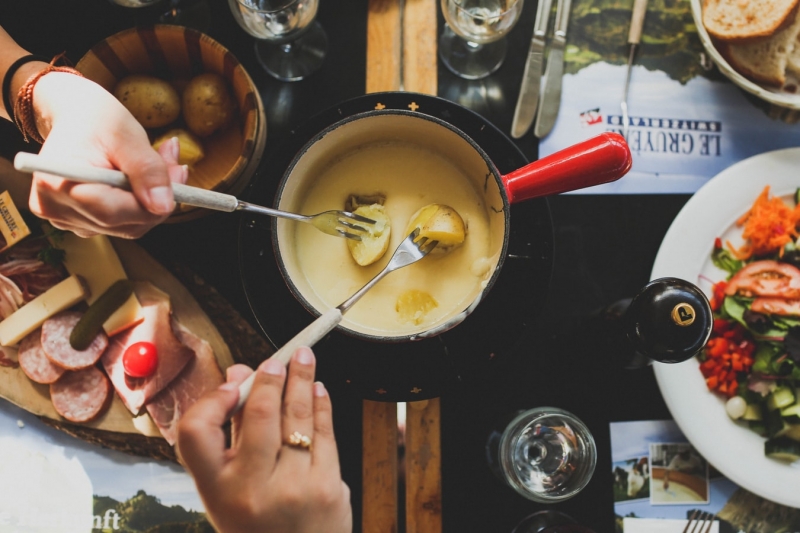 Apart from their chocolates, Switzerland is also known for producing some of the tastiest cheeses in the world! It's so good in fact that most of their national dishes involve cheese in one way or another. Perhaps the most popular dish most tourists want to try is fondue. Think of steamboat, except instead of boiling soup, you have a pot of molten cheese! And on the side, you have fresh bread and boiled potatoes to dip into the gooey goodness! 
Less well-known is raclette. It's basically a simple dish of potatoes, bread, maybe some gerkin topped by freshly melted cheese that's scraped off the wheel. Basically, it is the Swiss version of cheese banjir, so simple yet so satisfying! 
5. Throng the ambient Christmas markets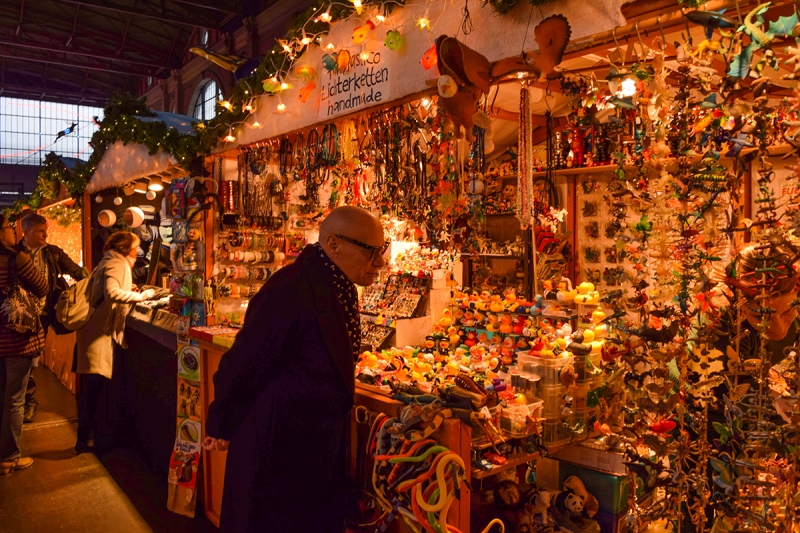 Okay, hands up, I have to say that probably no other nation does Christmas markets better than Germany. However, the Swiss certainly give them a run for their money! Although often not as large scale as the ones in Germany, Christmas markets in Switzerland are equally ambient and a lot of fun. 
You get to sample plenty of seasonal snacks, such as mulled wine and cookies and also shop for Christmas trinkets and souvenirs. In Zurich, the market is often set up in mid-November in Zurich Main Station. And the star of the market is the elegant Swarovski crystal tree which stands, shimmering in the middle of it all. If you're ever in Switzerland for Christmas, you don't want to miss this! 
Pack your bags, Switzerland is calling! 
And there you have it! A complete guide to Switzerland for Malaysians! Although there's plenty of stuff that we've yet to cover (look out for our food article coming soon!), this should be enough to help you get started on your planning! So get to work, the year-end holidays are coming soon and that's the best time to visit Switzerland! 
Also read: 22 Helpful Tips You Need To Know Before Travelling To Europe