If you read into history of South Korea, or if you watched the Korean movie "A Taxi Driver" that was released in the year 2017, you would have probably heard of Gwangju and its storied history. But in recent years, Gwangju has developed into a lovely little city, and it is definitely worth visiting for a couple of days or more!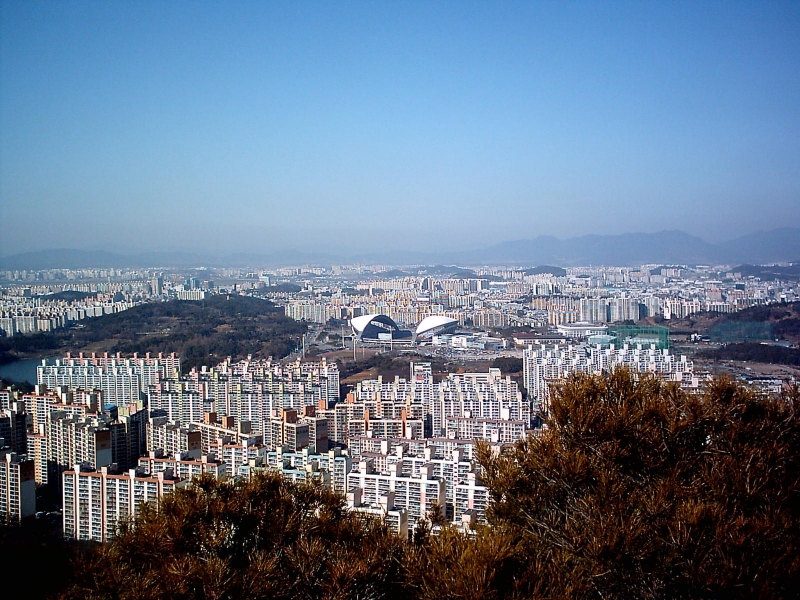 Like any other city in South Korea, the best time to visit Gwangju depends on what kind of experience you're looking for. That being said, autumn is the perfect season to visit for the cool temperatures and clear skies. You can also expect some festivals during this season too!
Trivia: Did you know that Gwangju means 'the province of light' in Korean? 
How to get to and around Gwangju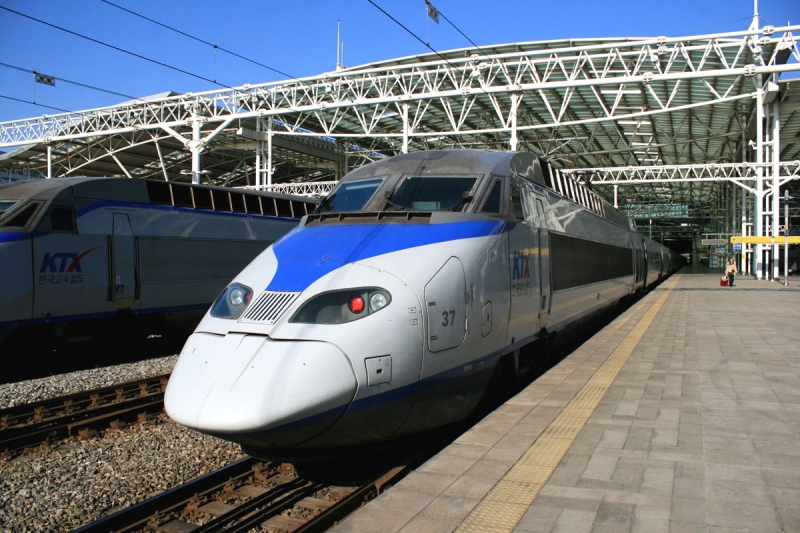 Located in the southwest of South Korea, it is quite easy to reach this sixth-largest city in the country. The fastest way is to take a domestic flight which only takes around 55 minutes from Seoul, or 50 minutes from Jeju Island. However, there's a possibility that flights to Gwangju may be phased out in the future, so it is recommended that you check ahead. 
Alternatively, you can also consider to travel by rail. KTX trains will take only about two hours from Yongsan Station in Seoul, and will cost approximately KRW 47,000 (RM 167). Although there are cheaper trains that cost around KRW 30,000 (RM 107) or less, they take a longer time compared to buses, and hence are also more expensive. 
Travelling by bus from Seoul will take about three hours and costs only about  KRW 17,600 (RM 63) for a standard bus, and KRW 37,200 (RM 132) for a limousine bus.
Once there, it's quite easy for you to get around in Gwangju, as there are subways, buses, and taxis. If ever in doubt, the Naver Map app comes in handy. Or you could always approach a local to ask for directions! It's a good way to make new friends too.
Places to visit in Gwangju
Although it is not as big or busy as Seoul or Busan, Gwangju is in no way any less charming. Here, you can expect to find plenty of delicious food, lively venues, and beautiful landscapes. 
1. 5.18 Memorial Park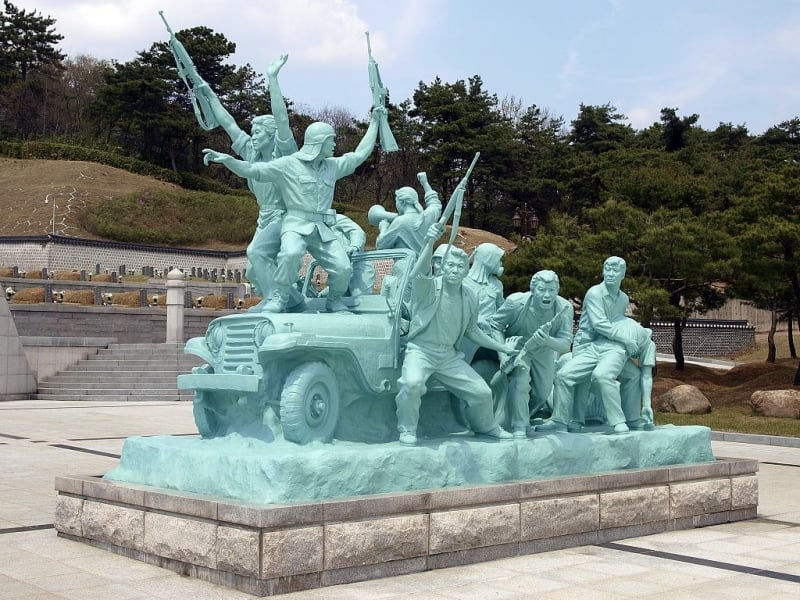 If you want to gain deeper insights into the history of the May 18th Gwangju Uprising, this memorial park is the place to start. Here, you can visit various historical and cultural locations, including a library, cultural centre, education center, Daedong Plaza, Owoldae Tower, and Mugaksa Temple. You can easily spend a whole day exploring this memorial park, soaking up the peaceful atmosphere, and understanding the history of Gwangju. 
2. Sajik Park Observation Tower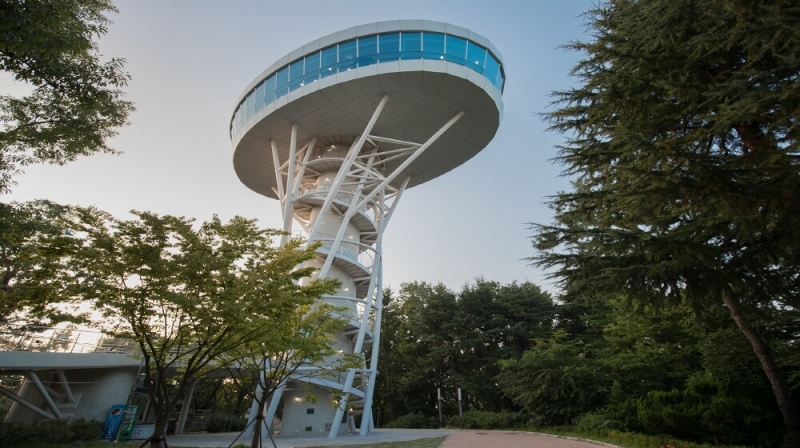 One of the best ways to fully appreciate the beauty of Gwangju is to admire a bird's eye view of the entire area. And you can do exactly that at the Sajik Park Observation Tower! And since the observatory is open till night, this is the perfect spot for photography enthusiasts to capture the sunset and night cityscape. What's more, entry to the tower is free!
Surrounding the tower is Sajik Park, in which you can find other landmarks, such as the Monument to the Sacrifice of Police Officers in the Yeosu-Suncheon Rebellion and the Korean War, Yangpajeong Pavilion, Gwandeokjeong Pavilion, and a multi-purpose sports field. If you happen to visit Gwangju in April, you even have the chance to see the cherry blossoms in full bloom. 
3. 1913 Songjeong Market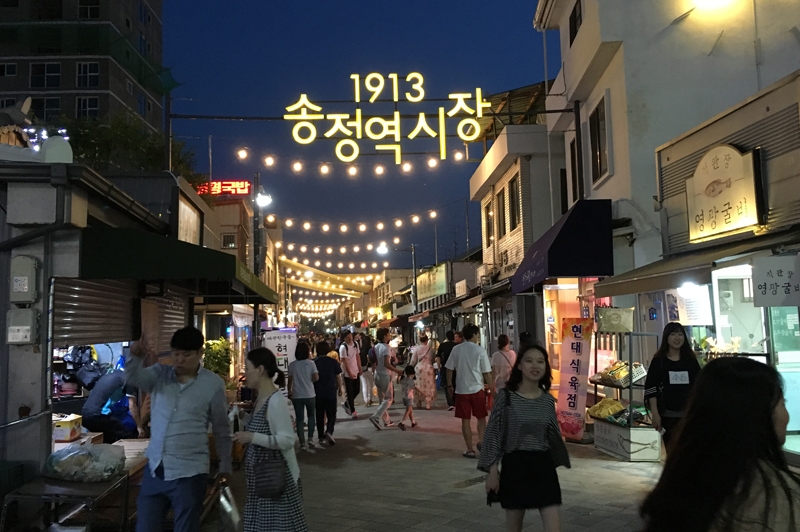 As the name indicates, this market has been around since the year 1913. However, due to the emergence of modern retail and shopping malls, this market was losing out in the competition, which resulted in several shops closing down. In recent years however, due to efforts to revive this cultural gem, the market has gotten more lively than ever! 
Located just next to Gwangju Songjeong Station, this trendy and vibrant market makes a good spot for photos, and amazing food and coffee. Apart from the modern twists, you can feel the nostalgia of the century-old market with the presence of the mom-and-pop stores and Korean traditional food. Make sure to visit the market at night to get the best experience. 
4. Chungjang-ro Street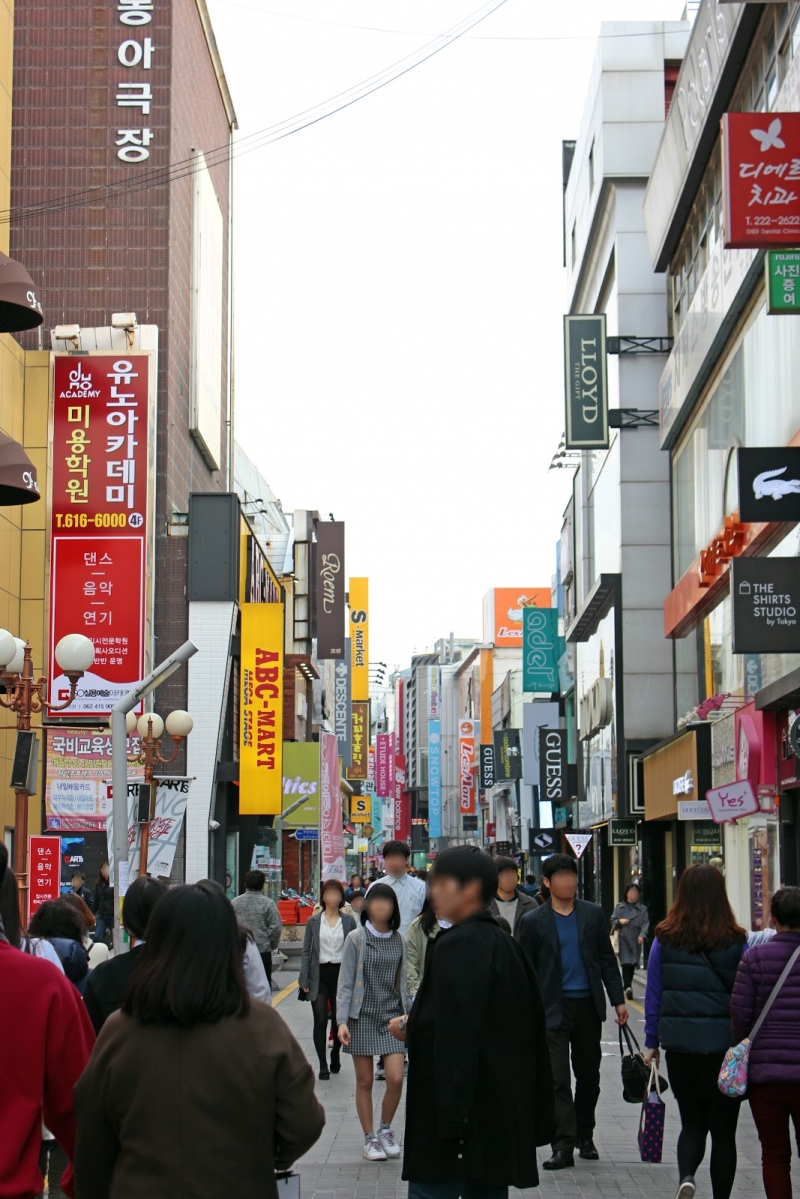 Now if you're up for some shopping and more modern shops, Chungjang-ro Street is where you can find all the things you need, from cafes and fast food, to fashion and phone accessories. Take your time to browse every store for the cutest souvenirs and watch the street performers show off their talents. 
It is often compared to Myeongdong of Seoul, and you can easily spend an entire evening here. The only thing that's limiting you is your wallet. 
5. Yangnim-dong Penguin Village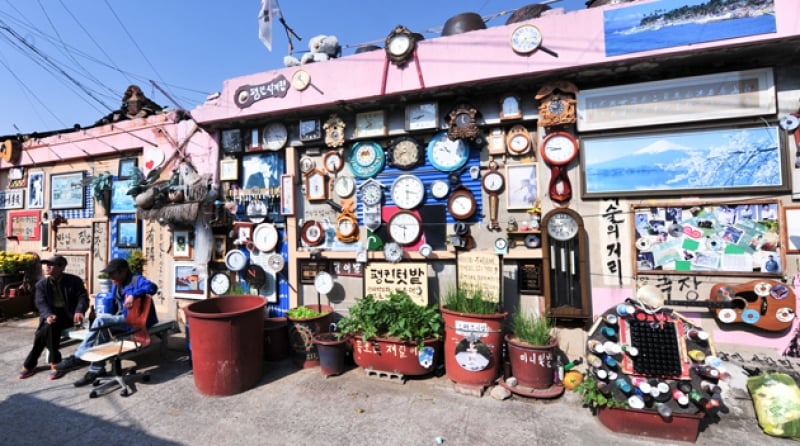 Despite the name, a wild penguin won't appear in this village. It is apparently named after how the elders walk in this village that is comparable to that of a penguin. Not sure how true this may be, but it is certainly an interesting place to visit. 
Here you can find all kinds of vintage items, knick-knacks, and discarded household items transformed into pieces of decoration on the walls of the buildings. Of course you can still find murals of penguins, and gas tanks decorated as penguins. Just not real penguins.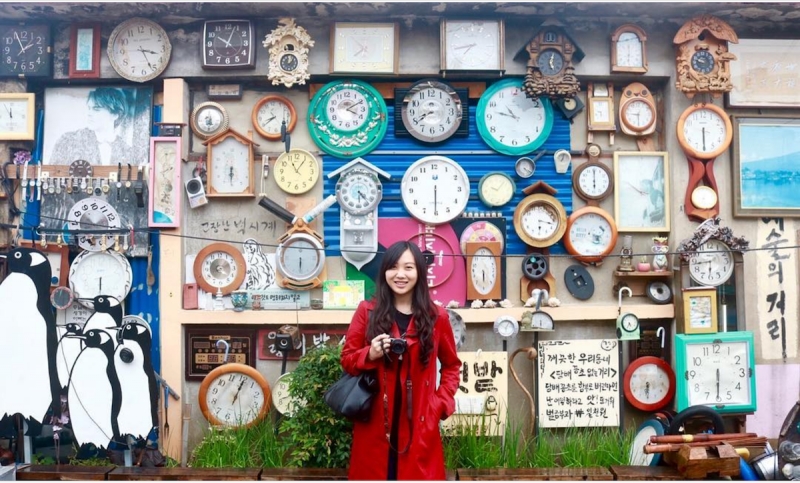 Spend some time exploring this area, and get all those Insta-worthy shots. It is a really cute and pretty place, you'll probably enjoy it more than you would expect. You may even be inspired to try out some DIY projects as well.
6. Songjeong Tteokgalbi Alley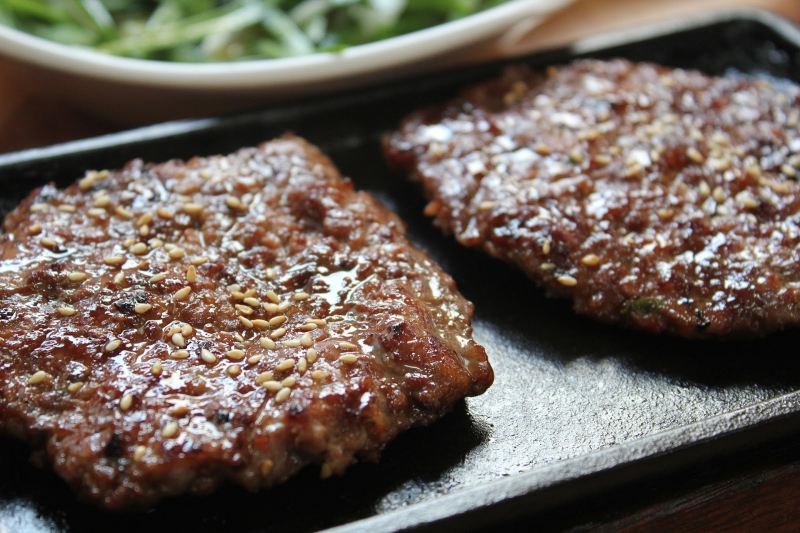 Tteokgalbi or grilled short rib patty is a hand-formed patty usually made with beef short ribs. However, in Gwangju, tteokgalbi is made with equal parts of minced pork and beef, mixed with pears, green plums, onions, and herbs, cooked over charcoal after being coated with a special marinade.It can be eaten on its own or with lettuce and other side dishes. Even just the description is making my mouth water! 
If you're keen on trying this scrumptious dish, you can find plenty of restaurants serving it along Songjeong Tteokgalbi Alley. All you have to do is just choose the one that catches your attention the most. Or you could just visit them all! Consider it a cheat day. It's not every day you get to enjoy such delicious meals, after all!
7. Daein Art Night Market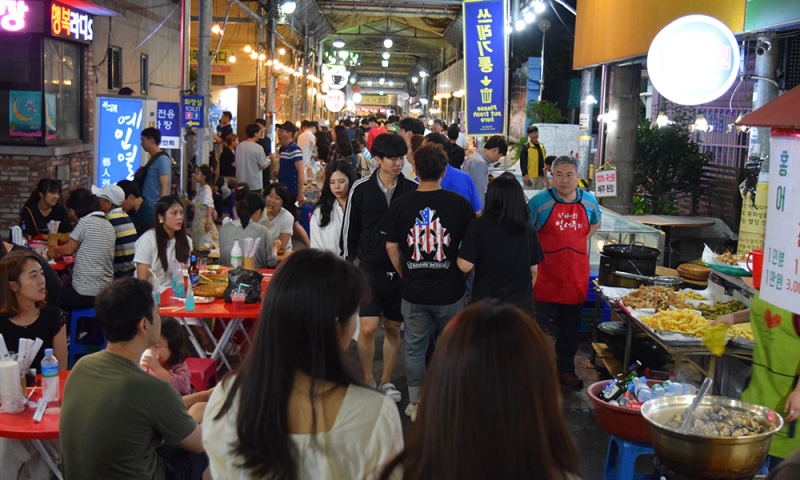 Sampling the local street food is a must whenever you're in South Korea. Needless to say, the same applies for Gwangju. You will find plenty of amazing food at the Daein Art Night Market that is open on certain Saturdays every month. 
From fried crabs and mung bean pancakes, to octopus skewers and cheap noodles, you can fix all your street food cravings in just one place! And yes, there are local artists, professionals and amateurs, who set up shops to sell all kinds of arts and crafts. While you're buying souvenirs for your friends and family, why not support the local talents at the same time?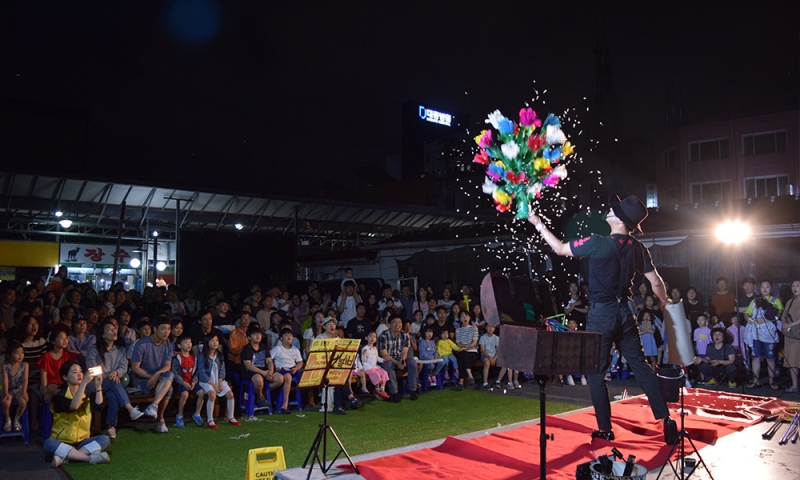 8. Dongmyeong-dong Cafe Street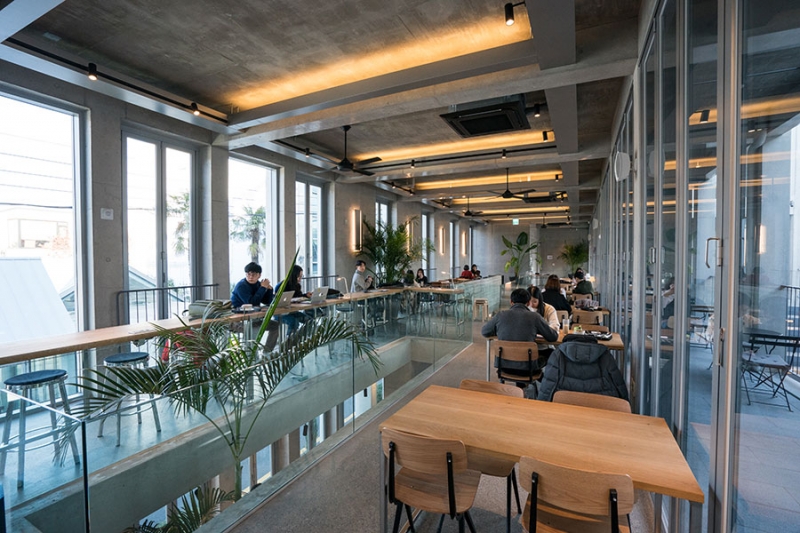 Coffee lovers, rejoice! One activity you certainly musn't miss in Gwangju is going cafe hopping at the ever-so-trendy Dongmyeong-dong Cafe Street. As you sip on a comforting cup of coffee, you can take all the Insta-perfect coffee shots to your heart's content. In fact, the exterior and interior designs of the cafes are just as mesmerizing! you won't be able to resist snapping tons of photos. 
If you've had enough of coffee, take some time to visit the Asia Culture Complex nearby, or the lovely open space Haneul Madang, or Gwangju Art Street.  There's so much to explore!
Getaways from Gwangju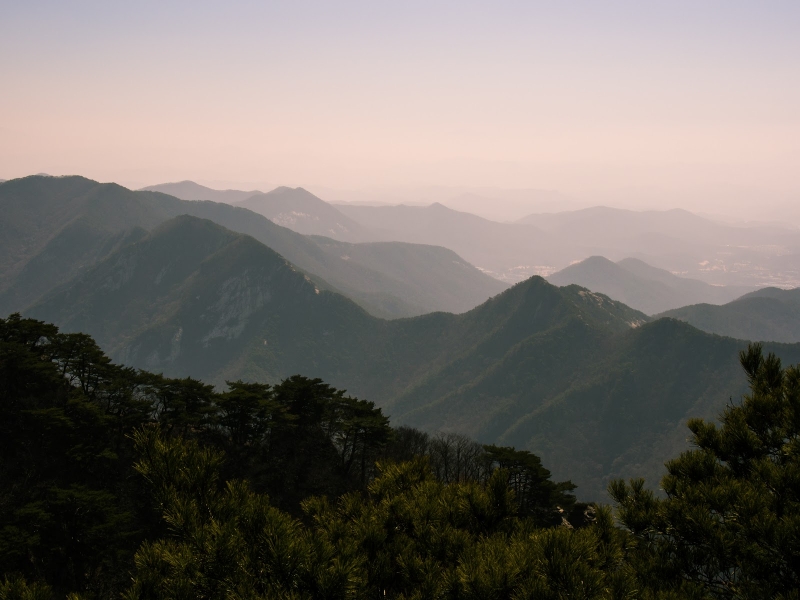 Although there's plenty to do in the city itself, Gwangju is surrounded by beautiful places that are worth checking out too. Thus, all the more reason to extend your stay in this lovely city by several days!
1. Damyang Bamboo Forest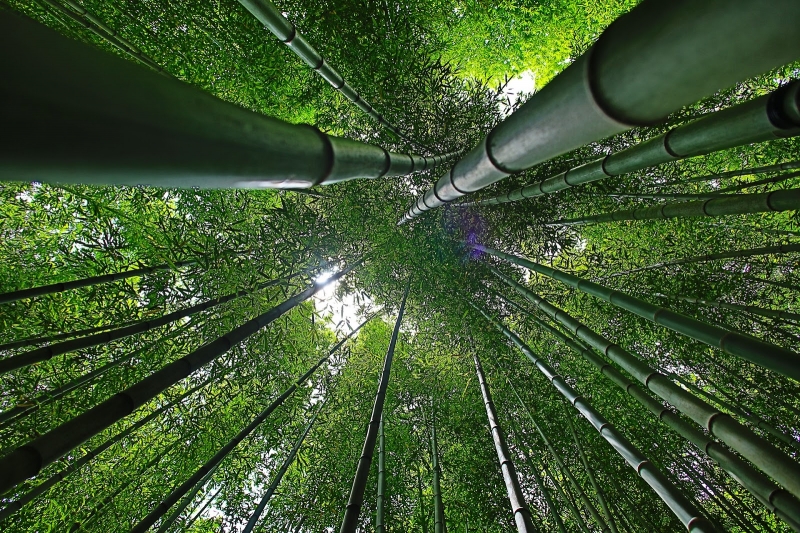 About 30 minutes by bus from Gwangju, Damyang Bamboo Forest is one of the must-visit places whenever you're in the city. Similar to Arashiyama in Kyoto, you will find a dense bamboo forest with hiking trails and a man-made waterfall that creates a very unique and peaceful atmosphere. 
The forest spans about 25 acres, and the bamboo stalks can be as tall as 20 meters! Standing in the middle of the forest surrounded by nothing but green bamboo shoots while enjoying the calming breeze will be an otherworldly experience. 
And while you're here, take the opportunity to try out some bamboo ice cream! Visually it looks like matcha ice cream, but it tastes nuttier and earthier than matcha. If you are eager to find out, you know where to look for this special treat!
If you have the time, make sure to also explore around Damyang to find daetongbap, a local delicacy in which rice and various nuts are cooked inside a bamboo stalk, and served with multiple side dishes. 
Pro tip: Make a slight detour if you can, and visit Metasequoia Road to find a 8.5-kilometer road lined with tall metasequoia trees. It is such a picturesque spot, it's almost magical.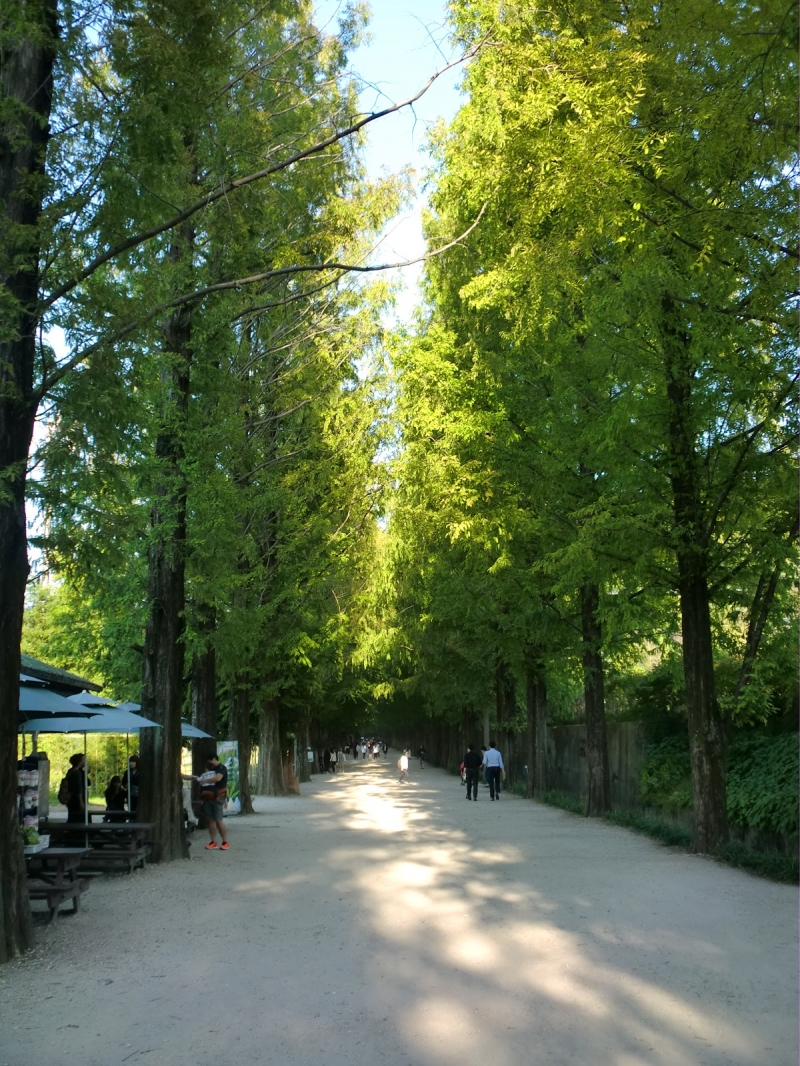 2. Boseong Tea Fields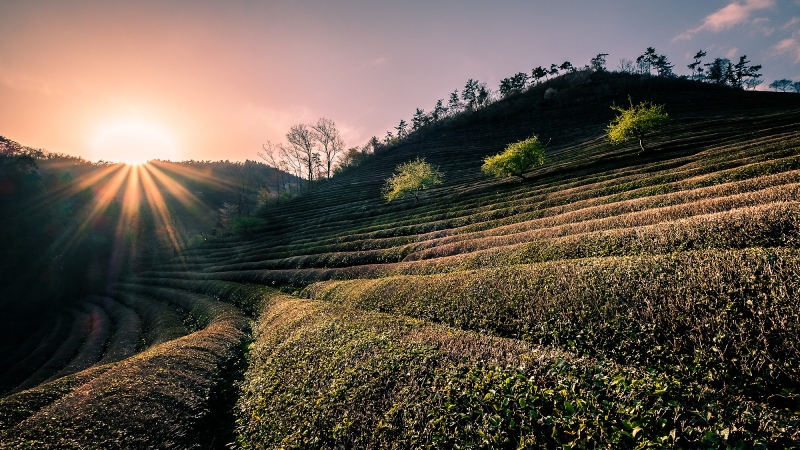 If we could have some bamboo ice cream, then surely we can have some matcha ice cream as well. For this, you have to visit the Boseong Tea Fields. Reachable by bus or train, it takes about an hour and a half to get here, and it's definitely worth a day trip.
Boseong produces nearly half the supply of South Korea's tea! Therefore, you can expect to see a stunning landscape of tea fields on the mountain side, as well as the surrounding region from the top.
Yes, you can climb to the top to have an unobstructed view to the distant sea on a clear day. There are several green tea fields that you can wander through, but the most famous one is Daehan Dawon Plantation. There is a small admission fee of KRW 4,000 (RM 15) but that is a small price to pay for an incredible experience.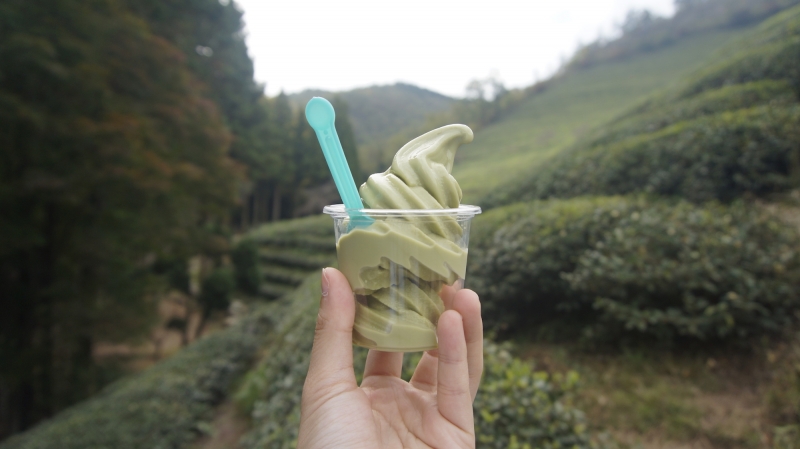 After all that, don't forget to have some matcha ice cream before leaving. You may even have the chance to taste green tea jeon (Korean pancake) and green tea noodle soup! Now no one can say you're not eating enough greens! 
Festivals in Gwangju
Last but not least, one of the many ways to truly immerse yourself in the local experience is to attend or even participate in the local festivals. Festivals are usually to highlight or celebrate a unique aspect of the local culture after all. And festivals in Gwangju are truly remarkable!
1. Gwangju Kimchi Cultural Festival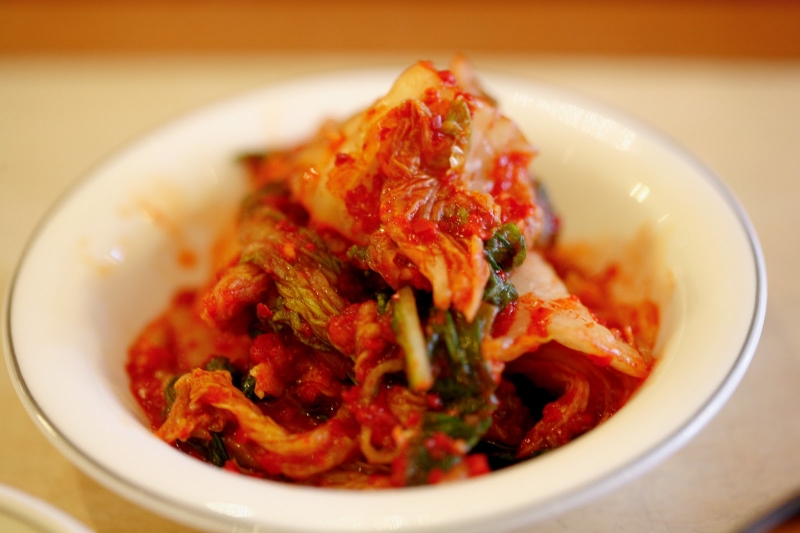 If you don't already know, Koreans love kimchi very much. They love kimchi so much an average Korean consumes about 18kg of kimchi every year!
Did you know that there are actually quite a few varieties of kimchi? And the best way to sample them all is to attend Gwangju's Kimchi Cultural Festival that is held every October! You can also learn how to make your own kimchi, participate in cultural activities and sports, and watch live performances. Kimchi lovers, you don't want to miss this event! Oh, and don't forget to say "Kimchi!" when you're taking photos. 
2. 7080 Chungjang Memory Festival Korea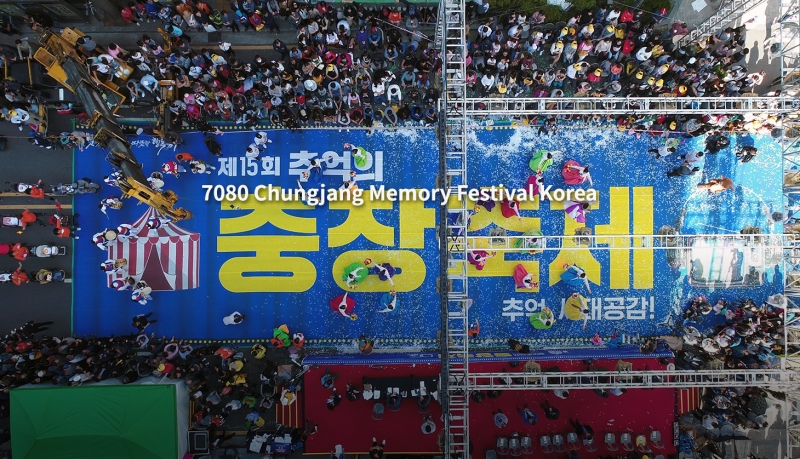 If you ever wondered what Chungjang-ro Street in Gwangju was like in the 70's and 80's, then this festival is where you can get a glimpse. Also held every October, the primary theme of the festival is to bring back the nostalgia of the old days, offering memories to the old, and knowledge to the young. Expect to see live performances, exhibitions, parades, hands-on activities, and lots of fun! 
For more up-to-date information on more local events, visit the official website here.
As you can see, although Gwangju is not as well-known as Seoul or Busan, it still has plenty to offer to visitors and locals alike. Spend some time in this underrated city, and you might just fall in love with it. I know I did!