I'll be the first to admit, I don't often head to the cinema to watch local films. In fact, I could probably count off all the Malaysian films I've watched in the past five years using my hands, and that includes a couple or more of those Chinese New Year flicks. 
However, one Malaysian film that I've been eager to watch since the first teaser was released was Daulat. Well, I finally got to watch it after it was released yesterday on iflix and it was awesome! So, knowing that almost everyone in Malaysia is stuck at home and that the cinemas won't open until at least May, I'm doing my civic duty to recommend this must-watch film to you!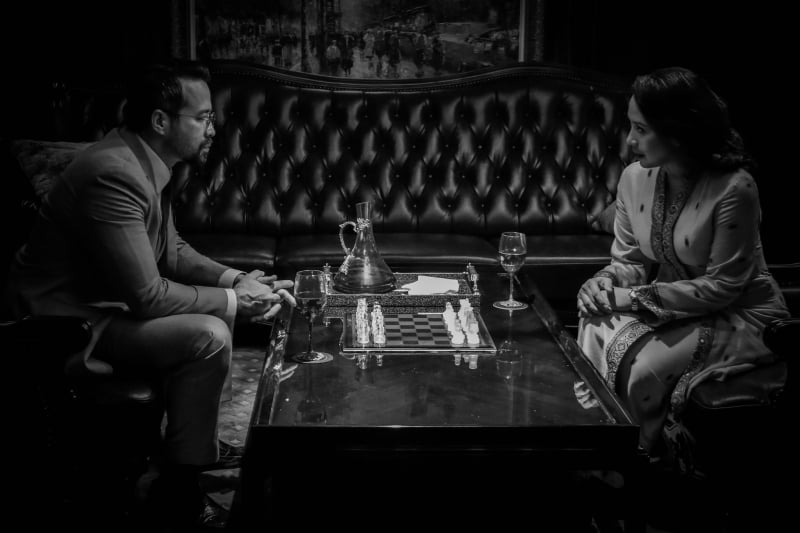 What is Daulat? 
It's an exciting political thriller based loosely on Malaysia's current political landscape. The official runtime is 1 hour and 42 minutes, features a plethora of fantastic performances and stars local actress Vanida Imran as the lead character. The film is mainly in Bahasa Malaysia and English. Here's a sneak preview for you: 
"Langkah pertama kita untuk dapatkan balik takhta, kita kena kukuhkan tapak."Watch the sneak peek #DaulatMovie, where manipulation and schemes in Malaysian politics are shown directly on the screen.#LacunaPictures #PoliticalThrillerYoutube link: https://www.youtube.com/watch?v=LBpj1lMaJ8Y

Posted by Daulat on Monday, February 24, 2020
Where can I watch it?
You can only watch it on the iflix streaming portal. It's free and you do not need to register an account. It was released on Monday 6th April 2020 and is currently still available to stream. 
What is it about?
MUNA is a Malay-based political party that had just recently lost in the General Elections for the first time after 30 years in power due to the multiple corruption scandals that plague their leader (sound familiar?). Replacing MUNA as the new government WAWASAN led by a senior politician called Tun Malik (Tun? Hmmm…) who has promised to handover the post of Prime Minister to his deputy Ali Fahim. 
The film's main plot focuses on Suri (Vanida Imran), the first ever female deputy president of MUNA and her goal of reclaiming political power for her defeated party. 
Why should I watch it? 
@daulatmovie is THE malaysian art of filmmaking!

support our local filmmakers – watch DAULAT free on iflixhttps://t.co/z2a7IMIF0a

— vivian (@vivianyappp) April 7, 2020
For one, it's got a 94% approval rating on Google and a 9.2/10 rating on IMDB (at the time of writing). It also trended on Twitter just moments after its release. In fact, even as I write this, there are already calls for a sequel! 
However, apart from the social media buzz and critical acclaim, there's more to Daulat than just a clever play on Malaysia's political landscape. 
Backed by amazing cinematography, Daulat is a thrilling experience which offers viewers an eye-opening glimpse into the inner political dealings that take place behind closed doors. The stories that start out detached from each other are masterfully interwoven with the main plot, making Daulat a breathtaking film that's both pleasing to the senses and stimulating for the mind. 
Daulat ; its a such perfect film. Please make the 2nd Daulat. #DaulatMovie pic.twitter.com/xgvJ6ADS4U

— Budak Coway Kene Kuarantin (@iamazrulanuar) April 7, 2020
From intricate political maneuvering and uneasy alliances to media exploitation and even blackmail and murder, the entire film plays out like an exciting Machiavelian chess match filled with plot twist after plot twist, after plot twist. It's a nail-biting affair from start to finish and I thoroughly enjoyed it. Vanida Imran especially stole the show and her being cast as the leading character was a masterstroke. The character she portrayed was cunning, highly intelligent, and a true femme fatale (and no, there was no use of Doraemon voices needed). 
However, the one disappointment I did have with the film was the runtime. At 1 hour 42 minutes, some of the more delicate parts of the plot felt a bit rushed. Don't get me wrong, the premise of all the different subplots were perfect. I just wish the movie had a bit more time to properly develop each of them and them the proper crescendo they all deserved. But apart from that, I definitely recommend Malaysians spare some time for this lovely local film. Come on lah, it's free some more! 
Any post-credits scene(s)?
Oh yes, there is one post-credits scene. But unlike Marvel  post-credits scenes that tease the next installment of the MCU, the scene in Daulat is a sombre, chilling monologue delivered to perfection by Vanida Imran. If I had to describe the scene in one word, it would be "powerful". 
Final score: 7.5 out of 10. Highly Recommended.