Hari Raya is just around the corner and Malaysians everywhere are waiting for the long weekend holidays to balik kampung! Aside from being able to spend some time catching up with family and friends, it's the perfect opportunity to relax, unwind, and recharge. This year, why not spend the holidays vacationing at tourist hot spots in and around the country or spend time planning your next big escape? 
To get you started, here are 20 of the top destinations (domestic and overseas) that you should add to your 2023 travel bucket list during the Raya holidays!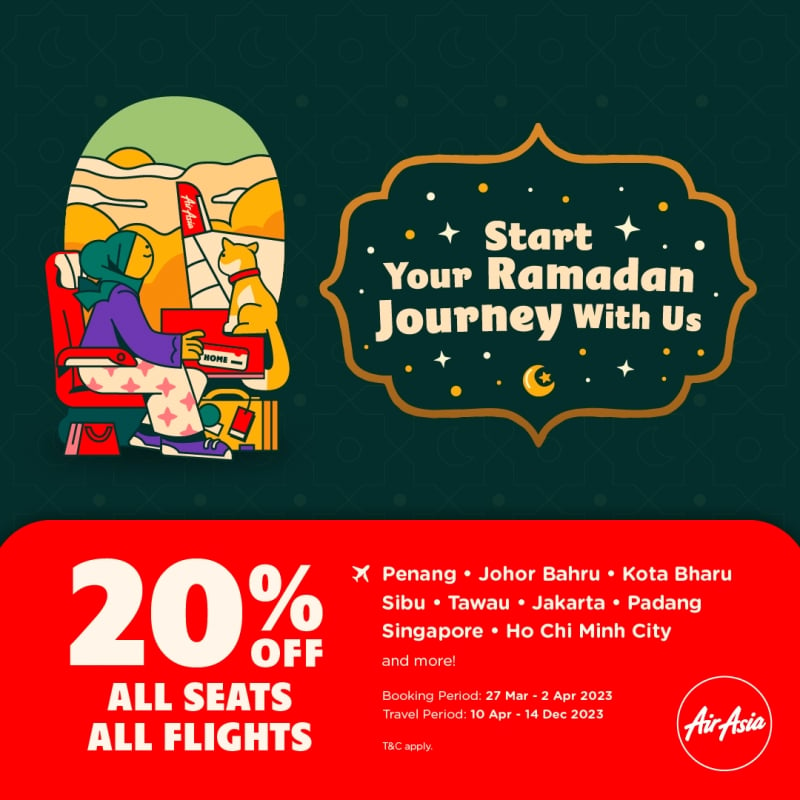 Embark on an epic getaway this Raya and beyond when you book your flights using the airasia Super App! Book now and enjoy 20% OFF All Seats All Flights to destinations like Penang, Langkawi, or Kuching, and international hot spots like Seoul, Taipei, Beijing, and more! In addition, you can save up to 20% when you book AirAsia's Value Pack (includes 20kg checked baggage, standard seat selection, an in-flight meal,
and travel insurance!) during the promo period!
 Booking Period: Now – 2 Apr 2023
Travel Period: 10 Apr – 14 Dec 2023
Best destinations to travel with your family
1. Penang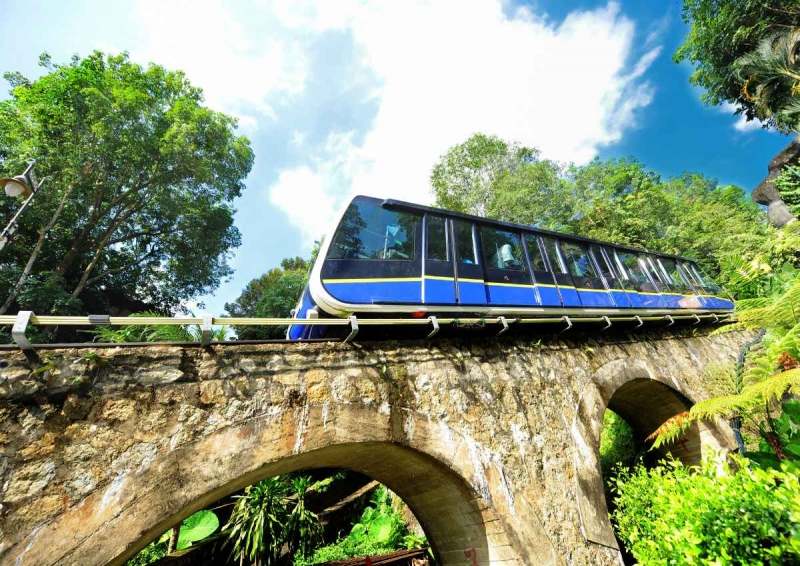 Penang is undoubtedly one of the best family-friendly destinations in Malaysia. Penang Hill is a must-visit, as is The Habitat, one of the best forest reserves in the country, located at the peak of Penang Hill.  
You could also bring your little ones to classic attractions like Entopia by Penang Butterfly Farm, visit quirky museums like Wonderfood Museum, or head to ESCAPE Penang to try out the world's longest tube waterslide and zip coaster! For something more relaxing head to the popular Batu Feringghi Beach for a chill day by the shore. 
For food, head to George Town, where you can find plenty of local eateries, artisan cafes, and more!
2. Kuching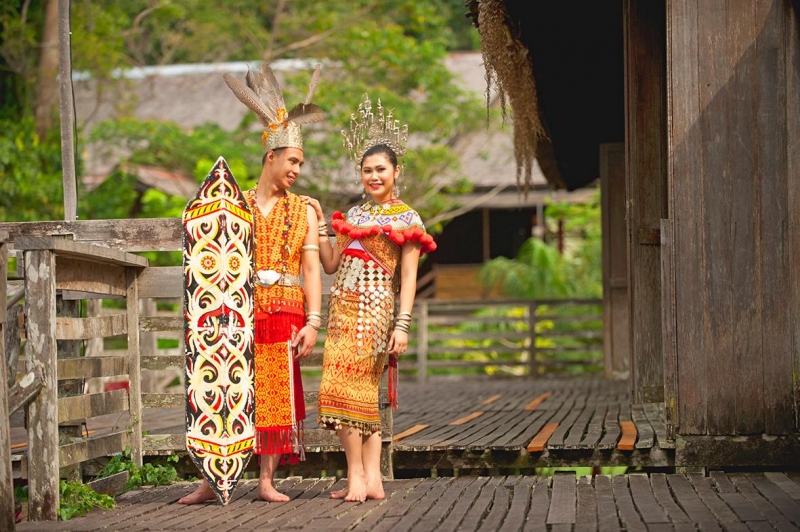 One of the best destinations for a family trip will always be Kuching, Sarawak. Head to Sarawak Cultural Village where you can learn about the unique cultures of different indigenous groups in Sarawak. Also, don't miss your chance to visit the Bako National Park and Semenggoh Nature Reserve for a chance to see some of Sarawak's native wildlife.
Bring yourself to the Cat Museum and learn more about your feline friends. Heads up, you'll likely encounter a 5000-year-old mummified cat from Egypt that resides within. Can't get enough of the city yet? Enjoy a cup of gula apong ice cream as you admire the scenic view of Astana and Fort Margherita from afar, all made available at Kuching Waterfront.
3. Johor Bahru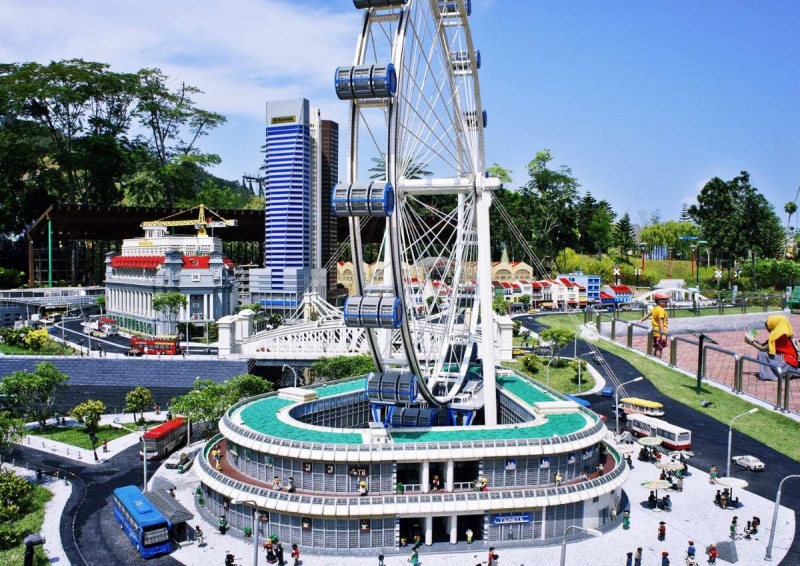 If you think Johor Bahru has nothing to offer, think again. One of the must-experience gems in this bustling city is the Tan Hiok Nee Heritage Street that lets you escape the heat thanks to its boutique cafes and antique shops. Perched 149m above ground is the famous JB Skyscape that allows you to witness the spectacular aerial views of Johor Bahru and Singapore all at once. 
And good news to all shopaholics out there as you can easily find branded items of your liking at Johor Premium Outlets (JPO). Also, don't forget to bring your kids to LEGOLAND, Malaysia's first international theme park, for some exciting rides and live entertainment.
4. Langkawi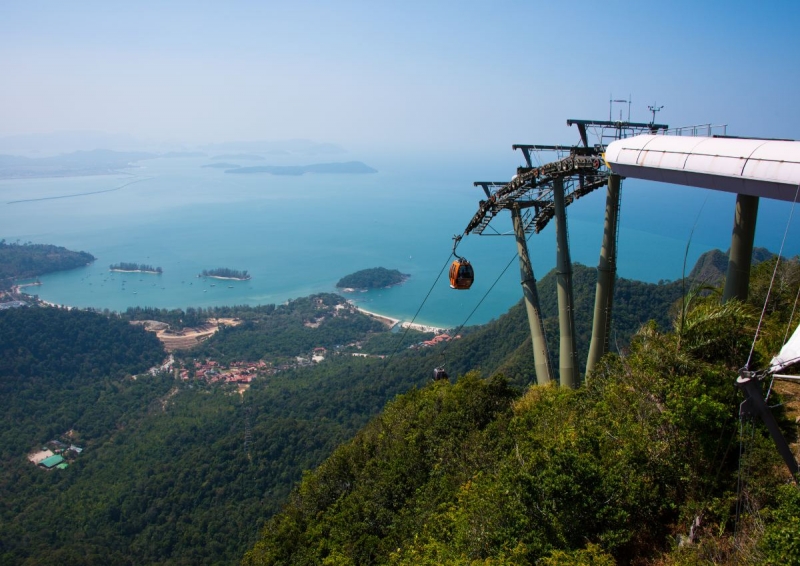 Also known as the Jewel of Kedah, Langkawi is a beautiful island that's one of the best family-friendly destinations in Malaysia. Bring your family to Dataran Lang and commemorate your vacation on the island with some worthy shots in front of the 12m eagle statue. Next up, head to the Langkawi Sky Bridge where you get to experience the world's steepest cable car that gives you the best vantage point to oversee the island. 
Your trip to Langkawi is incomplete without going to Pantai Cenang, a stunning beach blessed with over 2km stretch of white sand. 
5. Kota Kinabalu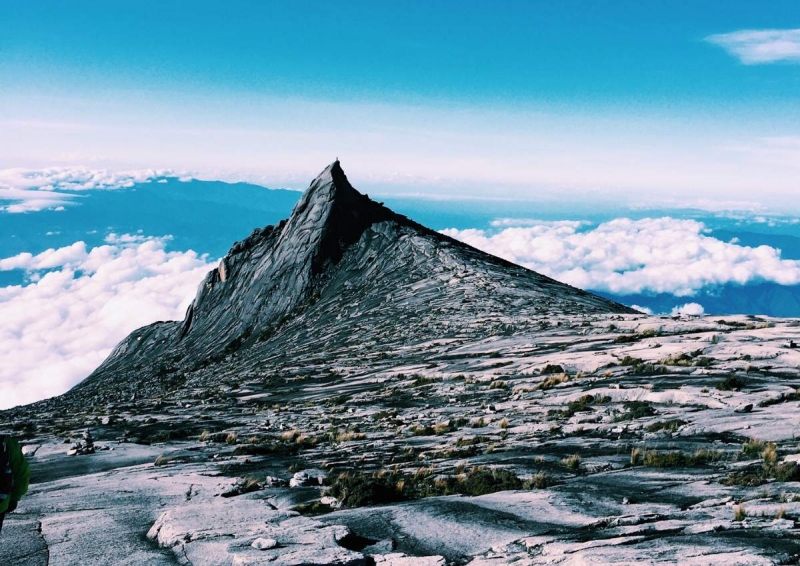 Kota Kinabalu also offers a variety of cultural attractions for you and your family. Be sure to explore the Mari Mari Cultural Village which displays Bornean ethnic culture as a living museum. For the adrenaline junkies, do try out all kinds of water activities from snorkelling to diving at Tunku Abdul Rahman Marine Park (TARP Islands).
You can also bring your kids to the highlands of Kundasang and enjoy the spectacular view of Mount Kinabalu from there. You can find the Alpaca Club where your little ones will have fun feeding the adorable animals! Also, bring them to Desa Cattle Dairy Farm and enjoy the alpine scenery at the 'Little New Zealand' of Sabah.
6. Hong Kong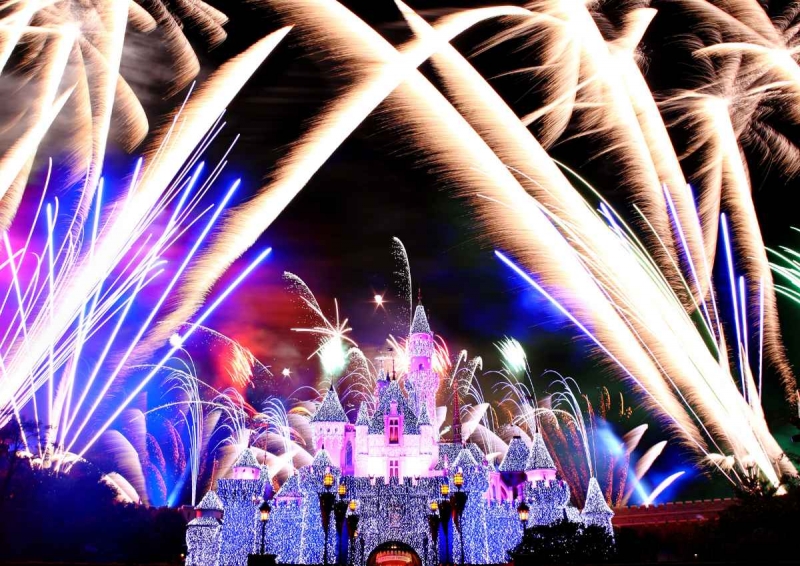 The high-rise metropolis of Hong Kong has some of the dreamiest attractions for tourists of all ages. To create the best memories with your kids, we recommend you bring them to Ocean Park for fun rides and a mini zoo or Disneyland for the most enjoyable theme park experience. You can also head to Victoria Peak where you can find even more unique attractions and sceneries. 
If you want to take in the 360-degree views of the city, hop on the indoor observation deck of Sky100 Hong Kong. Have some time to spare? Drop by the ambient Chi Lin Nunnery on Diamond Hill and immerse yourself in the tranquillity of the nunnery's nature-rich courtyard.
7. Gold Coast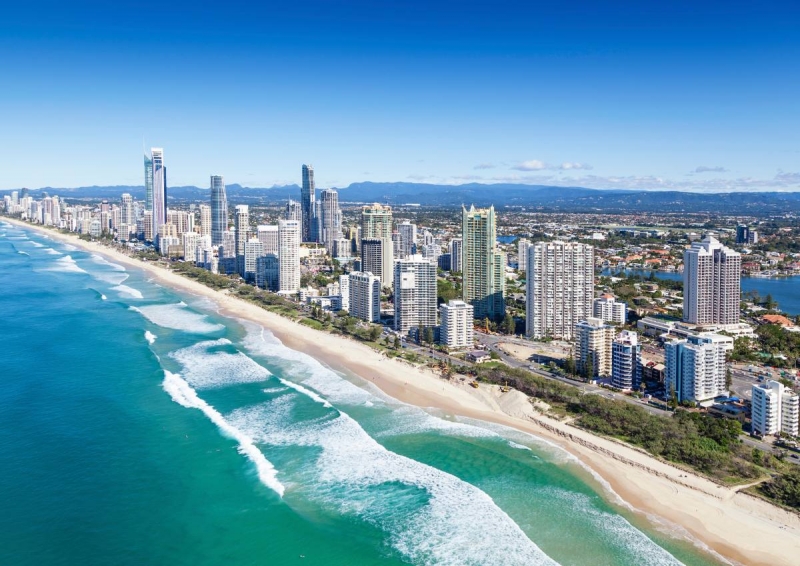 If you're looking for a spot that's ideal for long sandy beaches and water sports, Gold Coast is the answer. Kick off your trip by surfing the waves at Currumbin Alley (with waves suitable even for beginners) or enjoy the sea breeze as you lay on the beach with your family on Tallebudgera Creek. 
If you prefer coastal views, you can take a boat cruise along the Nerang River that lasts for an hour and a half or visit the Currumbin Wildlife Sanctuary, home to various indigenous species of flora and fauna.
8. Beijing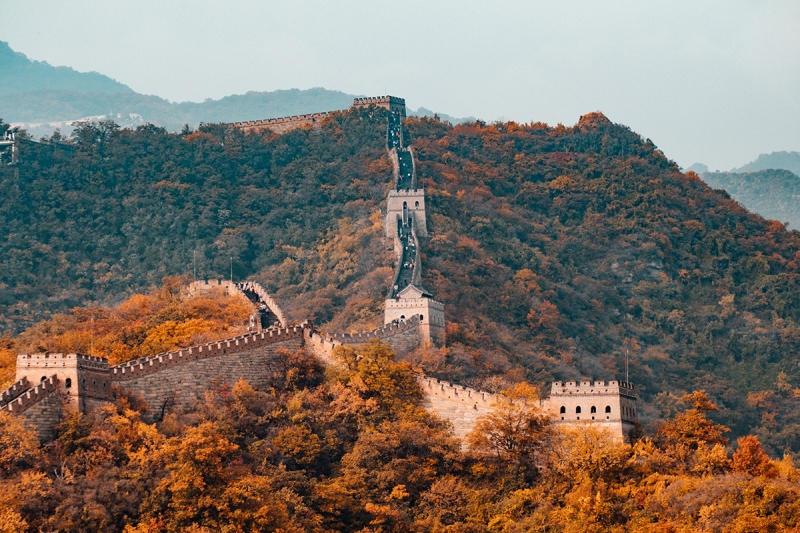 Beijing, the capital city of China, is one of the most popular destinations in the world, steeped in history and culture, whilst also boasting modern creature comforts that make it the ideal getaway destination for families. 
Some of the best locations to visit in Beijing when you're with your family include famous landmarks like The Great Wall of China, The Forbidden City (often the filming location of many period dramas), and the magnificent Temple of Heaven which dates back to the Ming Dynasty. 
For food, your little ones will surely enjoy the spectacle of watching Peking Duck prepared and served table-side. 
9. Singapore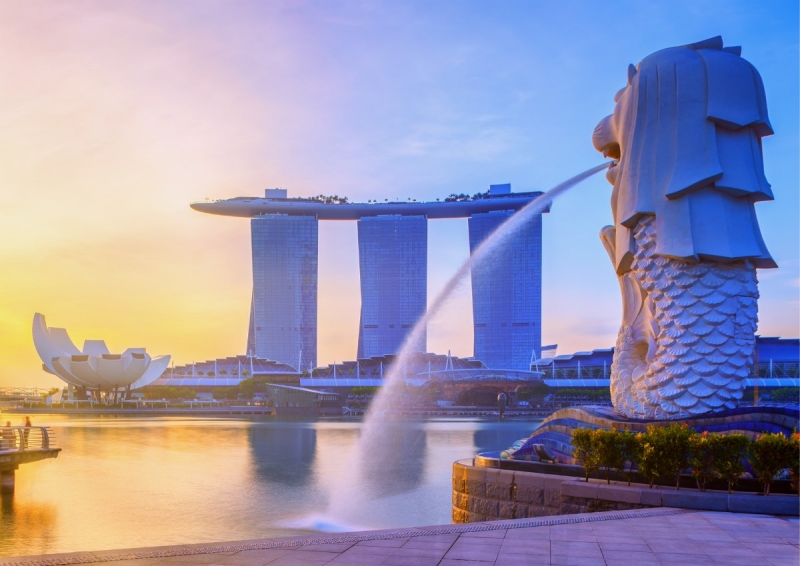 What better way to spend the long holiday than to fly to Singapore with your family? Start off your journey by snapping pictures with the iconic indoor waterfall at Jewel Changi before heading to the beautiful Gardens By The Bay and taking in the scenery there. 
Next, your young ones will be over the moon when you bring them to the famous Universal Studios Singapore and see them scream with joy as their favourite characters come to life and hop on exciting rides throughout the day! 
10. Krabi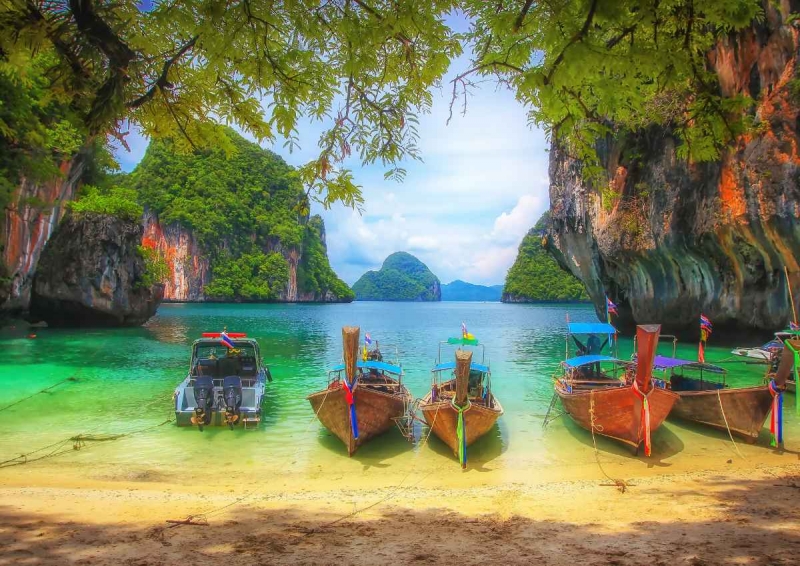 Krabi is a coastal paradise that'll fulfill your craving for an awesome beach vacation. As a starting point, go rock climbing over the spectacular limestone cliffs of Railay Beach. Then, take a dip in the marvelous Andaman Sea as you scuba dive at Ao Nang Islands and be amazed by the beautiful marine life underneath.
If you fancy a peaceful steam bath, make your way to Nam Tok Rawn hot spring with flowing fresh water between 40 to 50°C. Afterward, explore prehistoric caves with stunning stalactites and stalagmites in the Khao Khanap Nam Mountains before you munch down some tasty local foods in Koh Lanta Yai.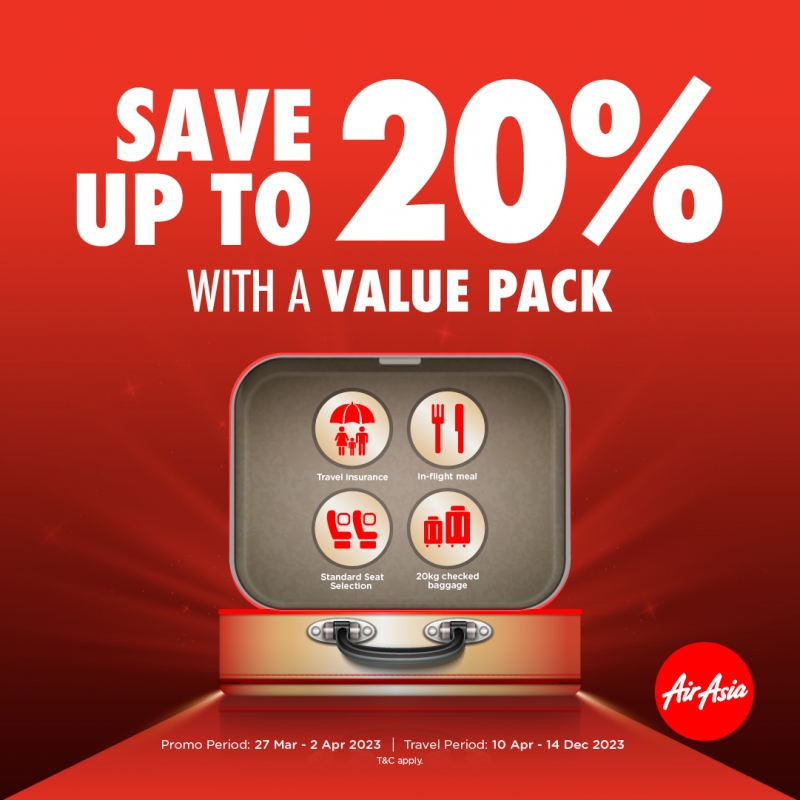 Embark on an epic getaway this Raya when you book your flights using the airasia Super App! Book now and enjoy 20% OFF All Seats All Flights to destinations like Penang, Langkawi, or Kuching, and international hot spots like Seoul, Taipei, Beijing, and more! 
What's more, you can book now and save up to 20% on the Value Pack, which includes 20kg checked baggage, an in-flight meal, and more!
 Booking Period: Now – 2 Apr 2023
Travel Period: 10 Apr – 14 Dec 2023
Best destinations to jet off with your BFFs
11. Tawau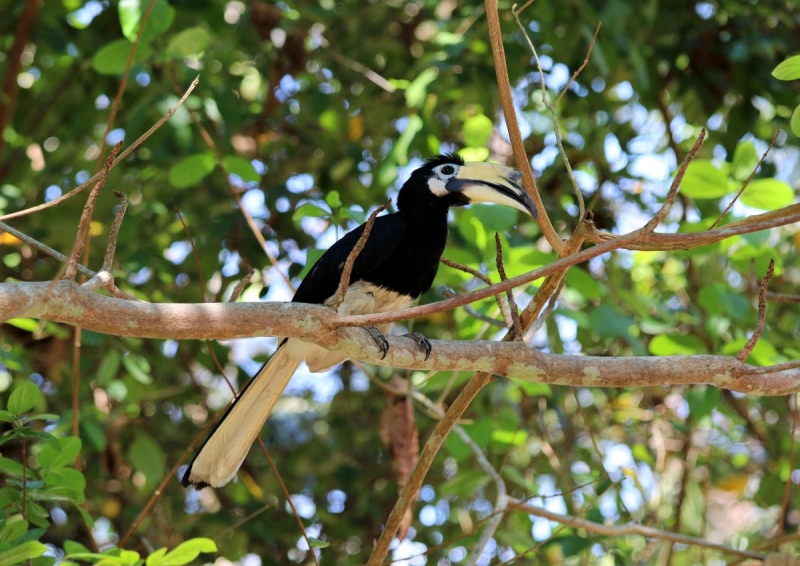 Be one with nature when you go to Tawau, the third largest city in Malaysia that also houses plenty of exciting natural sanctuaries. Kick off your day at Tawau Hills National Park where you will find hiking trails, hot springs, and scenic views of the surrounding rainforest. Afterward, resume your journey to the Maliau Basin Conservation Area, where you and your friends can embark on a guided trek to see some majestic waterfalls and diverse wildlife.
You can also enjoy some shopping at Tawau Tanjung Market and end the day by watching the sunset at Tawau Waterfront.
12. Sibu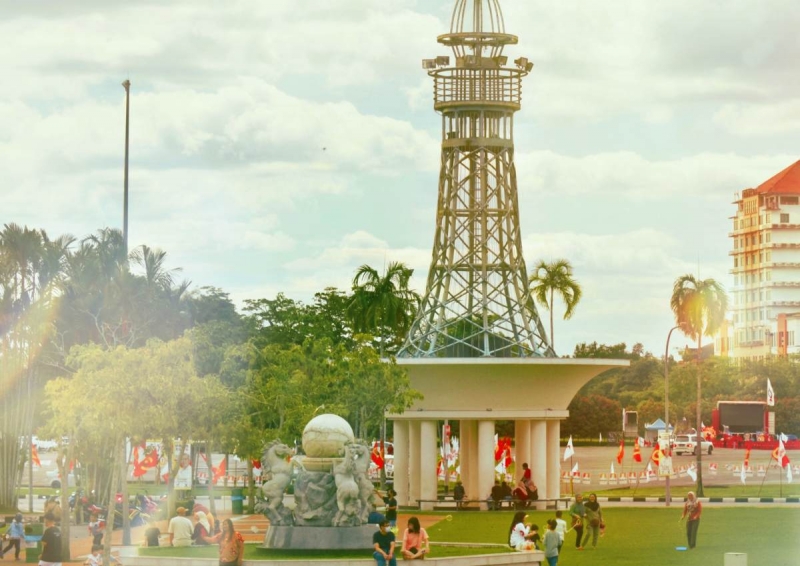 Sibu, Sarawak is the place to go if you're hoping for a relaxing vacation with your friends. To get to know more about this city, make your way to Sibu Heritage Centre. You'll be treated to an amazing cultural exhibition as you learn more about the history of the city.
Also, stroll along the peaceful Sungai Merah Heritage Walk if you have the time, or head to the Bukit Lima Nature Reserve and enjoy bird-watching in the peat swamp forest park. For the ultimate food trip with your buddies, make sure to try some of Sibu's delicacies like kompia, kampua mee, and of course, Sarawak Laksa! 
13. Padang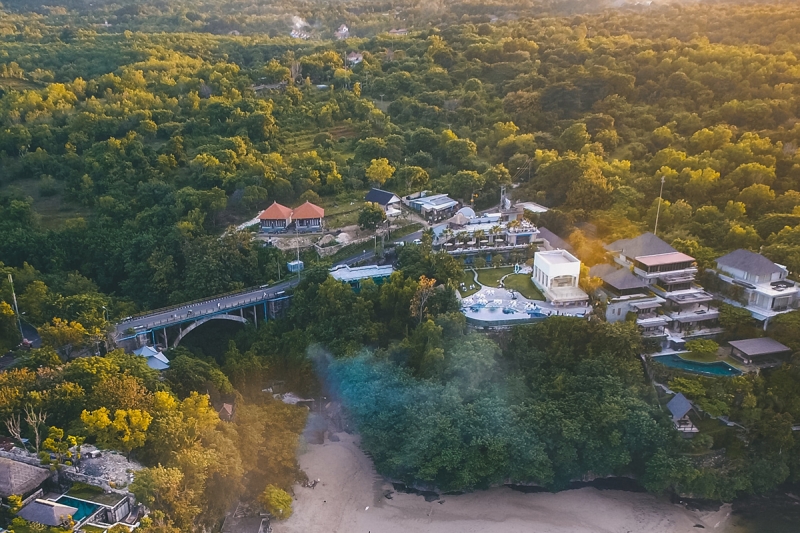 Known for its delicious cuisine and stunning beaches, Padang is a hidden gem located in West Sumatra that's perfect for a Ramadan-cation with your friends. 
One of the best things to do in Padang is to go island hopping between the islands of Cubadak and Pamutusan, both popular for their beautiful coastlines and pristine diving and snorkelling sites. You can also trek through the thick forest with your friends as you make your way to the famous cascading Lubuak Jalo Waterfall! 
For something more chill, you can soak up the sun on Padang Beach or visit the Pasar Raya Padang market for some delicious street food. 
14. Hangzhou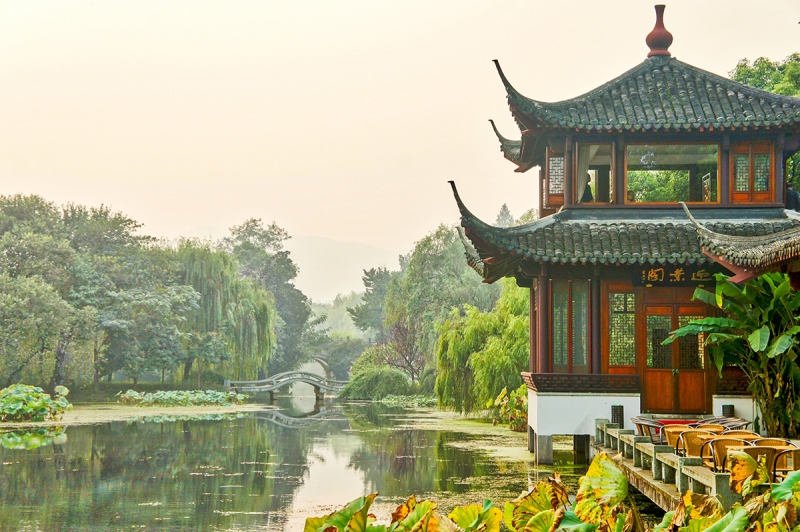 While not as well-known (yet) as locations like Beijing and Guangzhou, Hangzhou, located in Zhejiang Province, is one of the best-underrated travel gems in China. 
One of the first things you'd want to do with your buddies in Hangzhou is to visit West Lake to take in the lovely scenery and ambient surroundings. Next, head to Lingyin Temple, a famous religious site that's over 1,700 years old, or visit the National Tea Museum for a (literal) taste of Hangzhou's tea culture. 
If you're looking to get active, we recommend hiking at Xixi National Wetland Park, a verdant nature escape teeming with wildlife, or taking a day trip to the ancient Wuzhen Water Town. For food, hit up Hefang Street, a historic street lined with traditional shops selling snacks, souvenirs, and food. 
15. Seoul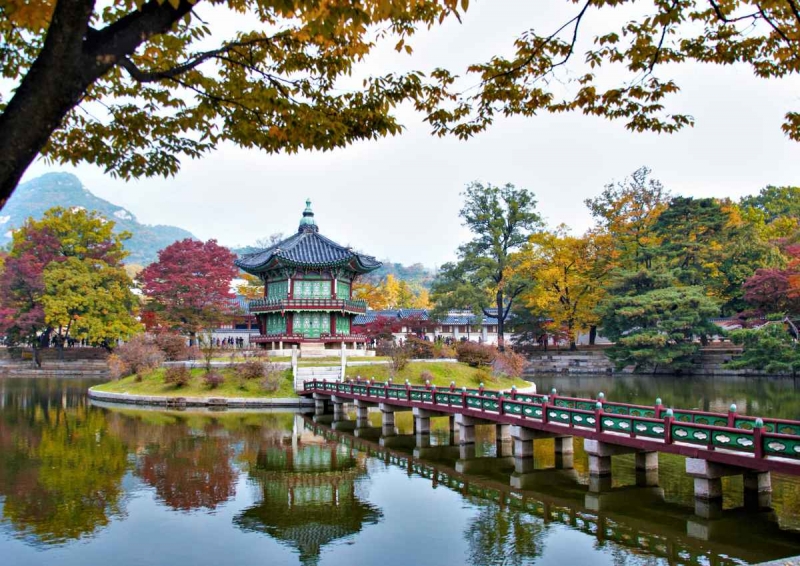 Seoul is one of those destinations that Malaysians simply adore, thanks to its rich history and modern city life. Visit Changdeokgung Palace, the best-preserved Joseon palace with a breathtaking secret garden before heading to the Insta-famous Gyeongbokgung Palace to watch the Royal Guard Changing Ceremony. 
Another spot worth visiting is the 239m-tall N Seoul Tower which offers you the best panoramic view of Seoul. You can also shop till you drop at Common Ground in the Gwangjin-gu district, and Insa-dong, which is famous for its souvenir shops. And of course, don't miss out on the various Korean dishes! If you're looking for an affordable Korean BBQ, head to Hongdae which is a famous university area. 
16. Ho Chi Minh City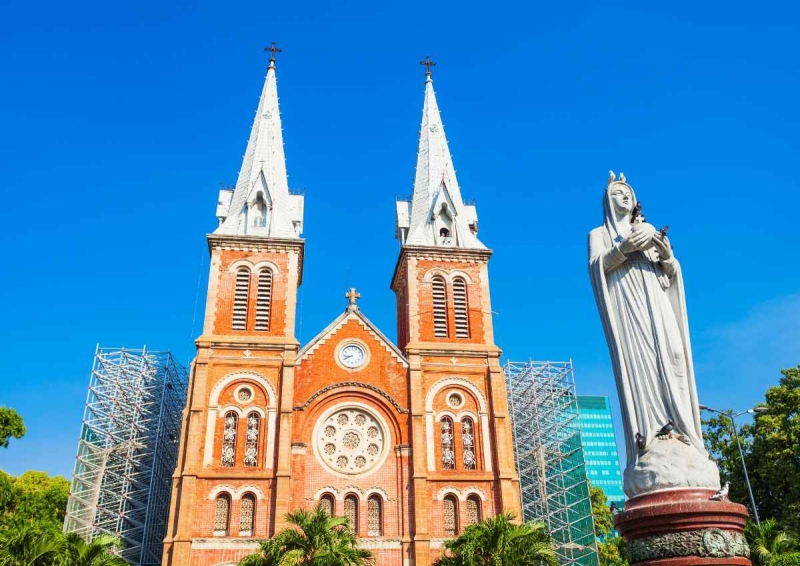 Initially known as Saigon, Ho Chi Minh in Vietnam is the go-to spot for those who are into history or heritage. Start off your journey by visiting the War Remnants Museum or crawl through the Cu Chi Tunnels, once used by the Viet Cong guerillas to move around the city undetected!
The Notre Dame Cathedral of Saigon is another must-visit attraction that should be on the list as you'll be mesmerised by its neo-Romanesque architectural design from the late 1800s. For an unforgettable experience in Ho Chi Minh, we recommend you take a cruise along the Mekong Delta and experience a small dose of rural Vietnam that includes its lively floating markets. 
17. Taipei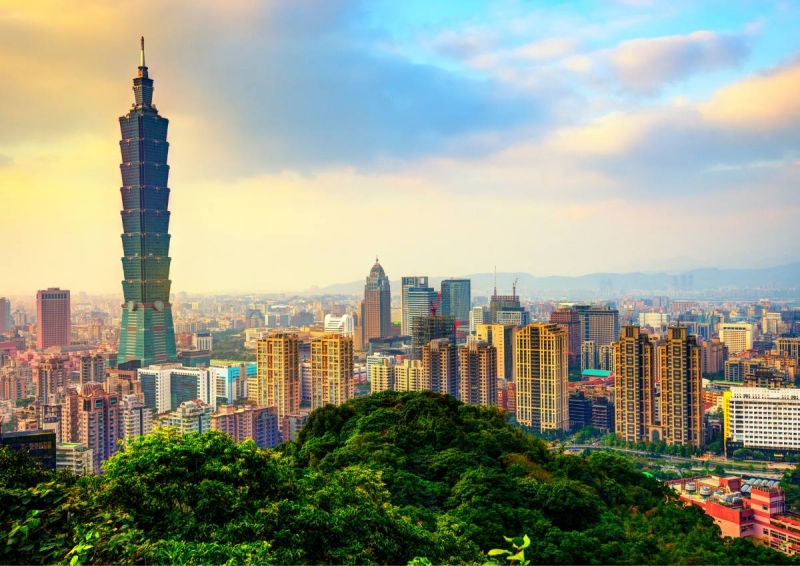 The ever-lively metropolis of Taipei has more to offer than its bustling city and night markets scene. Take the trails to Elephant Mountain and you'll be rewarded with spectacular views across the city, including the iconic Taipei 101. Continue your trip in Taipei by renting a bike and cycling through Taipei Riverside Bike Path for relaxing views.
At night, make your way to Raohe Street Night Market (it's far less crowded than Shilin Night Market!) and savour the best local snacks. Also, don't forget to go to the Rainbow Bridge nearby and enjoy watching the colourful lights installed on the bridge.
18. Jakarta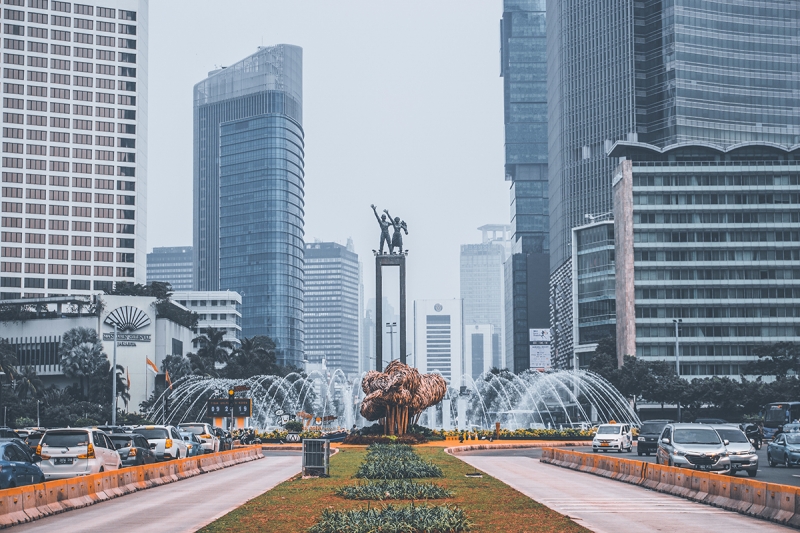 The bustling city of Jakarta is one of the top hidden gems for travelling with your friends. Apart from great food and historical locations, the city is also home to plenty of thrilling activities meant to stoke your love for adventure. 
You could visit Ancol Dreamland with your friends and hop on thrilling rides, go white water rafting on the rapids of the Citarik River, zipline across the trees at Jungleland Adventure Theme Park, or go indoor skydiving at AirRider Jakarta.
19. New Delhi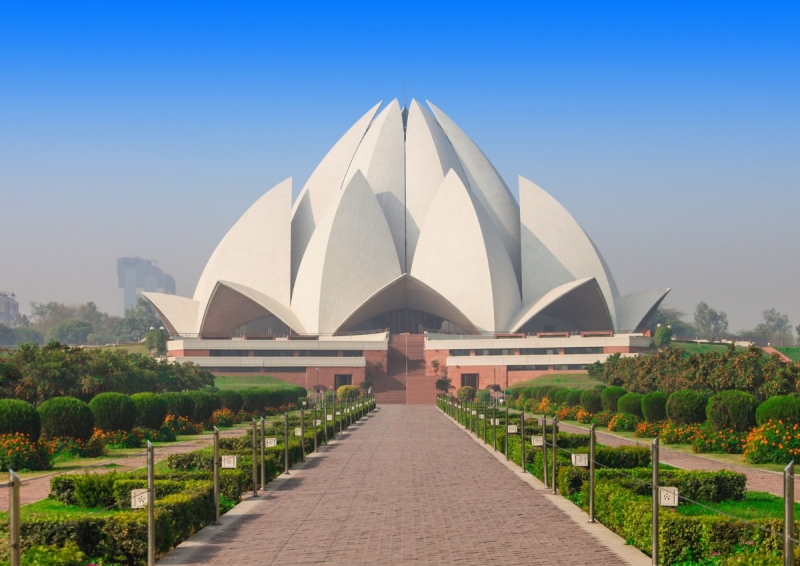 New Delhi is a cornucopia of preserved history and culture. Have you seen a temple in the shape of a sacred lotus flower? If you haven't, bring yourself to The Lotus Temple (Baha'i House of Worship) which was designed with 27 flower petals made of marble. Two must-visit landmarks nearby are the ISKCON Hare Krishna Temple and Kalkaji Mandir Hindu Temple.
You can also visit the iconic Red Fort, a beautiful UNESCO World Heritage Site, or go on a food tour with your friends and sample New Delhi's best chaat, kebabs, and parathas! 
20. Balik kampung!
That's right. There's no place like home. Whether you're returning for a Raya celebration with your family or want to spend quality time reconnecting with your friends over the holidays, home is the place to be. And to make your trip home much easier, AirAsia is here with its Super App Raya Sale!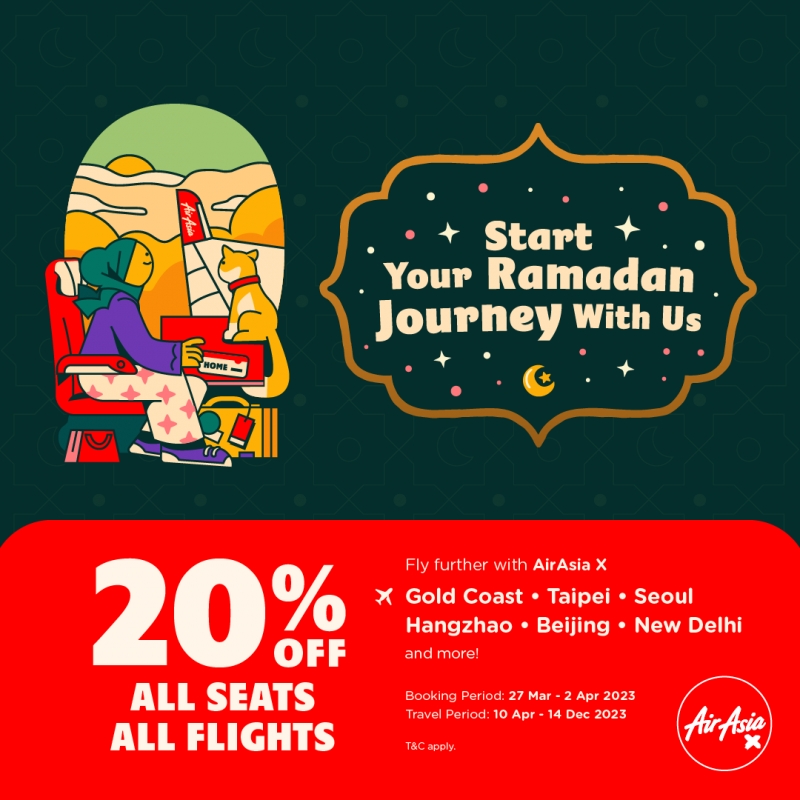 Embark on an epic getaway this Raya and beyond when you book your flights using the airasia Super App! Book now and enjoy 20% OFF All Seats All Flights to destinations like Penang, Langkawi, or Kuching, and international hot spots like Seoul, Taipei, Beijing, and more! 
In addition, you can save up to 20% when you book AirAsia's Value Pack (includes 20kg checked baggage, standard seat selection, an in-flight meal, 
and travel insurance!) during the promo period! 
 Booking Period: Now – 2 Apr 2023
Travel Period: 10 Apr – 14 Dec 2023 
---
Brought to you by AirAsia