In case you haven't heard yet, Gordon Ramsay will be opening his first restaurant in Malaysia soon! Set to open in June, Gordon Ramsay Bar & Grill at Sunway Resort will be the celebrity chef's first ever official eatery in the country! I'm sure many of you are just as excited about it as I am! 
However, June is still a long time away and many of us are currently under the MCO. So, to satiate your cravings (for good food and for being called an idiot sandwich), I've gathered ten super simple recipes from the world-famous chef that YOU can try at home! And hey, I've personally tried some of them myself and since I didn't burn down my house, I'm sure most of you will do just fine! 
Also read: 9 Breakfast Tools That Will Make Your Morning Routine Infinitely More Fun
1. Creamy scrambled eggs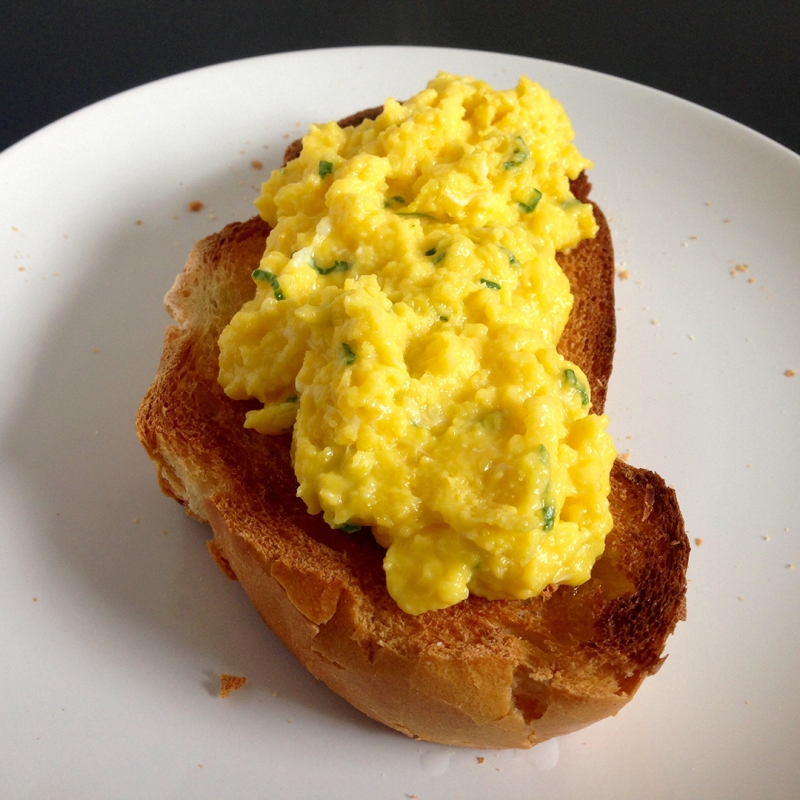 Initially, when I first saw Gordon Ramsay's version of this breakfast classic, I was unconvinced. It looked runny and undercooked but I decided to give it a shot. Now, that's the only way I make scrambled eggs. It's creamy, light, and extremely tasty. Works well on toast or eaten simply on its own. 
What you need: eggs, butter, crème fraiche or sour cream (AEON stocks them), and chives (optional)
In a cold saucepan, crack in your eggs depending on portion size. Add in a small knob of butter (I usually do about a teaspoon). Turn the gas on to medium low heat and start stirring. Once you see some of the egg start to set, remove from the heat. Continue stirring for about 30 seconds then get it back on to the heat. 
Do this for about 3 or 4 times. Stir until the eggs set with a creamy, consistency then turn off the heat. Add in the crème fraiche (about a tablespoon) and add salt and pepper to taste. Then, continue stirring for about 30 seconds and let the residual heat cook the eggs through. Sprinkle on some chopped chives and you're done! 
2. Beer-battered Fish n Chips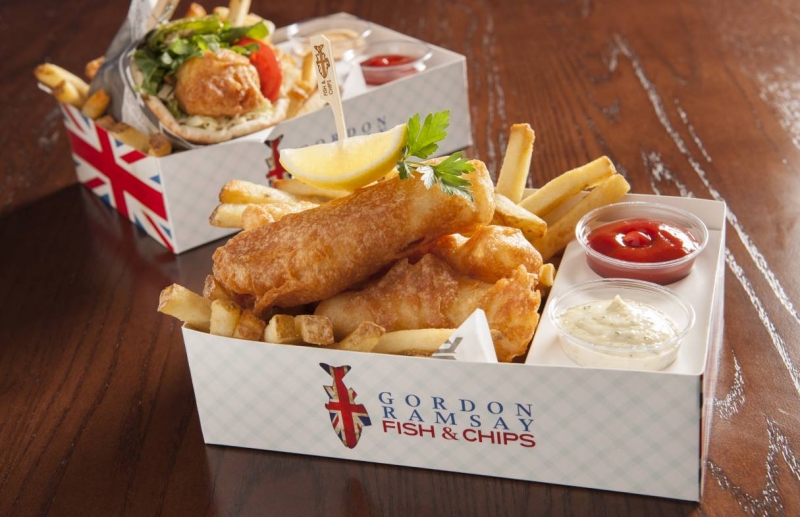 This classic British comfort food is easily one of the most popular Western good choices in Malaysia. However, Gordon Ramsay's version just takes it up a notch or two with a light, puffy batter that provides an extra crunch. I've tried this myself a few times and while it takes a bit of work, the results are fantastic. 
What you need: fish fillet (the optimal choice is cod, but I used frozen pollack from the supermarket), lime (for dressing), potatoes, peas with fresh mint (optional)
For the batter, you'll need flour (all purpose works well, but you can also use rice flour), eggs, baking soda, and beer (you can use soda or carbonated water if you don't want beer. Just make sure it is flavourless!)
First, make the batter and set aside. Season your fish with salt and let it draw out excess moisture. Take the fish and coat it in (dry) seasoned flour (salt, pepper, maybe paprika if you like a smoky flavour). The dry flour helps the batter stay on the fish. Drop the fish into the batter and coat it, then carefully drop into a deep fryer (or sauce pot with oil). Fry until golden brown then remove. 
For the fries, peel the potatoes but don't wash them. This is to help them crisp up. Blanch for two minutes in hot oil first then remove them. Turn up the heat and drop them in again. When they float, they're done! Serve with tartar sauce and a squeeze of lime or lemon! 
3. Spicy mince beef/pork lettuce wrap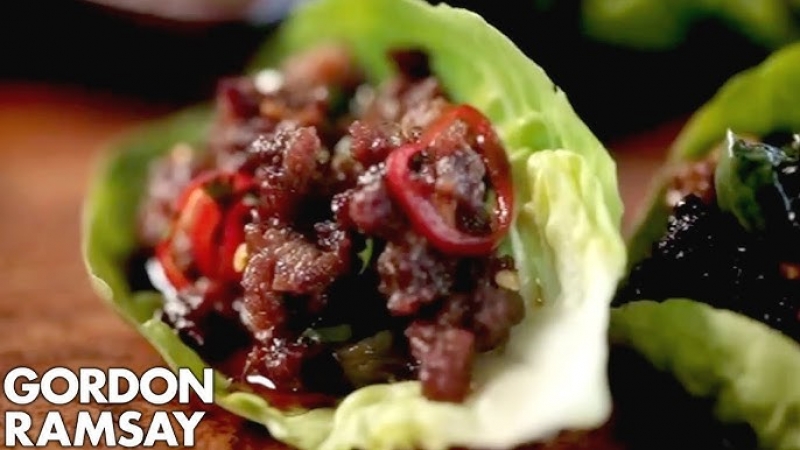 For something much lighter, healthier, and a little more Asian, try this refreshing appetiser that also doubles up as a main meal. It's such a simple stir fry and literally takes just a few minutes but the flavour is incredible!
What you need: minced beef (I used pork which worked just as well), chilis, garlic, ginger, spring onions, sesame seed oil (optional), brown sugar, fish or soy sauce, lime, and lettuce
For the optional sauce, you'll need brown sugar, soy sauce, sesame seed oil, fish sauce, olive oil, chili, lime juice, and coriander
First, season the minced meat and stir fry in a hot pan. Very important that you hear the sizzle as the meat hits the pan. If the pan is too cold, the meat ends up cooking in its own juices (broiling) and you don't want that for this recipe. 
Once the meat turns brown and crispy, remove from the pan. Add in minced garlic, ginger, and chili, and stir fry in sesame seed oil. Add in a touch of fish sauce and brown sugar to balance the flavours and dump the mince back into the pan. Finish with some lime zest (grate the skin) and juice of half a lime. Serve with lettuce (I used romaine but baby gem is better supposedly). 
For the sauce simply dump all the ingredients in and mix it up! So simple! 
4. Chicken parmesan (with spaghetti)
 
If you're craving Italian food, this simple but elegant recipe will make you go mamma mia! It's a classic combination of crispy chicken breast parmesan and spaghetti al dente. Prep time might be a bit of a pain, but the flavour more than makes up for it. 
What you need: chicken breast, flour, eggs, breadcrumbs, paprika, grated parmesan, butter, marinara (I used bottled spaghetti sauce), mozzarella, basil, spaghetti 
First, butterfly the breast. This means cutting it in half horizontally down the middle. Place a piece of parchment paper (I used a baking sheet) on top and grab your rolling pin. Gently roll out the chicken breast until flat. Don't whack it! I did that and it…well, it didn't end well. 
Next, season your breadcrumbs with salt, pepper, paprika, and grated parmesan. Dip the chicken in flour (plain) and then in an egg wash. Next, dip it into the seasoned breadcrumbs and coat thoroughly. Do NOT deep fry the chicken. Instead, fry it in a large pan until golden brown (5 minutes, 2.5 on each side). Add in some butter at the side of the pan when you're almost done. 
Set the chicken on a baking tray and add a spoonful of marinara sauce on top. And add mozzarella cheese. Season with salt and pepper than bake until melted. For the spaghetti, simply cook as normal and mix with marinara sauce and fresh basil. Serve together and bon apetit!  
5. Spaghetti with sardine and oregano 
Speaking of spaghetti, I'm sure most of you agree that the most common home-cooked spaghetti in Malaysia is Bolognese with hot dogs. Prove me wrong, I'll wait. If you're looking for a different kind of pasta dish with robust flavours, try this instead!
What you need: garlic, breadcrumbs, chili, canned sardines (in oil), spaghetti, oregano, wild rocket 
First, fry up the breadcrumbs with garlic. This will be our crunchy topping later. Next, add garlic, chili and some of the canned sardine oil to a frying pan. After the aromatics release their fragrance, add in the sardines (chopped). Cook and drain your spaghetti and add it to the sauce. 
Stir fry for a bit before adding in fresh oregano and wild rocket (I know AEON sells these too, but not always). If you don't have rocket, substitute with baby spinach. Once combined, serve on a plate and top with the crunchy garlic breadcrumbs from earlier. Quick, simple, delicious! 
6. Spicy tuna fishcakes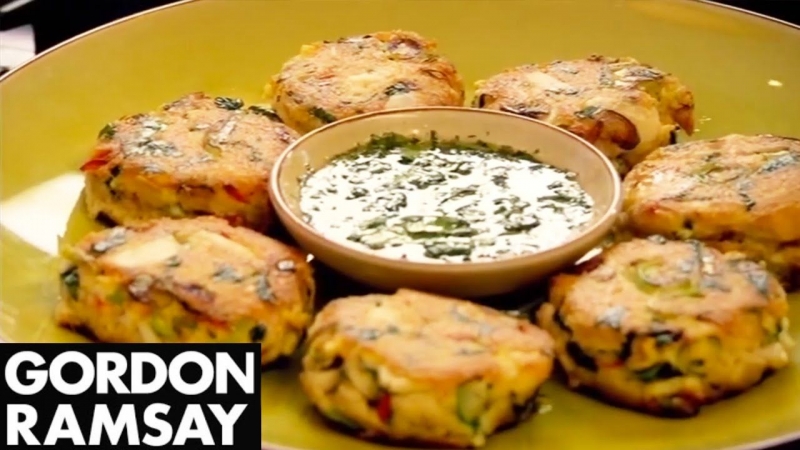 Speaking of canned seafood, I always keep a spare can of tuna chunks in my house. They are pack full of flavour and are also super healthy too. I usually use them for kimchi fried rice or as a pork substitute in kimchi jiggae. However, you can try this too! 
What you need: canned tuna (chunks in olive oil), water chestnuts (ma tai), ginger, chili, spring onions, kaffir lime leaves, coriander (optional), fish/soy sauce, eggs
For the sauce, you need sugar, fish sauce, rice wine vinegar, lime juice, coriander
Add all your ingredients into a bowl and mix well to combine. One tip is to grate your ginger so that it releases some of its fragrant juices! Shape them into small little patties and pan fry them in some oil. Make sure you hear that sizzle the moment you lay them down and don't flip them too quickly or they'll break apart! Once both sides are golden brown, you're done! 
You can opt for the optional sauce but I ate mine with some sweet thai chili sauce instead. It worked well enough for me! 
7. Meatballs in coconut broth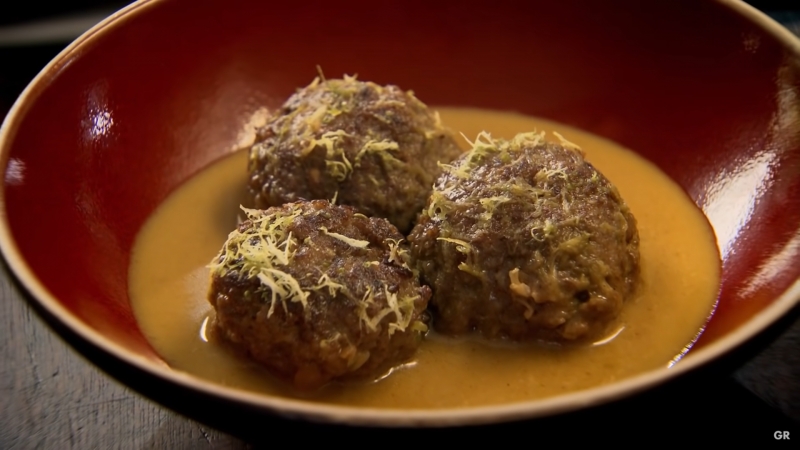 Step aside, IKEA! The beauty of this recipe is that you can make it in bulk and freeze them for later use! So instead of buying processed food from the supermarket, you can make delicious and healthy ready-to-go meals yourself! 
What you need: onions, garlic, minced beef, dried chili flakes (use extra packets from Domino's), milk (optional), breadcrumbs. coriander seeds, cardamom seeds, turmeric, cinnamon, dried chilis, lemongrass, ginger, chicken stock, coconut milk, lime (zest) and juice
First, start by sautéing (that means frying in a pan) onions and garlic (chopped and minced) until fragrant. Mix milk with breadcrumbs until they look like instant oats. Season your minced beef with salt, pepper and chili flakes and add in the breadcrumb mixture. Next add the cooked onions and garlic to the mince and combine well. Shape into meatballs.
Wipe down the pan and lightly fry the meatballs until brown on both sides. Add in all your herbs and spices and top up with some chicken stock. Finally add in coconut milk and bring to a boil. Simmer for about 10 minutes then add in the juice and zest of one lime. Perfection! 
8. Pork (or beef) sliders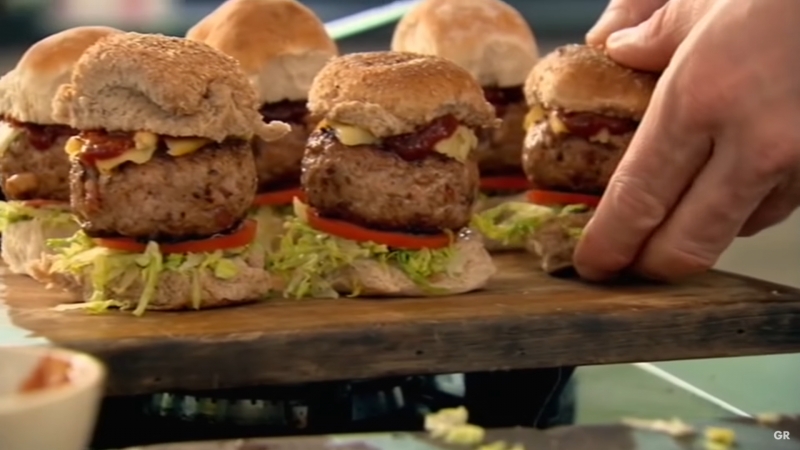 Who doesn't love a good burger? I've tried these recipes myself (although I made some adjustments) and I thought they were absolutely great! It's also a fun meal to prepare with your children that will get them excited about dinner! 
What you need: back bacon (or streaky beef), shallots, smoked paprika, minced pork (or beef), cheddar (optional) 
For the BBQ sauce: onions, garlic, brown sugar, smoked paprika, cider vinegar, Worcestershire sauce, and ketchup
First, the sauce. Combine the ingredients in a hot pan and cook to the desired thickness. The longer you cook it, the thicker it becomes so take note of that! For the patties, first fry off the bacon in a pan with just a little bit of oil to get it crispy. Next, season the mince with salt and pepper (very important), and add chopped shallots and smoked paprika. Dry off the crispy bacon on a kitchen towel before adding it the mince. 
Mix well and form into mini (or full-sized) patties. Get your pan nice and hot and fry on medium high heat until golden brown. Add cheddar cheese to the patty and turn off the heat so that it will melt from the residual heat. Assemble your burger and chow down! 
Also read: Online Grocery Options During the MCO
9. Chocolate-filled doughnuts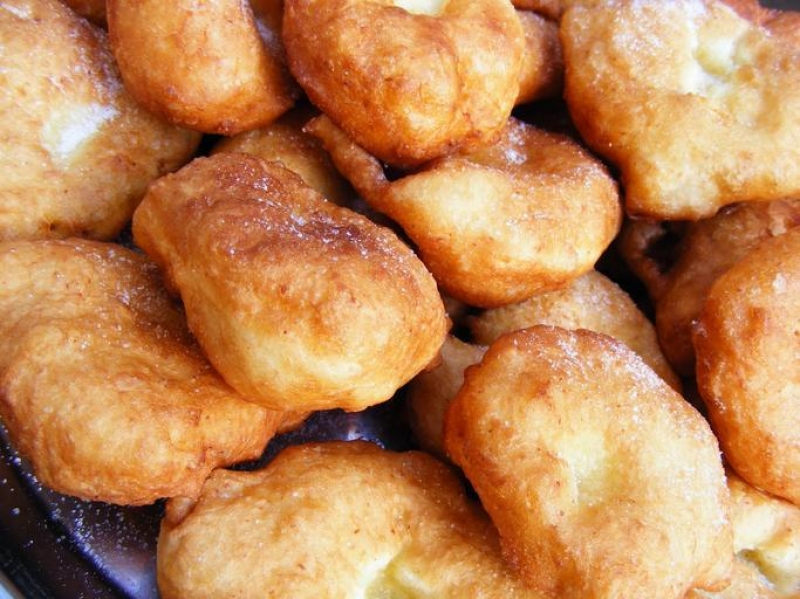 Craving something sweet? These doughnuts are absolutely heavenly and so much fun to make. It's also a good ways to pass the time on the weekends with the family too! 
What you need: milk, sugar, yeast, flour, butter, flour, 2 egg yolks, sugar, cinnamon
For the chocolate: double cream, honey, dark chocolate, butter
Of all the recipes in this list, this one probably takes the longest time. First, heat up some milk and add in sugar. Add the warm milk (about half of it) to a bowl of yeast and whisk. Set aside. In a large mixing bowl, add in flour (make sure to sieve it to remove lumps), butter, and 2 egg yolks. Add in the other half of the warm milk and start mixing. After a while, add in the yeast mixture and keep stirring until the batter starts falling off your spoon slowly. 
Throw some flour on your chopping board and knead the dough until it stops sticking to your fingers. Set in a bowl (flour the bottom to stop it from sticking) and cover then let it rise (about an hour). Once it has risen to twice the size, roll out the dough and cut into fist-sized pieces. Let rise again before frying them in oil. Once they're done, roll them in sugar and cinnamon. 
For an extra indulgent doughnut, mix double cream and honey and bring to a slow boil. Add the mixture to a bowl of dark chocolate and butter. Whisk until smooth and let it cool down in the fridge. Use a pipping bag to fill your doughnuts with the chocolate ganache and you have an airy, light and sumptuous homemade treat! 
10. Famous roast pork belly
This is the only recipe on this list I have not tried. And that's only because I feel unworthy of even attempting this! In fact, I feel like no words can do this viral recipe justice so I'll just leave this video here for your viewing pleasure! 
Get cooking! 
And there you have it! 10 (okay maybe 9) simple Gordon Ramsay recipes that will bring new excitement to your home cooking! Cook away my friends! Just…don't forget the lamb sauce!