Ever since his viral reaction video to BBC Food's egg fried rice episode, Malaysian Nigel Ng (a.k.a Uncle Roger) sort of became the honourary ambassador and de facto online expert of egg fried rice. Following the success of his collaboration with Aunty Hersha, Uncle Roger has once again graced us with his presence! 
On Merdeka Day (31 August, in case you forgot), the Malaysian-born comedian uploaded a hillarious video of himself reacting to another egg fried rice recipe. This time, the person being judged was none other than popular British celebrity chef, Jamie Oliver!  
The video starts off positively enough, with Uncle Roger hoping that Jamie's reputation as a professional chef meant that the video will be good. Unfortunately, as you might have guessed, it wasn't. 
The five mistakes of Jamie Oliver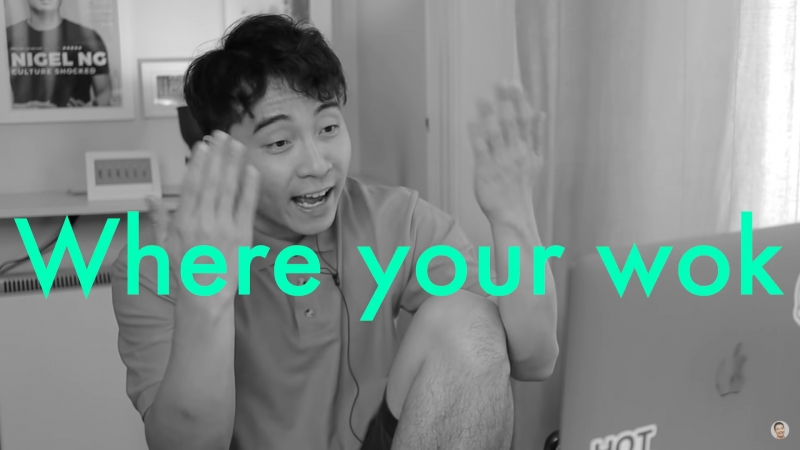 Right off the bat, Uncle Roger chastises Jamie Oliver for not using a proper wok. "Jamie, you have 25 cookbooks, but you can't afford one wok?", asks Uncle Roger after explaining why using a wok was important to incorporate wok hei in the fried rice. I'm sure most Malaysians will know what he meant! 
Next, Uncle Roger found fault in Jamie Oliver's use of olive oil. "Olive oil is like white people oil" he rants, "not suitable for Asian dishes". Next, Jamie Oliver starts off by frying off chopped spring onions, which really triggered Uncle Roger, who pointed out that spring onions should be the final ingredient, used to garnish the top of the dish.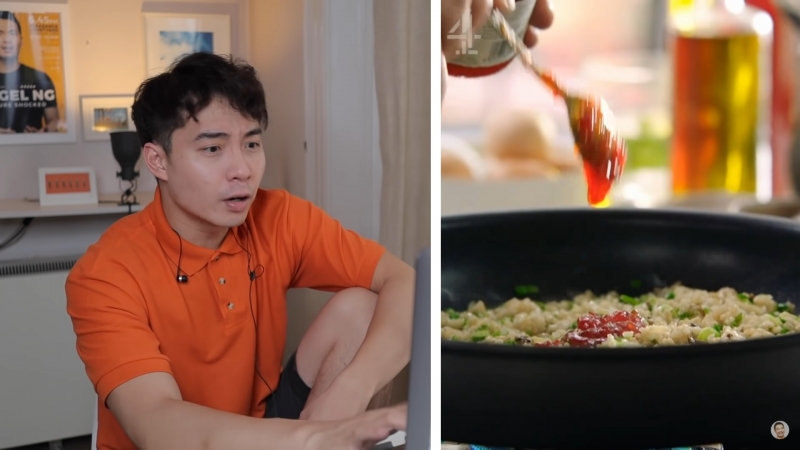 The next two mistakes that Uncle Roger pointed out were truly dastardly. Halfway through the cooking process, Jamie Oliver reaches into his spice cabinet. As Uncle Roger braced for the worst, Jamie Oliver pulls out a jar of...chili jam? What even is that!? As the celebrity chef added the jam to the rice to "add sweetness and glaze the rice", Uncle Roger had a full-on meltdown. "This is disgusting! Who puts jam (in rice?)?" 
However, what came next was arguably the most traumatic. Not just for Uncle Roger, but probably for all of us who loves a good nasi goreng. Towards the end, Jamie Oliver brings the pan of fried rice over to the sink and -gasp- adds a splash of water! This feels like the complete opposite of draining rice with a colander!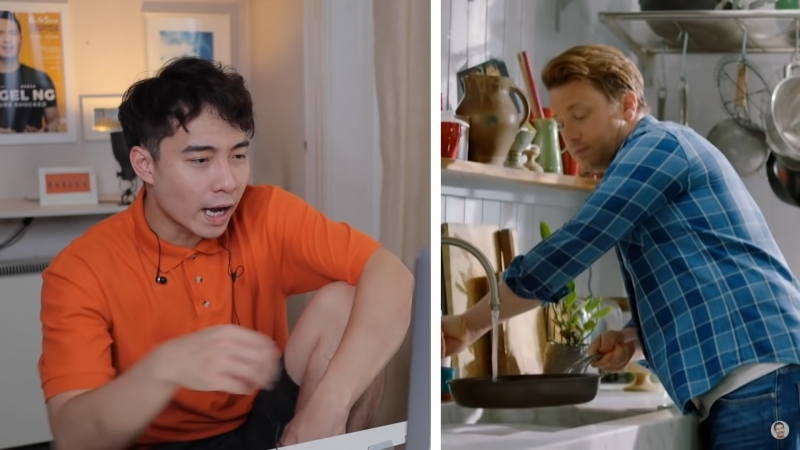 To say that Uncle Roger disapproved of the final product would be an understatement. "This rice looks so wet" he complains, "Mulan is gonna start singing when she sees this rice". 
Watch the full video here: be warned, if you love fried rice, your soul might just cry: 
Has Gordon Ramsay ever made egg fried rice? Asking for a friend :p