They say that travelling brings out the adventurer in a person. After all, don't you find it easier to try different things while travelling that you normally wouldn't do at home? However, some people truly take it a step further. Yes, instead of leisurely strolls by scenic lakes or indulging in local cuisine, some people very much prefer the exhilarating feeling of diving off cliffs and scaling impossible heights.
For them, adrenaline rushes are part and parcel of life on the road. And believe it or not, I think there's a thrill seeker in every one of us as well. Check out this collection of bucket list experiences for the ultimate thrill-seeking adventure and see whether or not you have the mettle to complete them!
1. Hike along the cliffs of Mount Huashan in China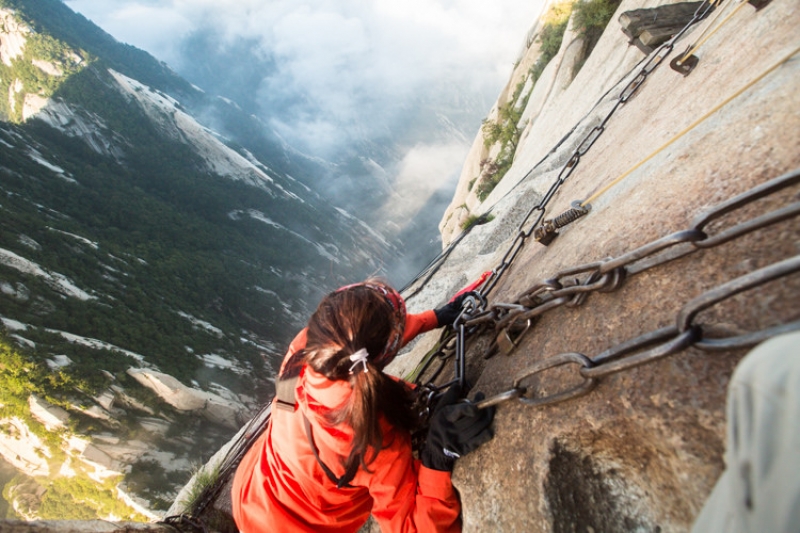 At more than 2,000 metres above sea level, hiking the cliffs of Mount Huashan is easily one of the most thrilling experiences on this list. The walkways are narrow and for large parts of the hike, you need to hang on to the sides of the cliffs with nothing but metal chains. My advice? Don't look down.
2. Walk on the edge of the CN Tower in Canada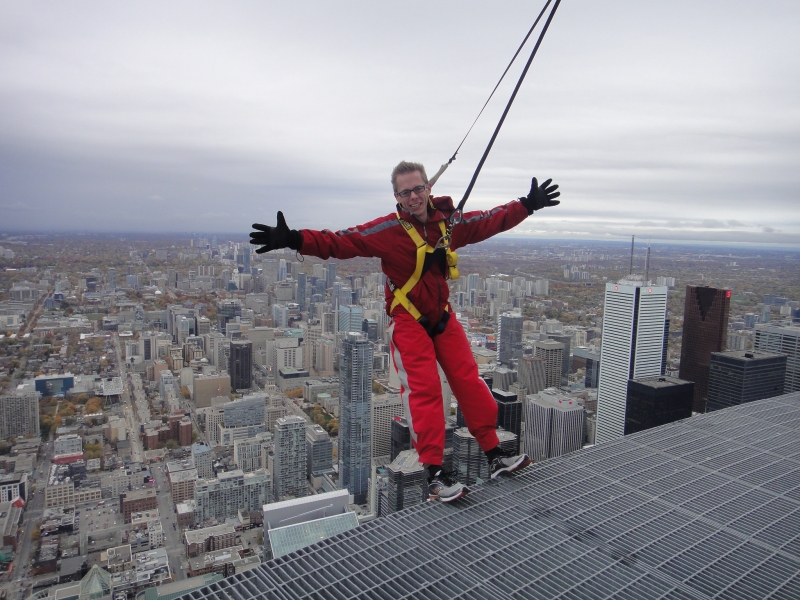 3. Go volcano boarding at Nicaragua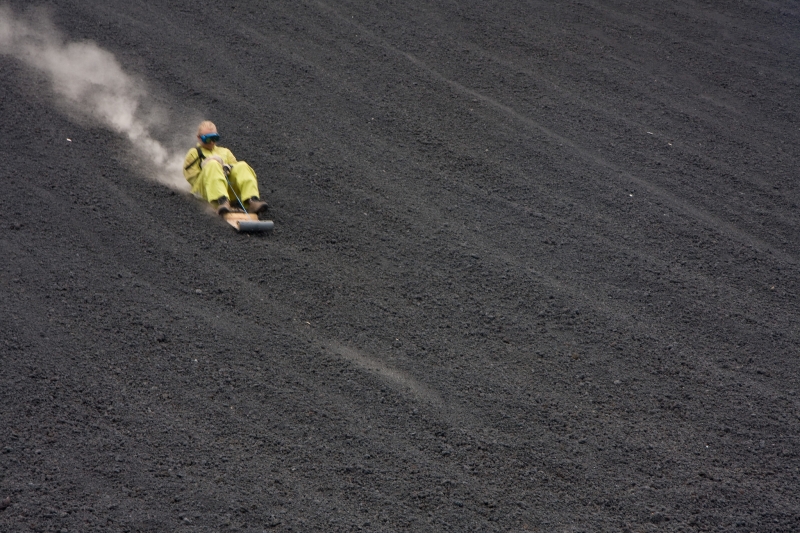 Because obviously, snowboarding is too mainstream. So try sliding down the steaming hot slopes of an active volcano instead!
4. Come face-to-face with crocodiles in the Cage of Death in Australia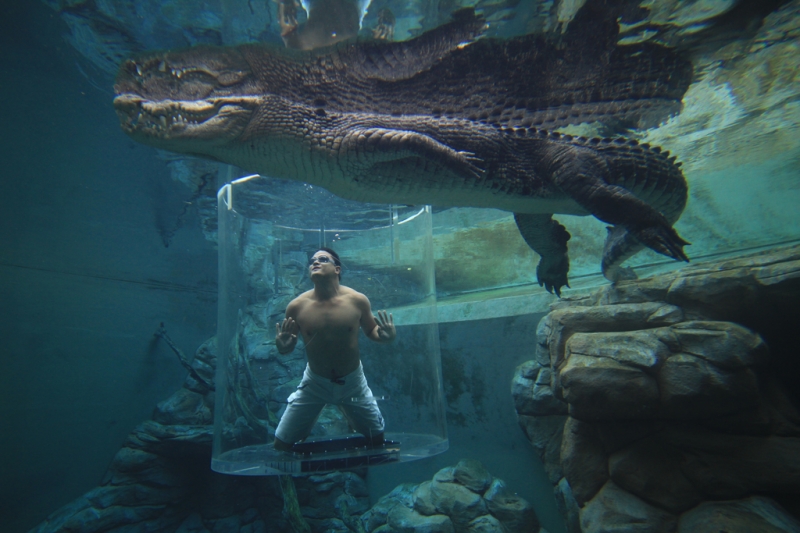 5. Skydive over Mount Everest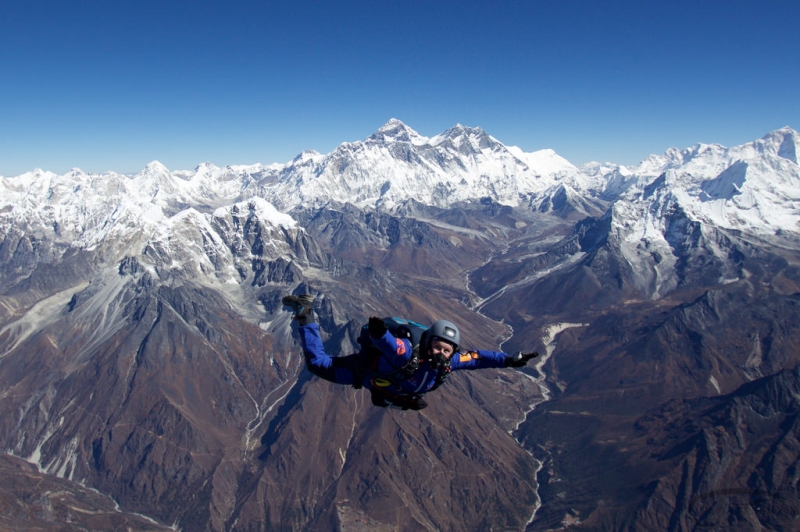 For those who are too lazy to hike but brave enough to jump out of a plane.
6. Fly high with the Nevis Swing, the most famous swing in the world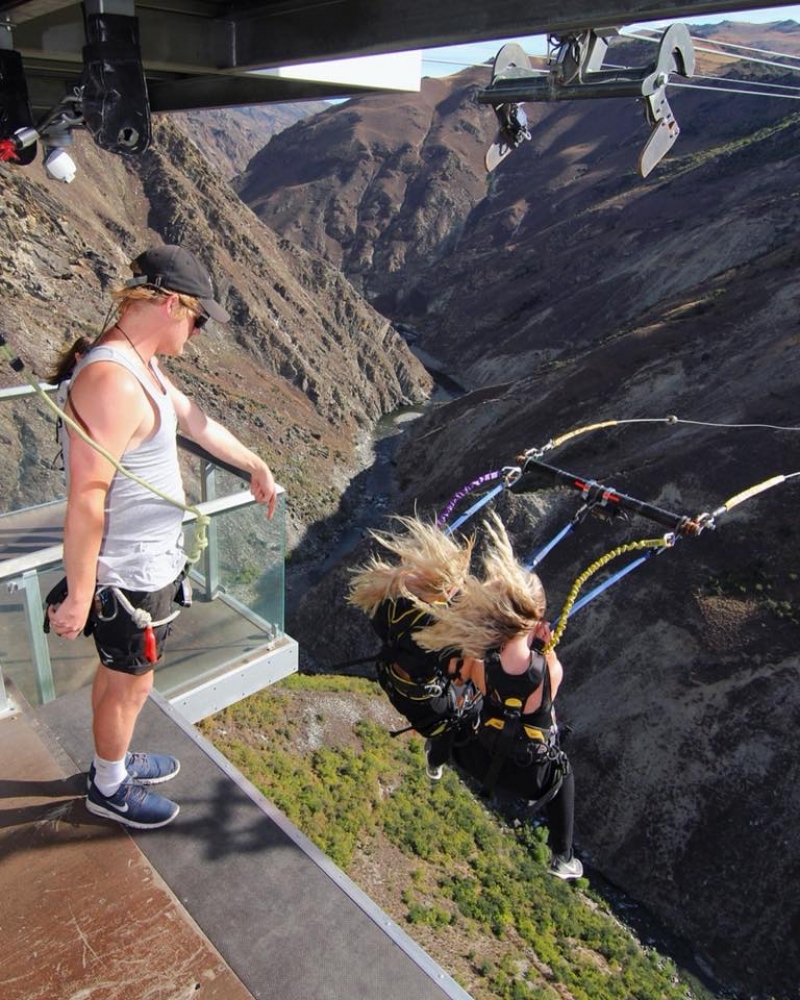 I can guarantee that as you swing along the 300m arc, you'll be able to belt out a note that would rival even Celine Dion!
7. Take the ultimate plunge with the roller coaster at Japan's Fuji-Q Highland Amusement Park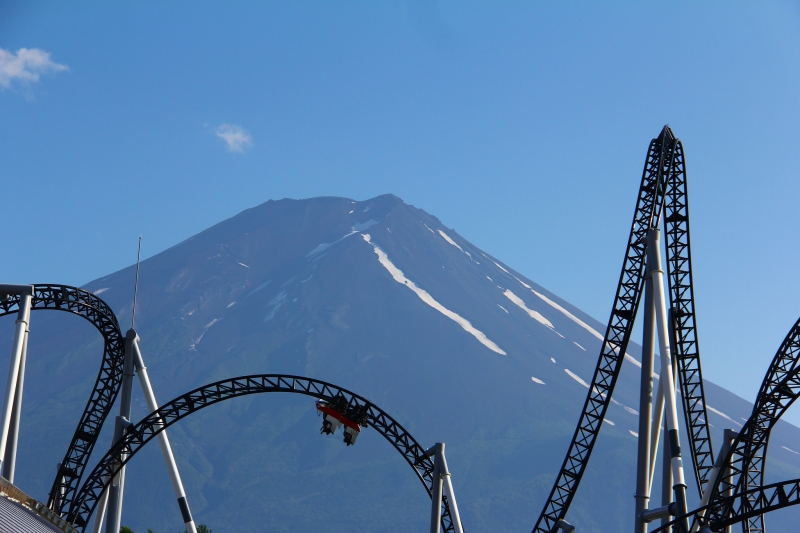 Your eyes do not deceive you. That is a 121-degree vertical drop. Well, if you pass out from fear, at least the majestic scenery of Mount Fuji will be the last thing you see!
8. Go kayaking over Palouse Falls in Washington, D.C.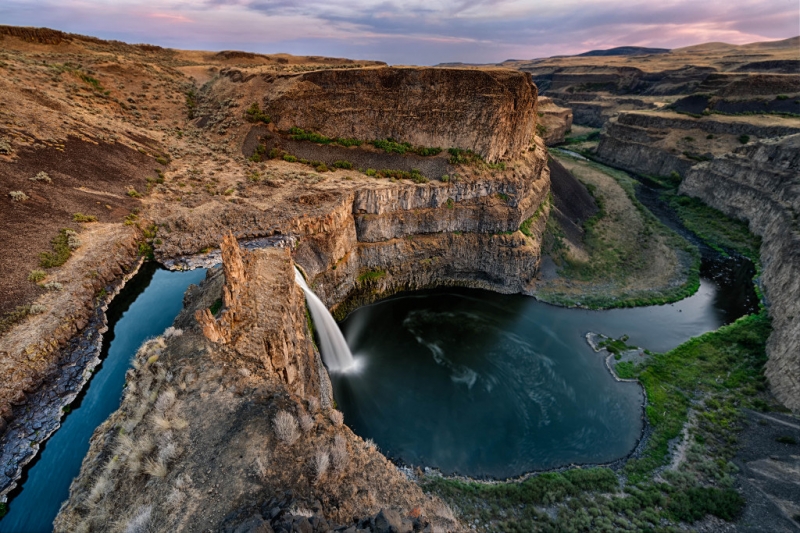 9. Hop on a hot air balloon in Cappadocia, Turkey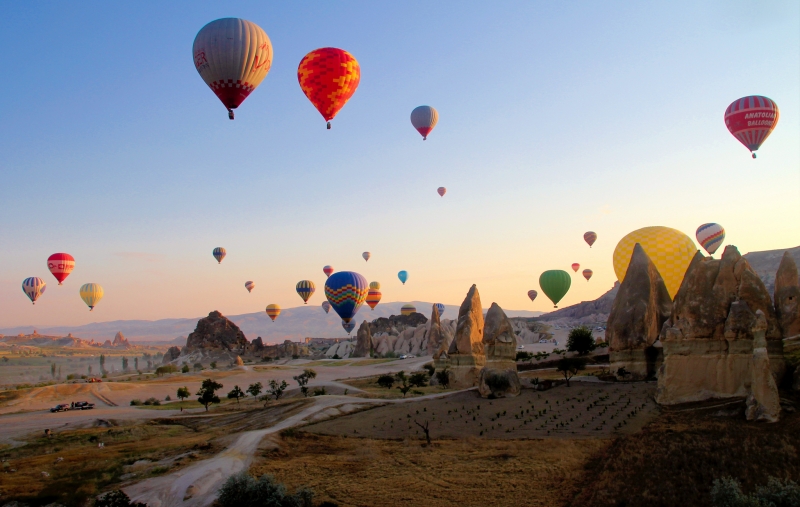 10. Go whitewater rafting at the Zambezi River in Zambia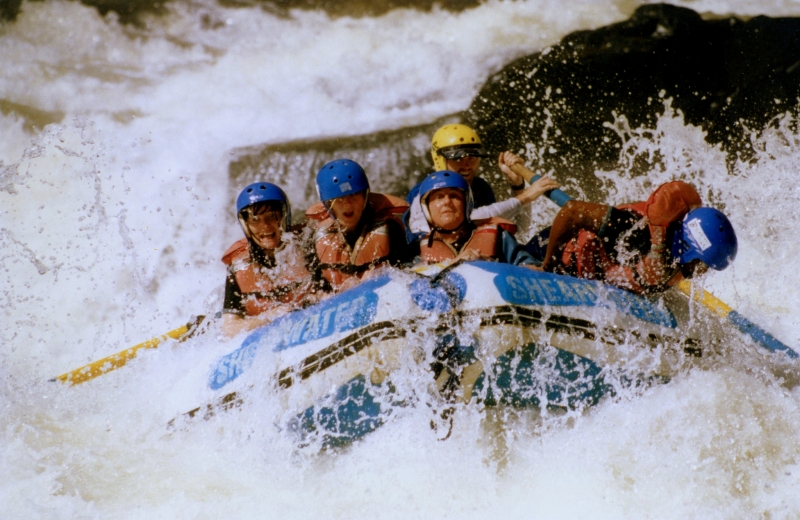 11. Swim with Great Whites in South Africa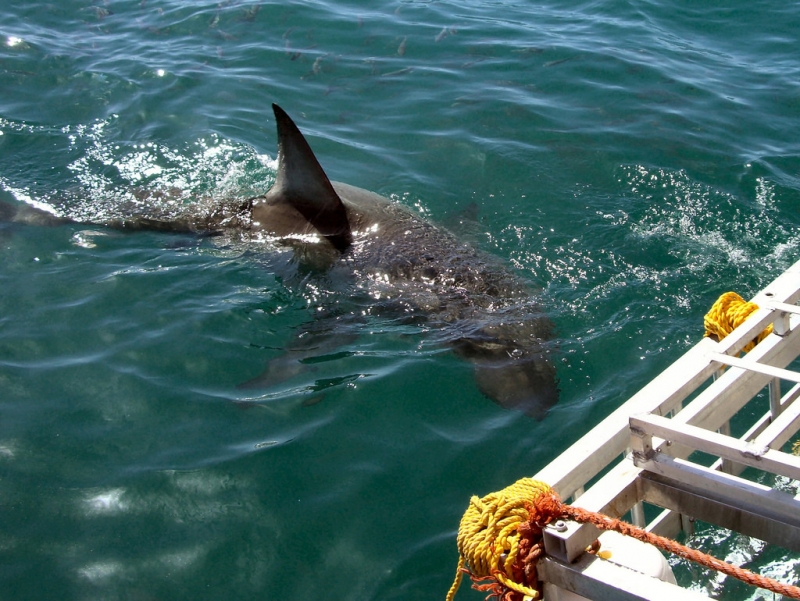 12. Become a secret agent in Dubai and go wingsuit flying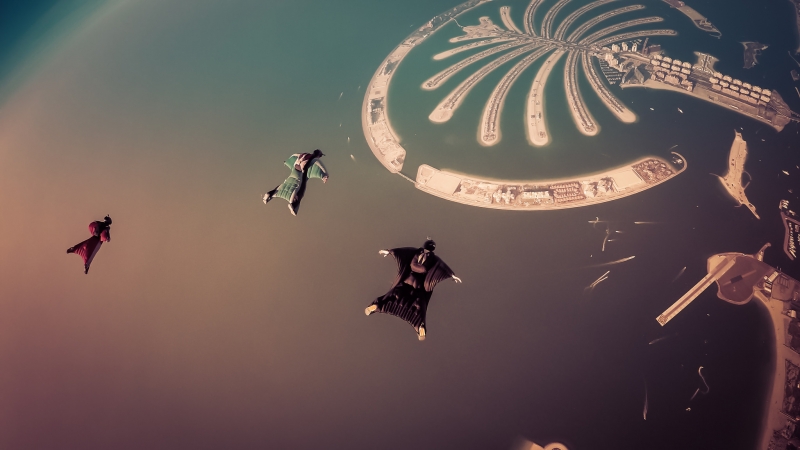 13. Swim in (literal) ice-cold water in Finland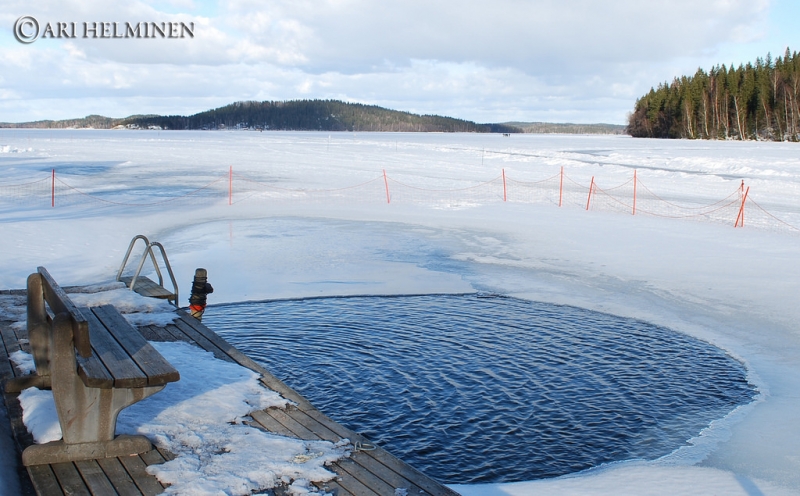 So, you think you're a good swimmer? Then try swimming in sub-zero temperatures! The Finnish do this every year during winter, much to the amusement of the rest of the world. Being under ice-capped water can be extremely disorientating and painful, so make sure you're up to the challenge before attempting anything.  
14. Become Superman by sliding along the world's fastest zip slide in South Africa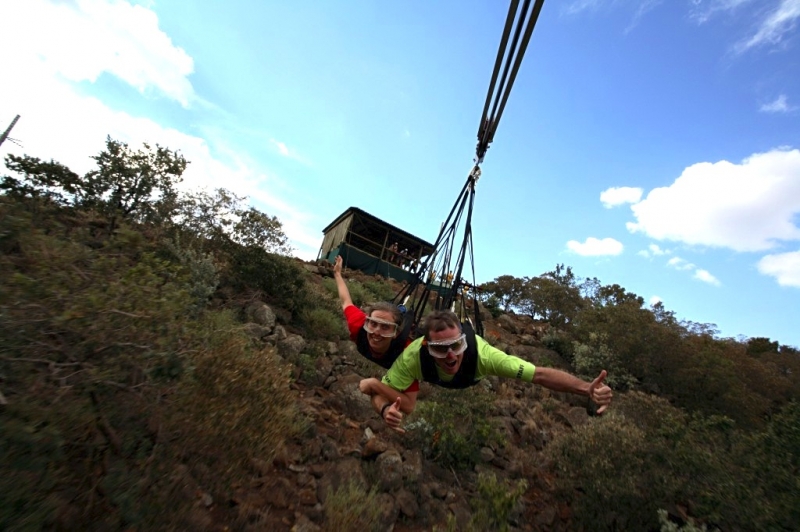 It is said that some people have reached up to the speed of 100km/hour on this slide!
15. Walk among the clouds in Essex, U.K.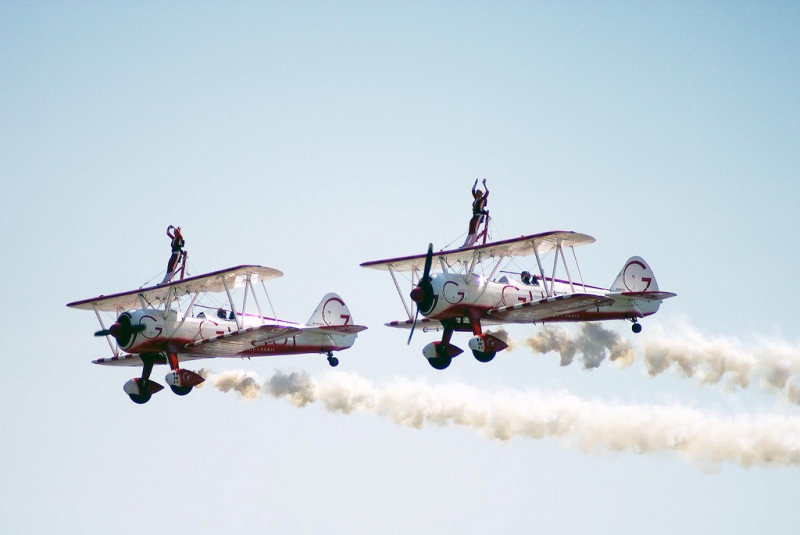 16. Jump off a coastal cliff at Acapulco in Mexico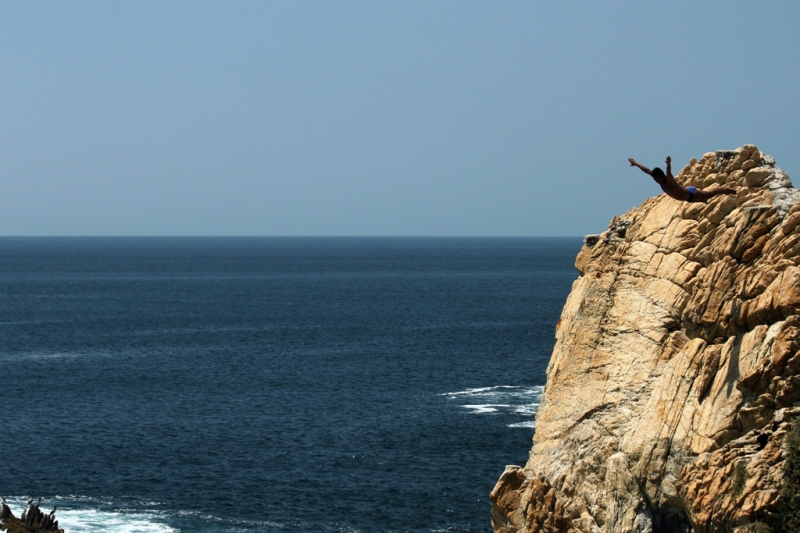 17. Traverse the inside of a dormant volcano in Iceland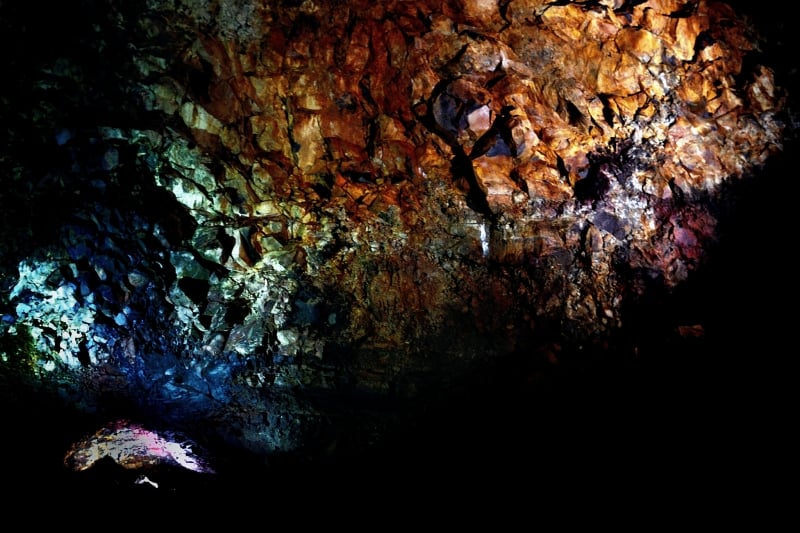 The Thrihnukagigur volcano is the only volcano in the world that is classified safe to enter. It has been dormant since the 2nd century BC and offers you a rare chance to experience what it's like inside a volcano. Spoiler alert: it's beautiful.
18. Surf the waves of Shipstern Bluff @ Australia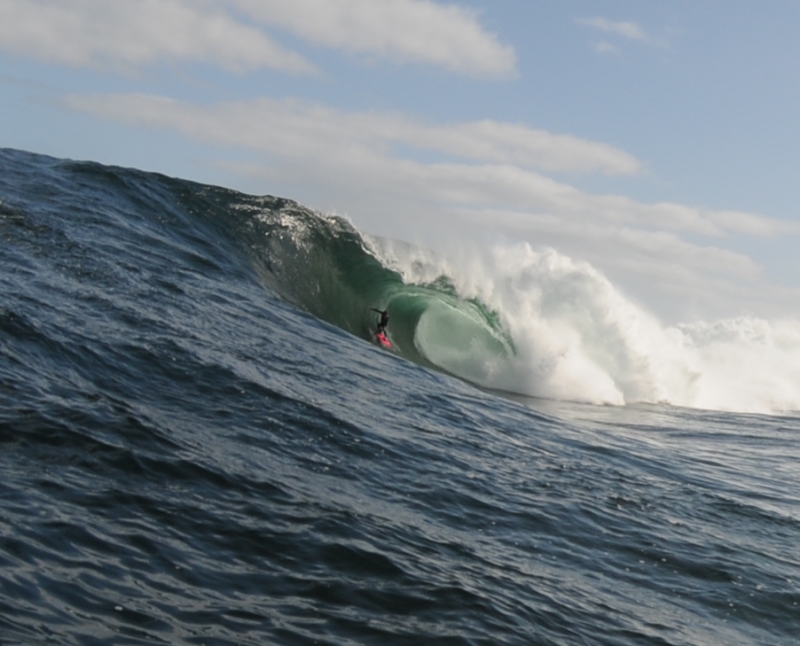 19. Bike through the Road of Death in Bolivia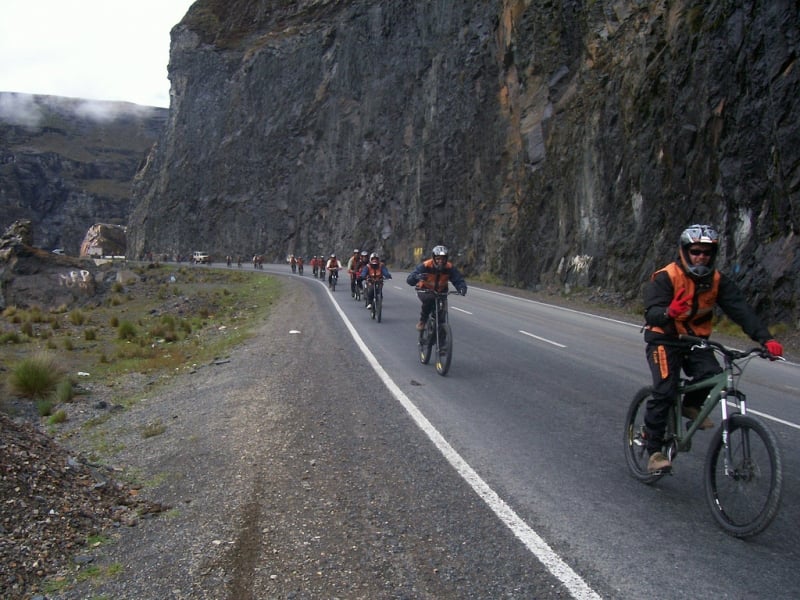 The Yungas Road in Bolivia (connecting the cities of La Paz and Coroico) stretches just under 70 km and starts at an elevation of almost 4,700 metres! You'll peddle through stunning rainforest scenery as you make a rapid descent to Coroico.
It's called the Road of Death because this particular road claims the lives of about 300 people per year, so do be cautious!  
20. Swim at the edge of a waterfall in Zimbabwe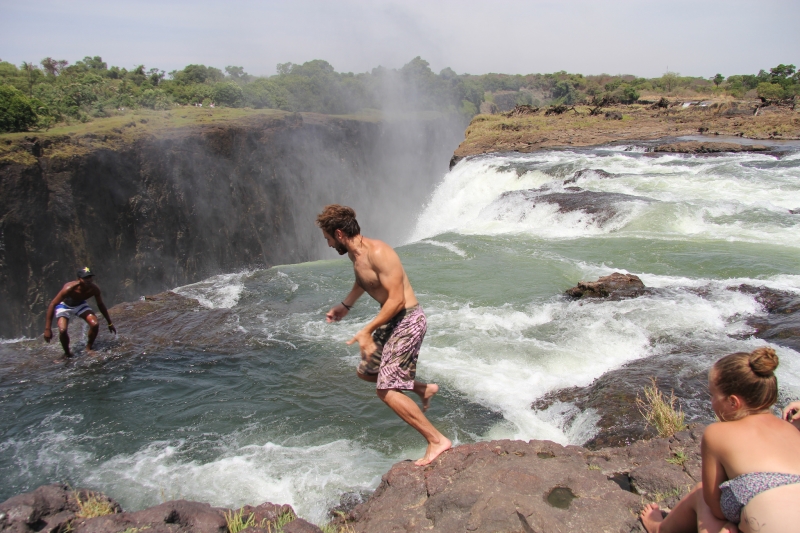 21. Free dive into Dean's Blue Hole, the deepest sinkhole in the world, in the Bahamas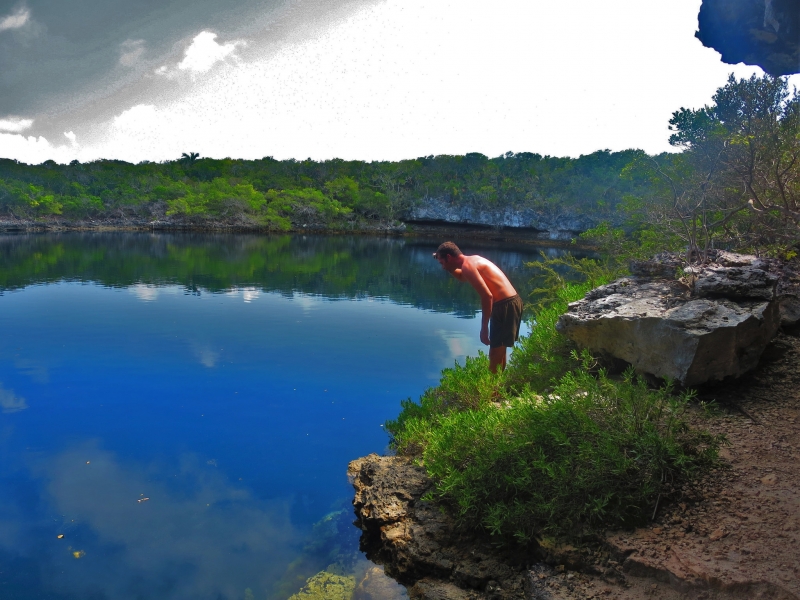 22. Go bungee jumping at the Macau Tower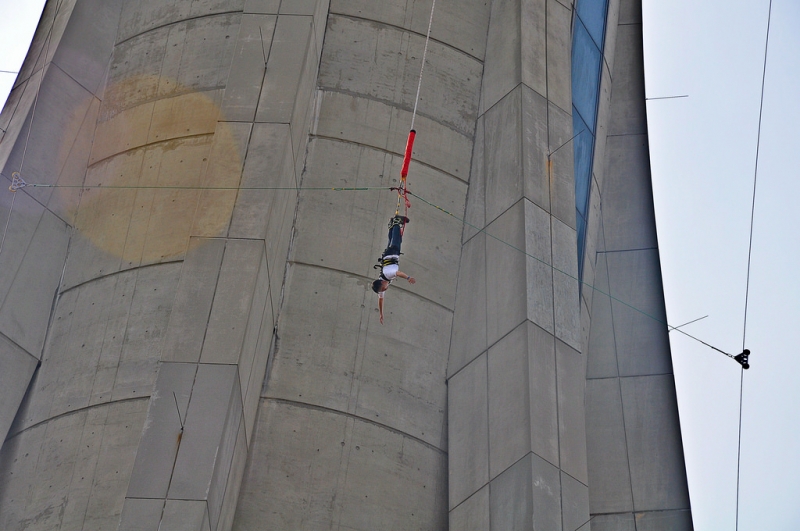 At 233m above ground, the Macau Tower bungee jump is the tallest bungee jump in the world. It's even recognised in the Guinness Book of Records! If you want to experience the thrill of free falling, fast, into an oncoming cement floor, then this is the activity for you.
23. Climb atop the Sydney Harbour Bridge for an unforgettable view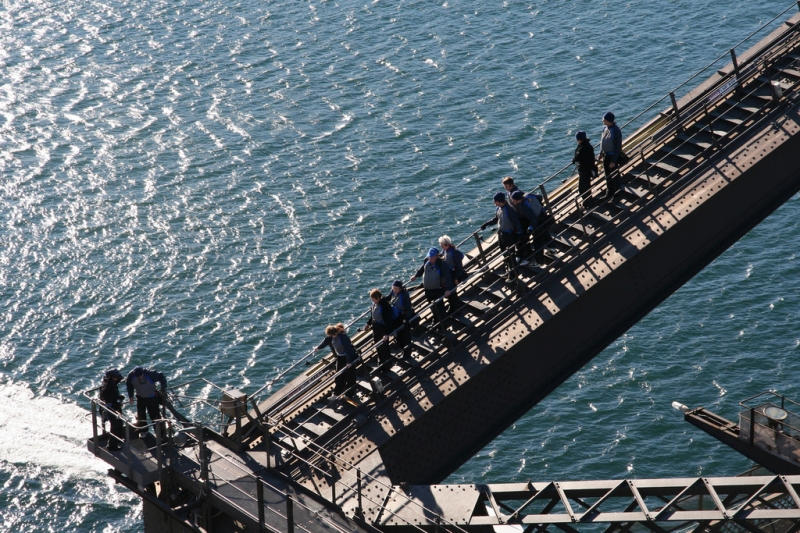 Cuz' bridges aren't just for crossing in Australia, apparently.
24. Walk across the world's longest suspension bridge @ Zermatt, Switzerland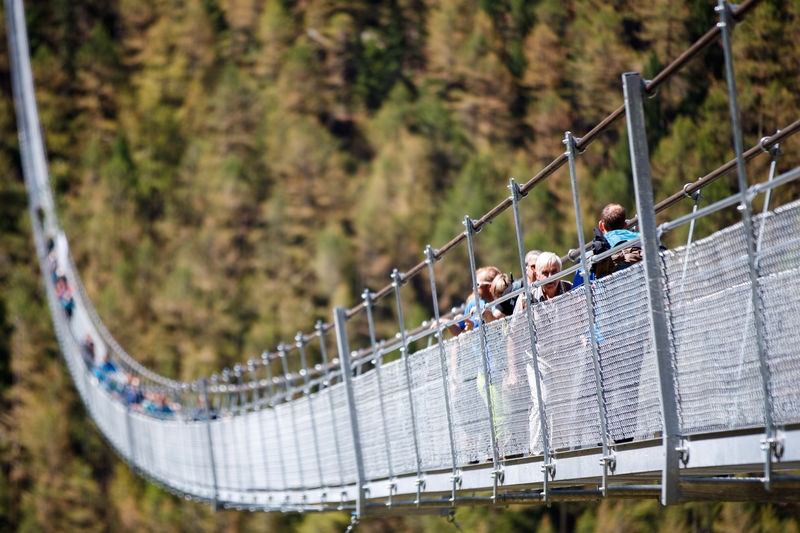 At close to 500m, the Charles Kounen Suspension Bridge in Switzerland is the longest of its kind in the world. You'll be surrounded on all sides by verdant greenery as you attempt to make it across this impressive structure. While it might feel shaky, rest assured that it is completely safe.
25. Go canyoning at Da Lat, Vietnam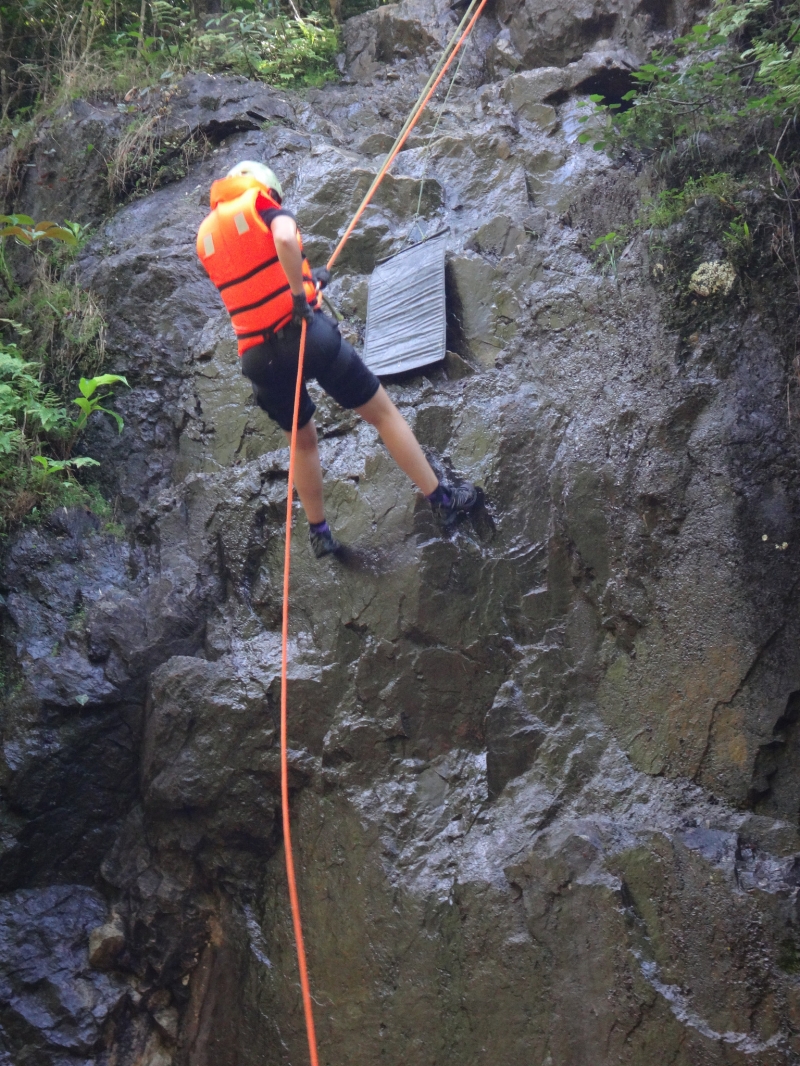 26. Change your view of Bali with a massive swing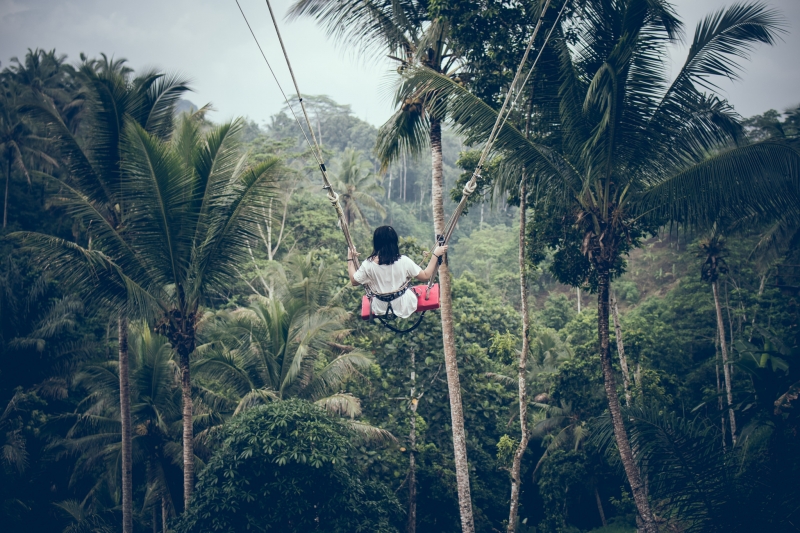 27. Reach the heights of Insanity in Las Vegas, Nevada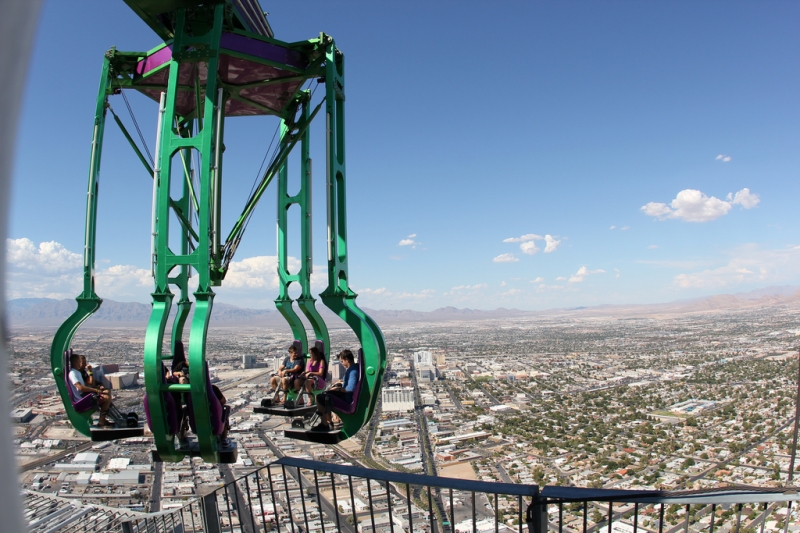 They do say that Vegas is a bit crazy sometimes. But this is just…(pardon the pun) insane! The ride hovers 270 meters above ground over the edge of Las Vegas' Stratosphere Tower.
After you're strapped in and your cries are dealt with, the mechanical arms will spin you around at high speeds up in the air. At this point, you will understandably question your sanity.
28. Dive into the largest cenote in Mexico, Dos Ojos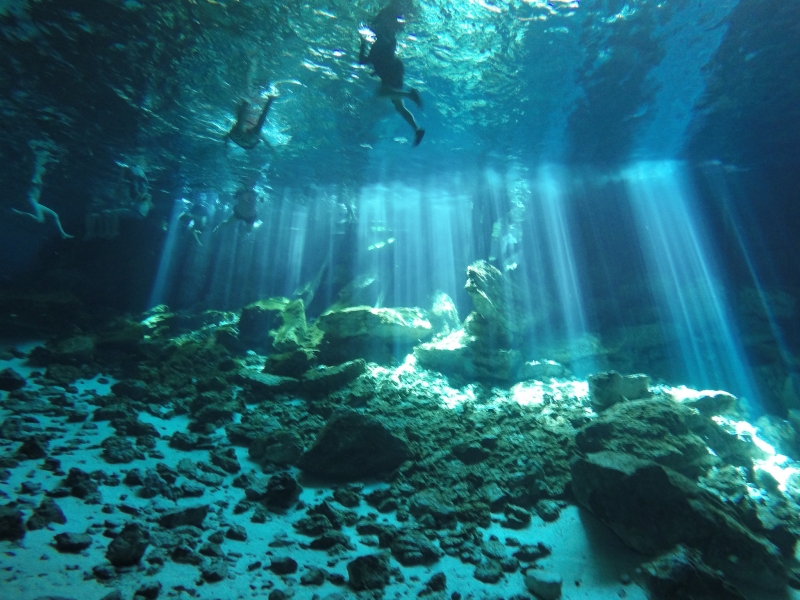 29. Conquer an active volcano and live to tell the tale in Costa Rica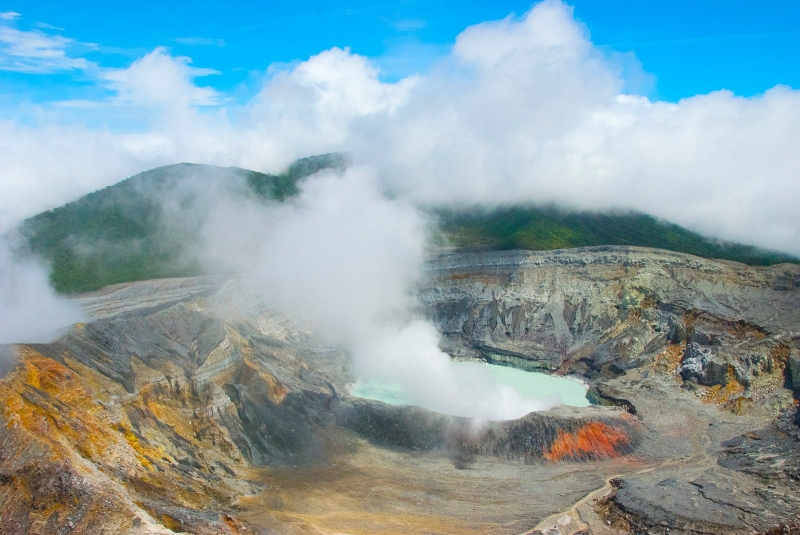 The Poás Volcano is the largest active volcano crater in the world. Located in the central region of Costa Rica, the crater contains 3 different hiking trails of various lengths. When the clouds and mist parts, you can see the sulphuric lake at the bottom, surrounded by rising smoke and steam. A beautiful scenery for a risky adventure.
30. Swing off into the End of the World in Ecuador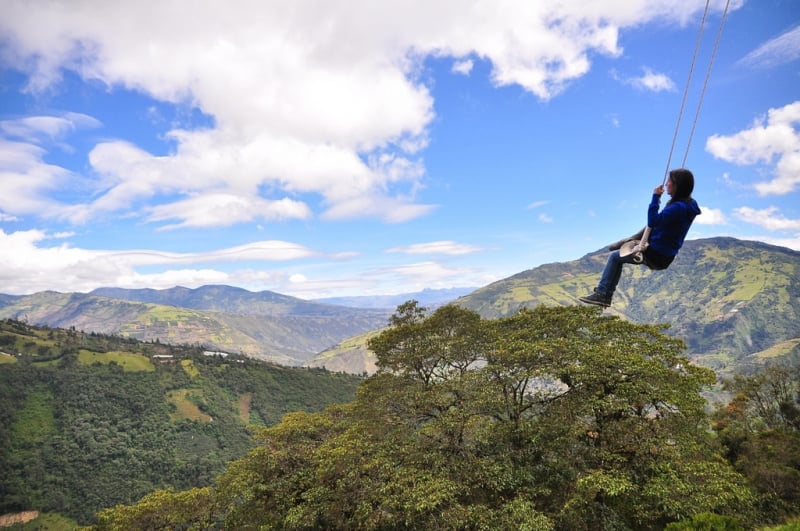 If you're brave enough to get on the swing, you'll be rewarded with some of the most alluring views in all of Ecuador. Be prepared to be amazed and captivated, and to scream your lungs out as you lurch forward into the air at 792m above sea level
Will you take up the challenge?
And there you have it! 30 things to tick off your travel bucket list if you consider yourself a true adventurer. So, are you up to the challenge?