As far as travel destinations go, Japan has always been up there as one of the favourites of Malaysian travellers. And when you mention Japan, very often, most people immediately think of the stunning metropolis of Tokyo. 
With its vibrant culture, unique attractions and an elegant balance between tradition and modernity, Tokyo is truly an exciting place to visit. However, beyond the flashy neon of Akihabara, the iconic crowds of Shibuya, and the cultural ambience of Asakusa, there exists an intriguing yet charming facet of Japan's capital city less often talked about: culinary experiences.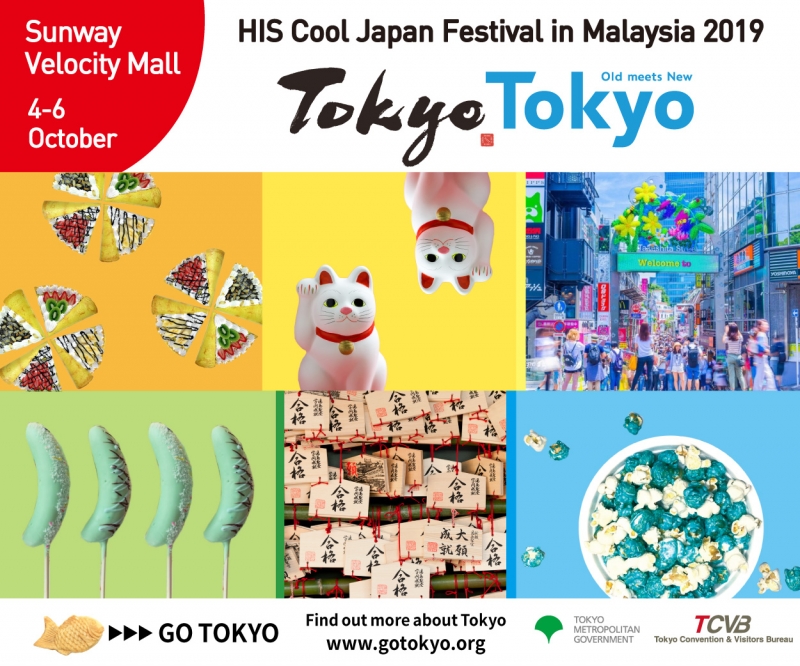 Good news, fellow travellers! From October 4th (Friday) to 6th (Sunday) 2019, you can find out all these and more at the HIS Cool Japan Festival held at Sunway Velocity Mall! It is a celebration of all things Japan! For more information on must-try foodie and travel experiences in Tokyo, make sure to visit the Tokyo booth by Tokyo Metropolitan Government & Tokyo Convention & Visitors Bureau!
Click here to find out more about Tokyo's travel gems!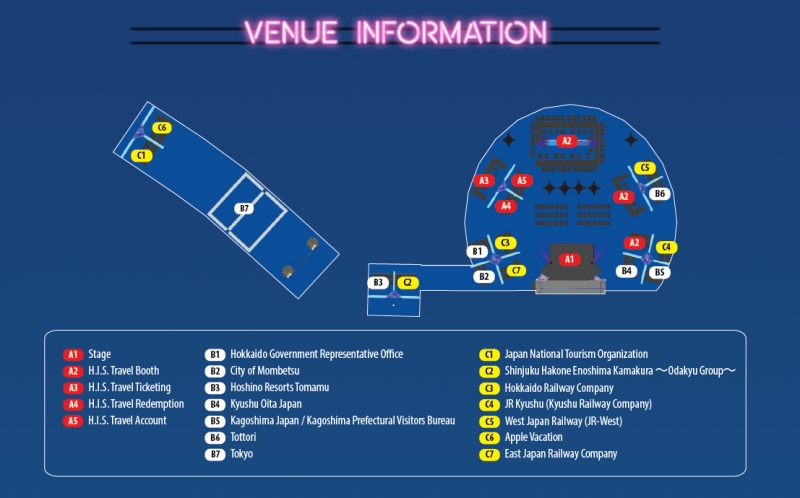 Apart from getting the gist of the best foodie experiences in Tokyo, you'll also be able to participate in interactive activities and stand a chance to win awesome prizes! Trust us, you don't want to miss it! See you there!
Tokyo's food scene is truly a kaleidoscope of breathtaking experiences. On one hand, there are gastronomic adventures highlighting Japan's traditional cuisine while innovative eateries from the future also adorn the streets of the city. It's a foodie's best dream! If you're heading to Tokyo and not sure which culinary experiences you should try, check out this list!
1. Indulge in world class sushi…in three different ways
A) Bullet train sushi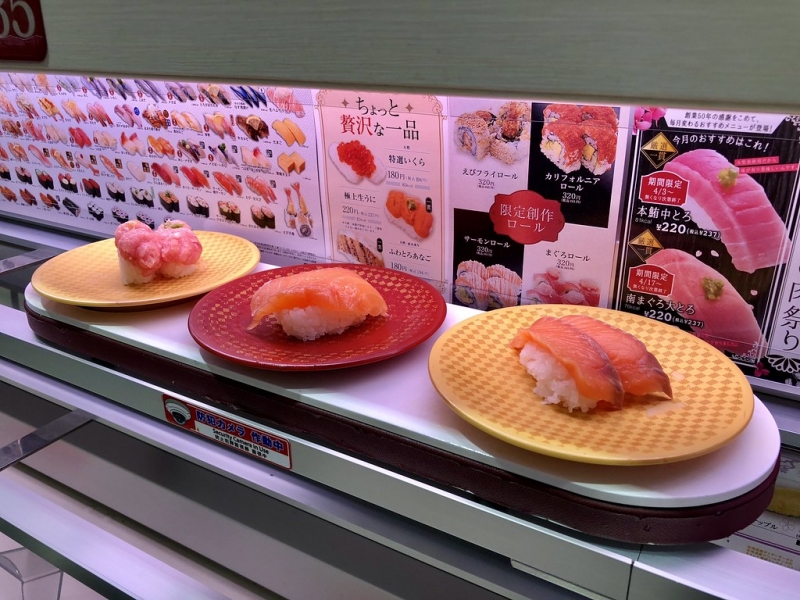 What's a trip to Tokyo without sushi? While conveyor belt sushi is easily available in Malaysia, in Tokyo, there's a new concept that's quickly gaining fame: bullet train sushi! Uobei is a sushi restaurant in the heart of Shibuya which takes conveyor belt sushi to a whole new, high-tech level! Here, customers sit in long rows, much like an office. You place your order on a multilingual touch screen, and pretty soon, a high speed chute delivers your plates of sushi straight to you.
The excitement as you spot your orders hurtling straight towards you is an exhilarating feeling. Even more so when the freshly made sushi stops in front of your face! With prices starting from only 108JPY (RM4.30), it's also one of the most affordable sushi options in Tokyo! 
B) Standing sushi bars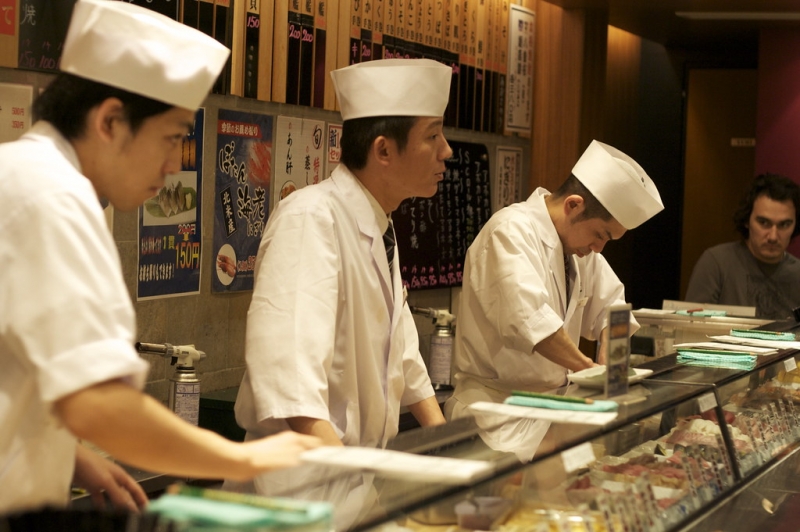 If you're looking for a more authentic, localised sushi experience, then visit a standing sushi bar instead. Found in abundance in the bustling districts of Shibuya and Shinjuku, these unique eateries were originally conceptualised to cater to office workers who had little time to enjoy a meal.
As the name implies, you'll be standing throughout your meal as expert chefs prepare mouthwatering sushi right before your eyes. If you're feeling adventurous, you can even try the "omakase experience". 
"Omakase" means "I leave it up to you". Your chef will prepare a plate of sushi based on what he thinks is the best. You have no say in what he puts on the plate! This makes it an exciting prospect, especially if you have problems deciding on what to order! 
C) A Michelin Star dining experience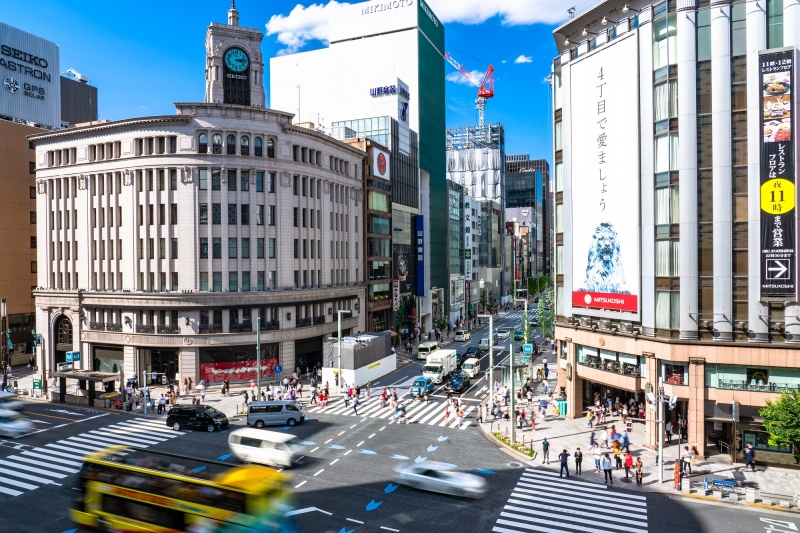 It should come as no surprise that Tokyo is home to the best sushi in the world. If you're craving for sushi that's certifiably world-class, then you won't go wrong with the plethora of Michelin-anointed sushi restaurants throughout the city! 
While prices are generally higher, you'll be able to enjoy a sushi dining experience you won't soon forget! The best place to find amazing sushi restaurants is in the vibrant shopping district of Ginza. 
Travel tip: One of the most common concerns of Halal-conscious Muslim travellers is where to go to enjoy Halal sushi in Tokyo. Well, don't worry, we've got you covered. For halal-certified sushi that tastes just as good as the rest, head over to Sushizen in Asakusa! 
2. Slurp ramen in a rustic ramen bar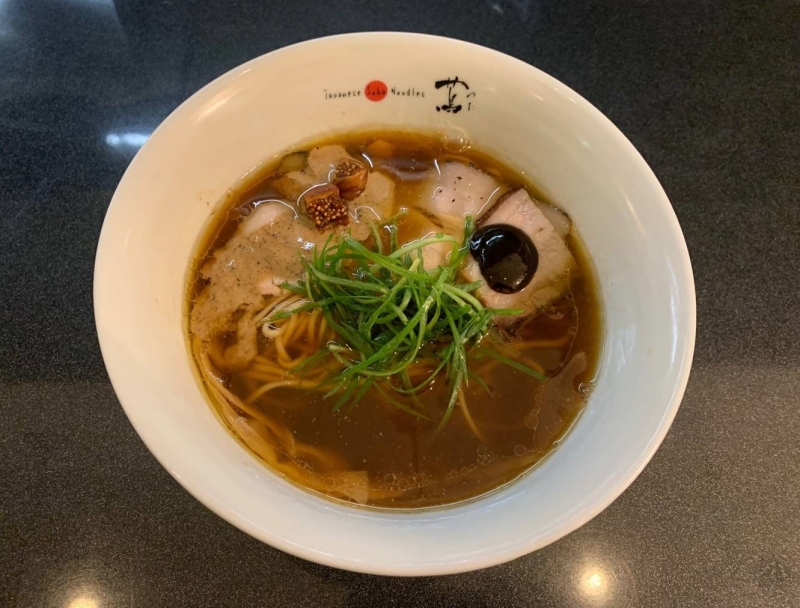 Another staple delicacy of Tokyo is a piping hot bowl of ramen, the perfect dish for any day!  Of all the ramen bars in Tokyo, none come with a more stellar reputation than Tsuta in the Sugamo area. After all, it is the world's first ever ramen shop to earn a Michelin-star! 
What makes Tsuta's ramen stand out is the that it uses soba noodles (made with four different types of wheat flour) instead of the usual ramen noodles. Each signature bowl is served with savoury chashu with black truffle sauce, all bathed in a flavoursome soy-based broth infused with umami and different flavours. 
Since Tsuta is such a popular place, there is a special queueing method. First, you'll need to head to the shop and get a time-stamped ticket which gives you your allocated time. Then, you'll have to return to the shop and get in line as per the time stated on the ticket. Then, once you enter the shop, simply place your order using a vending machine!
If you're looking for Halal ramen options, we recommend heading over to Ramen Ouka in Shinjuku! Run by a Muslim Japanese owner, Ramen Ouka is one of the few ramen shops in Tokyo with Halal certification! Using the freshest sea bream, wagyu, and vegetables, Ramen Ouka serves up bowls of slurpy ramen that are just as delicious as the non-Halal versions. What's more, they also have vegan options for those who don't consume meat or animal products. 
This ambient ramen shop is super popular amongst international Muslim travellers so be prepared for long lines during peak periods! 
3. Create and feast on the perfect monjayaki!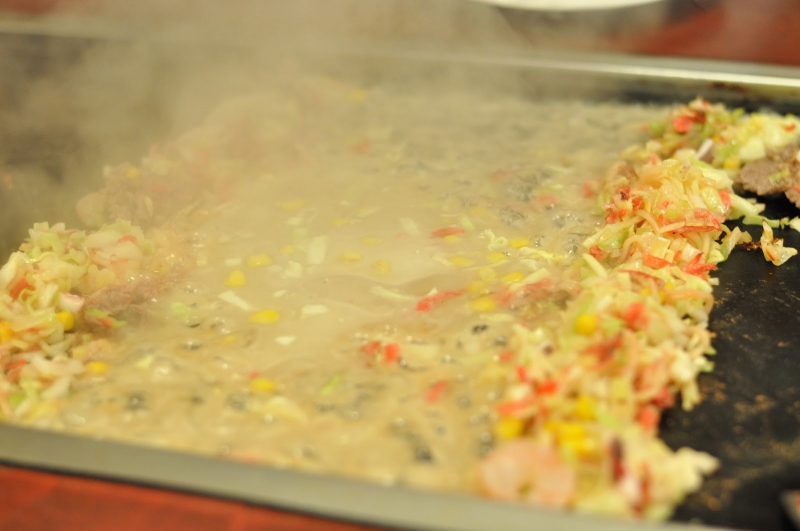 If you're a fan of Japanese food culture, you're probably familiar with okonomiyaki, the popular Japanese pancake commonly found throughout the country. However, did you know that there's also a more localised version of okonomiyaki in Tokyo and the Kanto region called monjayaki?  
Like okonomiyaki, monjayaki is a savoury pancake dish made with a batter consisting of flour and water. The key difference is that monjayaki batter is slightly more watery, leading to a fluffier texture. However, like it's more popular counterpart, other savoury ingredients such as shredded cabbage, tempura batter, and seafood are also added to the batter to give it an extra flavourful kick. Yum!
For the best monjayaki experience, head on over to Tsukishima. It is easily one of the best areas to hunt for the best monjayaki, with options aplenty throughout the area! And the best part is the Tsukishima is only 18 minutes away by train from Tokyo Main Station, so it's super convenient! 
4. Observe the animated auction of fresh tuna at Toyosu Fish Market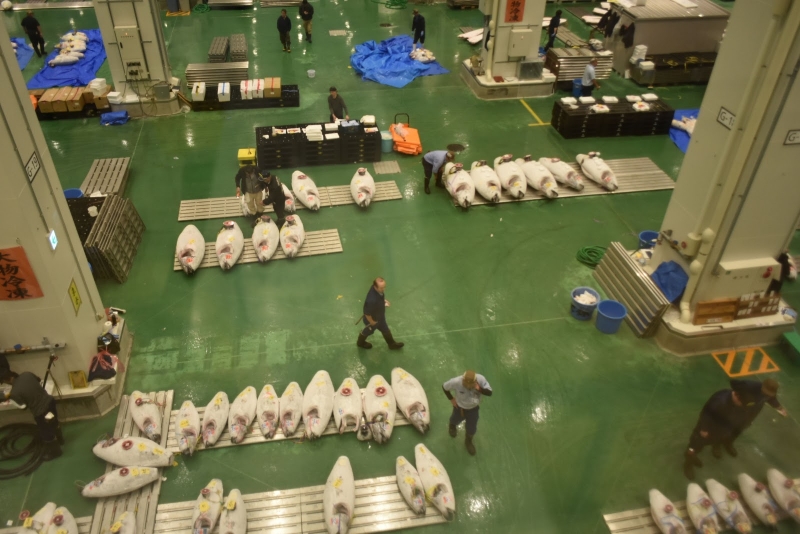 For years, the sight of prospective sushi restaurateurs trying to outbid each other for the freshest tuna at Tsukiji Market had been one of the main attractions in Tokyo. Sadly, Tsukiji Market ceased operations in October 2018. However, while the once-iconic market no longer operates, the tuna auction has simply moved to a new location: Toyosu Fish Market. 
Compared to Tsukiji Market, Toyosu Fish Market is more modern in appearance and much bigger too. But the ambiance of the tense tuna auctions remain and visitors can still observe them behind glass windows at the new location. Even though you're (probably) not planning on buying a whole tuna, you can still enjoy some fresh sushi and sashimi at the market too! 
5. Attend a traditional Japanese Tea Ceremony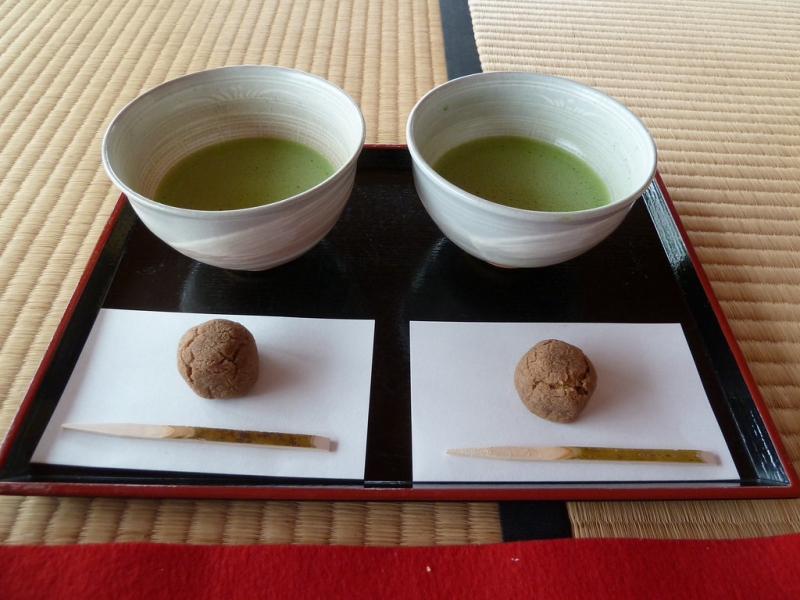 Sometimes, the joy in a foodie experience lies not in the food itself, but the cultural heritage behind it. While you can sample Japanese green tea in almost any corner of Tokyo, attending a traditional tea ceremony and admiring the intricacies of this age-old tradition is a much rarer opportunity not to be missed. 
This elegant ritual is governed by an ancient set of rules and uses ceremonial tools. These highlight the cultural significance of Japanese tradition. Not only will you be able to sample some authentic Japanese tea, you'll also be able to learn more about the local culture! 
For an extra special experience with traditional Japanese tea ceremonies, consider heading to Tokyo in late October to join the Tokyo Grand Tea Ceremony Festival! Held annually at the Hamarikyu Gardens, the festival is the perfect point to experience Japanese culture in English! 
6. Sign yourself up for a sake tasting tour
Widely regarded as the national drink of Japan, sake is Japanese rice wine made from fermenting polished rice. You might think that all sake are the same but in reality, there are many different varieties. Some even say that there are no less than 10,000 different ways to enjoy this sweet alcoholic beverage!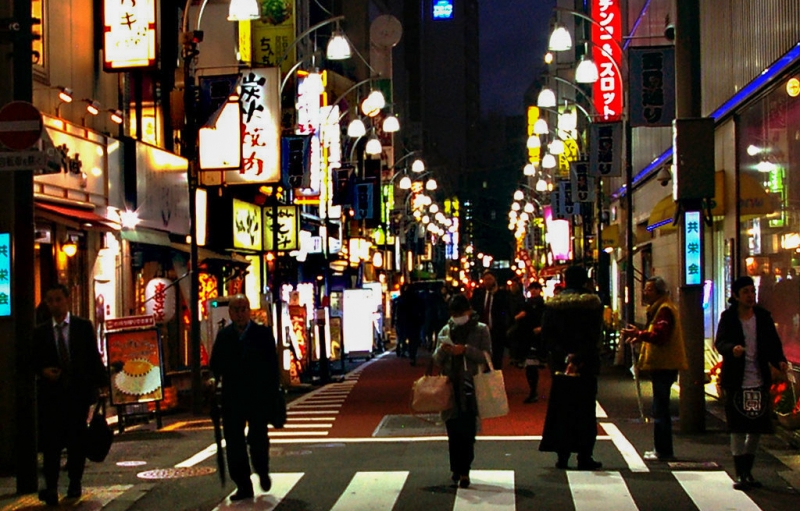 The Sake and Shochu Information Center in Shinbashi is the place to start. Here, you can book a one day sake tour of Tokyo with an expert and passionate guide who can introduce you to some of the best-tasting sake in the city! 
While you're at it, why not take some time to explore the rustic charms of Shinbashi? The vibrant district is often touted as the workers' capital of Tokyo, filled to the brim with authentic izakayas (we'll get to that), great entertainment and plenty of ambient bars around almost every corner. And thanks to its central location, it's definitely one of the top hangout spots in the city for a great evening! 
7. Grill your own meat at an authentic yakiniku restaurant in Shibuya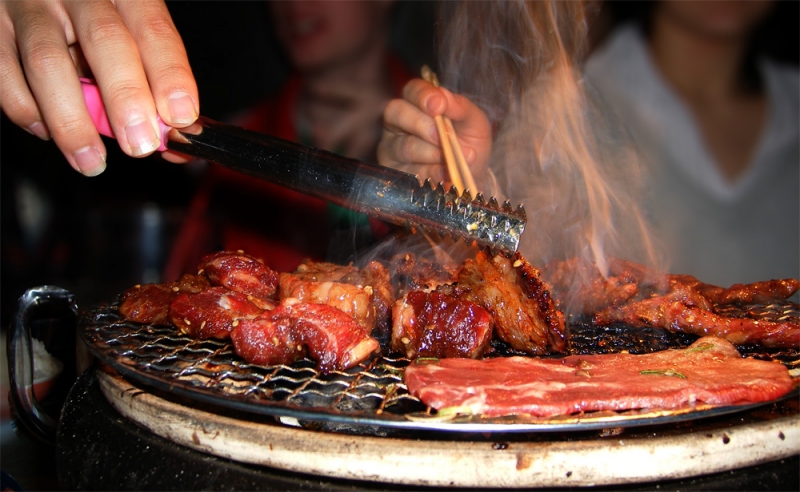 There's nothing quite as exciting as a BBQ meal. Hearing the hot sizzle as the meat hits the grill, savouring the aroma of the marinated meat as it cooks, the rowdy atmosphere between friends, it's all perfect! 
In Japan, BBQ is referred to as yakiniku and it's everything you expect. Bite-sized meat pieces like beef, chicken, seafood are grilled to perfection over a charcoal flame and eaten right off the grill. It's the perfect meal to share with friends and family. While most yakiniku restaurants in Tokyo serve pork as one of the ingredients, Gyumon in the Shibuya district is one of the few Japanese BBQ restaurants that are Halal-certified.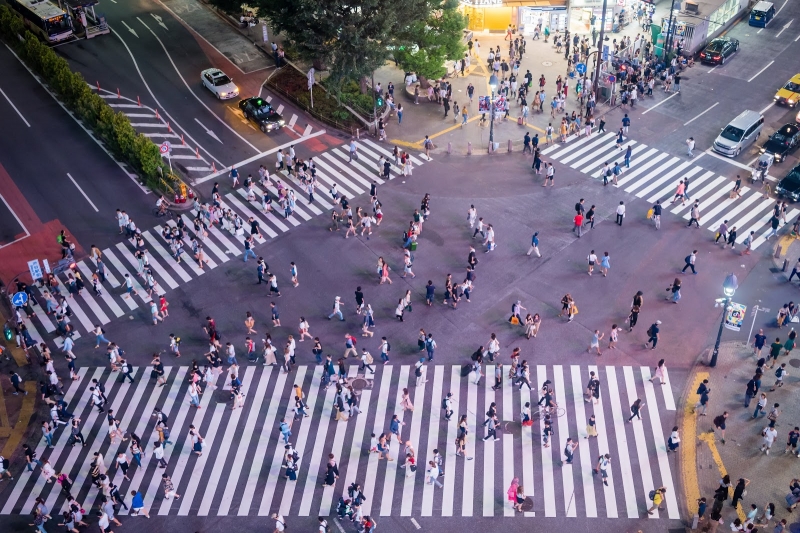 After you finish your meal, we suggest taking some time out of your itinerary to explore the colourful area of Sibuya. You'll recognise it instantly thanks to the iconic Shibuya Crossing! But beyond the picturesque landmark is a buzzing hub adorned with massive department stores (shopping), entertainment outlets and eateries waiting to be discovered. 
Although any time of day is a good time to visit Shibuya, we recommend visiting after sun down when the lights come on. Illuminated under the glitzy neon, Shibuya transforms into a lively night city exuding the unmistakable charm of youth fashion and culture. Something you definitely don't want to miss!
8. Embrace the local culture by dining at an izakaya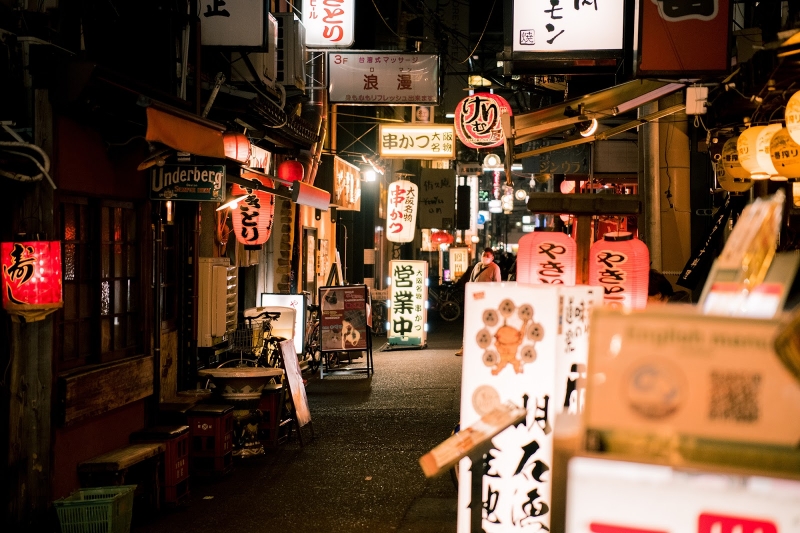 Izakayas are casual Japanese pubs that were originally conceptualised as sake stores where customers could hang out and have a drink. Over time, they became more like tapas bars, serving snacks (I highly recommend the yakitori – grilled skewers) along with drinks. Service in an izakaya is generally quick and the food is extremely good. Pair it with some beer and sake and you have the perfect combination!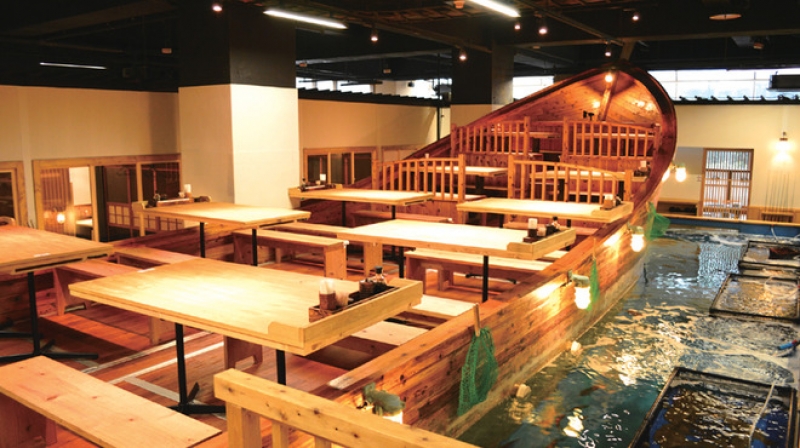 One izakaya we highly recommend is ZAUO, an izakaya in Shinjuku which offers diners a truly unique experience. While it looks like any other eatery from the outside, when you step into ZAUO, you're greeted with a huge boat surrounded by a bubbling moat. That is where your meal will come from! Yes, ZAUO is one of the only restaurant chains in Japan that allow customers to catch their own fish for their meal! 
How it goes is that you'll be given the chance to catch fish in the water with a fishing pole and then let the chef know how you'd like it prepared. There are various types of fish and seafood to catch too! As you work hard for your meal, enjoy the animated chatter around the place and the buzzing atmosphere. You'll also hear occasional shouts of delight when someone catches something. Now that's one unforgettable dining experience! 
If you find yourself out of luck, don't worry. You can still order off the menu but prices are slightly cheaper if you catch your own fish.
9. Shabu-shabu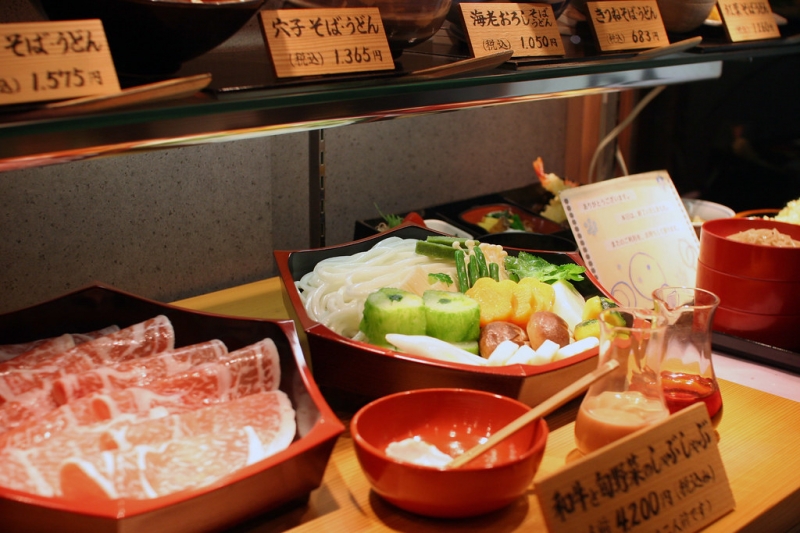 Malaysians are no strangers to the concept of hotpot. Just look at the insane queues at Haidilao! But if you want to try an authentic Japanese steamboat dinner (known as shabu-shabu), then Tokyo is the place to do it! 
In essence, shabu-shabu and hotpot are relatively similar but there are a few differences. For one, there are more vegetables in a typical shabu-shabu meal, along with thin slices of meat. The proper way to dig in is to dunk the raw ingredients in boiling water and then dip them in a variety of serving sauces. 
Did you know: While they may seem the same, shabu-shabu is actually different from sukiyaki, a different kind of Japanese hotpot. Sukiyaki is often a sweeter meal in comparison while shabu-shabu is more savoury. 
10. Eat like a professional sumo wrestler
Perhaps one of the most iconic sports in Japan is sumo wrestling. In fact, I would even say that watching a live sumo match is is one of the must-do things in Tokyo! Despite appearances, sumo wrestlers train hard and keep to a strict regime to maintain their bodies. To that end, there's a certain type of food you can try in Tokyo which the locals call "sumo stew". 
Chanko Nabe is a sumptuous stew that sumo wrestlers consume on a daily basis to bulk up. It's actually pretty good and highly nutritious, containing lots of proteins and veggies and low in fat too. Chanko Nabe is often a shared meal and you can find plenty of chankonabe restaurants in Tokyo. This is especially true near sumo stables where the athletes practise. 
11. Bite into delicious Melon Pan from Asakusa Kagetsudo
Unlike the rest of Tokyo, Asakusa is steeped in cultural heritage and tradition. This is exemplified by its iconic Sensoji Temple, a tourist hotspot that's not to be missed. The area surrounding the temple boasts an authentic historical charm that also extends to its food culture. 
There are plenty of quaint eateries here, many of which have been in operation for many years and even generations. Asakusa Kagetudo is a famous bakery that was established in 1945 and still going strong! While most of the bread sold in Asakusa Kagetudo are good, none are as popular as its signature junjube melon pan!
Although you can get melon pan anywhere in Japan, what makes Asakusa Kagetudo's so special is due to the special fermentation process for the yeast. Instead of the usual 60 minutes, the yeast is fermented for up to three hours! The result? An extremely fluffy bun with a crispy exterior that oozes butter and milk aroma the moment you bite into it! Trust us, you won't stop at just one!
Fun fact: melon pan actually does not contain any melon. It got its name because of the exterior which looks like a melon! 
12. Go on a sweet desert tour at the vibrant district of Harajuku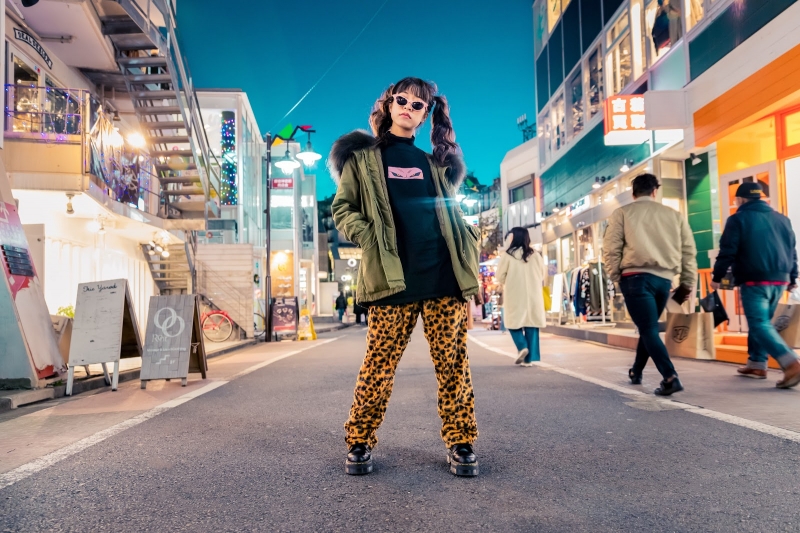 Harajuku, a vibrant district located between Shibuya and Shinjuku, is THE place to be to experience youth culture in Tokyo. A trip to Harajuku, especially to the famous Takeshita Street, is an adventure filled with colourful street art, quirky fashion accessories and clothing, and a buzzing atmosphere. 
Much like the ambiance of the area, the food in Harajuku is also vibrant, colourful, and picture-perfect. The two most common snacks that you can find in the area are Harajuku crepes and cotton candy! While these food items didn't necessarily originate in Japan, they certainly blend in well with the colourful culture of Harajuku. In fact, some of these shops are so popular that there are often long lines to contend with! 
13. Pick your own fresh strawberries at Yasai no ie Strawberry Farm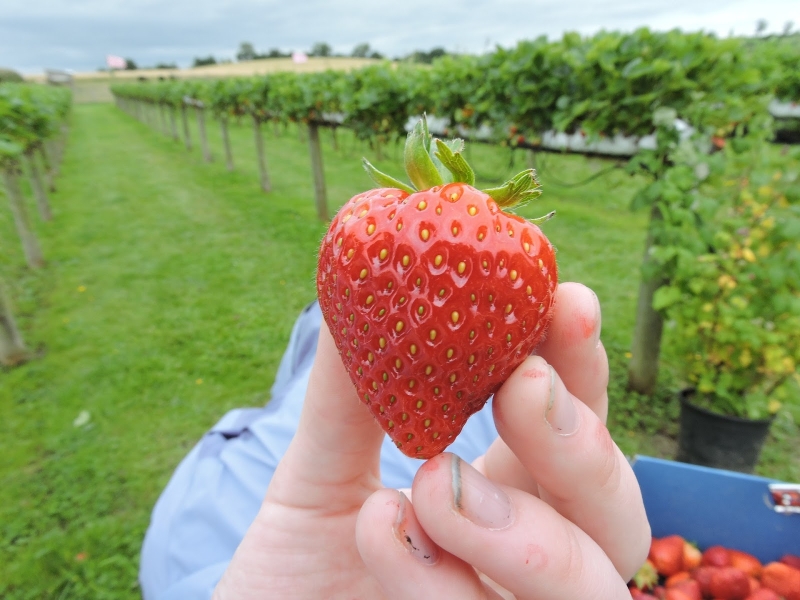 If the city life is starting to get to you, why not take a day trip to calm your mind? In fact, why not leave the city behind and head to a farm in the suburbs and pick and pick some fresh fruit? Yasai no Ie is a strawberry farm in Machida which allows visitors to pick their own fresh strawberries!
Located an hour away from Tokyo by train, Yasai no Ie is the perfect place to experience life in the great outdoors. Fresh air, verdant greenery, and the vibrant red of the strawberries combine to form beautiful scenery to sweep your worries away. Just try not to eat all the strawberries before you finish picking them! 
14. Before heading home, shop at Ameya Yokocho for delicious Japanese snacks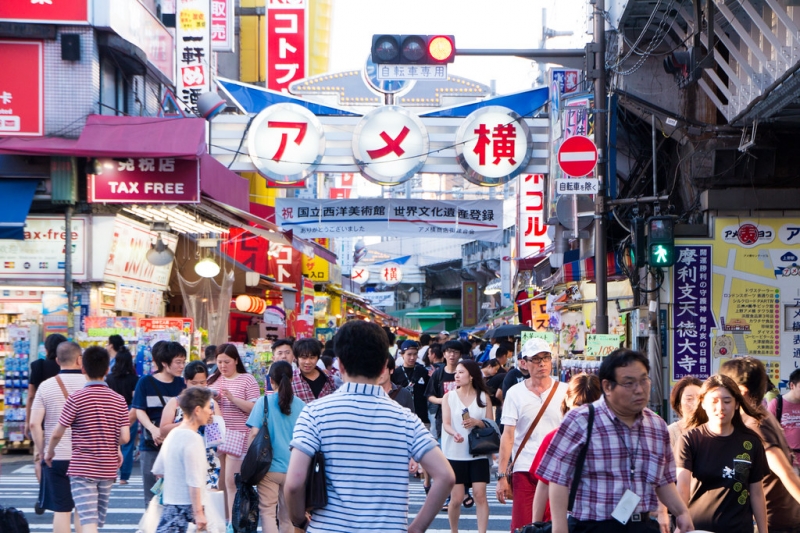 When visiting a mega city like Tokyo, it's inevitable that shopping will be one of the main activities. But where exactly should you go to shop for last minute souvenirs and snacks to bring home? The answer, without a doubt, is Ameya Yokocho. 
For the uninitiated, Ameya Yokocho is a massive open-air shopping arcade which stretches from Ueno Station to Okachimachi Station. There are more than 400 shops of various genres here selling snacks, candy, cosmetics and more at reasonable prices! There are plenty of dining options and bars in the area as well! 
This exciting shopping area sees plenty of local and foreign visitors every day! It's definitely one of the must-visit spots in Tokyo. The only problem you'll likely face is accidentally buying too much!
Also read: 28 Things To Do In Tokyo For Malaysians Visiting For The First Time
---
Brought to you by Tokyo Metropolitan Government & Tokyo Convention & Visitors Bureau