The Tohoku region of Japan is one of the most beautiful yet underrated travel destinations in the world. Located in the northern part of the main island of Honshu, Tohoku is known for its diverse landscapes, alluring scenery, and unique climate. 
Thanks to its high altitude, the region enjoys lower temperatures all year round, providing the perfect conditions for producing some of the best rice and fruits in the country. Each of its six prefectures, Aomori, Akita, Iwate, Yamagata, Miyagi, and Fukushima, all have their own unique charms and unique experiences to offer. 
If you're planning on visiting the Tohoku region, we've got just the right guide to get you started! 
Ready to be amazed and mesmerised by Tohoku? Check out this incredible video which showcases the timeless charms of the Tohoku Region! Tohoku24 highlights all the amazing round-the-clock experiences throughout the six prefectures in Tohoku, helping you fill every waking hour, including early hours in the region, with unforgettable memories. 
To find out more about the Tohoku Region and what to expect, head on over to the Tohoku 24 website where you can keep up with the trending spots and exciting experiences in the area and plan for your future trip there! 
Aomori
Located in the northernmost part of Honshu (main island of Japan), Aomori is the largest producer of apples in Japan and features an abundance of cherry blossom spots scattered throughout the prefecture. 
Tatehana Wharf Morning Market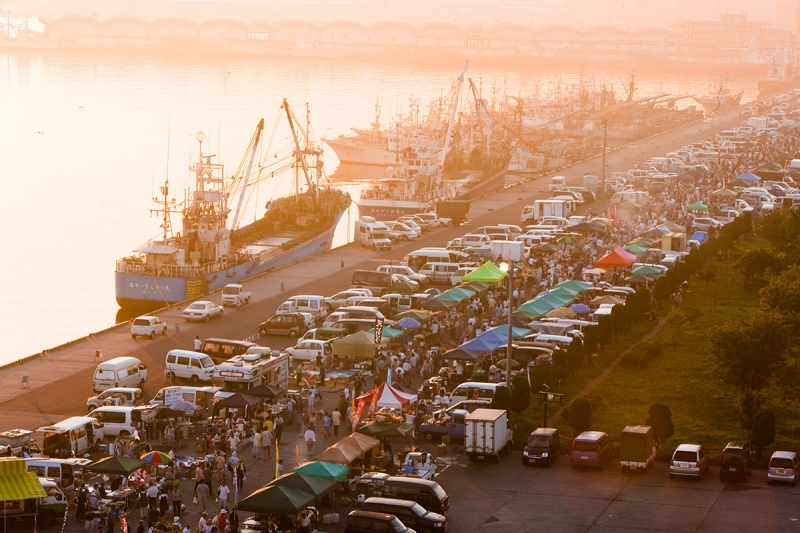 Tatehana Wharf Morning Market in the city of Hachinohe is one of the largest of its kind in Aomori, and some even say it's the biggest fish market in Japan! 
It takes place along the harbour every Sunday morning and stretches nearly 800m along the Sanriku Coast! As you explore this bustling market, you'll discover over 300 stores selling various local produce and food items. While you're there, don't miss the chance to try two of Aomori's specialty dishes: Senbei-jiru and sea urchin rice bowl.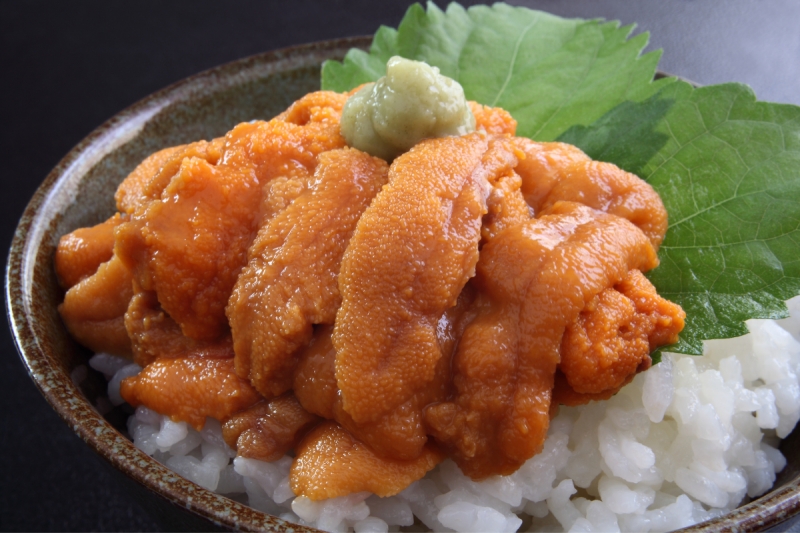 Senbei means rice cracker and jiru means soup. As you might already guess, senbei-jiru is a hearty broth that contains vegetables and meat that is eaten with wheat flour crackers (Nanbu Senbei)! The key is to submerge the crackers until they turn slightly soft (like pasta) and then to eat it with the broth. 
A sea urchin rice bowl, on the other hand, is much more straightforward. It's basically rice topped with fresh sea urchin, one of the popular catches in summer. The combination of rich sea urchin and warm rice is simply incredible and a great way to start the day! 
Tsuru-no-Mai Bridge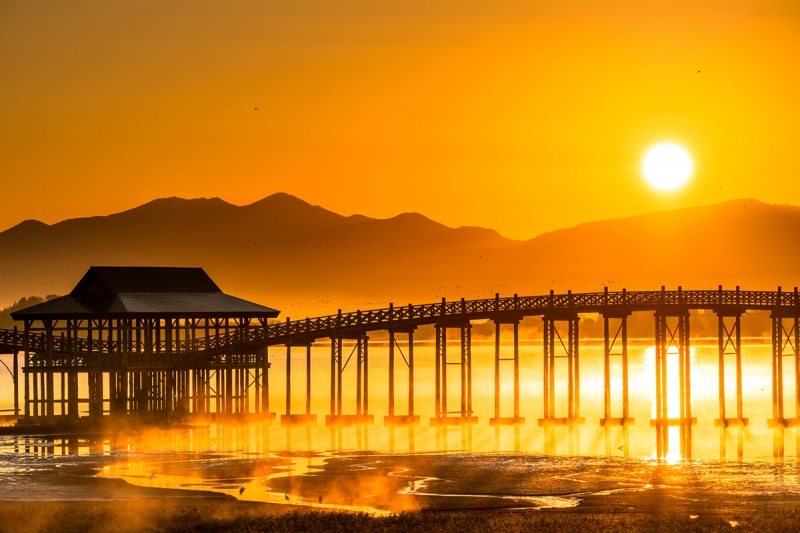 Tsuru-no-Mai Bridge is a triple-arched bridge that is built over Tsugaru Fujimi Lake, the largest man-made lake in Aomori. Stretching around 300m in length, Tsuru-no-Mai Bridge is the longest wooden bridge in Japan and offers some stunning views of Mount Iwaki in the distance. 
More importantly, Tsuru-no-Mai Bridge is one of the best locations in Tohoku to catch the sunrise! As the morning sun rises in the sky, the rays reflect off the lake's surface, giving it a whimsical golden hue.
Fun fact: According to local folklore, crossing Tsuru-no-Mai Bridge brings good luck and longevity! Fittingly enough, another symbol of longevity, the crane, can also be found at the nearby Crane Nature Park. Here, you can admire and interact (safely) with majestic red-crowned cranes.  
Aomori Nebuta Festival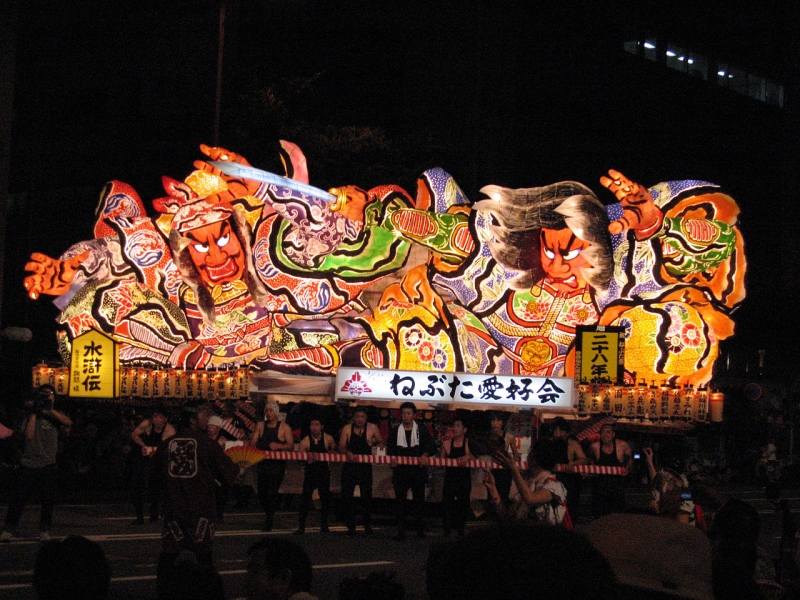 The annual Aomori Nebuta Festival is one of the three main summer celebrations in Tohoku (in addition to the Kanto Festival in Akita, and the Sendai Tanabata Festival in Miyagi). Held between July and August, the festival's main highlight is a parade of colourful lanterns and floats that come in the shape of fearsome warriors and mythical beings from Japanese folklore. 
As the vibrant procession chugs along, dancers dressed in traditional costumes called haneto will dance around the floats while chanting "Rasserā", an invitation to join in the festivities. It is truly one of those events that you can only truly appreciate once you've experienced it yourself! 
If you'd like to learn about the history of the Aomori Nebuta Festival, head on over to Nebuta Museum Wa Rasse. Not only can you learn about the history of this popular summer festival, you can also peek into the delicate process and hard work that goes into creating the intricate floats used in the parade.  
Hirosaki Park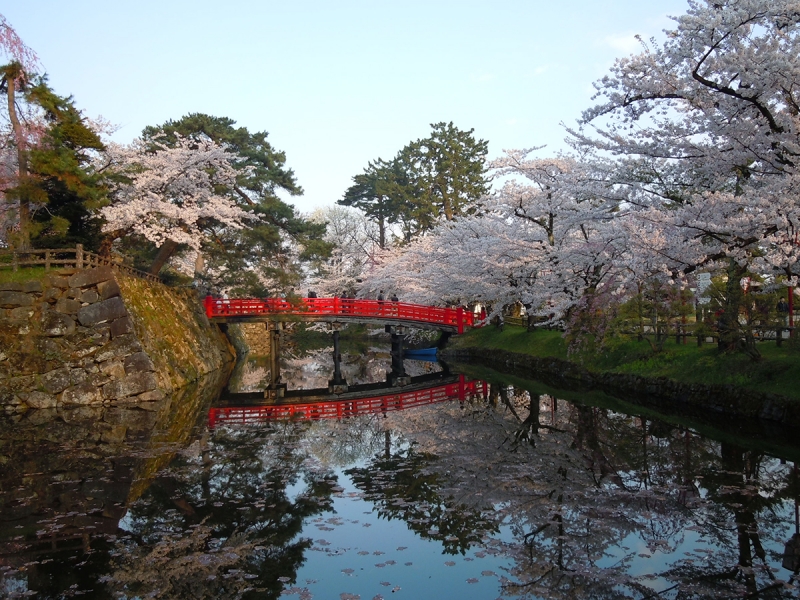 Aomori is also one of the best locations in Japan to admire cherry blossoms in spring. One popular location for that is Hirosaki Park which houses more than 2,600 cherry trees, including the oldest Somei-Yoshino cherry tree in all of Japan! 
If you're lucky enough to visit just as the cherry blossoms come into full bloom, you'll be in for an unforgettable treat! What's more, during cherry blossom festivals, there are also ambient nighttime illumination events that add to the romantic atmosphere. Don't forget to stop by the popular cherry blossom tunnel by the west moat of Hirosaki Castle for an amazing photo.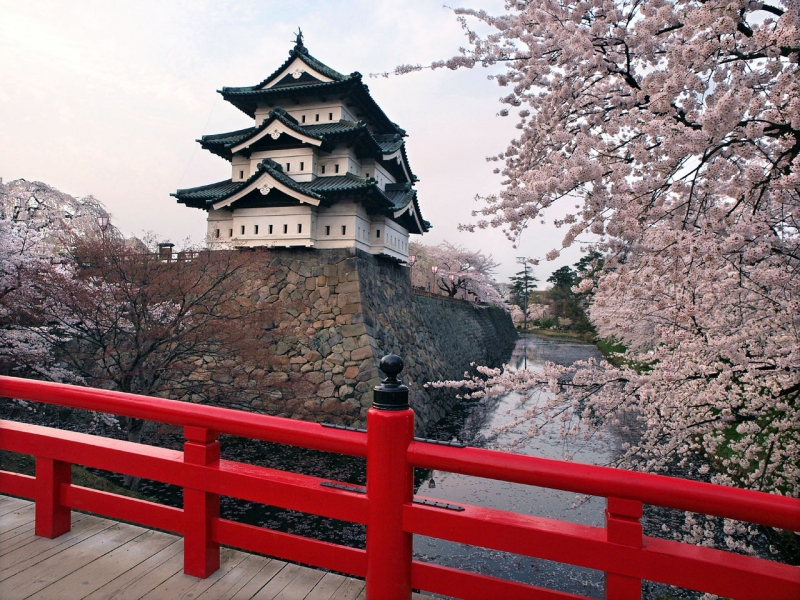 Speaking of Hirosaki Castle, this historical landmark in Aomori is an attraction in and of itself. In winter, it hosts the Hirosaki Castle Yuki-Doro Festival (Snow Lantern Festival). At this festival, you'll find snow sculptures and huts that are lit up with lanterns, providing the perfect backdrop for yet more Insta-worthy photos! 
Akita
The mountainous region of Akita receives the most snow in Tohoku and boasts the shortest daylight hours in the country. It is also known for producing incredible rice, sake, and Inaniwa Udon, one of Tohoku's most popular regional dishes and Japan's top three udon noodles. And, of course, it is the birthplace of one of the most adorable dog breeds in the world: The Akita Inu!  
Akita Dog Visitor Center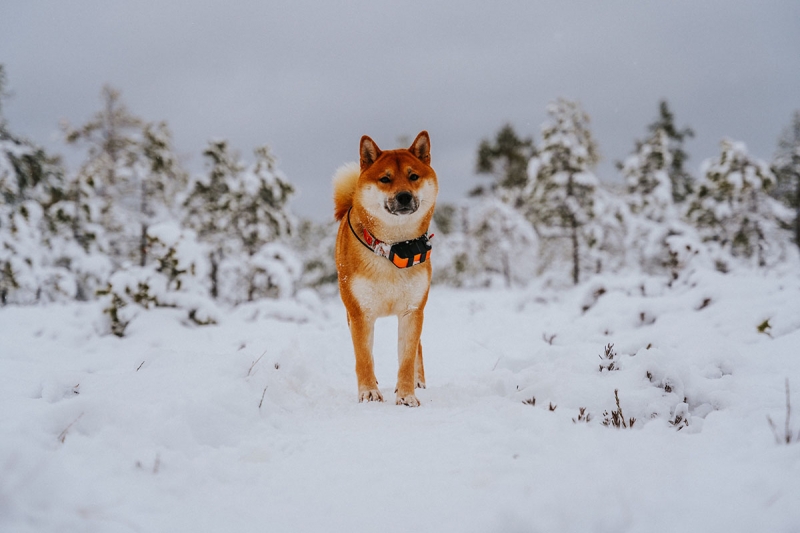 The Akita Inu is one of the most famous dog breeds in the world. It rose to fame largely thanks to the heartwarming 1987 Japanese film, Hachiko Monogatari, and its 2009 Hollywood remake, Hachi: A Dog's Tale. 
Aside from being incredibly loyal, these adorable companions have a long history in Akita. In the past, they were actually trained for hunting and even served as companions to samurai at one time! To understand the complex history surrounding these friendly pets, start your journey at the Akita Dog Museum.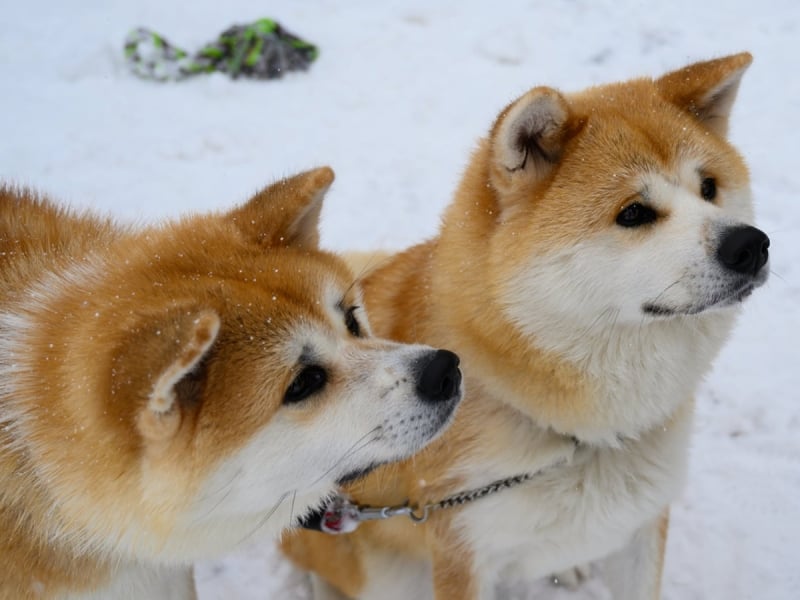 If you want to give these adorable puppers some pats, head to the Akita Dog Visitor Center where you can interact with the Akita Inus who are actually part of the staff! You can also buy Akita Inu-themed souvenirs there. Finally, we recommend heading to the Furusawa Onsen Hot springs where you'll be greeted by the adorable Akita Inus, Haru and Hana (fluffy staff on duty), before taking a dip in the therapeutic hot springs! 
Godzilla Rock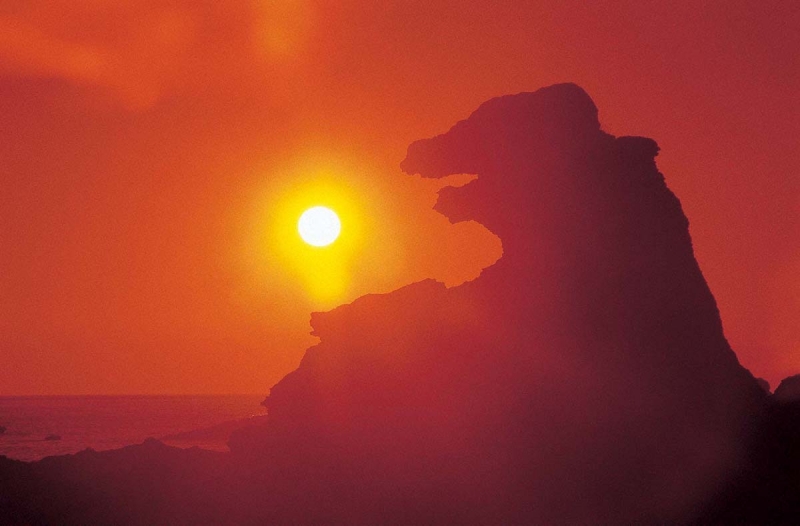 Take a trip to the Oga Peninsula, off the northwestern coast of Akita, and you'll find the familiar silhouette of another iconic movie character: Godzilla! Before you panic, this Godzilla isn't going to go on a rampage in the city. 
Instead, Godzilla Rock is a peculiar natural rock formation that looks strikingly similar to the world's most famous kaiju (monster). Most people choose to visit Godzilla Rock during sunset as the scenery at that time looks simply mesmerising, as the Godzilla Rock looks exactly like it is breathing fire! 
Sample some delicious Kiritanpo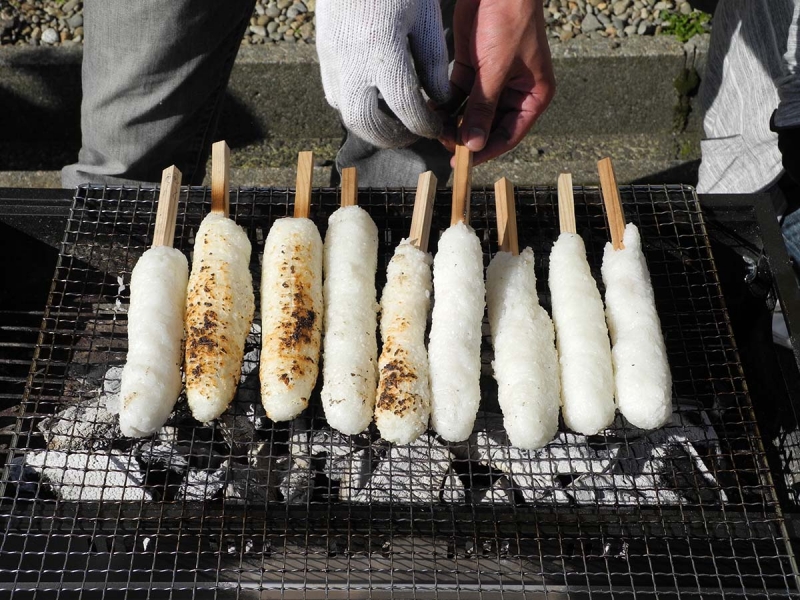 For the foodies in Akita, there are plenty of culinary options to choose from. Akita's Inaniwa Udon is considered one of the best in Japan! Yokote Yakisoba, a fried noodle dish with a hint of sweetness, is also a mouthwatering delicacy to try, especially when topped with a delicious fried egg. 
However, Akita's most popular signature dish is Kiritanpo. Kiritanpo is basically pounded rice that is wrapped around wooden skewers and coated with either miso or soy sauce. It is then grilled to perfection over an open fire. Kiritanpo is often eaten with soy sauce soup (Kiritanpo Nabe) which contains vegetables and mushrooms.  
For an extra dimension of flavour, you can choose to add some Hinai-Jidori to your Kiritanpo Nabe. Simply put, Hinai-Jidori are chickens that are meticulously-bred for their lean meat. The delicate texture and delicious flavour of the meat is a testament to the hard work that goes into raising these birds and will certainly make your Kiritanpo Nabe even more delicious! 
Namahage Sedo Festival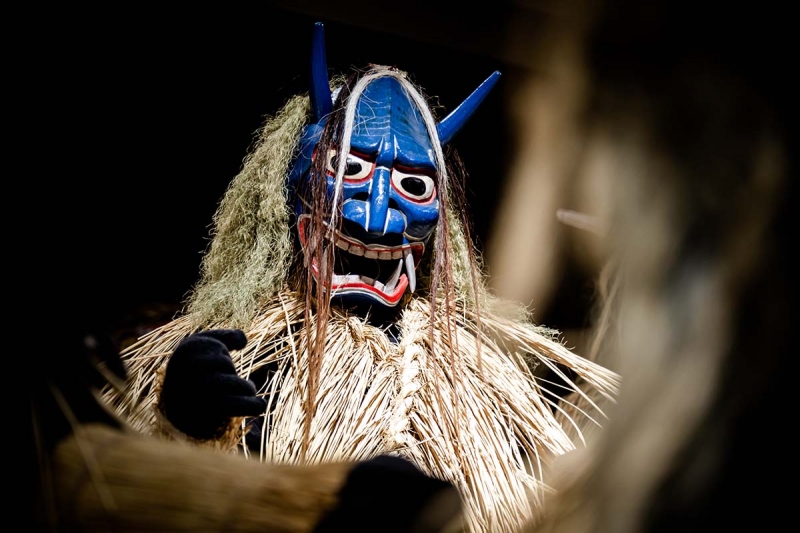 New Year's Eve in Akita is a surreal experience. That is thanks to the traditional folk practice of Namahage. The day before the start of a new year, the young men in Oga city of Akita put on masks that resemble an ogre called Namahage. They then go around homes giving blessings to those who give them offerings while scaring naughty children into behaving for the new year! 
In addition to New Year's Eve, the Namahage also appear in February for the Namahage Sedo Festival, where, accompanied by the rhythmic beating of taiko drums, they entertain audiences with traditional dances. This unique tradition is a UNESCO intangible Cultural Heritage that is truly one of a kind.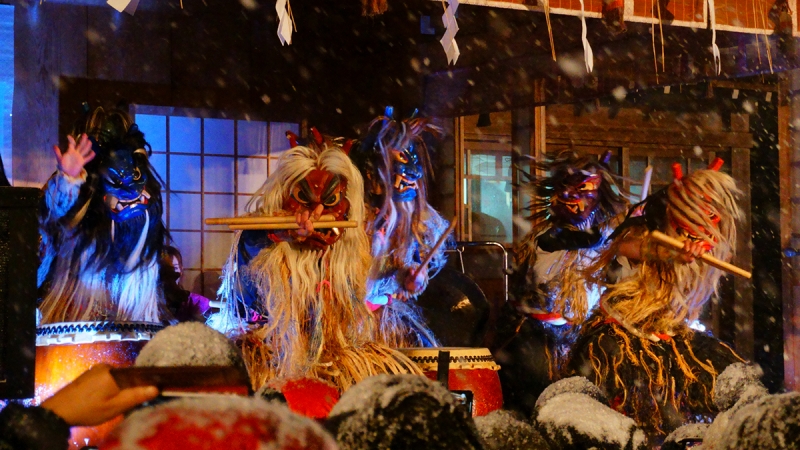 You can also head to the Oga Shinzan Folklore Museum, where Namahage reenactments take place all year round. If you'd like to don a Namahage costume yourself, you can do so at the aptly-named Namahage Museum, where you can also learn more about the history of this unique tradition. 
When you visit the Oga Onsen Village, you'll be serenaded by live Namahage taiko drumming performances as you relax in the hot springs. Finally, for a unique photo op, visit the enormous 15-metre-tall Namahage statue on the peninsula. 
Iwate
In Iwate Prefecture, you'll find rustic hot spring villages and historical towns aplenty. As the second largest prefecture in Japan after Hokkaido, Iwate is, unsurprisingly, full of must-visit locations and must-try experiences. The first-ever UNESCO Heritage Site in Tohoku, Hiraizumi, is found here and is known as "the most peaceful land on Earth". 
Jodogahama Beach
Located along Sanriku Coast, Jodogahama Beach is almost always packed when it's open, an ode to the captivating beauty that surrounds the area. 
During the day, you're treated to captivating coastal views, punctuated by enigmatic moss-covered white rock formations that jut out of the water, the perfect photo op for any traveller. At night, Jodogahama Beach turns into one of the best stargazing spots in the whole of Tohoku!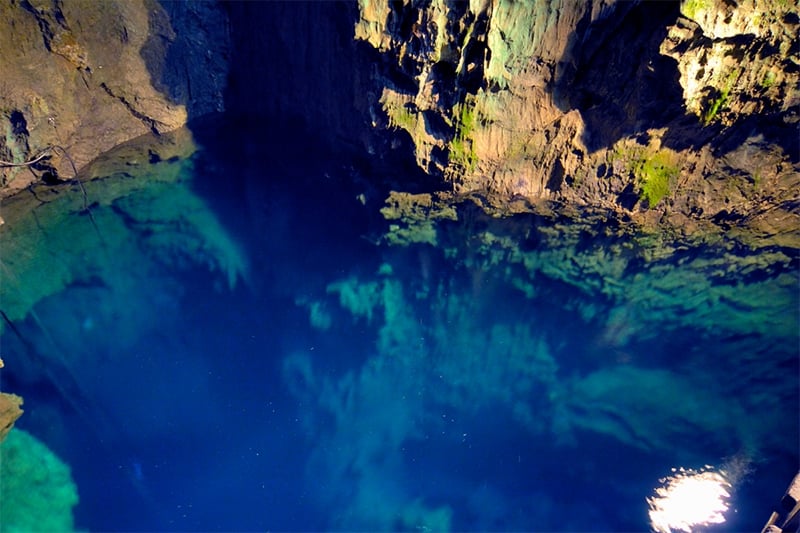 While visiting Jodogahama Beach, you can also hop on a boat ride to explore Hachinohe-ana, the famous Blue Cave where the waters emit a vivid aquamarine glow. Ryusendo Cave, an extensive limestone cave with underground lakes is another location that is close by for some day exploration. 
Koiwai Farm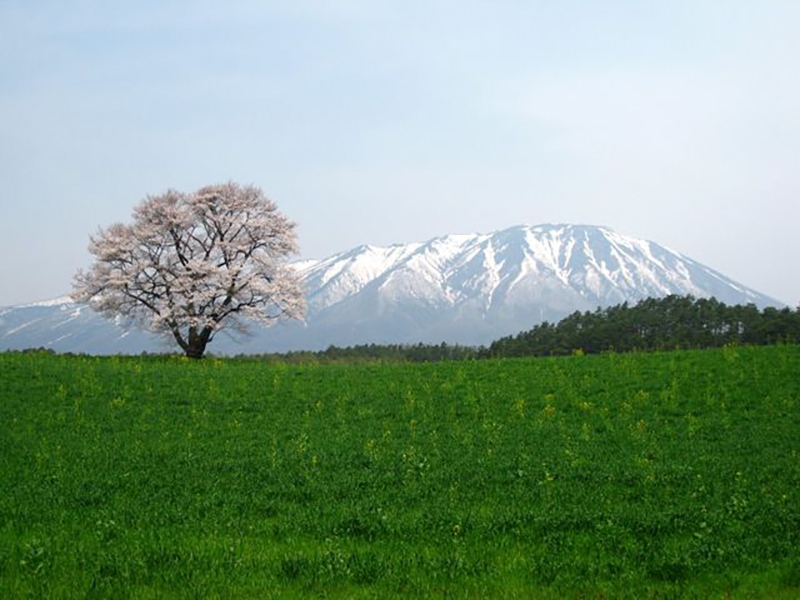 One of the most therapeutic travel experiences is to visit a serene farm with wide open fields and beautiful scenery. In Iwate, the location that can give you exactly that is Koiwai Farm, a location with over 120 years of history that's located near the foot of Mount Iwate. 
The farm has over 21 facilities that are recognised as National Cultural Assets, an ode to the rich history of this popular tourist hotspot. One of the most iconic sights at Koiwai Farm is a single cherry tree that stands in front of the majestic Mount Iwate. Said to be over 100 years old, the tree blooms in spring, providing a truly stunning picture-perfect view.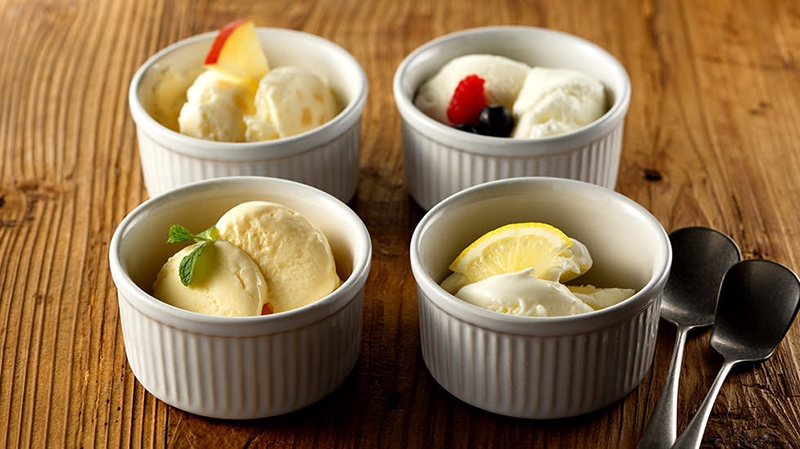 In addition to breathing in the fresh air and admiring the view, you can also enjoy horseback riding and dine on fresh dairy products, such as cheeses, ice creams, and milk, at the farm. Even in winter, the area is a must-visit location thanks to the festive LED illumination event that takes place every year! 
Genbikei Gorge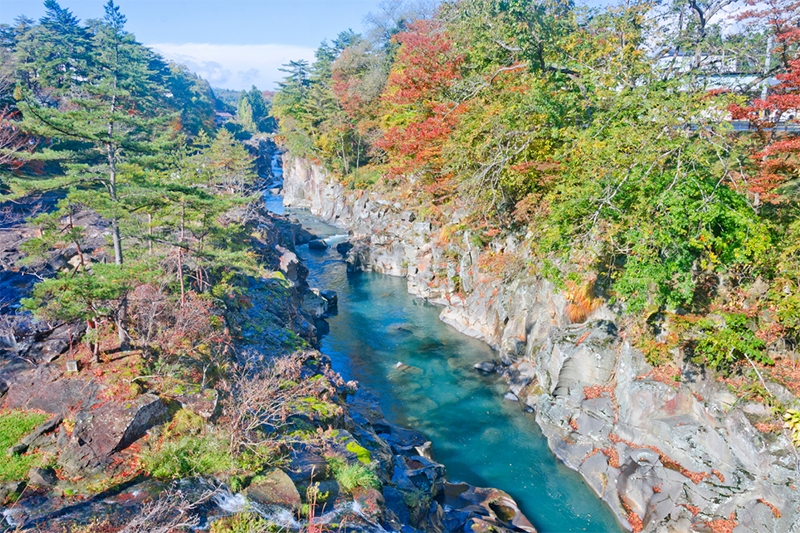 For travellers who love breathtaking natural scenery, Genbikei Gorge should be at the top of your bucket list. After all, it is one of the most scenic spots in Tohoku for both cherry blossoms in spring, and fiery foliage in Autumn! 
This rugged valley is one of the most beautiful locations in the Tohoku Region and looks like it came right out of a beautiful painting! Everywhere you look, there are sights that will captivate your heart. Be it quaint streams, verdant greenery, or enigmatic limestone formations, every inch of this area is an Insta-worthy photo spot. 
As you reach the heart of the Gorge, you'll find Kakko-ya, a dango store that has been in operation since the 1800s. Here, you can sample some delicious Dango, sweet sticky rice balls on wooden skewers, that will be delivered to you across the gorge in a basket on a rope! 
Accept the Wanko Soba Challenge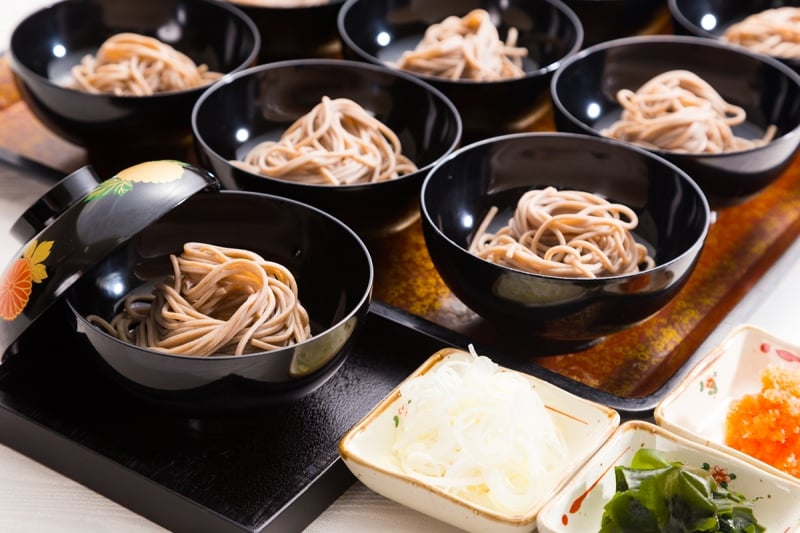 Iwate Prefecture is famous for having some of the best noodle dishes in Japan. Wanko Soba, a traditional soba noodle dish, is the most famous Iwate specialty dish. 
What makes Wanko Soba special is the way that you enjoy it. Rather than large bowls, Wanko Soba is often served in small bite-sized portions. Once you've finished a bowl, eager waiters standing by will refill your bowl until you put a lid on your bowl to signal that you've had your fill. 
Fun fact: If you can finish more than 100 bowls of Wanko Soba, you'll actually receive a certificate!  
Yamagata
Yamagata, located in the southwestern part of Tohoku, is found along the coast of the Sea of Japan. It is an ambient prefecture that is well known for its historical landmarks as well as whimsical natural vistas, especially during the winter months. 
Risshakuji Temple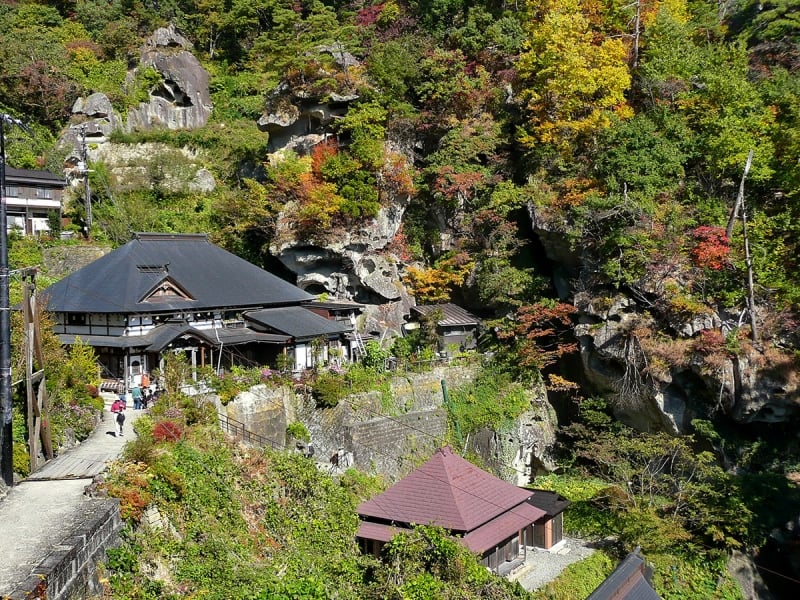 One of the first locations you should visit in Yamagata is Risshakuji Temple, one of the most sacred and alluring religious sites in Japan. Built around 860 AD, Risshakuji Temple is one of the most historical temples in Yamagata and is often known by locals as "Yamadera", meaning the mountain temple. 
To get to the beautiful temple complex, visitors have to climb 1,015 steps to the peak of Mount Hoju. The lovely views along the way make the journey much easier than you might expect. As you finish the journey to the top, you will arrive at Godai-do Hall, a viewing platform that protrudes from the side of the cliff and offers incredible views. 
Fruit picking in Yamagata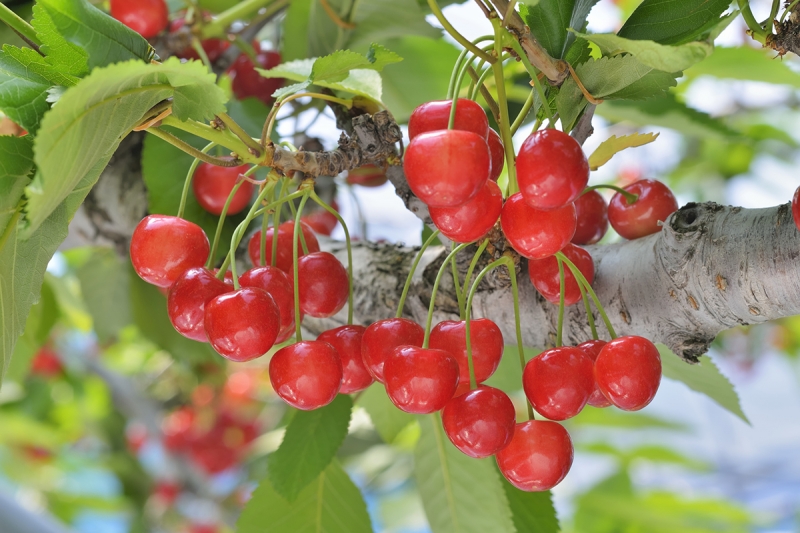 Yamagata is one of the biggest producers of fresh fruits in Japan thanks to the perfect weather and soil conditions. While enjoying your stay in Yamagata, you'll be able to sample plenty of delicious fruits, including the representative fruit of this prefecture: Sweet cherries, especially the "Sato Nishiki" variety. 
The best time for cherry picking is in early summer, between June and July. The best places to visit are Yamagata Cherry Land, the Kaminoyama Tourism Fruits Garden, and Ohsyo Fruits Farm. At these popular locations, you can pick and sample your own cherries in addition to other seasonal fruits like Japanese pears!
If you like to pair your fresh fruits with desserts, head to the Fruits Plaza at the city centre where you can sample a plethora of fruity cakes, parfaits and local sweets! 
Zao Snow Monsters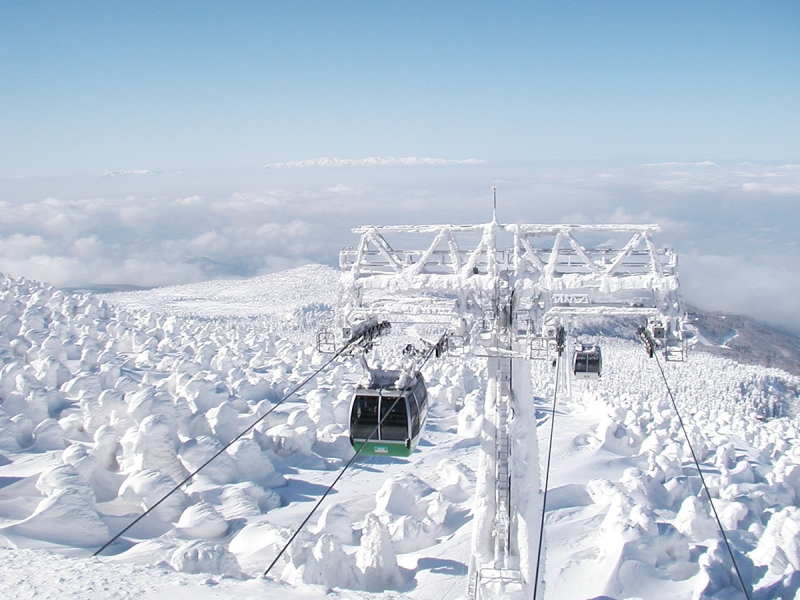 One of the most surreal sights in Yamagata is found high up in the Zao Mountains, along the border of Miyagi Prefecture. After heavy snowfall in winter, many of the trees in the area are covered in frost, giving them a unique shape that makes them look like snow monsters! 
This whimsical natural phenomenon is one reason why travellers flock to the area during winter. But apart from snapping a few selfies with these unique snow monsters, you can also enjoy incredible panoramic winter views by hopping onboard the Zao Ropeway. Adventurous travellers can also rent a snowmobile and visit the Zao Snow Monsters at your own pace. 
Ginzan Onsen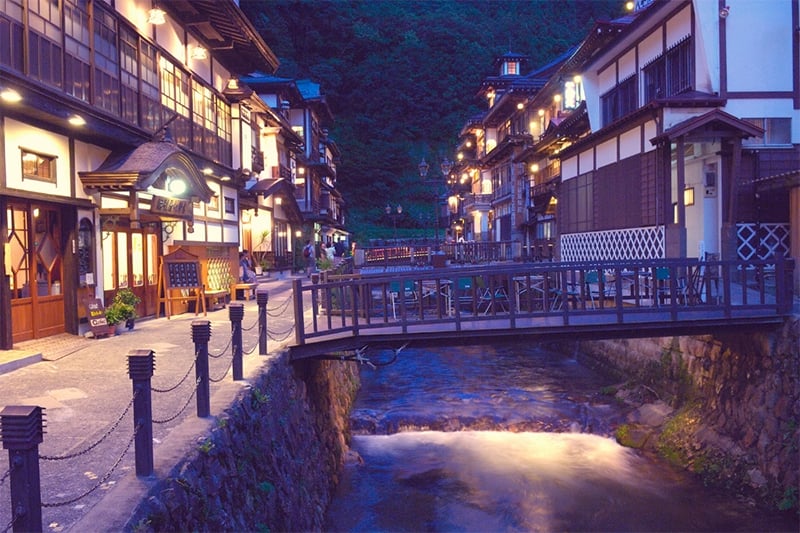 Ginzan Onsen is a popular hot spring town that runs along both sides of the Ginzan River. For fans of the famous Ghibli animated film, Spirited Away, you'll find this area to be particularly familiar. 
That's because Ginzan Onsen is the real-world inspiration behind the location settings of the film! Here, you'll find plenty of rustic resorts, housed within multi-storey wooden inns, that offer visitors a chance to relax by taking a dip in a hot spring. 
Once the sun sets, the area is lit by gas lamps, transporting visitors to a whimsical yet nostalgic spot that seems like a location out of time. Couple that with the snow in winter and what you have is a truly postcard-worthy sight that will make you go "wow!".
Miyagi
Miyagi Prefecture lies directly east of Yamagata and is famous for its alluring coastlines, hot springs resorts, and even more natural scenery. More importantly, Miyagi Prefecture is the host of the annual Tanabata Festival, a traditional festival that celebrates the meeting of the deities Orihime and Hikoboshi. 
Kesennuma Port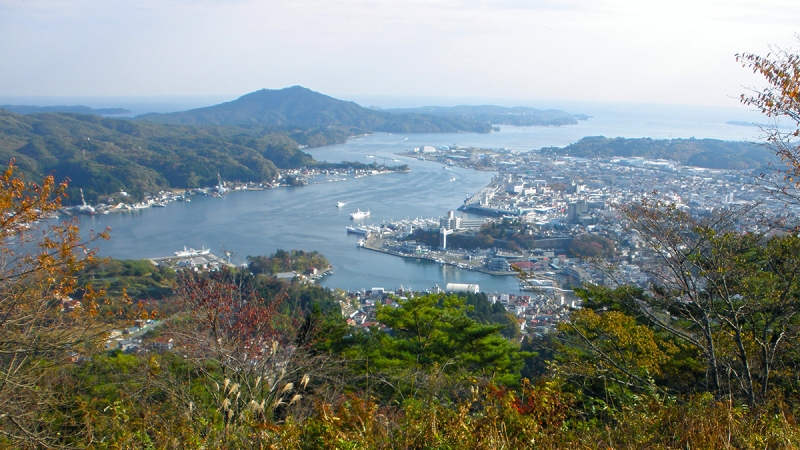 Kesennuma Port is one of the liveliest locations in Miyagi Prefecture. Life starts here from as early as three in the morning! That's because Kesennuma is one of the most productive fishing ports in all of Japan! 
Thanks to the calm waters of Kesennuma Bay, fishermen who head out to catch fish often return with a great harvest. Bonito, swordfish, and sharks are especially plentiful here. In fact, Kesennuma Port has been ranked as the highest producer of fresh bonito in Japan for 24 consecutive years!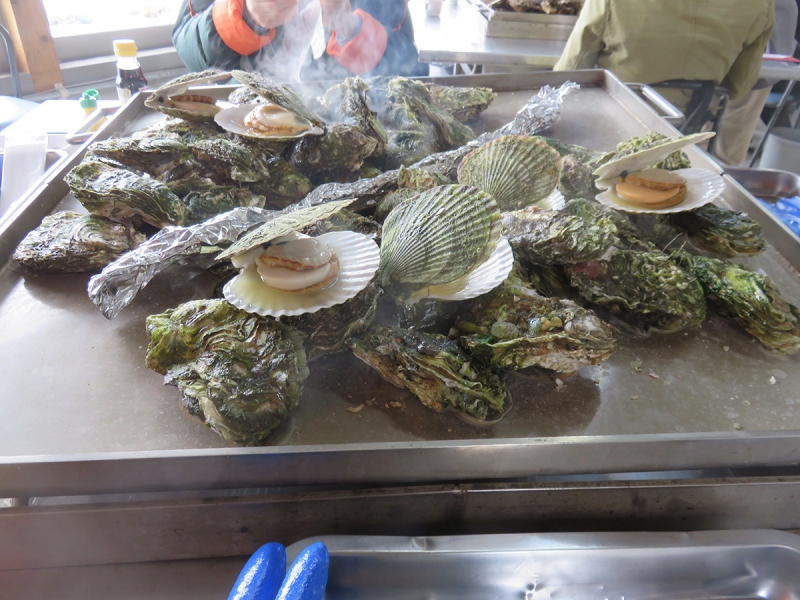 Kesennuma is one of the best places to visit for fresh seafood. Head to the Kesennuma Sea Market and you'll be able to sample some of the freshest seafood you'll ever taste! You can also buy some fresh ingredients if you're in the mood to test your cooking skills with some top-quality ingredients! 
On the second floor of the market, you'll find the Shark Museum, the only one of its kind in the country. Here, you can learn more about sharks as well as the meaningful history of fishing in Kesennuma. 
Shiroishi Castle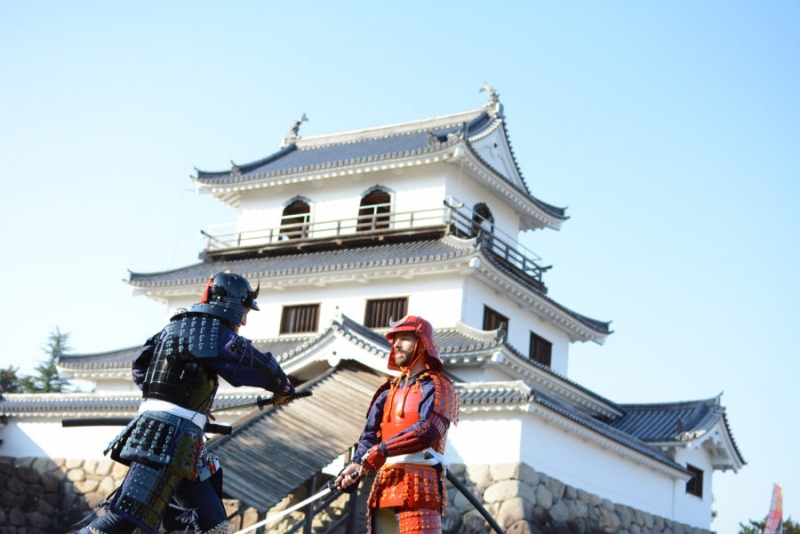 Let's be honest, we've all had dreams of becoming a samurai before, don't even try to deny it! While we may no longer be able to experience what life as a samurai was like, we can certainly dress up as one! 
At the historical Shiraishi Castle (over 400 years of history), you can try on authentic samurai armour and pose for some memorable photos. In addition, we recommend exploring the castle interior as well to learn about the intricate history behind this wooden masterpiece, restored in 1995 after being dismantled 150 years ago. As you do so, you can learn more about the rich history of the samurai and all the colourful legends surrounding them. 
Pageant of Starlight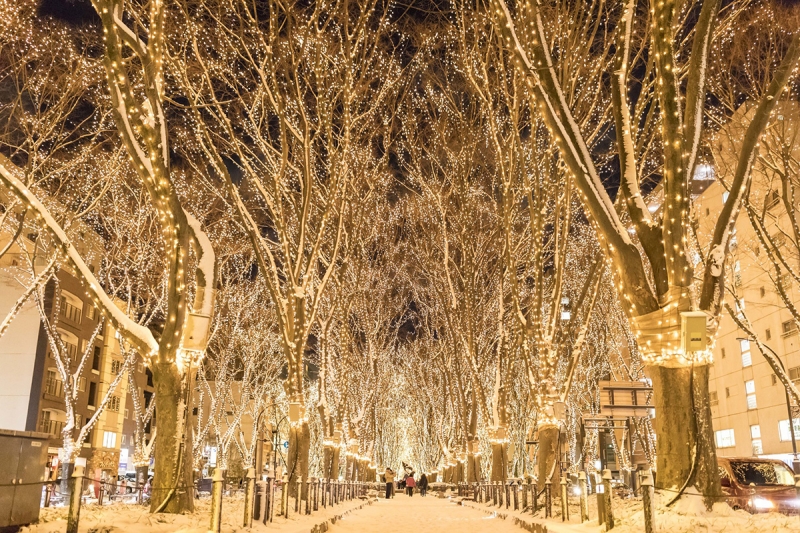 Sendai City is the largest city in all of the Tohoku Region. Despite this, the capital of Miyagi is surrounded by plenty of trees and greenery, earning it the nickname "City of Trees". 
Sendai is at its most beautiful in winter, thanks to the 600,000 illumination lights that hang from the zelkova trees along Jozenji Street. Known as the Sendai Pageant of Starlight, this winter illumination event is one of the most spectacular of its kind in the whole country! 
Needless to say, if you're visiting Miyagi Prefecture during this time, make sure to arm yourself with a camera and drop by Sendai as well! 
Miyagi Gourmet Street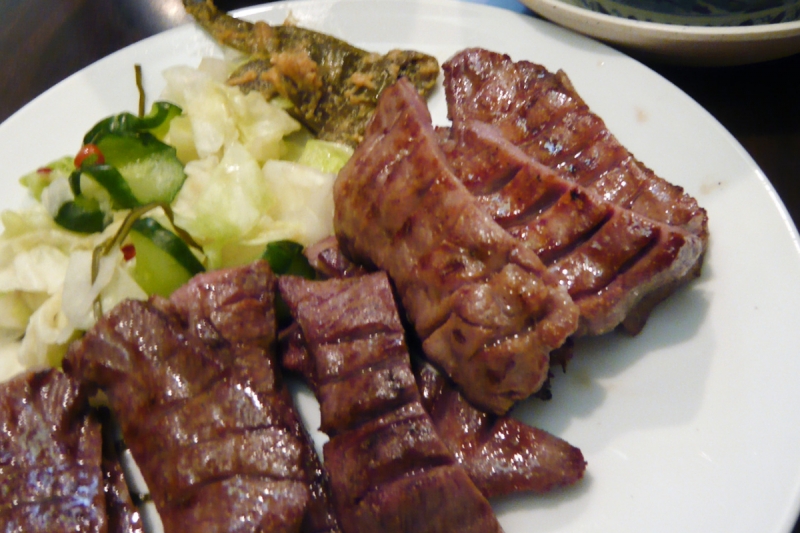 One particular district in Sendai you should visit is Kokubuncho. During the day, this lively district is the busiest shopping district in Tohoku while at night, it turns into Miyagi's bustling entertainment district, complete with its very own Gourmet Street! 
In terms of what to eat here, you should definitely try Gyutan (beef tongue), one of the unique delicacies of Miyagi Prefecture. Grilled to perfection, Gyutan is both tender and chewy. Sasa Kamaboko, on the other hand, is a delicious and unique dish made from white fish paste that is baked in the shape of a bamboo leaf. 
For those with an insatiable appetite for sweets, one particular treat you should try in Miyagi is Zunda, which is edamame bean paste. The go-to Zunda dessert is Zunda Mochi, although you can also find Zunda parfaits and milkshakes too! 
Fukushima
Fukushima is the third largest prefecture in all of Japan and the southernmost prefecture of Tohoku. It consists of three main areas: Aizu, Hamadori, and Nakadori. 
Aizu is full of timeless historical landmarks while Hamadori boasts pleasant weather all-year-long. Nakadori is where you would want to visit if you plan on checking out picturesque orchards and therapeutic hot springs. 
Aizu Higashiyama Onsen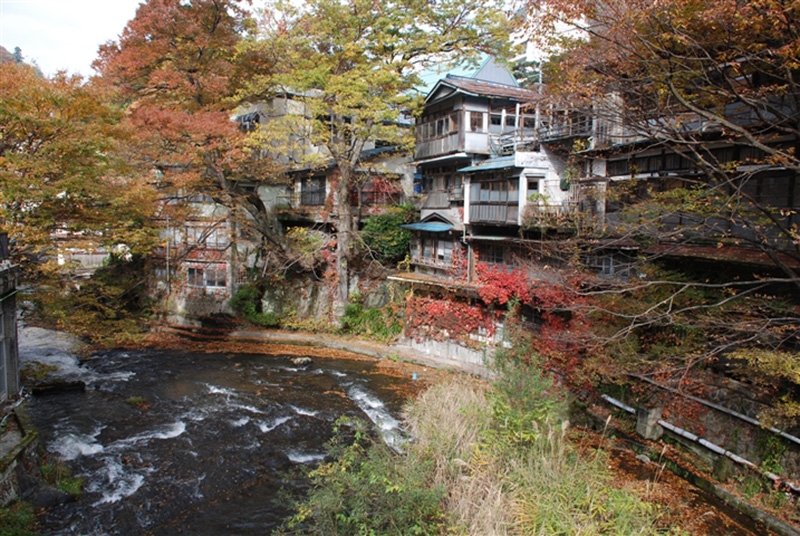 Aizu Higashiyama Onsen is one of the oldest hot springs in the Tohoku Region. Located just a short distance away from the city of Aizuwakamatsu, the Aizu Higashiyama Onsen is said to have been established more than 1,300 years ago! 
At this resort, surrounded by verdant valleys, you can relax and unwind at popular traditional ryokans while admiring the lovely scenery. Other onsen resorts to visit in Fukushima include Takayu Onsen and Dake Onsen.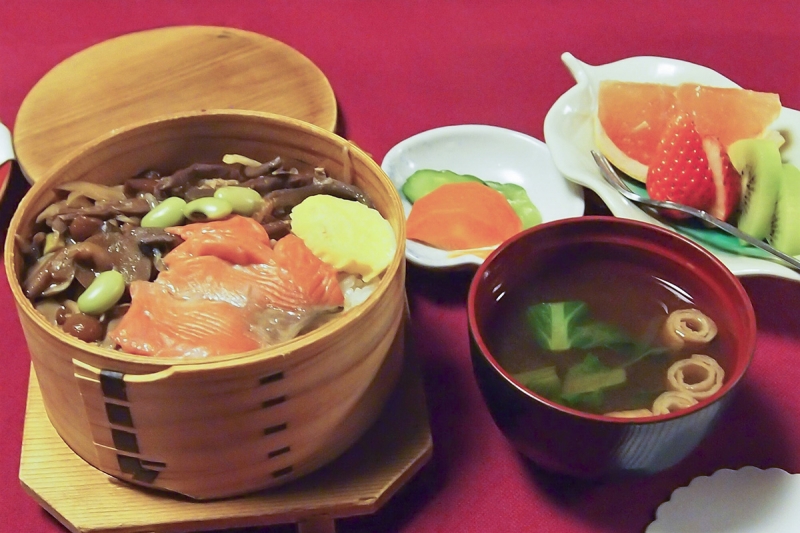 Back in the city, you'll find even more notable historical landmarks, such as the imposing Tsurugajo Castle, built in 1384 and passed down between different rulers of the Aizu region. In terms of local specialties, don't miss the chance to sample "Wappa Meshi", a traditional rice dish cooked in round wooden sheet containers and topped with fresh seafood. 
For an Aizu specialty you can bring home, you can buy some traditional decorated candles (known as Aizu Erosoku) for keepsake. 
Goshikinuma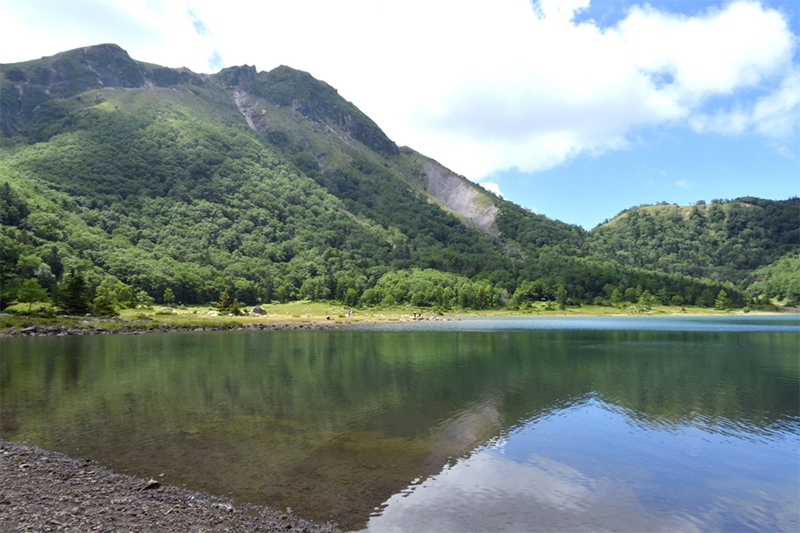 If you have a good eye for swoon-worthy photos, then Goshikinuma is definitely one of the best locations in Fukushima to visit. What's interesting to note here is that Goshikinuma isn't actually a single spot. Rather, it consists of a cluster of colourful lakes and ponds scattered throughout the area. 
The most famous spots are Aonuma and Bishamonnuma. Aonuma is well-known for its surreal blue waters that are slightly acidic while Bishamonnuma is the largest pond of Goshikinuma. Apart from these two, there are plenty of ponds and lakes that come in a range of different colours. 
What makes Goshikinuma especially magical is that most of the lakes can actually change colour, not only during the turn of the various seasons (due to the colour change of the leaves in the trees), but also during different times of the day! 
Tadami Line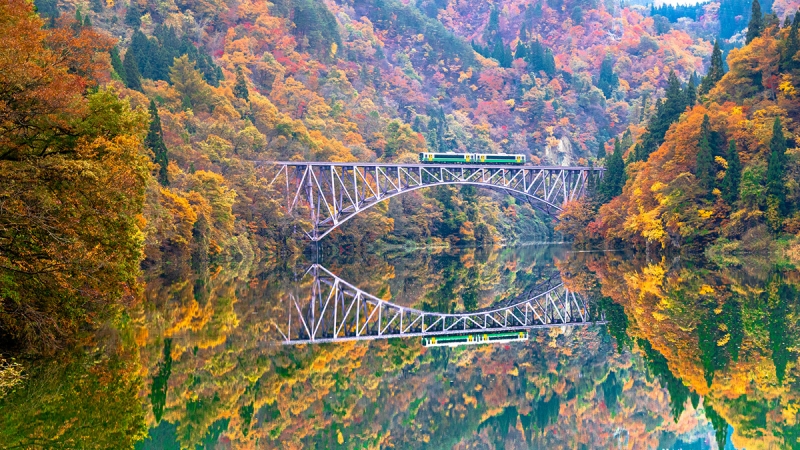 In Fukushima Prefecture, you can hop aboard a scenic train ride that takes you all the way to Niigata Prefecture! Stretching 135km, the Tadami Line is known as one of the world's most romantic railroads. As you chug along the way, you'll be able to admire a kaleidoscope of beautiful scenery from your train windows.
The view is especially stunning during autumn and snowy winters. It's so beautiful in fact, that anywhere you look, no matter where you sit on the train, you're guaranteed spectacular views!  Once summer rolls in, there is also a windowless trolley train that runs along the Tadami Line. 
As the name suggests, it is an open-top train that chugs along at a leisurely pace, allowing you to take in the scenery while enjoying the gentle summer breeze. For a more nostalgic experience, check out the steam locomotive, SL Ban'etsu Monogatari. 
Kitakata Ramen
No trip to Japan is ever complete without eating a few bowls of delicious ramen. Thankfully, Fukushima Prefecture is where you will find one of the Three Great Ramens of Japan! 
Kitakata Ramen originated from the city of Kitakata and became extremely popular in the 1980s. It consists of curly noodles as opposed to the usual straight ramen noodles and is served with a soy sauce-based soup that is infused with pork. The best place to sample this hearty ramen is in Kitakata where you can find more than 120 ramen shops, which is the highest number of ramen stores per capita in the whole country!
Have you already fallen in love with the Tohoku Region at this point? We wouldn't be surprised one bit if you have, given how there's just so much to see and do in the six prefectures of Tohoku! 
To stoke your wanderlust even more, check out this amazing highlight reel of the timeless charms of Tohoku, one for every hour of the day! No matter what time of day it is in Tohoku, there's just always something to do, regardless of your travel style! 
As we wait for the resumption of travel to Japan, find out more about this hidden travel gem destination by checking out the official Tohoku 24 website! You can also participate in an interactive Tohoku Questionnaire to win a Kokeshi Doll handkerchief too! 
For more information, visit JNTO's Official Website and Facebook Page
---
Brought to you by Japan National Tourism Organization