If you're planning to visit Australia soon, then there's no better place to start than Sydney. After all, this bustling city is known for its breathtaking natural landscapes, including the famous Sydney Harbour, cuddly wildlife, and exciting culinary scene filled with fresh produce and seafood. To help get you started, here are 13 essential things to do in Sydney to experience the best of New South Wales' most popular city! 
Want to travel around Sydney and the rest of New South Wales freely and conveniently? Look no further than Sedunia Holidays and the myriad of customisable personal tours on offer! Experience the best of New South Wales while also making plans for the destinations that truly speak to your heart.
For the perfect itinerary that caters to your travel style, book a trip with Sedunia today!
1. Capture the most iconic sights of Sydney's skyline
Ask anyone who's been to Sydney and they will tell you that it is full of mesmerising sights. If you love decorating your Instagram feed with swoon-worthy photos, then you'll want to check out these iconic locations. 
Sydney Opera House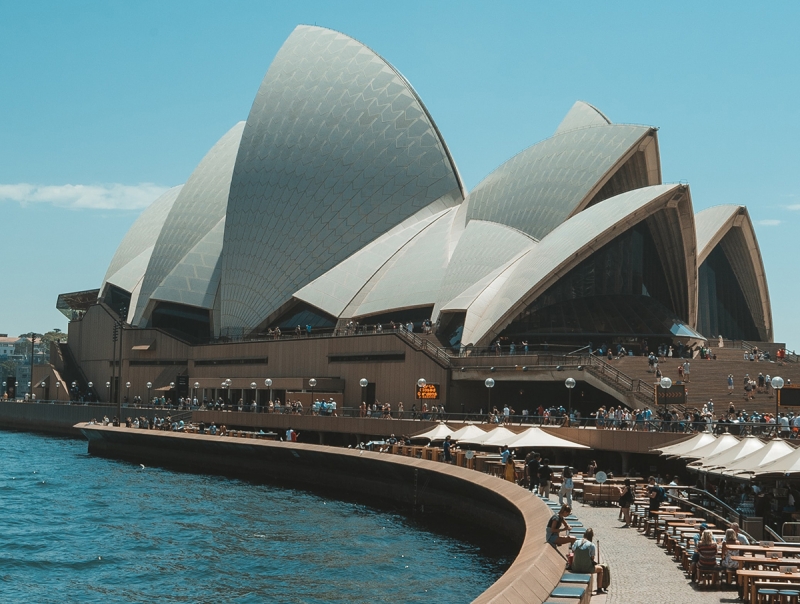 When in Sydney, one of the first architectural marvels you simply have to visit is Sydney Opera House. Even if you've never been to Australia, I'm sure you can instantly recognise this UNESCO World Heritage Site! 
t's no surprise that many Malaysians make it a point to stop by for a photo op with this man-made marvel. The graceful exterior design of the building and its location by the charming harbour make for the perfect photo backdrop.
Insider tip: Book a guided walking tour and peek into its many theaters, studios, and backstage rooms. 
Lavender Bay Ferry Wharf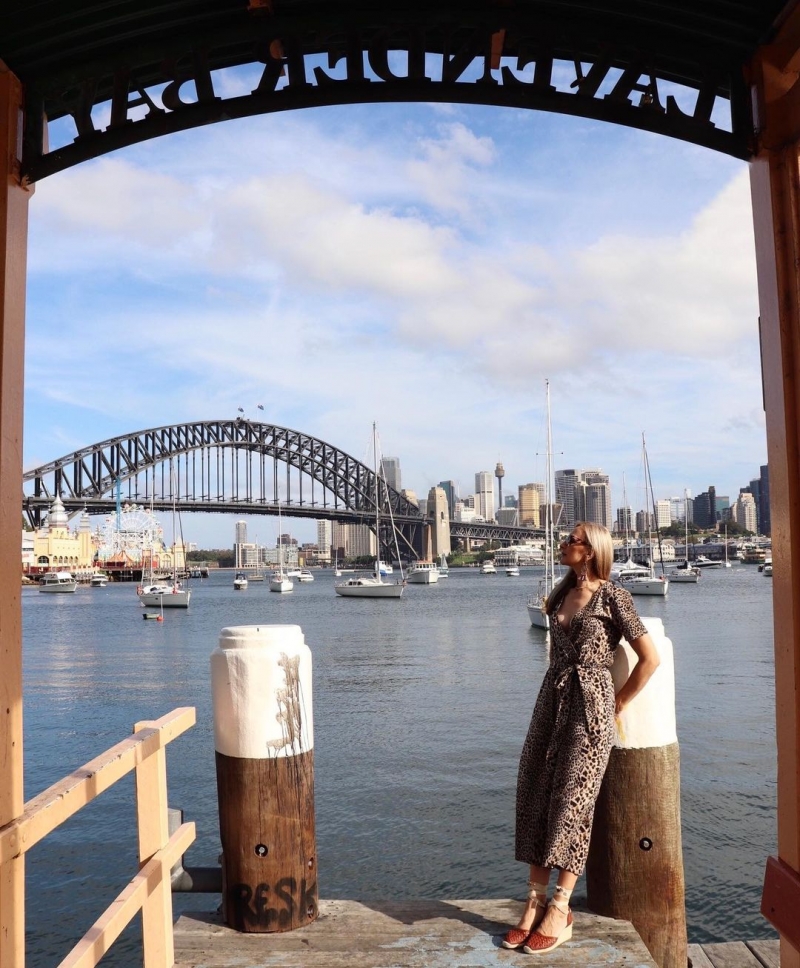 For a scenic view of Sydney's bay area, head to Lavender Bay Ferry Wharf, a popular Instaworthy spot that mostly only locals know about. It looks out into Lavender Bay and, upon reaching the bridge that juts out into the water, you can also spot the iconic Sydney Harbour Bridge. 
How to get here: Hop aboard a short ferry ride from Circular Quay to Luna Park. From here, Lavender Bay Ferry Wharf is just a short five-minute walk away.  
Mrs Macquarie's Point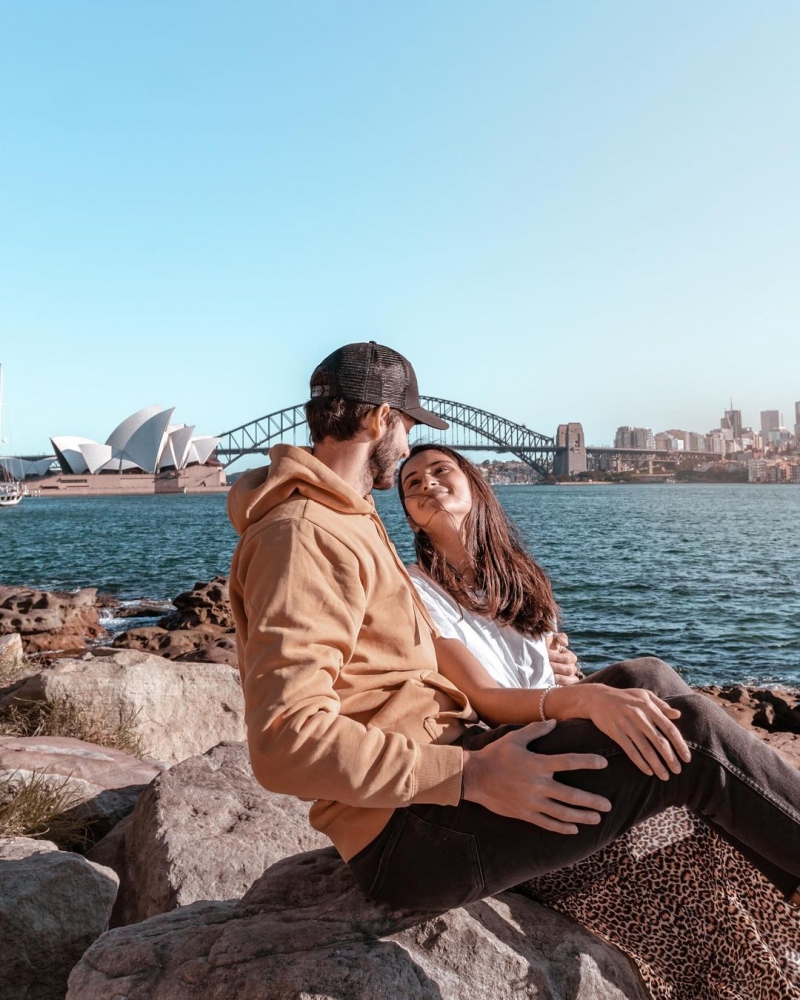 Sydney's majestic skyline is arguably one of the most famous silhouettes in the world, thanks in part to iconic landmarks like the Sydney Harbour Bridge and Sydney Opera House.
If you're looking for the best vantage point in the city to gaze in awe of Sydney's cityscape, head to Mrs Macquaries Point in Farm Cove, adjacent to The Royal Botanic Garden Sydney. This beloved lookout perches over the top of Sydney and offers stunning views of the city and the harbour. 
The Rocks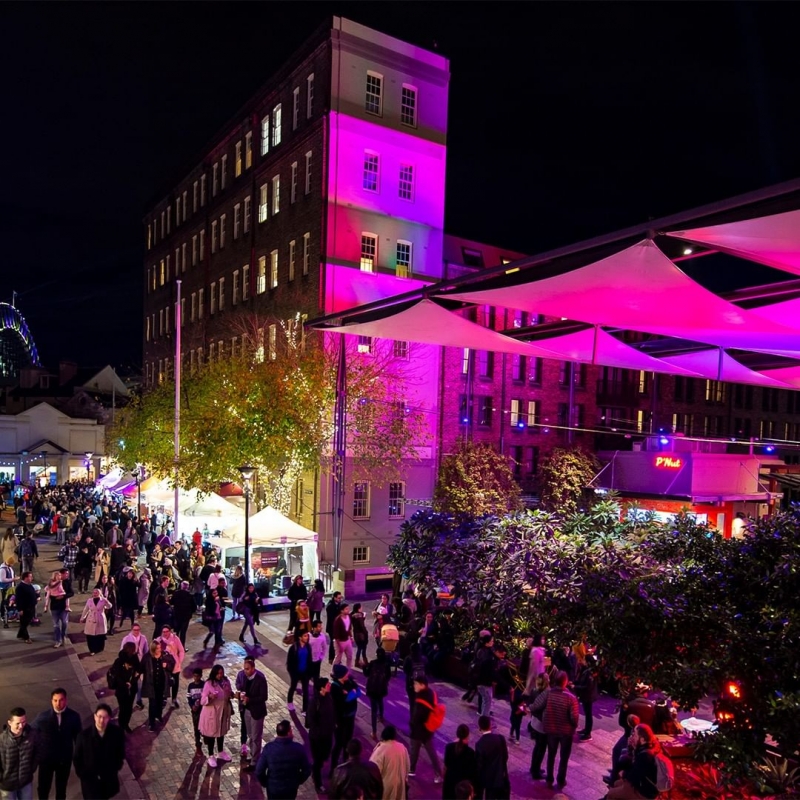 One place you wouldn't want to miss is The Rocks, also the birthplace of modern Sydney where early colonial settlers called home. There's plenty to do at The Rocks, including visiting The Rocks Discovery Museum, hopping between IG-worthy cafes, and checking out aboriginal art galleries.
In addition, you should also visit The Rocks Markets, a weekend market with over 100 stalls that showcases some of the finest local wares in Sydney. Be it trendy fashion accessories, unique handicraft, or mouthwatering food, there's plenty to see, do, and eat at this weekly gathering of talented local artisans! 
Paddington Reservoir Gardens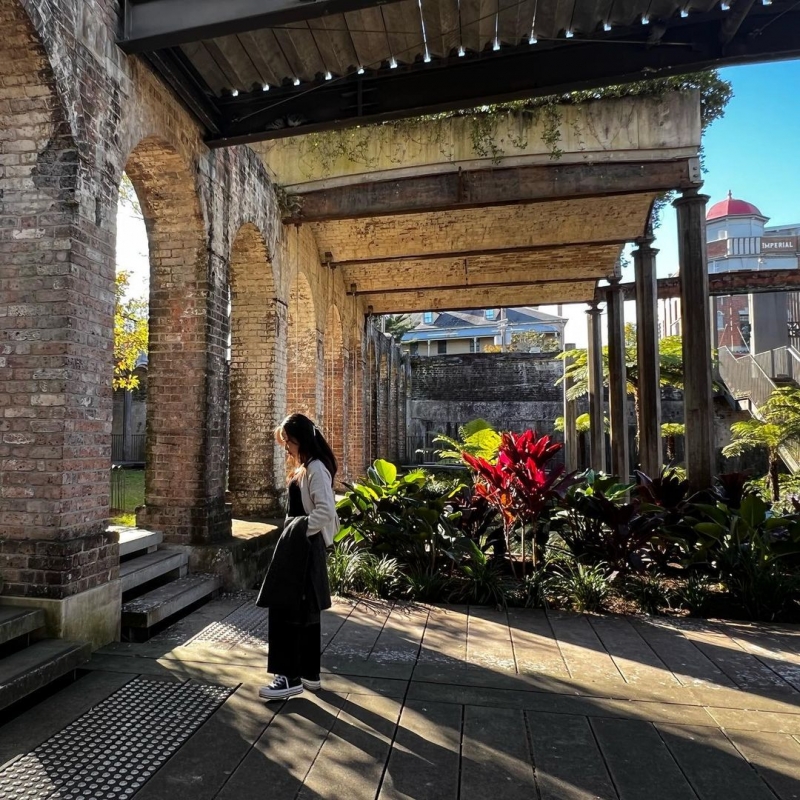 Take a step back in time when you visit the lovely Paddington Reservoir Gardens, located on the east side of Sydney. 
Surrounded by rustic stone arches, alluring gardens and wide boardwalks, Paddington Reservoir Gardens has a serene vibe to it that is far removed from the hustle and bustle of the city. 
Hornby Lighthouse @ Watsons Bay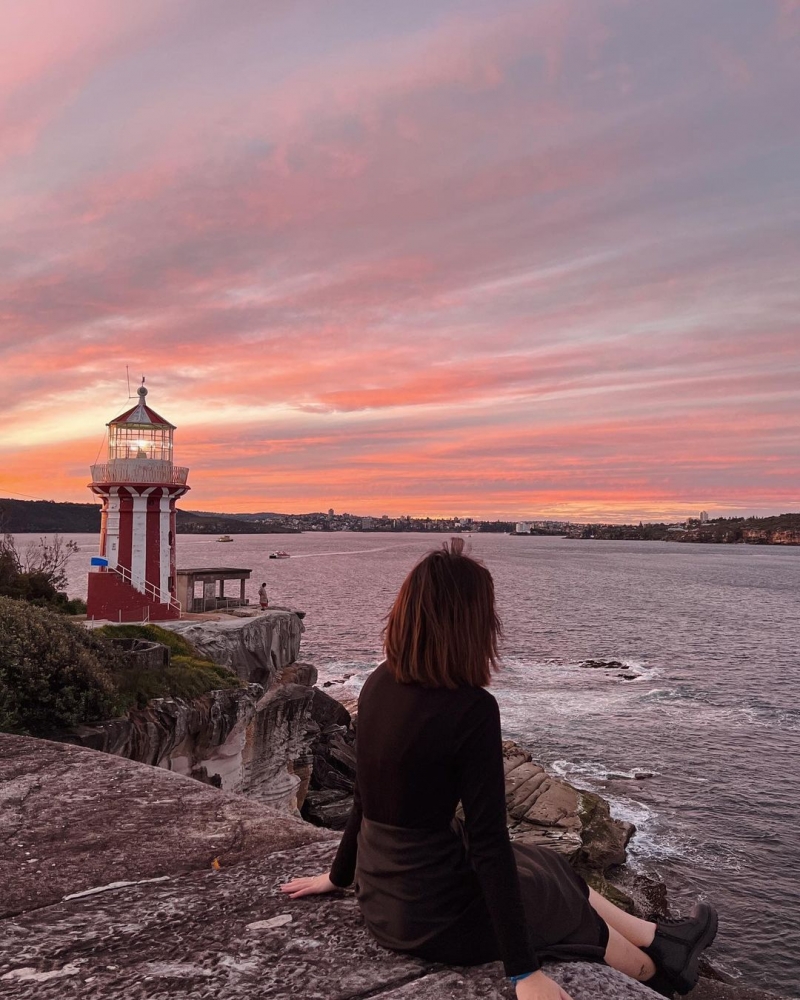 The historic Hornby Lighthouse stands tall at South Head near Watsons Bay is arguably one of the most iconic landmarks in Sydney. 
The Hornby Lighthouse is surrounded by serene views that only get better during sunset. From late May to November, you might even be able to spot a few whales on the surface of the Pacific Ocean! 
Even the journey towards the lighthouse (a scenic walk from Camp Cove) leaves you with plenty of Instaworthy and historical spots to visit. 
Bondi Icebergs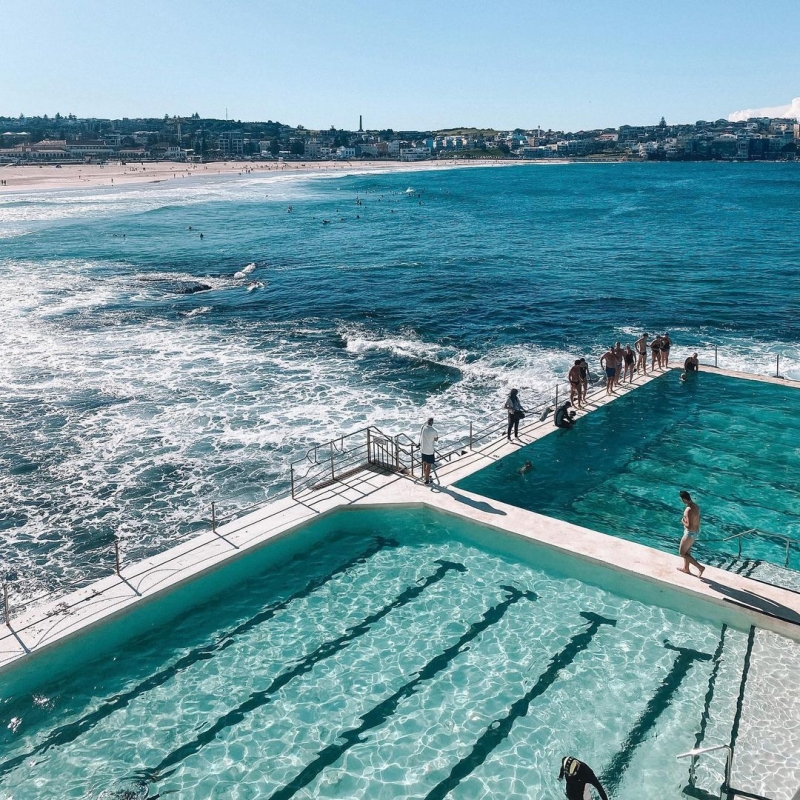 While Sydney has plenty of pristine coastal locations, none are as famous as the beautiful Bondi Beach. With its fine white sand, surf-friendly waves, and bustling cafe scene, it is easily the top beach destination in Sydney. 
That said, the area's most popular Instagram spot is actually Bondi Icebergs, the iconic public ocean pool that is known as the most photographed pool in the world! Located along the shore of Bondi Beach, this iconic pool stands out because it borders the ocean. With the waves crashing against it, the pool makes for an amazing spot for Instagram photos! 
2. Scale the heights of Sydney Harbour Bridge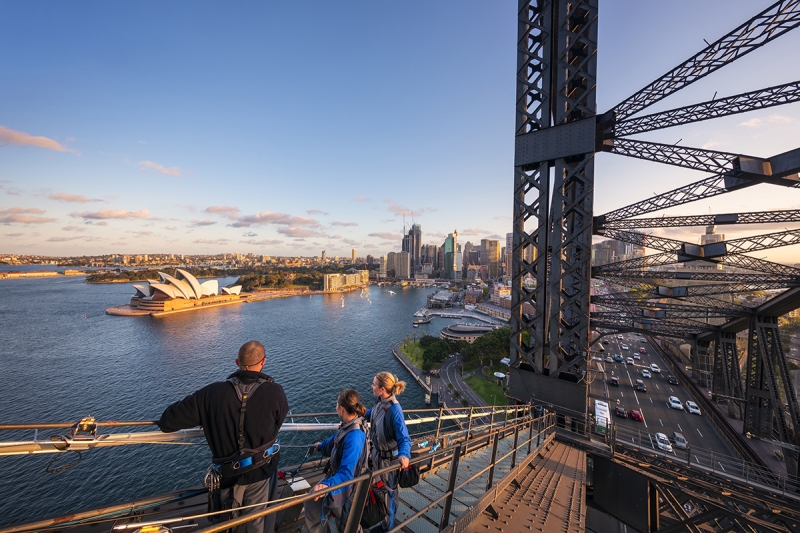 Calling all ye brave Malaysian souls and adventurers! This one's for you!
The Sydney Harbour Bridge is the world's largest steel arch bridge. Did you know that you can actually climb atop this engineering marvel and treat yourself to awe-inspiring views at the top? Indeed, scaling the harbour bridge (or "the Coathanger" as locals call it) is one of the most exciting things to do in Sydney. 
Once you reach the 135-metre tall summit on the outer arch, the picturesque harbour view will take your breath away. You can even climb the bridge at night to admire the lovely city lights with a friendly local guide. 
Don't forget to snap a picture of yourself at the summit for a story you can tell over and over again at your next mamak meet-up! 
3. Explore the hidden gems of Darling Harbour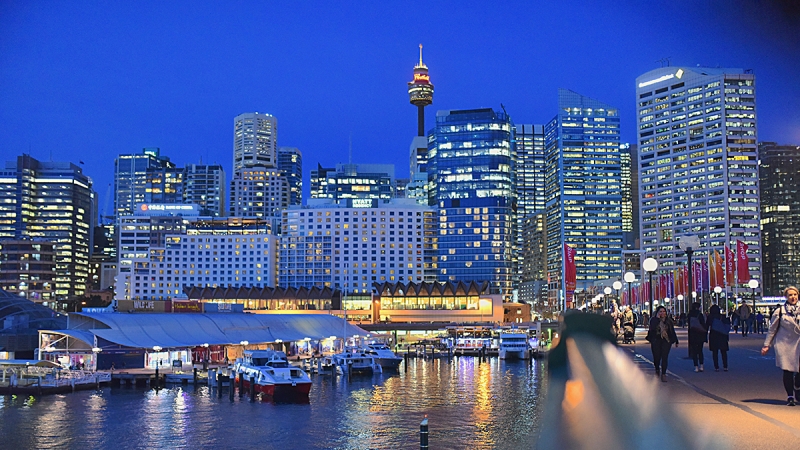 If there was a place in Sydney that seems to have everything a tourist could ask for, it's Darling Harbour. Located on the western side of the CBD, this popular waterfront is a true social hub, boasting shops, restaurants, museums, and plenty of entertainment venues, including the WILD LIFE Sydney Zoo!  
It is here where you can visit SEA LIFE Sydney Aquarium and marvel at the largest collection of native marine creatures in the world. Even as you stroll along the waterfront, you'll be spoilt for choice with the sheer number of unique dining and shopping options available, such as the ever-popular Darling Square.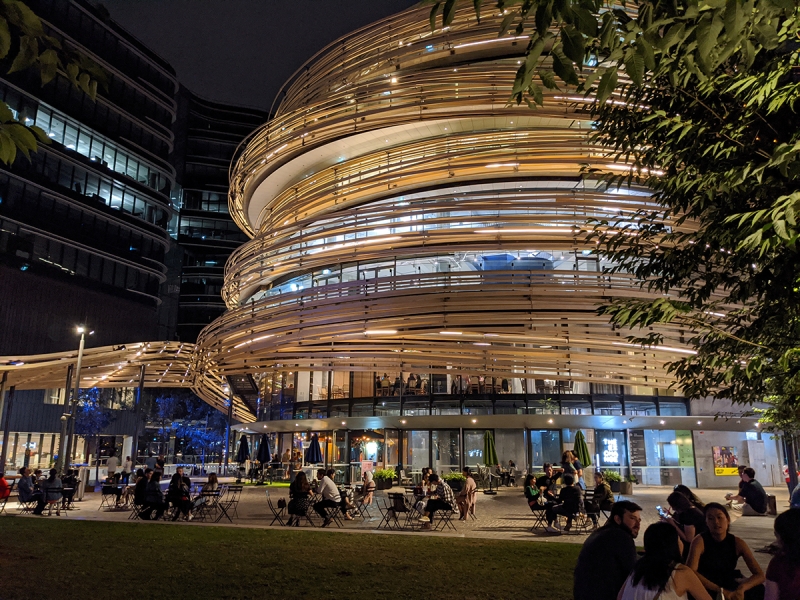 Also not to be missed is The Darling Exchange, an iconic building that looks like a spiralling, light-filled hive. Inside, you'll find the state-of-the-art City of Sydney library and even more food options to satisfy your palette! 
4. Hop aboard a ferry and sail to Taronga Zoo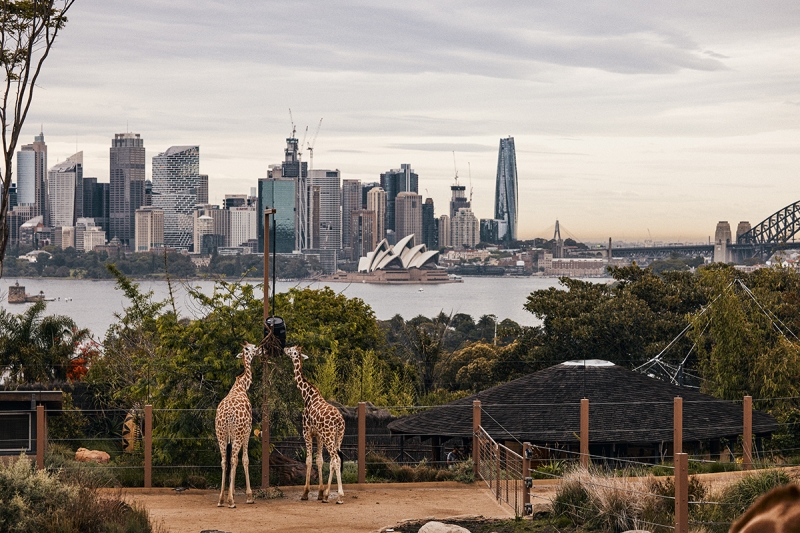 At the end of your walking tour of Darling Harbour, hop aboard a ferry and sail to Taronga Zoo on the opposite side of the waterway. Alternatively, you can hop aboard the Sky Safari, Sydney's only cable car system, and travel towards the zoo whilst admiring the mesmerising view of Sydney Harbour! 
Once you're at the zoo, you'll also be able to catch animal shows, feed the giraffes, and see cuddly koalas up close. Want an even more unforgettable experience? Why not spend even more time at Taronga Zoo with an incredible overnight stay? 
Apart from the usual visits, you can choose to unwind with a relaxing wildlife retreat in the heart of the zoo (Wildlife Retreat at Taronga) or sign up for an exciting night safari tour complete with an overnight stay in safari-style tents (Roar and Snore)! 
Better yet, why not simply explore Sydney via the harbour highway? Hop on and off the various cruises and ferries and visit the best destinations in the city, such as Taronga Zoo, Shark Island, Watsons Bay, and more!
Customise your itinerary to your heart's content, and let Sedunia take you on a harbour sightseeing tour you won't soon forget!
5. Enjoy the annual Vivid Sydney light show from aboard a luxury cruise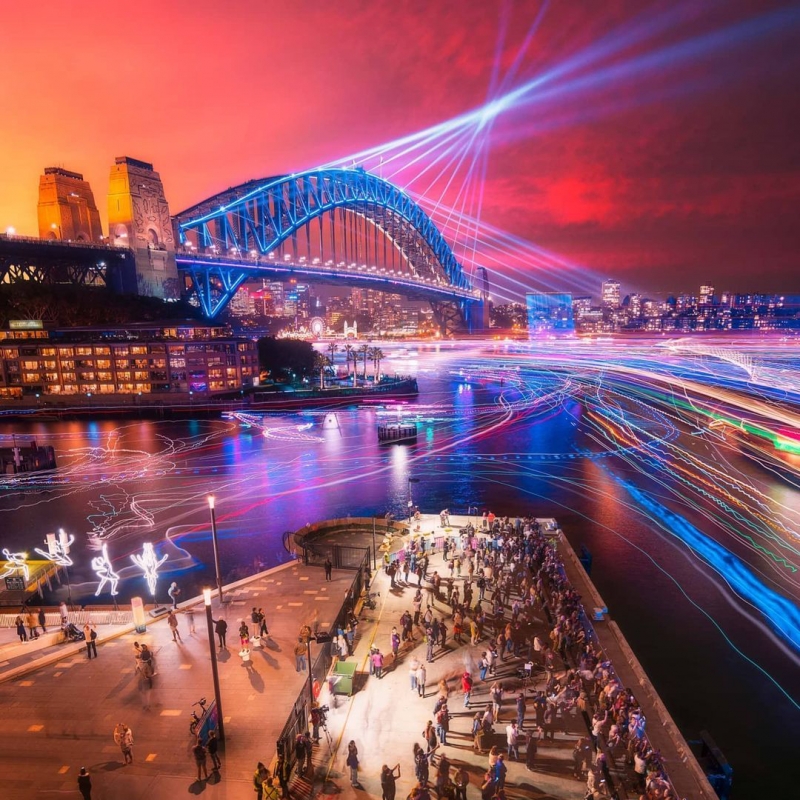 One exciting event that travellers will absolutely love is Vivid Sydney. Easily one of the most memorable things to do in Sydney, this spectacular creative festival celebrates lights, music, and ideas in an annual month-long event that takes place between May and June. 
As you explore the vibrant event space, you'll be able to see plenty of beautiful light and art installations that double up as amazing photo backdrops for your Instagram. You'll also enjoy live musical performances and feast on artisanal delicacies. 
While it's certainly memorable to indulge in the music and food as you explore the harbourfront, another way to enjoy the festival is by embarking on a magical dinner cruise from King Street Wharf where you can enjoy a luxury three-course dinner and feel the gentle harbour breeze. 
Your evening then culminates in an uninterrupted panoramic view of the stunning light show at night! Isn't that just a picture-perfect itinerary? 
6. Shop to your heart's content at the Queen Victoria Building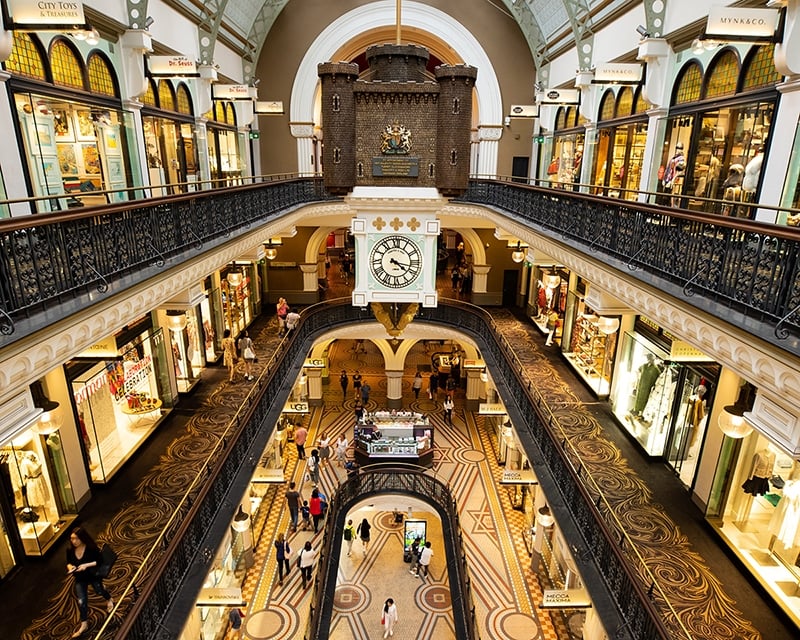 We Malaysians love to shop. There's no denying that. While Sydney has no shortage of glitzy malls, one retail therapy haven you can't miss is the ever-popular historic Queen Victoria Building (QVB).
There are more than 200 shops in the building, including both international and local artisan boutiques, as well as gift stores, confectioneries, and more. There are also plenty of eateries to fill your tummy with when you get tired of shopping. 
Even if you're not planning on buying anything, you'll no doubt be awed by the romantic Romanesque architecture of this elegant sandstone building. The central dome is especially iconic, with plenty of natural sunlight streaming in from its glass panels. And don't worry, heading inside just for a few photos is common enough that no one will bat an eye! 
7. Bike or walk around Barangaroo Reserve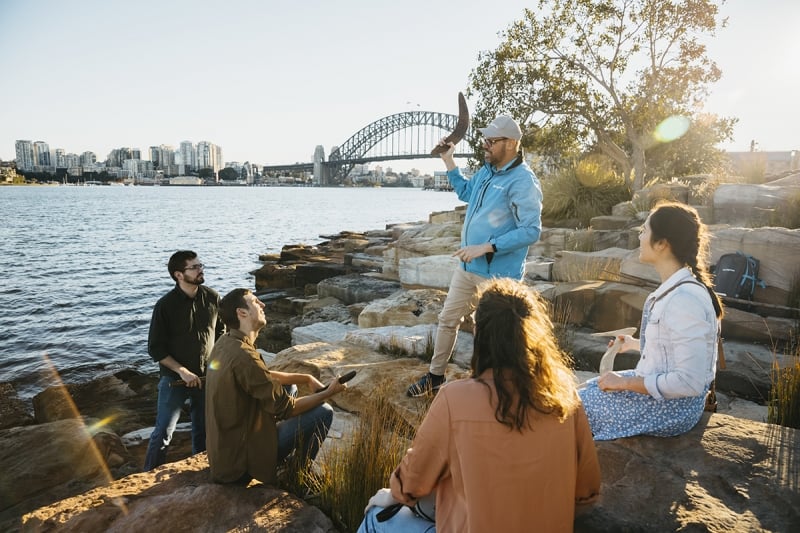 Looking at it today, you would find it hard to believe that Barangaroo Reserve was nothing more than an unsightly container terminal just a few years ago. Today, it is a beautiful public urban park spreading the message of sustainability and living in harmony with nature. 
Today, more than 75,000 trees and shrubs surround the walking and cycling tracks at this 22-hectare park by the waterfront, along with eateries and shopping outlets. Belle's Hot Chicken, in particular, is quite popular thanks to its mouthwatering diner-style menu. 
The Wulugul Walk is one of the best things to do in Sydney while at Barangaroo Reserve. It is a 2km walk that hugs the scenic waterfront promenade between Walsh Bay and Darling Harbour. Other than that, you can also visit the brand new Crown Towers in Barangaroo, with plenty of shopping and dining options! 
8. Hunt for guilt-free food at local farmers' markets
Out of all the things to do in Sydney, food hunting is easily one of the best experiences. But did you know that Sydney is also home to some of the best farmers' markets in New South Wales? 
Some of the must-visit markets include the Carriageworks Farmers' Markets, the Rocks Market, Bondi Markets, Paddy's Markets, and the famous Sydney Fish Market where you can feast on the freshest locally sourced seafood in the city! 
In addition, as you browse these artisan markets, you'll be able to buy plenty of local fresh produce, souvenirs, and even handcrafted jewellery that can't be found anywhere else in the world! 
9. Plan an overnight trip to the Blue Mountains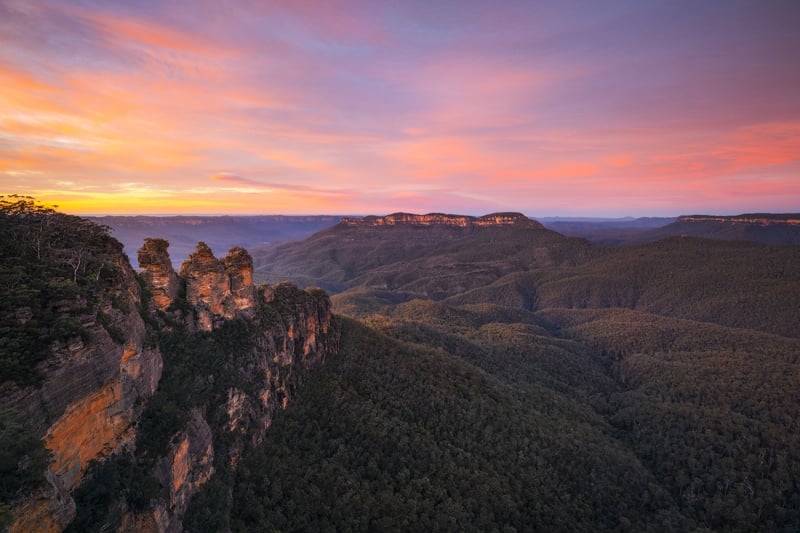 Known as Sydney's backyard wilderness, the World Heritage Blue Mountains National Park is a 90 minutes drive from the centre of Sydney. Breathe in the fresh, eucalyptus-scented air, take in the stunning natural landscapes from bush lookouts and explore quaint villages such as Leura and Katoomba. 
Some of the must-visit locations include the Wentworth Falls, the Three Sisters rock formations, Jenolan Caves, Elysian Rock, Honeymoon Bridge, Lincoln Rock, and the Blue Mountains Botanic Garden – Mount Tomah. 
While you're there, you'll also want to visit Scenic World, one of the most unique (and beautiful!) locations in New South Wales. There, you will find plenty of ways to admire the untouched beauty of the Blue Mountains as you make your way to the Scenic World top station via cablecar, a scenic boardwalk, and the world's steepest passenger railway. 
10. Take a gourmet escapade to Hunter Valley
Another popular destination that Malaysians will love is the Hunter Valley, Australia's oldest wine region that boasts picturesque vineyards, acclaimed gourmet restaurants, fresh local produce, and other unique experiences
Apart from the artisan restaurants and cheese tastings, there are also plenty of other things to do in Hunter Valley. For example, you could participate in a fun grape stomping session, sign up for segway tours around the area, and even walk your own llama through the vineyard for a picturesque experience! 
In addition, you might also want to time your visit to Hunter Valley to coincide with different times of the year. That's because the Hunter Valley Gardens periodically hosts colourful festivals during different seasons, such as Christmas Lights Spectacular and more. 
Before leaving, treat yourself to an excellent meal at a hatted restaurant like Bistro Molines, where you can enjoy mouthwatering course meals amidst an alluring surrounding overlooking vast vineyards. 
12. Dolphin watching at beautiful Port Stephens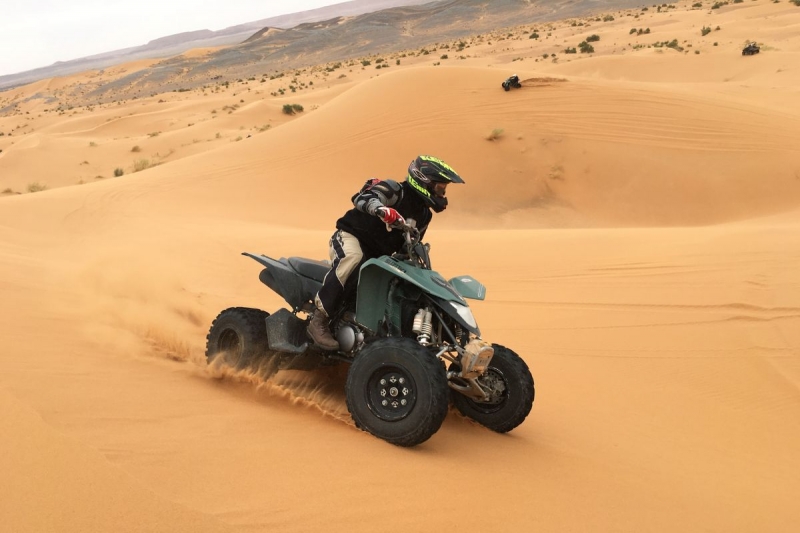 Known as the dolphin capital of Australia, Port Stephens is one of the top places in the region to spot whales and dolphins!
The best way to do this is to set sail on a cruise to the middle of the bay. From the comfort of the open-air deck, you can enjoy an uninterrupted view of the bay and, if you're lucky, catch sight of playful dolphins frolicking in the water! 
Apart from that, Port Stephens is also home to the largest sand dunes in Australia's Southern Hemisphere! There, you'll have the chance to try sandboarding, quad biking, and even camel riding! Or, if you want something a little more therapeutic, you can trek along the Tomaree Head Summit Walk to see panoramic views of the coastline. 
If you're feeling peckish, treat yourself to some of the freshest seafood in the area at Cookabarra, an exceptional farm-to-table establishment not to be missed. The restaurant is well-known for its Barramundi, grown on their onsite fish farm which diners can visit. Alternatively, hit up Murray's Craft Brewery for delicious farm-to-table meals. 
13. Embark on an epic road trip along the Grand Pacific Drive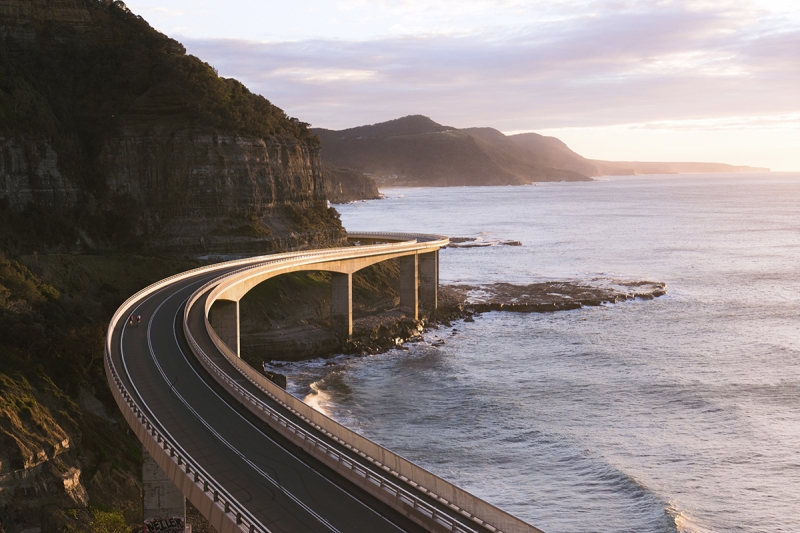 The Grand Pacific Drive is an iconic road trip in Sydney and New South Wales. This scenic route starts from Sydney over a 140-km stretch of scenic coastal roads, taking you through lush rainforests. 
Most people start their journey at Royal National Park, the second oldest National Park in the world where you can spot the famous Eagle Rock formation. Along the way, you'll also pass by Symbio Wildlife Park where you can see some of Australia's iconic wildlife like koalas and kangaroos; and the famous 665-metre tall Sea Cliff Bridge which extends over the ocean.
Around the midway point, make sure to make a detour to Glenbernie Orchard where you can enjoy fruit picking at one of the most beautiful family-owned orchards in New South Wales. 
Continuing on, you'll reach the coastal town of Wollongong where you can skydive and embark on an epic rainforest hike at Illawarra Fly TreeTop Adventures; and Kiama, home of the famous Kiama Blowhole and where people go for leisurely coastal walks. 
Want to travel along the Grand Pacific Drive in comfort or travel Sydney with unrivalled access and freedom? Book a customisable tour with Sedunia Travel today and explore Sydney and New South Wales like never before!
Sedunia Travel offers various tour packages that include the quintessential things to do in Sydney but also allow you to personalise your tour according to your own preferences and interests. The dedicated team of travel experts at Sedunia Travel also provides Muslim-friendly tours and options to cater to all types of travellers!
Plan your personal trip to Sydney today with Sedunia Travel!
And there you have it: 13 incredible things to do in Sydney and New South Wales that Malaysians will absolutely love! What are you waiting for? Sydney and New South Wales awaits!
---
Brought to you by Sedunia Travel