Singapore is home to about 5.6 million residents. Like Malaysians, they are ethnically diverse and have different cultural backgrounds. Though once a part of Malaysia, Singapore has since worked hard to establish their own national identity.
As a result, it has its own cultural uniqueness which is reflected in its cuisine. For the more than a million Malaysian tourists who visit each year, here is a handy list of what to eat when you're in Singapore!
1. Katong laksa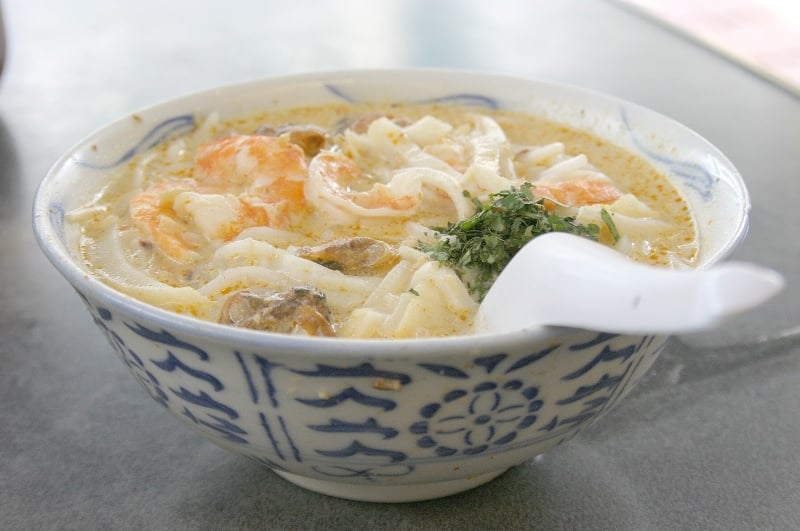 Named after the area where it was created, Katong laksa is Singapore's unique take on the nyonya laksa lemak. Made with a spicy soup base and flavoured with rich coconut milk, it is a noodles-and-vermicelli dish that comes with ingredients such as prawns, cockles, and fishcakes.
Interestingly, the noodles in Katong laksa are cut so that the entire meal can be eaten with a spoon rather than with chopsticks or a fork.
For a taste of Katong laksa, we recommend 328 Katong Laksa on East Coast Road!
2. Chilli crab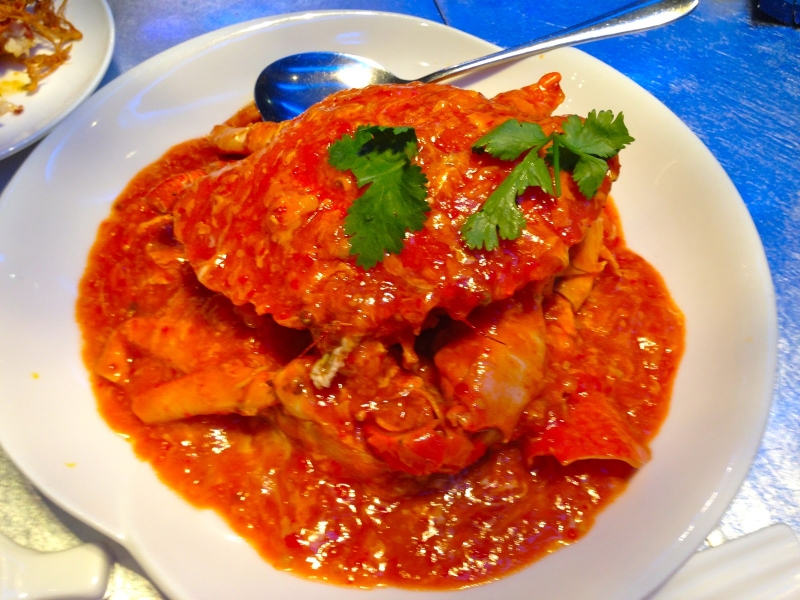 Chilli crab is made by stir-frying mud crabs in a chilli-and-tomato-based sauce. It has been noted as one of the best foods in the world, and is well-worth the trip over to our neighbouring country. It's so good that even popular celebrities can't get enough of it!
For the best (and spiciest) chilli crab, check out Long Beach Seafood Restaurant, which serves their chilli crab with mantous (Chinese steamed buns). Long Beach also serves one-of-a-kind black pepper crabs for a different culinary experience!
3. Fish head curry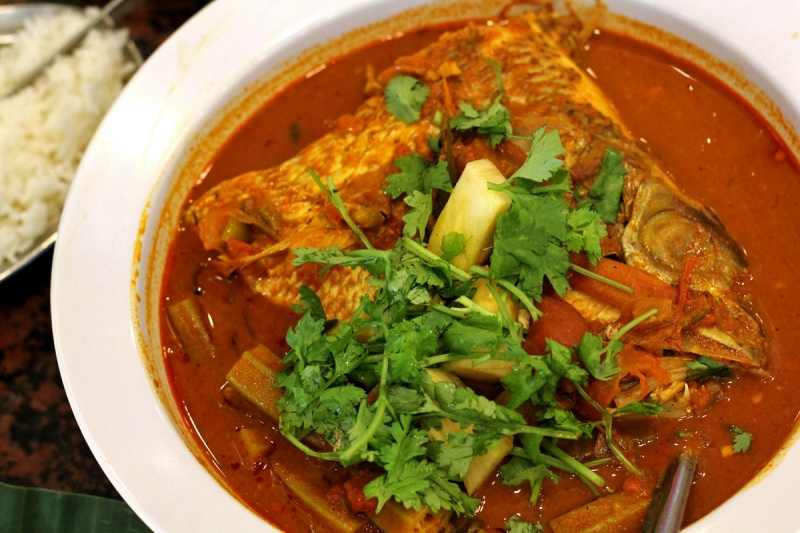 Fish head curry is the result of a blend of cultures—it is made by stewing fish heads, a Chinese delicacy, in Kerala-style curry. Assorted spices and vegetables help make up the flavour profile of the stew; when it's ready, the stew is served to the table with steamed white rice.
Muthu's Curry adds pineapple chunks to their signature fish head curry, giving it an extra kick that helps their curry to stand out. With a reputation withstanding over 50 years, this restaurant is definitely the place to go for fish head curry!
4. Bak chor mee
Bak chor mee, or pork noodles, is a dish of egg noodles tossed in a chilli-and-vinegar sauce. Topped with meatballs, meat slices, minced meat, bean sprouts, and stewed mushrooms, it is served dry or in an aromatic pork broth.
Hill Street Tai Hwa Pork Noodles is so good that it earned a star in Singapore's MICHELIN food guide. Go early if you wish to try it out, as queues have been said to run upwards of two hours!
5. Hainanese chicken rice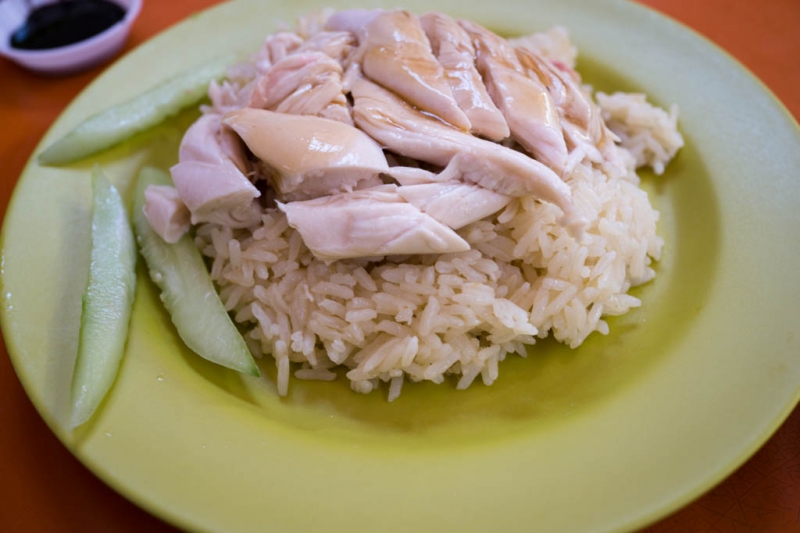 Hainanese chicken rice is one of Singapore's national dishes, and many Singaporeans take pride in preparing the meal the traditional Hainanese way with blanched chicken and oily, fragrant rice. Tian Tian Hainanese Chicken Rice made it onto the Bib Gourmand list of the Singapore MICHELIN food guide through just such a method.
If you aren't set on waiting out a long queue, though, try Ah Tai Hainanese Chicken Rice a few doors down. Set up by the former head chef from Tian Tian, Ah Tai's is just as noteworthy.
6. Murtabak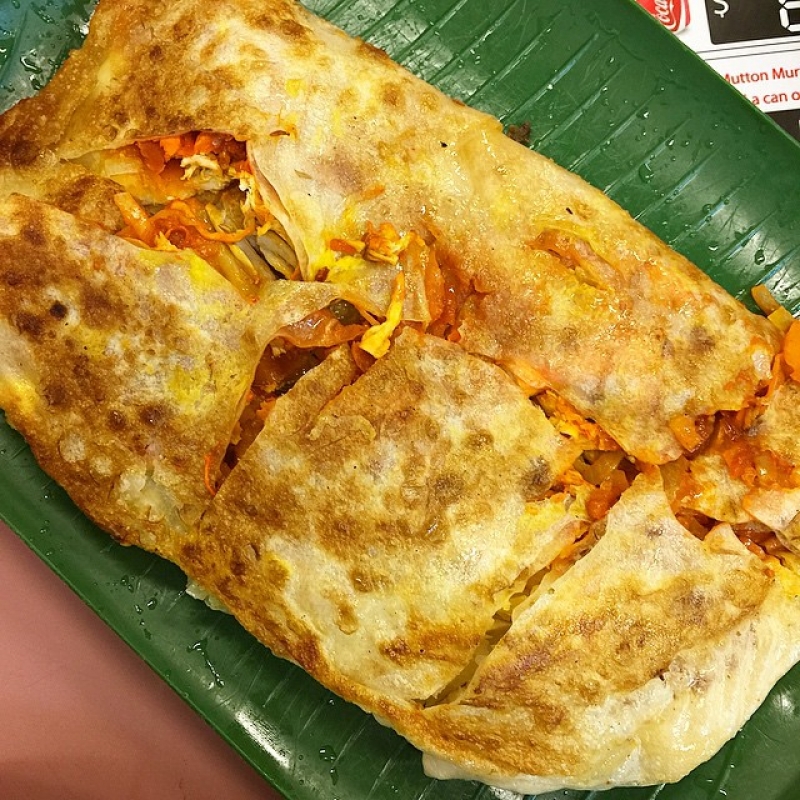 Murtabak hails from the Middle East, and its Arab origins can be seen clearly in the Singapore version of the dish, with spiced meat and onions wrapped up neatly in paper-thin sheets of dough. Pan-fried murtabak is served with curry on the side at Singapore Zam Zam, which has been frying murtabak for over 100 years.
As a bonus, check out Zam Zam's roti prata and nasi briyani!
7. Sambal stingray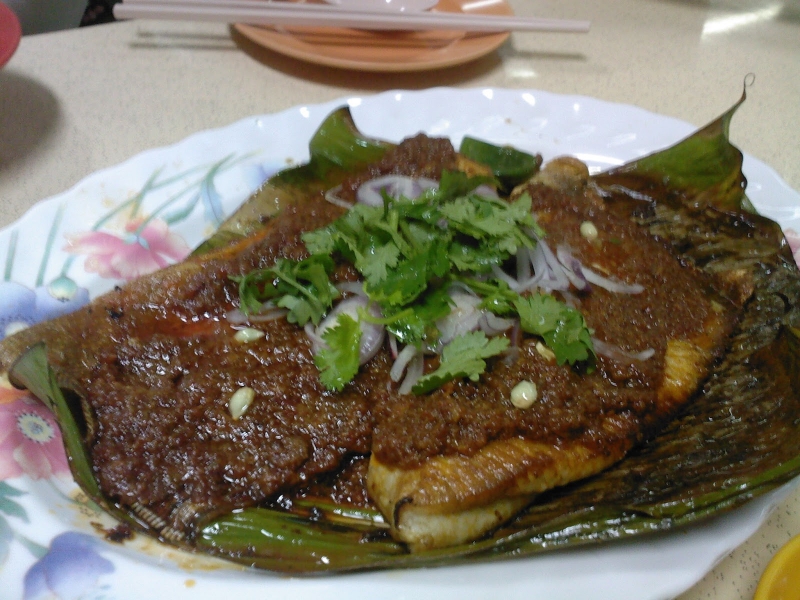 Singaporeans serve their ikan bakar in food courts, and sambal stingray is the ikan bakar that they are most known for. One of the most famous stalls in Singapore is Hai Wei Yuan BBQ in the Chomp Chomp Food Centre along Kensington Park Road.
It is unusual in that it cooks its fish over a stove rather than over coals, ensuring that the tender, succulent meat is cooked evenly throughout!
8. Carrot cake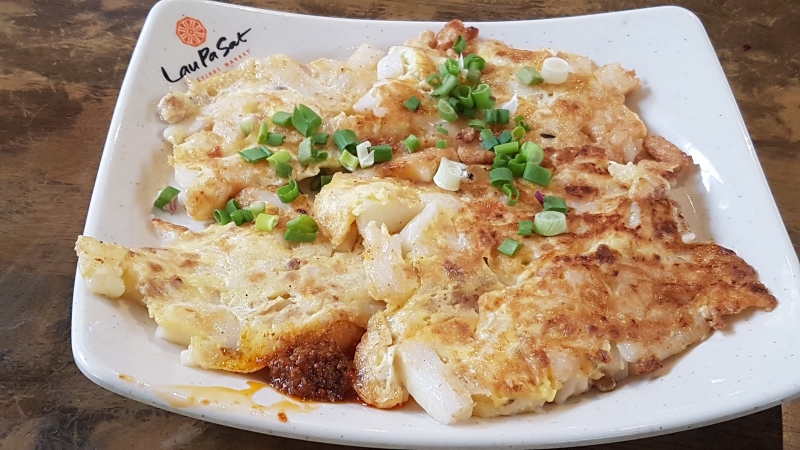 Singapore's carrot cake (chai tao kway) is the white twin to Malaysia's char koay kak but differs from it primarily for using light soy sauce instead of dark soy sauce. koay kak. It is made by pan-frying cubes of radish cake with eggs, garlic, and preserved radish, a
In Singapore, chai tao kway is often sold alongside oyster omelette (orh luak). Ah Hock Fried Oyster Hougang in Whampoa Makan Place is a good stall for both of these dishes!
9. Kaya toast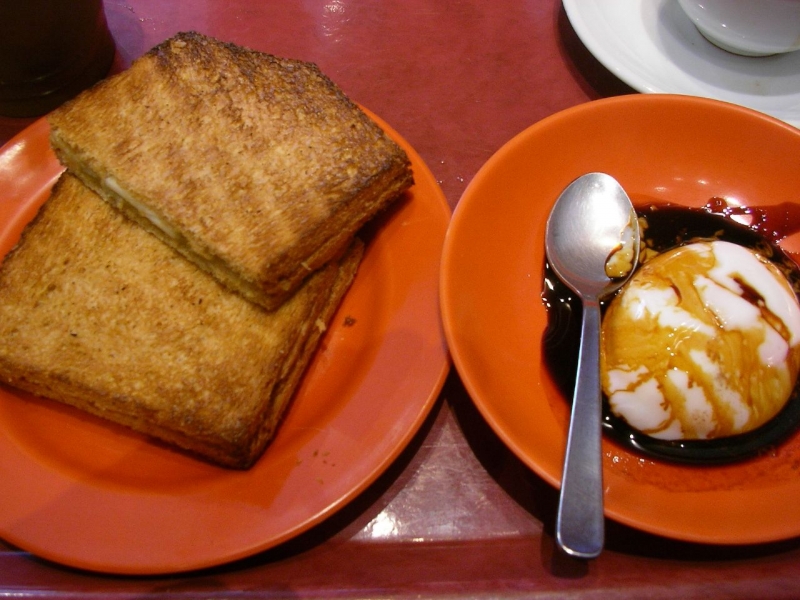 Most Malaysian kopitiams make kaya toast, but none have made it as big as Singapore's Ya Kun Kaya Toast. With branches stretching as far as China, Ya Kun has certainly made a name for itself. Ya Kun has a secret recipe for coffee and kaya, and a taste of their soft-boiled eggs, aromatic coffee, and silky smooth kaya is a necessary experience during a trip to Singapore.
10. Curry puffs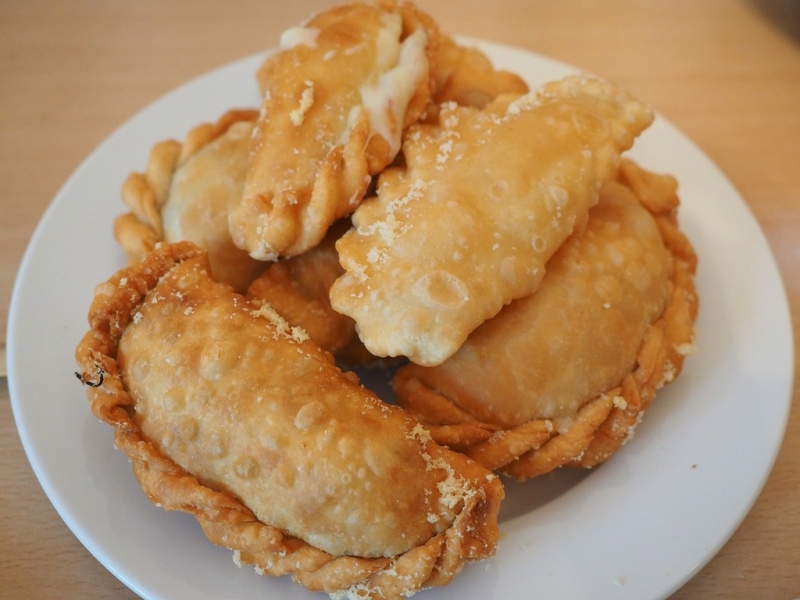 Entrepreneurs in Singapore have taken curry puffs a step further by stuffing the puffs with novel and unusual ingredients such as yam, custard, chilli crab, and even black pepper chicken. 1A Crispy Puffs sells a variety of those fillings wrapped in their airy and flaky crusts, making for the perfect place at which to start a curry puff adventure!
11. Ice cream sandwich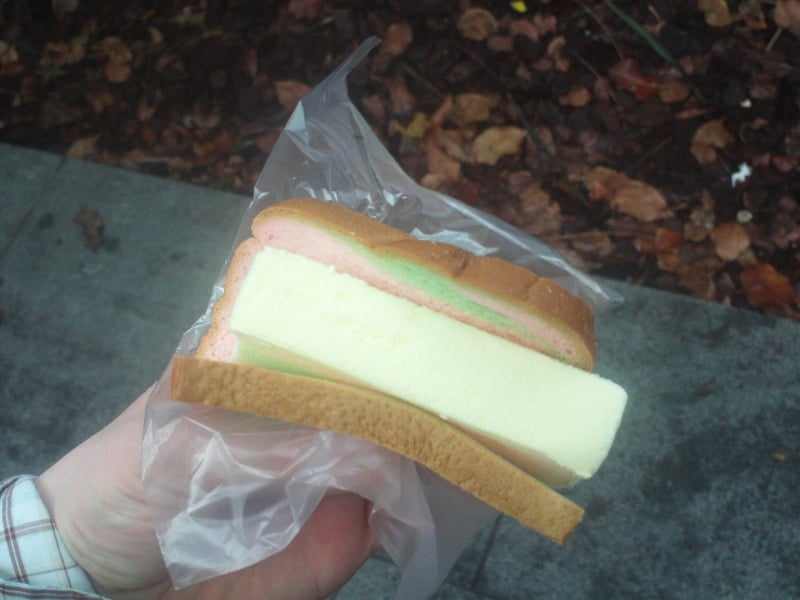 Ice cream sandwiches are sold as a street food of sorts in Singapore, and numerous stalls selling ice cream sandwiches can be found along Orchard Road. Different kinds of ice cream are available to be wrapped in plain or multi-coloured bread. On a hot day, this flavourful and substantial dessert is the best treat.
12. Salted egg snacks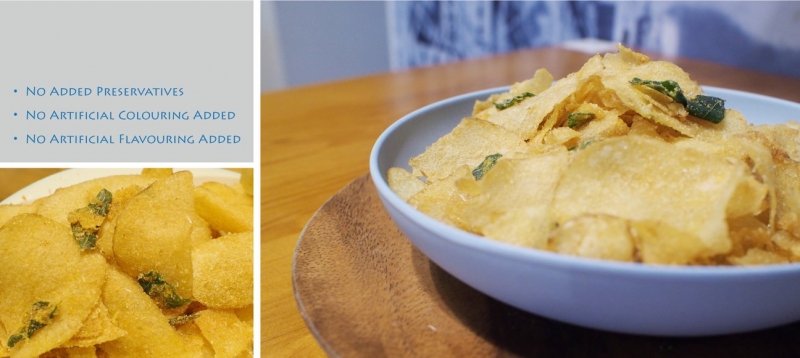 Salted egg snacks are the seeming up-and-coming snack in Singapore, with more and more companies jumping into the business and producing various sorts of products flavoured with salted egg—think salted egg wonton crisps, salted egg seaweed crisps, salted egg fish skin crisps, and even salted egg chicken skin crisps.
There are plenty of salted egg snack brands for you to choose from while you're in Singapore, but I can personally vouch for Aunty Esther's salted egg potato crisps having the perfect mix of spices, potato, and salted egg!
Familiar but foreign
Like most of the rest of Singaporean culture, Singaporean food is just familiar enough to taste like home—and just foreign enough to give you a double-take. Such regional differences are what makes Singapore an ideal haven for Malaysian foodies who are looking to tick more items off their list without having to travel too far. There's no sense in putting it off, as Singapore is just a bridge away!