Most of the time, when people visit Taiwan, they make Taipei their very first stop. For many travellers, even Malaysians, Taipei is also usually the only major city they visit. And while I have nothing against exploring the bustling night markets, I do feel that there's more to Taiwan than just the glitzy lights of Ximending and the towering Taipei 101 complex.
Of course, if you're truly short on time, it'd be hard to travel from Taipei to Kaohsiung, even with the acclaimed High Speed Rail (HSR) facilities. Luckily for you, there are tons of wonderful destinations to explore near Taipei. Some of them are barely a stone's throw away!
So, to help make your next trip to Taipei that much more interesting, here's a list of 9 super easy day trips you can take from Taiwan's most famous city!
Taipei Pass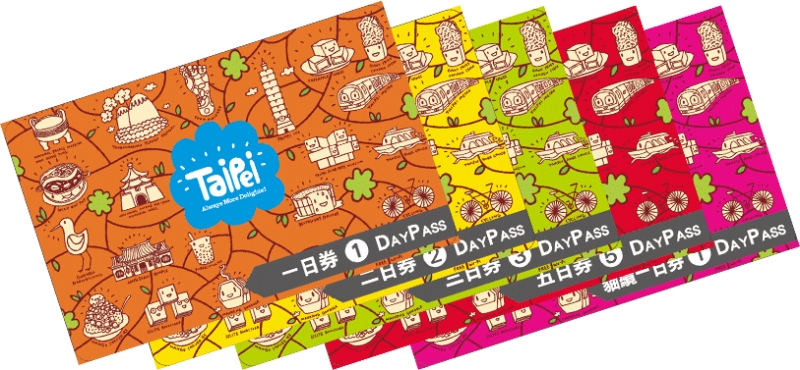 You'll need to fully utilise Taipei's extensive network of public transportation to reach most of the destinations on this list. Therefore, I highly recommend getting a Taipei Pass when you arrive. Much like the fabled rail passes of Japan, the Taipei Pass is a transport pass which allows unlimited rides on the Taipei MRT and bus systems.
The pass is available for a period of one, two, three, and five days respectively at the following prices:
| | |
| --- | --- |
| One-day pass | NT$180 – RM24 |
| Two-day pass | NT$310 – RM41 |
| Three-day pass | NT$440 – RM58.50 |
| Five-day pass | NT$700 – RM93 |
This is especially useful when you consider the fact that a single ticket on the Taipei Metro costs between NT$20 – NT$65 (RM2.60 – RM8.60), which adds up to about RM5.20 – RM17.20 for a return trip!
The validity period is activated once the pass is used for the first time and can be used for an unlimited number of rides until it expires. You can get one at all Metro stations in Taipei. And now that we have the almighty Taipei Pass, it's time to hit the road!
1. Beitou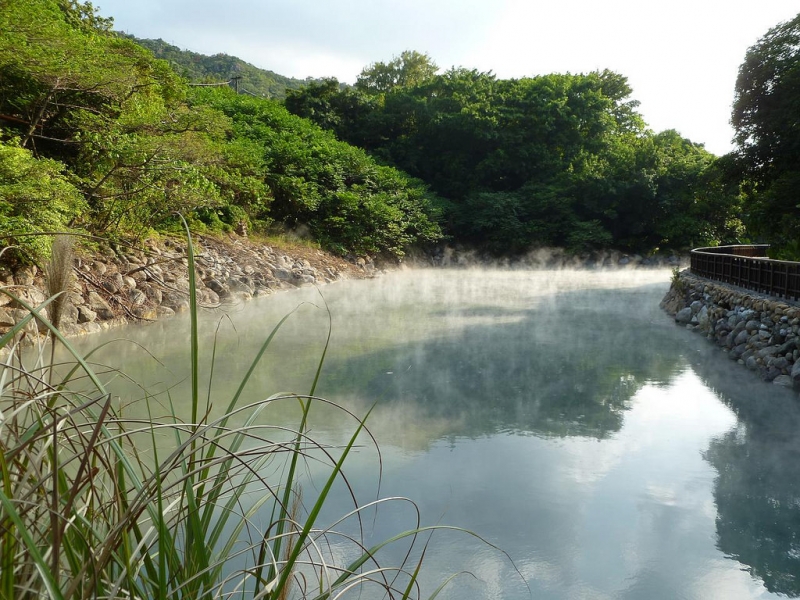 Of all the potential detours one could take from Taipei, Beitou is arguably one of the easiest to reach. Less than an hour away, this quaint town is well-known for its enigmatic hot springs. Before you soak your troubles away though, you'll want to visit the famous Geothermal Valley.
Otherwise known as Hell Valley for the constant steam rising from the water, the Geothermal Valley is home to some incredible sights. However, take note that, true to its nickname, the valley's hot springs are not suitable for soaking in. It's far too hot and acidic.
Instead, head to the popular Beitou Public Bath House to experience Taiwan's hot springs. Or, if you have some cash to spare, you can book a stay at one of the many private hot spring resorts that adorn the river.
Getting there:
From Taipei MRT Station, board a train heading north on the Red Line and disembark at Beitou MRT Station. There, switch to the Xinbeitou Branch Line and move one stop to Xinbeitou MRT Station. The entire journey will take you about 45 minutes.
2. Tamsui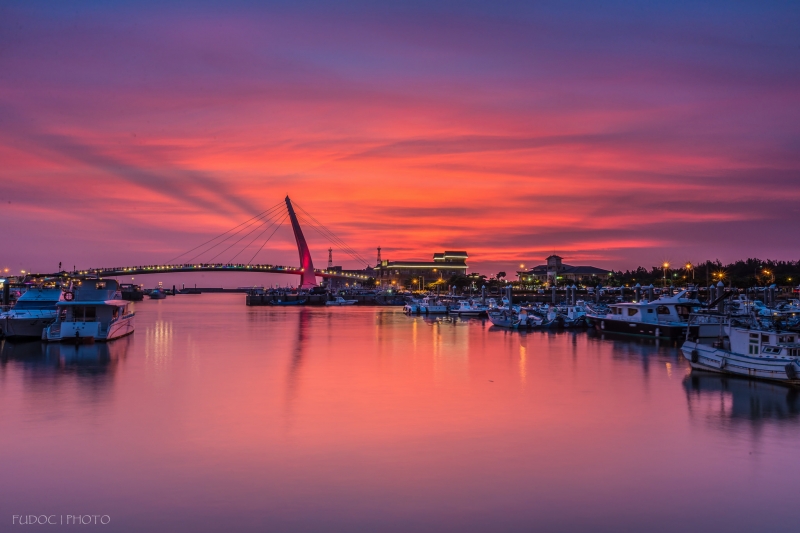 While you won't be able to escape the crowds at Tamsui the way you would at other places on this list, this charming coastal district is well worth a visit, especially if you're travelling with your significant other.
Check out the Tamsui Old Street along Tamsui River for some exciting eats and equally enthralling atmosphere. While you're there, make sure to try a-gei (淡水阿給), a specialty dish only found in Tamsui. It's basically fried tofu stuffed with cellophane noodles. It's a popular street food that is sure to tickle your taste buds.
Tamsui's most iconic scenery is the sunset over Lover's Bridge. To get there, you'll need to hop on a ferry to Fisherman's Wharf. Don't be surprised by the huge crowds (especially couples) that gather there to witness the majestic scenery. It's absolutely breathtaking, even if you're travelling alone like me. #foreveralonesquad
Getting there:
Board a train at Taipei MRT Station and head north on the Red Line all the way to the end. Tamsui MRT Station is the terminus. It should take you only 40 minutes to get there.
3. Keelung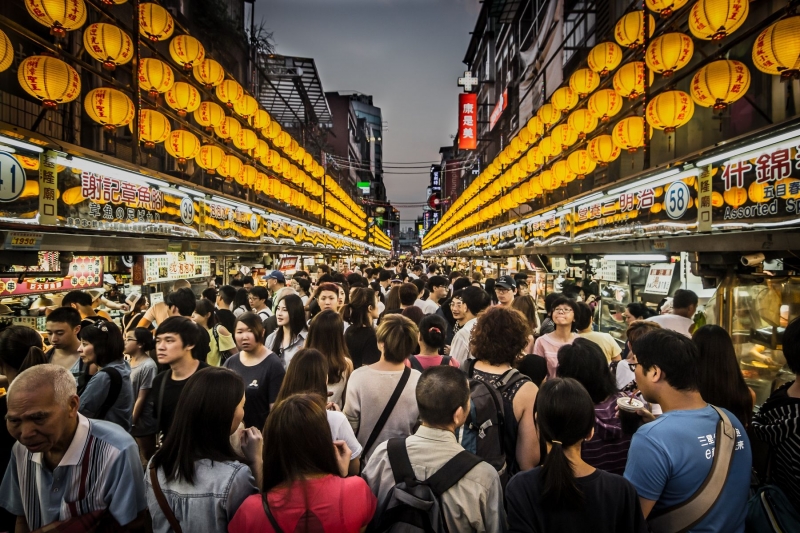 It goes without saying that Taipei (actually just Taiwan in general) is all about that glorious street food. But in case you've grown tired of Shilin Night Market, then you might want to make a short trip to Keelung and visit the Miaokou Night Market instead.
While not as globally famous as its Shilin counterpart, Miaokou Night Market is actually recognised as one of the two best night markets in the country! I've heard that the crab soup sold at a stall near the entrance is to die for.
Aside from the gob-smacking food, Zhongzheng Park is another must-see attraction in Keelung. Head to the top for incredible views of the city.
Getting there:
There are local trains bound for Keelung which leave at 20-minute-intervals from Taipei Main Station. The cost is NT$41 (RM5.50) per journey.
4. Wulai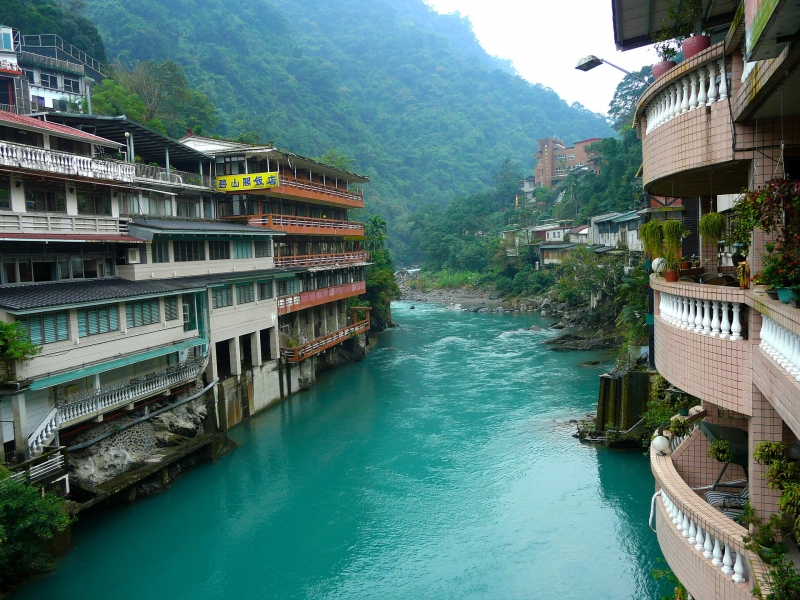 Wulai is as underrated as they come compared to all the other destinations on this list. And that's a real shame because this unique town is a true travel gem. If I had to describe it in a word, it'd be rustic aboriginal culture.
Okay, I know that's three words but just go with it. Unlike the rest of Taiwan, Wulai exudes a rustic ambiance of Taiwan's aboriginal culture. In fact, most of the residents here hail from the Atayal Tribe, making Wulai the closest thing to a pure aboriginal village. Apart from soaking in the culture, visitors get to enjoy profoundly beautiful natural sights in Wulai.
There's plenty to admire from dense jungles to rocky cliffs, emerald green rivers and even the 80m high Wulai Waterfall! There are also plenty of therapeutic hot springs in the area. If you're hunting for a souvenir that's actually unique, look no further than the stalls on Wulai Old Street.
You'll find plenty of quirky souvenirs infused with the cultural aesthetics of the Atayal Tribe. Don't forget to sample some of their traditional food as well, such as wild boar sausage (this is yum!) and sticky rice cake!
Getting there:
First, at Taipei MRT Station, catch a train to Xindian MRT Station (southbound – greenline). Once there, head outside to the bus stop near the tourist information centre and hop aboard Bus 849 (every 15 minutes) and ride it all the way to the final stop.
5. Pingxi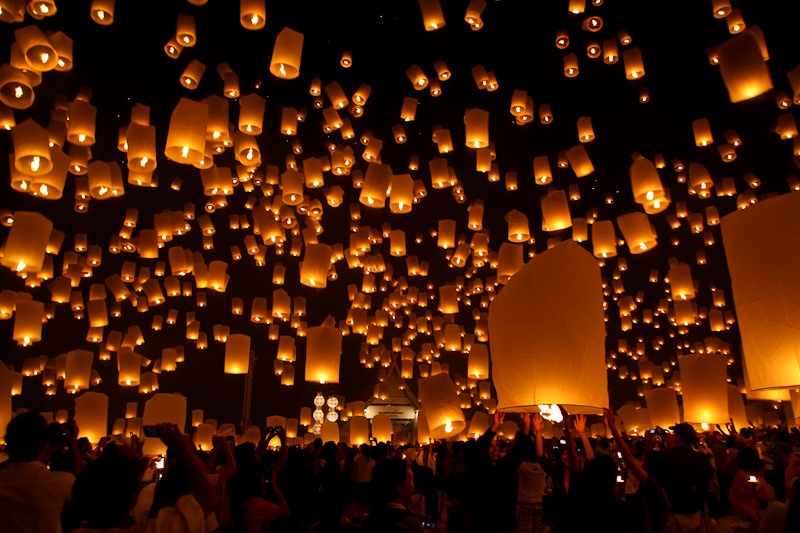 Sometimes the simplest things make for the most memorable sights. That's probably the idea behind Pingxi's recent rise to fame. If you're active on social media, you've probably seen one or two photos of the famous Pingxi Sky Lantern Festival.
For the uninitiated, the idea behind this festival is to get a sky lantern from one of the nearby tourist shops on Pingxi Old Street and write your wish on the lantern. At night, the lantern is lit and you watch as it gradually floats into the sky, carrying your wishes closer to the heavens.
Even if the festival isn't in full swing, you can still release your own sky lantern if you visit in the evening. Pair that with a trip to the various food stalls on Pingxi Old Street and it will definitely be a great and worthwhile trip.
Getting there:
Before anything else, head to Taipei MRT Station and get a Pingxi Branch Line Rail Pass (valid for one day). It costs only NT$54 (RM7.20). Now that you have your pass, hop aboard any northbound train to Ruifang MRT Station and switch to the Pingxi Branch Line. Alight at Pingxi MRT Station. The whole trip shouldn't take you more than 39 minutes.
6. Jiufen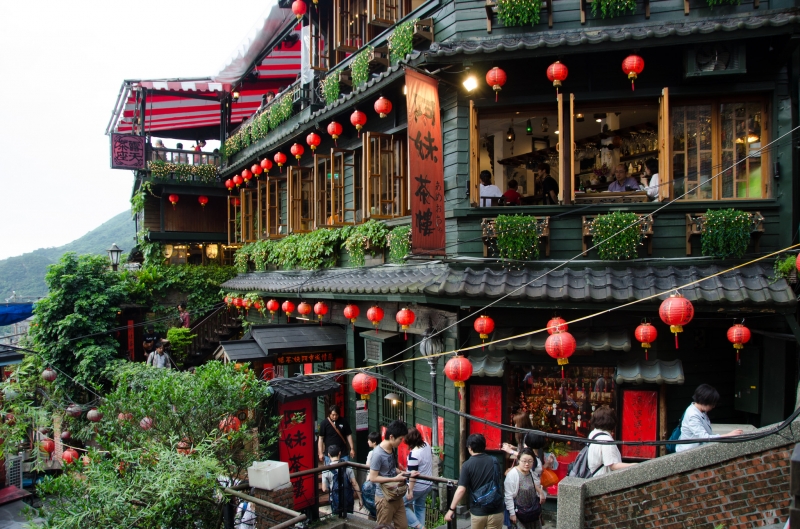 Easily the most famous destination on this list, Jiufen is simply one of the most beautiful towns in Taiwan, maybe even the world. Nestled in the mountains of Northern Taiwan, Jiufen used to be a gold mining town before it became a tourist hotspot. With roots tracing all the way back to the Qing Dynasty, the ambiance here is incredible. The narrow streets, beautiful architecture and quaint ambiance tempts you to never want to leave.  
Anime fans might find this town vaguely familiar and that's because the location setting of the popular Spirited Away was based on the picturesque scenery in Jiufen. You really only need to visit Jiufen Old Street to be…spirited away (pun intended)… by the town's beauty and delicious street food. I personally loved the fried taro balls.
If you have the time, I recommend stopping by one of the old Chinese tea houses for some lovely afternoon (Chinese) tea as well.
Getting there:
Generally speaking, there are three ways to get to Jiufen from Taipei.
Head to exit E1 of Zhongxiao Fuxing MRT Station and board Bus 1062 to Jinguashi. Alight at Jiufen.

Hop aboard a train to Ruifang MRT Station. Then switch to the Keelung Transit Bus to Jiufen.

Board a train to Keelung MRT Station and take Bus 788 from Keelung Bus Station.
7. Jinguashi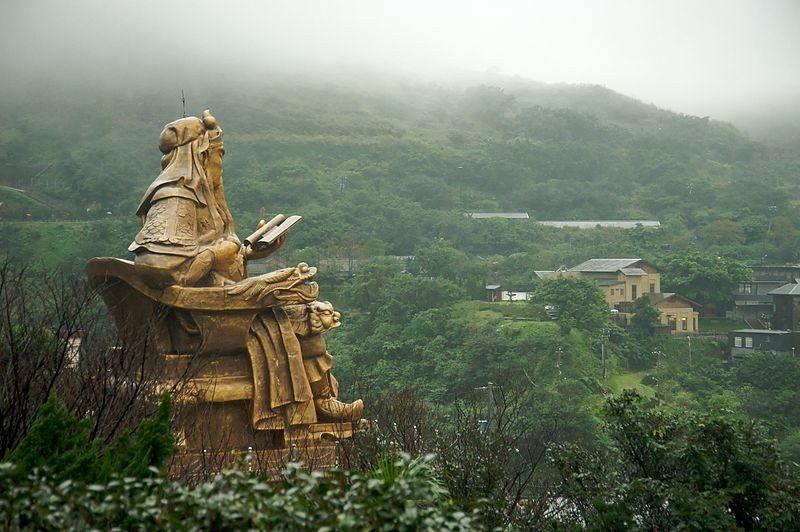 Right next to Jiufen is the equally atmospheric Jinguashi. Being a vestige of Japanese occupation during World War II, the town is an ideal gateway into Taiwan's history.
While Jinguashi is not as crowded as Jiufen, it is by no means any less enticing. Its old lantern-lined alleyways that snake through the hills are just as Insta-worthy as the ones in Jiufen. Some of the must-see historical attractions here are: the Jinguashi Gold Museum, the Benshan Fifth Tunnel, and the infamous Kinkaseki.
Kinkaseki is one of the most harrowing Japanese POW Camps in the country. It stands as a reminder of Taiwan's troubled, dark history and blends well with the melancholic vibe of the town.
Getting there:
Head to exit E1 of Zhongxiao Fuxing MRT Station and board Bus 1062 to Jinguashi.
8. Shifen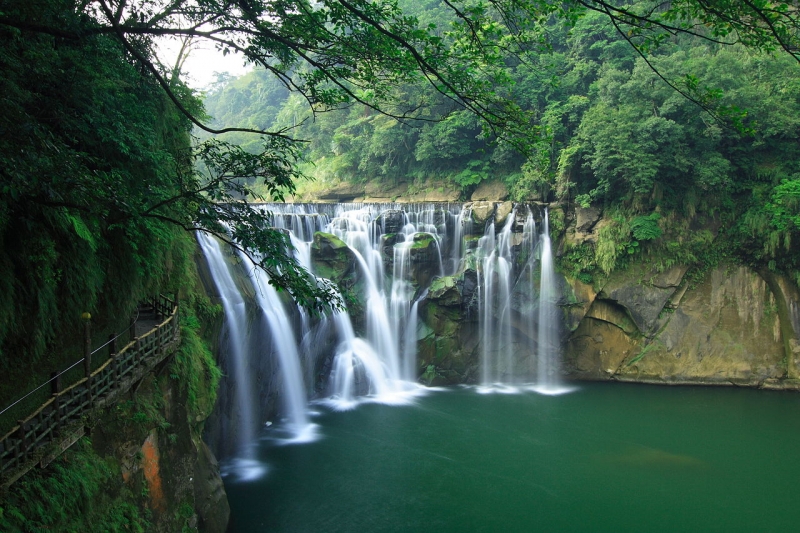 Our list of charming quaint towns continue with Shifen, another popular stopover on the Pingxi Branch Rail Line.
Shifen Old Street is the town's most popular destination. Centred around an active rail track, the street is bustling with various shops and eateries. It is also one of the most popular photography spots in the region surrounding Taipei, so make sure to charge your cameras/phones before you make the trip.
The most beautiful sight in Shifen however, has to be the Shifen Waterfall, the widest in the country. You'll have to walk a good 20 minutes to get there (so I suggest planning a trip in Spring to avoid the summer heat) but trust me, the short journey is oh, so worth it. Enjoy the scenery and this haven of nature before returning back to the dizzying neon lights of Taipei.
Getting there:
Head to Ruifang MRT Station from Taipei and switch to the Pingxi Branch Line. Alight at Shifen. The Pingxi Branch Line Rail Pass is valid for travel to Shifen.
9. Yangmingshan Nature Park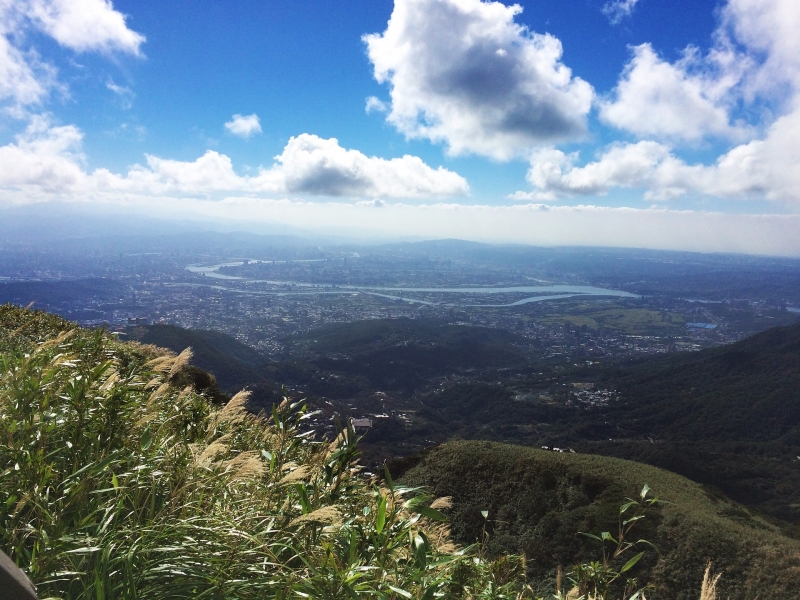 It's not everyday you get to wake up in a metropolitan city in the morning and then be breathing in fresh mountain air just a few hours later. Thankfully, you can, thanks to the short distance between Yangmingshan National Park and Taipei!
Even better is the fact that the hike itself is not too challenging, meaning with just a little bit of willpower, anyone can enjoy the lovely sights from the peak of Qixing Mountain (only about 2.5km from the visitor centre at the entrance). But don't just stop there! Push on to Xiaoyoukeng where you'll be able to watch as fumaroles puff sulphur into the air.
And hey, once you're done, simply head back to Taipei's Shilin Night Market to treat yourself to a hearty meal! You did just do some hiking after all!
Getting there:
There are two main routes to get to the hills of Yangmingshan from Taipei:
From Taipei, head to Jiantan MRT Station (Red Line) and board bus R5 towards the destination.

Take a bus ride (Bus 260) from outside Taipei Main Station straight to Yangmingshan. (Takes longer but it's a direct route without transfers).
Off we go!
And there you have it, 9 incredible locations that are easily accessible from Taipei for your next trip there. If you're feeling ambitious, you could even try to visit every location on this list within 5 days (Jiufen, Jinguashi, Pingxi, and Shifen all lie on the same rail line)!
Whatever you choose to do, I'm sure you'll love these destinations as much as Taipei itself. With that being said, it's time to plan your own trip now!
Also read: A Malaysian's Guide to Taipei: 18 Things You Must Do