South Korea is a top travel destination any time of the year, no doubt about that. With its captivating culture, vibrant, youthful ambiance and tantalising street food, it's easy to see why so many Malaysians love travelling there.
The typical "first-time-in-South-Korea" itinerary usually covers Seoul, Jeju Island, and maybe Busan. However, if you consider yourself a seasoned traveller in South Korea or you simply want to do things a little differently, you'll be happy to know there are quite a number of wonderful destinations to explore just outside of Seoul!
So, if you're planning to set up base in South Korea's capital city throughout your entire trip but still want to explore the country's lesser-known regions, this list is just for you! Here are 10 incredibly easy day trips that you can take from Seoul.
Getting the KORAIL Pass + T-Money Transport Card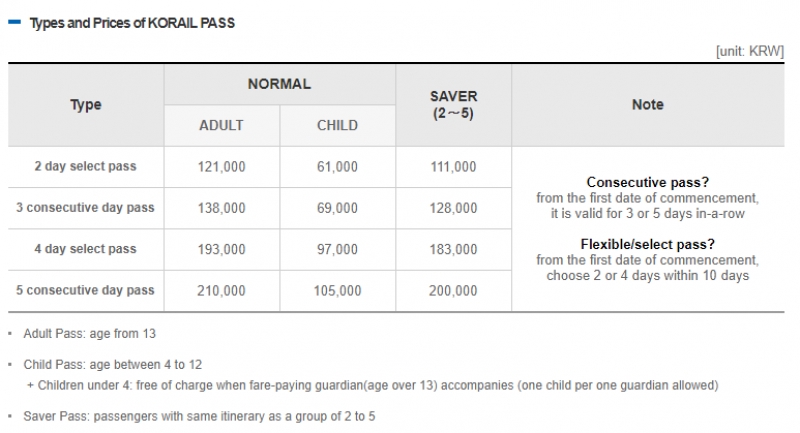 While we'll try to keep costs down as much as we can, some expenses are inevitable, as you will come to realise as you read on. That's why if you're planning to visit some of the destinations below, or if you're planning to head to other parts of South Korea thereafter, I recommend investing in a KORAIL Pass.
It's basically an all-in rail pass which allows passengers unlimited rides on trains operated by the Korea Railroad Corporation (KORAIL). This includes KTX and ITX Trains (high-speed rail) and regular tourist trains.
There are two different types of passes: consecutive day passes, and flexible passes. Consecutive passes are valid for use for three or five days in a row from the first day of usage while flexible passes can be used for either two or four days within a period of ten. Prices range from 121,000 – 210,000 KRW (RM440 – RM762) for an adult pass depending on which type you choose.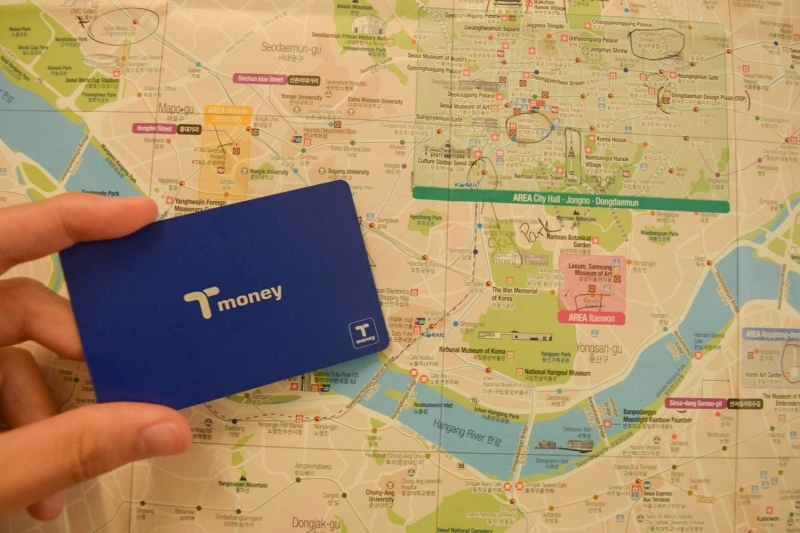 In addition to the KORAIL Pass, you might also want to get a T-Money Transport Card. It works the same way as our Touch N Go. You can use it anywhere in South Korea to ride the subway and public buses for discounted fares and even use it to buy food at convenience stores.
The T-Money Card will help you save more money in the long run because the KORAIL Pass alone doesn't cover rides on the Seoul Metro which is integral to getting around the city. You can get a T-Money Transport Card at the airport or from the vending machines in the subway stations for 2,500 KRW (RM9).
1. Suwon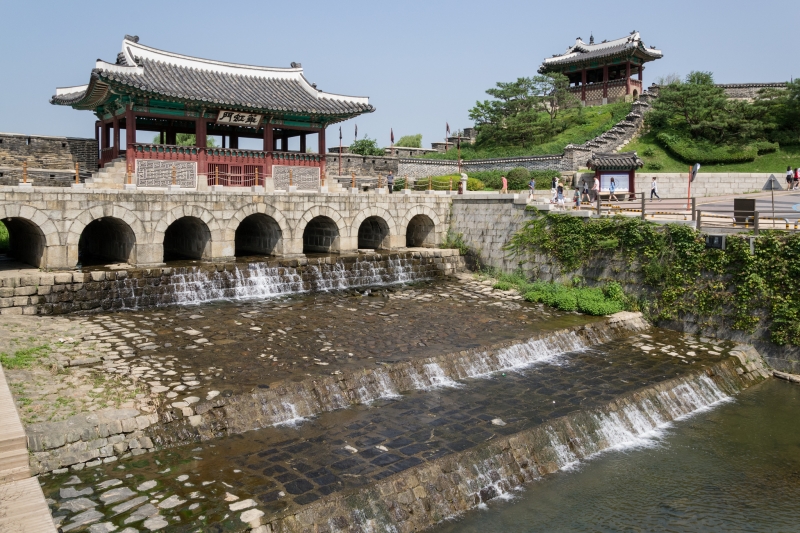 Suwon is located so incredibly close to Seoul that many people often mistake the city as another part of South Korea's bustling capital. But in actual fact, Suwon is the capital of Gyeonggi Province and its largest city.
While there are loads to see and do in Suwon, if you're short on time then head straight for Hwaseong Fortress. This UNESCO Heritage Site is the city's most iconic tourist attraction. Dating back to the Joseon Dynasty (about the late 18th century), this 5.52km fortress is easily one of South Korea's must-see attractions.
Take your time to hike along the fortress walls towards the top of Paldal Mountain. Along the way, you can admire the beautiful structures and gates which adorn the walls. At the summit, you'll be treated to a stunning aerial view of the whole city. Before you leave, head to the Hwaseong Fortress Museum to learn more about the history of the fortress and the city as a whole.
Getting there:
There are several easy ways to get to Suwon from Seoul.
From Seoul Station, take the Metro Line 1 direct to Suwon. This is the easiest and cheapest method (1,300 KRW – RM4.70 one way). The journey will take about an hour.

If you want to cut your travel time by half, grab a regular KORAIL train from Seoul Station (2,700 KRW – RM9.80) instead.

The fastest option for getting to Suwon is by taking the KTX. You can reach Suwon in less than 30 minutes but be prepared to fork out 8,400 KRW (RM30.50) for a reserved seat if you don't have the KORAIL Pass.
2. Yongin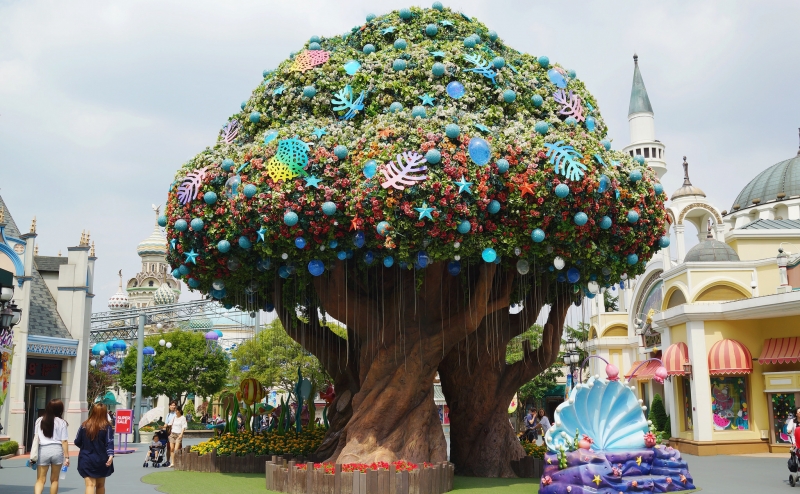 The charming, quaint city of Yongin is another city that is often wrongly-considered a part of Seoul. That's actually quite a shame because one of Yongin's top tourist attractions is the popular Everland Resort. I'm sure you've either seen photos of the place or at least snippets of it in Korean variety shows like Running Man before.
This local amusement park is the top choice for both South Koreans and foreign tourists. You'll no doubt enjoy the exciting rides and carnival atmosphere. K-Pop fans will also enjoy the Live Hologram Theatre where you can catch a full G-Dragon holographic concert! Eh, close enough, right?
Besides Everland, Yongin is also famous for the Korean Folk Village. Built on a wide 240-acre field, the village showcases over 260 replica traditional houses of the different social classes from various regions. You'll also get to enjoy authentic traditional folk music and take part in fun workshops conducted by the villagers here.
Getting there:
While there is no Yongin Station, the Seoul metro connects to many of the city's most popular destinations.
To get to Everland, hop aboard Line 2 of the Seoul Metro at Gangnam Station and head towards Jeongja Station. From there, switch to the Sinbundang Line towards Giheung Station and the once more unto the Everline towards Jeondae – Everland. From the station, there's a free shuttle bus to the park.

To get to Korean Folk Village, make your way to Suwon Station (refer above). At Exit 5, hop onto Bus 10-5 or 37 and step off at the Korean Folk Village.
3. Paju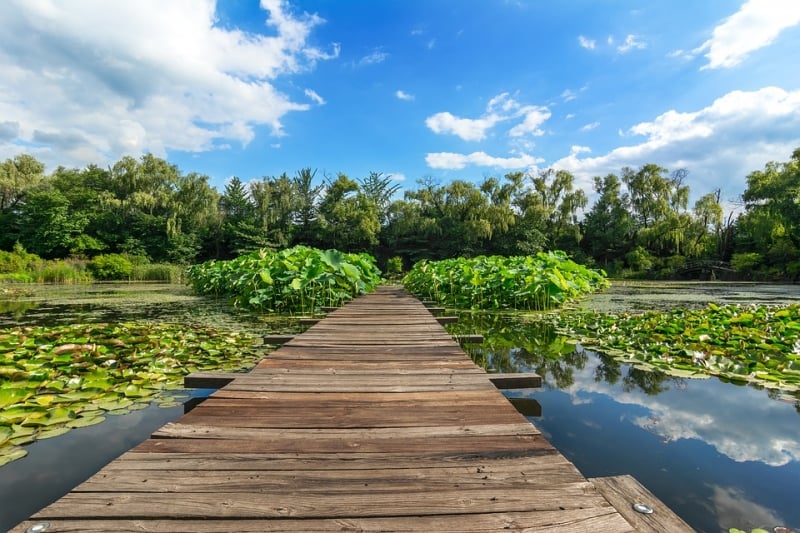 The historical town of Paju lies within the charming Gyeonggi Province. Known throughout the region as a quaint cultural town, Paju has plenty of diverse attractions to offer to those who wish to get away from the noisy streets of Seoul.
Bibliophiles will surely want to visit the Paju Book City, Paju's most famous attraction. As the name implies, this cultural complex is all about books, with over 34 publishing houses, 10,000 workers and 50,000 books to be found here.
You could also visit Provence Village for a little taste of France in South Korea. The streets in this themed village are filled with vintage European style bakeries and cafes. If you want to get close to nature and admire the beautiful seasonal blooms of Paju, pay a visit to the Byeokchoji Botanical Gardens before heading back to Seoul.
Getting there:
From Seoul, hop aboard the Gyeonggi line Metro (1,700 – 2,500 KRW – RM6.20 – RM9.10) towards Geumchon Station. From there,  take either the number 2 or 3 local bus towards Gyeonggi. The entire journey should take about ninety minutes and take you straight to Gyeonggi, where Paju city is.
4. Gapyeong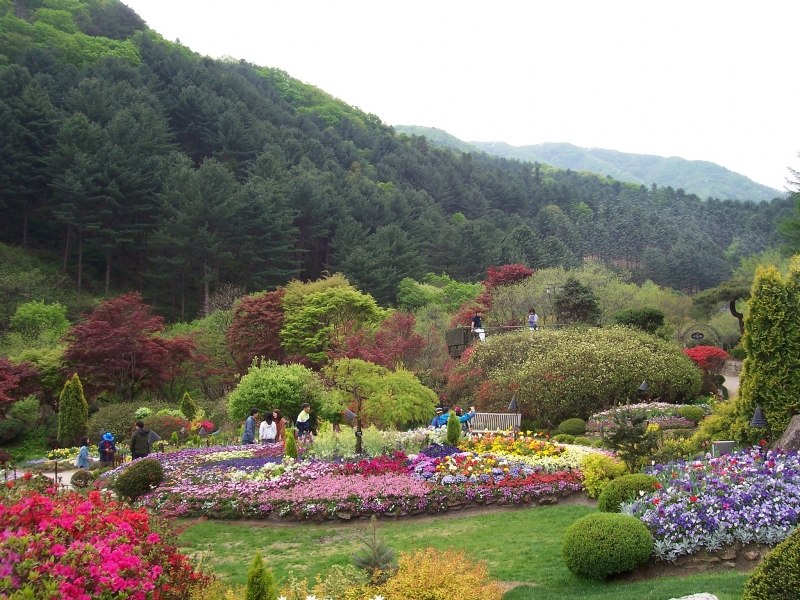 Without a shadow of a doubt, Gapyeong is one of the best day trip destinations from Seoul, especially during the autumn season. The city is incredibly colourful and oh, so pleasing to the eyes.
Two of the top destinations in this area are Petite France and Edelweiss Swiss Theme Park. If you're a fan of Korean variety shows like Running Man and Secret Garden, you will definitely have seen images of these lovely places flash across your television screen before.
Both these theme parks exude an alluring ambiance amidst picturesque scenery and a refreshing change of pace that is more peaceful and calm. Apart from admiring the kaleidoscope of murals and quirky architecture, don't forget to stop by some of the must-visit locations within the theme parks either. One such example is the Swiss Chocolate Museum in Edelweiss Swiss Theme Park. I'll let you figure out yourself why I say so. -wink-
Getting there:
The easiest way to get to Gapyeong is to take the ITX (high-speed train). The train departs Yongsan Station regularly and costs between 8,50- 10,000 KRW (RM30.90 – RM36.30). If you by this way, it will take you only about 58 minutes.
If you're looking to save money, then ride the Seoul Metro towards Hoegi station and transfer to the Gyeongchun Line towards Gapyeong (RM12 – RM15). It'll take you about 2 hours.
5. Nami Island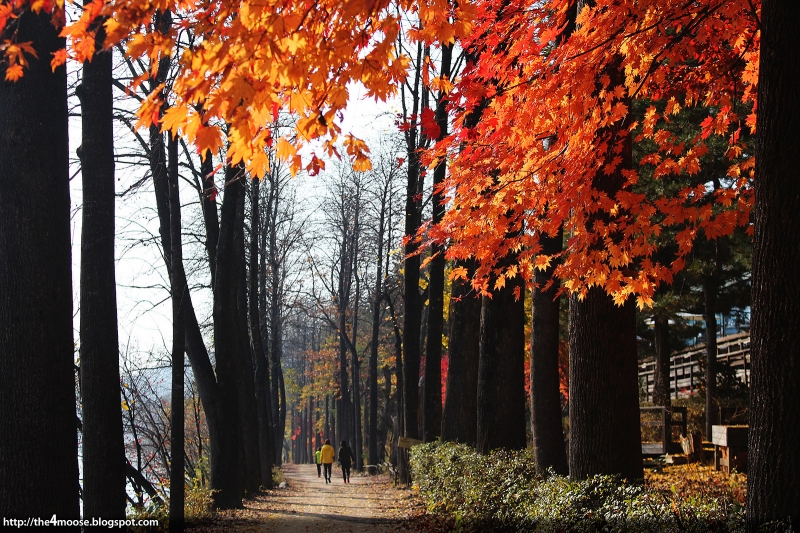 Of course, if you find yourself in Gapyeong, then you will definitely want to make sure you allow yourself some extra time to visit one of South Korea's most famous scenic locations: Nami Island.
Instantly recognisable as the filming location for the drama which kickstarted the Korean Wave, Winter Sonata, Nami Island turns into a sea of fiery red leaves during the autumn season. The autumn foliage and the many tree-lined paths provide the ultimate backdrop for stunning photos and slow, romantic walks with your significant other.
You'll want to visit the Garden of Morning Calm for a relaxing stroll through an aesthetically-pleasing landscape. If you're feeling up to it, you can even rent a bike and cycle around the island. Heck, you can even zipline yourself across to the island from Gapyeong Wharf! Now THAT'S how you make an entrance!
Getting there:
First, head to Gapyeong Station and hop aboard a tour bus to Nami Island Station. From there, you'll need to make your way to Gapyeong Wharf. At this point, you can either hop aboard a ferry to the island or zipline across!
6. Muuido Island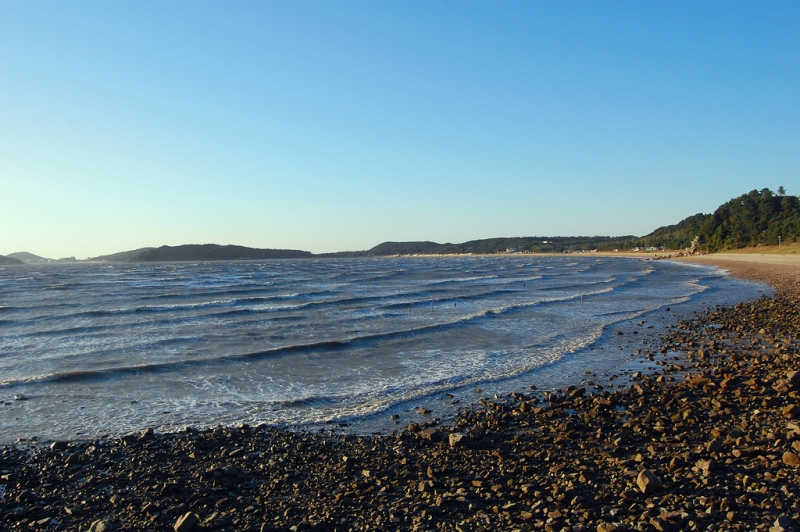 What's a vacation without a good beach getaway, am I right? Since there are no beaches within Seoul itself (hard to have a beach when you're nowhere near the ocean), Muuido Island in Incheon is your best bet. Time for another round of K-drama trivia: the popular K-drama, Stairway to Heaven, was filmed here.
There are colourful miniature beach huts lining the shore of Hanagae Beach (the main attraction on the island), providing visitors with the option to conveniently store their items while they frolic in the water. You can even rent an ATV or try your hand at horseback riding.
Needless to say, the best things to do here are to watch the sunset and to have a fun BBQ with friends. There's a convenience store nearby so you can be sure you'll never run out of snacks (or beer!). If you want, you can even camp overnight on the island for a truly memorable experience.  
Getting there:
From Incheon International Airport's Departure terminal (3rd floor), exit at gate 7 and board bus 222 towards Jamjinnaru Ferry Terminal. The ferry runs every 15 to 30 minutes, from 7 a.m. to 8 p.m. Note that the last ferry boards at 7.45 p.m.!
7. Bukhansan National Park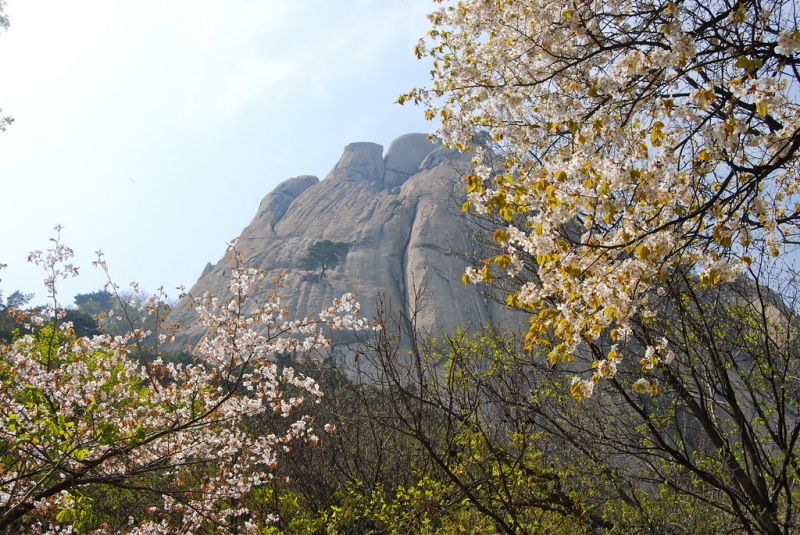 When you're tired of the concrete jungle that is the metropolis of Seoul, then it's time to step back into nature. Thankfully, Bukhansan National Park is just a short distance away. Home to some of the most pristine hiking trails in the country, Bukhansan is teeming with picturesque creeks and mountain scenery that are sure to captivate any visitor.
Whether you visit in spring, autumn or any other season, the park is full of beautiful seasonal blooms. What's more, the Mangwolsa Mountain Temple is another scenic location you wouldn't want to miss on your way up to the peak.
Bukhansanseong Course is the most popular hiking trail. Stretching about 3.5 kilometres, this trail leads you to Baegundae Peak, the park's tallest peak at 836 metres. Take your time to take in the scenery at the top. You did just technically climb a mountain after all!
Getting there:
Hop onto Line 3 of the Seoul Metro to Gupabal Station. Then, head to Exit 1, and look for bus 704 towards Bukhansanseong Fortress (북한산성). Alight at the Bukhansan bus stop and you're there!
8. Incheon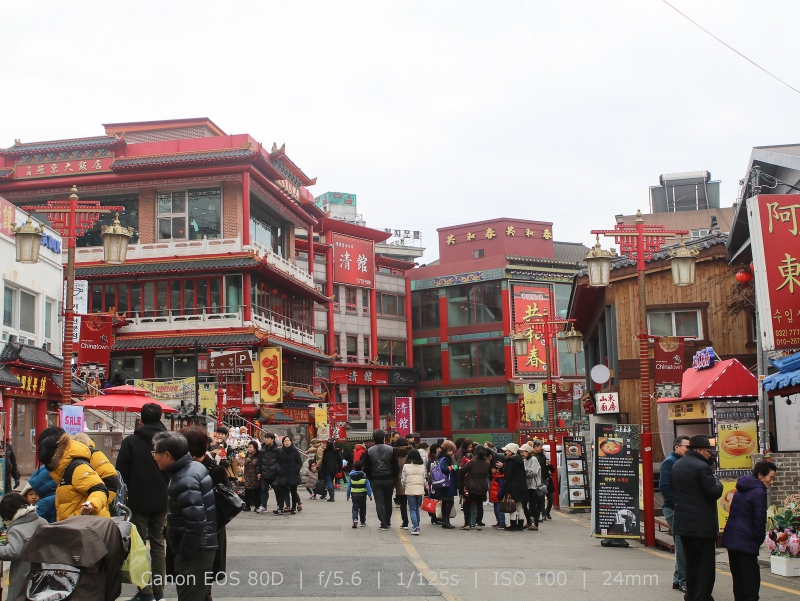 Despite being the first city almost everyone sets foot in when they visit South Korea, Incheon is criminally underrated. Everyone knows about Incheon International Airport, but not enough know about Incheon, the third largest city in South Korea.
The most colourful part of the city is Chinatown. As you can already guess from the name, this part of Incheon is decked in Chinese-inspired architecture and decor, with red being the colour of choice. While you're here, make sure to sample some good ol' jajangmyeon, which is Korean-Chinese black bean noodles. Remember to couple it with tangsuyuk (sweet and sour pork) for the perfect meal.
Once you've filled your belly with a savoury meal, it's time to release your inner child at the Songwol-dong Fairy Tale Village. Have fun admiring the murals and reliving your childhood fairy tales as you stroll through the vibrant streets. Savour the moment, because you'll hardly be able to see something like this again once you head back to Seoul.
Getting there:
You'll need to take Line 1 of the Seoul Metro to Incheon Station. Head to Exit 1 if you're heading to Chinatown because the entrance lies just across the street from the station.
9. Jeonju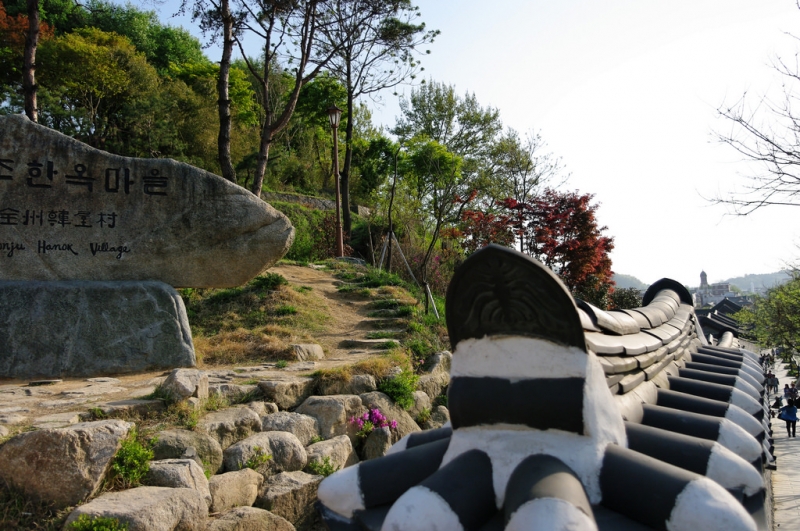 Fun fact: Jeonju is the birthplace of bibimbap, South Korea's most popular rice dish. Yes, this humble provincial town is known to serve the best bibimbap in all of South Korea. And as a foodie, that alone is reason enough to make the two-hour trip to the city.
The best place to sample some authentic Korean food is the Jeonju Hanok Village. With over 800 traditional Korean houses (hanok), this scenic area is worth more than just a few Instagram photos! Enjoy the calm atmosphere and sample some of the best Korean food from the food stalls and eateries that line the streets.
Getting there:
Simply board a KTX train towards Jeonju from either Seoul of Yongsan Station. The journey takes you about two hours and sets you back about 34,500 KRW (RM 125.20). Despite the rather pricey ticket, it's worth it in the end because the alternative is a three and a half hour bus ride in either direction.
10. Gyeongju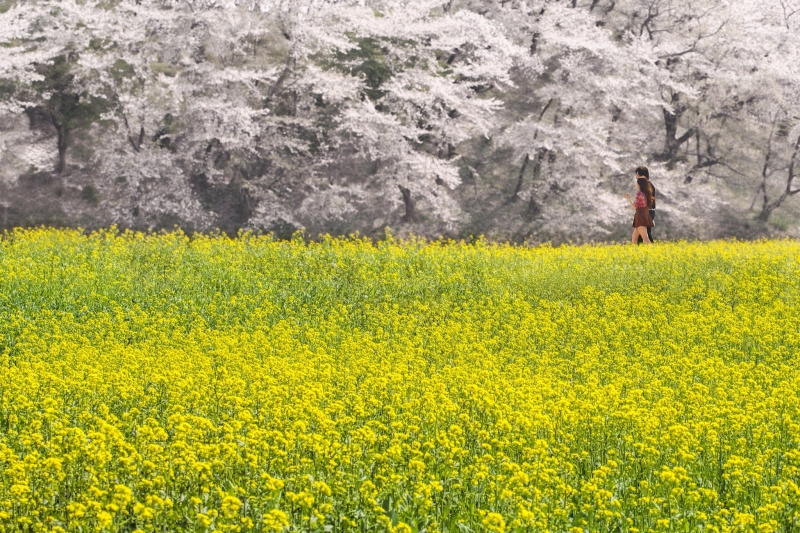 History buffs will fall in love with Gyeongju the moment they set foot in the city. The city used to be the capital of the Kingdom of Silla (during the Three Kingdoms era of Korea) and even till today, it is adorned with ancient temples, royal tombs, and important historical sites. Gyeongju is also rich in natural scenery, being built against mountainous backdrops and verdant fields.
The UNESCO-listed Bulguksa Temple is the city's most important historical attraction. The temple's timeless architecture blends well against the thick forests and craggy peaks in the surrounding areas. While you're there, check out Seokguram Grotto too. Perched high on Mount Toham, this enigmatic grotto features a 3.5-metre-high Buddha nestled inside an expansive granite rotunda.
Getting there:
The journey between Seoul Station and Singyeongju Station takes just two hours aboard the KTX. Tickets cost ₩49,300 (RM179) each way, so if there ever was a time to flash your Korail Pass, this would be it. From Singyeongju Station, hop aboard Bus 700 to Bulguksa Temple.
Branching out from Seoul
And there you have it, folks, 10 easy day trips from Seoul to fill your itinerary the next time you're in the city. If you plan it well, you might even be able to squeeze in everything on this list within 5 days! In fact, let's make that official bucket list challenge! Well, what are you waiting for? Start planning your trip(s) now!