If there's anything you can count on during a visit to Sarawak, it's the feast that awaits. No, we aren't just pertaining to hearty, flavourful Sarawakian cuisine — although that is integral to the destination's allure. It's a feast for the eyes (and your social media feed!) that utterly wows travellers, thanks to these Instagrammable places in Sarawak!
Scintillating Sarawak: why it deserves a spot on your Instagram feed
Home to many breathtaking sights, both natural and manmade, Sarawak has always drawn tourists with its photo-ready attractions and authentic travel experiences. From the murals that pepper the streets of Kuching to its many nature parks and its standout architectural wonders, Sarawak is truly a sight to behold.
Visiting a place that's so easy on the eyes means only one thing for camera-wielding adventurers: lots and lots of enviable snapshots! In fact, photos of the most Instagrammable locations in Sarawak may just be among the best souvenirs you'll take home from this region. What better way to look back on your best Sarawak trip, and encourage your friends to embark on their own Sarawakian journey?
Sarawak's most Insta-worthy attractions inspire many — here are a few that spark wanderlust without fail.
The most Instagrammable locations in Sarawak
1. Art murals and cat statues in Kuching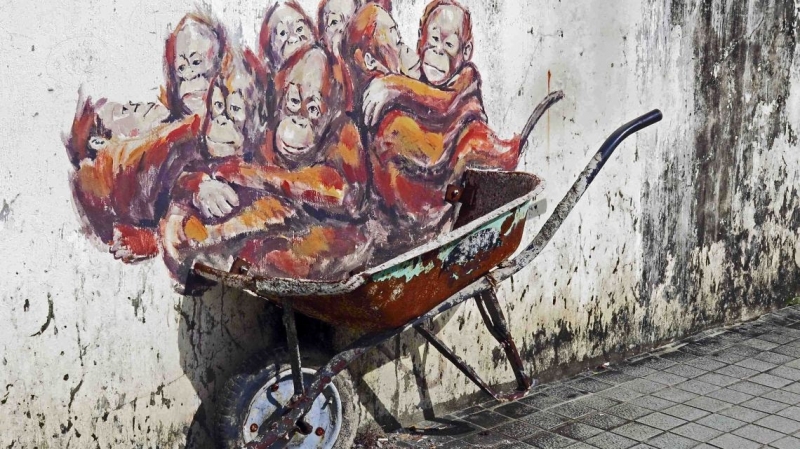 There are two things you have to know about Kuching, the capital of Sarawak: First, it's often referred to as the city of cats because of its name. Kucing means cat, after all. This is exactly why you'll spot a lot of cat statues within the city centre. Second, the local government of Sarawak supports street art; which means some of the most Instagrammable locations in Sarawak are those embellished by Kuching's vibrant murals!
Perhaps the most iconic cat monument in Kuching is that family of cats by the Kuching North City Hall. You'll see this easily on the way to the Kuching Waterfront, which is another Insta-worthy location included on this list.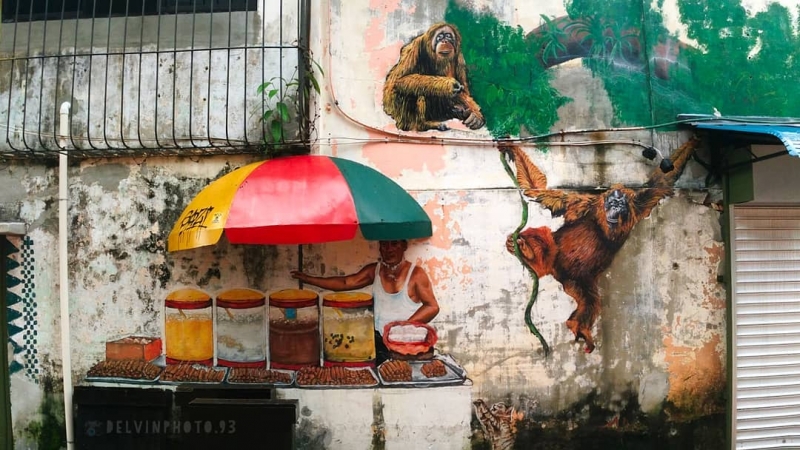 As far as colourful murals go, there's plenty to watch out for. Here are a few murals you can't miss:




Lithuanian artist Ernest Zacharevic's famous orangutan on Jalan Power.

#tanahairku murals around the city seen on several buildings in the city; keep your eyes peeled for their hashtag-brush name!

More animal paintings on the walls of Singgahsana Lodge.

Assorted murals along Jalan Wawasan, making the street a haven for street artists and muralists.

Blown-up portraits found along Carpenter and Temple streets.

A black-and-white mural series behind Grand Margherita Hotel at the waterfront — another one with a Sarawakian wildlife theme.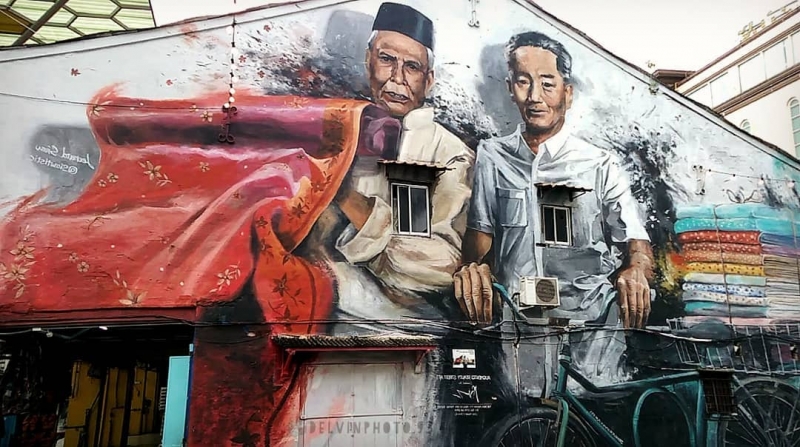 That's just but a peek into the street art scene in Kuching. Nothing beats witnessing these artworks for yourself and taking photos to remember them by.
2. Kuching Waterfront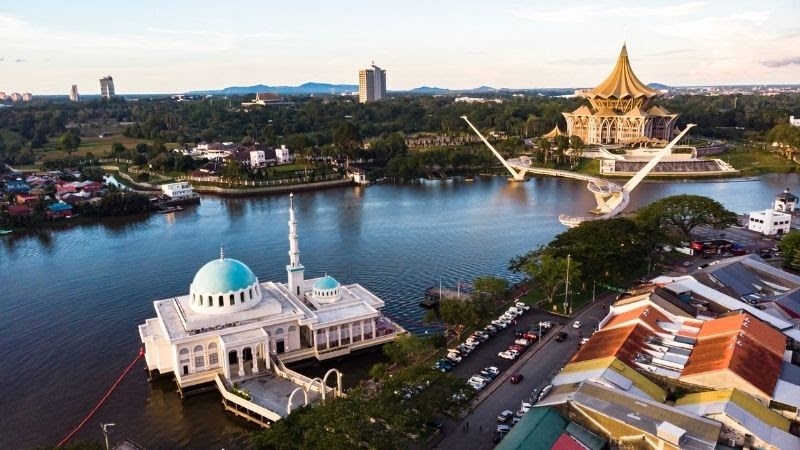 There's no denying that one of the most Instagrammable locations in Sarawak is the picturesque Sarawak River. That said, a trip to the capital won't be complete without walking along the Kuching Waterfront!
You can take a leisurely stroll around the area and even enjoy the food stalls and bazaars that come alive at night when you get peckish. The area also lights up in the evening, making for quite the sparkling spectacle!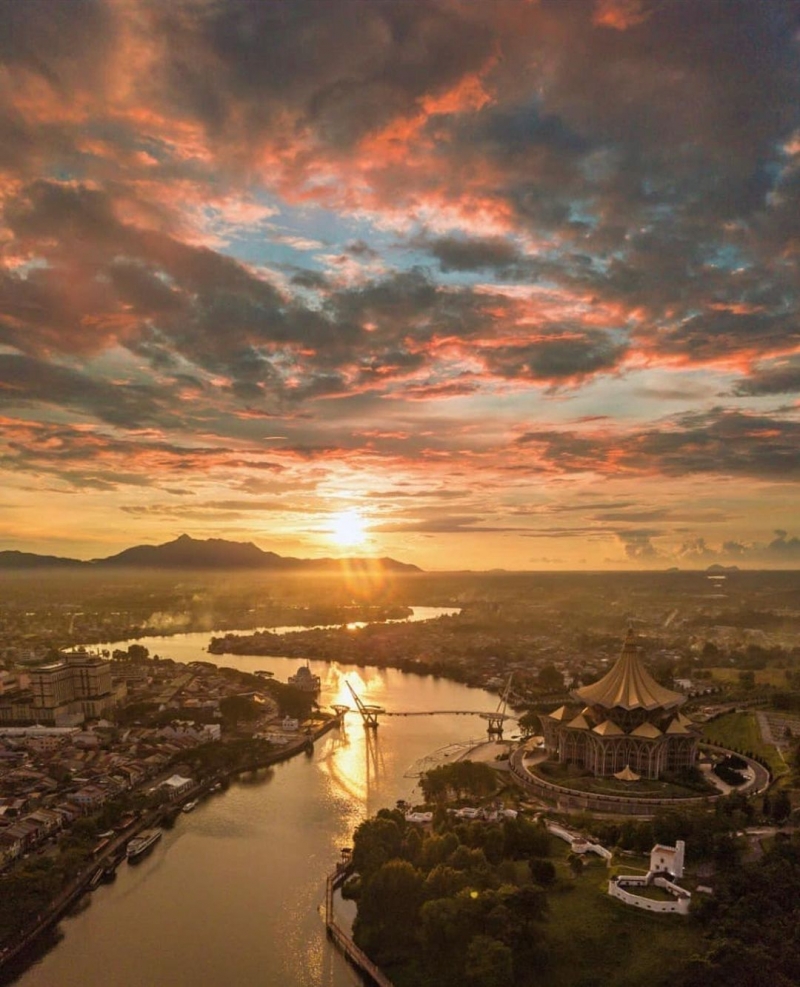 If you're looking for another way of experiencing the Kuching Waterfront, head to the dock and board one of the tourist boats. They can take you cruising along the Sarawak River for about 30 minutes at RM15 per ride. Picture this activity at sundown with fair weather and what you'll have are vast waters tinted golden by the sunset.
It doesn't stop there! There are other Instagrammable attractions to see while at the Kuching Waterfront. The Floating Mosque is made quite eye-catching by its unique overwater design and turquoise dome; the State Legislative Building's palatial architecture, on the other hand, commands attention from any viewpoint.
3. Mulu Caves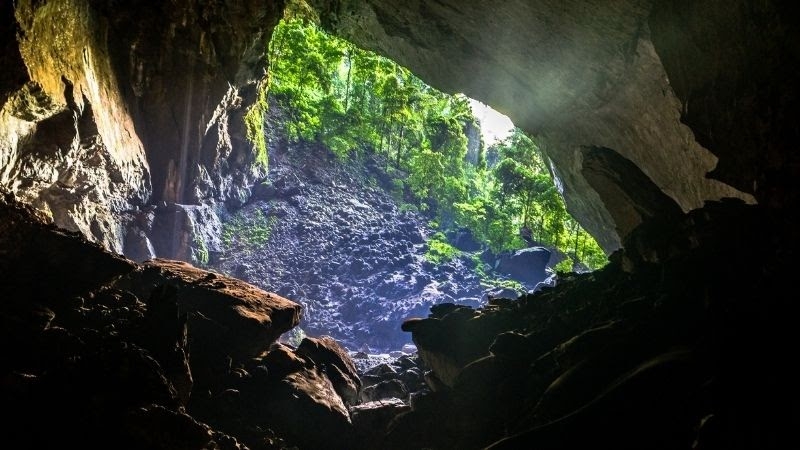 In case you didn't know, Sarawak is quite popular for its national parks and wildlife reserves. The Mulu National World Heritage Area falls under these beloved pockets of mother nature's unspoilt treasures. It offers a glimpse into worlds untouched by urban development.
What can you expect at Mulu National World Heritage Area? Jagged peaks formed over centuries, colonies of protected Sarawakian wildlife, and caves that make you feel like you're the only person on the planet!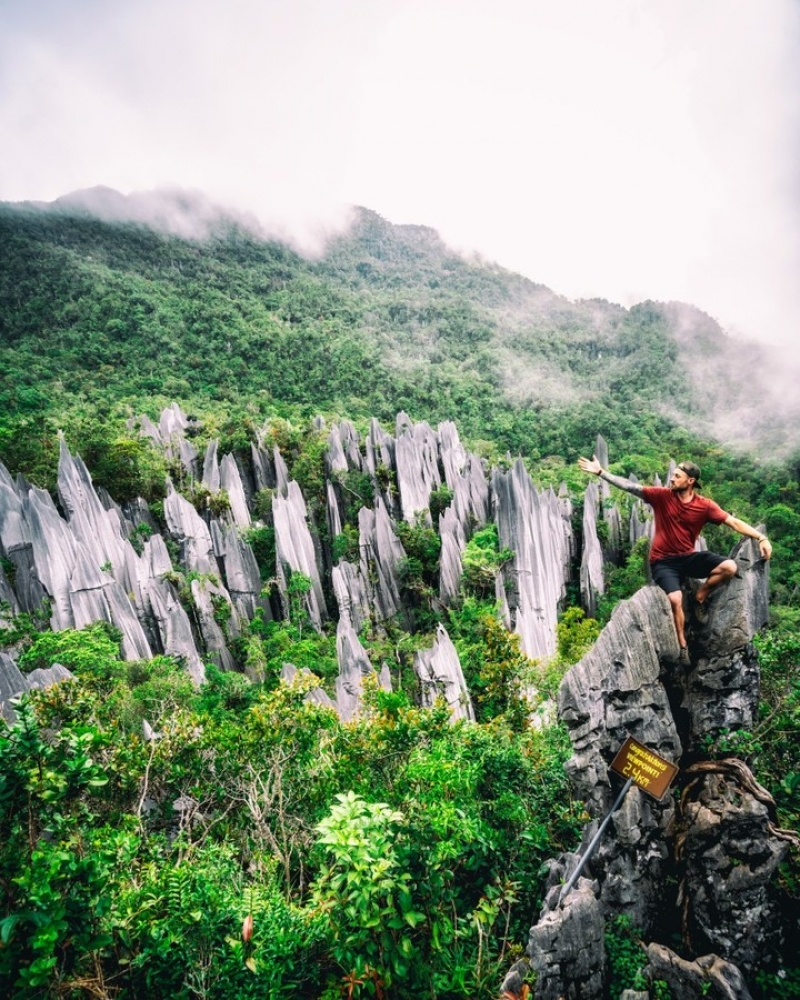 One of the nature park's gems is its extensive cave system that make up the Mulu Caves. If you're the active outdoorsy type, you may want to consider signing up for Adventure Caving. Let the guides at Mulu National World Heritage Area show you through the slopes of the Clearwater Connection. Admire countless stalactite and stalagmite formations within the chambers of Lagang Cave. A highly raved about cavernous expedition is that of Deer Cave, which involves braving a three-kilometre plank walk over streams and a lush jungle.
The peaks we mentioned earlier are called The Pinnacles — and we're sure the scene is unlike anything you've laid eyes on before. Otherworldly? Yes. Instagrammable? Super! However, such an awesome Instagram photo definitely comes at a price. The hike to The Pinnacles is no simple task as you'll have to brave unforgiving terrain to reach them. Our advice is to procure the services of a guide before you begin your ascent!
4. Bako National Park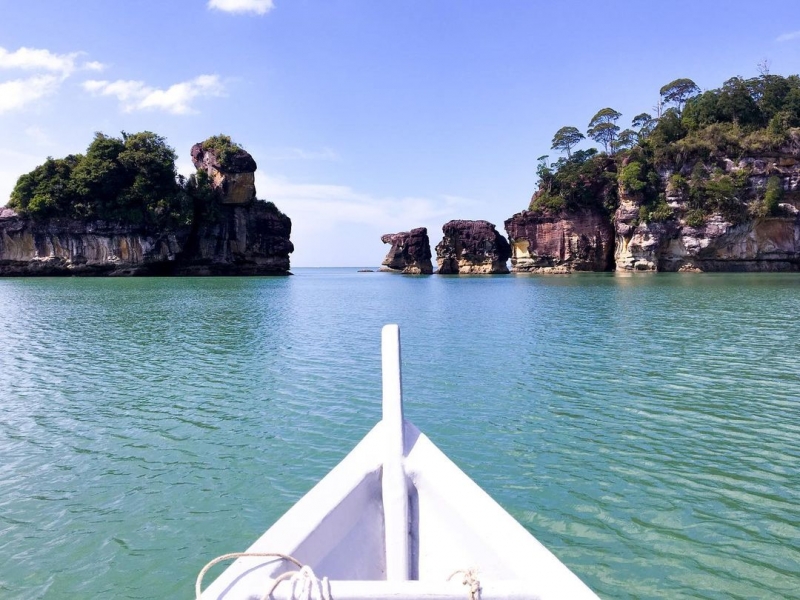 Many things make Bako National Park quite the scene-stealer. Plus, it's only an hour away from Kuching and quite accessible via public transportation! Where to start?
The sanctuary is a great place for wild proboscis monkey sightings, and that's just the tip of the iceberg! Bako National Park boasts of rich biodiversity, which you can observe through its changing landscapes: from coastlines and mangroves to cliffs, coves, and forests. That said, you're assured of Insta-worthy nature scenes left and right.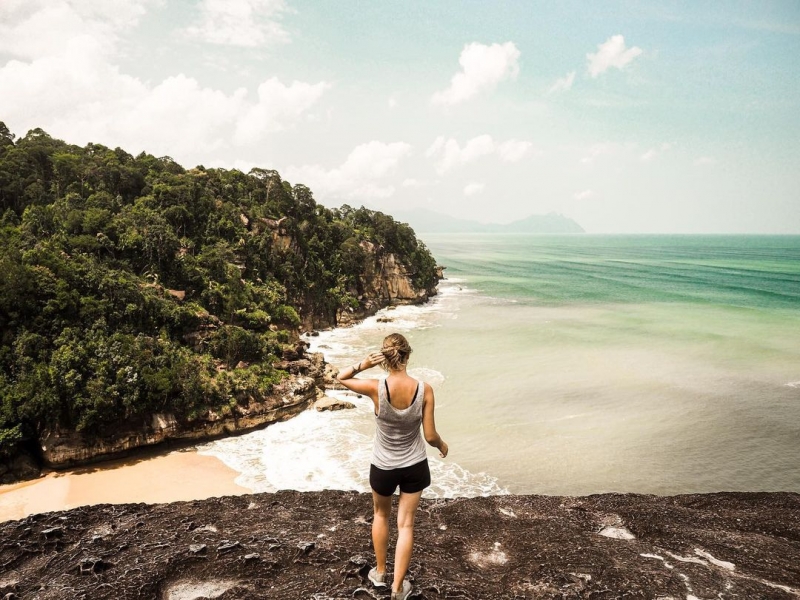 Another great thing about Bako National Park is that you can explore it at your own pace. There are many routes and paths to choose from, and your adventure starts as soon as you dock near the shore. To be exact, there is no dock; you'll wade through a sandy beach to get to the registration office. Sounds like fun already!
5. Sarawak Cultural Village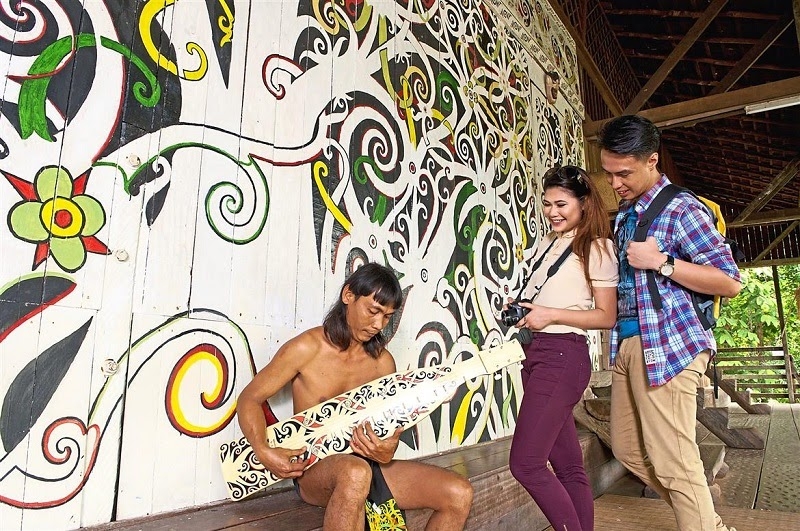 We all know that museums definitely deserve to be on our newsfeed; what more a living museum? Sarawak Cultural Village is an immersive experience that gives guests a generous peek into the native and indigenous heritage of Sarawak and East Malaysia.
Step inside the ethnic traditional houses of the Orang Ulu, Iban, Bidayuh, and Melanau. Be enchanted by the music of different tribes, if you're lucky enough to come across the village's musicians. When inside the longhouses, don't forget to capture the intricate paintings you'll find on its walls.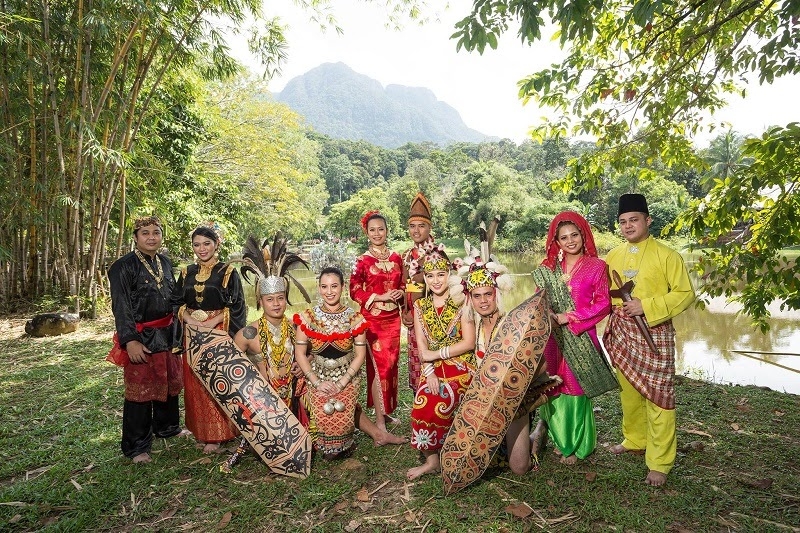 The cultural exploration is made even more fun with passports you carry with you and get stamped at every stop you make. Once you're done walking through the village, head to the theatre for a cultural show that features a variety of traditional dances made even more authentic with costumes.
Should the performers extend a hand to you, be ready to strut your stuff onstage. Don't worry — these friendly stewards of Sarawakian heritage will teach you how to sway and whirl like a local. Tell your friends to take photos of your performance because you won't have an encore anytime soon!
Also read: 2021 Sarawak Bucket List: 18 Incredible Things to Do in The Land of The Hornbills
6. Grand Old Lady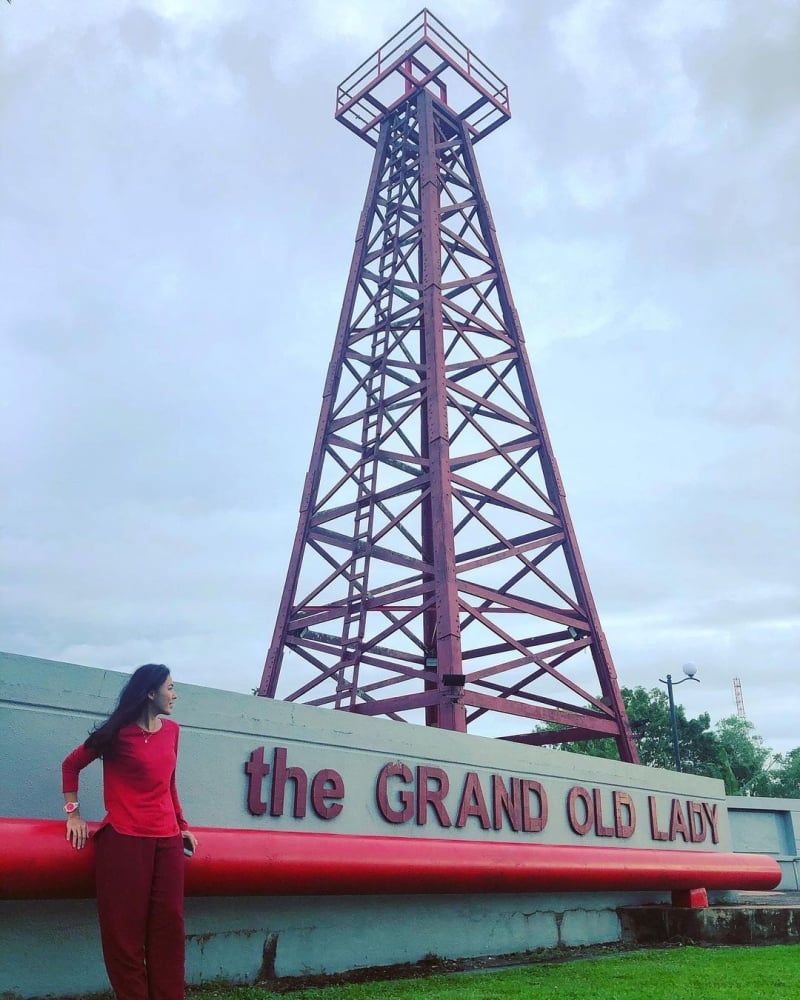 Now let's shift the spotlight for a bit. While Kuching is an impressive destination, there are other sides to Sarawak's underrated charm. Take for example, the coastal city of Miri, where ocean views and hiking trails often come hand-in-hand. One such place that will give you both on this city by the sea is Canada Hill, the first place oil was struck in Sarawak. And when in Canada Hill, one ought to visit the Grand Old Lady.
Fun fact: Here's a geography refresher; Miri is among the Sarawakian cities closest to Brunei. In fact, it's right at the border!
A historical treasure to Sarawakians, the Grand Old Lady is the region's first oil well, which is why it's also referred to as "Oil Well No.1". It's perched atop Canada Hill so you can look forward to Instagrammable views that overlook the South China Sea. The best time to visit and take photos would probably be at sundown, when the sky changes its palette with every minute that passes by. At night, you'll also see the rest of Miri below — ever-buzzing and incandescent with city lights.
Canada Hill is a popular go-to during the day, too. If you want, you can head to the area early to break a sweat and pass through its many hiking routes. Fair warning: Limber up as these trails involve a lot of inclined steps and may even require you to go through shallow streams. Before the sun sets, head to the Grand Old Lady for those awesome Instagram snaps.
7. Tusan Beach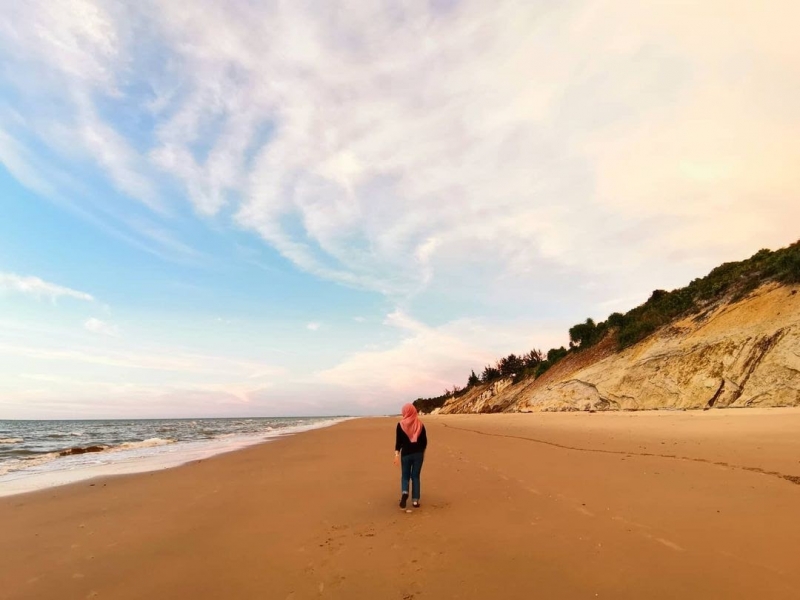 Speaking of Miri, did you know that it's home to one of Sarawak's most Instagrammable beaches? Just 30 minutes from the city centre, Tusan Beach rose to fame in 2015 when a photographer's capture of its luminescent waters went viral. Netizens were in awe of its eerie blue glow, caused by a bioluminescent species of algae called dinoflagellates. When you disturb dinoflagellates in still waters, the single-celled organisms — for lack of a better world — glow.
The scene is one you won't experience in every country you travel to; there are only a handful of "glow-in-the-dark" beaches in the world. Plus, they say it takes intermediate to advanced photography skills to perfectly capture this kind of bioluminescent light. Take this as an opportunity to up your photography game! To increase your chances of being able to capture this whimsical sight, make your way to Tusan Beach around 6 to 7 pm when the weather is clear!
Another photogenic spot in Tusan Beach loved by locals and foreigners alike was Horse Head Drinking Water rock formation. Unfortunately, you'll have to rely on previous photos circulating the net to see this one. It collapsed earlier in 2020, much to the dismay of Miri and the rest of Sarawak.
8. Feast & Furious Cafe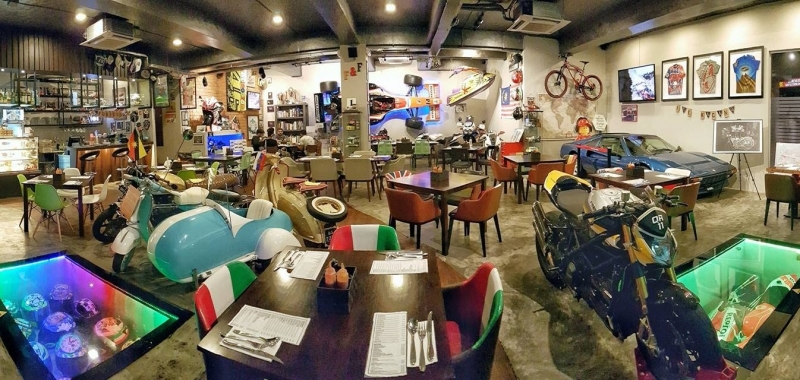 Inside and out, Feast & Furious Cafe in Kuching proves to be a stunner that deserves a spot on your newsfeed. The first thing you'll notice are its murals in stark black and white. We're sure you'll already be tempted to take a few photos, but save some energy for the inside, too.
Step through the doors and you'll immediately get what we're talking about. Inside is an eclectic collection of sports cars, bicycles, motorcycles, and racing paraphernalia — a motorist's and cyclist's paradise. In every nook, there seems to be something that will get your attention. They say the owner is a big motorsports enthusiast, and that he actually embarks on cross-continental motor rides! How cool is that?
Once you're done ogling the displays, move on the next reason why Feast & Furious is popular: reliable comfort food. Get your fill of international favourites and local fare like Kampung fried rice and Kueh Tiaw. Take a photo first or chow down while your meal's hot, the choice is yours!
9. Fort Margherita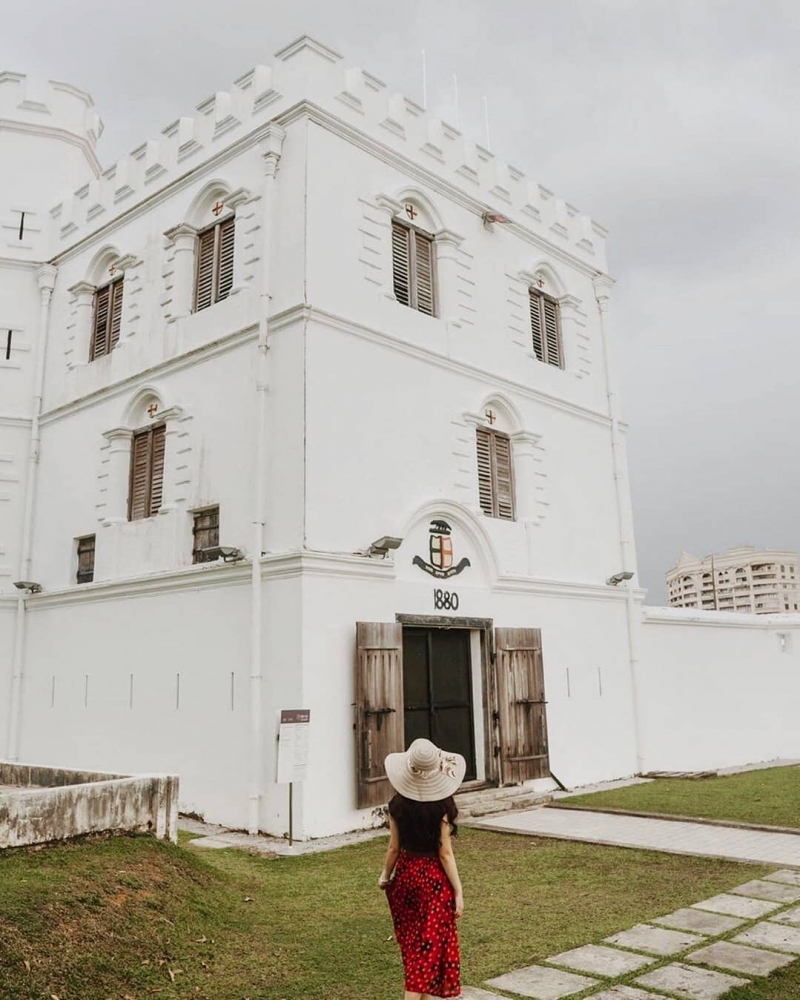 We're almost at the end of this list of the most Instagrammable locations in Sarawak! As we wind down on our Insta-worthy adventure, let's go back in time to 1879, when Kuching had to protect itself from pirates sailing along its rivers. That same year, Fort Margherita (quite literally) rose to the challenge.
Although it was recently renovated and repurposed into a gallery-museum, Fort Margherita still exudes the same architectural might it did when it was built. For RM10, you can stroll leisurely in its manicured garden grounds and enter the Brooke Gallery, a museum that will walk you through what Sarawakians call the Brooke era or "the time of the white rajahs". Non-Malaysian passport holders will have to pay RM20, something to note if you have foreign friends tagging along!
10. Indah House Kuching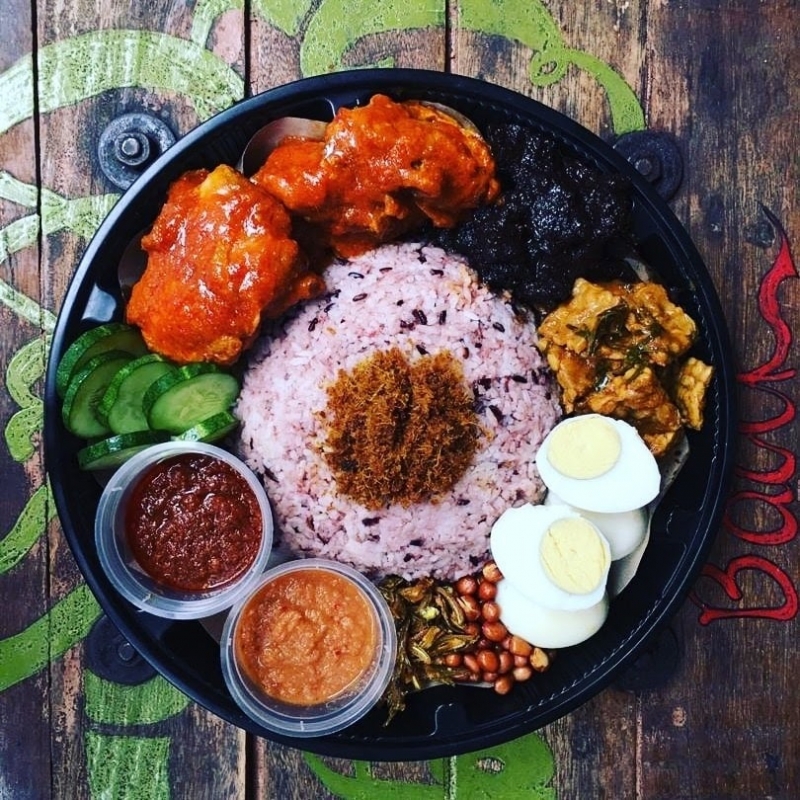 A restaurant, gallery, event space, and homestay all-in-one, Indah House Kuching could be your hip and artsy home away from home at the Sarawakian centre. What it makes it highly Instagram-worthy, though, are the tasty morsels they offer!
On top of this, Indah House Kuching boasts of Sarawak-inspired dishes. From regular items on the menu like a variety of Nasi Lemak under their Nasi Indah series (Nasi Lemak Biasa, Nasi Lemak Ayam Rempah, and Vegan Rendang Nasi Lemak, among others) to seasonal specialities such as Ayam Pansuh (the Sarawakian take on hearty chicken soup!), Indah House Kuching doesn't disappoint. Your only qualm? You'll be torn between documenting your every dish, or just digging in like there's no tomorrow! We're sure you'll be back for more even after just one visit.
We told you that stepping foot on Sarawak is a total feast — for the eyes and for your bellies! Of course, this list is but a little sneak preview of the amazingly Insta-worthy experiences that await you! Naturally, there are more Instagrammable locations to discover here, and we can't wait for you to see them yourself. Tag us in your photos? Pretty please? We'll be waiting!
---
Brought to you by Sarawak Tourism Board