Have you ever wondered what it feels like to visit an island paradise that sits right next to an active volcano, surrounded by the Aegean sea? Wonder no more when you visit one of the most popular tourists' destinations in the world: Santorini, Greece. 
While an active volcano may sound intimidating, the volcano has actually been dormant for over 70 years. What's more, any fears you may have will quickly be washed away the moment you see just how beautiful this pristine island really is, especially with its iconic white buildings, crystal clear waters and stunning geological formations.  So, without further ado, let's dive right in to find out all the amazing things you can do in Santorini.
1. Start your trip by exploring Fira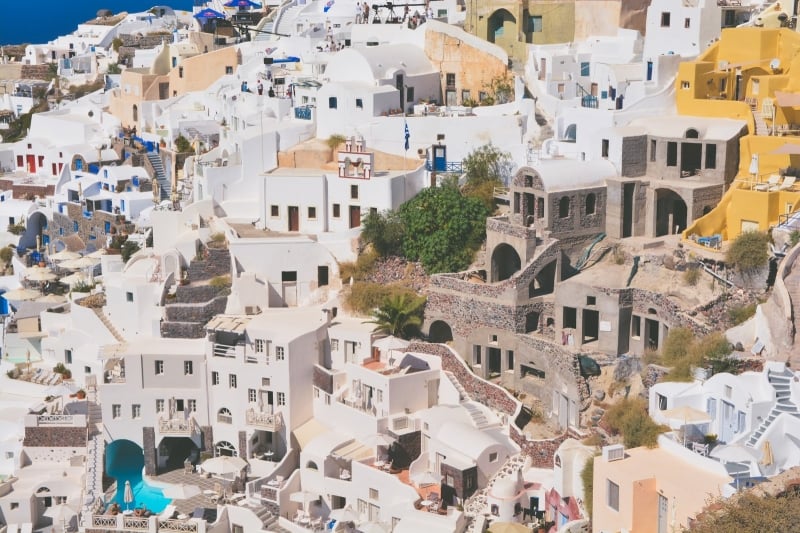 Fira is the main town of Santorini, so it makes sense to stop by at this place first. What's more, Fira is located near the airport, bus terminal and ferry, so you'll most likely pass by Fira anyway. 
Of course, the ambient town is so much more than just a pitstop on this island paradise. Fira is where visitors can shop for unique souvenirs, go on a culinary adventure, bar hop, and more. You can also visit the museums here, namely the Archaeological Museum of Thera and the Museum of Prehistoric Thera. I highly recommend them if you're interested to learn about the islands local culture and history. As an added bonus, the museums house some of the island's most important artefacts too! 
As it is built on the edges at the top of a 400-metre-tall caldera, being in Fira in the evening can offer you an amazing unobstructed view of the sunset. Just make sure to get your spot early, as there will be tons of other people wanting to catch the same vista!. 
2. Relax and unwind in Oia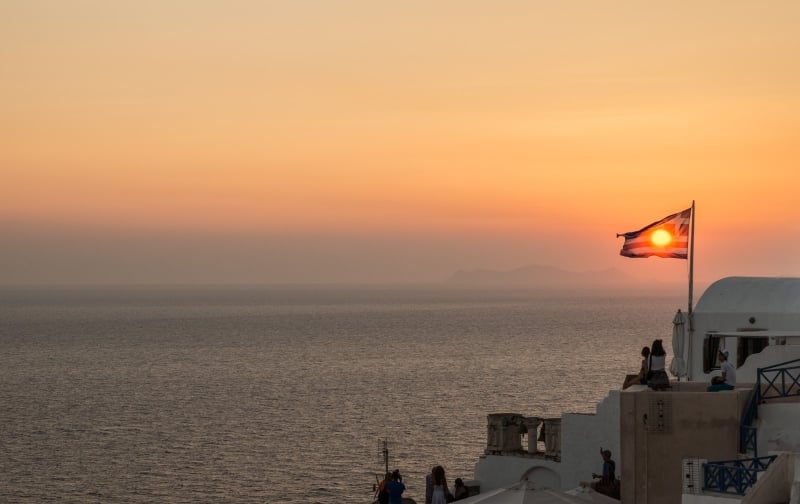 Another highly popular spot to catch the sunset on Santorini is Oia, a coastal town located about 30 minutes away from Fira. While Fira is all about the nightlife and shopping, Oia is more tranquil and exudes a relaxing vibe. 
This is the place to be if you're looking to enjoy a romantic dinner with and relax with a cup of wine in your hand. Oia is even more charming thanks to the iconic white-washed buildings. These, accompanied by the gorgeous backdrop of islands in the open sea, make for an awesome spot for photography. 
Take your time to explore the narrow streets and alleyways, visit the beautiful churches scattered across town, buy some local crafts for friends and family, and at the end of the day, watch the sunset over the Aegean Sea. It. Is. Amazing! 
3. Hike from Fira to Oia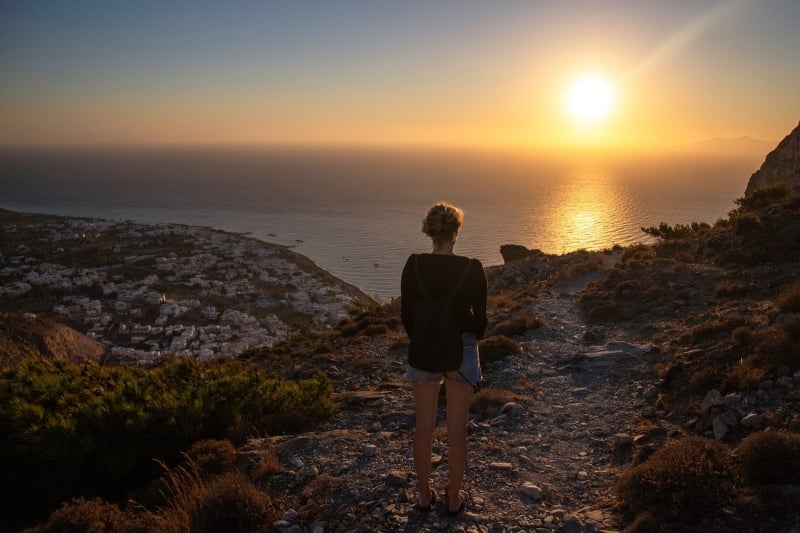 But what if you don't really feel like driving? What if you'd prefer to soak in the views as much as you can? Then consider hiking from Fira to Oia, or vice versa. The 10 km hike may take roughly 3 hours, depending on your pace, but walking along the rim of a tall caldera, surrounded by stunning views of the sea, makes the effort all worthwhile. 
If you happen to visit Santorini during the summer (which is the high season), make sure to hike in the morning or late afternoon to avoid the heat.  Make sure to pack some water, suncream, and a good pair of shoes, and you're set for an amazing experience. Along the way, you'll be passing through some towns and beautiful churches. Take this opportunity to spice up your Instagram feed with some stunning photos! 
4. While hiking, take a detour to Skaros Rock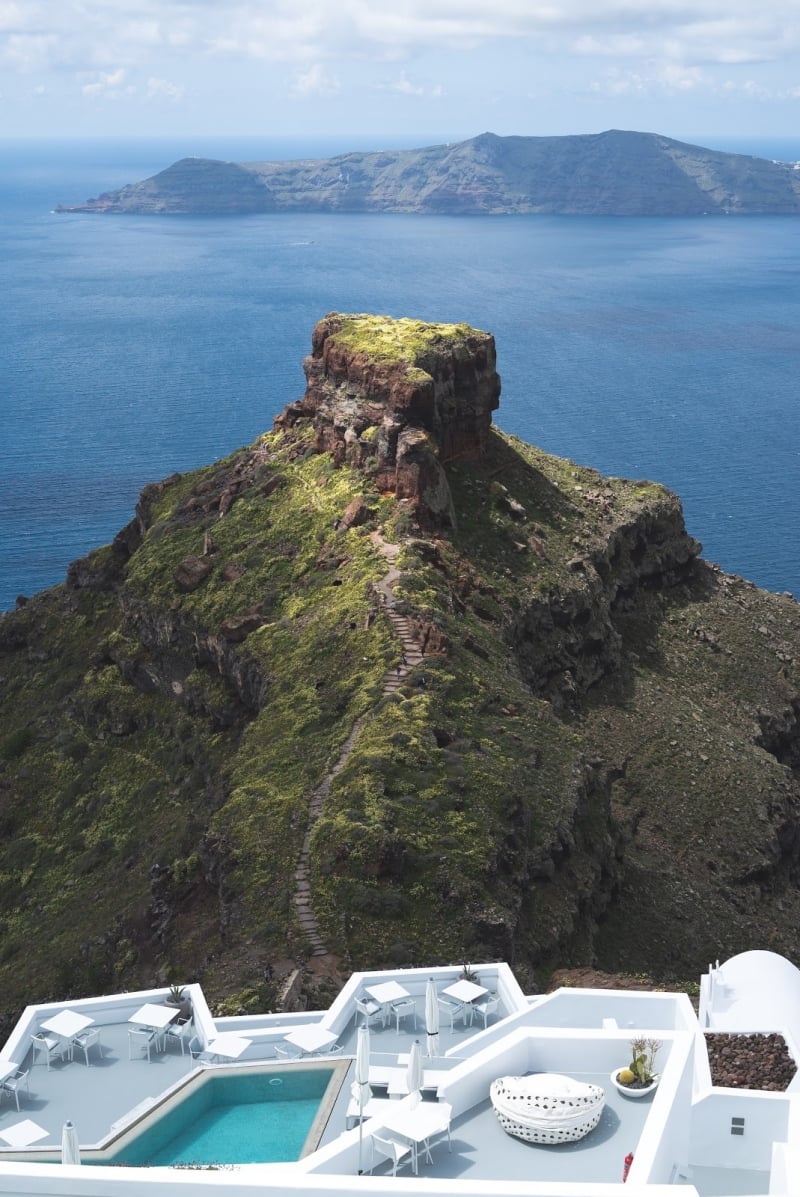 Along the trail between Fira and Oia, you'll be able to take a bit of a detour and hike up Skaros Rock, opposite of Imerovigli. Skaros Rock used to be a fortress for the medieval Venetian settlements of Santorini, but it was abandoned due to the eruption of the underwater Kolumbo volcano. 
These days, you can hike up the rock plus some 300 steps at the end for a spectacular vista of Imerovigli and the sea. It may add about an hour or more into your Fira-Oia hike, but it'll be so worth it. 
5. Climb down to Amoudi Bay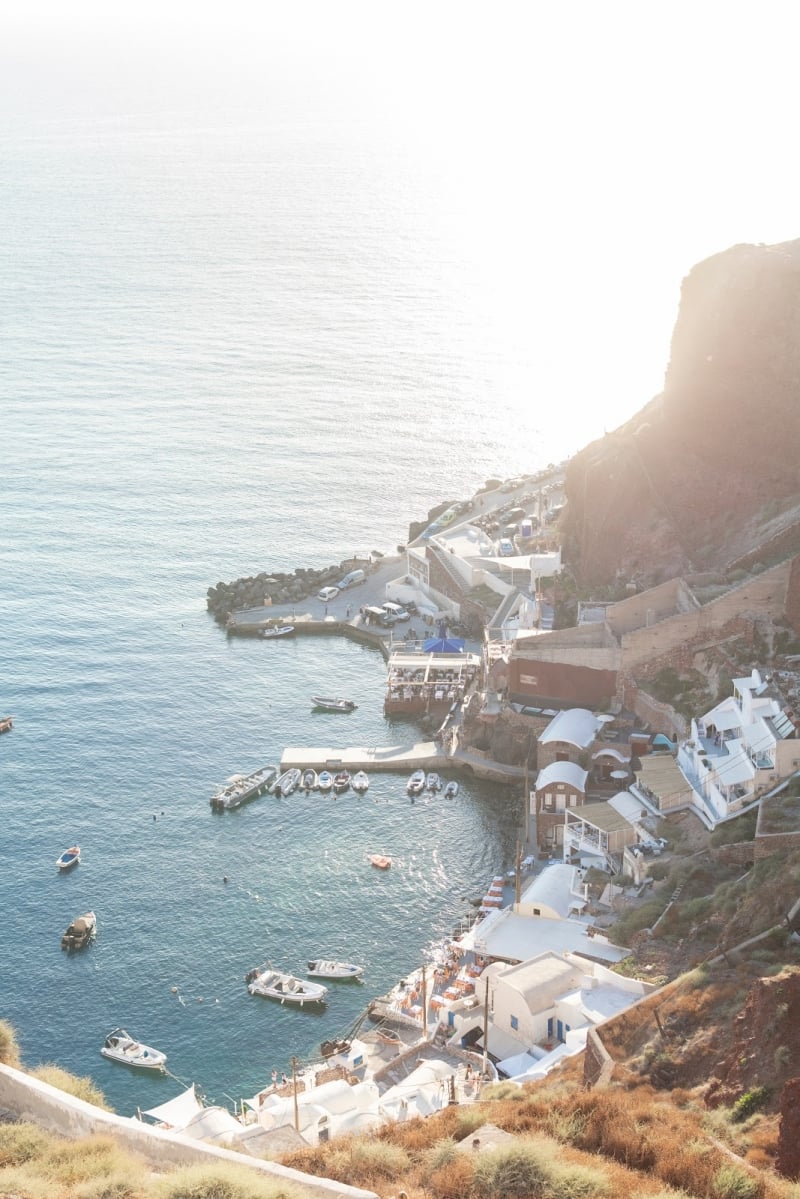 We've been mentioning the sea several times before, but now let's really admire its beauty up close. Whenever you're in Oia, you can choose to climb down the 280 steps to reach Amoudi Bay. 
Here, you can find a number of restaurants serving amazing Greek delicacies as well as fresh seafood right beside the crystal clear water. Or, if you're up to it, you can also go cliff jumping! The exact spot is a bit of a hidden location, but isn't searching for treasure part of the fun? 
6. Bathe in the glorious Greek sun at Red Beach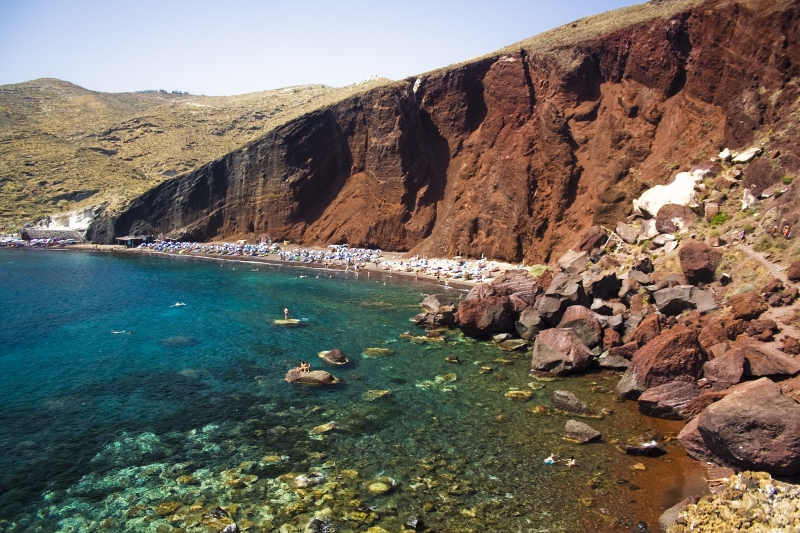 Located about 12km from Fira, Red Beach is one of the most popular beaches on Santorini. While this beach is not equipped with many facilities, it is surrounded by huge red cliffs and crystal blue water, which makes it very picturesque and breathtaking. Grab a book and relax, or go for a swim. You won't get enough of this beautiful beach. But if you do, then consider visiting the Ancient Akrotiri prehistoric ruins just a short walk away. Just make sure you have comfortable footwear as the path is a little rough and uneven. 
7. Peek into the past of Akrotiri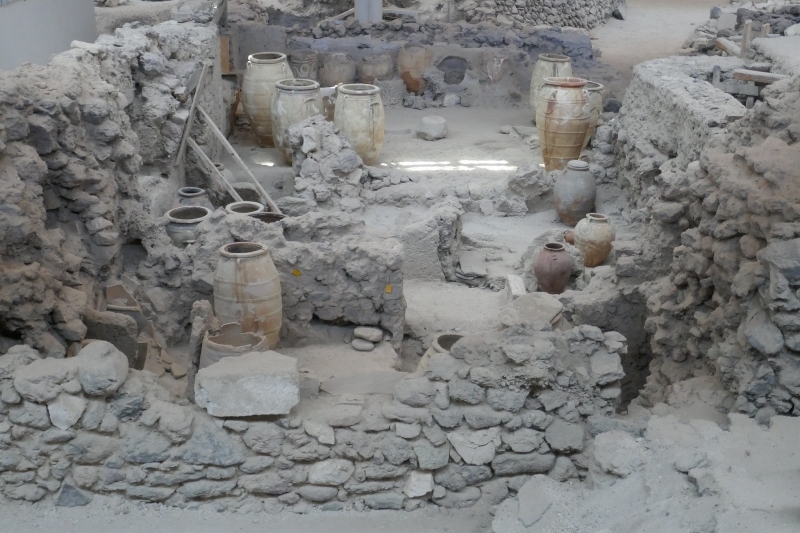 Also known as the Pompeii of Greece (despite it being 4000 years older than Pompeii), Akrotiri was once a fishing and farming village that flourished due to its strategic positioning between Europe and the Middle East. But around 1500 BC, the huge volcano Thera erupted, burying Akrotiri in deep ash and debris. 
Visit the archeological site to discover the Minoan way of life preserved by the ash, ancient artifacts, reconstructed houses with drainage systems and a stone bathtub. There's plenty to see and learn here! 
8. Walk on the black sand of Perissa Beach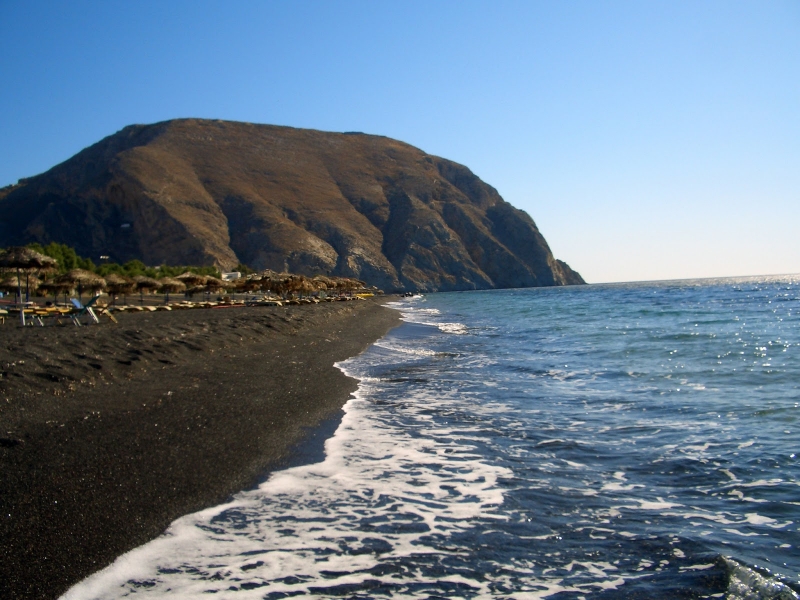 Another popular beach that is a must-visit in Santorini is Perissa Beach, located about 13 km from Fira. Unlike the Red Beach, Perissa Beach is well equipped with tons of facilities, as well as restaurants, bars, and cafes. You can either relax on one of the lounge chairs with your favourite drink, or go for some watersports. There's always something for everyone on this beautiful beach. Oh, and did I mention that the sand is a beautiful shade of black? 
If you're up for some challenge on the ground instead, then consider hiking up to the ancient Thera ruins, where you can get an amazing panoramic view of Perissa and Kamari. 
9. Enjoy a private beach party at Cape Columbo
Unlike Red Beach and Perissa Beach, Cape Columbo is not as touristy. It is about 12 km from Fira, and is surrounded by wild landscape. The wind and waves are quite strong here, which actually helped shape the tall rock formations around it. Do take note of falling rocks if you visit though! 
Nevertheless, Cape Columbo is a gorgeous beach with majestic rock formations. As it is quite isolated and not as popular as other beaches, it makes a good getaway from all the crowd during your stay. A nice little change of pace, don't you think?
10. Stand tall at the Prophet Elias Monastery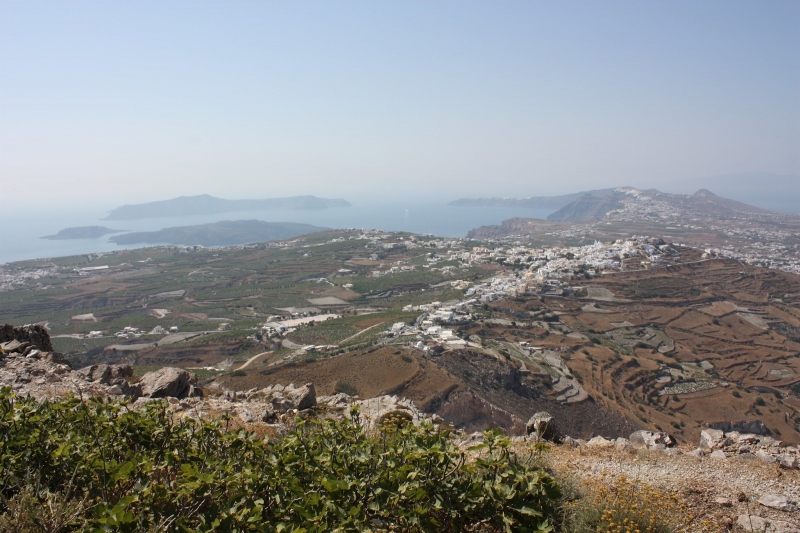 We spent an awful lot of time by the sea, so why not change it up a bit by heading to the highest point on the island? Reachable within 20 minutes by car from Fira, Prophet Elias (or Profitis Ilias) Monastery, built in 1711, sits at 567 meters above sea level, offering a stunning panorama of the entire island of Santorini. Visit during sunset for the best view. Just be sure to bring your camera, because you'll want to capture this. 
11. Attend an open air movie screening in Kamari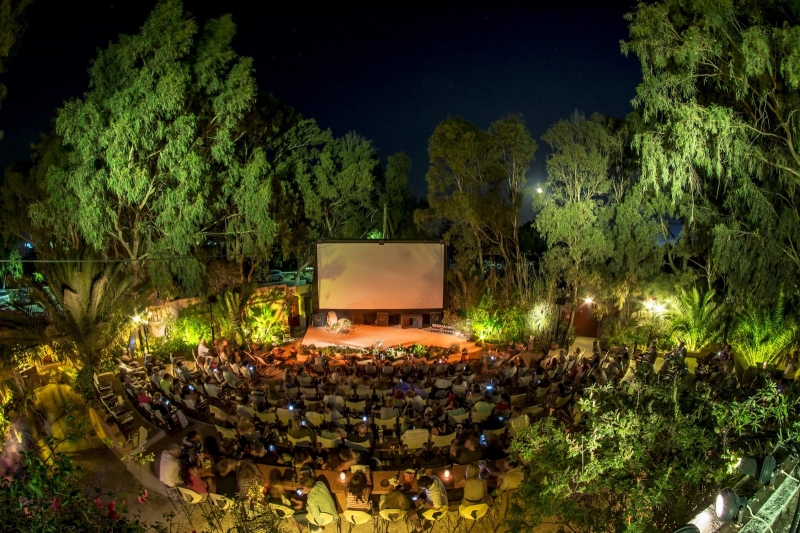 Yes, you can totally do that here in Kamari as it's a very popular thing to do during summer in Santorini. Just imagine the clear night sky and refreshing summer breeze as part of the cinematic experience. You gotta try this at least once! There is also plenty to eat and drink from the bar, so you'll definitely have a great night out. 
The most famous one is Open Air Cinema Kamari, and it's only open during summer. And you want to get there early because you cannot reserve the tickets. 
12. Rent a quad bike and explore the island in style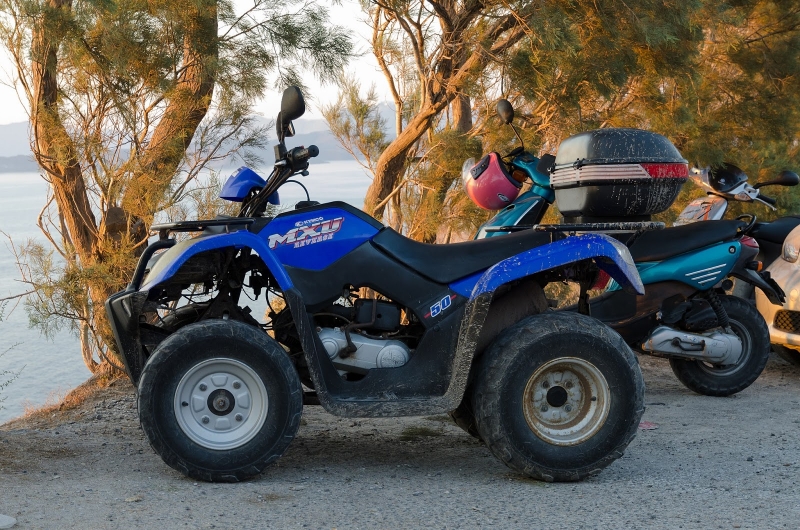 13. Join an awesome thematic tour of the island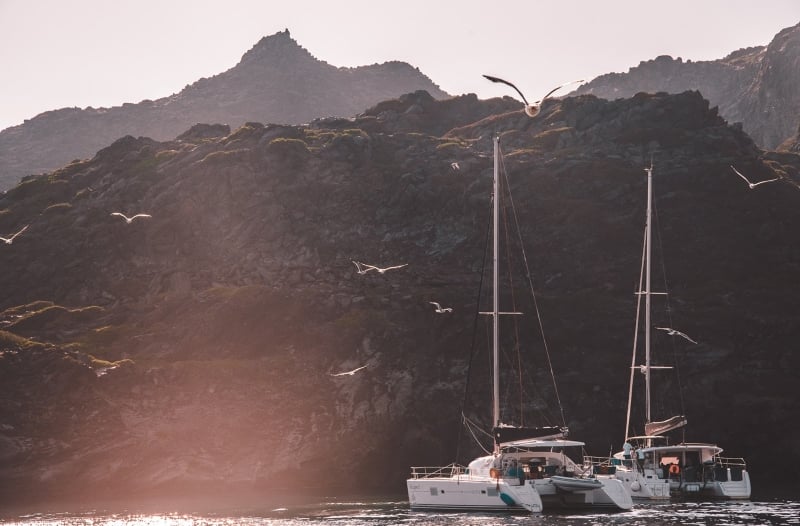 One of the best ways for you to fully enjoy Santorini and everything it has to offer is to go on thematic tours. These tours, regularly offered at most hotels, often feature a particular theme, such as a sunset tour, a volcanic tour, a winery tour and more. 
You can hop aboard a yacht and island hop between the main island of Santorini the islets surrounding it. Or perhaps you prefer visiting the active volcano on Nea Kameni and its hot springs?  If you're a fan of wine, go on a wine tour, as there are tons of wineries on the island. Of course there are other tours such as kayaking, photography and walking tours. You can be sure that you will find something you like. 
14. Visit Pyrgos for a truly local experience of Santorini's culture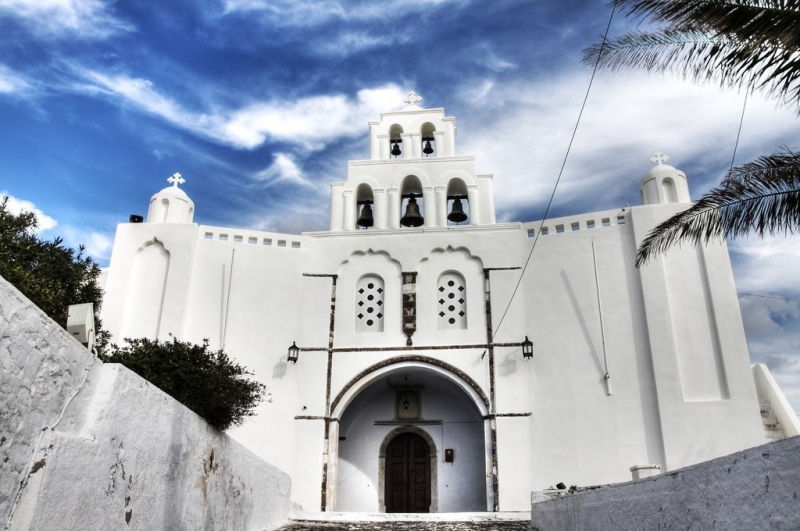 Pyrgos is a much less touristy village compared to Fira or Oia, but it is still a charming one to visit. Located at the foot of Mount Profitis Ilias, this village offers stunning views of the island. Most parts of this village are untouched by the tourism industry, so you can watch as locals just go about their daily lives. You may also find cheaper food and drinks here too. 
Climb up to the top of the settlement to visit Kasteli, one of the five Venetian castles in Santorini. This one was built in 1580 and although parts of it have fallen into ruin, it is still quite a sight to behold. 
If you happen to visit during the Greek Orthodox Easter, the entire village of Pyrgos is illuminated by small fires on the rooftops at night. It is a stunning view that's worthy to be on your bucket list. 
Santorini is such a beautiful island, I doubt you will get enough of it. It's definitely a touristy place to visit, especially during the summer, but you will definitely have tons of fun and create a lot of memories.