Osaka is the second largest metropolitan area after Tokyo, but that does not make it any less charming than Tokyo. In fact, some may argue that Osaka is a less busy and less crowded version of Japan's capital city. 
What's more, Osaka is also known as the "Nation's Kitchen" because of all the amazing food it has to offer. With all the fun activities to do, and scrumptious food to savour, you will fall in love with this city almost right away. Check out these top things to do in Osaka that you'll be sure to enjoy. 
1.  Osaka Castle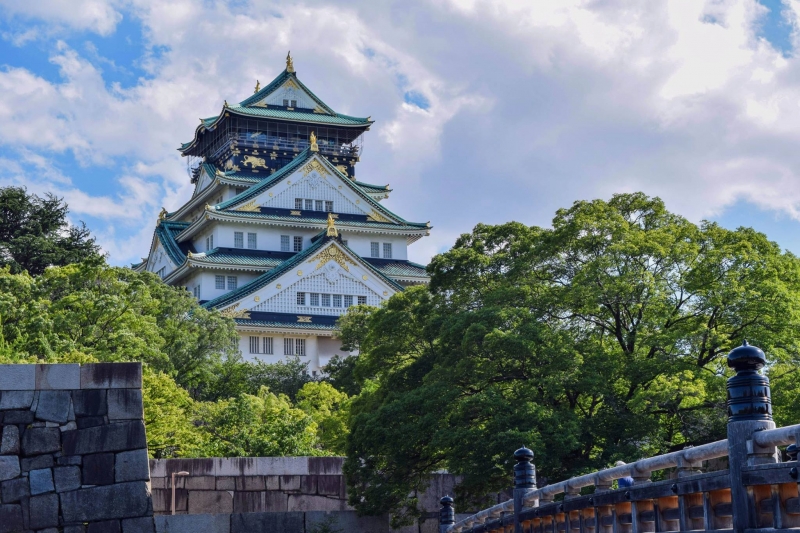 One of the main attractions that defines a trip to Osaka is definitely the iconic Osaka Castle. Though initial construction started in 1583, this historic building has gone through a few cycles of reconstruction ever since. The present day structure was last rebuilt in 1931 and refurbished in 1997. 
Make sure to visit the inhouse museum to learn more about the history of Osaka Castle, as well as admire the historic remnants of ancient weapons, attire, and suits of armor. You can also climb to the observation deck on the 8th floor to take in a panoramic vista of the surrounding park and the city.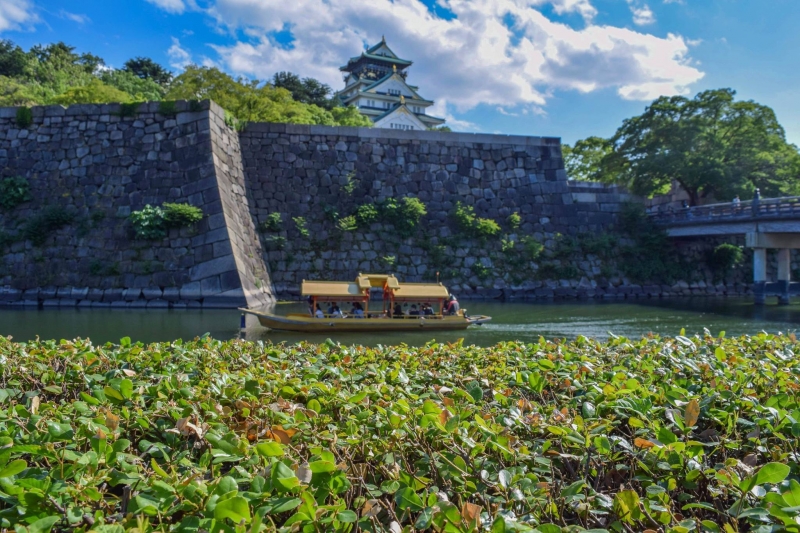 Of course, Osaka Castle is not the only attraction here. Take your time to stroll around the beautiful Nishinomaru Garden, where you can find a lawn garden with 600 cherry trees. Visit in Spring to get the most of the cherry blossom season! If that's not enough, ride the Osaka Castle Gozabune Boat for a cruise in the moat around the castle. It's definitely a one of a kind experience!
2. Dotonbori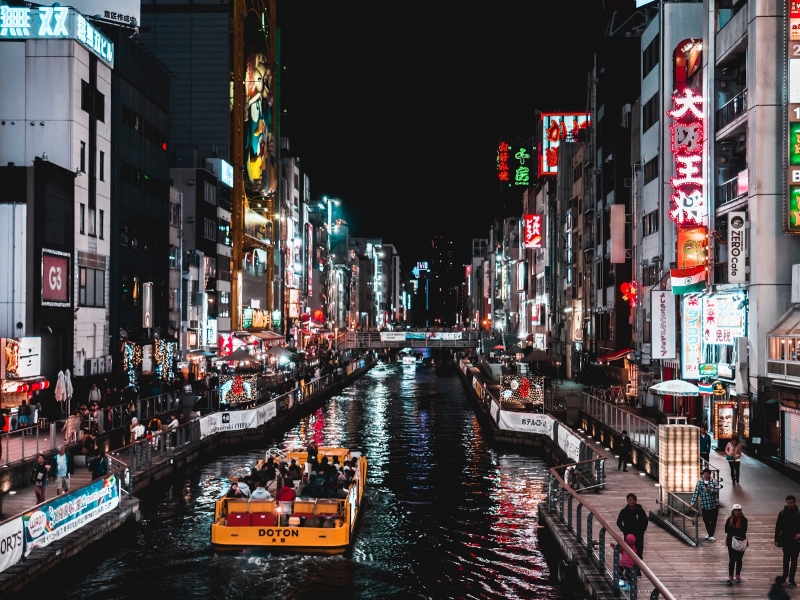 A hot spot among locals and tourists alike is the ever lively Dotonbori. Here is where you can sample some of the best street food Osaka has to offer! Get a taste of everything from amazing snacks such as takoyaki and gyoza, to fulfilling meals like ramen and okonomiyaki. There's so much to try here, we have an entire article dedicated to the wonderful culinary experiences in this vibrant district! My personal favourite is the kobe beef ramen. It's a little pricey compared to other kinds of ramen, but it's just so good! 
Tired of walking and eating? Check out Pirates of Osaka or Tombori River Jazz Boat for an amazing cruise on the Dotonbori River with amazing and lively view of Dotonbori itself. 
3. Shinsekai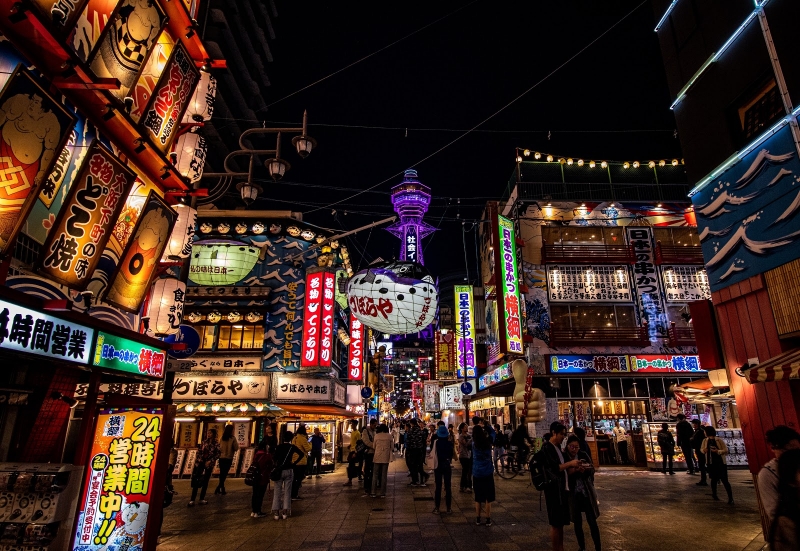 For a more retro-like experience, take the time to visit Shinsekai for beautiful shops and restaurants that have been run by families for generations. A locally famous delicacy here is the kushikatsu, an assortment of skewered, battered, and deep fried vegetables and meat. It's definitely a must-try for fried food lovers.
What makes Shinsekai (which translates to "New World") unique is that it was built in the early 20th century with influence from Paris and New York to be the future focal point of Osaka, but got neglected and forgotten over time. As a result, Shinsekai remains untouched, and many old restaurants and pubs are still there.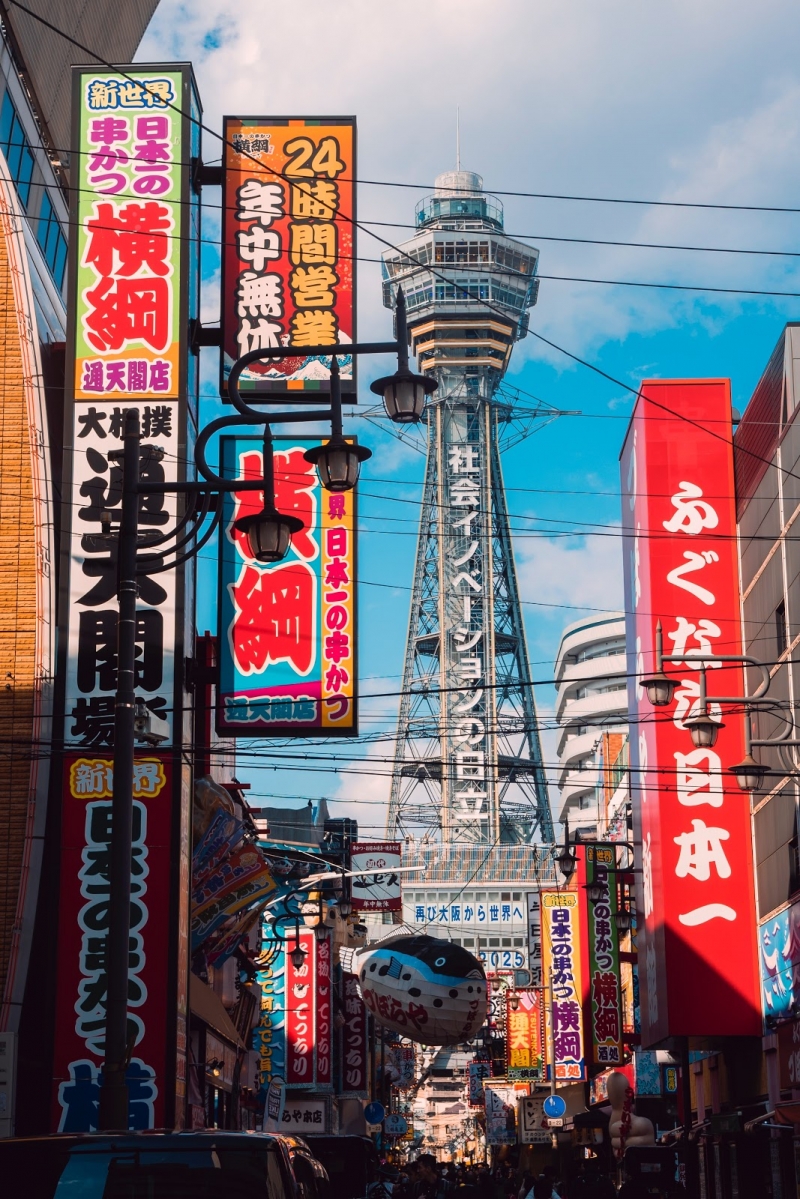 Another attraction to visit here is the Tsutenkaku Tower, or also known as the Eiffel Tower of Osaka, with a height of 103 meters. From the top of the tower, you can have an amazing view of the surrounding region. Don't forget to pay a visit to the Billiken Statue in the tower. It is said that touching the back of his feet can bring you good luck!
4. Osaka Aquarium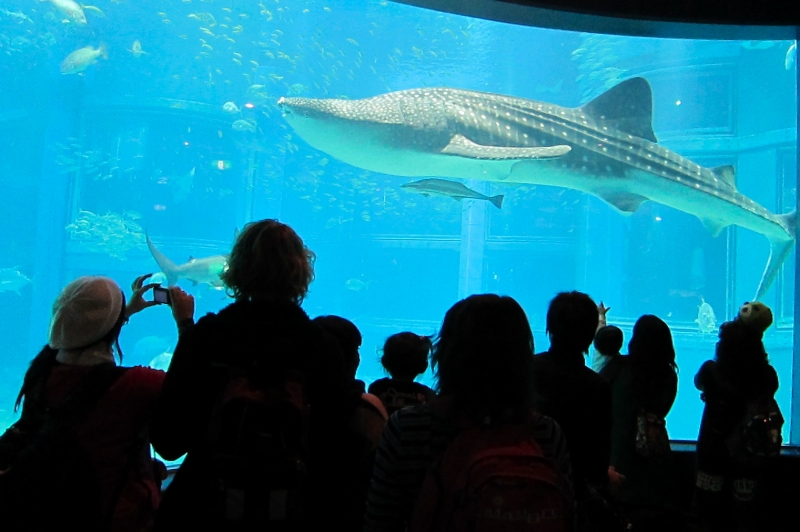 Have you ever wondered what kinds of fish live in the regions surrounding the Pacific Rim? Then, you have to visit Osaka Aquarium to find out. It is one of the world's largest aquariums, and the largest one in Japan. Inside, you will find 15 different zones that represent the different environments around the Pacific Rim, and around 30,000 animals from 620 different species. There is even a whale shark inside! Now that is how you can have a whale of a time. 
If the underwater world is not enough, why not take a good elevated view of the surrounding from the Tempozan Giant Ferris Wheel? With a height of more than a 100 meters, ihe ferris wheel is one of the largest in the world. After that, explore the Osaka Bay area on sea level with the Santa Maria cruise. 
5. Umeda Sky Building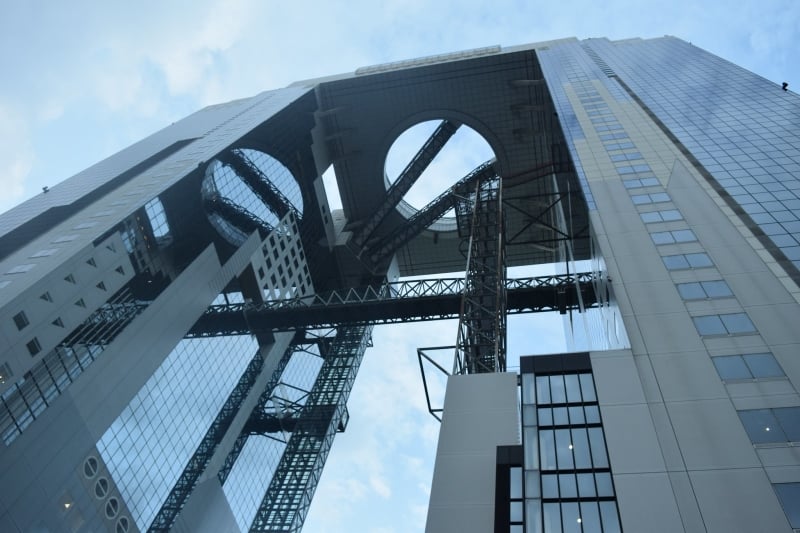 Next up, is the Umeda Sky Building. Be prepared to have the wind brush through your hair at 170 meters ofo the ground, because the observatory (also called the Floating Garden Observatory) on the 39th floor is a bridge connecting the two towers of Umeda Sky Building. 
On a clear day, you can see as far as Awaji Island, and a 360° view of Osaka city. And since the observatory is open to the public till night, you can get an amazing night skyline view of this beautiful city.  
6. Round 1 Stadium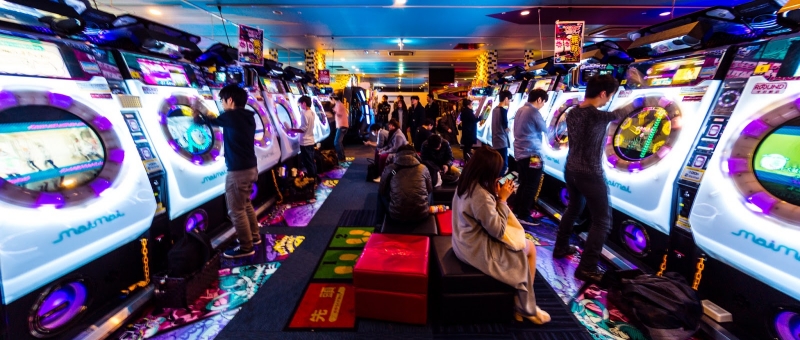 Despite the name, this place is not an actual stadium, but it can sure feel like one. If you're looking for loads of fun and thrilling activities, then Round 1 Stadium is definitely worth at least a visit. 
Here you can play all kinds of arcade games, karaoke,  bowling, golf, basketball, darts, ping pong, and many more! There are 11 floors worth of activities in fact, so you can easily spend a day here! One thing you have to try in Japan is Pachinko, so don't miss it!
7. Cup Noodles Museum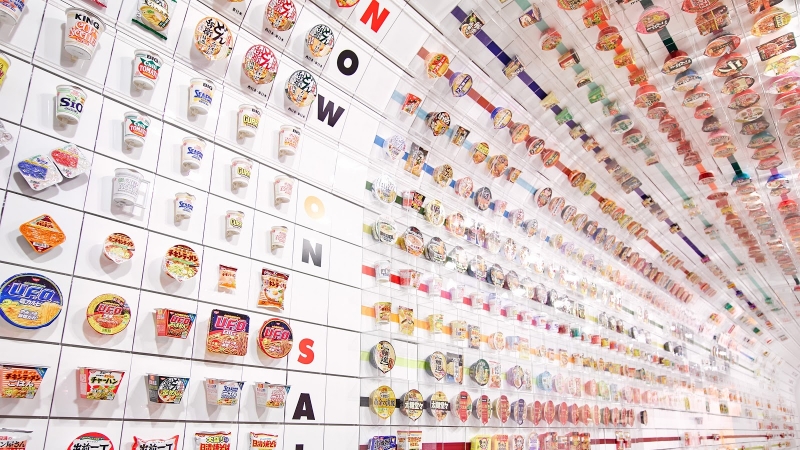 We eat instant noodles all the time, especially when we were students, or travelling even. It's tasty and easy. But have you ever wondered about the story behind instant noodles? Find out how instant noodles were invented at the Cup Noodles Museum. 
You'll be in for a treat when you learn about the history of this time-tested meal that has become a global sensation. Plus, you can create and customise your own cup noodles right here in the museum, to bring back as souvenirs, or perhaps as supper for the night, we won't judge. 
8. Kuromon Market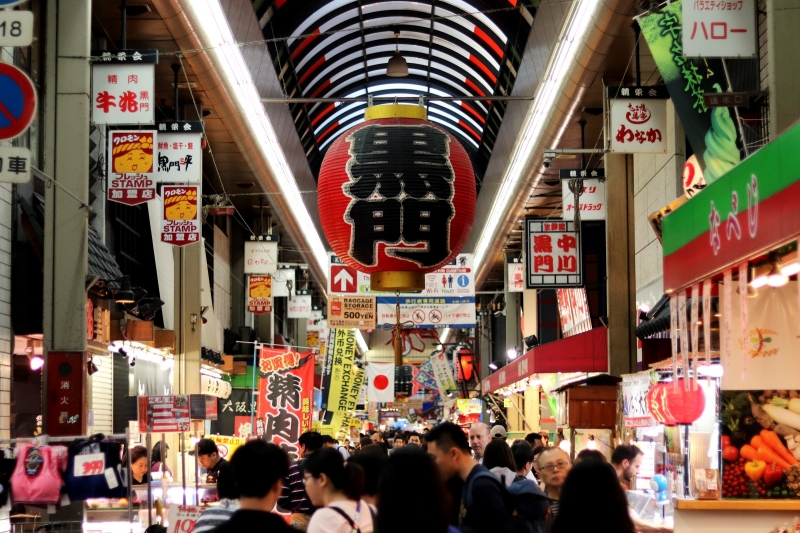 A visit to any city is incomplete without a visit to its local market. Established in 1902, Kuromon Market is a 600-meter long covered public market that is frequented by locals and tourists alike. Here is where chefs and home cooks shop for their fresh ingredients and other daily necessities, which lead to this popular market being known as "Osaka's Kitchen". 
Apart from raw ingredients, some stalls serve freshly cooked food for consumers on-the-go. Some unique delicacies you can find here are sea urchin, grilled crab legs, onigiri, yakiniku, and sushi. Because the market is very popular, it receives about 23,000 visitors a day! If you are planning to visit this charming market, make sure to arrive early to get the freshest food and best experience. 
9. Shitennoji Temple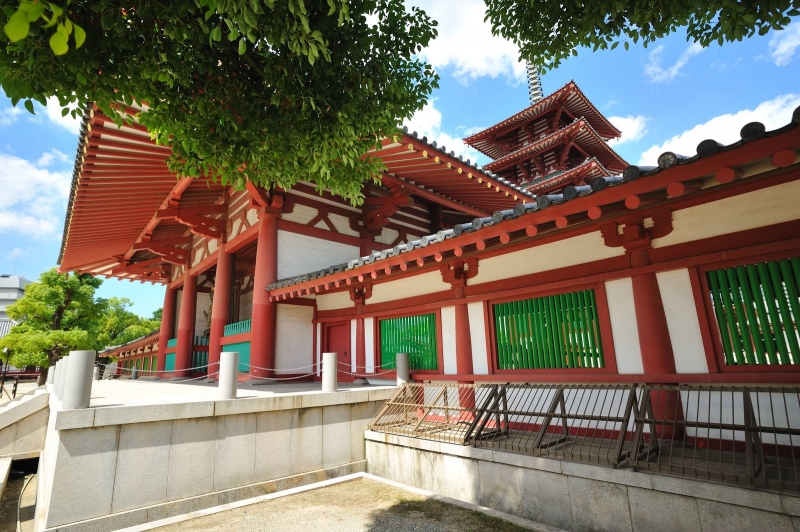 One of the oldest temples in Japan, Shitennoji Temple was built in the year 593 by Prince Shotoku Taishi, who played a tremendous role in introducing Buddhism to Japan. Although the temple has gone through many renovations and reconstruction over time, the current complex is built as closely as possible to the original design. 
While the outer areas of the temple is open to the public for free, the inner areas are not, particularly the Chushin Garan, Treasure House, and Gokurakujodo Garden. Within Chushin Garan, you will find a five story pagoda, the main hall and the lecture hall. The Treasure House exhibits important documents, Buddhist statues, paintings, and artifacts. As for the garden, you can take a lovely stroll enjoying the tranquil and picturesque scenery of ponds, streams, and cherry trees. 
If you happen to visit on the 21st and 22nd of the month, there will be lively events with around 300 stalls selling various souvenirs, antiques, and food. 
10. Minoo Park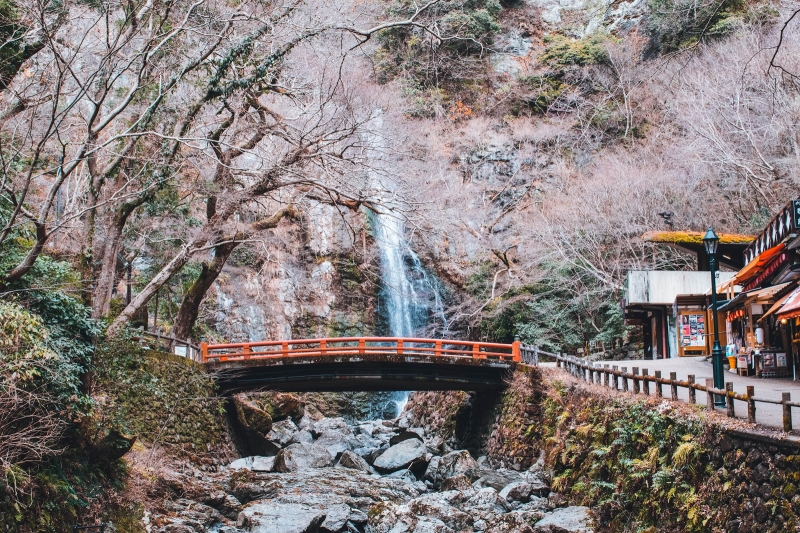 For nature lovers, Osaka is not one without its own amazing getaways from the city. About 30 minutes from downtown Umeda, Minoo Park is one of the best places in the Kansai Region to see autumn colours in a natural environment. Autumn is also the best time to experience the outdoors with its cool temperature. The hiking trail in the park is about three kilometers, starting from Hankyu Minoo Station and ending at Minoo Waterfall which cascades from a height of 33 meters.
Along the first half of the trail you will find shops and temples, and the other half, amazing scenery of trees and rivers. Some shops sell momiji tempura, or maple leaves deep fried in batter, in autumn. It's definitely a one of a kind snack.
You can easily spend hours here, soaking up the peaceful ambiance, and the sound of the waterfall. You'll definitely leave wanting to come again. 
11. Natural Hot Spring Naniwa no Yu 

Talking about having a relaxing time, we cannot give Osaka's hot springs a pass. After all, hot springs aren't only relaxing, it's also very good for the skin, muscles and joints. So why not take some time off and pamper yourself at the Natural Hot Spring Naniwa no Yu? 
It has both outdoor and indoor baths, saunas, a massage center, and a unisex hairdresser shop. Even better, the outdoor baths are set in a rooftop garden, where you can just have a good time under the stars with nice weather. 
12. Day trip to Kyoto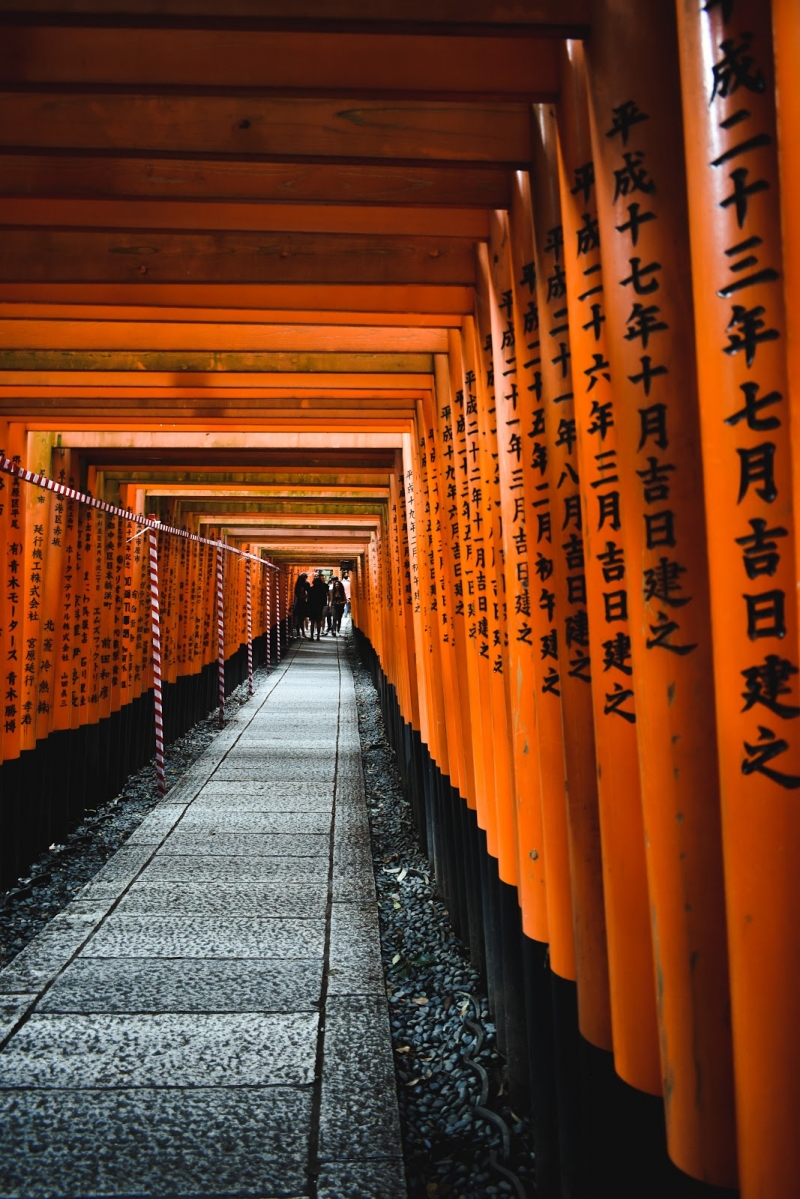 As much fun as Osaka can provide, we do sometimes crave for a change of scenery or environment. If that's the case for you too, we highly recommend you take a day trip or two to the neighbouring city of Kyoto. 
It is a beautiful place filled with majestic temples, bamboo forests, ornate shrines, and ancient sites. Some of the most famous must-visits are the golden Kinkau-ji Temple, the gorgeous Fushimi Inari Taisha Shrine, and the otherworldly Arashiyama Bamboo Grove. Kyoto is the cultural and historical heart of Japan, so a visit to Japan is never complete without a visit to Kyoto. 
13. Tenjin Festival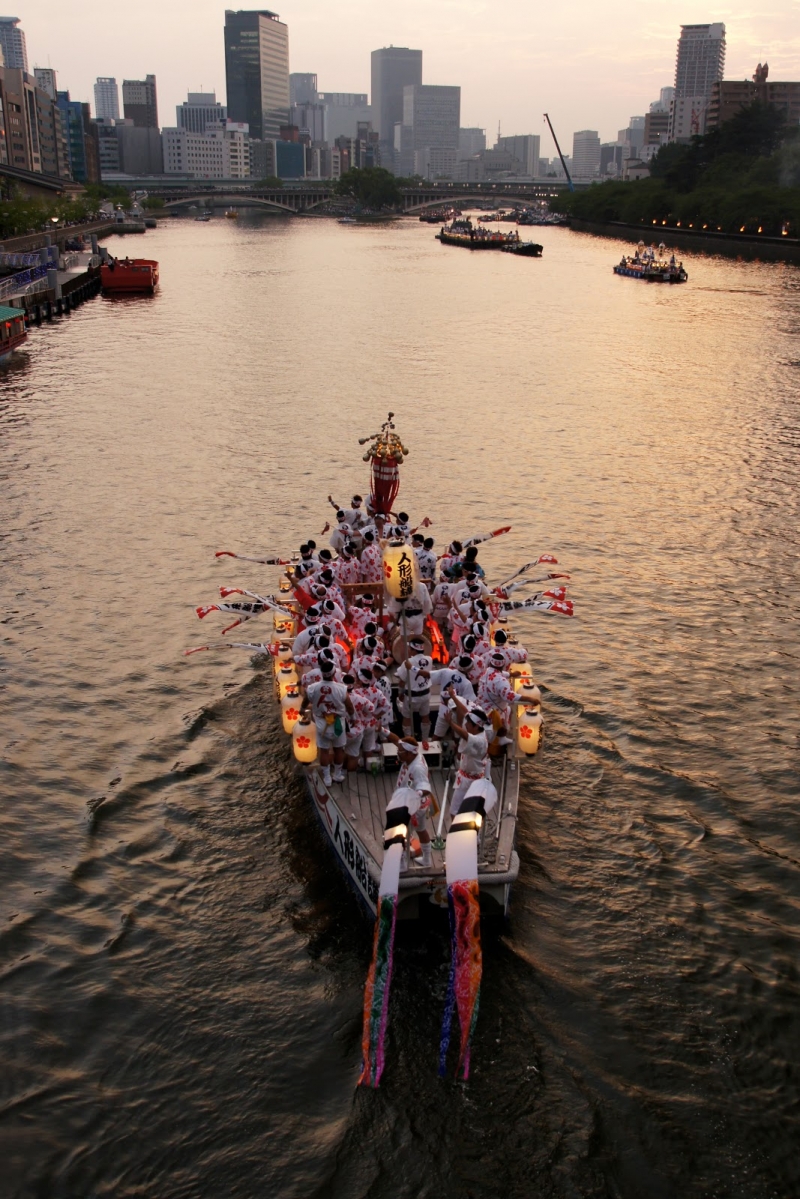 While most people visit Japan during spring for its cherry blossoms, and autumn for its foliage, summer time in Japan is not any less fun. Summer in Japan is the time where a lot of festivals and fireworks displays are held. The Tenjin Festival in Osaka is ranked as Japan's top three festivals, along with the ones in Kyoto and Tokyo. Thus, you can definitely expect this one to be huge and lively. 
You will be able to witness a long procession through the streets of Osaka, filled with characters in colourful costumes, loud drums, dancers, music, and many more! The procession will even continue on the river as the night approaches, so there will be beautifully decorated boats, and of course, by the end of it, grand fireworks lighting up the sky. Tenjin Festival is a massive scale event, so to attend it, you may require some advanced planning, but it will be worth it. 
So, those are some of the highlights in Osaka that you must not miss. Osaka has tons of other activities to do, such as more museums and boat cruises too. One thing is for sure: your itinerary will be packed. Even better, some of the activities mentioned above are free if you purchase the Osaka Amazing Pass. Curious? Check it out here! You are in for a treat!