BE WARNED that only the strong will survive to the end of this article.
You know how some things are supposed to be really difficult? Like hiking to the summit of Everest, or stacking a perfect pile of cards, or…algebra? Well, apparently, deciding which Malaysian delicacies are the best is actually a legitimate challenge as well!
Due to the racial diversity in the country, Malaysia is a foodie's paradise which transcends cultural norms and flavours. A single dish can have close to 4 or 5 variations depending on which part of the country you're in! So, as painstaking as it was, I finally managed to compile a list of 34 must-try delicacies in Malaysia.
And even still, I'm fully prepared to be bombarded by comments, suggestions and violent reactions for missing out one or two Malaysian favourites. Try not to drool on your computer!
Noodles: Curry Mee, Hokkien Mee, Kolo Mee…Marry Me?
So, we're starting off with the noodles section! Now, before I'm chastised, I just want to say that you won't find Wanton Noodles on this list because it's considered more of a Guangdong/Hong Kong-origin dish than Malaysian. P.s., personally, I love the dish. Yay!
1. Char Kuey Teow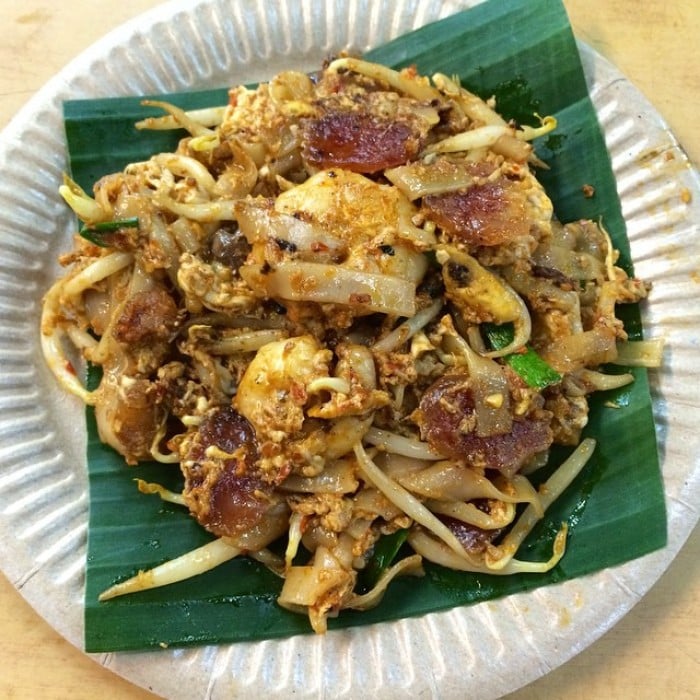 Image credit: Walter Lim
It amazes me sometimes how the simplest ingredients can produce one of the most beloved dishes in Malaysia. Flat rice noodles stir-fried with pork lard (there are also halal versions that can be found) and soy sauce, along with crisp vegetables like bean sprouts, spring onion and topped with eggs, shrimps and, occasionally, Chinese sausage. All of these humble ingredients are stir-fried over high heat in a huge Chinese cast-iron wok.
True traditionalist vendors even use a strong charcoal fire to light the stove, lending the dish an extra dimension of deep, smoky aroma. The true birthplace of Char Kuey Teow is arguably in Penang and Penangites take the dish extremely seriously. As a step up, some vendors replaced the shrimps with mantis prawns and add crab meat while others use duck eggs instead of chicken eggs. Often served on a banana leaf in Penang, it is truly one of the very best noodle dishes in the country!
Where to find the best:
Okay, let's not mince any words here. Although I'm pretty sure there are some pretty awesome Char Kuey Teow stalls to be found throughout Malaysia, the best of the best has to be in Penang. While I personally enjoy the famous 3 Sisters' Char Kuey Teow on Macalister Road (look for Lam Heng Kopitiam opposite Loh Guan Lye Specialist Centre), you can also try the Char Kuey Teow at Ping Hooi Kopitiam located on the corner of Lebuh Carnarvon and Lebuh Melayu.
2. Hokkien Mee @ Penang Prawn Mee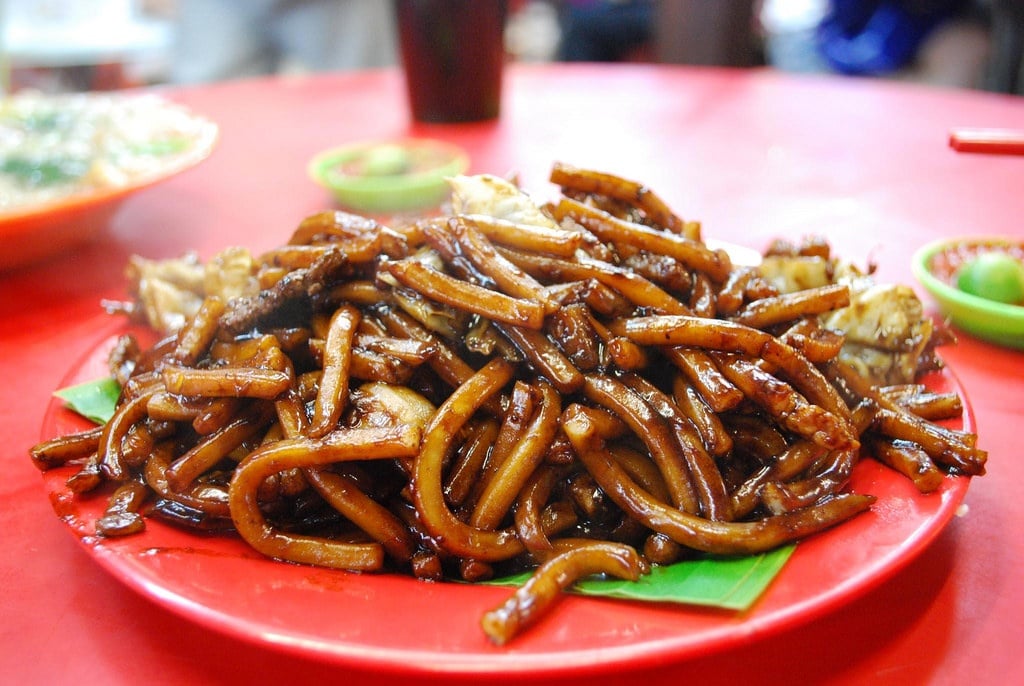 Image credit: Alpha
Sometimes, when you're walking around a food court or night market in Kuala Lumpur or anywhere else for that matter, you might come across this weird phenomenon of two stalls side by side selling (apparently) the same dish: Hokkien Mee. The only thing which separates them is that while one stall merely states 'Hokkien Mee', the other reads 'Penang Hokkien Mee'.
Oh yes, there's a drastic difference between the two variations of this noodle dish. The KL Hokkien Mee consists of thick yellow egg noodles stir-fried or braised in thick, sticky soy sauce, giving it a dark colour. It's served with sliced pork, pork lard croutons, prawns, squid, and some crunchy vegetables. It is a true sinful gastronomic indulgence.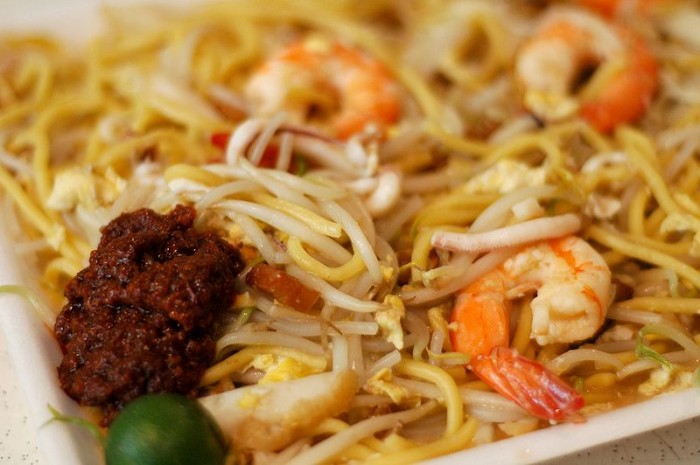 Image credit: jPatokal
Penang's take on the dish is a little less greasy but equally delicious. Using thin yellow egg noodles and rice noodles (bihun), the dish is served as a brothy, soupy delicacy with bean sprouts, prawns, boiled eggs and occasionally, pork ribs. The broth is traditionally made by boiling prawn shells over a long period of time, infusing the soup with a deep flavour and bright orange colour. Whichever version you fancy, you're sure to come back for more!
Where to find the best:
For the brothy version in Penang, I highly recommend 888 (it's a Chinese thing) Hokkien Mee on Lebuh Presgrave in Georgetown simply because of the abundance of additional ingredients, such as pork ribs and fish balls that you can choose to add on in your bowl.
For the sinful wok-fried version in KL, to be fair, personally I feel that even the random stall in a food court serves up pretty decent KL Hokkien Mee. But for those who consider themselves true food connoisseurs, the most popular KL Hokkien Mee Stall is found in Kim Lian Kee Restaurant on Petaling Street. Knock yourselves out!
3. Mee Goreng Mamak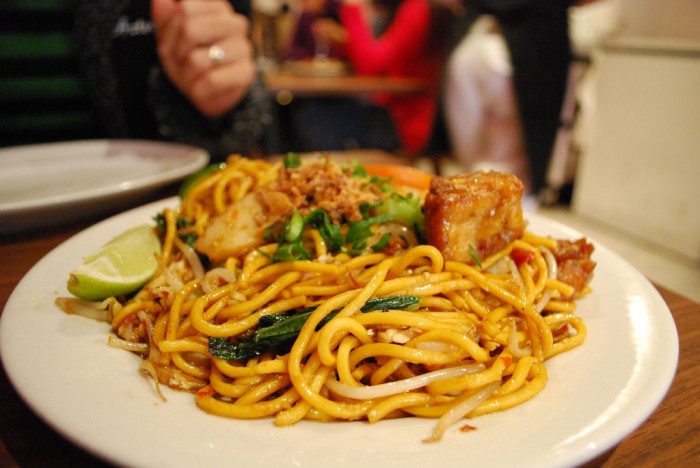 Image credit: Alpha
'Mee Goreng', in essence, simply means fried noodles. But don't you dare go up to a Malaysian and tell them you don't see what's so special about this dish, for no cosmic power may be able to protect you from harm.
Often found in mamak stalls, mee goreng mamak is a staple for late-night indulgence. Yellow egg noodles stir-fried in soy sauce along with fried fofu, chicken meat, some vegetables and often topped with a sunny side up egg and served with a slice of lime, this dish is savoury and spicy (as in, hot) but it's sure to leave you with weird nightly cravings for it.
There's also a variation where instead of yellow noodles, instant noodles are used. That one is called maggi goreng and despite the bad rep of its ingredients (I still have nightmares of binging on cup noodles in university), the taste is nothing less than wonderful.
Where to find the best:
As the name suggests, the best place for mamak mee goreng would be in the mamak stalls. But then again, not all mamak stalls were created equal. I can only speak for myself as I've been in Penang for 70% of my life but I personally recommend the mamak mee goreng in Yunus Khan Restaurant on Jalan Macalister. Their signature dish is the maggi goreng and it's arguably the number one reason for going to the establishment.
If you're having trouble looking for this place, it's because the sign on the restaurant says 'Jiao Sai', which is Hokkien for bird droppings. That's because the place where the restaurant was first opened used to be full of pigeons and their excrement but don't worry, the birds didn't move to Jalan Macalister with the restaurant. A word of caution though, because it's so popular, you may have to pay a little bit more than you would for a regular plate of mee goreng.
4. Hor Fun Soup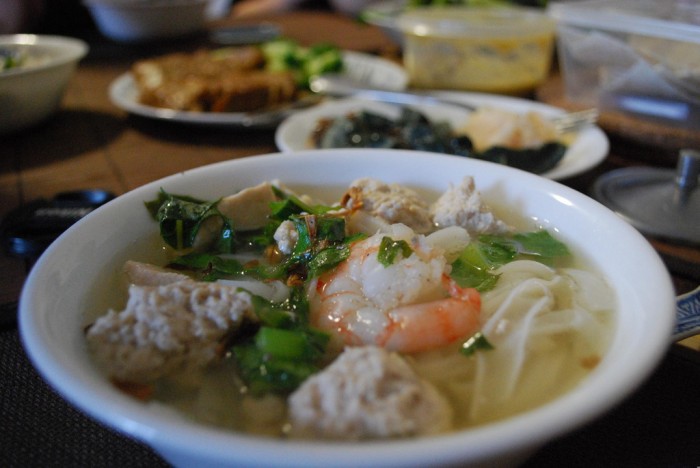 Image credit: Alpha
Just as there aren't many who question Penang's claim to being THE place for Char Kuey Teow, few would be brave to dispute Ipoh's boasting of having the best hor fun in Malaysia.
Although there is also a fried version of the dish, the most authentic is the soupy version from Perak's most popular city, one that is difficult to find anywhere else. (And even if you do, the taste may not live up to its name).
And again, the ingredients can't get any simpler. Flat rice noodles and bathed in a sweet broth (usually chicken and prawn) and served with shredded chicken, prawns and chives or spring onions. Occasionally, other ingredients such as minced pork are added but that is somewhat a rarity.
The combination of smooth rice noodles and flavoursome broth is sure to satisfy even the most avid foodie.
Where to find the best:
Few would argue that the best hor fun in Ipoh is found in Thean Chun a.k.a. Hall of Mirrors Kopitiam in Jalan Bandar, Ipoh. The coffee shop is one of the oldest eateries in the city and one of the most popular, having withstood the test of time and fed generations of customers in Ipoh. Need I say more?
Also read: Local Destinations You Probably Didn't Know About!
5. Laksa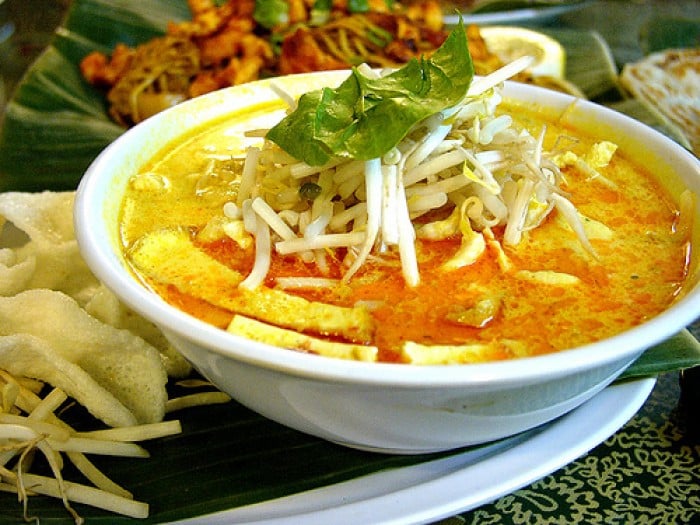 Image credit: babeltravel
I once had a friend who came rushing at me and accusing me of lying to her because the laksa she tasted was nothing like what I had described. Well, it's because there's no less than 3 versions of the dish in Malaysia!
The most common type of laksa is the curry laksa. Curry is used as a base for the soup (coconut milk is added) and the dish is served with vermicelli, bean curd, bean sprouts and topped with coriander. It is a hearty meal that uses a ton of extra ingredients such as fish cakes and assorted fish balls.
Asam laksa is the nyonya version of the dish which is most popular in Penang. Unlike curry laksa, the soup is made mainly of fish paste and tamarind, giving it a strong, sour taste which some people find hard to stomach. Its ingredients involves things such as pineapple, cucumbers, onions (all raw) and it's usually served with vermicelli and nothing much else.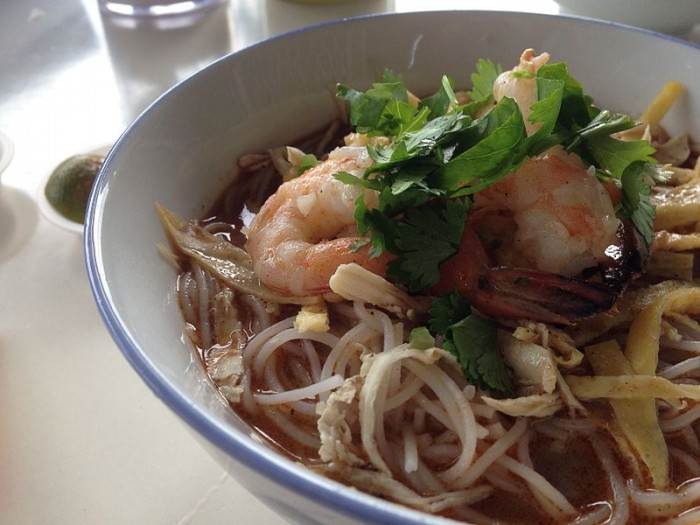 Image credit: Jhlam79
Sarawak laksa is the predominant variety in East Malaysia. Despite the appearance of its soup, no curry or tamarind is used. Instead, the base is made from sambal belacan, a local spice paste which is spicy and slightly sour. Sarawak laksa is served with fresh prawns, chickens and sliced omelette (other versions of laksa tend to use hard boiled eggs).
Those three are simply the three most commonly found versions of laksa in Malaysia. There's also Kelantan laksa, Johor laksa and Terengganu laksa to contend with! Mama mia, it's good to be Malaysian!
Where to find the best:
For Penang Asam Laksa, you will find one of the best on Jalan Penang in a popular coffee shop called Joo Hooi Kopitiam. The laksa there is famous and if you're visiting on a weekend, be prepared for a long wait, even for a table! The best draw of the stall is the thick and deeply flavoured broth, a worthwhile trade-off for having to wait in line for laksa on a hot day!
Although I've not had that many servings of Sarawak Laksa, one popular place for the dish in Kuching is Poh Lam Laksa in Chong Choon Kopitiam located on Jalan Abell, It opens early in the morning and you'd want to arrive early to beat the morning rush hour of patrons for a good bowl of laksa goodness!
6. Sarawak Kolo Mee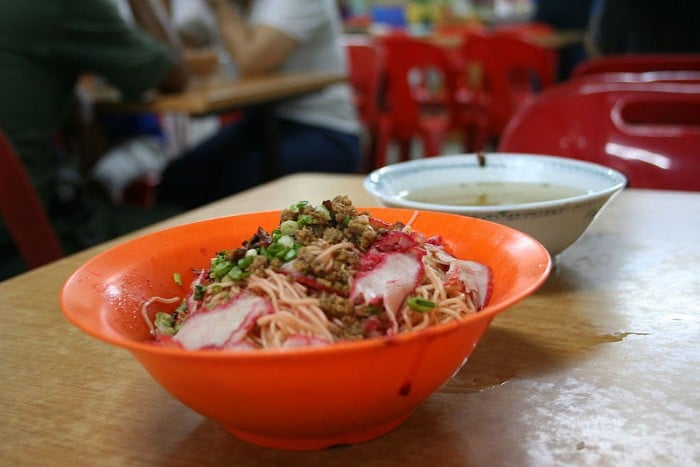 Image credit: Kennysia
Follow me, follow me, let's discover kolo mee! Okay, that was bad, that was really bad, I will reflect on the error in my ways. Sigh.
It's mind-boggling to me how something as delicious as Kolo Mee has managed to slip under the radar. Even some Malaysians have never tried it before! Personally, it's one of my favourite noodle dishes out there and I'm not saying this to get in with the East Malaysians. Heh.
Using springy, curly noodles, Kolo Mee (unique to Sarawak) is often served dry (with a side of soup) with slices of barbecued pork (char siew), minced pork, fried shallots and garnished with spring onions. It is often drizzled with red pork oil (the oil from char siew) or shallot oil to give it its unique, aromatic flavour. Like seriously, there should be more of this in the peninsula. Like, why is no one funding this? Why?!
Where to find the best:
Despite my love for this dish, I've not really been to Sarawak that many times and so I can't give a good personal recommendation as that would require me to say that the best Sarawak Kolo Mee is found in Puchong, Selangor. And I just can't bring myself to say those words with a straight face.
A friend of mine (who shall not be named) did, however, recommend Kim Joo Kopitiam in Jalan Ewe Hye, Kuching. It is apparently extremely popular with locals and a must-try in that part of town, so don't take my friend's word for it, go try it yourself and let me know what you think! Psst, I'll slap him if you don't like it.
7. Pan Mee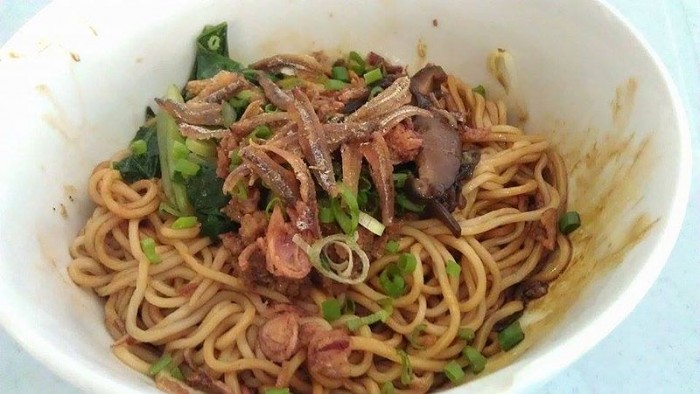 Image credit: Brownc
I just want to say that, at this point, my growling stomach hates me. But I must push on in the name of journalism! Well, kinda.
Pan mee is a traditional Hakka dish which originated in Malaysia. While many vendors use factory-made noodles these days, there are still quite a number of pan mee sellers who hand make the noodles. They are either thick, thin are even in flat, square pieces (there's a special name for that but I can't seem to remember at this point).
Pan mee can be served in a soup or as a dry dish which is mixed with a combination of oyster sauce, soy sauce and dark soy sauce. You can also order the ma la or fiery spicy version which is also simply known as chili pan mee. The noodles (wet and dry) are served mostly with crispy fried anchovies, minced meat, mushroom slices and a sweet leafy vegetable. Many consider pan mee a comfort food and I'm too busy arguing with my appetite right now to argue back!
Where to find the best:
Now, pan mee is a fairly simple dish and 9 times out of 10, it makes for a tasty meal. But if I am to search the conscience of my soul (or whatever is left of it anyway), I'll have to say that the best pan mee is found in the quaint town of Broga in Semenyih, Selangor.
The kopitiam itself doesn't actually have a name, but you can find it at the intersection between Jalan Kesuma 7 and Jalan Kesuma 6. I don't recall seeing any doors at the 'pan mee place at the corner of the road' (as it is known to the students of the nearby University of Nottingham) but you'll know it's the one when you see that there's nothing there except a stall selling pan mee & yong tau foo, and another stall selling ais kacang.
The specialty there is curry pan mee which is rare and hard to find (delicious ones, at least) outside of Selangor. A bowl of pan mee coupled with a good bowl of ais kacang is possibly one of the best combinations I've ever tasted in life.
8. Curry Mee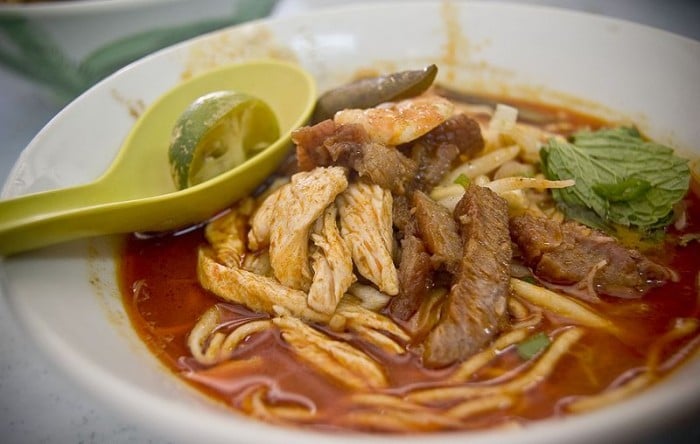 Image credit: chee.hong
Despite its similar look to Sarawak laksa, curry mee is a different dish altogether. The soup is curry-based (like, duh) with a dash of coconut milk and is often bright red in colour.
It's often served with shredded meat, boiled egg, cockles and bean sprouts. Most vendors also include additional ingredients such as fried meat balls and tofu. It's often eaten as a breakfast dish and it is served with yellow egg noodles and thin vermicelli.
What makes the dish unique is the inclusion of pig blood cubes. While they don't a particularly strong taste, the jelly-like, dark brown block does put a few people off, but the inclusion of pig blood (considered a delicacy to the Chinese community) is what makes the dish unique. Of course, you can always ask the vendor to exclude the blood as it really does not alter the taste in any major way.
Where to find the best:
There will surely be some who disagree but I personally find that the best curry mee can be found in the hawker centre on Gurney Drive in Penang. It's one of the only stalls selling the dish on Gurney Drive and personally, I don't think there's a need for too many other stalls. You can choose to replace the yellow egg noodles with maggi noodles here but I would advise against that. The curry mee here is served in white curry soup and a spoonful of chili paste. Once you start slurping on the noodles, trust me, you'll find it difficult to stop!
9. Kuey Teow Soup / Dry Kuey Teow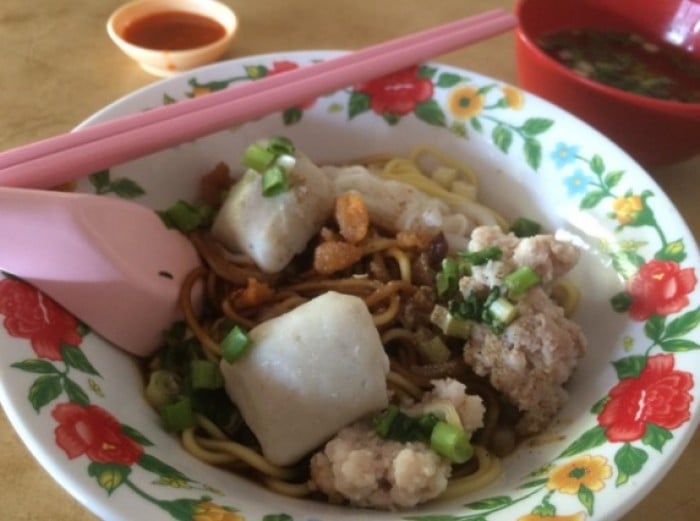 There's a running joke between me and my friends which say that whenever we go out for breakfast in a group, there's always ever only three options we turn to: Char Kuey Teow, Pan Mee, or Kuey Teow Th'ng (soup).
Well, you won't hear much of a complaint from me! The combination of flat rice noodles and yellow egg noodles has been around for as long as memory permits! The noodles can be served in a soup or as a dry dish mixed with soy sauce.
Kuey Teow soup and its dry counterpart are often served with fish balls, minced pork balls, spring onions and deep fried onions. The sweet chili paste which accompanies the dish balances out the flavours of the dish perfectly, making it one of the top breakfast noodles in Malaysia. And there's not a hint of bias in that statement. Like, really!
Where to find the best:
Much like pan mee, kuey teow soup is an extremely common dish that can be found anywhere in Malaysia. Which makes it even more impressive that Pitt Street Koay Teow Soup on Penang's Carnarvon Street is constantly mentioned as one of the best places for koay teow soup. So popular is the dish here that they often sell out way before closing time! What makes it so popular? Well, first off, their fish balls are made of eel meat (I guess you can consider it a fish?) and their home made chili dipping sauce (made of garlic, chili and lime juice) further compliments the overall taste of the dish. I feel like driving over there for a bowl already!
Beverages to fight off the sweltering heat…or add to it?
Reading this list really doesn't get any easier, does it? Well, here's a short list of the two most Malaysian beverages you can find. Take this as a short reprieve before we dive head first back into the list. We. Will. Finish. This.
Also read: Know Your Minuman: 7 Uniquely Malaysian Thirst Quenchers
10. Milo Dinosaur
Image credit: The Integer Club
9.5 out of every 10 Malaysians will no doubt have fond memories of Milo from their school-going days.
The chocolate malt drink may not be a 'made-in-Malaysia' beverage but we certainly take the drink in green packets extremely seriously. From Milo flavoured ice cream to Milo French toast, to Milo cakes, it is one of the most versatile and common food item you can find. But nothing compares to the resident Malaysian Milo Frankenstein Monster known as the Milo Dinosaur.
Most popular amongst youngsters, the Milo Dinosaur is not that different from a normal serving of the beverage, except it's thicker, packed full of flavour, and it's given the coffee (or Milo) art treatment, with Milo powder sprinkled on top as a topping. It can be either served ice cold or warm and it's one of the most sinful beverages you can find. And hey, some parents love it too!
Where to find the best:
…It's Milo. Like, bro…it's like, no matter what you do with it or who makes the drink, Milo will always taste good. So, recommendation? MALAYSIA LAH! Hahahaha!
11. Teh Tarik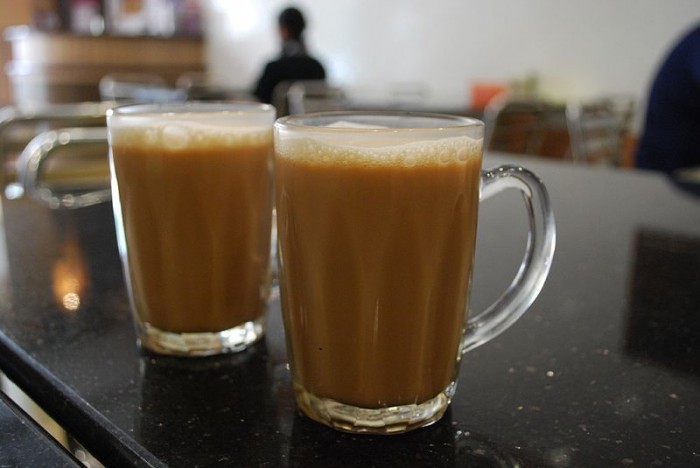 Image credit: Alpha
Now, I'm not sure if the term 'national drink' is an actual thing, but if it was, then Malaysia's national drink will no doubt be teh tarik, or pulled tea. Anyone who has any objections will likely be silenced. Through violent means if necessary.
The name teh tarik is derived from the preparation method of the tea. Black tea is mixed with condensed milk and poured from a steel container at a high position into another steel container. The process is repeated several times and what you end up with is a tea beverage which is sweet, tasty and foamy at the top.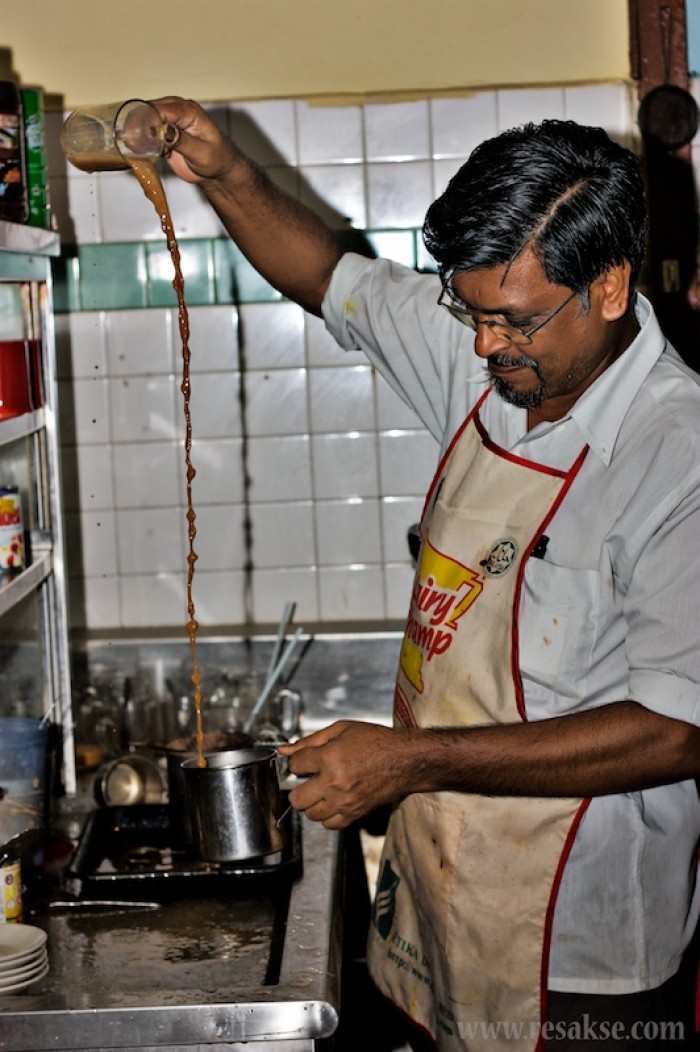 Image credit: Resakse
The pouring process is in itself a nice scene to watch but the main purpose of the 'pulling' is to cool the tea. The beverage is most often found in mamak stalls and is one of the most popular beverage choice of Malaysians! They just seem…teh-tarik (pun on the Malay word 'tertarik' which means attracted) to it!
Where to find the best:
Teh Tarik is best enjoyed with a few pieces of roti canai (we'll get to that) and in the company of good friends while watching re-runs of WWE RAW or live football matches. Don't get my drift? Sigh. Mamak. The best place for teh tarik is the mamak stall.
And next up, we have…………………………
Editor's Note: Apparently, Darren passed out from a mental food coma. Don't worry, our medical team is working around the clock and get him back to his feet. In the meantime, stay tuned for the next installment of this Malaysian food series! Darren will be right back!