When we think about London, we can't help but think of so many things that are associated with British culture, especially pop references like Mr. Bean and Sherlock Holmes, and iconic structures like Big Ben. 
However, this huge and vibrant city is so much more than tha! Even if you were to visit London for a week, you'll likely barely even scratch the surface of this metropolitan cauldron of culture and heritage. That being said, just like any dream vacation, a little bit of early planning can go a long way in ensuring you get the best out of your trip. So, here to help you out on your maiden trip to the Home of the Big Ben, check out these top places to visit to get started! 
1. Visit the Houses of Parliament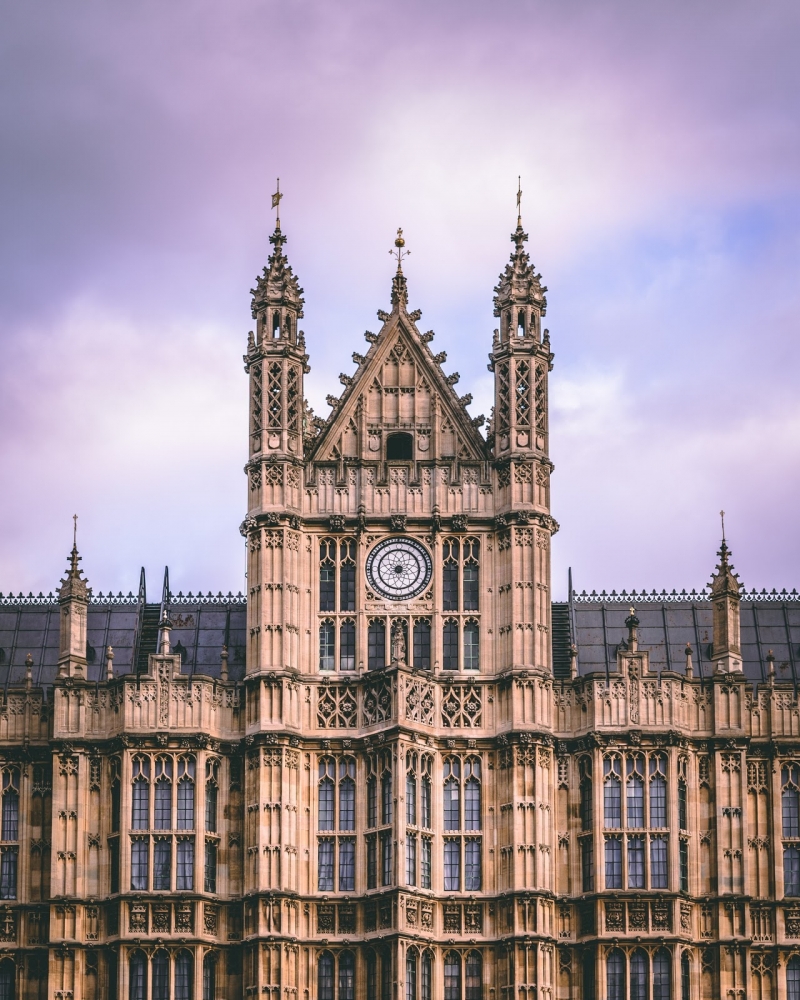 Visiting the Houses of Parliament is like a rite of passage during your visit to London. No visit to this historic city is complete without at least stopping by at this magnificent landmark in Westminster. Officially called the Palace of Westminster, it was first built more than a thousand years ago but most of the structure was destroyed in a fire in 1834. It was rebuilt soon after, and the Palace stands till today. 
There are tours organized on Saturdays and most weekdays (when Parliament is not in session) that allow visitors to fully admire the beauty of the Palace, and to understand its historic significance. Make sure to book your tickets ahead to skip the queue and to get the best timing. Visitors can also watch debates and committee hearings for free! It's definitely an interesting way to understand how the United Kingdom's administration works. For more information on tours and events housed in the Houses of Parliament, visit the official website here!
Trivia: The Houses of Parliament is also where you can find the iconic Big Ben, or officially called Elizabeth Tower. Unfortunately, the tower is undergoing refurbishment at the time of writing. Tours are suspended until 2021, but talks are still available for those who are keen to learn more about this majestic clock tower. 
2. Marvel at the artsy interior of St Paul's Cathedral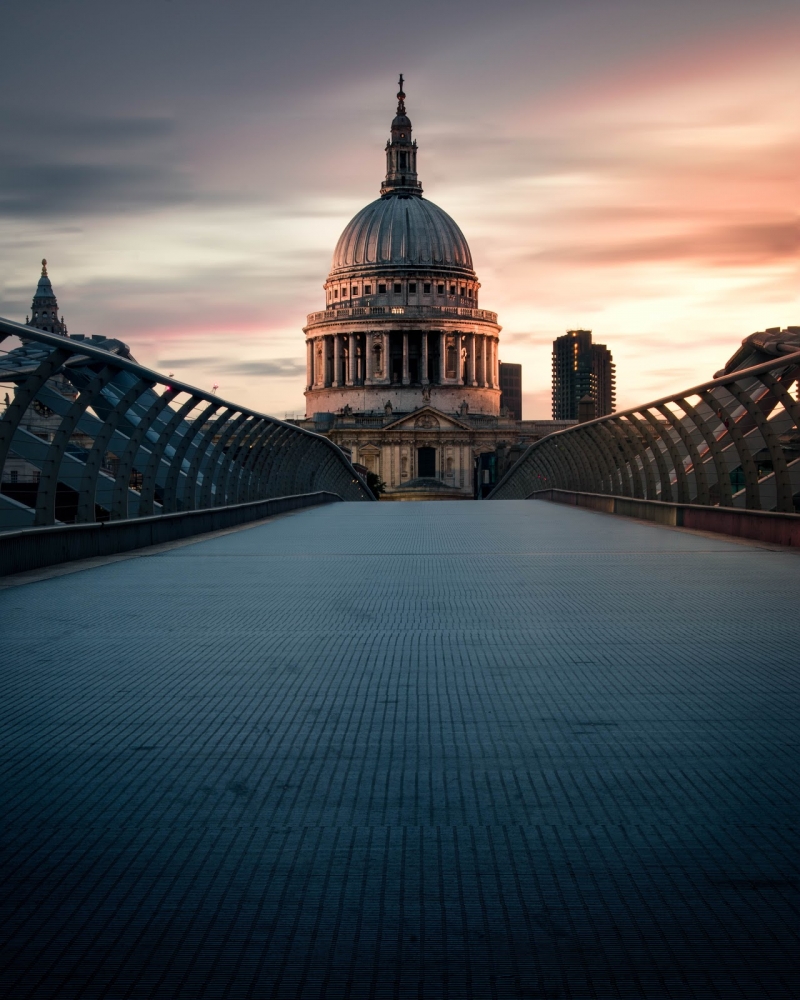 Another definitive landmark of London that you must visit is the St Paul's Cathedral. The present-day cathedral was built between 1675 and 1711, and it has served as a vital location for many historic events in British history, including the wedding of Princess Diana and Prince Charles in 1981. It is 515 feet tall and 227 feet wide and has much to offer to history buffs and art enthusiasts. 
When you first enter the cathedral, you'll be greeted with the breathtaking Nave, a large ceremonial and public space, adorned with beautiful paintings by Thornhill that depict the eight scenes of life of St Paul; and the Great West Door. Here you will also find All Souls' Chapel, St. Dunstan's Chapel (reserved for private prayers),  the Chapel of St. Michael and St. George, and the Wellington Monument.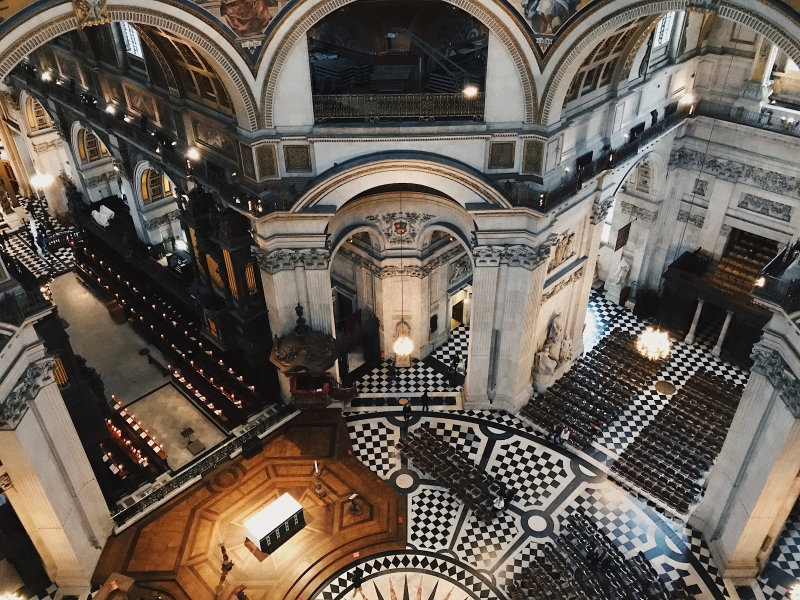 If you don't mind climbing up some steps, there are several other sections of the Cathedral that you can visit. Climb up the first 259 steps to visit the Whispering Gallery, where you can witness Thornhill's paintings up close. But shhh, it is said that you can even hear whispers from across the dome 112 feet away. Next, climb up another 117 steps to the Stone Gallery and another 166 steps to the Golden Gallery, where you will be rewarded with a panoramic view of London, 85.4 meters above ground. 
If you want to learn and understand the stories and history behind the Cathedral, make sure to visit the Oculus, where you can enjoy a 270° film experience. 
Pro tip: Make sure to allow about 2 hours for your visit, so that you can appreciate this beautiful structure at your own pace. Also, visit early in the day ahead of the crowd, so you can truly enjoy the atmosphere and the acoustics of the Cathedral. Last but not least, book your tickets ahead of time online for a cheaper price, and easy entry. Check the official website here. 
Note: Due to an unfortunate event in April 2019, the Whispering Gallery is closed to the public until at least Easter 2020. Before visiting, make sure to check the official website for the latest updates.  
3. Admire the Crown Jewels at the Tower of London
If you're keen on visiting one of the oldest and most visited landmarks in London that has a dark history, then you should definitely give Tower of London a try. With the oldest structure dating back as far as year 1100, this UNESCO World Heritage Site has plenty of stories to tell. 
Check out the White Tower that was completed in 1100, with its Line of Kings, a stunning display of royal armour and weaponry from medieval times to the end of the 19th century. Be bedazzled by the gorgeous collection of Crown Jewels in the Jewel House. Here you can find St. Edward's crowns, made of pure gold, and the Imperial State Crown, decorated with more than 2,800 diamonds! After that, head to Tower Green, where several notable key figures in English history were executed in the past. There are a lot of stories to be told!
Oh, and not to forget, the Tower of London is where you can get the best view of the iconic Tower Bridge. Make sure to have your camera fully charged! 
4. Watch the changing of the guard at Buckingham Palace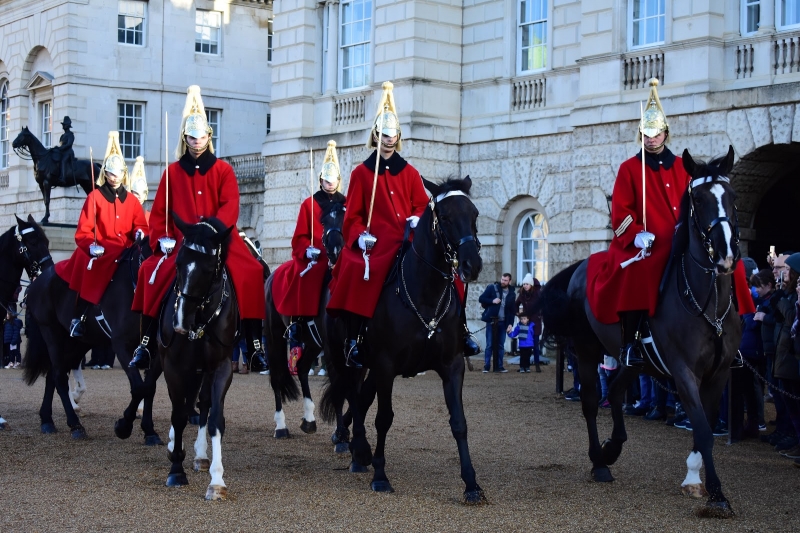 5. Experience local culture at the bustling borough of Camden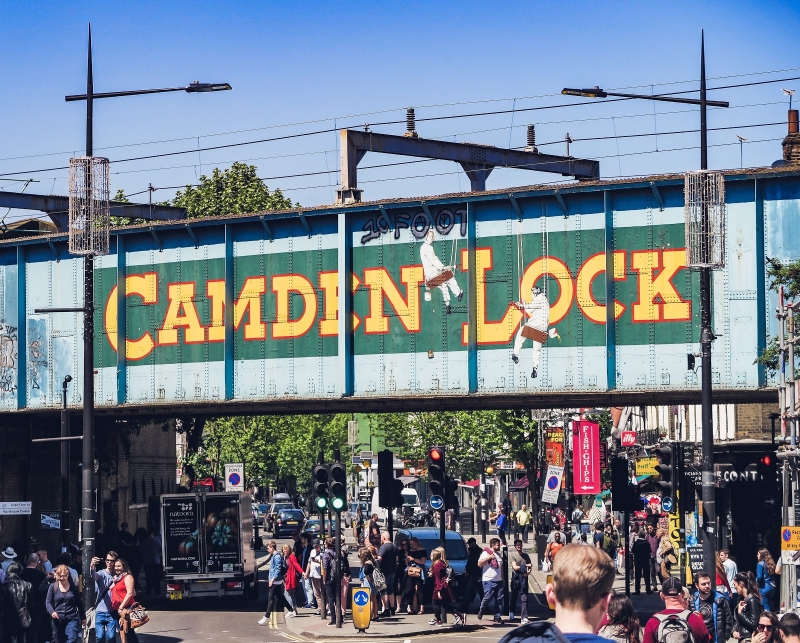 Now, why don't we check out livelier venues for a change of pace? First stop: Camden. This is where you can find all the weird, funky, and fun things to do. Check out the stores that sell goth and punk clothing and body piercings, as well as vintage items such as posters and vinyl records. You might just find something interesting to bring back home at the Stables Market. 
Experience the various genres of live music, like jazz, retro, and metal at some of the most interesting pubs in London. Use this opportunity to chat with some of the most interesting characters in the city. And of course, sample all kinds of street food and international cuisine, or perhaps, just the classic ol' fish and chips, if you crave the local delights.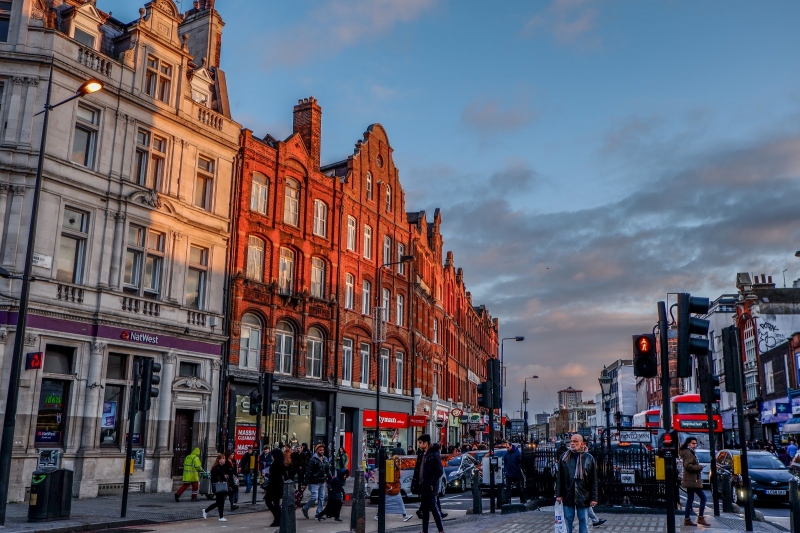 If you desire some quiet time, you could stroll along Regent's Canal that runs through Camden and the markets. You can even take a boat ride to Little Venice, where you can find waterside cafes and pubs.
6. Or shop till you drop on Oxford Street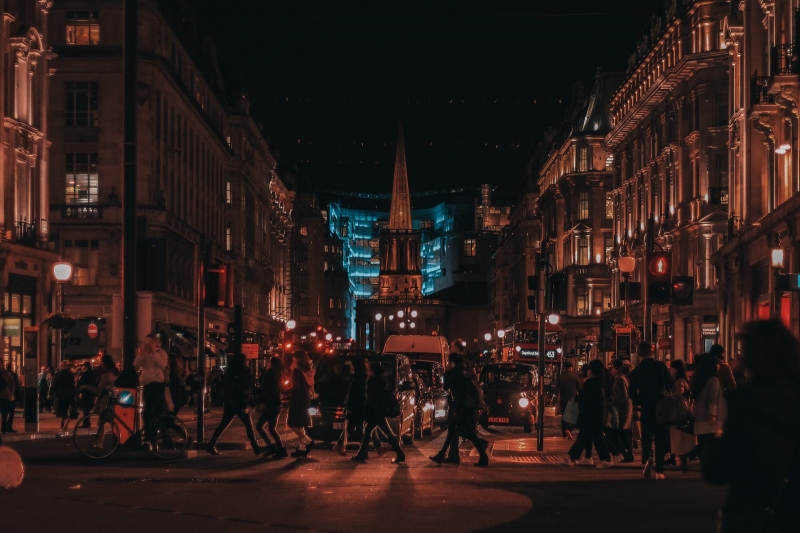 7. Settle in for a picnic on Primrose Hill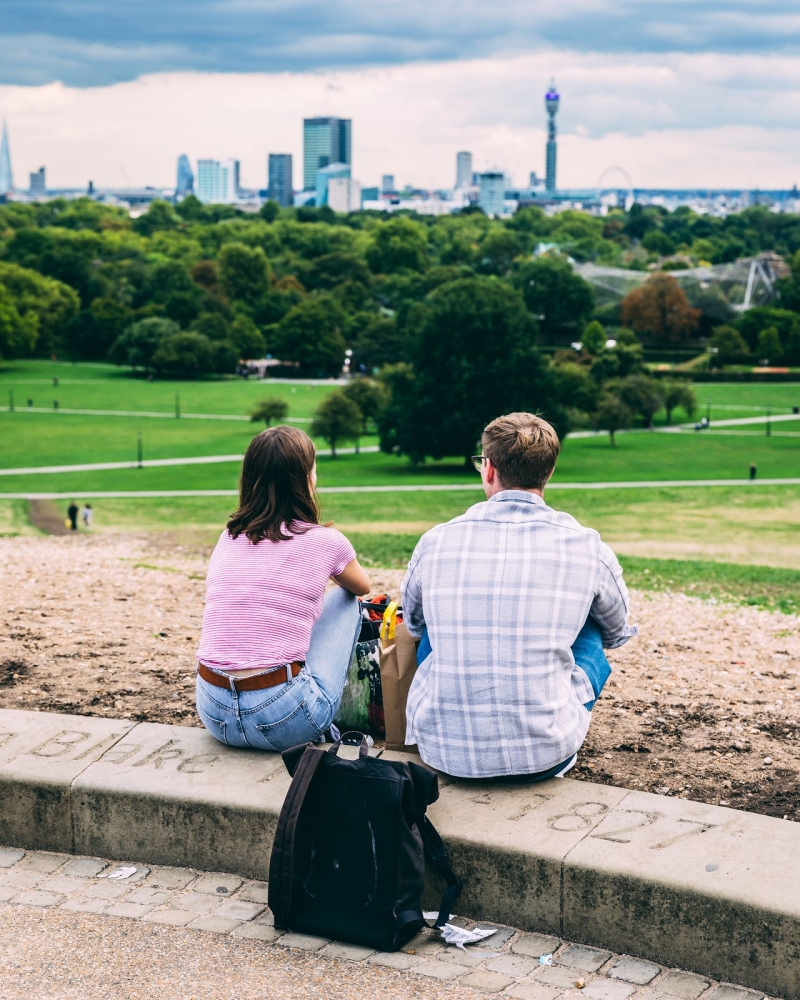 While you're at Camden,  take a bit of a detour and climb up Primrose Hill nearby. It's a popular picnic spot for locals and tourists alike, as you can get a panoramic view of London from the top of the hill. On a clear day, you can see The London Eye, The Shard, and The BT Tower. Get here during sunrise or sunset for the best views. Don't forget to dress comfortably as it can get a little windy and chilly up there.!
If you're lucky, you just might be able to spot some famous celebrities! So keep an eye out. 
8. Take a leisurely stroll around Hampstead Heath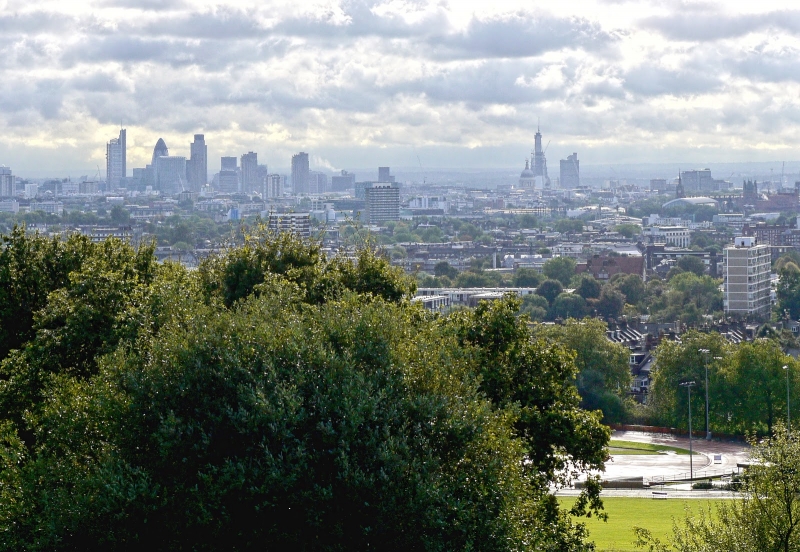 Speaking of leisurely strolls around a park, why not check out Hampstead Heath as well? Also a popular park among the locals, you'll fall in love with this beautiful park almost right away. Located just about 6 km from the city, you'll find natural greenery, hills, meadows, and ponds. You can easily spend hours here walking and exploring the trails. Climb up to the top of Parliament Hill to get some of the best views of the London cityscape. It'll be a good little exercise with a reward at the end! 
9. Or visit Hyde Park and watch the day go by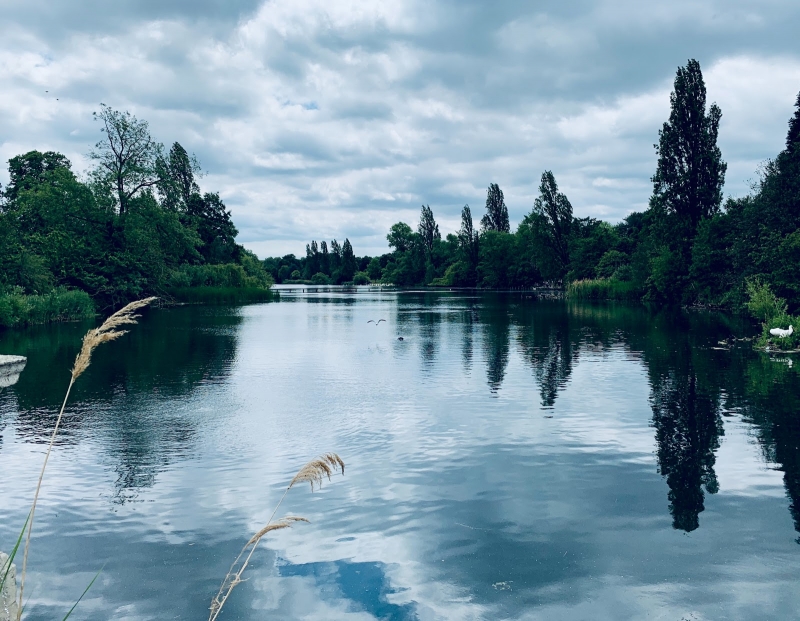 10. Soak in the history of Brixton Village and Market Row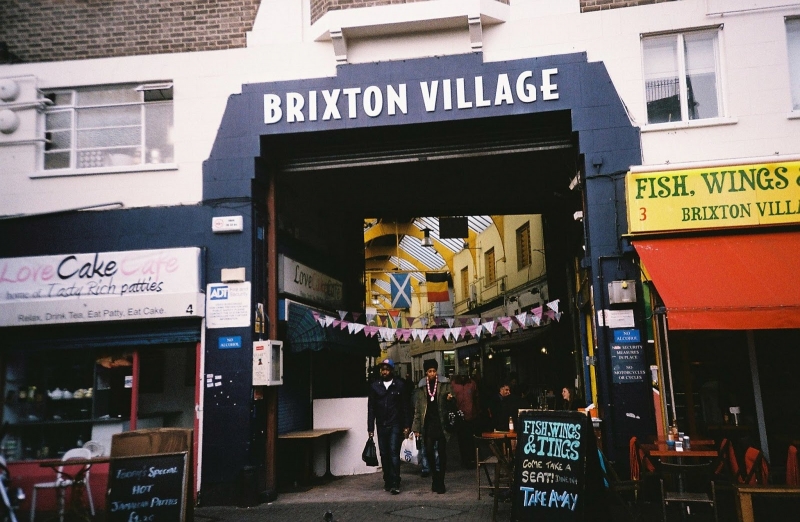 After all that exploring, we definitely need some food. For some of the best cheap eats in London, head down to Brixton Village and Market Row in South London. As one of the oldest markets in London, it has undergone a lot of changes throughout time, especially after the Second World War. The market was actually set to be demolished in 2009 for redevelopment and town planning. However, thanks to the strong opposition from the people and traders that are deeply connected to this market, Brixton Village and Market Row remained and the rest, as they say, is history.
You can easily sample foods from all over the world in this market alone, not to mention the fashion, jewellery, home decor, cafes, arts and crafts, fresh produce, and books you'll find. It's a shopping mecca! If you have the chance, visit during the weekend to fully experience the atmosphere of this lovely market. 
While you're here, make sure to visit the nearby Electric Avenue Brixton Market. It was the first market street in London to be lit by electricity, and it has plenty to offer. 
11. Plan a visit to Borough Market, the city's oldest market
Since we have visited one of London's oldest markets, we may as well visit THE oldest one, located at Southwark. This market has been around for more than 1,000 years! Just imagine the history the market has to tell, through its vendors, atmosphere, and of course, food. Expect to find fresh produce from local farmers, freshly baked bread from local bakers, and homemade cheese and handmade artisanal chocolate. Some of the must-try food here are wild oysters, jam-filled donuts, chorizo sandwich, and most importantly, English breakfast. Yum! 
While the market is open everyday except on Sundays, make sure to visit between Wednesday to Saturday. All shops will be open on those days, so you have more things to explore!
12. Enjoy the nightlife at Shoreditch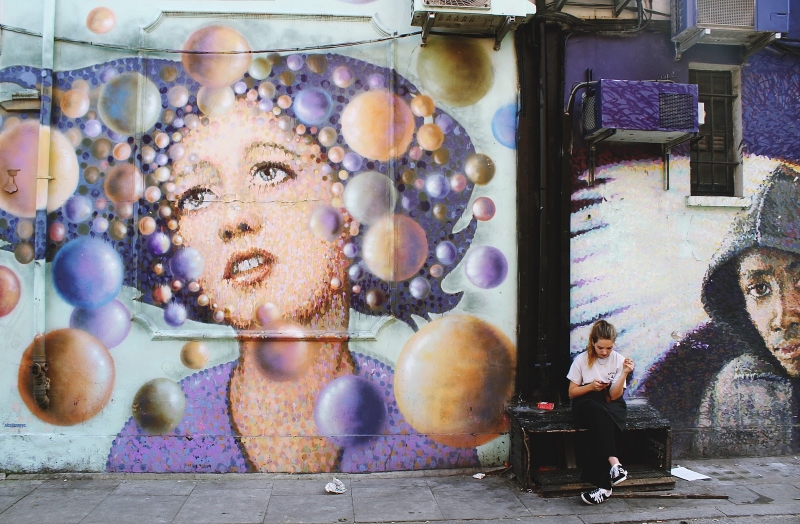 If you're looking for some fun nightlife, look no further than Shoreditch, London's East End. Here, you'll find some of the coolest bars in London, where you can play foosball, mini golf, ping pong, or even satisfy your inner child in a ball pit!
But Shoreditch has a lot more to offer than just nightlife, especially during the weekends. For example, you can search for your favourite flowers and fragrances at the Columbia Road Flower Market, sample scrumptious street food while listening to street performers at Brick Lane Market, and sip on a cup of freshly-brewed coffee at the Insta-worthy Boxpark, where the shops are set up in shipping containers. 
You can easily spend an entire day in this neighbourhood alone, and you'll be coming back for more. 
13. Learn about the unique history of London's post system at The Postal Museum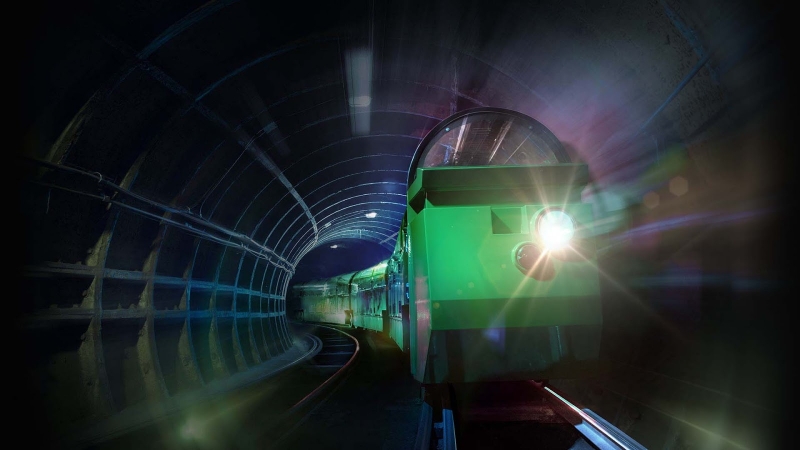 While we're here in London, why not visit a museum or two to learn something new? One of the most interesting museums in London has to be The Postal Museum. While not as widely used today, letters used to be the fundamental method for people to communicate over long distances. From official matters to feelings conveyed between loved ones, letters played a major role in the history of London. But have you ever wondered how letters were delivered back in the old days in London? 
Now, you can experience it first hand by riding the Rail Mail, a 100-year-old underground train system that was used to transport letters between Paddington and Whitechapel for over 70 years. While the trains may be a little small for humans (they were built for letters after all), you'll be rewarded with a 15-minute immersive underground experience, accompanied with video presentations and exhibitions. 
For more information, make sure to head to the official website.
14. Take a step back in time at the Natural History Museum (South Kensington)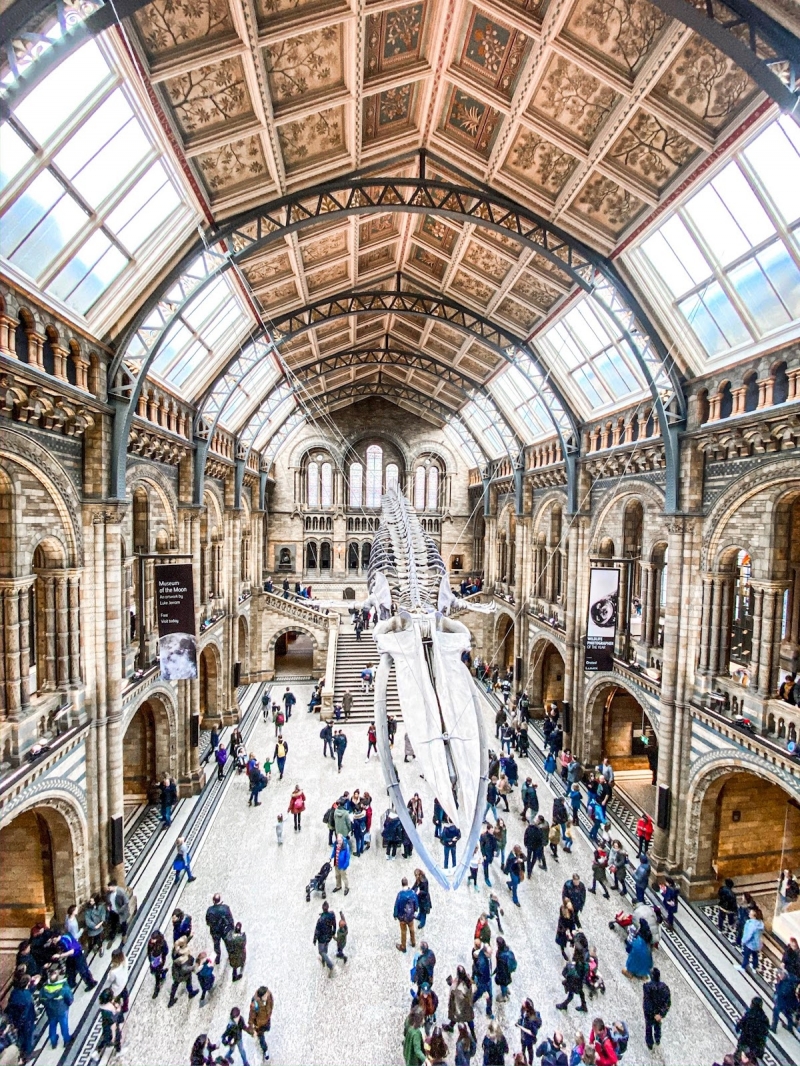 Remember those days when we were excited for dinosaurs and space? Here, in the Natural History Museum, you can relive your childhood curiosity once again! Be prepared to be in awe as you walk beneath the skeletal remains of a 25-meter blue whale, suspended in the air in the Hintze Hall, be amazed by the sheer size of an American mastodon, and marvel at the wonders of the universe as you stare at a rock as old as the solar system. 
The museum is divided into four colour-coded zones. Each zone has different themes of exhibits for visitors to browse and explore. The Blue Zone focuses on dinosaurs, vertebrates, and marine invertebrates. This is where you'll find part of the first T-rex skeleton ever discovered, and more blue whale models hanging in the air. The Green Zone is where you'll be greeted with exhibits in the Hintze Hall, as well as other exhibits on birds, small animals, and minerals. As for the Red Zone, you'll learn more about our planet and human evolution. Check out the Darwin Centre for its collection of millions of preserved specimens on various organisms in the Orange zone. 
The best part of this museum is that most of the exhibitions are free! There are some paid exhibitions and events, but that doesn't mean you shouldn't check them out. Browse the website for the latest information. 
15. Admire the beauty of the London skyline at Sky Garden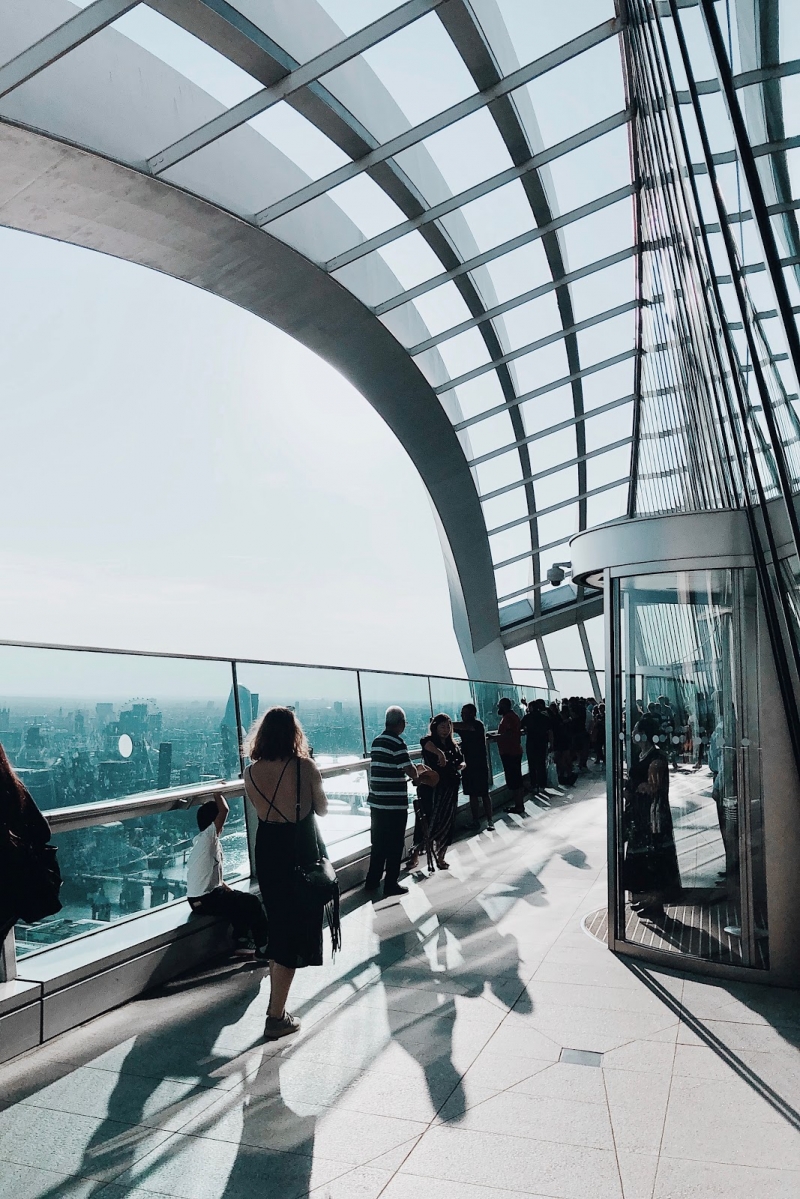 Another free spot that you have to visit at least once is the Sky Garden. As the name implies, it is an indoor botanical garden located at 20 Fenchurch Street, 43 floors above ground. From here you can have a clear unobstructed view of the city of London, including iconic structures like The Shard, The Gherkin, Tower Bridge and the River Thames. Make sure to visit here during sunset to get the best view. 
Stunning views of the cityscape is only one of the amazing things you can find at Sky Garden. While you're up there, take some time to chill and dine in one of the restaurants and bars. There are plenty of amazing food and drinks you can try while enjoying the beautiful view outside. Even if you happen to visit the Sky Garden on a rainy day, you can still appreciate the gorgeous architectural design of the garden. It's simply the perfect place for you to spend time with your loved ones, or even by yourself!
Pro tip: Although the Sky Garden is free for everyone to visit, it's best for you to make a booking in advance. They do accept walk-ins, but entry is subject to availability. For more information and booking, head to the official website.
16. Visit Covent Garden for good food and great vibes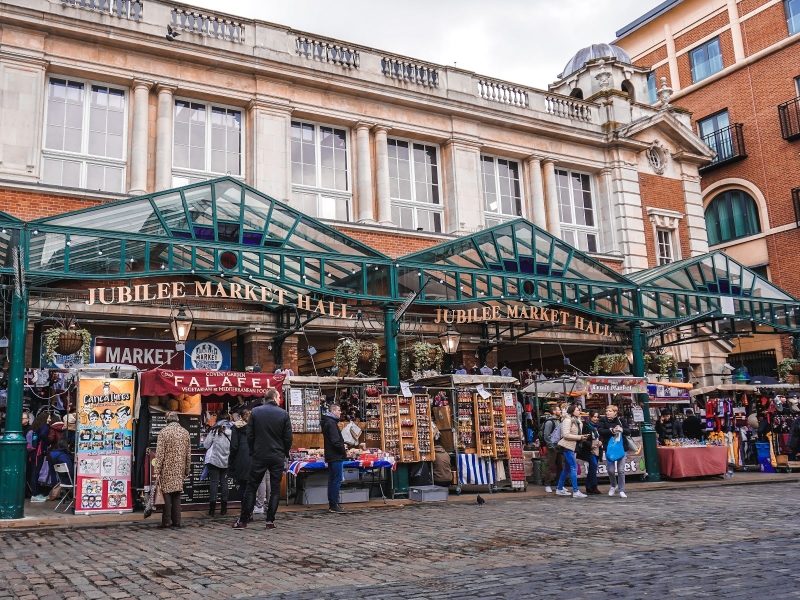 Covent Garden is one of the most charming neighbourhoods around London. Located near Leicester Square, it's a popular spot among locals and tourists alike, and it's easy to see why. Check out Apple's Garden to shop to your heart's content, Neal's Yard for delicious cheese and tea, Seven Dials Market for a huge variety of street food as well as a cheese conveyor belt *drools!*, the London Transport Museum for in-depth look into the history of London's transportation system, and more! Remember to clear up some space in your camera, because you'll be taking tons of photos as this place is just so pretty. 
17. Spend a day (or two!) at London's bustling South Bank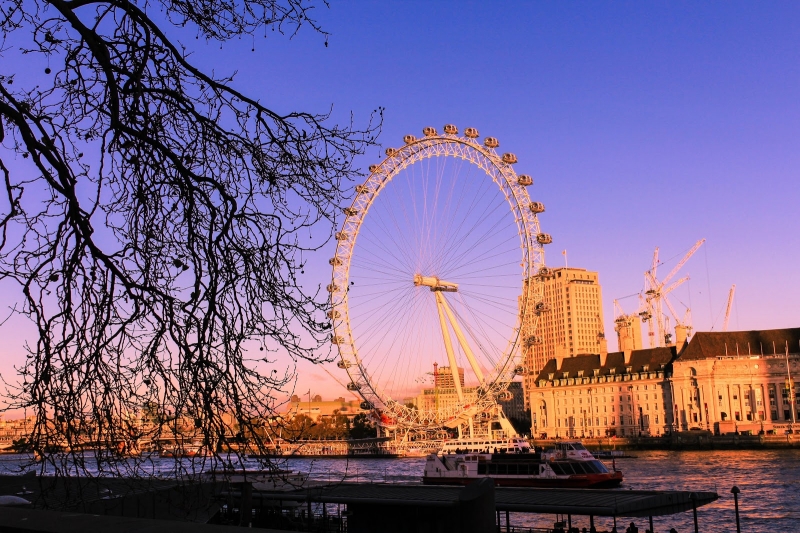 Last but not least, South Bank is where you'll find most of the top attractions in London, such as the London Eye, Florence Nightingale Museum, SEA Life London, Southbank Centre, BFI Imax, The London Dungeon, and National Theatre. Of course, this area is much more lively than just iconic landmarks. Take some time to explore the area and you'll eventually come across talented street performers, pop-up markets and food trucks, and even rooftop bars. 
Each season of the year will bring different events to Southbank too. The annual Underbelly Festival runs from spring to autumn, and Totally Thames festival is held in September while Christmas markets open in December,  
You can either try to experience everything in South Bank, or just take a relaxing stroll beside the River Thames and soak up the atmosphere of this vibrant city. 
18. Take a cruise along the River Thames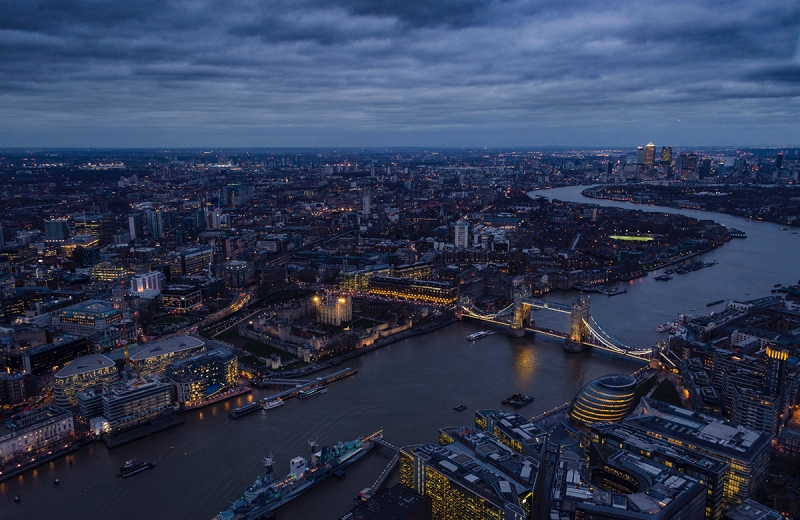 BONUS: Visit Trafalgar Square during Christmas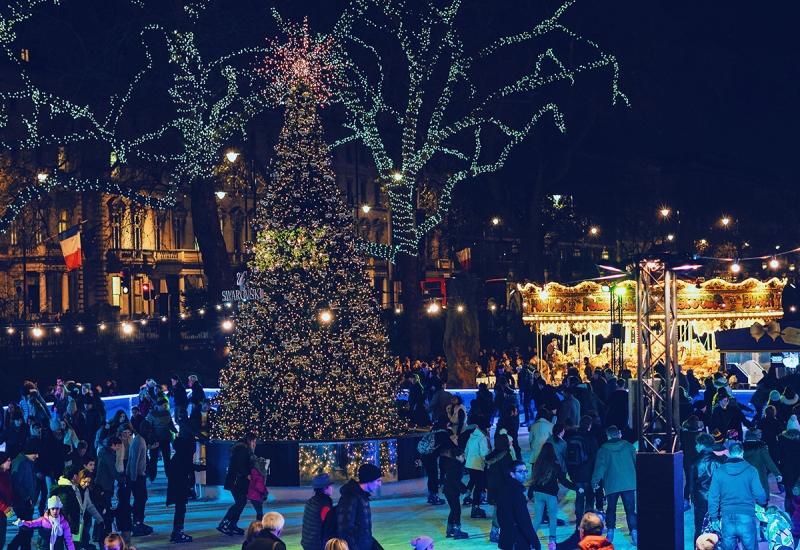 While Trafalgar square is a popular attraction all year round, it's extra magical during the month of December as the area is covered in lovely Christmas lights and the air just has that touch of extra romance in it. 
Cheerio, cheerio, off to London we go!
Honestly, there are so many things to do in London, it would take ages to fully explore the city. However, if you're short on time and really want to make that London trip happen this year, then start with the above, you won't regret it!