As Malaysians gear up for phase 2 of the MCO, many ministries in the government has started laying out guidelines and tips to help us #stayathome. However, despite meaning well, not all of these guidelines have gone down well with ordinary Malaysians. 
Earlier today, a few posters by the Ministry of Women, Family, and Community Development (KPWKM), as seen on their official Instagram page, went viral for all the wrong reasons, drawing sarcastic remarks and harsh criticism from many netizens.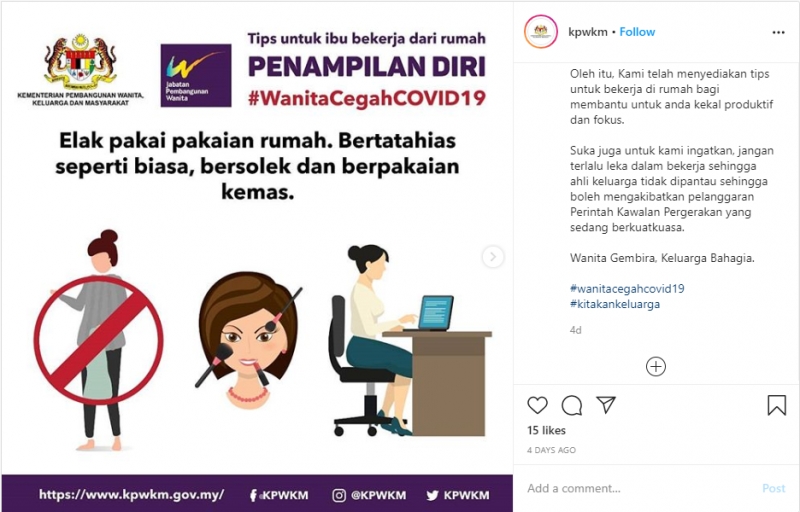 In one of the Instagram posts (posted four days ago), the ministry appears to advise mothers working from home to avoid dressing shabbily, keep to their personal makeup routine, and to dress presentably. The same post also recommended that women set up a temporary workspace on their dining table, in the kitchen, or in the living room for "mind setting". 
The other post that went viral drew even more flak from Malaysians as it appeared to give ludicrous tips to avoid arguments while at home. These include advising women not to nag their husbands for not helping with housework and pausing for a 20-second break during an argument to not say offending words.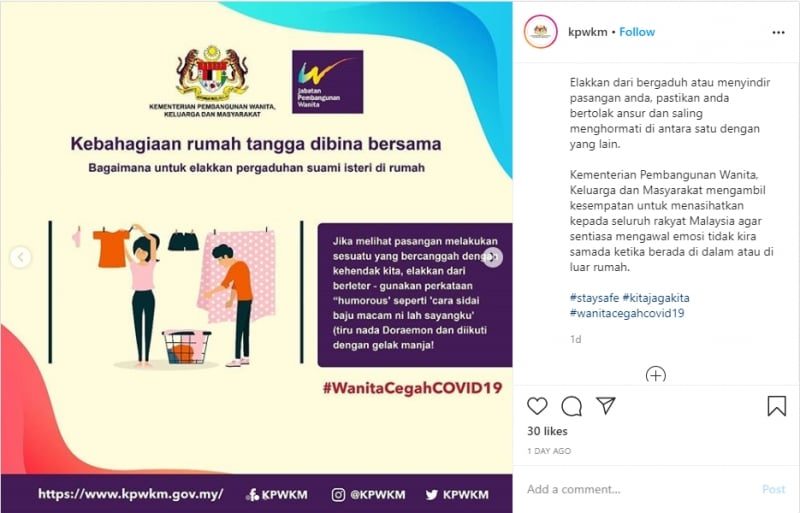 However, the most notable "tip" was the one regarding conflict resolution. In the poster, the ministry seems to advise women not to "lecture" their partners if they do something wrong. Instead, it asks women to diffuse the situation using humorous words and to "speak like Doraemon" before giving a cute laugh. At the time of writing, Doraemon was the number 3 trend on Twitter in Malaysia. 
Understandably, the posters drew serious criticism from Malaysian netizens, with some wondering if the posters were in fact made by a man. Safe to say, it has not been an easy month for KPWKM, who courted similar criticism when they temporarily shut down their domestic abuse hotline at the start of the MCO before quickly reopening. 
What do you think about these tips? Will you be speaking like Doraemon to your significant other? Let us know!