Located off the southern coast of South Korea, Jeju Island is an island formed by volcanic eruptions from a long time ago. Today, the island is a cauldron of traditional architecture, rustic natural scenery and a relaxing ambiance. It is no surprise then that Jeju Island is one of the most popular travel destinations for both locals and foreign tourists.
The 'Honeymoon Island' of South Korea known as Jeju Island is even more well-known by fans of Korean dramas and variety shows. Recognised as one of the 7 Wonders of Nature, Jeju Island offers a little bit of everything for every type of traveller. This is especially true if you love getting close to alluring natural scenery.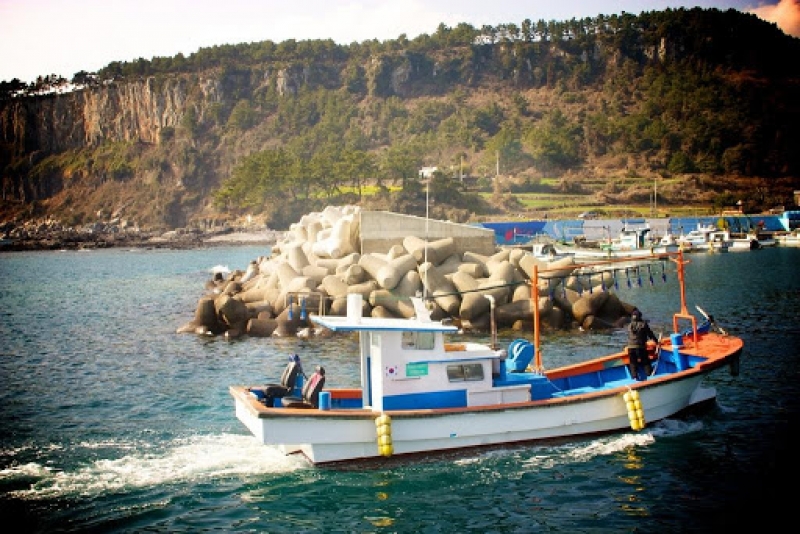 And since Jeju Island is a "pocket-sized" destination, you can easily cover most of the main attractions in just a few days. This includes the island's three famous UNESCO World Heritage Sites! With that in mind, here's an action-packed 3D2N itinerary to help you make the most of your time there!
When to visit and how to get there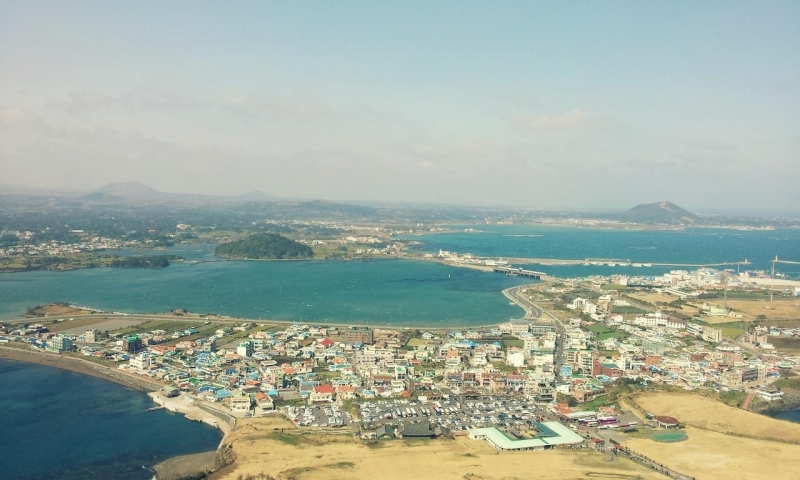 You can visit Jeju at any time of the year as it is a popular destination all-year round. However, for budget travellers, winter is the perfect time to visit as everything is cheaper due to fewer crowds. What's more, the weather during this time is perfect for Malaysians!
Due to its geographic location, the winter climate in Jeju Island isn't as freezing as the one in Seoul. However, you can still expect chilly weather, with temperatures averaging about 5~7 °C (time to whip out your K-drama style winter coats, people!). If you visit Mount Hallasan (tallest mountain in South Korea, it will be blanketed in snow as well!
A direct flight from Kuala Lumpur to Jeju Island would take about 6 hours and cost in the region of RM400 – RM600 with a budget airline. Alternatively, you can hitch a domestic flight from Seoul or Busan (about RM200 for a one-way flight) or take a ferry (only do this if you have time as the journey can take upwards of 8 hours).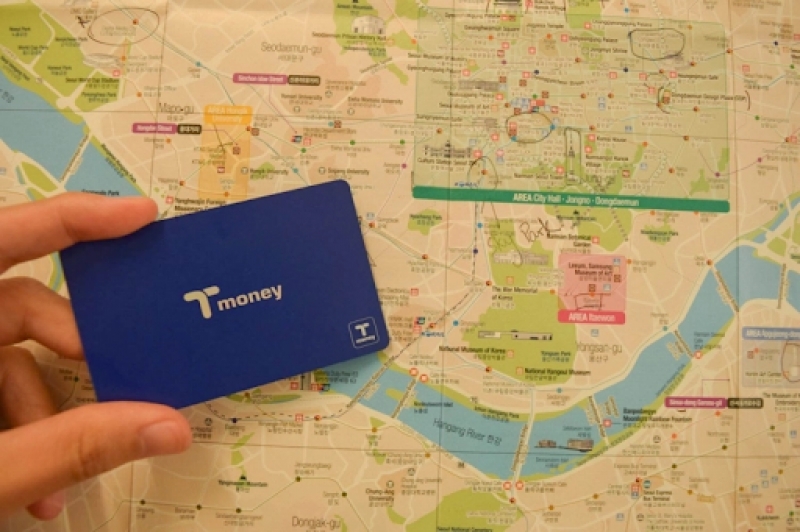 There are no trains or subways on Jeju Island, so your only mode of public transport is the buses. If you have a T-Money Transport card, these buses will be your best friend for hopping between different locations. Don't worry, there's signage in English so as long as you know where you need to hop off, you'll be fine. You could also rent a car if you prefer travelling more privately.
If you plan to drive, make sure you have a valid Malaysian driving license and an international license before you arrive. Do take note that Koreans drive on the right lane. The cost of renting a car is around 33,000 KRW (RM125) daily. If you're wondering how you should approach renting a car on Jeju Island, check out this article for some useful tips!
If you don't feel like driving or taking the public bus, the next best thing is to book a taxi tour. The average rate starts from 150,000 KRW (RM 554) per day for an 8-hour tour.
Accommodation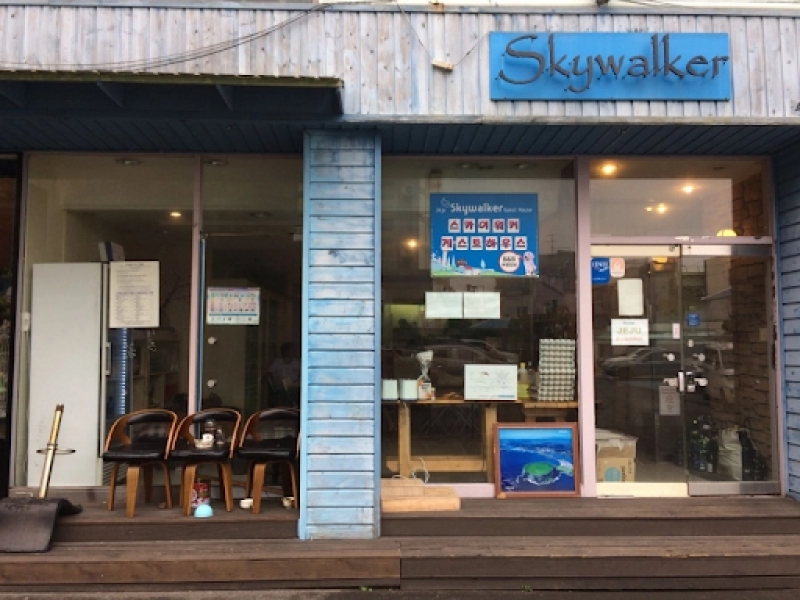 Jeju Island has a wide range of accommodation options ranging from hotels, guesthouses, and cosy hostels to choose from. To find your lodging options, it's important to first know that Jeju Island is divided into three parts: Jeju City, Seogwipo City and Udo.
I recommend staying in Seogwipo City as it provides easy access to most of Jeju Island's top attractions. Some options I can recommend are Mido Hostel, Jeju Hikinginn & Gudeok Guesthouse and DolDam Guesthouse. However, even if you can't find accommodation here, it's alright to stay in Jeju City or even Udo as it probably won't take you too long to travel between places in Jeju Island given its size.
The cost of low-range lodging such as dorm beds in hostels starts from 18,000 KRW (RM66) per night while the cost of mid to high-range lodging starts from 50,000 KRW (RM 185) to 190,000 KRW (RM700) per night.
Day 1: Manjanggul Cave → Udo → Seongsan Ilchulbong Peak → Seopjikoji 

→
Dongmun Market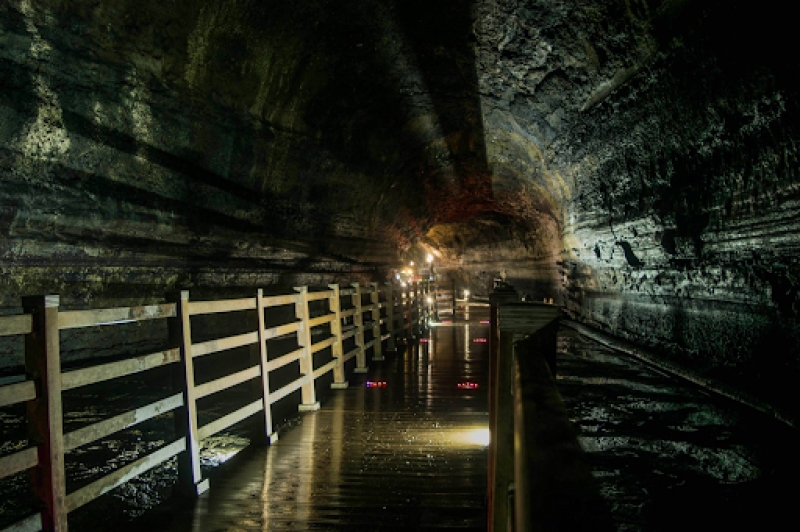 Start out early in the day by visiting Manjanggul Cave, the most famous cave within the Geomun Oreum Lava Tube System, a UNESCO World Heritage site. The tube, which is actually the inside of a lava flow, was formed from volcanic activities 2 million years ago and it stretches from the north to the east coast of Jeju Island.
However, take note that only a kilometre of this cave is open to tourists, so you probably won't spend more than 2 hours admiring the beauty of this cave. One thing that I sorely learned is that the temperature within the cave is much lower than the outside. So make sure to bring along a jacket when you visit! Also, the cave can get a little bit slippery due to condensation, so tread carefully! Admission Fee is 2,000 KRW (RM7).
On your way back to the main road from Manjanggul Caves, you'll pass by the Gimnyeong Maze Park. Here, you can shop for some souvenirs (hallabong-flavoured chocolate is the bomb) or try your luck navigating the maze. Just make sure the one giving you instructions isn't directionally challenged or you might be here for a long time!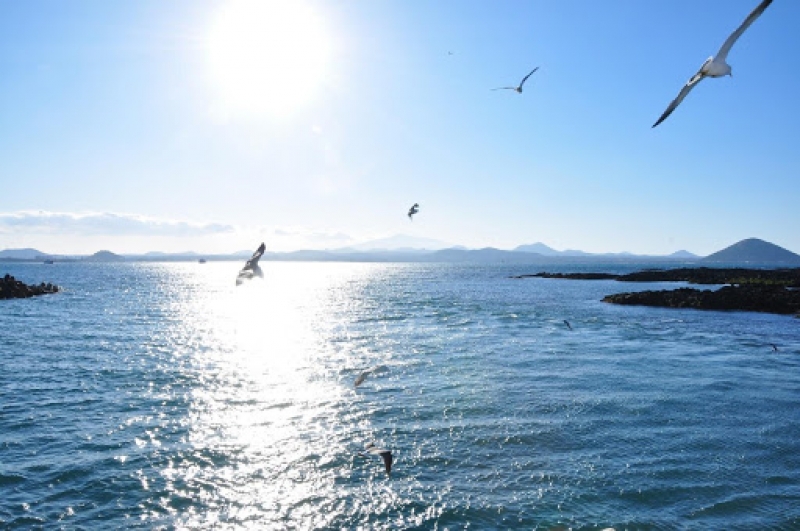 Next, let's head to this charming little island that is situated just a little bit off the coast of Jeju Island! Because who doesn't like islands? To get to Udo Island, you'll need to board a ferry. This will cost you roughly 30,000 KRW (RM110) for a round trip.
Udo Island is known as 'Peanut Island' for its huge production of peanuts. Expect peanut gelato, fermented peanut ice-cream, peanut lattes, and even peanut-topped burgers hot dogs. Well, I bet you weren't expecting this itinerary to get this nutty, right?
If you have peanut allergies, don't fret, because Udo Island is also famous for its seafood and fresh sashimi. So, stuff your face during lunch with these unique dishes and stroll or drive around the island to enjoy the scenic coastal views.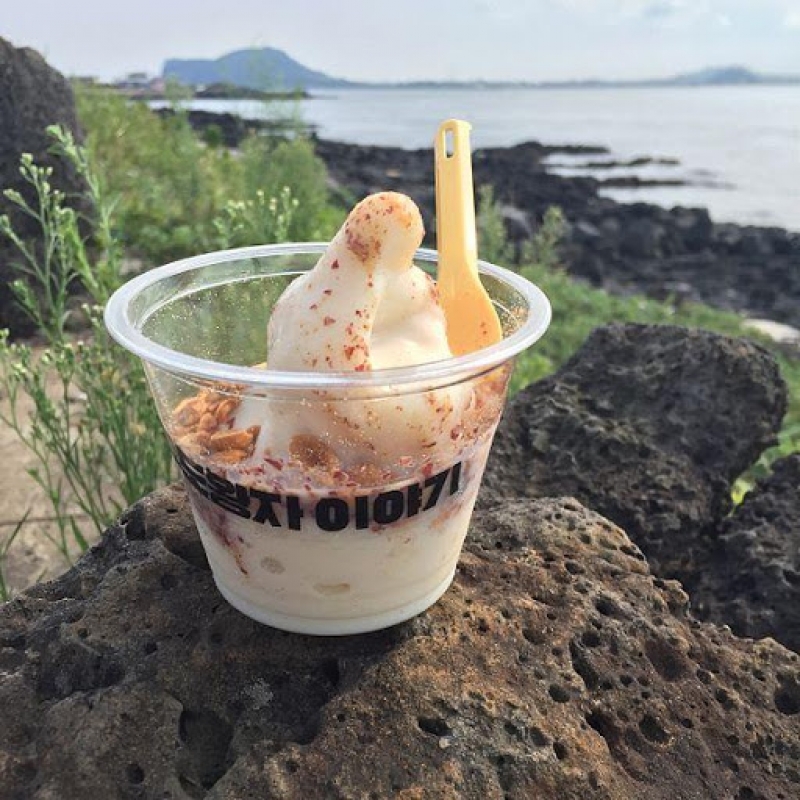 You can always rent an electric bike at 15,000 KRW (RM55) for 2 hours. Don't forget to visit Seobin Baeksa (also known as 'Popcorn Beach') for its turquoise water and unique popcorn-shaped sand, the only one of its kind in South Korea.
After our visit to Udo Island, it's time to head over to Seongsan Ilchulbong Peak. This is another one of Jeju's UNESCO World Heritage sites and also one of the accessible volcanoes on Jeju Island. It has a huge crater at the top which offers some truly spectacular views.
The 45-minute hike is steep and tiring but the view you get is unforgettable. The admission fee is 2,000 KRW (RM7) and you can opt for additional activities such as boating and horse-riding. If you're lucky, you might even get to witness the performance of the UNESCO Intangible Cultural Heritage of Haenyeo (female divers), scheduled at 1.30 p.m. and 3 p.m. daily. Alternatively, you can visit this location early in the morning to catch an awe-inspiring sunrise too!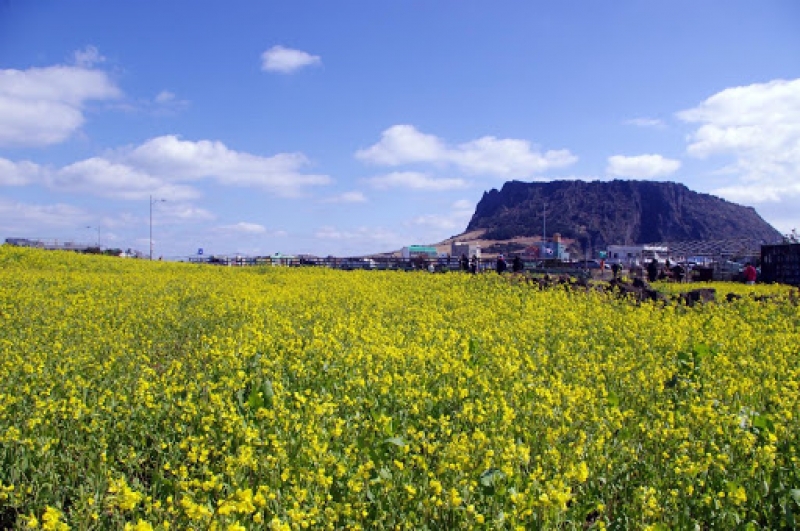 Next, drop by the beautiful Seopjikoji to visit the filming location of "All In", a Korean drama that most K-drama lovers will be familiar with. Have one last relaxing stroll in this vast green field surrounded by stonewalls before heading back for dinner and some free time.
Seopjikoji, which is open 24 hours a day and offers free admission, is especially magical in April when the bright yellow rapeseed flower fields bloom. With its coastal views, a lighthouse by the cliffs and the stunning backdrop of Seongsan Ilchulbong, this is the perfect location to end your first full day on Jeju Island.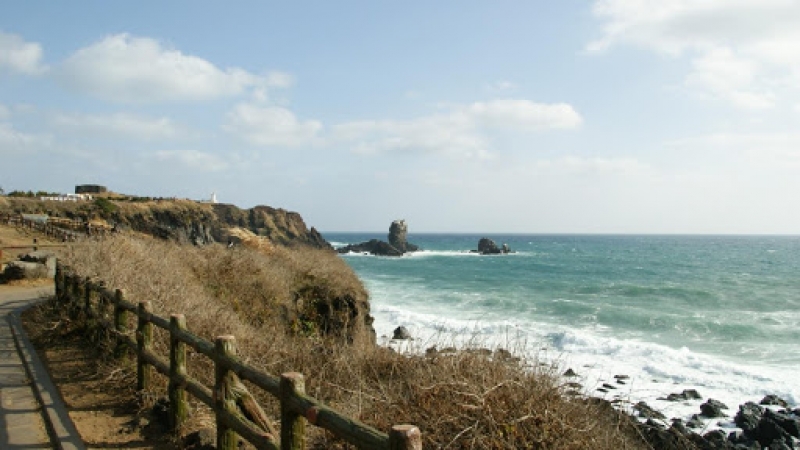 At night, I highly recommend visiting Dongmun market for some awesome street food. Apart from that, this is also the place to shop for souvenirs to bring home for loved ones. You can find carvings made from volcanic rock, hallabong-flavoured chocolate, and even some quirky t-shirts and socks. Take the time to stroll around and also soak in the local atmosphere while you're at it before returning to your accommodation for the night.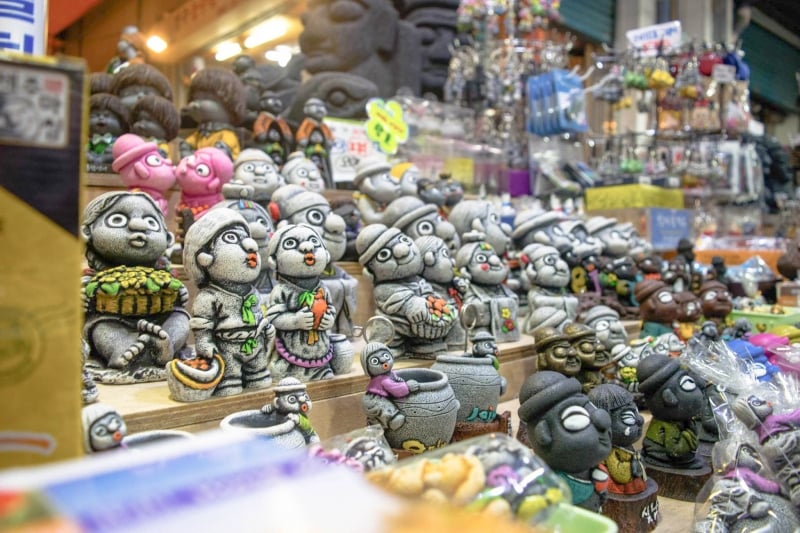 Day 2: Jeongbang Waterfall → Seafood Lunch → Jusangjeolli Cliff → Teddy Bear Museum/ O'Sulloc Tea Museum → Camellia Hill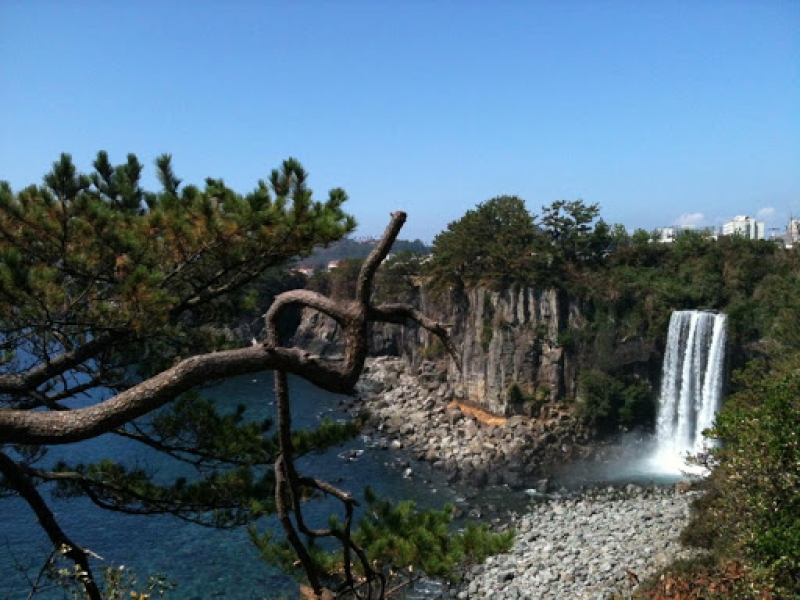 After a hearty breakfast (there should be no trouble finding a breakfast place in Seogwipo), it's time to head to the Jeongbang Waterfall. The admission fee is 2,000 KRW (RM7). Jeongbang Waterfall is supposedly the only waterfall in Asia that cascades directly into the ocean, separated by only a wall of rocks.
There are a few trails leading to many smaller waterfalls so if you want to spend more time here, lace up your best hiking boots! Or if you're still sore from yesterday's walking, simply relax and admire the scenery before you as you bask in the thunderous sound of the gushing waters.
Before you head for lunch, stop by Jusangjeolli Cliff to witness Jeju's impressive formation of black volcanic stone cliffs. The cliffs were formed when Mount Hallasan erupted and lava spewed into the sea off Jungmun Beach.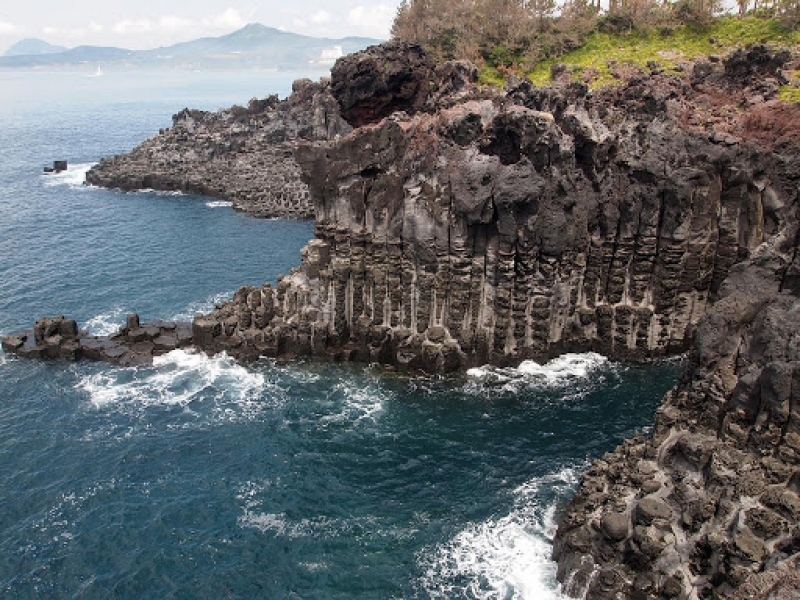 Thanks to the layered charm of the cliffs surrounded by rough sea waves, this attraction is surely one not to be missed. It does, after all, offer some of the most picturesque views in the whole of Jeju Island! As is the case with Jeongbang Waterfall, the admission fee is 2,000 KRW (RM 7).
To taste the best of Jeju Island's cuisine, I highly recommend heading to Jeju Osung Traditional Restaurant for lunch. This eatery is located just a few kilometers away from  Jusangjeolli Cliff. Boasting a wide array of freshly caught seafood, this restaurant is the perfect place to sample authentic dishes from Jeju Island. Make sure you don't leave without at least trying out the seafood!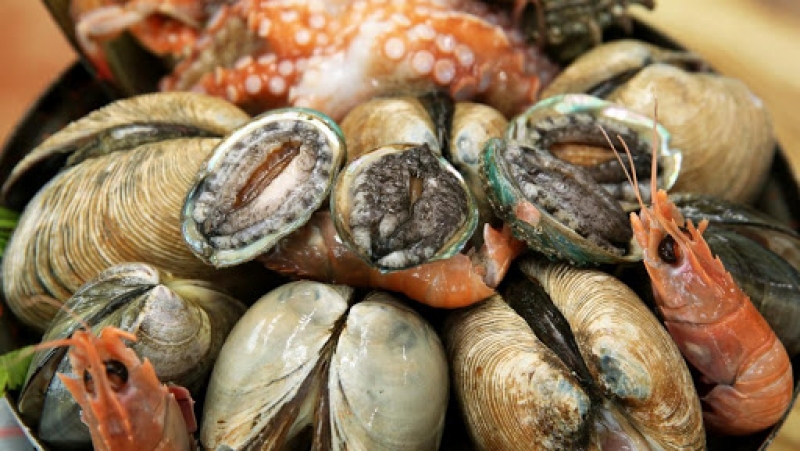 Next, it's time to visit the Jeju Teddy Bear Museum, the world's largest of its kind.  If you love teddy bears or if you are travelling with kids, this one's for you. The museum, which is also one of the shooting locations for the popular Korean drama, Princess Hours, houses a vast collection of teddy bears from all over the world.
Apart from admiring the well thought-out exhibits, you can also learn about the quirky history behind some of the dolls. Admission fee is 10,000 KRW (RM37).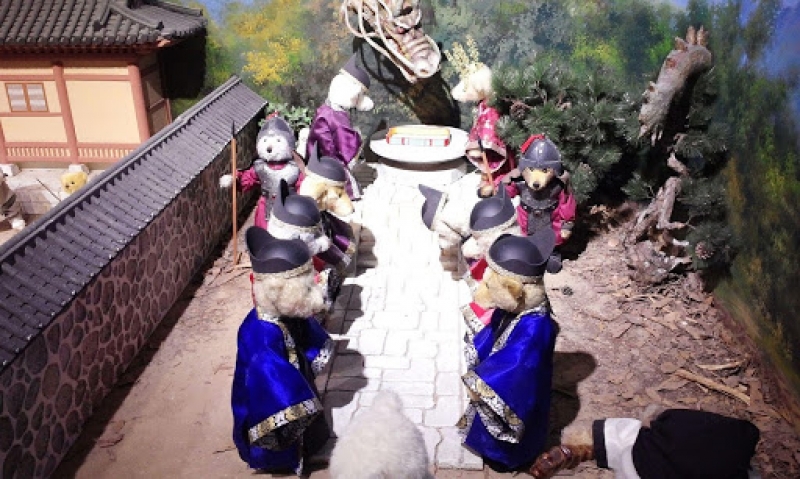 If bears are not your thing, you can opt to visit the O'Sulloc Tea Museum (free admission) instead to understand South Korea's rich history of tea culture. The museum, which is also attached to a tea farm, is another must-visit attraction on Jeju Island.
What's more, thanks to it being located in one of the most ideal regions in the world for tea cultivation, the tea farm produces some of the finest tea leaves around. You really should sample some of the brews at the onsite cafe before you leave.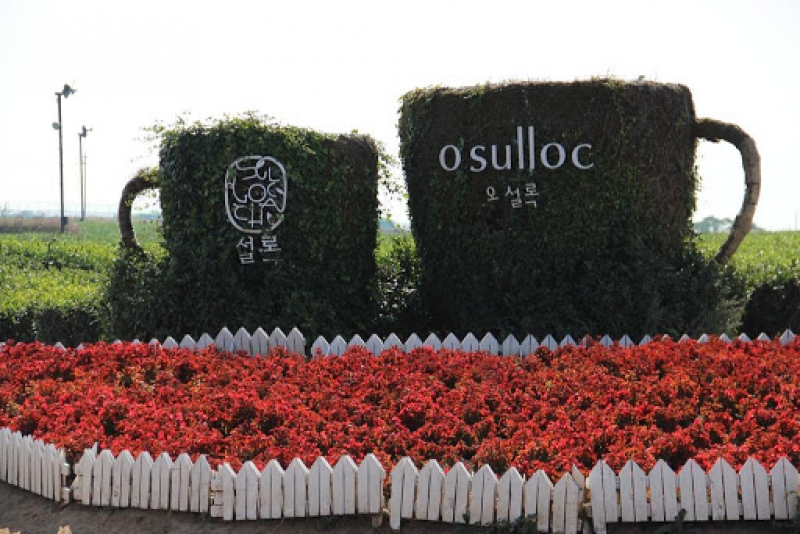 Before we call it a day, let's head to Jeju Camellia Hill and witness the beauty of the Korean camellia flower, "Dongbaek". Jeju Camellia Hill is the largest Camellia arboretum in East Asia. The best time to visit is either during the winter or early spring seasons (From January till March).
You'll see a 172,000-square meter forest with 500 different species of camellia flowers. These are scattered across different areas such as Photo Zones, the Glass Conservatory and Light Bulb Forest Path. The admission fee is 8,000 KRW (RM 30).
Before heading back for dinner, you might wanna take the chance to visit a beach too and catch the sunset. Some of the most popular beaches on Jeju Island are Hyeopjae Beach, Hamdeok Beach, and Gwakji Beach. While all three beaches provide pristine views, my favourite is Hyeojae Beach. You'll know why the moment you step foot on the sandy beach there!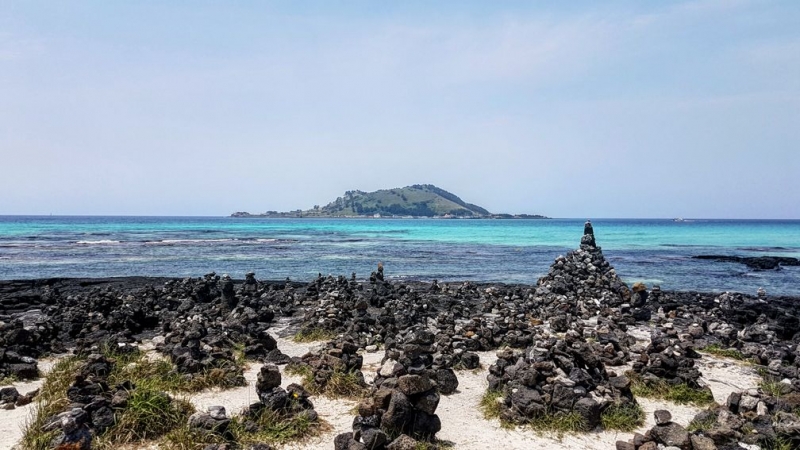 Day 3: Mount Hallasan → Black Pork BBQ Lunch→ Jeju Love Land → Mysterious Road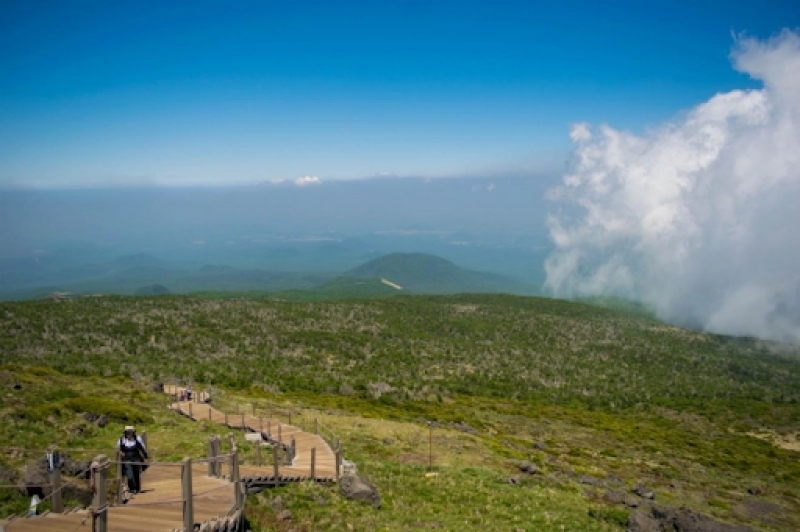 Today, we're going to visit Jeju Island's final UNESCO World Heritage Site: Mount Hallasan. Mount Hallasan It is a dormant volcano located on the centre of Jeju Island. As mentioned earlier, it is the tallest mountain in South Korea at 1,950 metres above sea level.
Hiking to the summit rewards you with breathtaking views of the crater and allows you to walk among the clouds. The hike to the summit is easy on the eye, with beautiful flora and fauna and verdant greenery all around. There are different trails to choose from of varying difficulty.
Due to our relatively limited time here, I recommend taking the shortest trail, Eoseungsaengak Trail. This particular trail takes only a maximum of 3 hours to complete (two-way). The easy path is perfect for beginners and although it doesn't reach to the summit, the view is still breathtaking.
However, to enjoy the full experience at the summit, you'll have to pick either the Gwaneumsa Trail or the Seongpanak Trail. Both of these trails will take at least 10 hours to complete (return trip).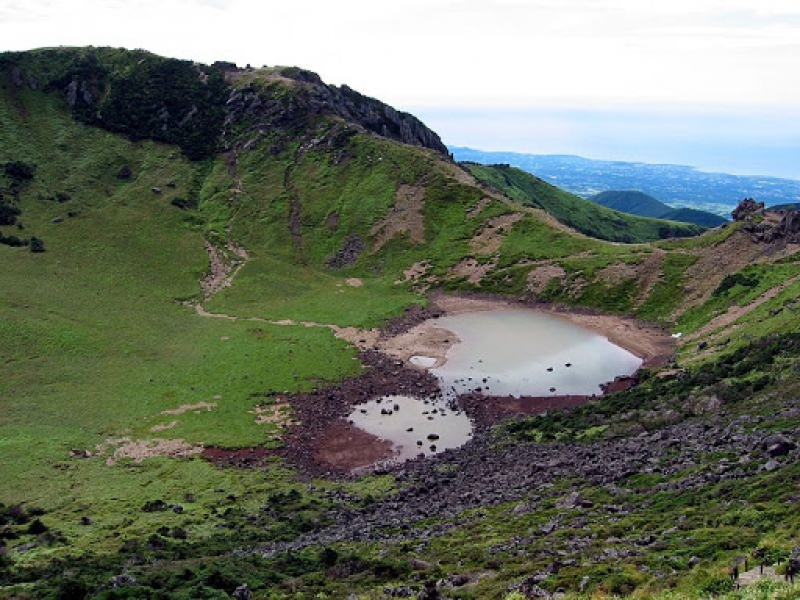 For these trails, you'll have to set out early as there are certain cut-off times. This is more so the case if you're hiking in the winter. While Hallasan turns into a surreal wonderland blanketed by fresh snow, the paths become more slippery and hence, the cut-off time to prevent hikers climbing down in the dark. 
If you're interested to know more about hiking Hallasan, check out this personal account by one of our editors!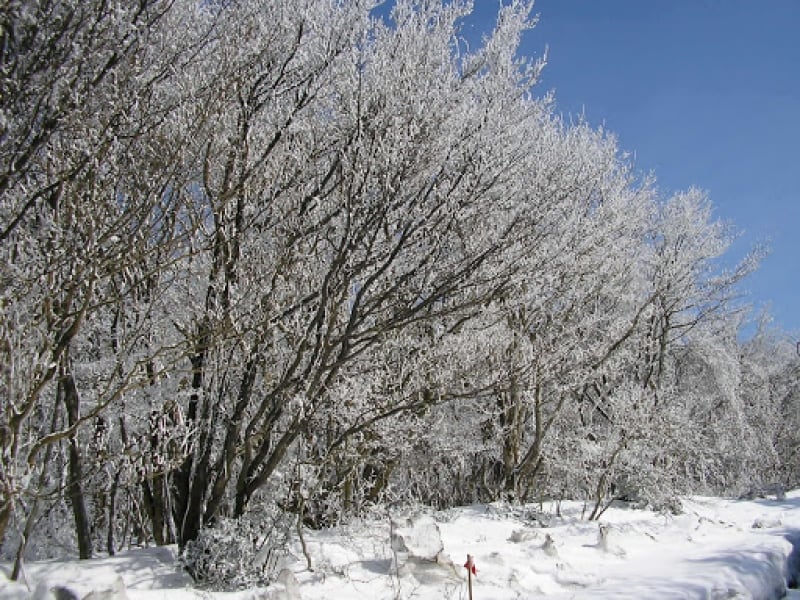 After all that hiking, head to Hwaro Hyang to savour another must-try specialty of Jeju Island: Black Pork. Black pig is a special breed on Jeju Island. It is a smallish pig with a black skin and smooth coat of hair. Black pork is such a popular delicacy here that there's even a place called Black Pork Street.
Hwaro Hyang is located in the middle of that street and serves a sumptuous Korean-style black pork barbecue. The proper way to savour them is to tuck the grilled meat within lettuce wraps and garnish with Korean condiments.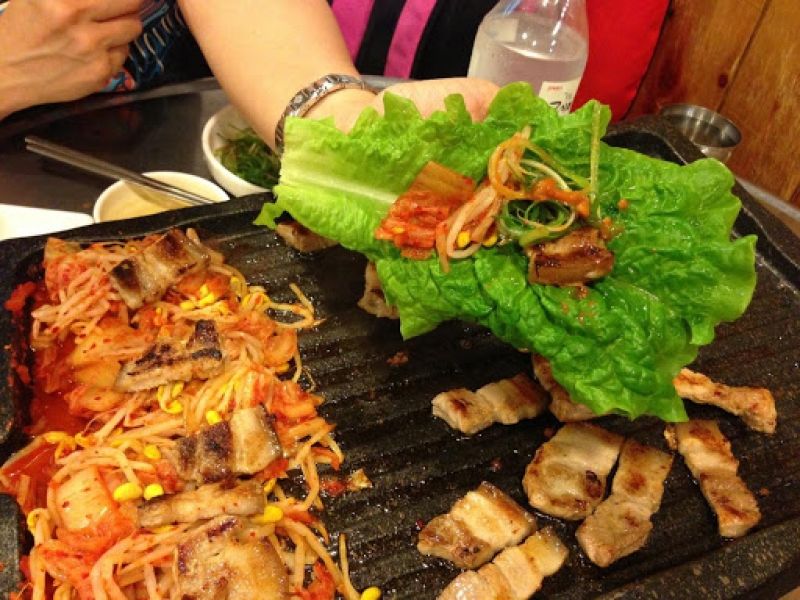 Before heading to the airport for your flight back, consider popping by the famous erotic outdoor sculpture park, Loveland. The park was created by graduates of Seoul's Hongik University to open up discussions about sex within the conservative community of South Korea.
With a total of 140 installations, you need roughly an hour around the park to admire them all. If you're travelling with children, there is a dedicated play area for them while the adults visit the NSFW exhibits. The admission fee is 12,000 KRW (RM45) and only people aged 18 and above are allowed to enter.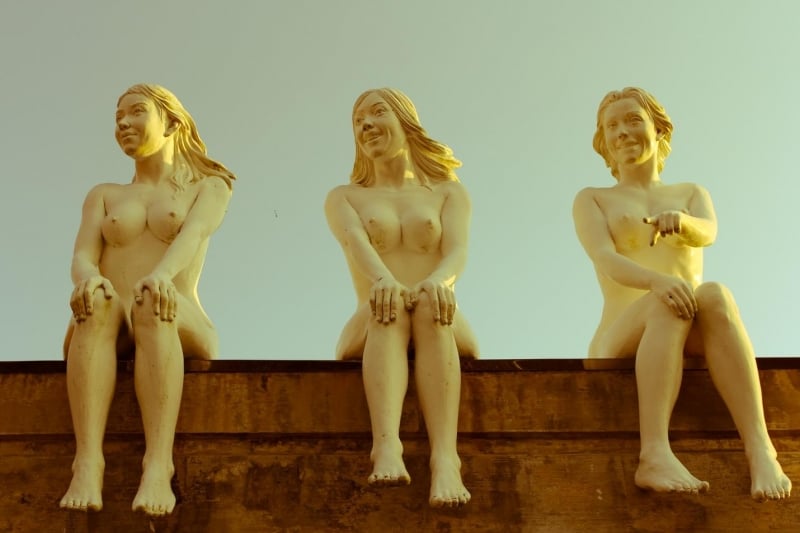 A few meters from the park is another must-see attraction, ominously named the Mysterious Road (Dokkaebi Road). If you're driving, you can experience a rare phenomenon that would blow the mind of even Dr. Sheldon Cooper (bazinga!). On this 200-meter stretch of road, your car will move uphill even though the road actually seems to lead downwards. You'll see tourists pouring water or putting bottles on the road to observe the direction of the flow.
While this place seems to defy gravity, it's actually just an incredible optical illusion. So now, you won't be able to discover the secrets of flying here. Sorry 'bout that. Speaking of flying, it's finally time to head to the airport and catch your flight out of Jeju Island. Hey, chin up, we can come back again next time!
Hidden gem of Asia
And there you have it, a 3D2N adventure on the volcanic island of Jeju! Now that you have an idea of Jeju Island has to offer, it's time to experience the magic for yourself! Hopefully, our carefully-crafted itinerary will go a long way in helping you plot your own memorable journey!
Also read: Top 15 Things To Do On Jeju Island For Malaysians