After staying home for more than a year, I've come to an honest realisation: home organisers are so underrated. Don't get me wrong, my house isn't necessarily dirty. It's just that I have so much stuff strewn all over the place. From my work desk to my wardrobe, and especially my kitchen, everything just seems to be everywhere all at once!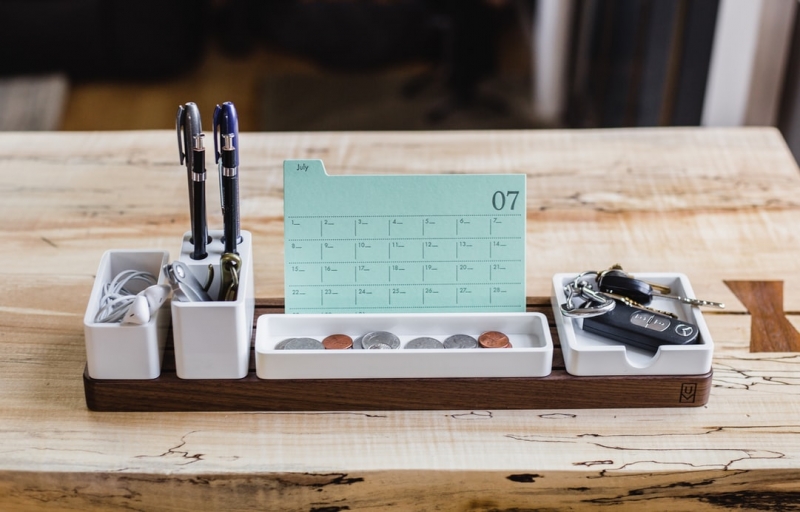 However, lately, I've been into getting into the habit of decluttering my spaces. And no, I don't mean just throwing everything out like Marie Kondo. Instead, I'm focusing on making good use of whatever space I have. Stacking shelves, rearranging my desk, that sort of thing. That's when I discovered the absolute joy of working with home organisers (as in the tools and racks)! 
If like me, have a habit of making a mess of your living spaces, then this article is for you. Here are some of the best home organisers to help you declutter your house and rediscover the spaces in your home you forgot you even had!  
Also read: How to Build Your Own Home Gym For Less Than RM1,000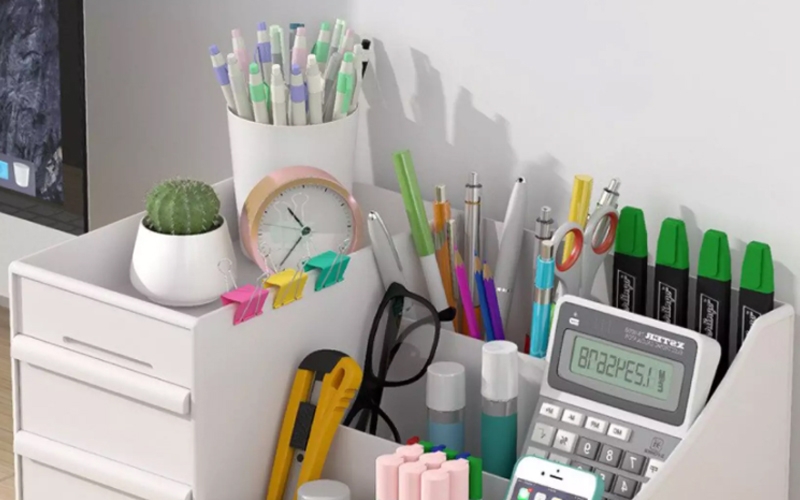 Ever since working from home, my work desk has become an absolute disaster zone. Pens, sticky notes, paper clips, notebooks, chargers…it's all just strewn across the table. With a nifty tabletop organiser like this one, you can quickly organise your desk and save space in the process. 
It has several little drawers to store loose items like USBs while the larger compartments can be used to keep your stationery neatly. You can even place a decorative item on the top to brighten up your workspace! 
You can check it out here.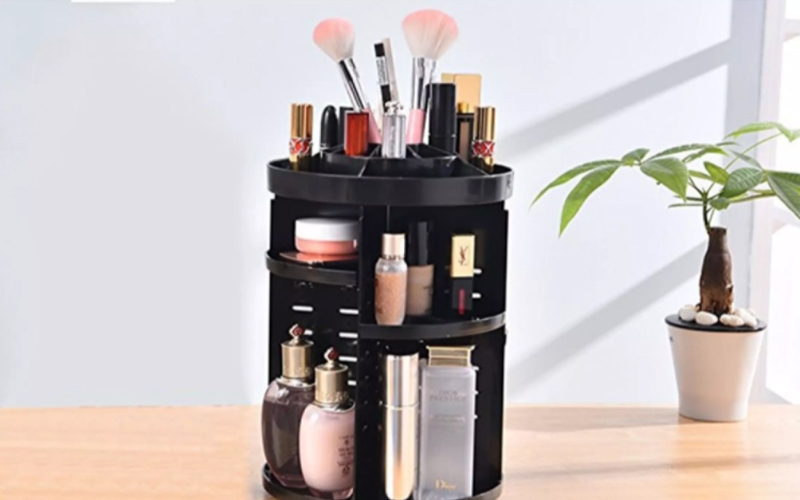 Speaking of untidy desks, I'm sure many will agree that a dressing table can also be quite cluttered, especially if you have tons of makeup items with no proper place to store them. Ladies, tell me if I'm wrong. Most of the time, it takes a while to get your makeup done because you spend half the time looking for the right item, right?
Well, with a cosmetic storage rack like this, all your problems will be solved! This multi-tiered rack is the perfect place to neatly store your makeup items. From lipsticks to eyeliners to things most men don't even know how to use, you can easily save space on the dressing table by storing your makeup essentials in the rack. It's even got a 360° rotating base, which gives you even better accessibility. How convenient! 
Check out this handy storage rack here.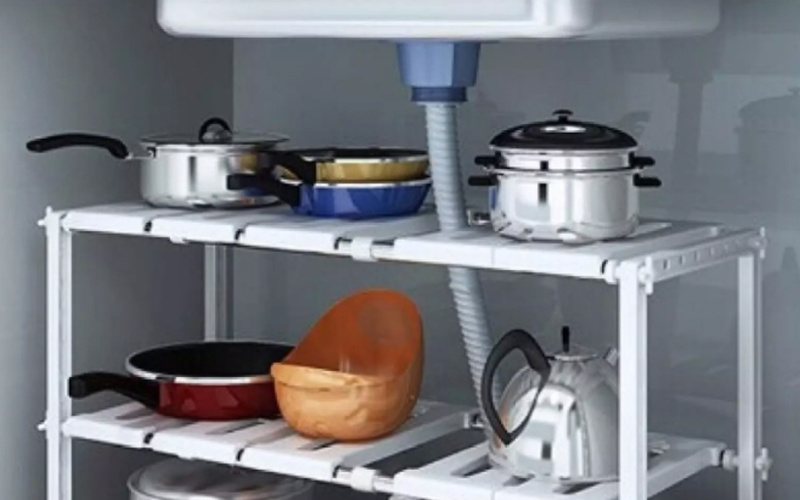 I love to cook but sometimes, after washing up all the pots and pans, I just leave them wherever there's space in the kitchen. Yes, yes, I know, it's a bit lazy. But because of the limited space, I often just stack them up on top of each other, resulting in a clumsy pile of pots and pans. 
This ergonomic kitchen organiser changes that. It's a multi-tier rack that is specifically built to store your pots, pans, and other kitchen appliances. What I like best is that the shelves are adjustable. So, if you want to keep this rack under your kitchen sink, you can. Best of all, it's portable size makes it super easy to set up and move too! 
Click here to check out this expandable kitchen rack!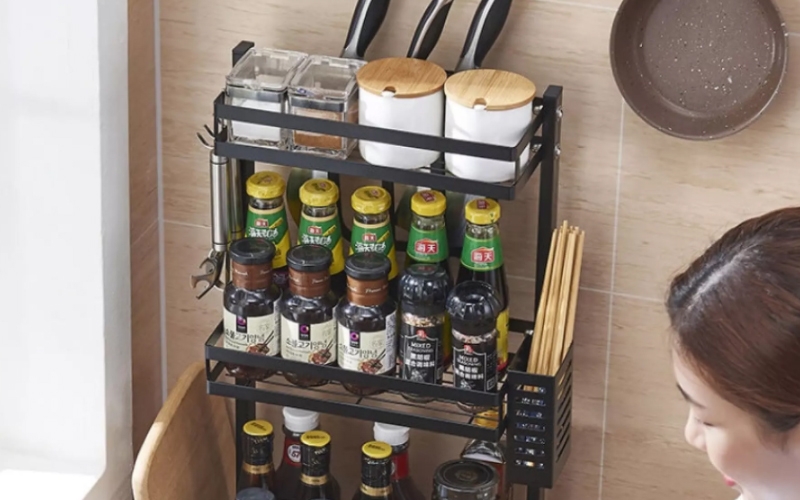 Now that you've got your pots and pans sorted, it's time to sort out your utensils. This means your spatulas, your knives, your cutting boards, and more. Yes, to be honest, you CAN lump all of these things together in a pile and call it a day. But if you want to be tidy, check out this multi-functional stainless steel rack. 
Not only does this multi-tiered storage rack come with specialised compartments for your chopping board and chopsticks, but it can also be used to store your knives and common condiments. This makes cooking and tidying up afterwards an absolute breeze!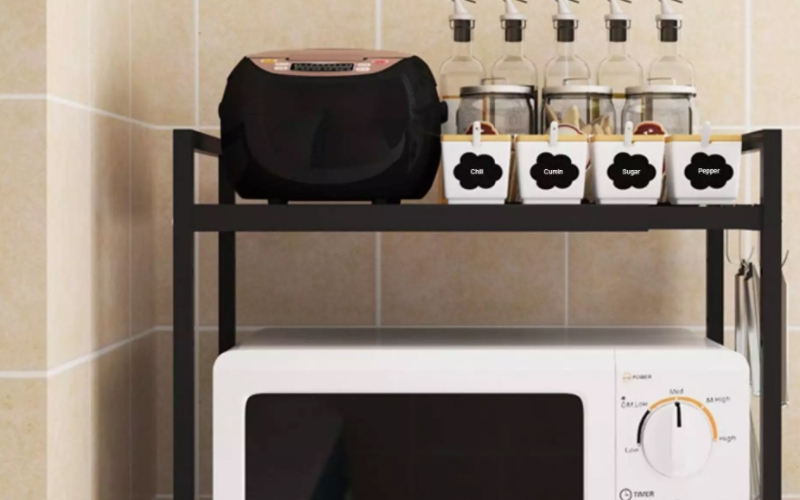 Alternatively, you can check out this storage rack that is designed to satisfyingly fit above most conventional microwave ovens! If you really want to maximise your space, this one seems to be a real bargain deal!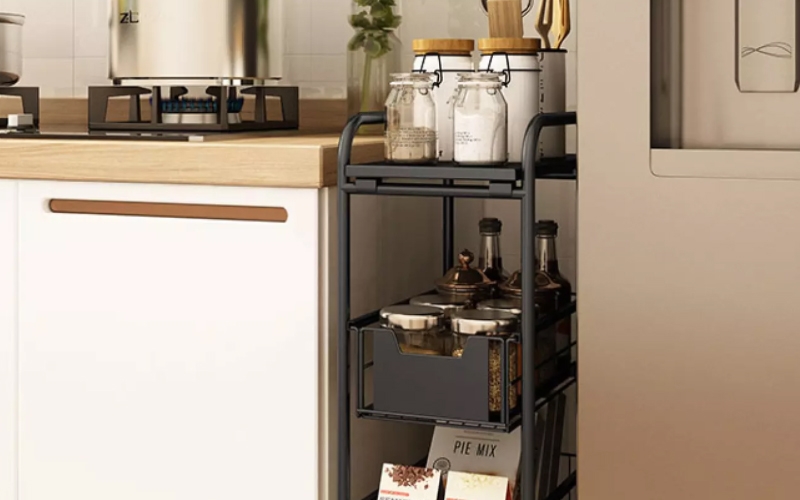 If you want to save even MORE space, check out this awesome kitchen storage rack on wheels! Built to be able to fit into narrow spaces, this multi-tiered rack can be used to store condiments, cooking ingredients, utensils, and even some fresh produce that don't need to be refrigerated. 
It's made of carbon steel so it's super durable. And, it can be easily moved around thanks to its rotational wheels. If you need anything, simply pull out the compartment the same way you'd open a cabinet at the office. Super convenient and space-saving! In fact, I just ordered one yesterday! #DoNotJudgeMe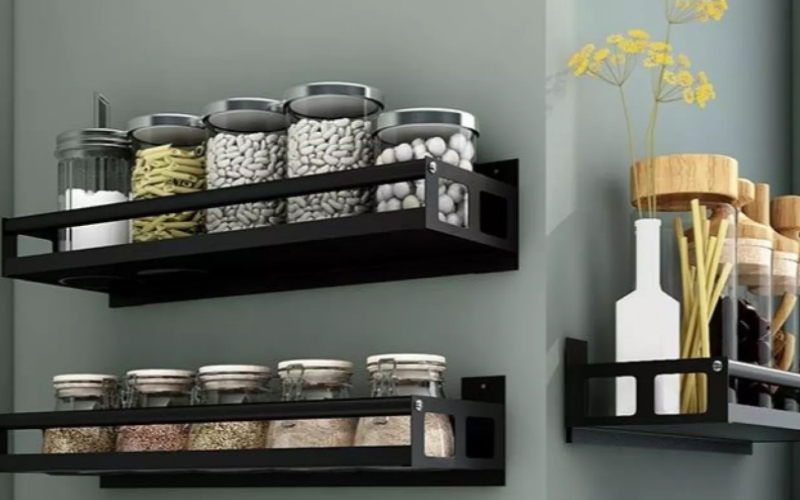 I've always wanted a nice spice rack! I cook with spices all the time: Paprika, dried thyme, oregano…I have so many spice bottles that I sometimes misplace one or two. With this useful spice rack, I can easily organise my collection AND save space by mounting the rack on the wall!
The best part about this spice rack is that it is punch-free. This means that you do not need to drill a hole just to install it. Instead, all you need to do is to apply super glue to the base, let it dry over 24 – 48 hours, and simply install the rest of the rack. This minimalistic rack looks super stylish AND it's easy to install. What's not to like?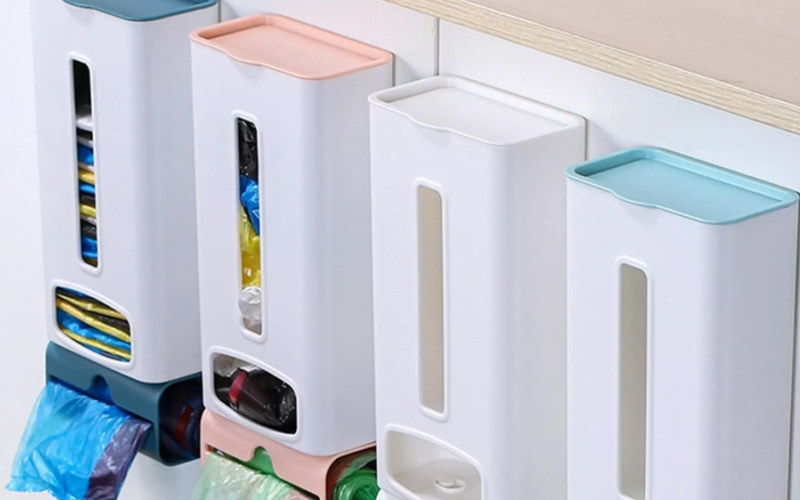 Yes, I know, we should use less plastic. And I try to do that as much as I can. The only plastic I regularly use is for garbage disposal, and even then I try to maximise each sheet. Problem is, I usually just leave the bags on the table. It's not hurting anyone but it CAN be an eyesore sometimes. 
If you want to neatly store your plastic bags, just buy these plastic bag dispensers. Simply stuff your plastic bags into them and pull them out from the opening (like a tissue paper dispenser) when you need them. Saves space and makes taking out the trash feel JUST a little more luxurious! 
You can buy them here!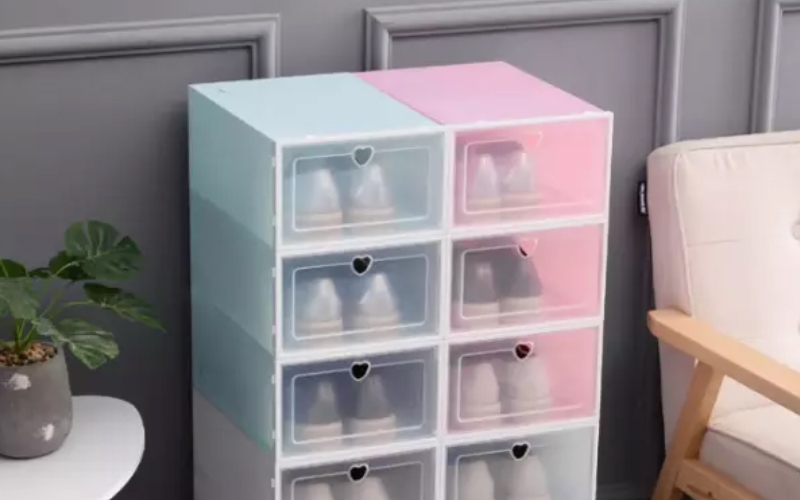 Okay, I'll be honest, I don't really own that many pairs of shoes. Yes, I like to buy the occasional new pair of sneakers once in a while, I don't usually go on a shopping spree. Even then though, my shoe cabinet is a bit of a mess. Mainly because I open the cabinet, I chuck my shoes into it, and I shut it. It's basically just hiding my mess from the outside world. 
With these stylish and portable transparent shoe storage boxes though, I can store each pair of shoes in individual boxes. I can retrieve whichever pair I want without wasting time looking for them. Plus, the boxes are stackable which, again, helps you save plenty of space in your house! AND, it comes in multiple colours so that's an extra bonus!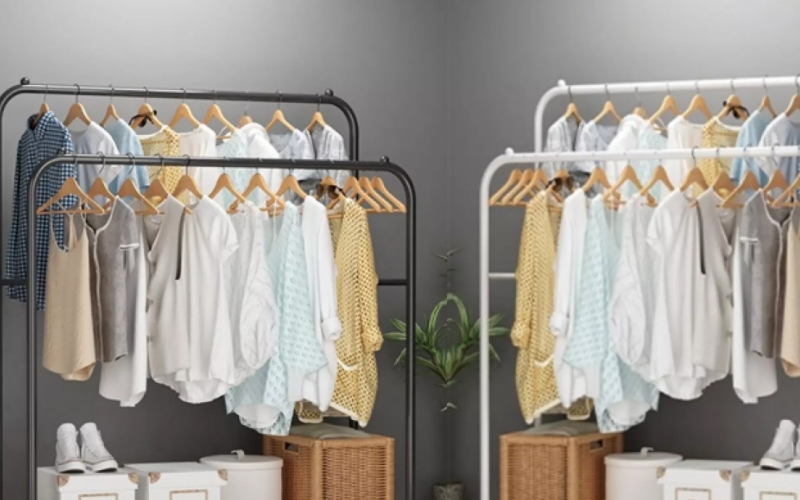 One problem I DO have though is my wardrobe/closet. Again, I don't often go on a shopping spree to buy a lot of clothes. My problem is that I very rarely get rid of old ones. So, the inside of my wardrobe looks a lot like my social life: Messed up, disorganised, and looking at it sometimes makes me want to cry. 
This simple but sturdy laundry rack allows me to store my most frequently used clothes, in addition to other accessories and even shoes. So instead of diving into a pile of clothes, I can pick out what I need in a jiffy. Alternatively, this multi-tiered coat rack works too! You can even hang up your bags and hats on it!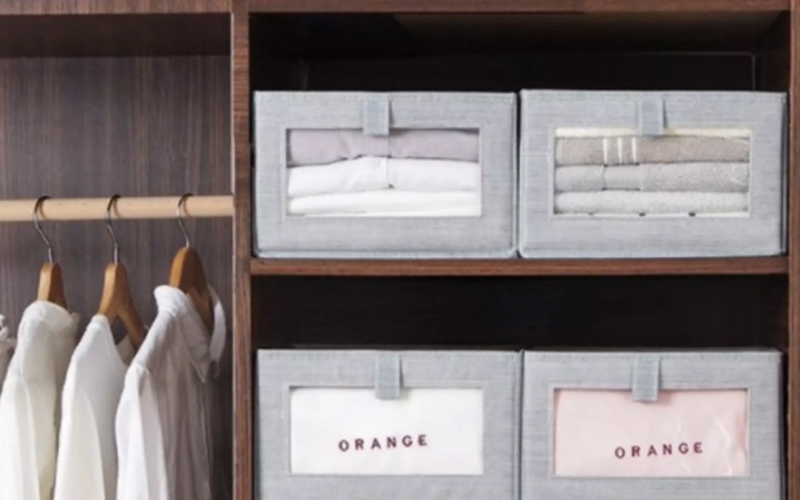 If you want to declutter the inside of your wardrobe, then check out these wardrobe storage boxes. Just two or three of these can help you organise and sort your wardrobe according to whatever category you want. Plus, they're portable so you can move them around any way you like!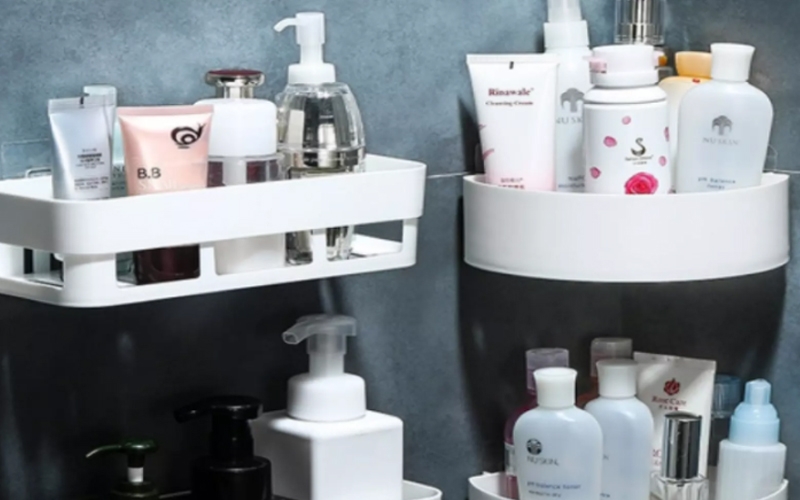 Finally, it's time to tidy up your bathroom. I never knew I needed an organiser for my bathroom until I came across this easy-to-install bathroom rack. In the past, I used to knock over the bottles of shampoo and body foam because I placed them anywhere I could find. 
However, with these racks, which you can simply stick to the wall, I no longer have that problem. They're super durable and can take on a respectable amount of weight. Plus, they come in different shapes and sizes, so you can definitely save space by buying one that fits your needs.
It's time to tidy up your house!
And there you have it: 10 awesome home organisers to help you declutter your house! Trust me, there's no better feeling when, after reorganising all your stuff, you discover that you actually have so much space in your home! Just…try not to use up that extra space by hoarding even MORE items!  
Also read: 11 Home Appliances You Can Buy Online To Make Staying At Home Less Stressful

Need to get some essential items without leaving the house? Stay safe and order your stuff online with Shopee! Check out their latest deals HERE!