Translated from: 2天1夜:下龙湾行程
When visiting Hanoi, Vietnam, one should never miss the opportunity to visit one of the seven natural wonders of the world: Halong Bay. Known as the "Little Guilin of Vietnam", Halong Bay is one of the top tourist destinations for breathtaking scenery. Not only can you admire the charming islands, the pristine beaches and the beautiful natural caves at Halong Bay, you can also learn more about the history of this lovely place.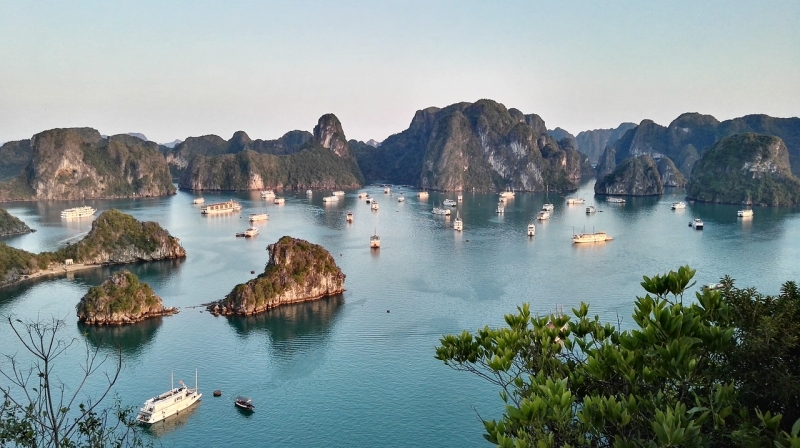 Halong Bay is often included as a 2D1N or 3D2N highlight as part of a trip to northern Vietnam. You can easily find various tour packages for Halong Bay around for you to choose from. Before heading there, make sure to look into the different cruises and the onboard activities and scenic stopovers available. There are various prices ranging from budget travel to high-end luxury, depending on the type of cruise and accompanying itinerary.
You can even purchase the tour packages from most local hotels in Hanoi. A 3-star cruise lasting 2 days and 1 night typically will set you back about RM380. The fare usually includes transport in Hanoi, meals, onboard activities and accommodation. As part of mose cruise packages, you get to enjoy activities like kayaking, night fishing, culinary workshops and more. All these help make your time in Halong Bay even more memorable.
Day one: Hanoi → Halong Bay → Lunch → Ti Top Island → Sung Sot Cave → Dinner → Fishing
In the morning, your guide will rendezvous with you  and you'll proceed to Tuan Chau Pier together. Once you've arrived at the pier, you'll sort out your luggage and enjoy a lovely lunch.
After boarding, you'll head to Halong Bay's most beautiful natural cave: Sung Sot Cave. Also known as the Surprising Cave or Amazing Cave, it is Halong Bay's largest grotto. This enigmatic natural sightseeing spot was formed by calcium carbonate precipitation. The rock formations pointing up are called stalagmites while those pointing down from the ceiling are stalactites.
There are also plenty of unique rock formations, including ones that resemble a turtle, a lion, and even the Goddess of Mercy. Making the cave even more mystical are the multi-coloured lights that run throughout the grotto. When the colours land on the stalactites, it creates a truly fantasy-like ambiance. It is also quite cooling in the grotto, making it an ideal place to escape the heat.
After that, head to the historical Titop Island. Supposedly, it was Vietnam's founding father, Ho Chih Minh, who named this island so. At Titop Island, visitors have a choice between frolicking leisurely in the water or hiking to the mountain top for an incredible view of Halong Bay.
The latter is the activity of choice in summer, when Halong Bay is at its most stunning. While it would take only about 20 minutes to complete, the trail to the top is steep and narrow, so proceed with caution. Make use of the ropes and support handles as you ascend the 427 steps. It may be a challenge, but it will all be worth it in the end. Trust me.
At night, you'll return to the cruise and sail to a more secluded spot on the bay. From the deck, you'll be able to enjoy an alluring sunset as you sip on some crisp wine and munch on fresh fruit. As you enjoy the soothing rays of the evening sun, don't forget to whip out your cameras and capture the moment!
Once the skies darken, you can make new friends over a hearty seafood dinner or simply unwind. Let yourself loose by enjoying some of the activities on board like games, fishing and karaoke. Most cruises don't sail during the night in Halong Bay, giving you ample opportunity to stargaze in one of the world's most beautiful heritage sites.
Day two: Breakfast → Kayaking → Pearl Farm → Vietnamese Cooking Class → Back to Hanoi
Rise and shine! After breakfast, you can choose to either go kayaking or to visit the floating pearl farm and village by the bay. If you go kayaking, you'll be able to explore Halong Bay's plethora of limestone caves and immerse yourself in the peaceful serenity of the surrounding natural scenery. As you paddle upon the wide open waters, let your soul be replenished by the lovely sights and fresh air.
At the floating pearl village, you'll be able to watch as oyster hunters from the village dive for pearls. You can also learn about the techniques required in producing high quality pearl jewellery. If you feel like getting some pearls of your own, this is the place to do it as well.
Once you feel like you've had enough of the great outdoors, return to the ship and sign up for a masterclass of Vietnamese cooking. You get to learn plenty of stuff, including how to make traditional Vietnamese spring rolls! After lunch, you'll be transported back to the old quarter of Hanoi and thus concludes your adventure on Halong Bay.
Without a doubt, Halong Bay is one of the must-see attractions in Vietnam, filled with unparalleled natural scenery and tranquil waters. If you feel that two days aren't enough to satiate your wanderlust,there are longer tour packages as well.
Cat Ba Island is another worthwhile destination. You'll easily be awestruck by the beauty of the natural park on the island. So, with so much to do, you should start planning your Halong Bay trip now! Don't miss out on this amazing haven of natural scenery!