Personal confession: I absolutely adore Korean food. Whether it's comfort food like kimchi jjigae and Korean fried chicken or something rustic like Korean BBQ or street food, there's just something about Korean food that just hits the spot every time.
Thanks to the rise of the Korean Wave, Korean food is readily available all over the world. That said, nothing beats an authentic Korean dining experience in South Korea, especially if you're visiting Gangwon Province. After all, it is one of the best places to sample traditional Korean cuisine.
If you consider yourself a connoisseur of Korean food, then you certainly must visit Gangwon Province. To start you off on your foodie adventure, here are eight iconic dishes that you have to try in Gangwon!
Travelling in a post-pandemic world is an experience many of us have never had to go through. However, one thing's for sure is that safety and hygiene will no doubt be important elements of any vacation post-2020. Thanks to the Clean Gangwon Campaign, you can explore Gangwon Province and sample its many culinary gems with absolute peace of mind!
Many eateries and tourist hotspots in Gangwon Province are classified as Gangwon Self-Clean Shops. These establishments regularly undergo sanitation and disinfection and also provide personal hygiene items like hand sanitisers. Check out this introduction of the Clean Gangwon Campaign and start planning your foodie trip there with ease of mind!
Chuncheon
Dakgalbi (spicy grilled chicken)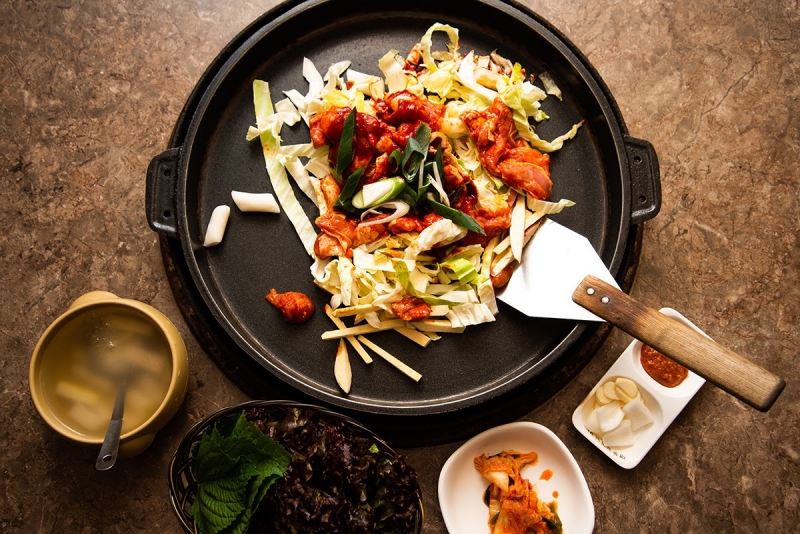 A classic Korean dish, Dakgalbi is basically chicken that is stir-fried on a large cast iron skillet. This gives it a smokey flavour profile. Dakgalbi usually comes with cabbage, rice cakes (tteok), and various vegetables that are stir fried together with the meat. 
However, the main star of the dish is the spicy sauce that's poured over the ingredients just before they are stir-fried. The sauce is a mixture of various spices, like chili peppers, garlic, and ginger. This gives it an enjoyable kick! At the end of the meal, to mop up any leftover ingredients, you can also stir fry rice, udon or ramyeon over the skillet.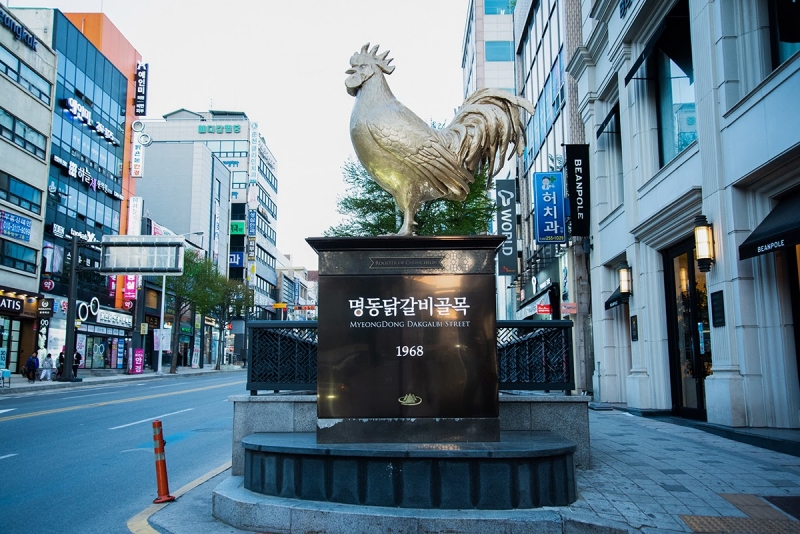 Fans of Korean food will no doubt recognise the taste of Dakgalbi and the appetising sound it makes as it cooks on the searing hot skillet. However, did you know that this famous dish actually originated in Gangwon Province in the 1960s? That's right, this wonderfully delicious dish originated from the humble capital of Gangwon, Chuncheon! 
The best place, arguably in the world, to sample this spicy, smokey, indulgent dish is in Chuncheon! Specifically, you'll want to start your Dakgalbi food hunt at Myeongdong Dakgalbi Street. As the name suggests, you'll find plenty of authentic Dakgalbi shops there. The only problem is settling on which one to eat at! 
Makguksu (cold buckwheat noodles)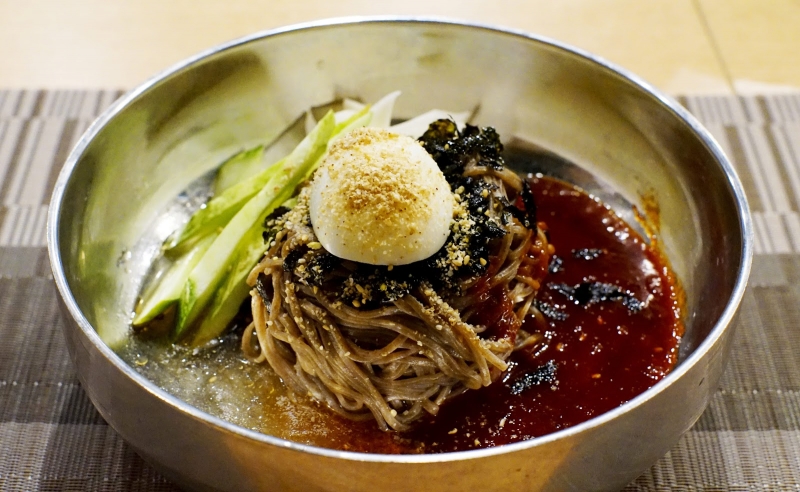 Another unique specialty dish of Chuncheon that often comes together with Dakgalbi is Makguksu. Basically, it is cold buckwheat noodles served in chilled broth. In Chuncheon, Makguksu usually comes with pickled radishes (cold, clear radish kimchi known as dongchimi), cucumbers, and a boiled egg to top it all off. Like most Korean dishes, Makguksu also has a spicy kick as it is served with a side of slightly spicy sauce. The main ingredients of the flavourful broth are beef broth and dongchimi soup.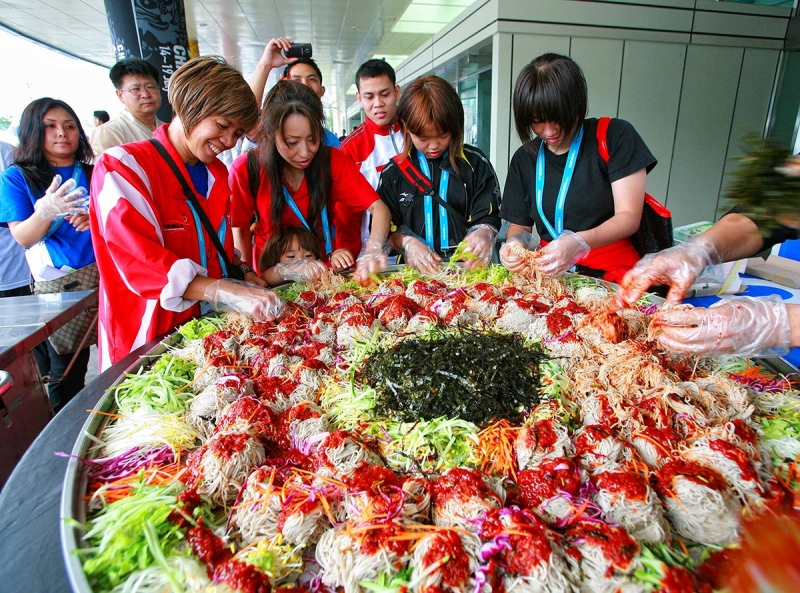 While you're in Chuncheon, why not try making your very own Makguksu? At the Makguksu Experience Museum, you can learn about the intricacies of preparing this dish and even get hands on and prepare your own Makguksu from scratch! It's a fun and memorable experience for sure. What's more, at the end of it all, you get to sample your very own creation too! 
Fun fact: Chuncheon loves Dakgalbi and Makguksu so much that they have an annual festival dedicated to the iconic dishes! Simply named the Chuncheon Dakgalbi & Makguksu Festival, visitors can sample different dishes by roaming around the many booths during this time! 
Also read: Destinations in Gangwon Province That K-drama Fans Will Adore!
Gangneung
Chodang Sundubu (soft tofu)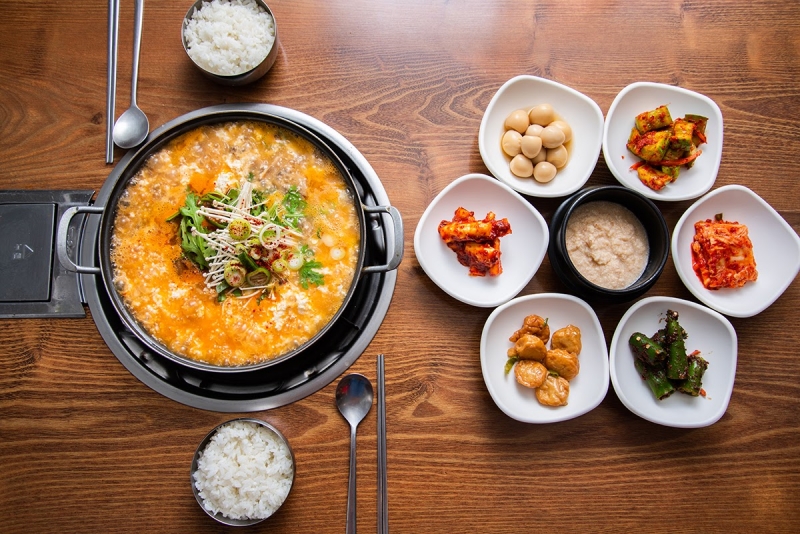 As we reluctantly move on from Chuncheon, we travel towards the coastal city of Gangneung. There, we'll be able to sample another one of the unique signature dishes of Gangwon Province: Chodang Sundubu. Some of you may already know that sundubu means soft tofu, so Chodang Sundubu is actually a special kind of tofu that originated from a village called Chodang. 
The village got its name from Chodang Heo Yeop, the father of Korean poets Heo Gyun and Heo Nanseolheon. When Chodang Heo Yeop was serving as a minister in Samcheok, he made tofu using the sea water of Gangneung. The tofu received rave reviews from the locals. As word of the delicious tofu spread, the village was given the name Chodang in commemoration of Heo Yeop's pen name! 
As mentioned, what makes Chodang Sundubu so special is the way the tofu is produced. Fresh soy beans are collected and squeezed to release soy milk. Seawater off the coast of Gangneung is then used to curdle the soy milk. The resulting tofu block is silky smooth and boasts an incredibly satisfying taste.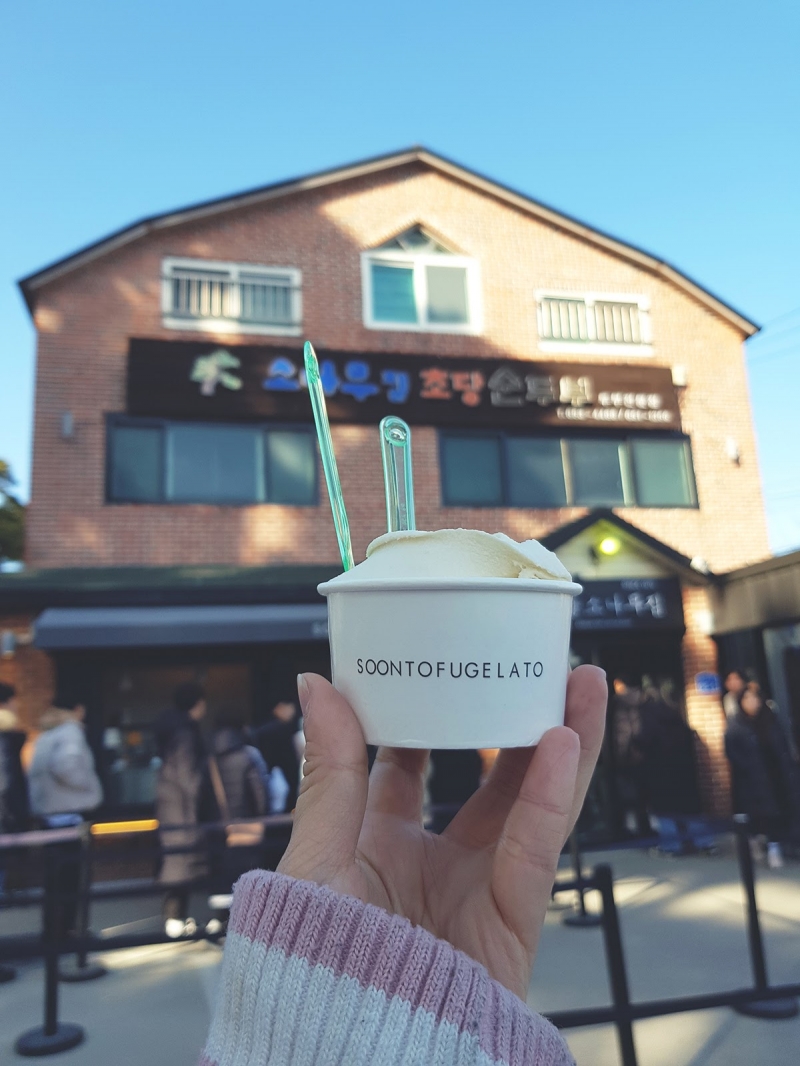 There are many ways to savour Chodang Sundubu but the best way is to simply order a tofu set meal. It usually comes with tofu stew, tofu slices and some side dishes like kimchi. The most popular location that even locals flock to to satisfy their Chodang Sundubu cravings is Chodang Sundubu Village. As you might have guessed, this is where a cluster of tofu restaurants are located. 
However, there is also a more unique way to savour Chodang Sundubu: as a dessert! Soontofu Gelato is a gelato shop that is a major hit among youngsters. As the name implies, it sells gelato that uses Chodang Sundubu as the base. While there are plenty of flavours to choose from, the best version is the original soft tofu gelato. Creamy yet light, it has the perfect mix of texture and flavour. 
Sokcho
Ojingeo Sundae (stuffed squid)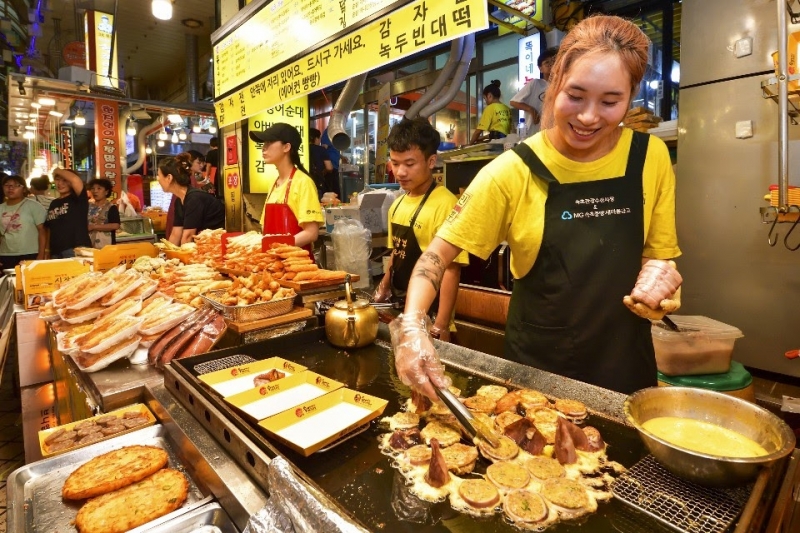 If you're into Korean street food, you'll most likely know that sundae in Korea isn't a dessert. Rather, it's a kind of sausage that's made using glutinous rice, meat, and pork blood. However, did you know that there are actually different types of sundae that vary depending on location? In Gangwon Province, especially in the coastal town of Sokcho, the sundae of choice is ojingeo (squid) sundae. 
Basically, instead of stuffing the filling into sausage casings or pig intestines, the ingredients (including squid tentacles) are stuffed into fresh squid and steamed to perfection. Sometimes, Ojingeo Sundae is lightly fried to give it an extra dimension of flavour and texture. The savoury filling and succulent fresh squid makes for the perfect combination and we'll guarantee that you'll keep coming back for more! 
The go-to place for Ojingeo Sundae is Abai Village, a fishing village located between Cheongchoho Lake and the East Sea. The village is steeped in history, having been founded during the Korean War by North Korean refugees from Hamgyeong Province. Today, many of the villagers are either the original founders of the village or their descendants. 
It was here where the villagers first introduced the locals to their hometown cuisine. When you visit the village, you can try a variation of Ojingeo Sundae called Abai Sundae, which is squid stuffed with a mixture of clear noodles, tofu, vegetables, and squid.
Fried seafood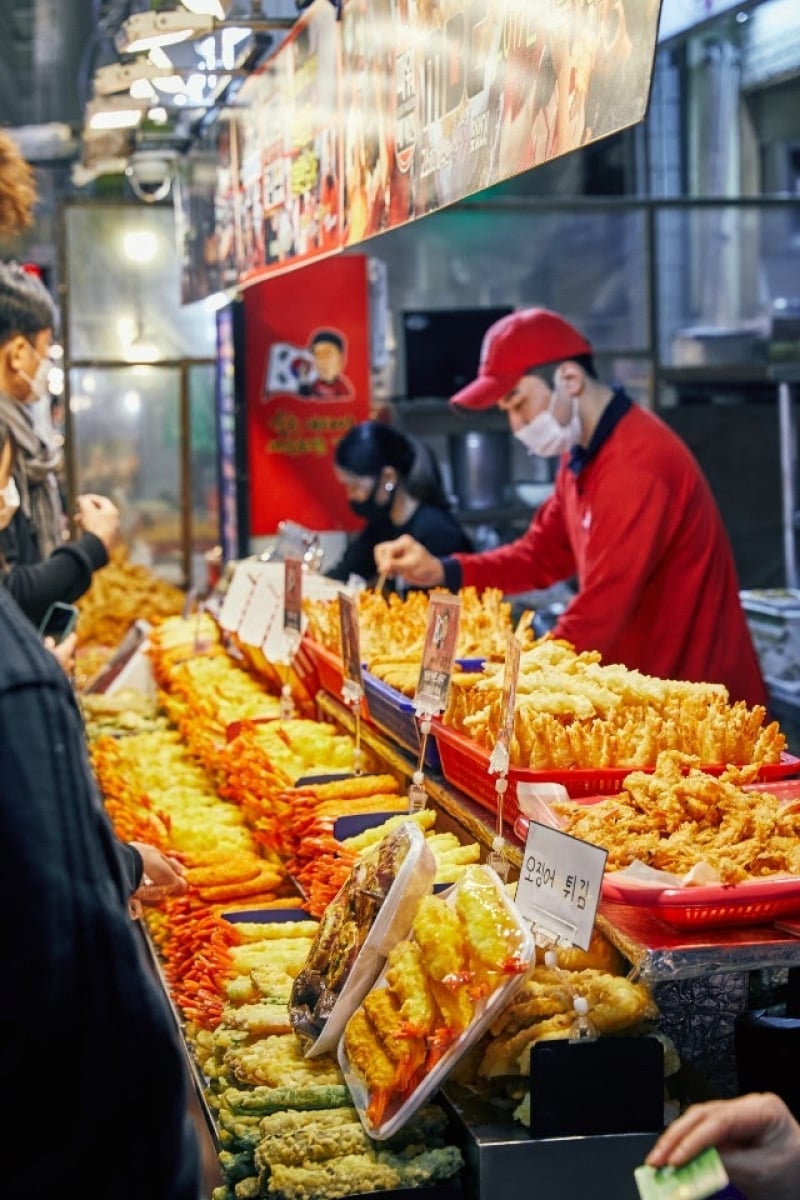 Of course, being a coastal city, you can be sure that Sokcho has no shortage of delicious seafood! From the freshest sashimi made from the catch of the day to crunchy twigim (fried fritters), seafood in Sokcho is definitely an indulgence in and of itself. 
One place to visit for the best seafood in Sokcho is the Sokcho Tourist & Fishery Market (also known as Sokcho Jungang Market). As you throng the market in search of culinary gems to feast on, make sure to savour the immersive experience of shopping and eating like a true local. The one thing we highly recommend here is the various fried seafood twigim! 
Dakgangjeong (sweet & sour fried chicken)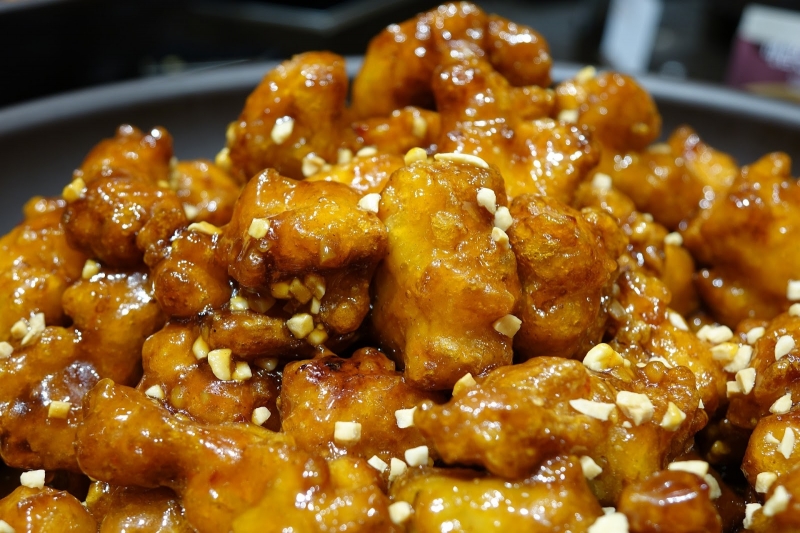 Speaking of Sokcho Jungang Market, there's another specialty dish here that I just know you'll fall in love with! Those of us who are avid fans of Korean dramas will no doubt know all about the hype surrounding Korean fried chicken.
Well, did you know that there is a super famous fried chicken stall in Sokcho Jungang Market? Mansuk Dakgangjeong has been selling Dakgangjeong (sweet & sour fried chicken) since the 1980s and remains one of the most frequently visited stalls in the market. Sold by the box, the crunchy, juicy chicken is glazed in a generous layer of tangy sweet & sour sauces and topped with crushed peanuts. Whether you prefer it spicy or not, you're in for a real treat once you start digging in! 
Yangyang
King crabs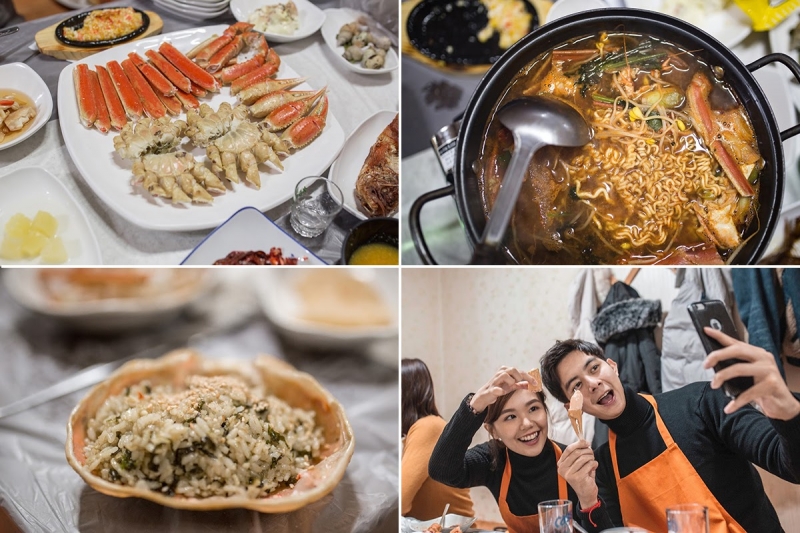 Moving just a little bit south of Sokcho is the alluring county of Yangyang, famous for its pristine beaches and breathtaking coastlines. And just like Sokcho, Yangyang is famous for its incredible seafood. However, if there's one particular ingredient from the ocean that makes Yangyang stand out, it's their famous king crabs. 
When you eat king crabs in Yangyang, it's not just a meal, it's a feast! Not only are the king crabs some of the freshest you'll ever find, but most restaurants that serve this rare delicacy also prepare it in multiple ways. A typical king crab "set" comes with steamed or boiled crab legs,  fried rice that's served in the shell, and fragrant crab ramyeon! 
With every bite, you get to experience a different texture and a different flavour. This is definitely the best way to enjoy the tender, juicy crab meat! Trust me, if you love crab, then this will easily be one of the most memorable meals you'll ever have in Gangwon Province! 
Pyeongchang
Hwangtae (dried pollock)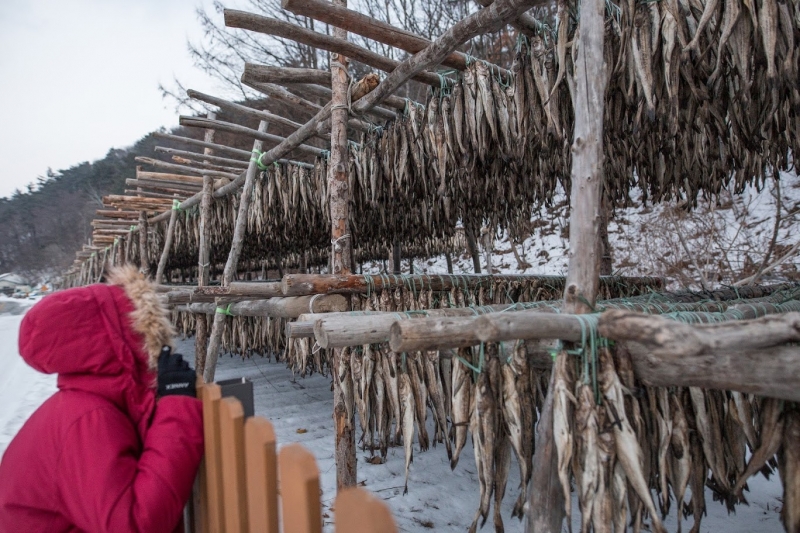 Since many of Gangwon Province's main cities are located on the coast, it comes as no surprise that one of the must-try dishes there is seafood! In particular, Hwangtae is not to be missed, even if you're not a fan of seafood. Hwangtae is a type of pollock that is hung from wooden stands for months in open fields where they are naturally freeze-dried. These are most commonly found in an area of Gangwon called Daegwallyeong. This is because the cold winds and extreme weather there provide the perfect conditions for freeze-drying Hwangtae.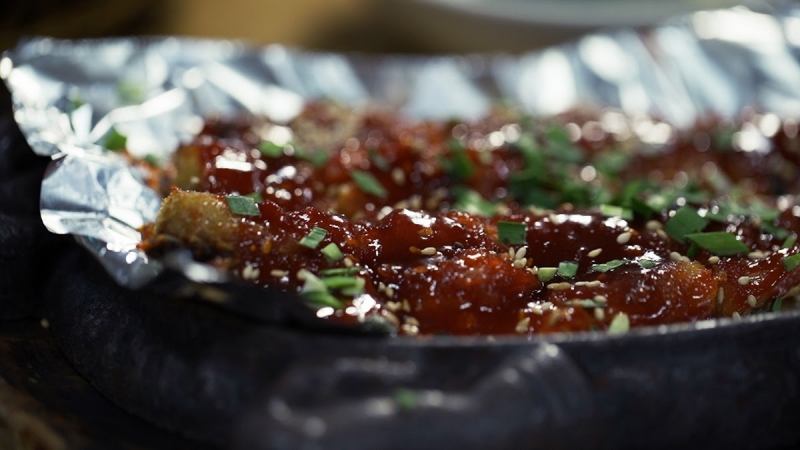 The result is fish that is super tender and fluffy. Like Chodang Sundubu, there are many ways to enjoy Hwangtae. My personal favorite is grilled Hwangtae served with Gochujang sauce. However, another popular option is Hwangtae Haejangguk (hangover soup). Because of the way that Hwangtae is produced, it is incredibly potent in breaking down alcohol, which makes it one of the most sought-after dishes after a night of drinking! 
Hanu (Korean beef)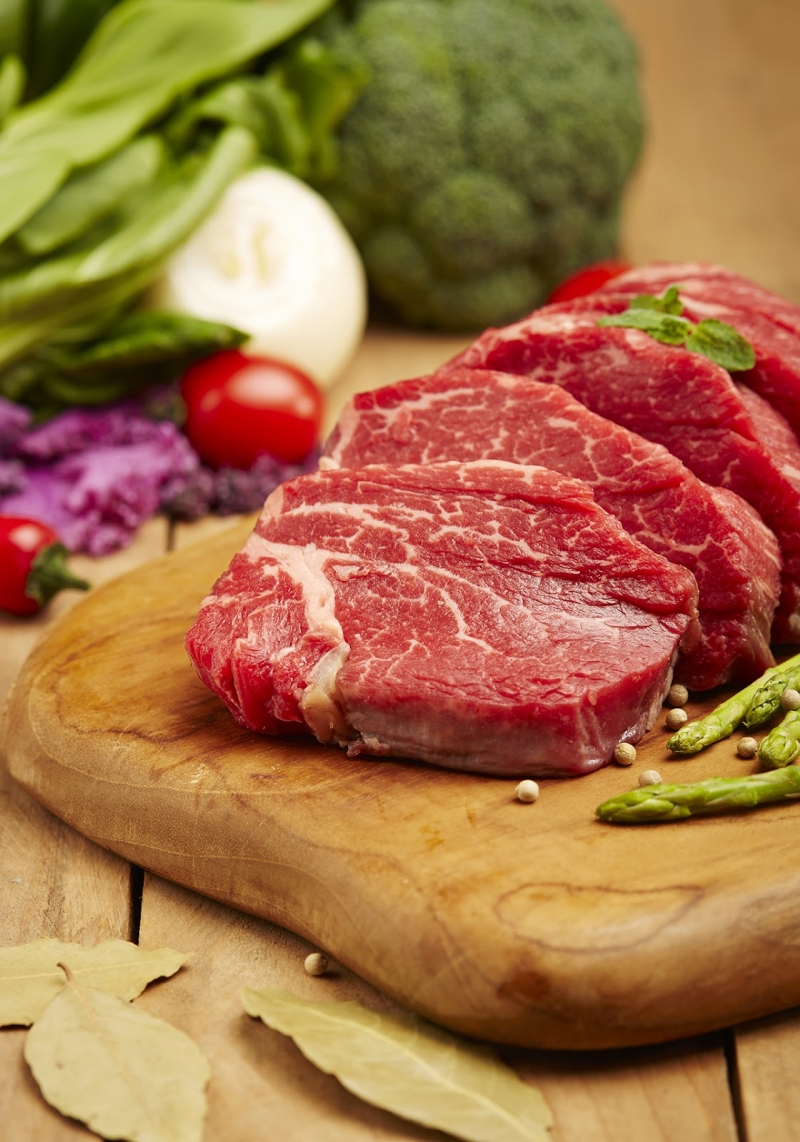 Speaking of Daegwallyeong, the area, which locals call "The Asian Alps", is also famous for another luxurious ingredient: the best beef in Korea – Hanu. Due to Daegwallyeong being a mountain pass in the Taebaek Mountains, the cattle there feed at elevations of over 800 metres above sea level. Add to that the chilly climate, and what you have is the perfect environment to cultivate the best tasting and best texture beef in the country! 
With Hanu being such a pristine delicacy, it comes as no surprise that there are plenty of Hanu towns located within Gangwon Province that allow visitors the chance to sample this luxurious beef. A large majority of these Hanu towns are in the areas of Pyeongchang, Wonju, and Hoengseong. Rather than just being restaurants though, many of the eateries that serve Hanu also double up as butcher shops. This allows diners the chance to taste the freshest cuts of premium Hanu at an affordable price! 
Jeongseon
Gondrebap (steamed rice with Korean thistle)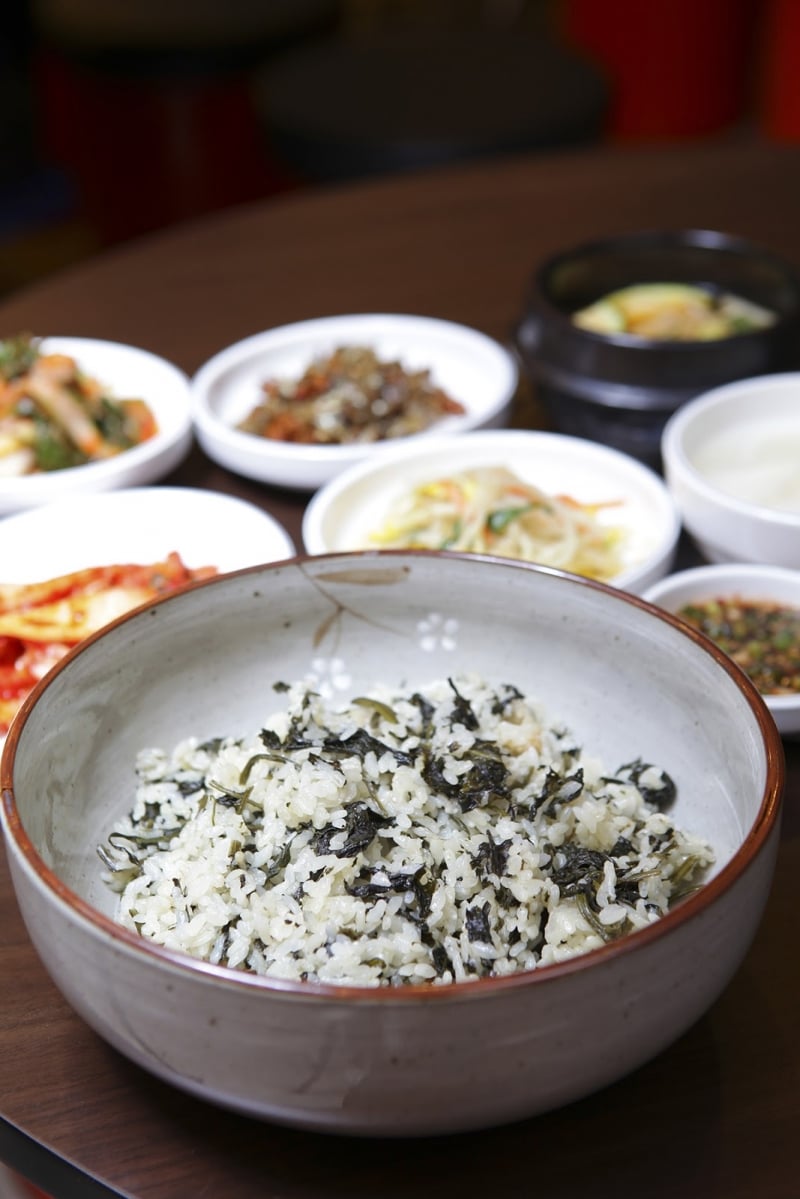 Located northwest of the Taebaek Mountains, Jeongseon County is an area in Gangwon Province that specialises in Gondrebap, a traditional Korean rice dish that consists of only three ingredients: rice, water, and gondre (Korean thistle leaves). This rustic delicacy involves a combination of rice and dried thistle leaves, which gives it a unique fragrance. 
While it looks simple, Gondrebap is actually extremely nutritious! What's more, the tender gondre also carries a bit of a nutty taste, which adds a different dimension of flavour to the dish. Of course, when you order it as a restaurant, Gondrebap usually comes in a stone pot (like bibimbap) and is served with an array of banchan (side dishes). There is also a delicious sauce that comes with the rice!
Hit the yum trail in Gangwon Province!
Ready to start planning your memorable trip to Gangwon Province? Discover all the culinary gems of Chuncheon, Gangneung, Sokcho, and Yangyang with Gangwon Province's innovative Tourist Taxi Service!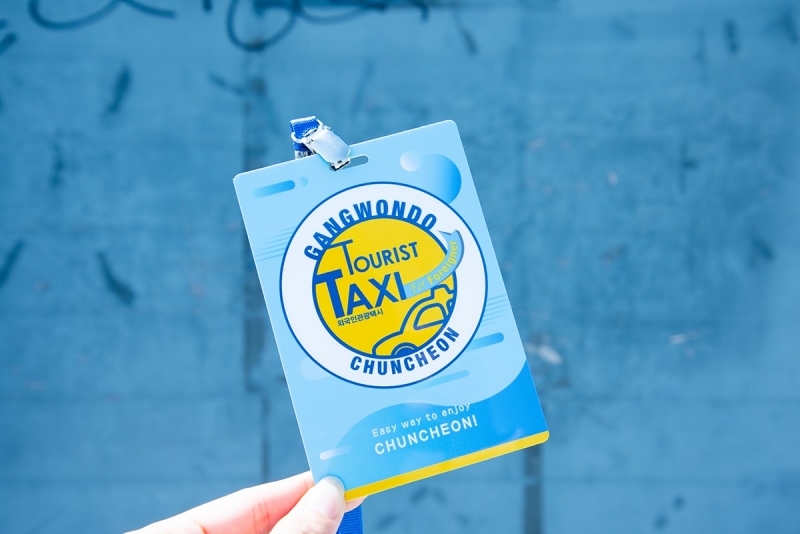 Image credit: Gangwon Province
Plan your personal itinerary around these four major tourist spots and be ferried to your destination with ultimate ease and comfort! At only 20,000 KRW (20USD) for a three-hour hire, it is one of the best options for getting in and around Gangwon Province, especially on a post-pandemic foodie trip!
---
Brought to you by Gangwon Province