From the ambient background music and captivating storylines to the stunning visuals of the scenes and actors, Korean dramas are some of the best-made productions ever! Sometimes, just watching a particular scene can make you wish that you were there in person! Well, it's time to make those dreams come true! If you consider yourself a fan of Korean dramas, then you must add Gangwon Province to your bucket list.
Located in the northeast of South Korea, Gangwon Province has often been featured in some of the most popular Korean dramas, from classics like Winter Sonata to recent hits like Crash Landing On You and It's Okay Not to Be Okay. And before you even ask, yes, many of these filming locations are open to tourists!
Excited already? K-drama fans, you'll want to bookmark this because these are the destinations in Gangwon Province you simply MUST visit! 
One of the most important factors when travelling these days is, understandably, safety and hygiene. Thanks to the Clean Gangwon Campaign, more than 2,000 establishments are currently designated as Gangwon Self Clean Shops. These include popular tourist attractions, accommodation spots, and eateries. 
These locations undergo routine disinfection and are equipped with hand sanitisers and cleaners to ensure that visitors can enjoy exploring the province without having to worry about personal hygiene and health risks! Check out this video below to find out more! 
BTS Bus Stop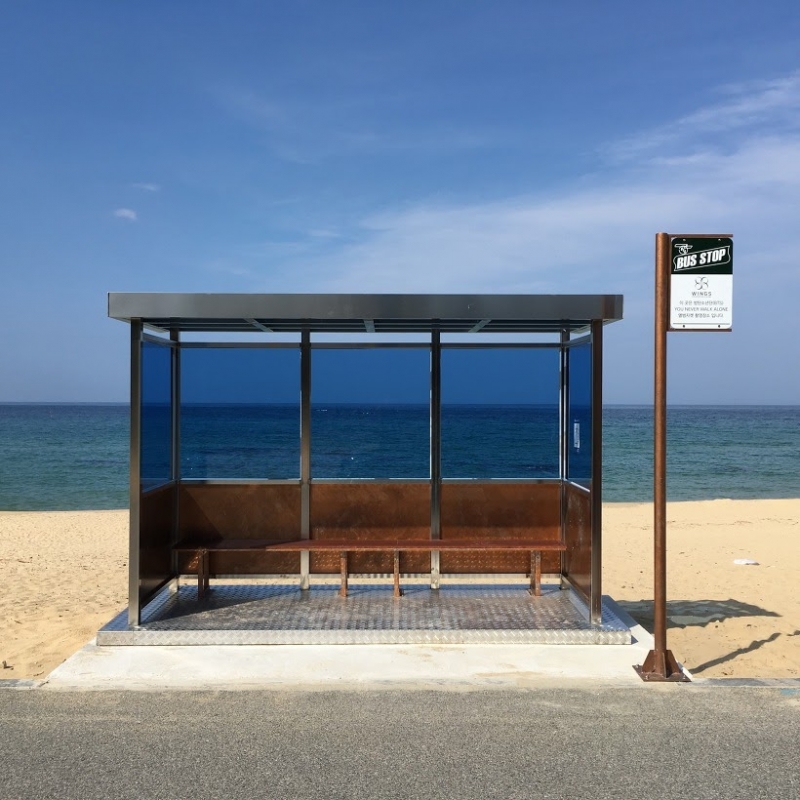 Even though this isn't exactly a K-drama location, we just HAD to talk about this location first. After all, BTS (Bangtan Sonyeondan) is one of the hottest K-Pop artists in the world right now and a proper global phenomenon! 
Located on Jumunjin Beach, the BTS bus stop is a replica of the one that appeared on BTS's "You Never Walk Alone" album cover! This photogenic spot, set against the backdrop of the blue ocean, is considered a pilgrimage site for avid ARMYs! If you have enough friends with you, you can even try to recreate the original shot on the album! 
Goblin (2016)
Jumunjin Breakwater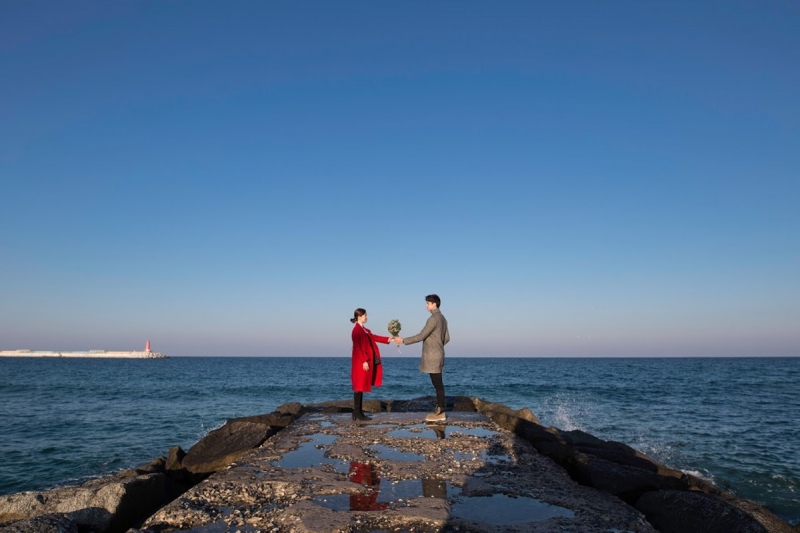 Of all the popular Korean drama locations in Gangwon Province, none are as famous and iconic as Jumunjin Breakwater. Located on Jumunjin Beach (same area as the BTS bus stop), this is where Kim Shin (Gong Yoo) and Ji Eun-Tak (Kim Go-Eun) first met each other in the super popular Korean drama, Goblin. 
The beautiful views from the rocky pier, coupled with the popularity of Goblin has turned Jumunjin Breakwater into one of the most frequently-visited attractions in the province. Plenty of fans visit the location hoping to reenact the iconic scene from the drama. Even if you're not familiar with Goblin, you'll still fall in love with the breathtaking coastal views! 
Yongpyong Resort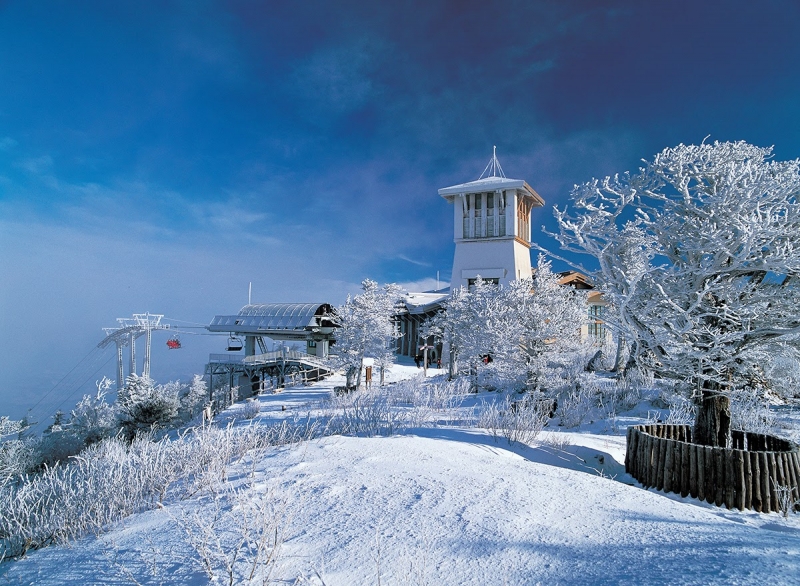 If it's a winter wonderland you crave in Gangwon Province, look no further than the famous Yongpyong Resort in Pyeongchang! Located at the foot of Mount Balwangsan, this snowy resort enjoys long periods of snowfall, making it one of the top ski resorts in the country. 
Eagle-eyed fans of Goblin will no doubt recognise Yongpyong Resort as the place where Kim Shin convinced Eun-Tak to move back to Seoul. Doesn't it just warm your heart as you recall that romantic hug they shared on the snowy fields? In addition, Yongpyong resort also features heavily in the classic Korean drama Winter Sonata! 
It's Okay Not to Be Okay (2020)
Sogeumsan Suspension Bridge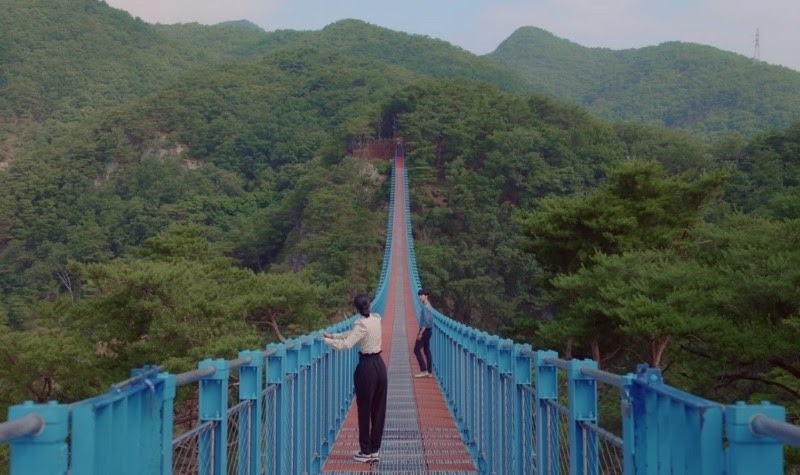 I'm sure most fans of the drama remember Sogeumsan Suspension Bridge from the episode where Moon-young (Seo Ye-ji) and Gang-tae (Kim Soo-Hyun) take a day trip to the mountains. You'll probably remember Moon-young asking Gang-tae to give her a piggyback ride across the bridge after getting cold feet! 
The bridge hangs at a height of 100m and spans 200m, making it the longest pedestrian bridge in South Korea. Even though the bridge is mostly made of steel, it does sway under your feet as you attempt to cross! Of course, while you do so, you'll also be able to enjoy spectacular views of the surrounding scenery from the bridge. Just try not to look down! 
Sanida Café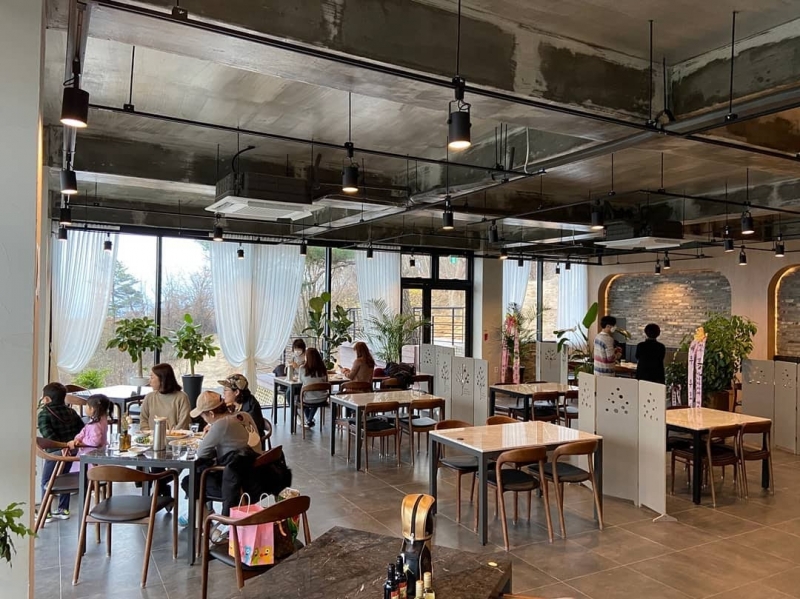 Some locations in Korean dramas appear for only a fleeting moment, but stay in our memories for a long time. The Cursed Castle in which Moon-young spent her childhood years is one such location! Located in the middle of a forest, the "mansion" is actually Sanida Café in Wonju City. 
Established in 2019, the popular cafe is perched atop a mountain and overlooks the lush scenery nearby. The rooftop terrace offers spectacular views so you can enjoy the scenery while you feast on the cafe's selection of delicious eats. What's more, since Sanida Café operates till 10pm, you'll also be able to catch a terrific sunset if you plan your visit at the right time. 
Crash Landing On You (2019)  
Byeolmaro Observatory, Yeongwol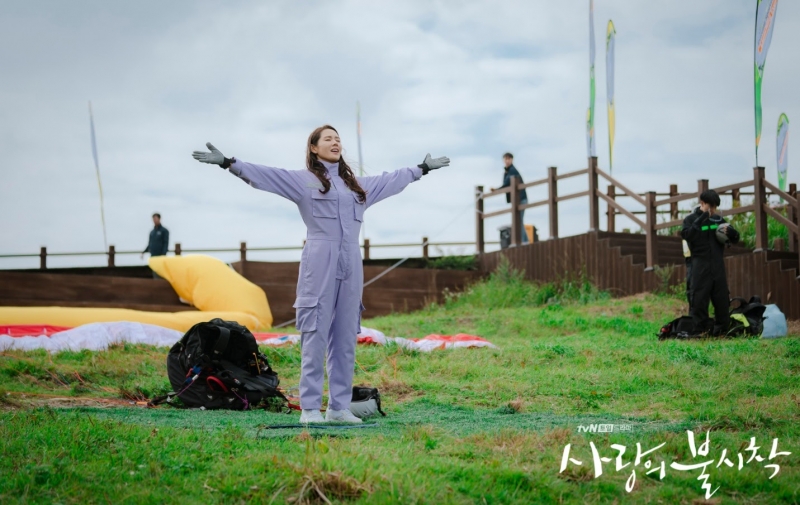 Cast your minds back to when you first peeked into the love story between Ri Jeong Hyeok (Hyun Bin) and Yoon Se-ri (Son Ye-Jin). Do you remember that it all started because of a paragliding accident? In episode 1, Se-ri tests out her newly launched product by paragliding in an extremely scenic area overlooking lush mountains and forests. That alluring location is Byeolmaro Observatory in Yeongwol. It is located on the peak of Bongnaesan Mountain and boasts being the largest astronomical observatory in the country!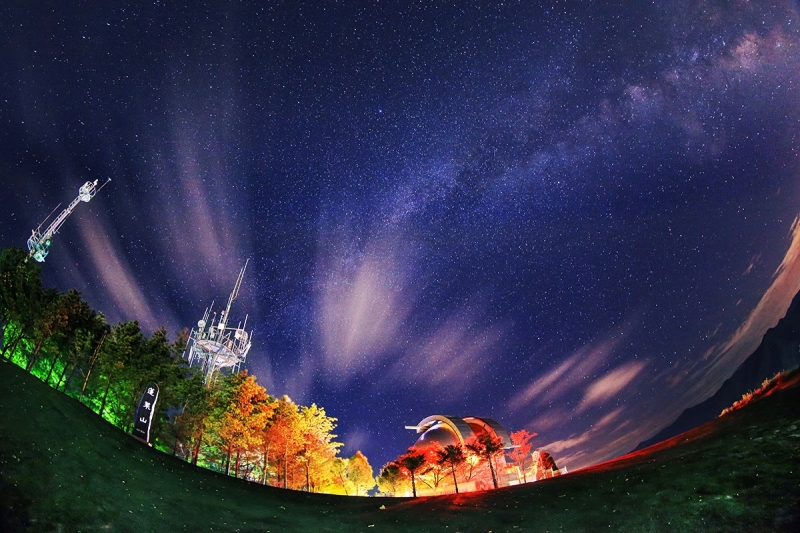 The name is a combination of words meaning "Star" (Byeol), "Summit" (Maru-Maro), and "Quiet" (ro). Apart from allowing visitors to view the stars of the night sky on the summit of Bongnaesan Mountain in blissful silence, Byeolmaro Observatory also offers a stunning view of the surrounding scenery. There are also an exhibition room, a multimedia classroom, and a few observation rooms where you can learn about the universe in a lovely setting. One visit and you'll fall in love again with the world of Crash Landing On You! 
My Secret Romance (2017)
SONO Sol Beach, Samcheok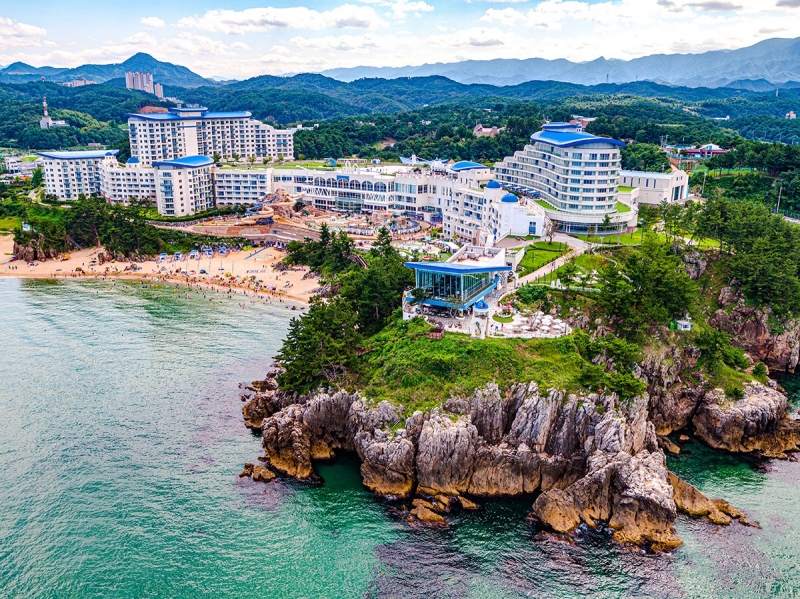 SONO Sol Beach, Samcheok is popularly known as the "Little Santorini" of Gangwon. It's not difficult to spot the similarities between the two. Pristine beaches, whitewashed buildings and stunning turquoise waters are all common features of the two locations. 
The resort is prominently featured in episode 1 where we are introduced to the main characters, Cha Jin-wook (Sung Hoon) and Lee Yoo-mi (Song Ji-eun). Remember that late night rendezvous at the beach? Apart from being the ideal beach getaway, this lovely resort also boasts plenty of photogenic spots scattered throughout the vicinity. Some of the best spots to enjoy the coastal views are Sol Beach, and from the roof of the resort which looks and feels authentically Greek!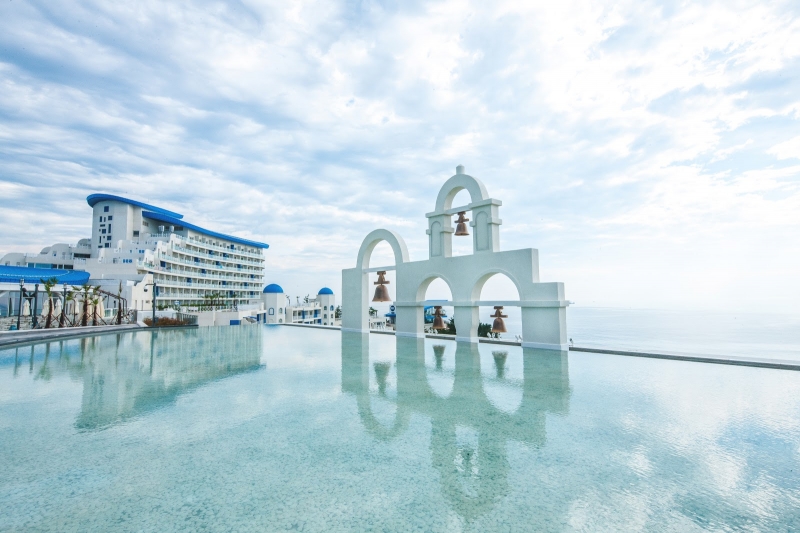 Hotel del Luna (2019)
Mangsang Beach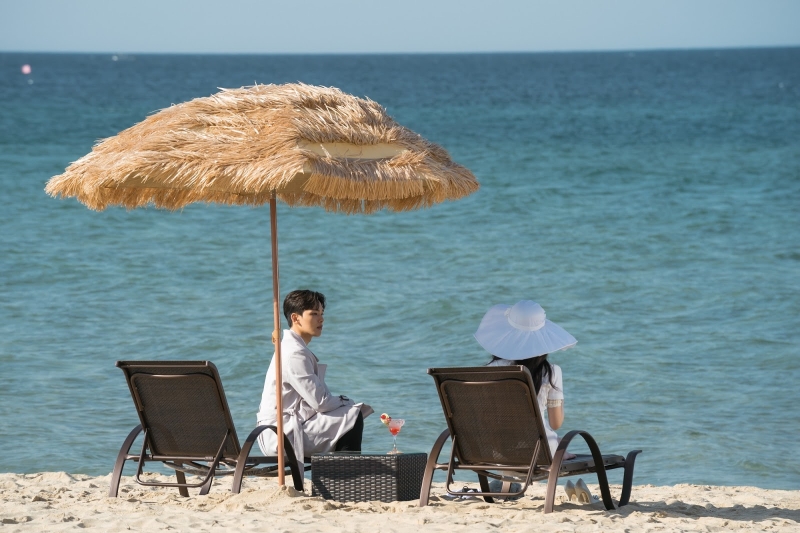 Personally, one of the most memorable scenes from Hotel del Luna for me was when Gu Chan Seong's father (Oh Ji-ho) accidentally stumbles into the hotel and somehow makes his way to the on-site beach in episode 1. I was completely taken aback by the sudden and stark change of scenery. The hotel's beach appears several times in the drama, particularly in scenes featuring Jang Manwol (IU) and Gu Chan Seong (Yeo Jin-goo).
The beach is actually Mangsang Beach in Donghae! Often considered the most beautiful beach on the east coast of South Korea, Mangsang Beach is famous for its fine, sandy beaches, lush pine forests, and shallow waters. Here, you can soak up the sun and enjoy the therapeutic sound of waves gently caressing the shore just like Manwol does in the drama! 
Winter Sonata (2002)
Nami Island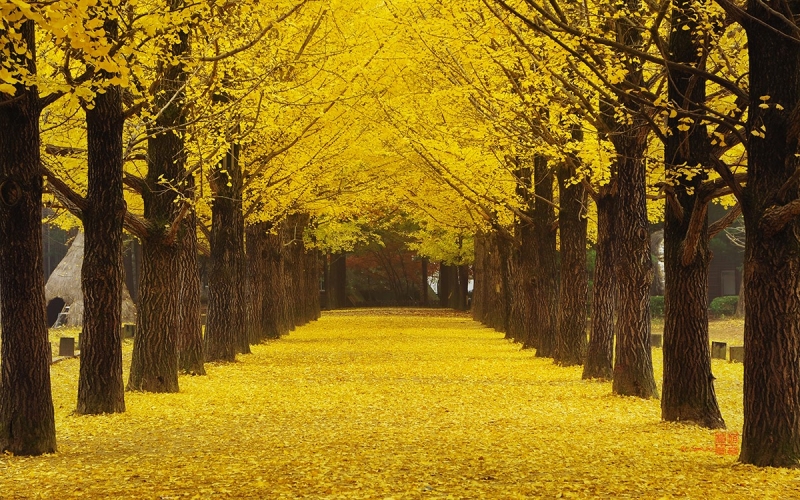 For Korean drama fans, Winter Sonata needs no introduction. After all, this super popular romance drama is widely regarded as the series that kickstarted the entire Korean Wave in the first place! And one of the most memorable locations in the drama is undoubtedly Nami Island. Even on its own, Nami Island is arguably one of the most beautiful locations in South Korea. 
What makes this place even more swoon-worthy is that the scenery changes dramatically according to the seasons! The best time to visit is during autumn (between September and November). That's because during this time, the island's most iconic location, Pine Tree Lane (where Bae Yong-Joon and Choi Ji-woo shared their first kiss in the drama) is covered in golden autumn foliage! Indeed, treading along the path during this time feels like a scene right out of a Korean drama in itself! 
Saimdang, Memoir of Colors (2017)
Ojukheon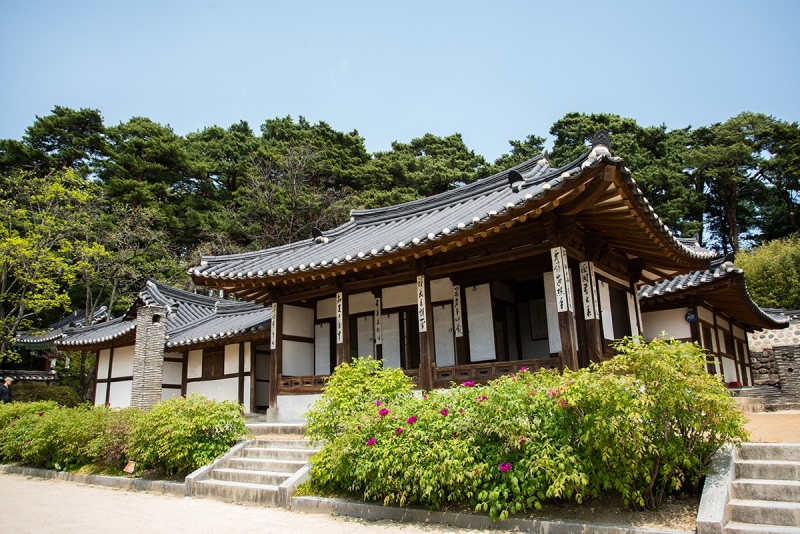 While most of the Korean dramas that we know and love are set in modern times, there are also plenty of historical dramas that warrant a mention. Saimdang, Memoir of Colors is a historical/fantasy drama largely set in the Joseon period. It follows the story of Shin Saimdang, the female artist and calligrapher who appears on the 50,000 KRW note. 
Of all the destinations featured in the drama, none are as significant as Ojukheon. It is one of the oldest preserved traditional Korean houses in the province. What's more, this is where the actual Shin Saimdang lived and where her son was born. There, visitors can learn about the rich cultural history of Korea by visiting Yulgok Memorial Hall and the household shrine (Munseongsa).
Apart from the historical Ojukheon, you can also find Ojuk Hanok Village nearby. The village offers a range of traditional experiences to visitors. You could put on a royal Hanbok, try your hand at Korean calligraphy and even try mastering the art of preparing traditional Korean dishes! For an even more immersive experience, you can even opt to spend the night in one of the traditional houses there. Don't worry, each house is equipped with an ondol (boiler system) to ensure you have a comfortable and authentic stay. 
Beyond K-Dramas
Of course, there's much more to see and do in Gangwon Province than just K-drama filming locations! From breathtaking natural vistas to ambient cafes, there's plenty on offer even for those who've never watched a minute of Korean dramas! What's more, Gangwon Province also offers a unique new way to travel!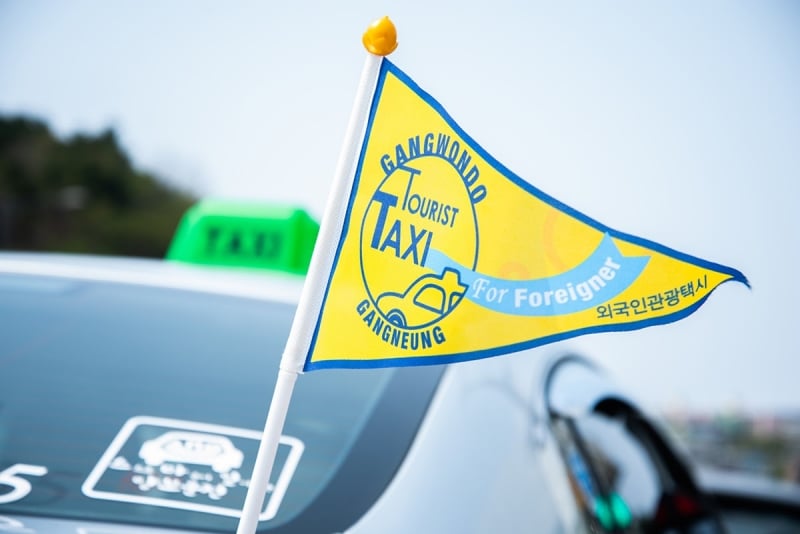 There is nothing quite as liberating as planning your own travels from start to finish. However, very often the downside of a self-planned trip is needing to figure out the complicated public transport systems to get to where you want to go. 
With Gangwon's innovative Tourist Taxi Service, you can now combine the freedom of a self-planned itinerary with the convenience of being chauffeured to your destination! Customise and personalise your ideal itinerary and travel freely by designated taxi around the four major cities of Gangwon Province! You'll be able to explore your favourite destinations with utmost convenience! 
What's more, this awesome service is actually pretty affordable. A three-hour ride in a four-seater costs ONLY 20,000 KRW (around 20USD)! Privacy, convenience, and affordability all in one! Plus, you'll be travelling in a small, private group which is perfect for any post-pandemic trip!  
Chuncheon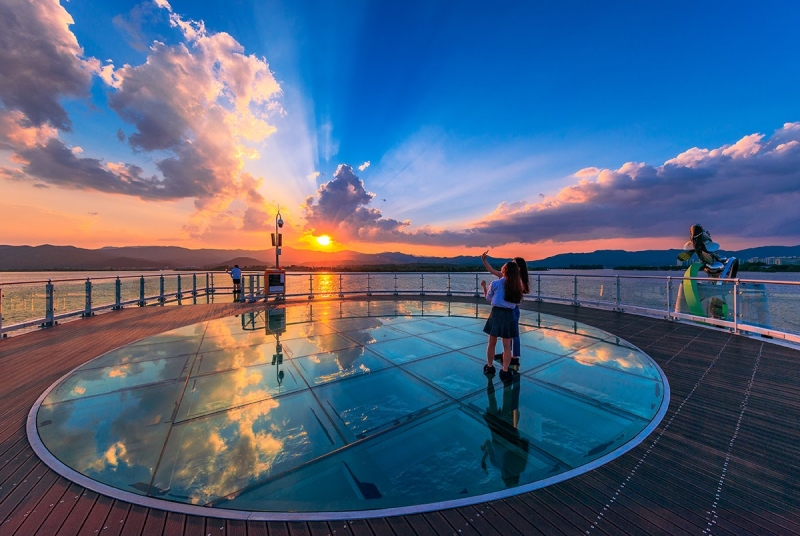 Chuncheon is the capital of Gangwon Province and one of the best destinations to start your journey. It is mostly famous for being within touching distance of little islands like Sanjung-do, Bungeo-do, and, you've guessed it, Nami Island. However, there are also plenty of diverse attractions in the city that can charm any type of traveller. 
One of our personal favourite hotspots in the city is Soyanggang Skywalk. Hovering above Lake Uiam, this 156-metre walking path (made primarily of transparent glass) is the perfect observatory to admire the stunning scenery in the area. As you gaze out over the lake (especially during sunset), you'll fall even deeper in love with the beauty of Gangwon Province! 
Gubongsan Mountain Observatory Café Street is another popular destination to visit. Located on Gubongsan Mountain, it is arguably one of the most beautiful locations in the city. From the terrace garden, visitors can admire the Chuncheon skyline throughout the day. As the name suggests, you can find plenty of cafes and restaurants in the area.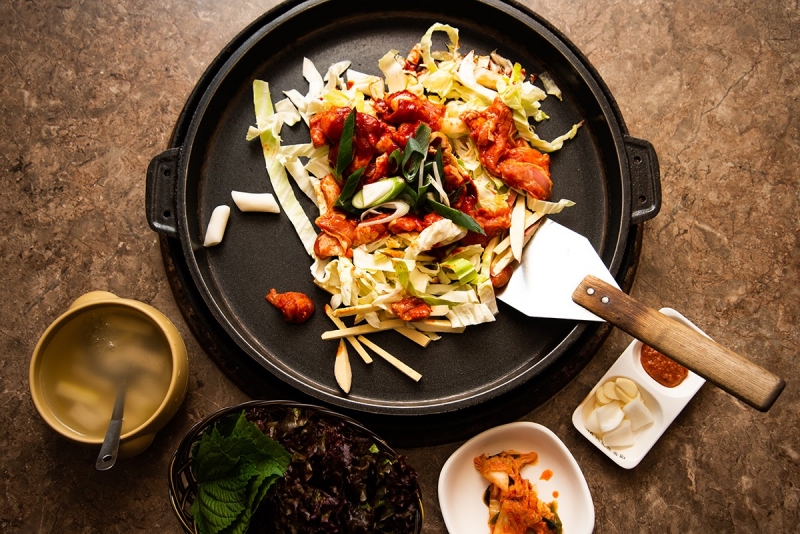 What's more, most foodies will know that Gangwon Province is one of the top foodie destinations in South Korea. In Chuncheon, the most famous dish is definitely dakgalbi (spicy stir-fried chicken). After all, as the story goes, Chuncheon is the birthplace of this famous traditional dish! 
It's no surprise then that one of the must-visit spots in Chuncheon for foodies is Dakgalbi Street! There are actually three major dakgalbi streets in the city, all lined with restaurants serving the famous dish. However, Myeongdong Dakgalbi Street is arguably the most famous! 
Plan your personalised Chuncheon itinerary now!
Gangneung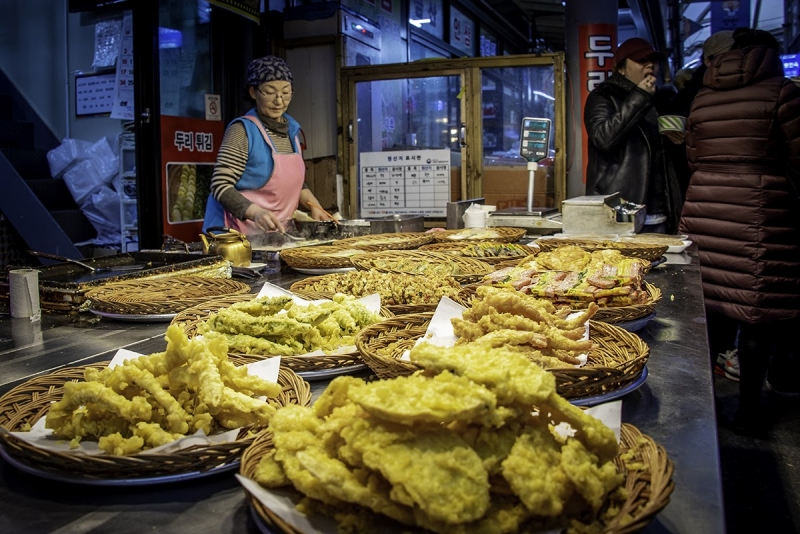 Compared to Chuncheon, the coastal city of Gangneung is much less crowded and much more laid back. However, it also houses its fair share of extremely popular tourist attractions. These include the aforementioned Ojukheon, Jeongdongjin (a famous spot to catch the sunrise on New Year's Day), and Gyeongpo Beach. 
If you're anything like me, then you absolutely love the experience of thronging a traditional market. In Gangneung, the one market you have to visit is Gangneung Jungang Market. Known affectionately by locals as "Ga
ngneung's representative market", this traditional market has stood for over 40 years!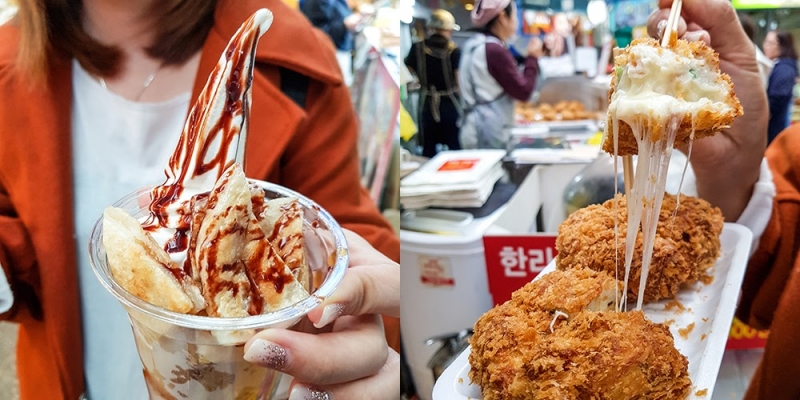 As you explore the market, you'll be able to sample plenty of authentic local foods. You could also shop for souvenirs. Above all else, the bustling market provides a rare opportunity to rub shoulders with the locals and experience what daily life is like in the coastal city of Gangneung. 
Sokcho
The northeastern city of Sokcho is another popular destination that deserves love and attention. The city is actually the gateway to some of South Korea's most mesmerising natural havens.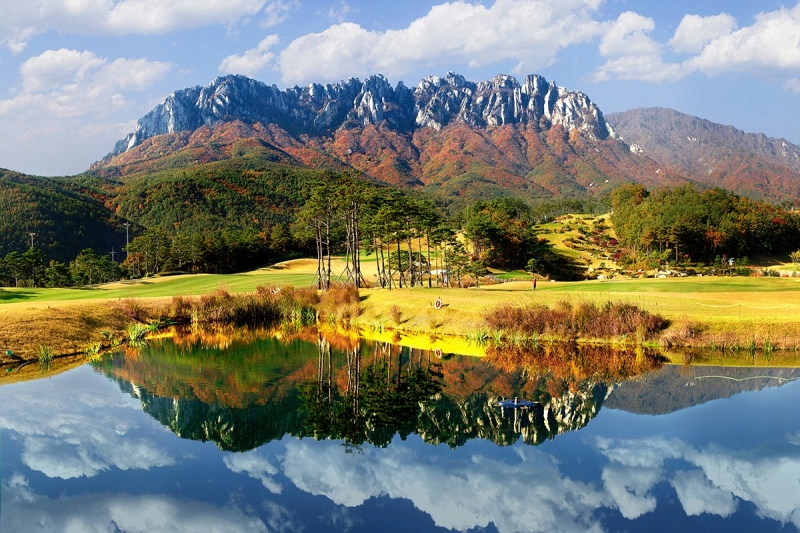 Without a doubt, Seoraksan National Park is one of South Korea's most alluring destinations. From a kaleidoscope of colours in spring and fiery autumn foliage in autumn to romantic snowy landscapes in winter, there is almost never a dull moment when visiting the area. The national park is also home to enigmatic caves. Whimsical valleys, and cascading waterfalls, making any hike here a memorable one.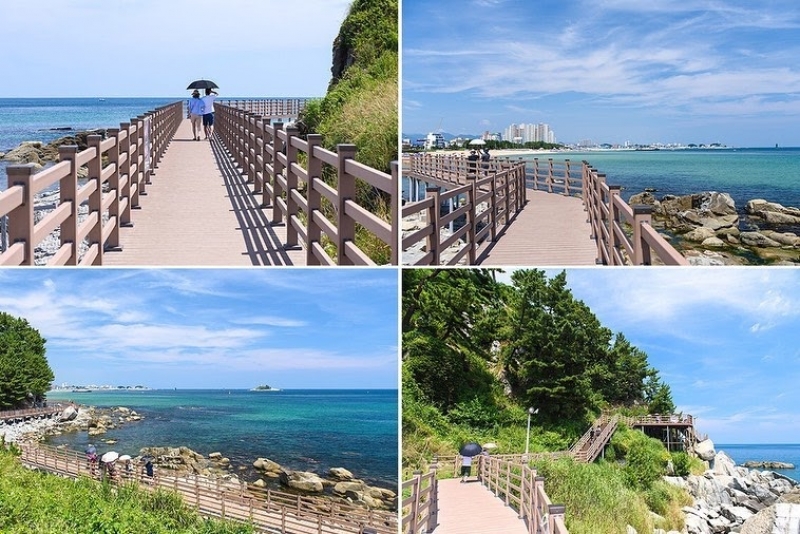 Speaking of memorable trails, another lovely destination in Sokcho is Oeongchi Badahyanggiro. This lovely walkway connects to the south end of Sokcho Beach (which is an attraction in its own right) and while it may not be the longest trail (less than one kilometre), it certainly promises incredible coastal vistas. The trail wraps around the cliff point to the Oeongchihang Port and is at its most beautiful during the sunset.
Finally, much like in Gangneung, a visit to the traditional market of Sokcho is a definite must-do. The most popular commodity at Sokcho Jungang Market is undoubtedly the fresh seafood that's caught just off the coast of the city! Here, you can enjoy some of the best seafood dishes in Gangwon Province and also shop for other local snacks and souvenirs! 
Discover the natural beauty of Sokcho
Yangyang
Sticking to coastal gems found in Gangwon Province, another must-visit destination is Yangyang County. Famous for its pristine beaches, awe-inspiring sunrises, and pine mushrooms, it is the ideal place to soak in the vibes and lull yourself into blissful relaxation. 
With so many coastal cities and attractions in Gangwon Province, it's inevitable that you would feel the urge to paddle out into the deep blue sea at some point during your vacation. At Surfyy Beach, you can do exactly that! It is one of the best places in South Korea to learn how to surf!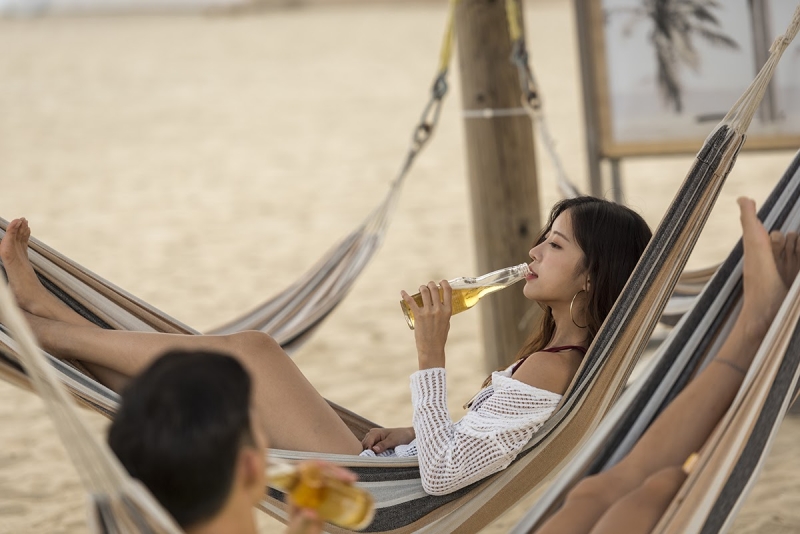 Even if you've never surfed before in your entire life, you can find lessons on Surfyy Beach and a board rental service to help you on your way. If you simply want to frolic in the ocean, feel free to do so as the surf area is separated from the swimming area, ensuring that everyone can enjoy a fun (and safe!) experience!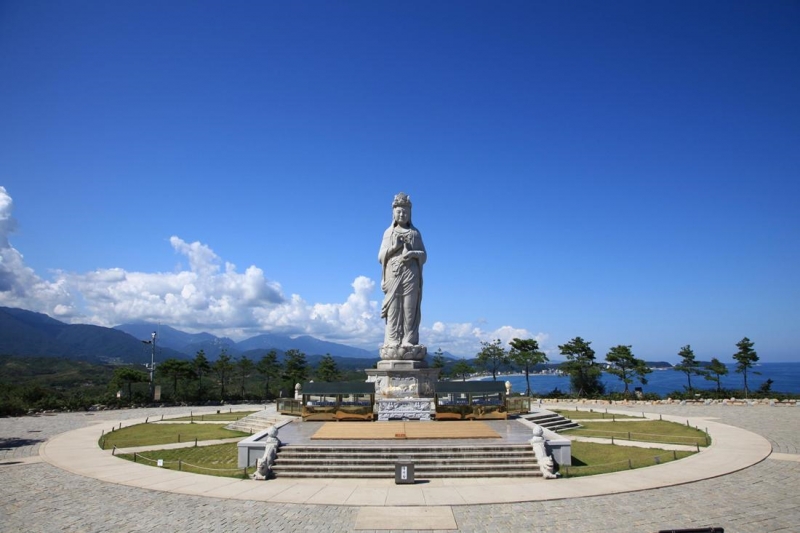 If you're looking for something a little more tranquil, we recommend a visit to Naksansa Temple. This majestic Buddhist temple stands on the slopes of Naksan Mountain overlooking the Sea of Japan. It is a lovely spot to visit, not just for the stunning views but also to enjoy the peaceful ambience of the temple complex. One particular landmark you don't want to miss is the Guan Yin statue that overlooks the blue ocean.
Finally, while Chuncheon is famous for dakgalbi, Yangyang is famous for a more humble ingredient: pine mushrooms (song-i)! Yangyang pine mushrooms typically grow on the roots of pine trees that are between 20 to 30 years old and locals harvest them throughout the year. Pine mushrooms are so famous in Yangyang that there's even a Pine Mushroom Festival in which visitors can pick their own pine mushrooms and sample the unique culinary dishes that can be created using these humble yet rare ingredients! 
Plan ahead for your visit to Yangyang
A travel gem to explore
And there you have it, some of the most alluring places to visit in Gangwon Province. From reenacting your favourite K-drama scenes to admiring untouched natural wonders, there's just so much to see and do! While our list of recommendations doesn't even come close to covering everything, we hope it provides you with the perfect itinerary to kickstart your journey! 
---
Brought to you by Gangwon Province