Durians. You either love them or despise them. However, regardless of what you think about the King of Fruits, this divisive Southeast Asian fruit is a seasonal delicacy that is well-loved by many in Malaysian, Indonesia, Singapore, Thailand and more! 
With durian season coming a little late in Malaysia in 2019, you can expect to find durians being sold on the street well into late August and maybe even a little beyond that! For all you durian lovers in Malaysia and beyond, this article is for you! I personally love durian too, so I've compiled a list of the best durian orchards and the best durian buffets just for you!
But before that, in case you're wondering which country has the best durians, I'm just going to leave this here:
 And now, take your pick, durian aficionados, it's time to feast!
Durian orchards: the freshest durians for true connoisseurs
1. Raub Durian Orchard (Pahang)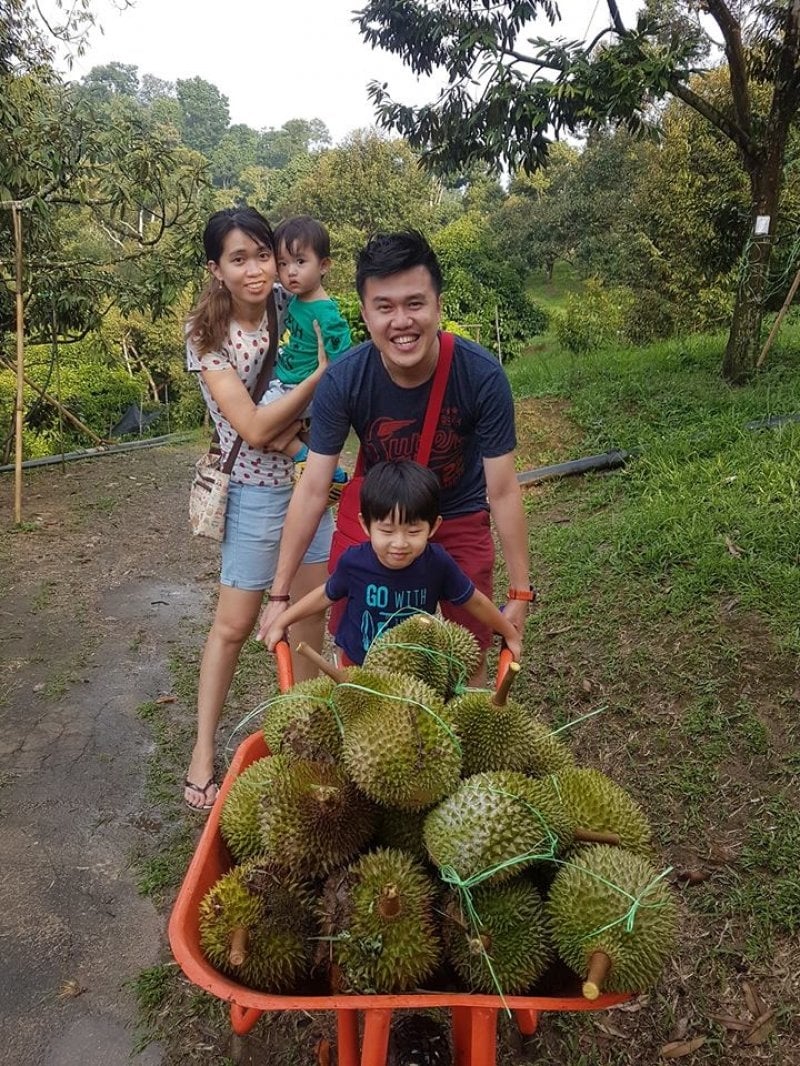 As far as durian orchards go, Raub Durian Orchard may well be the most popular one in Peninsular Malaysia. This famous orchard in Pahang not only claims to have the best durians in the country, but is also has an idyllic pond, a bee farm and even a chalet, making it a perfect outing for nature lovers too! 
The owner, Eddie Yong, is adamant on providing visitors with a holistic durian experience and offer them a chance to sample some of the best durians. To that end, you expect regular durian buffets with ample servings of musang king, D24, Red Prawn and more! 
Address: 8, 27600 Gali, Pahang, Malaysia
Contact number: +60 19-965 9612 (Eddie)
2. Lucky Durian Farm a.k.a. 1Malaysia Musang King Durian Farm (Pahang)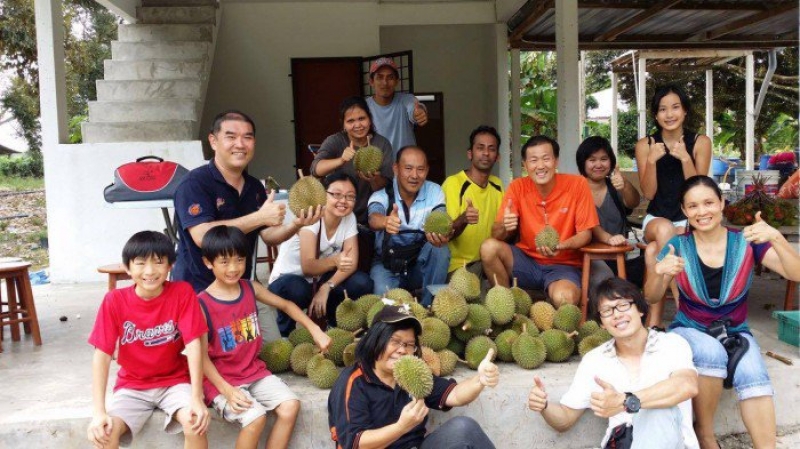 When we talk about durians, there's no doubt that the most coveted durian of all is the Musang King variety. Creamy texture? Check! Meaty flesh with a nice bite? Check! Sweetness with a subtle bitter aftertaste? Check! It's easy to see why it's the most sought after variety!
And one of the most famous orchards for Musang King is Lucky Durian Farm in Bentong, Pahang! There's actually a romantic story behind the founding of this orchard involving a durian-loving couple but I'm sure you're not here for a sappy love story, you're here for the good stuff. The orchard offers an extensive buffet with musang king being the show-stealer along with other durians. It also includes a complimentary tour to help you burn off those sumptuous calories -smirk-
Address: Kg. Cinta Manis, Karak, Bentong 41200, Malaysia
Contact number: +6 019-277 7255 (Dato Michael Ng)
3. Yes Orchard (Pahang)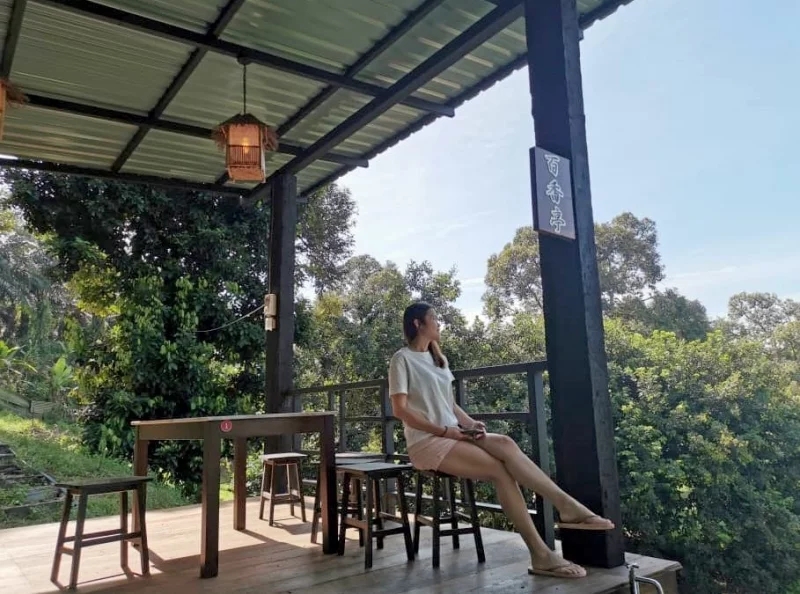 Ask any durian lover worth their salt and they'll tell you that best-tasting durians come from the oldest trees. At Yes Orchard in Raub, you'll find plenty of these old trees in addition to some truly scenic and Insta-worthy spots in the orchard. You can even stay in a chalet in the middle of the scenic orchard if you want too! 
But for those who are there only to satisfy their durian cravings, you can expect to be pampered. Apart from sweet durians in the shell, you can also find some tasteful durian-flavoured snacks such as durian tarts (yum!), tempoyak (a local Pahang delicacy with fermented durian and fish), and even durian pizza (more on that later). Bon appetit, my friends!
Address: 206, Jalan Sungai Chalit, Kampung Sungai Klau, 27630 Raub, Pahang
Contact: +6017-207 9222(Kim Leng) 
4. Karak Organic Durian Farm (Pahang)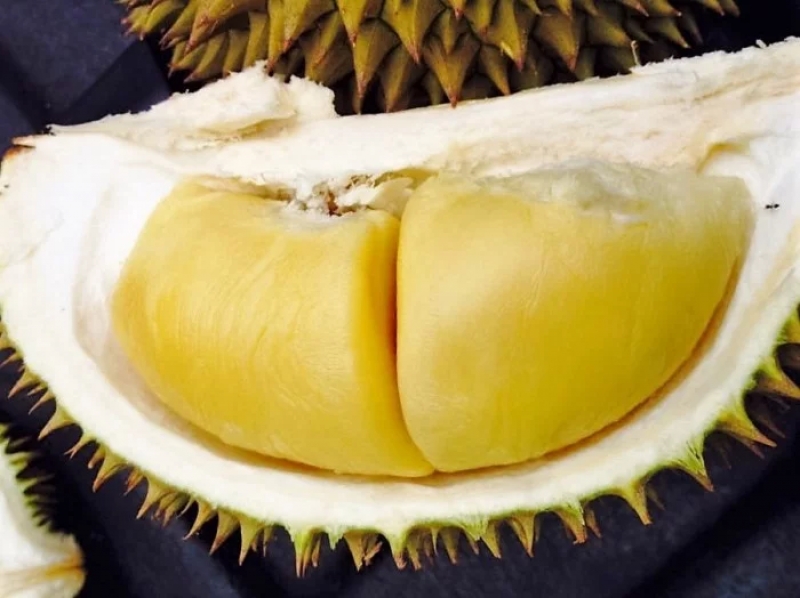 What's better than fresh durian from the orchard? Organic durians, of course! Karak Organic Durian Farm in Bentong specialises in producing organic durians certified by Skim Organik Malaysia (SOM), meaning they are recognised officially as 100% organic, a priceless rarity to say the least!
Supposedly, organic durians come with a more refined taste and as well as a firmer texture, as the more perceptive of you might have discerned from the picture above! What's more, the farm is also famous for their popular durian ais kacang! Yum! 
Address: Sabai Estate, Karak, Bentong 28600, Malaysia.
Contact number: +60 12-795 8899 (Mr Ng)
5. Soon Huat Durian Farm (Penang)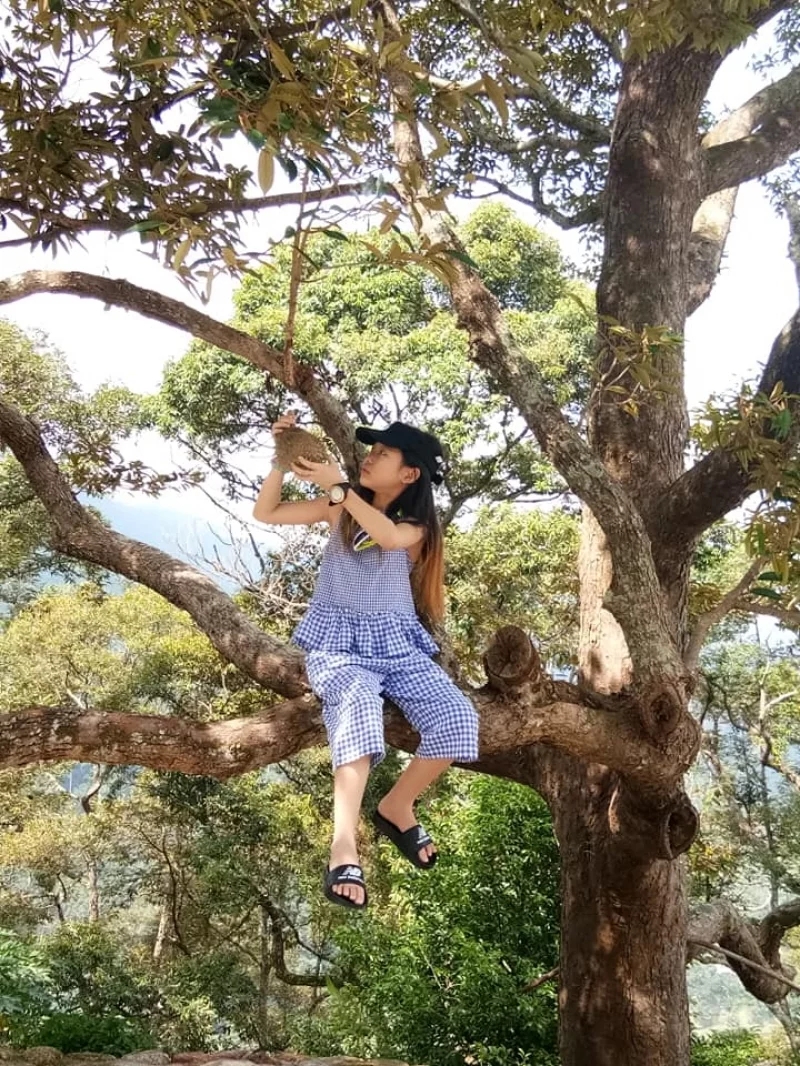 Most Penangites will tell you that the best place for durians in the state is Balik Pulau. And true to its reputation, Balik Pulau offers some of the best durian orchard experiences in the country. One such farm that is popular amongst locals is Soon Huat Durian Farm. 
This serene orchard is located more than 200 metres above sea level, in the grassy hills of Balik Pulau. Many of the trees here were planted in the 1970s, meaning the fruits that are harvested definitely are up to standard in terms of flavour. What's more, due to its geographical location, the farm is also a place that offers some awesome views! 
Address: Jalan Bukit Penara, 11000 Balik Pulau, Pulau Pinang
Contact number: +6012-4551312 (Richard)
6. Bao Sheng Durian Farm (Penang)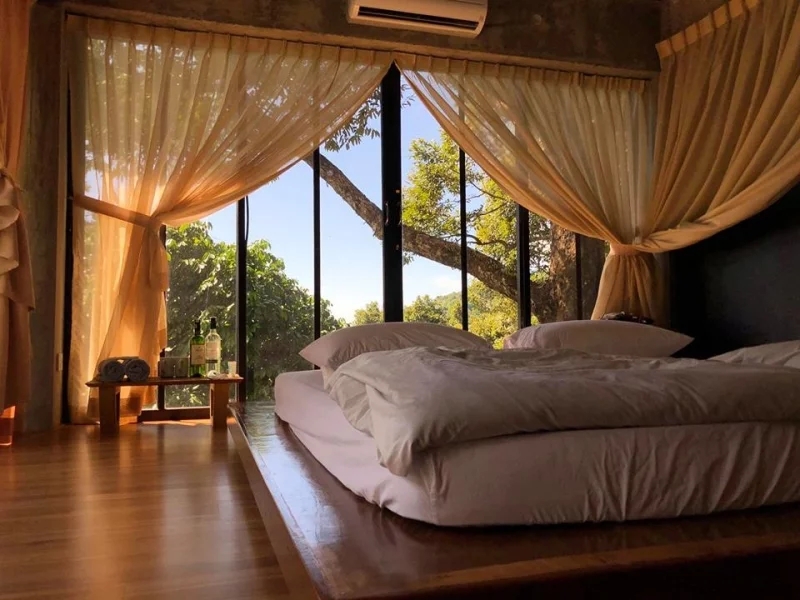 Ask any durian aficionado worth his/her salt in Malaysia and they'll most likely know the name Bao Sheng Durian Farm. This popular durian orchard (also located in Balik Pulau) is a mainstay during durian season. The farm has been around since the late 1950s, bearing delicious fruit and offering visitors and unforgettable experience. 
Apart from durian tasting, visitors can also collect their own durians in the evening and frolic in the nearby pool and waterfall. And, with a stylish villa that guests can stay overnight in, Bao Sheng Durian Farm is more than your average orchard, it's literally #staycationgoals for durian lovers!
Address: 150 Mukim 2, Sungai Pinang, 11010 Balik Pulau, Penang, Malaysia.
Contact number: +60 12-411 0600 (Durian Seng)
7. Haw Kee Durian Orchard (Negeri Sembilan)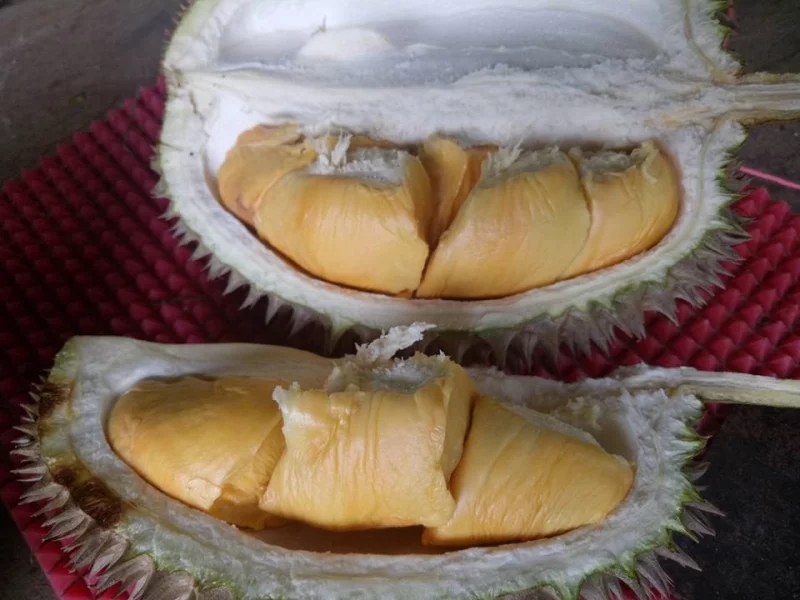 KL-ites and Selangorians rejoice! I know that you've been reading this and up until now you must have been thinking "need to go so far for durian ah?" Don't worry, my friends from the big city, because Haw Kee Durian Orchard in Seremban is a much closer alternative for those looking to embark on a durian pilgrimage. 
What makes Haw Kee Durian Orchard stand out from almost every other farm on this list is that the orchard offers visitors the unique "Red Flower" hybrid durian. In case you're wondering, this variety of durian was traditionally farmed by the indigenious people and right now, there are about 30 trees bearing this variety of durian on the orchard, along with classics like Musang King and others. 
Address: Lot 2013 Kampung Kolam Air Mukim Pantai Baharu, Jalan Jelebu, 71700 Seremban, Negeri Sembilan
Contact: +6012-283 8610 (Harry Kok)
Also read: 7 Dusun Durian Terbaik Di Malaysia Yang Anda Perlu Lawati [Terkini 2019] (Malay) OR 马来西亚这7座榴莲园,保证让你吃到最新鲜、最划算的第一手榴莲!(Mandarin)
Durian Buffets: The Gastronomic Dream of Durian Gourmets
There's no doubt about it: visiting a durian orchard is a fun excuse for a getaway and a great experience. But for those who are just feeling peckish and want nothing more than to feast on some good durian, the best way to do that is to hit up an all-you-can-eat durian buffet, often set up on the side of the road with plastic stools and tables. 
It's so good that even foreigners have fallen in love with the taste of durians! So, here are the best spots for a quick kick of durian goodness! 
1. Donald's Durian (Selangor)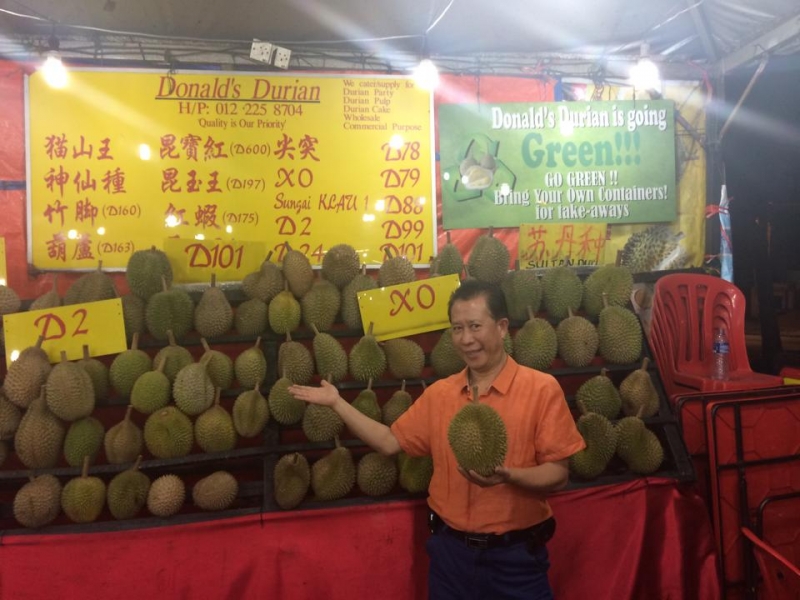 Donald's Durian in Petaling Jaya is one of the most popular spots in Selangor for durian lovers! This impressive stall stocks some of the finest quality durians of various varieties, including Musang King. And, to make things more convenient, it's also one of the few stalls that accept cashless payments!
Address: 15, Jalan 19/29, Seksyen 19, 46300 Petaling Jaya, Selangor
Hours: 1 p.m. – 12 a.m. (Wed-Sun), 12.30pm – 11pm (Mon&Tues)
2. Durian SS2 (Selangor)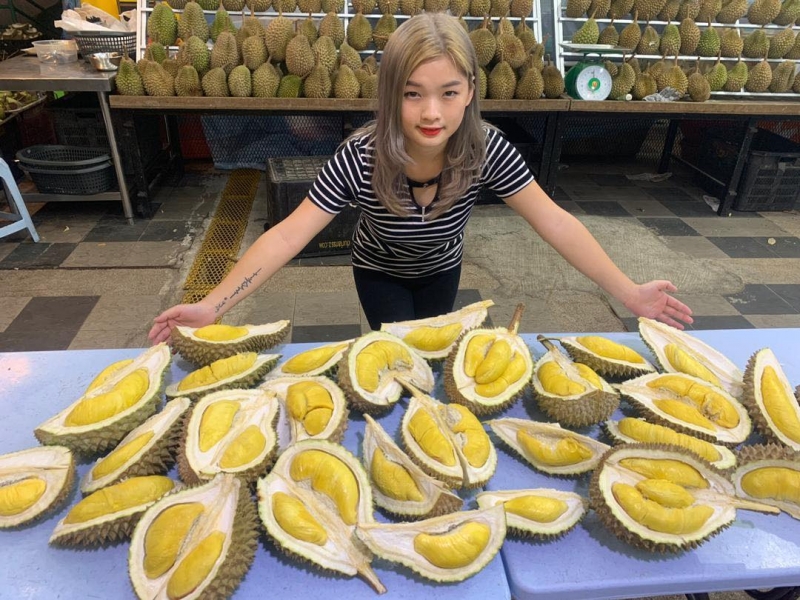 Another popular name that is reverently spoken amongst durian buffet junkies is Durian SS2. As the name implies, this popular pop-up is located in the SS2 area of Petaling Jaya, offering customers great-tasting durians and even a bowl of icy cold durian cendol for durian lovers with a sweet tooth!
Address: 193, Jalan SS 2/24, SS 2, 47300 Petaling Jaya, Selangor
Hours: 12 p.m. – 12 a.m. (Daily)
3. City Durian Specialist (Kuala Lumpur)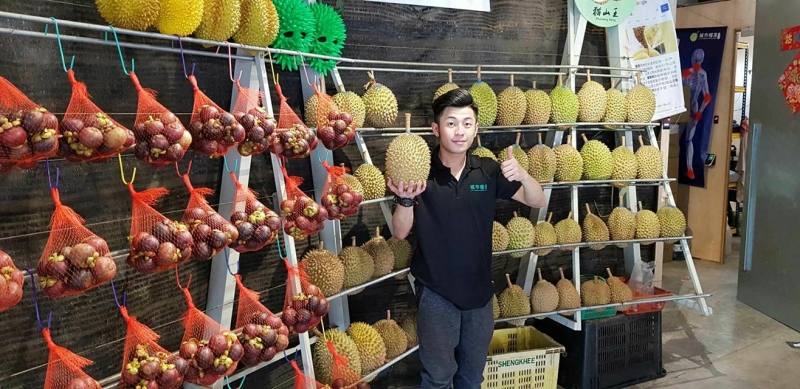 With a name like "durian specialist" you can already be sure that they're one of the best. Located in the heart of Kuala Lumpur, City Durian Specialist offers visitors a great selection of creamy, tasty durians. What's more, unlike the previous stalls, this one actually operates indoors so you can dine in comfort! It also offers some unique durian snacks like durian tarts and baked durian with cheese (hello, polis?)!
Address: C1-C5,[email protected], No15A(R, 1-18, Jln Tong Shin, 50200 Kuala Lumpur
Hours: 11 a.m. – 11 p.m. (Daily)
4. SK 6363 Durian Stall (Kuala Lumpur)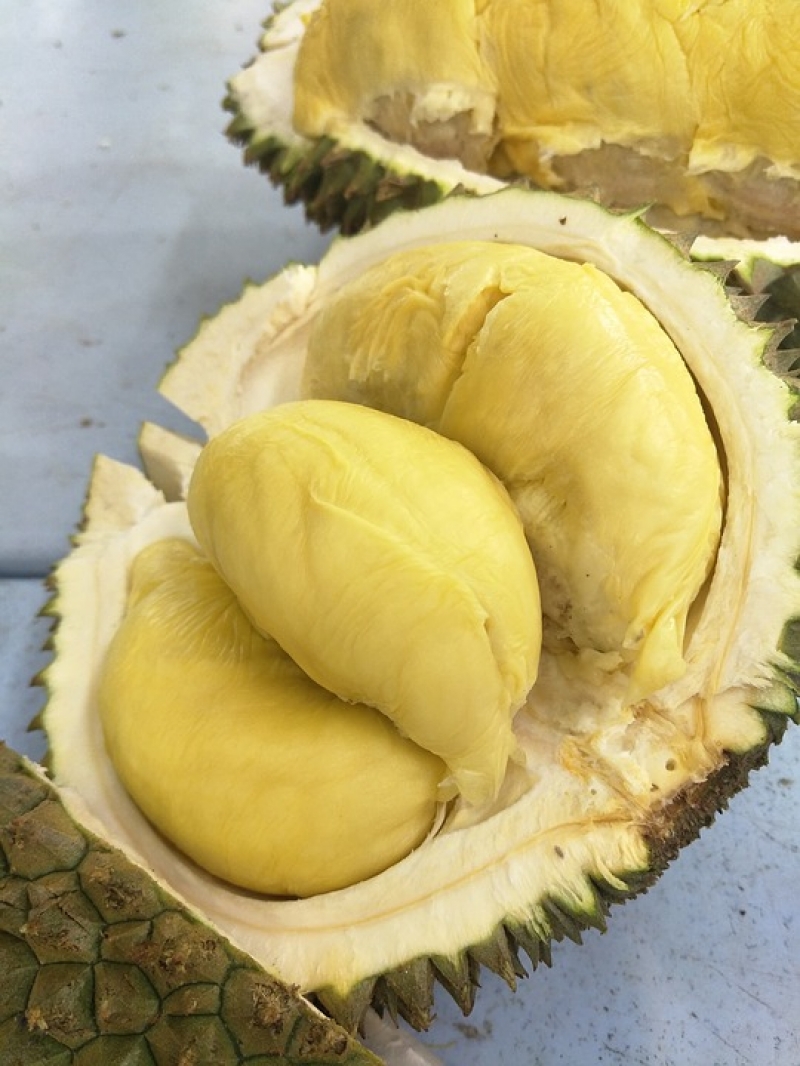 Many consider SK6363 to be the OG durian buffet stall. However, I've heard that they no longer provide all-you-can-eat buffets, instead deciding to serve up fresh durians like a regular fruit stall. That being said, they have not compromised on the quality of their fruits, promising visitors a delicious experience nonetheless!
Address: Kepong Baru, 52100 Kuala Lumpur, Federal Territory of Kuala Lumpur
Hours: 12 a.m. – 11.45 p.m. (Daily)
5. Ah Teik Durian Stall (Penang)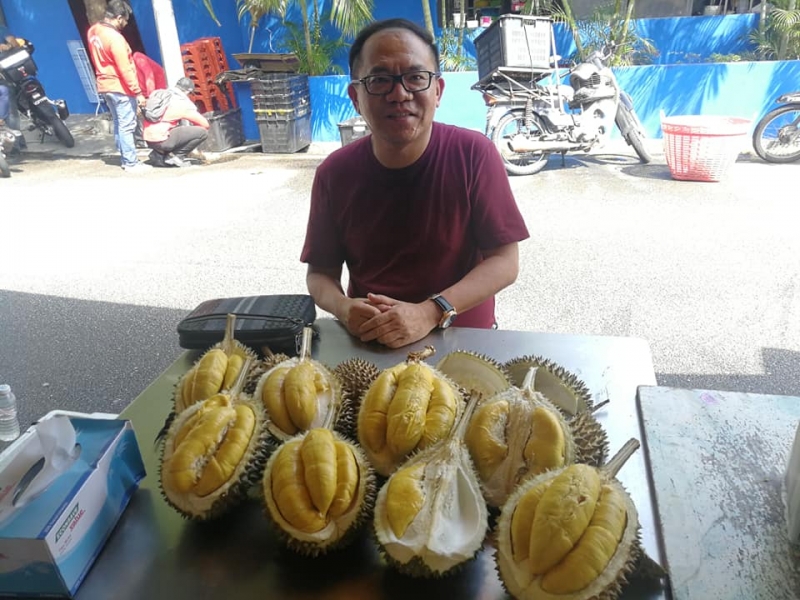 Ah Teik Durian Stall is so popular that it not only draws locals to its humble abode but also foreigners who travel far just to get a taste of the creamy durians that are sold here. Apart from Musang King, it also sells the even more novel (and expensive!) Black Thorn, which is a major hit amongst Penangites!
Address: Lorong Susu, George Town, Penang Island 10400, Malaysia
Hours: 10am – 10.30pm (Daily)
6. Leng Durian (Penang)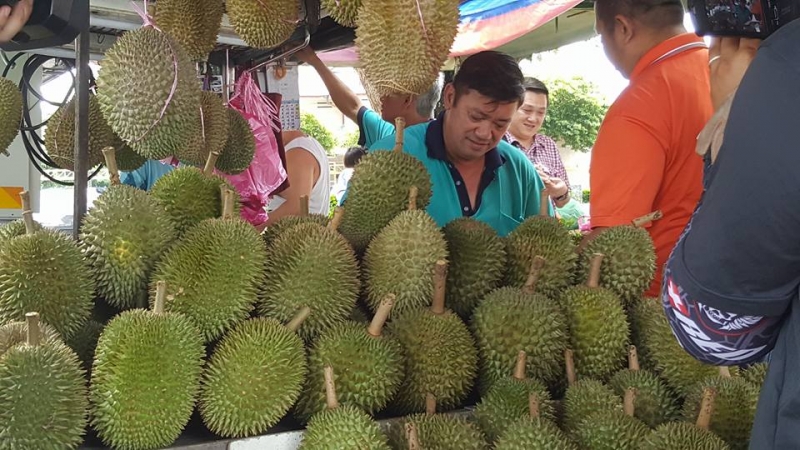 Great tasting durians and reasonable prices are the hallmarks of a good durian stall. Leng Durian on Jalan Anson certainly checks both boxes. While not as grandiose as other durian buffet stalls on the list, locals swear by the quality of this local favourite!
Address: Jalan Anson, 10400 George Town, Pulau Pinang
Hours: 10am – 8pm (Daily)
7. Limang (Sarawak)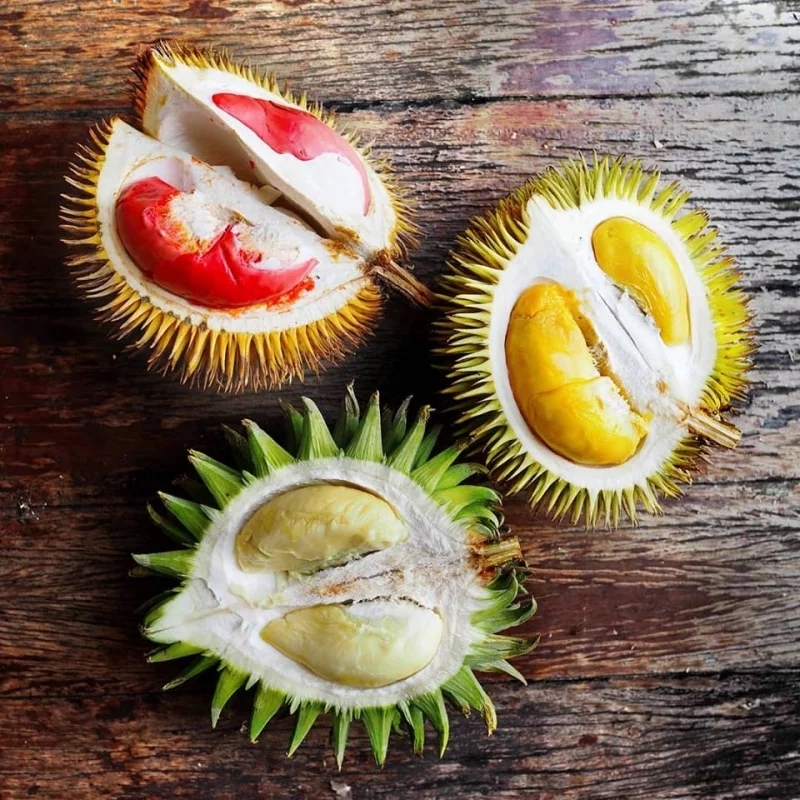 Okay lah, my East Malaysian brothers and sisters, I didn't forget you guys! While all the other farms and stalls on this list stock popular farmed durians, if you want to take a walk on the wild side, Limang, Sarawak is the place to be. 
This quaint little area is popular for its wild durians harvested from the jungle. They come in different shapes, sizes and some of the flesh is even known to be bright red! The taste is distinct from farmed durians and some say that they're even sweeter! So, if going on a road trip to Penang can't satisfy your durian cravings, maybe it's time to hop on a flight to Sarawak instead!
Bon Appetit! 
And there you have it, some of the best durian farms, orchards, and buffets for you to satisfy your durian cravings this season! Of course, there are some we missed out but that just goes to show you how many great options there are out there! 
So, with durian season starting late, it's time to start your thorny pilgrimage in the name of the King of Fruits! Ish, now even I feel like getting some durian!