Without a doubt, Japan is one of the top destinations for Malaysian travellers. But ask anyone who has visited Japan before, or people planning to go, or even that random aunt of yours in the family Whatsapp group and they will all say the same thing: Japan very expensive leh. But is budget travel in Japan truly impossible?
While it's true that Japan is a costly destination, it's definitely possible to piece together a budget trip. Last year, my friend and I managed to travel Japan for 12 days (10 if you want to take off the days we flew in and out of the country) for less than RM5,000 each including flights and accommodation. Here's how we did it!  
Note: The exchange rate at the time of writing was RM1 = ¥27.8. Prices will be rounded off for easier estimation.
Getting there
While researching, we realised that instead of expensive direct flights or connecting flights at crazy hours, we could easily get budget flights to Tokyo Narita International Airport (direct) from Hong Kong for as low as RM400.
So, we flew from Kuala Lumpur to Hong Kong with AirAsia (RM250) and then caught a separate flight to Narita. Basically, our air fare to Japan was: RM250 (KL → HK) + RM400 (HK → NRT) = RM650.
How we managed that was by booking our flights early (we flew in late May but we bought our tickets in early April). What's more, we decided to fly on a weekday, when flights are generally cheaper. In fact, sometimes, budget carriers like HK Express or Jetstar Japan offer promotional fares for even less than what we paid!
Alternatively, you can also get cheap direct flights with AirAsia X to Osaka (Kansai International Airport) if you're okay with starting your journey there.
Transport in Japan
One of the open secrets of travelling Japan is getting the Japan Rail Pass. It's an all-in transport pass that allows the holder unlimited rides on most (if not all) JR Line shinkansen (bullet trains), express trains, local trains, monorail travel and most JR Line buses too.
The pass is valid for 7 days, 14 days, or 21 days respectively. The validity period starts the moment you use the pass for the first time. A 7-day Japan Rail Pass is priced at ¥29,110 (RM1,048) for adults and ¥14,550 (RM524) for children aged 6-11.
Get this pass IF you're planning to travel around the whole of Japan. The most valuable savings it gives you is when you take the bullet trains. For example, a return trip between Tokyo and Kyoto already costs about ¥23,000 (RM828). So, having a Japan Rail Pass in this case will save you a ton of money. You can buy the pass either in Japan itself or from licensed overseas agents. In Malaysia, you can get them from tour agencies like JTB Malaysia and H.I.S Travel.
Transport in Japan: what we did instead
Despite all the potential savings, my friend and I chose not to get the Japan Rail Pass. The thing is, we had planned very carefully what we would do in Japan and where we would be travelling. We would spend 4 days in Tokyo, 3 in Kyoto and 3 in Osaka.
We realised that we would be spending more time in the Kansai Region (Kyoto and Osaka), so we decided to get the JR Kansai Wide Area Pass instead. It works just like the Japan Rail Pass except it only covers the Kansai region and only has a validity period of 5 days.
Also read: Day Trips To Take From Tokyo
With clever planning, that turned out to be just right for us. What's more, the Kansai Wide Area Pass only cost us ¥9,000 (RM328 for adult tickets).
Of course, without the Japan Rail Pass, we had to fork out a little extra for our transport in Tokyo since the pass we had doesn't cover it. We paid about ¥2,500 (RM90) for a train ticket from Narita Airport to Ueno, where we were staying.
The average cost of subway and metro tickets in Tokyo is between ¥150 to ¥250 (RM5.50 to RM9). We used a combination of the subway and plenty of walking and spent an average of ¥1200 (RM43) daily for four days getting around the city.
Our most expensive transport ticket was for our trip from Tokyo to Kyoto. Since we didn't have the Japan Rail Pass, the shinkansen (bullet train) was too expensive for us. Instead, we took a highway bus.
These sort of buses typically range from ¥4,000 to ¥11,000 (RM145 to RM398) depending on coach class and day/time of travel. We took an early morning bus (9 a.m. departure from Shinjuku Station) and arrived in Kyoto by 6 p.m.
It cost us ¥5,400 (RM195) and the journey was actually quite comfortable. The bus seats were quite wide and since not many people take these buses, there was plenty of space and it was quiet as well. We stopped at several rest stops in the countryside and even got to taste some delicious food along the way.
If you want to save even more, you can consider taking the night bus. You'll depart Tokyo late in the night and arrive at Kyoto the next morning. You can save money on accommodation by sleeping on the bus, so that's a double bonus.
Regardless, to summarise, our rough transport cost for the whole trip was like this:
RM328 (Kansai Wide Area Pass) + RM90 (train from airport to hostel) + RM170 (metro and subway fares in Tokyo for 4 days) + RM195 (bus to Kyoto) = RM783
Also read: Kyoto 4D3N Itinerary Guide (Pt. 1) 
Accommodation
According to our booking records, we spent RM1570 on accommodation. Divided by 2, that's RM785 per person, amounting to RM71 per day (divided by 11 days of accommodation). Wah, that is cheaper than some places in Malaysia leh! Don't worry, this is not a scam or some fantasy story. Here's how we did it.
Throughout our entire journey, we only stayed in capsule hotels (Tokyo), ryokans (Kyoto) and guesthouses (Osaka). You might think that we skimped out on luxury, but looking back, I don't feel like we did. While we didn't get the 5-star hotel treatment, we got to experience a raw, humble taste of Japan's travel culture you would never get if you travelled with a tour group.
Capsule hotels are amazing concepts to try in Japan. they're private, affordable (going as low as ¥2000 – RM73 per night), and comfortable! Apart from travellers, office workers in Tokyo also frequent these establishments, so you can expect some peace and quiet at night. The capsule hotel we stayed in was strictly only for men and there was a shared bathhouse and hot tub in the building.
It took us awhile to get used to showering in front of other people but soon, we got over the awkwardness and assimilated into the culture. In Kyoto, we got to stay in a Japanese ryokan. The walls are thin here so most people would keep their voices down except in the common room. So, it's a nice place to mingle during the evening and get some good rest in the night.
Image credit: J-Hoppers Osaka Guesthouse
My favourite place was our guesthouse in Osaka. We shared an 8-bed dormitory with other travellers from around the world. The staff were so friendly that it actually felt a little bit like being at home. They also organised social activities for the occupants, such as takoyaki night, and international exchange parties, where you all go out to a nearby bar and socialise over drinks.
It's a great place to get to know other travellers from all over the world and from Japan itself. These guesthouses are all quite common in Osaka and it's easy to see why they're such popular budget accommodation options. They're also usually close to major transport hubs so you can be sure that it'll be convenient to move about.
Apart from these, you can also consider staying the night at Internet and Manga cafes as well. They're comfortable, safe and are quite affordable.
If anyone is interested, the places we stayed in were: CapsuleValue Kanda in Tokyo, Santiago Guesthouse in Kyoto, and J-Hoppers Osaka.
Let's do a quick count: RM650 (air fare) + RM783 (transport) + RM785 (accommodation) = RM2,218. That's pretty much all of our major expenses.
Makan-makan (Food)
Food in Japan is absolutely delicious. I swear, those Japanese restaurant chains in Malaysia can't even compare. But of course, if you're travelling on a budget, you might think that food in Japan is expensive.
Well, it really depends on how you enjoy food in Japan. The food culture there is so diverse that you can find something yummy at almost any corner of the street.
Donburi (Japanese rice bowl dish) is one of the most economical food options in Japan. You can find them in chain stores like Yoshinoya and Sukiya. These places are super packed during lunch hour as people flock to them for a tasty, filling meal.
Menus in these places often come in dual languages (English and Japanese) and a typical bowl costs between ¥350 to 550 (RM13 to RM20) depending on portion size.
My friend and I particularly liked the kare gyudon (curry beef bowl) at Yoshinoya. That cost us ¥550 (RM20) and came with complimentary pickles and water. It kept us full for the rest of the day.
Another affordable option is to eat at a yatai. I think we as Malaysians will like this the most. Yatai are essentially food carts that you typically find in night markets. And like the stalls at our pasar malam, you can find an assortment of delicious food, ranging from ramen to light bites like yakitori (grilled chicken skewer), takoyaki (octopus balls), tempura and more.
One good place where you can find tons of yatai is in Dotonbori, Osaka. This famous food street is one of my favourite places in Japan and you will be spoilt for choice here. In Tokyo, we went to the food street near Tsukiji Market for breakfast and it was great as well. Make sure to try some seafood while you're there!
And of course, it wouldn't be Japan without a convenience store meal. Having been there, I have to admit, the range is REALLY impressive. There are bento boxes, sandwiches, oden, onigiri etc. And everything looks and tastes so good.
Priced at an average of ¥300 to ¥600 (RM11 to RM22) per meal, convenience store meals are perfect for those who are looking to save money but still want good food. We went to Lawson and Family Mart no less than 10 times during our time there! It was that good!
If you want to try sushi in Japan (of course you want to!), I recommend looking for standing sushi bars. It's an experience in and of itself. Customers stand around the sushi counter (no seats) as the chef prepares your order in front of you.
The sushi is very fresh and quite delicious. The one in Shibuya, Tokyo is quite good and affordable, ¥100 to ¥200 (RM3.60 to RM7.20) each on average. I recommend checking them out.
In total, we spent about ¥20,000 (RM724) on food. That's about RM60 per day (divided over 12 days).
Things to do
Some of you might not believe this but for attractions (things to see, do, etc.), we spent less than ¥10,000 (RM362). Now, now, like I said, I'm not a scam or a fraud. You see, you might find it difficult to believe, but you can enjoy many of Japan's most iconic sites without paying a single cent.
In fact, most of Japan's famous shrines and temples offer free entry. The only attractions we visited that required an entrance fee were for the inner sections of Osaka Castle (¥600 – RM22) and Himeji Castle (¥1,000 – RM36). And even then, you can decide not to pay anything and still be able to enjoy the beautiful scenery outside! Check out some of the wonderful places you can visit FOR FREE:
So, how did we manage to spend ¥10,000 (RM362) on attractions if everything was free? Well, ¥7,900 (RM286) of it was for our single day pass into Universal Studios Osaka. The rest of the money we spent on the gaming arcades in Akihabara, Tokyo.
Time for a check on our budget. So, RM5000 – RM2218 (flight, transport and accommodation) – RM724 (food) – RM362 (attractions) = RM1696.
I think we've done pretty good so far. And now we have RM1699 for only one last thing on our agenda: shopping!
P.s., we didn't get a chance to, but if you'd like to visit some concept cafes in Tokyo, like owl cafes or maid/robot cafes, setting aside ¥3,000 (RM110) should be more than enough. Also, if you want to catch an AKB48 concert, tickets cost between ¥2,100 – ¥3,100 (RM76 – RM112) at the AKB48 Theatre in Akihabara, Tokyo.
Shopping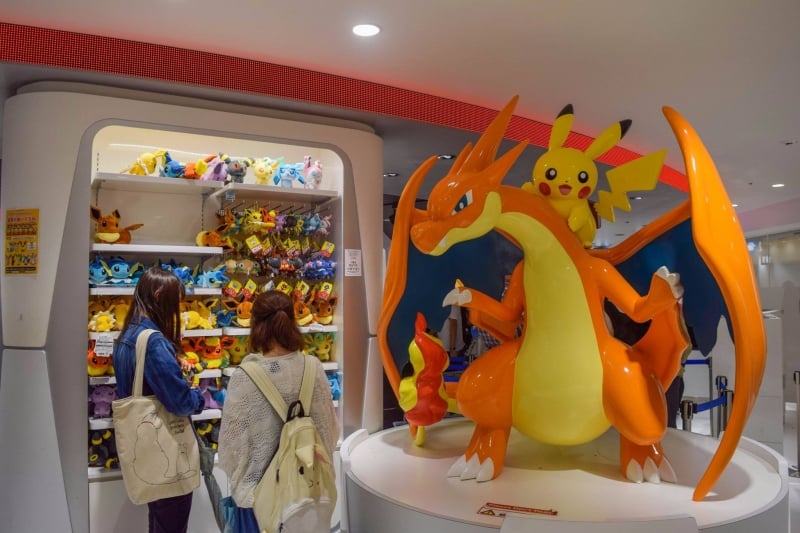 Obviously, one of the most popular things to buy from Japan are anime figures and plushies. You can find them in abundance in places like Akihabara (every otaku's dream), and  Nipponbashi (Osaka).
Compared to Malaysia, anime figures in Japan are more affordable and there's a wider variety. Average prices range from ¥3,000 to ¥15,000 (RM109 to RM543) depending on the make and size although you can easily find cheaper ones as well. The key is to do your research and visit a few different shops before buying anything.
If you're looking for more affordable options, you should consider going to Akiba Culture Zone which stocks plenty of pre-loved figures, all in tip-top condition. Prices are even cheaper and the goods are still relatively in good condition.
But of course, there's more to buy in Japan than just anime merchandise. There are plenty of Japanese souvenirs to bring home (and no, I'm not talking about keychains and fridge magnets. Put those back down!).
If you want to bring home some of the flavours of Japan (matcha, wasabi, snacks etc.), then head to the local supermarkets, pharmacies (they call them drug stores), and convenience stores. You'll be able to find all these, often for less than ¥300 (RM11) each, except for matcha, which typically costs ¥400 (RM15).
If you want to buy souvenirs that aren't food, head to the 100 yen stores and neighbourhood markets. You can buy elegant chopsticks, tableware, and cute trinkets for dirt-cheap prices. And they also often don't weigh a lot, so you don't have to worry too much if you don't plan on checking in your bags at the airport.
All in all, RM1,000 should be enough to cover most of your souvenir shopping, especially if you're not planning on buying too many anime figures. So, our final count:
RM650 (flight) + RM783 (transport) + RM785 (accommodation) + RM724 (food) + RM362 (attractions) + RM1,000 (shopping) = RM4304
But wait!
Some of you might have noticed: I didn't mention anything about return tickets! That's because instead of going home, my friend and I hopped on another budget airline (Peach Aviation) and flew to Busan, South Korea from Osaka (RM280).
But, if you're looking to head home to the sweet smell of nasi lemak and teh tarik, you can easily get cheap flights from Osaka to Kuala Lumpur for less than RM600 on AirAsia X. That's half the price you'd have to pay to fly from Tokyo!
Even with the addition of the flight tickets home, the final expenditure would still come up to no more than RM5,000 for 12 (10) days in Japan!
The Land of the Rising Sun Awaits
And that's our story! I hope I've just convinced you that it's perfectly possible to travel Japan on a relatively light budget! All it takes is a little bit of planning and you too can be off on an epic adventure in the Land of the Rising Sun!
Also read: A Malaysian Globetrotter's Guide To The Philippines: 20 Experiences To Scratch Off Your Bucket List or The Malaysian Guide to Budget Travel in South Korea