As much as we'd want everything to go back to normal, the pandemic has simply altered the world as we know it. It has changed the way we enjoy life — including the pleasure we take in seeing the Earth's splendour through travel. Given physical distancing requirements and the safer choice of being outdoors, we give you 2021's best getaway idea: Soaking our worries away along the shores of the pristine beaches in Sarawak!
By now, we all know that Sarawak brims with natures escapes that give us that much-needed break from being holed up at home. But in a socially distanced "new normal", underrated gems with fewer crowds and foot traffic shall reign supreme. Here are the best beaches in Sarawak that offer exactly that.
1. Damai Beach, Kuching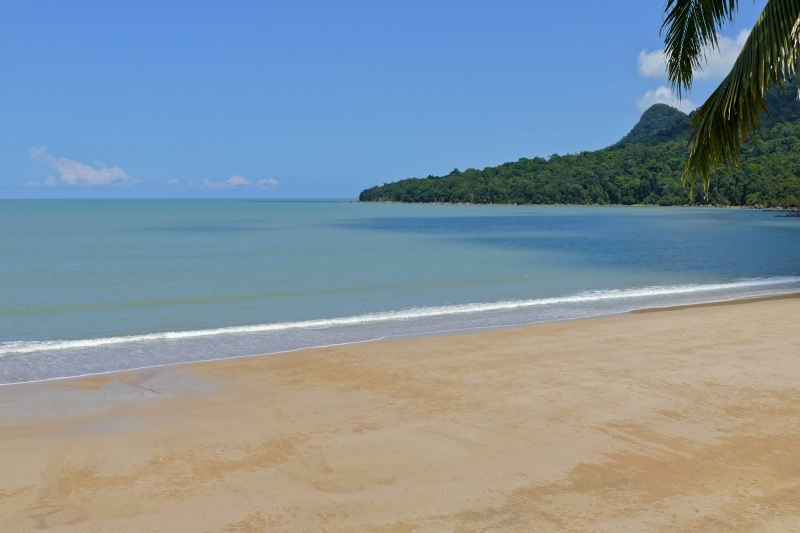 Less than an hour away from the busy centre of Kuching, Damai Beach is a favourite among daytrippers and those who enjoy the convenience of accessibility. Damai Beach itself is part of the renowned Damai Beach Resort, which is among Sarawak's most popular seaside vacation spots!
If you're coming from Kuching, you should know that the journey itself presents a scenic route. Keep your eyes peeled for the views, or bring out your cameras for a photo opp! Another great thing about heading to Damai Beach is that you have the choice of exploring its surrounding greenery; it's enveloped by rainforests and smaller rivers with amazing biodiversity.
Would you rather chill by the ocean? Take advantage of Damai Beach Resort's huts and sunbeds. There's also a pool for some laps, or when you're just not in the mood to be in open water.
Pro travel tip: Slather on SPF at the beach and environmentally friendly insect repellent when deep within Sarawak's jungles.
2. Tusan Cliff Beach, Miri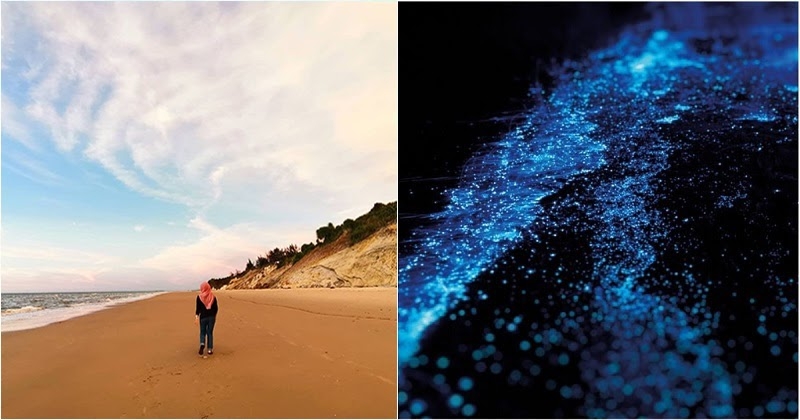 There are two pleasantly peculiar things you'll hear upon a single mention of Tusan Cliff Beach: "blue tears" and "Horse Head Drinking Water". Unfortunately, the latter — a picturesque rock formation that really does look like a horse drinking from the sea — collapsed earlier this year. Only its ruins remain, but if you'd like to get a glimpse of its former glory, the Internet brims with nostalgic photos!
Blue tears, on the other hand, is a natural phenomenon you can still witness to this day at Tusan Cliff Beach. There are countless stunning beaches in Sarawak, but only a few boast of waters that glow. Luckily for you, Tusan Beach Cliff hosts a healthy population of dinoflagellates, a bioluminescent species of algae that radiates a shocking neon blue during nighttime! Unfortunately, as you would expect, sights like these are incredibly rare and extremely challenging to experience. You'll need optimal conditions, least of all perfect weather and impeccable timing. But if you succeed, it will be as though the starry sky itself had descended upon the shore! 
No worries; the place is just as stunning during the day. What awaits? Clear, pristine waters and stunning scenery (yes, even without Horse Head Drinking Water — but it will surely be missed)!
Pro travel tip: Practise nighttime photography if you intend to take snapshots of Tusan Cliff Beach's blue tears. Or at least make sure you've mastered your phone's night mode.
3. Sematan Beach, Sematan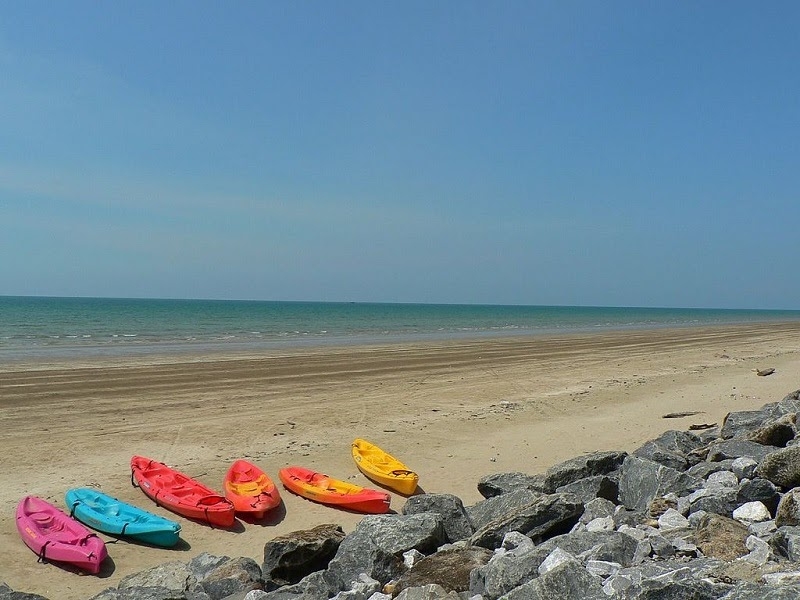 Nearer the border between Sarawak and Indonesia's Kalimantan, Sematan Beach oozes with an off-the-grid appeal. These parts of the island are more peppered with dense jungles, which makes the area seem secluded even if it's actually one of the most popular beaches in Sarawak. Because of this, it's the perfect failsafe retreat away from crowds of Kuching.
Case in point: You'll actually pass Semantan on your way to Tanjung Datu National Park. But since Semantan is a fishing village-turned-port, you can bet that it also offers plenty of seaside getaways.
There are lots of reasons why people love Sematan Beach: endless stretches of fine sand; its shore's gentle slope, which leads you into calm, shallow waters; Instagram-worthy views of the South China sea — among others.
Beyond the beach lie adventures that will charm you even more. Rent a bicycle and ride your way to the nearby Sebat Waterfall from Sematan Beach. Resorts also offer watersports and other leisure activities such as kayaking and snorkelling. You'll be spoilt for choice!
4. Pantai Tanjung Batu, Bintulu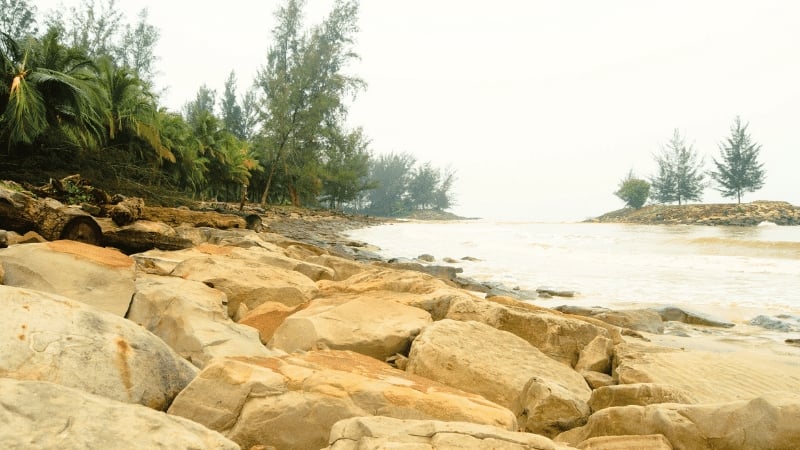 Bintulu, a coastal town north of Kuching, boasts of shorelines open for the public to enjoy. Here, you'll find Pantai Tanjung Batu — a Sarawakian beach escape that's more of a seaside park than anything else.
Visitors are free to enjoy a palm tree grove laden with paths, which lead to the beach's sandy shores. This garden area is perfect for picnics too; just spread a mat on the grass or simply settle down on one of the benches so you can snack while watching fiery colours explode across the skyline at sundown.
Pro travel tip: Bring pocket money for scrumptious specialities. Eateries stationed near the garden area are just a leisurely stroll away, plus they offer Halal dishes! 
Keep in mind that the beach is public, so you'll be sharing it with locals, daytrippers, and children eagerly exploring the rockpools nearby. Still, it won't be crowded, but it's always good to be reminded of physical distancing these days.
5. Coco Cabana, Miri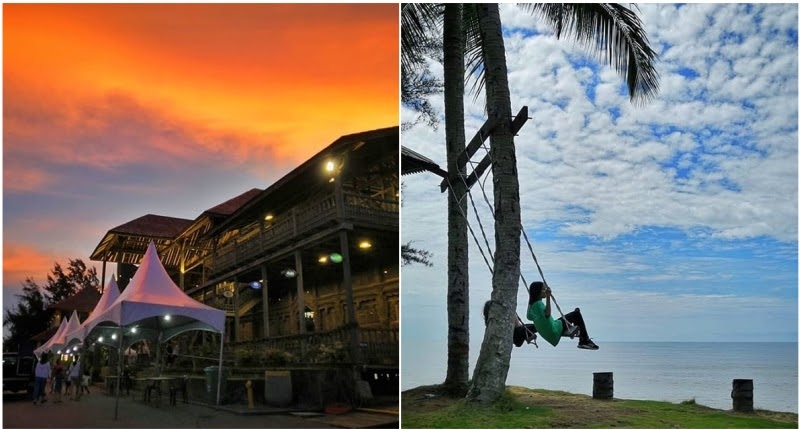 If you're on a mission to catch the best sunsets in Sarawak, look no further. Of all the beaches in Sarawak, the ones in coastal Miri come out on top in this department. From morning to midday's bright blues to the warm hues that make the skies pop at dusk, Miri's stunning vista takes any onlooker's breath away. Sunsets here are enough to draw loyal visitors from all around.
A mere five-minute drive from the centre, Coco Cabana Beach is perhaps the most visited tourist spot in Miri's busier parts. Although the beach itself doesn't offer your typical sandy shores (it's a rocky one), it certainly does not lack in things to do.
The place is perfect for picnics. Just remember to make their Seahorse-shaped lighthouse your marker, and you'll find the best chill spot in the area. Daytime is best for cycling around or just enjoying the sights. After watching the sunset, witness nearby stalls come alive at the daily uptown evening market. Who knows, you might even find a cute trinket to commemorate your first beach trip of 2021!
6. Bungai Beach, Bekenu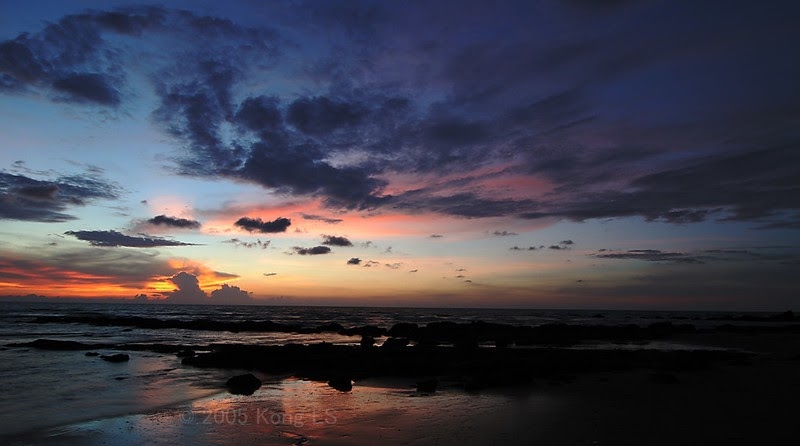 Now this one's a real underrated gem. Bungai Beach in the small fishing town of Bekenu is about an hour's drive away from Miri. It offers the same fiery sunsets of Miri, but more untouched shores. 
Although it has the basic amenities you'll need for a beachside getaway, don't expect five-star resorts; this raw appeal is part and parcel of Bungai Beach's charm. This is the place you head to for long stretches of white sand, minus the throng of tourists. If you're in need of much-needed tranquility, we highly recommend heading out just to witness the tide ebb and flow in mellow Bekenu.
Bungai Beach is quite near the extremely photogenic Luak Bay Esplanade, too — which makes it perfect for beach-hopping. Think white, sandy shores curving around a scenic bay area. Ready those cameras and take lots of photos so you can take your memories home with you!
7. Tanjung Lobang, Miri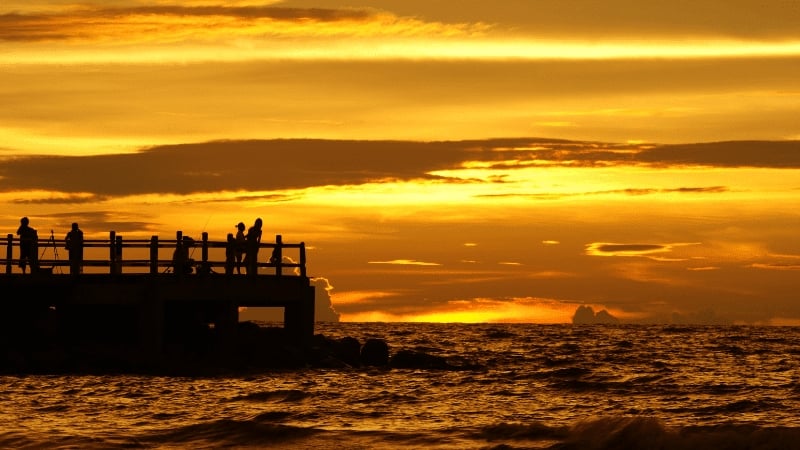 If Australia is home to Brighton Beach that's flocked to for its colourful bathing boxes, Sarawak has its own version that's known as Tanjung Lobang. Time and time again, Tanjung Lubang has been deemed the gem of Sarawak — and rightly so. Two piers jut out into the endless expanse of the South China Sea, which gives visitors unparalleled views of the ocean. It gives the illusion that you're hovering above the crashing waves.
Tanjung Lobang is Miri's oldest recreational beach and a trip here makes for a great weekend getaway. Pack a few snacks if you want to set up a picnic; otherwise, just soak in the seaside views made more eye-catching by the Miri Marina and its lighthouse.
P.S. You'll also spot Miri's famous sunsets here. Why not make an epic adventure out of all the beaches in Miri and decide which one offers the best view?
8. Satang Island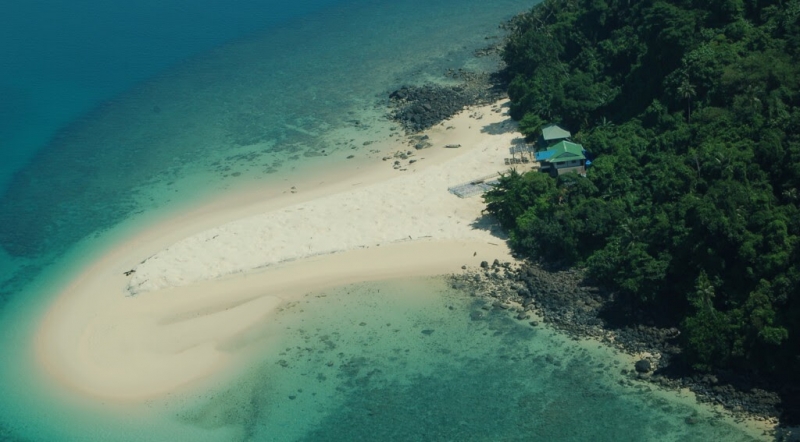 Among the many beaches in Sarawak, Satang Island is where you'll get to immerse yourself in nature's immense beauty and help protect it.
Part of the Talang Satang National Park, Satang Island serves as a nesting ground for plenty of protected wildlife — including endangered green and hawksbill turtles. If that doesn't paint a pretty picture already, then maybe this will: This national park boasts of cerulean waters, powder-like white sand, and dense forests that are so unspoilt, they're actually not ideal for hiking.
Of the four islands in Talang Satang National Park, only Satang Island is open to public visitors — and only day trips are allowed. Since it's a protected wildlife sanctuary, you can't freely roam on your own even in the designated areas; a park warden must accompany you at all times! Fret not, as this precaution is for your safety as well as the critters' who call these virgin islands home.
Satang Island also offers once-in-a-lifetime snorkelling and diving experiences that you shouldn't pass up! You can just imagine the lush realms that await underneath the waves if the surface's biodiversity already impresses. 
Pro travel tip: If you plan to snorkel or scuba dive, book ahead with the relevant travel agents. Such leisure activities are regulated in protected areas like Talang Satang National Park, so it's better to secure your slot and know the requirements before you head out.
If you're just passing by Satang Island aboard a boat, take the opportunity to cruise past Santubong Village or go Irrawaddy dolphin watching. Keep your camera on you at all times in case some friendly creatures make an appearance!
These beaches in Sarawak only sound better and better. What more if you see them for yourself? 2020 may have been the year of cancelled travel plans, but we're feeling good about 2021. Safe travels and remember, enjoy good company from a safe distance — on the beach or elsewhere!
---
Brought to you by Sarawak Tourism Board