Yes, you read that right! To celebrate its 10th consecutive year as the winner of the Skytrax World's Best Low-Cost Airline award, AirAsia is offering a truly special gift to its loyal customers!
For a limited time only, customers will be able to enjoy some epic promotional fares when flying from Kuala Lumpur.
你没看错哦!为了欢庆AirAsia连续10年被Skytrax列为世界最佳廉价航空公司,AirAsia为致敬的客户们带来了经典的优惠!从吉隆坡起飞可享受超值的票价。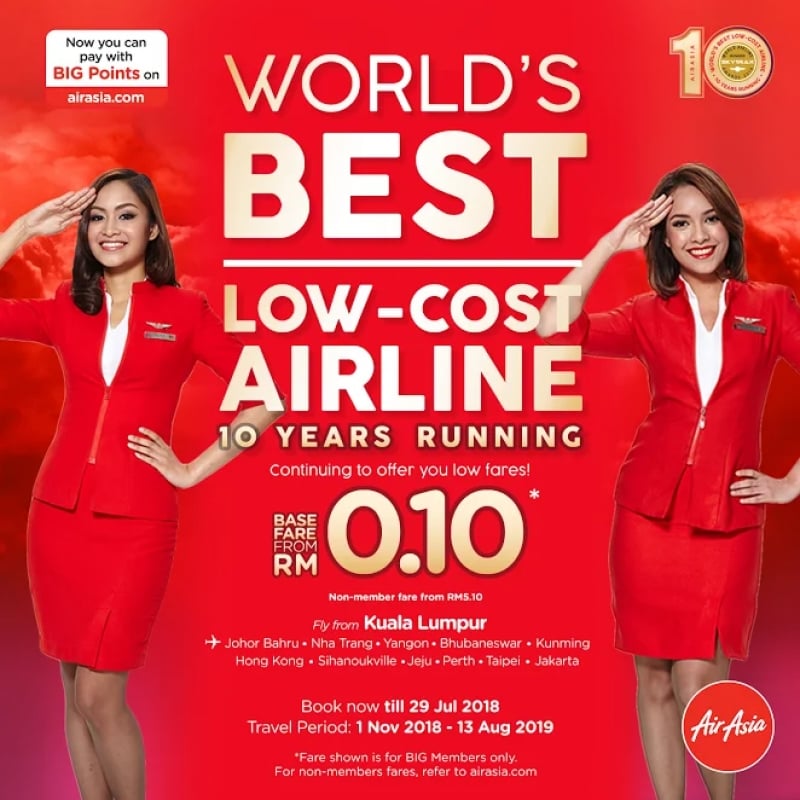 AirAsia Big members can fly with base fares from as low as RM0.10* to various destinations like Johor Bahru, Penang, Siam Reap, Krabi, and more (non-members: RM5.10 and above) ! Now that is an awesome deal! You can even make that dream vacation to Jeju Island, Taipei, or Perth happen for base fares starting from only RM100*!  
AirAsia Big 成员可飞往新山,槟城,暹粒市,甲米等目的地,票价只从RM0.10*起哦!(非成员则RM5.10起)如果你想到济州,台北,或珀斯等旅行,现在是最好的时机 – 因为票价只从RM100*起!
Hurry, book from now till July 29th 2018 and fly from 1st November 2018 till 13th August 2019 to enjoy these awesome offers! For more information and to snap up your tickets before it's too late, head over to AirAsia's official website now!
订购日期:现在到 29/7/2018 为止
出发日期:1/11/2018 至 13/8/2019 为止
现在就赶紧到AirAsia的网站购买属于您的机票吧!
Finally, from all of us here at TripZilla Malaysia, congratulations, AirAsia on your incredible milestone! #MalaysiaBoleh
最后,小编代表TripZilla Malaysia在此祝贺AirAsia优秀的表现! #MalaysiaBoleh
*Prices reflected are for base fare only. Airport taxes and fees not included.
*显示的票价不包含机场税费