When speaking of food paradises in Southeast Asia, Sarawak, one of Malaysia's most naturally-beautiful destinations, has to be on the list!  After all, other than the attractions, this travel gem in East Malaysia is famous for its plethora of mouth-watering cuisines. 
First-time traveller to Sarawak or simply looking for good food to savour when you're there? Let's dive into a list of things to do and food to try on a foodie's trip in the Land of the Hornbills!
Also read: Sarawak: The Do-It-All Destination for 5 Types of Travellers
Ready to visit Sarawak for scrumptious cuisines and beyond?
Explore more of Sarawak while you're there by downloading the "Enjoy Sarawak" app. Simply spend above RM250 (with the over 140 travel and lifestyle packages available on the app) to redeem an RM100 voucher!
The offer is available from now till 16 Jul 2023.

Day 1: Take a walk around Kuching City Centre
Exploring the Kuching City Centre is a must when visiting Sarawak. This capital of Sarawak is also known as the town of cats, as its name "Kuching" means cat in the Malay language. Here, you will be greeted by adorable cat statues, like the iconic family Cat Statue at Jalan Tunku Abdul Rahman, and the Great Cat Statue at Padungan Roundabout.
In the Kuching city centre, there are a ton of eateries, especially food courts and kopitiams that serve authentic Borneo delicacies. It's the best place to kick-start your gastronomic journey in Sarawak. After all, Kuching was named a UNESCO Creative City of Gastronomy in 2022!
Kolo Mee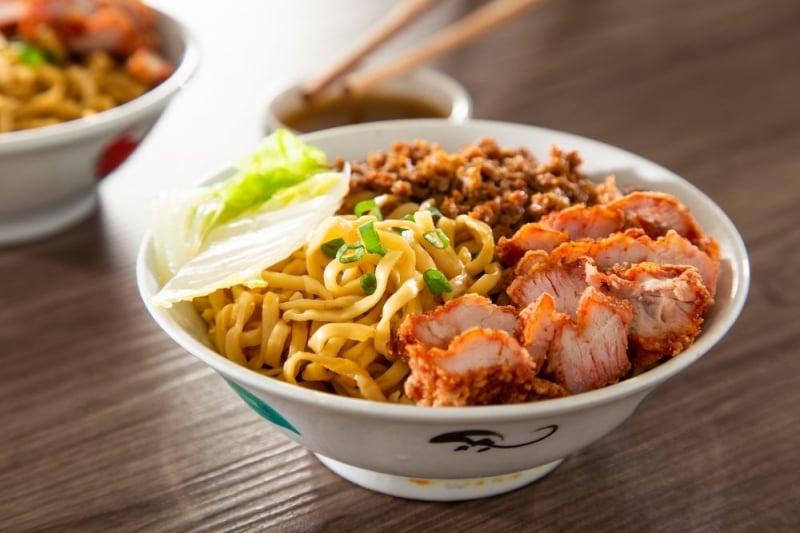 When you think of Sarawakian food, the first thing that comes to mind is probably Kolo Mee. Different from the dry noodles in Peninsula Malaysia which come in a thick, dark sauce, the Kolo Mee here is a dish of dry noodles served in a transparent, light sauce (or red sauce) with soy sauce on the side. It's usually topped with minced pork, char siu (Chinese BBQ pork), spring onions, and some fried shallots. Some stores also serve it with bok choy and wonton dumplings.
You can easily find Kolo Mee in most restaurants in Kuching city centre, such as Sin Lian Shin Kolo Mee, Kuching Red Kolo Mee in Tower Market, Mee Kolok Sarawak, and Warung Mee Kolok Kak Bedah (which serves a halal version of the dish), all of which are well-loved by many locals here.
Midin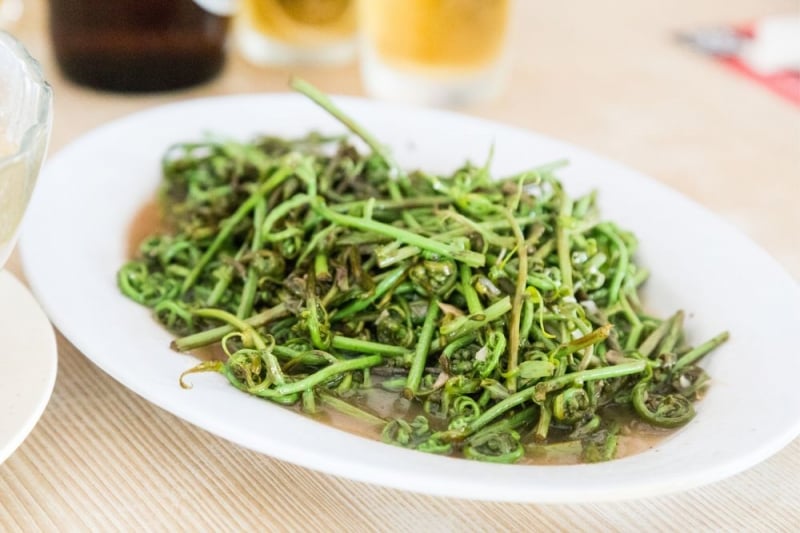 Midin is another must-try dish when you're in Sarawak. This wild fern is usually cooked with belacan (shrimp paste) or garlic, similar to the more common Kangkung Belacan that can be found in other parts of Malaysia. Midin is crunchy with a hint of sweetness, some restaurants also include fried anchovies or salted fish to elevate the flavour of the dish.
In Kuching, almost all Chinese restaurants and food courts serve Midin. That includes Topspot Food Court, Lepau Restaurant, and Toh Yuen Restaurant. It's pretty hard to find Midin in West Malaysia, so take this opportunity to try out this unique dish, paired with a hot bowl of fluffy rice. 
Matterhorn (Metahon)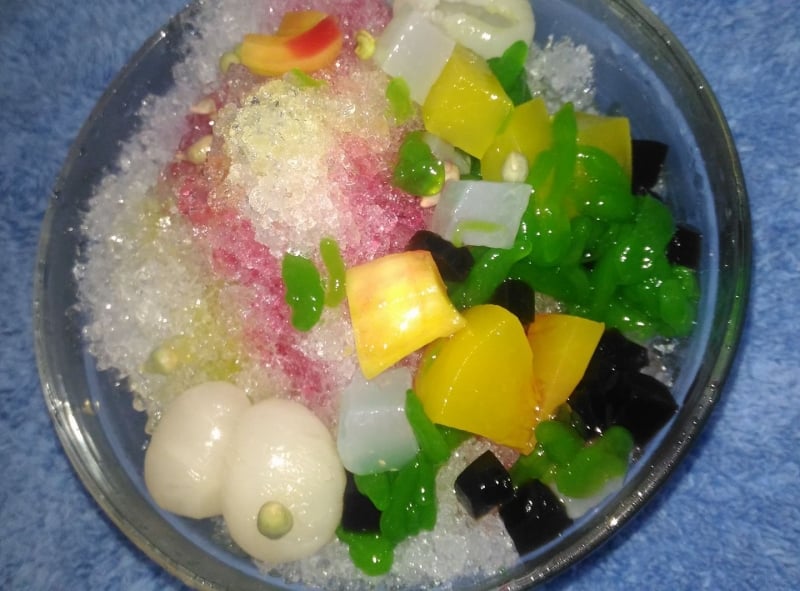 Matterhorn, aka Metahon, is the Sarawakian version of ABC Ice Kacang. The dessert is sour and sweet rather than just sweet. It consists of crushed ice, refreshing lemon or lime juice, cendol, and longan. It's a local favourite thirst quencher and an awesome dessert after a meal. Normally, people would also order White Lady, another dessert that comes in a tall glass, filled with milk, fruit juice, and jellies, to pair.
Check out Hui Sing Hawker Centre, Ah Tan Ice Kacang, and Swee Kang Ais Kacang for a taste of these local desserts. 
Kuching Tomato Mee (Keo Jiap Mee)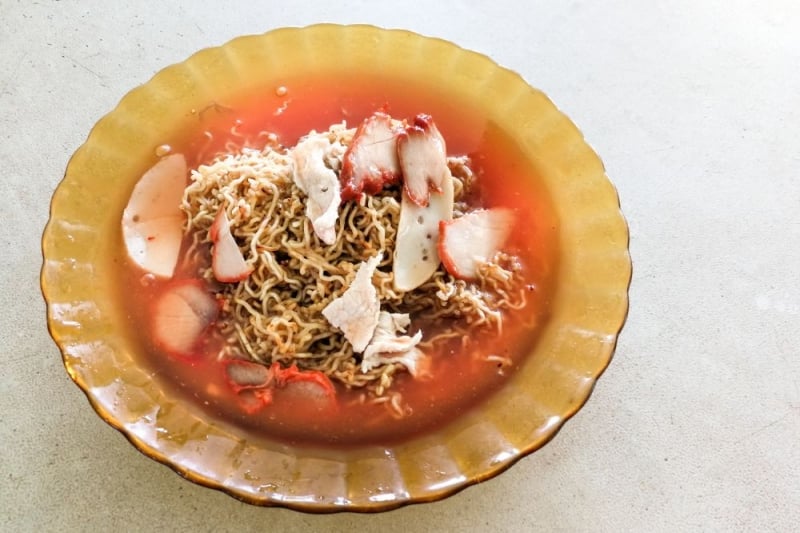 In Kuching, there is a special tomato noodle dish called Keo Jiap Mee, or simply Kuching Tomato Mee. It's basically deep-fried kolo mee drenched in a sweet red tomato-flavoured soup and topped with some seafood, vegetables, and char siu slices.
For Malaysians, this dish will perhaps remind you of the Cantonese-style crispy yee mee. You can find this sweet and sour delicacy in Hap Hap Hin (Stall No. 37) in Kenyalang Park market, Tomato Mee Kampung Stampin Baru, and Choon Thian Food Centre. 
Night 1: Visit the famous Siniawan Night Market
It's not a complete foodie adventure if you miss out on Siniawan Night Market when you're in Sarawak. This famous night market is located in Bau, about 35 minutes' drive from Kuching city centre. Even though all districts in Sarawak have their own food streets and markets, the Siniawan Night Market is the most popular and a must-visit. 
P.S. Do note that the Siniawan Night Market only becomes a food street every Friday, Saturday, and Sunday. So plan your trip accordingly if you want to explore this foodie haven!
Here, you are welcomed by the majestic sight of red lanterns and ancient buildings, the ambience of an old Chinese town is very well-preserved. Get ready to be dazzled by the tons of food choices at the stalls and restaurants here.
Sarawak Laksa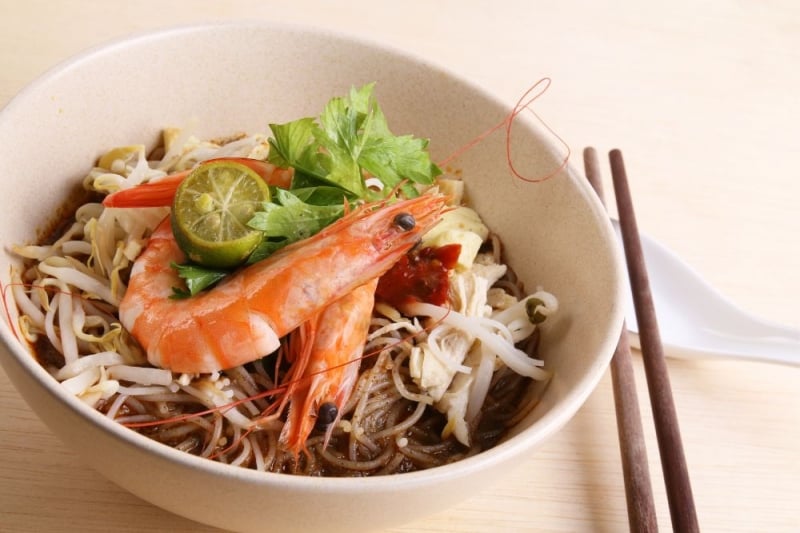 Sarawak Laksa is another famous, scrumptious noodle dish in Malaysia that you can find in the Siniawan Night Market. It features a shrimp-based broth made with a mixture of sambal belacan, sour tamarind, lemongrass, other herbs and spices, and a bit of coconut milk to enrich the overall flavour. It is served with beehoon (vermicelli rice noodles), shrimp, bean sprouts, and chicken slices. Remember to also drizzle some lime juice and add some fresh mint leaves for a more refreshing taste.
Mani Cai Bee Hoon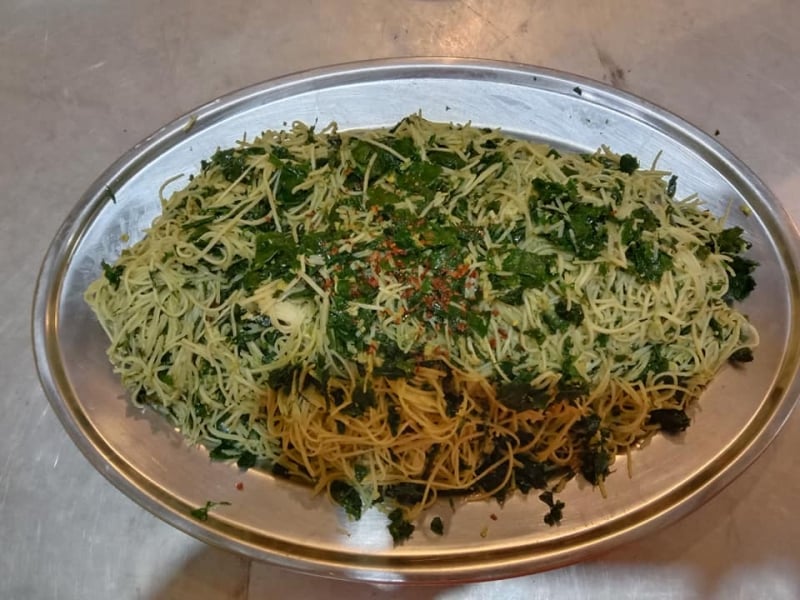 A lot of us from Semananjung Malaysia have probably never heard of Mani Cai Bee Hoon. This unique Sarawakian dish features manicai, also known as Cangkok Manis for the locals, which can be translated directly as sweet vegetables. Manicai beehoon is a household dish in Sarawak, made by stir-frying beehoon (vermicelli rice noodles), manicai, and dried shrimp. Some stalls also serve it along with scrambled eggs or minced prawns. Other than the night market, this dish can also be found in some restaurants in Kuching.
Ayam Pansuh (Manok Pansuh)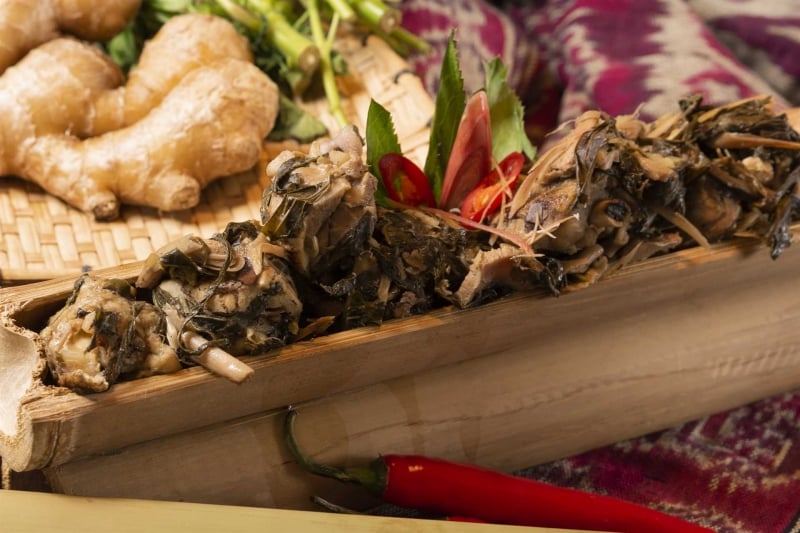 Don't miss out on Ayam Pansuh, aka Manok Pansuh, a unique bamboo chicken dish exclusively found in Sarawak. It is a typical dish prepared by the Ibans, Bidayuhs and other indigenous tribes, especially during celebrations like the annual Gawai Dayak (Harvest Festival). The dish is made by cooking chicken mixed with garlic, ginger, lemongrass, shallots, Kantan flower, and chillis in a hollow bamboo tube, seasoned with salt, seasoning powder and tapioca leaves. The chicken in the bamboo tube is then roasted on an open fire. 
The reason why it's cooked in a sealed tube is to ensure that all the flavours are locked and absorbed in the chicken, so you get a juicy, flavourful Ayam Pansuh once it's done. You can find this authentic indigenous dish in the Siniawan Night Market, as well as the more modern and upscaled cafe in Kuching, The Dyak.
Pork Satay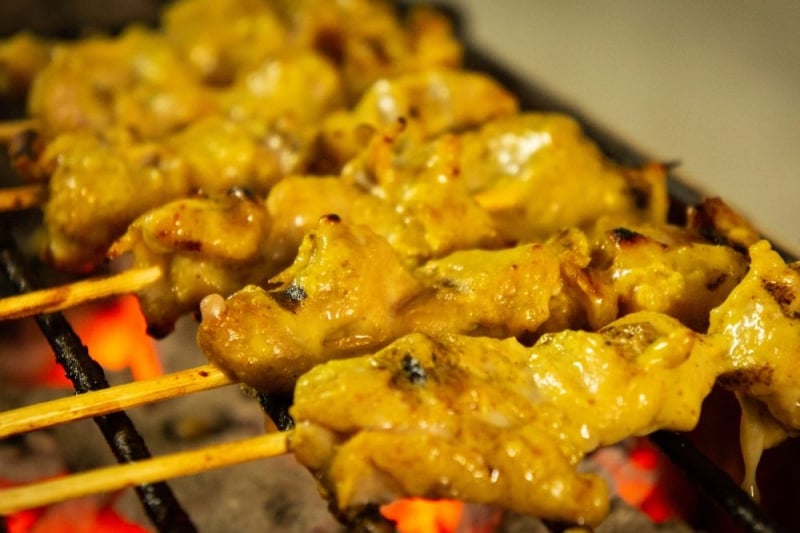 Sarawak's pork satay (grilled pork skewers) is also another local's favourite food. In West Malaysia, this snack is not as common as chicken or lamb satay. Pork Satay is available in Siniawan Night Market, it comes in a few sticks and the meat chunk is slightly bigger than the normal chicken or lamb satay. They're usually marinated with BBQ sauce, and served along with cucumbers, nasi pulut (glutinous rice), and peanut sauce.
Day 2: Savour Sibu's top delicacies
If you have some time to spare, fly to yet another food paradise in Sarawak — Sibu. Sibu is another famous city in the state, the flight here from Kuching takes only around 40 minutes. Of course, you can also drive to Sibu besides flying and turn the journey into a mini road trip. Sibu's top delicacies are mostly of Foochow origin, an ode to the vibrant community that lives there. 
While it's home to several gorgeous attractions, such as Sibu Town Square, Bukit Lima Nature Reserve, and Sibu Rejang Esplanade, one thing you should never miss is its vibrant food scene. 
Kampua Mee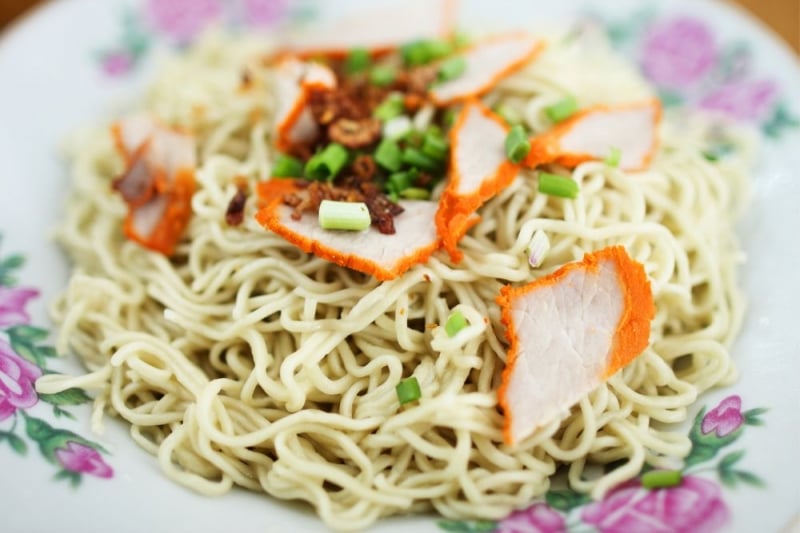 In Sibu, Kampua Mee is pretty much the go-to dish for the locals. It has a similar texture and flavour to Kolo Mee, just less moist and much lighter. Kampua Mee is also normally topped with scallions, char siu, and some minced pork. The locals usually have a simple plate of Kampua Mee, paired with some Bien Nuk (or Bien Nuik), a type of meaty, soupy wonton-like dish as breakfast. 
Satisfy your taste buds at eateries that serve Kampua Mee, like Rasa Sayang Cafe, YS Cafe, Bus Terminal Food Court, and Medan Selera Wa Ha Ha.
Sibu Kompia (Gong Pia)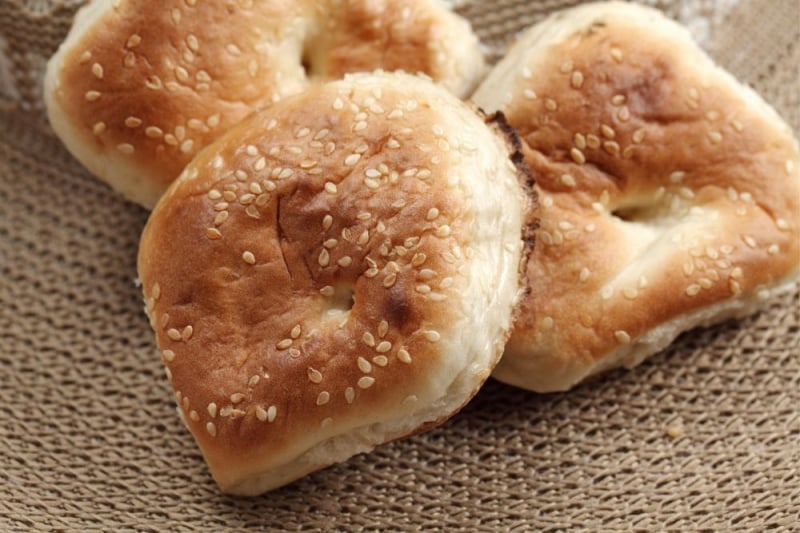 Sibu Kompia (sometimes spelt gong pia) is another must-try snack Sarawak. This budget-friendly pastry is also affectionately regarded as the Foochow burger or Foochow bagel. Kompia is made with high-protein flour, and alkaline water, then sprinkled with sesame seeds on top. The buns are flaky and fluffy and come in two different types: Kompia masin (savoury) or Kompia manis (sweet). Sometimes, kompia is served with stewed pork mince or with butter and kaya!
For the best kompia in Sibu, head to Tiong Hua Road Kompia, Sing Ming Kee Cafe, Restoran Mei Le, and Opps Kopitiam. 
Fried Chinese Rice Cake (Bai Guo Gan)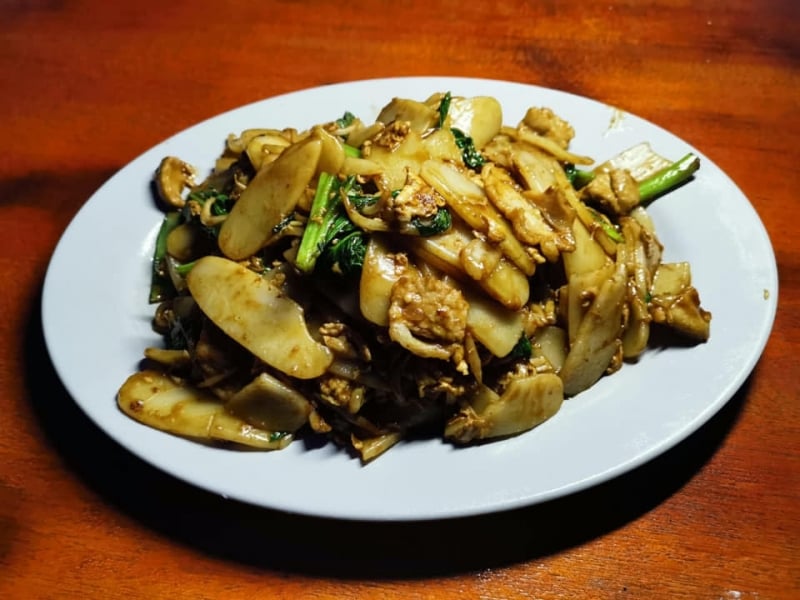 Fried Chinese Rice Cake or Chao Bai Guo Gan (or Bah Gui Gan) is another delicious Sibu delicacy of Foochow origin. Though not as famous as other Sarawakian dishes, fried Bai Guo Gan has a pleasant taste and is a favourite dish of many. It's made by stir-frying Chinese rice cake slices, eggs, vegetables, soy sauce, and other condiments. 
Some also cook it with the previously mentioned manicai which makes it more flavoursome. Visit Bak Fu Restaurant or Dai Pai Dong Cafe in Sibu to try this dish out.
Night 2: Sibu Night Market
While there are plenty of nice places to eat in Sibu, many like strolling through Sibu Night Market, a popular and locals' favourite night market that opens daily. This vibrant market is home to many affordable and delicious local delights.
Kueh Chap (Kway Chap)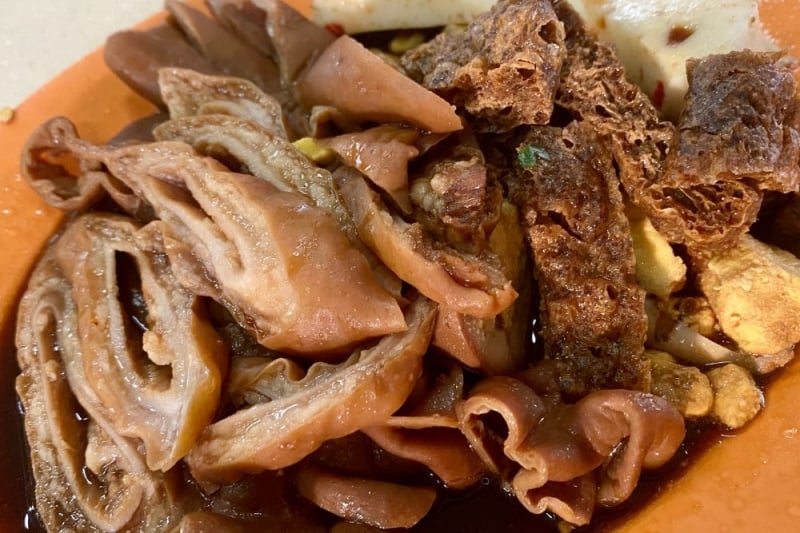 While Kueh Chap (Kway Chap) is not an exclusive Sarawakian dish, the local version is one of the most popular eats in the Land of the Hornbills. The dish consists of braised pork, pig innards, fried bean curd, and boiled eggs simmered in a savoury broth. It is usually served together with rice vermicelli noodles. Besides the Sibu Night Market, pay a visit to other restaurants like Chopsticks Sibu and Victorious Cafe to try out this tasty pork dish.
Crispy Apam Balik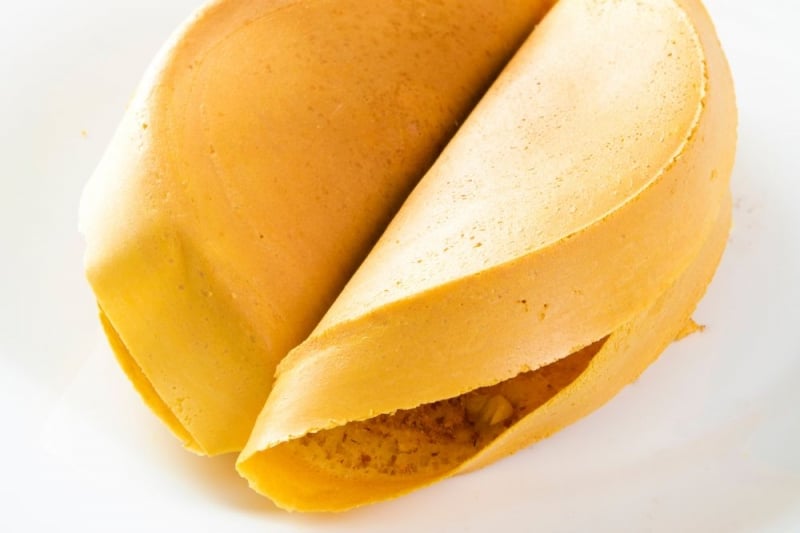 Sibu Night Market's Crispy Apam Balik is prominent for being one of the most delicious Apam Balik in the city. Both locals and tourists love the Crispy Apam Balik, aka Crispy Malaysian Pancake, describing it as a true gem in the market, as it is cheap and extremely delectable. With each bite of the Crispy Apam Balik, your mouth will be filled with the fragrant crispy crepe, sweet corn, melted butter, and crunchy peanuts. Do also savour it when it's hot, and buy a few more because I guarantee you won't get enough of its amazing taste!
Barbecued Meat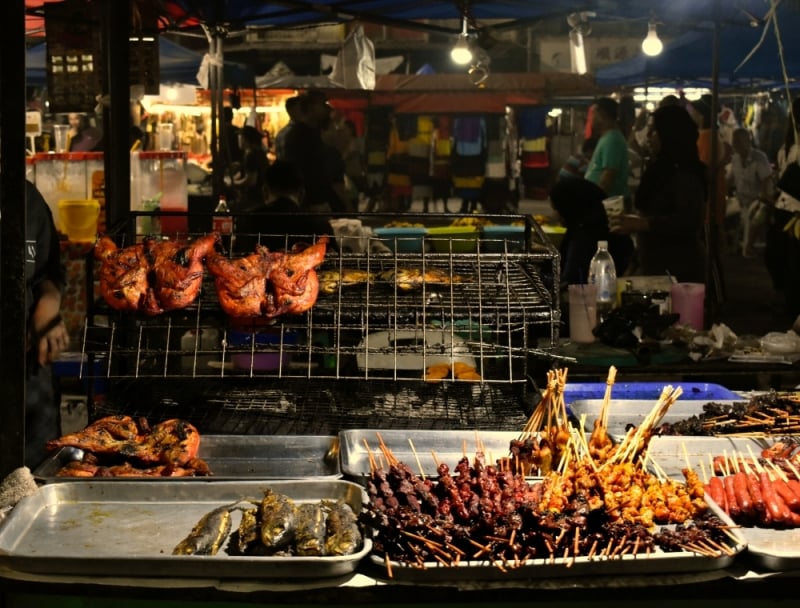 When wandering around Sibu Night Market, the first thing that catches your eye would probably be the many stalls that sell this perfectly grilled barbecued meat. These barbecue pork, lamb, chicken, and beef, are fire-grilled to a beautiful bright orange and red colour. Besides, there are also pork buns, fried fish, prawn fritters, and other food, so you will never leave with an empty stomach.
Day 3: Shop for edible souvenirs
When in Sarawak, don't forget to bring home some edible souvenirs for your family and friends! These following snacks are the most famous and easily found in most supermarkets in the state.
Kek Lapis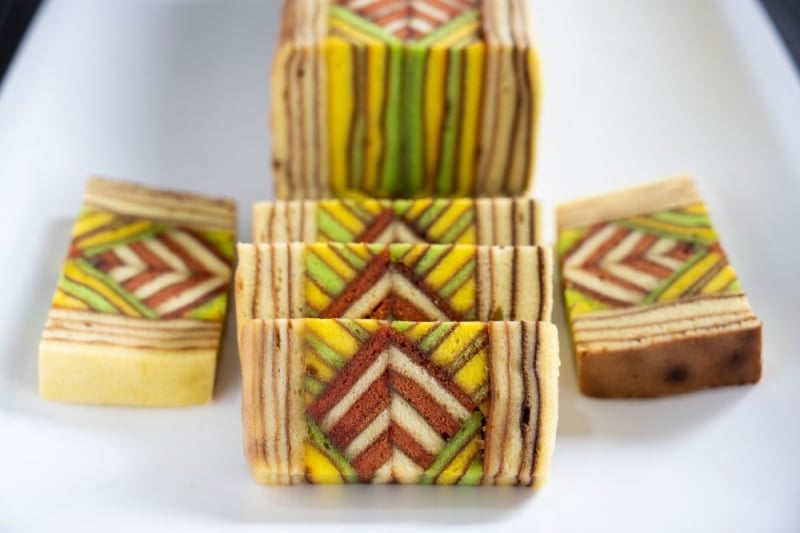 One of the best edible souvenirs a foodie can bring home is Kek Lapis, a colourful layer cake commonly that is arguably the most iconic snack in Sarawak. The cake is often served during festive seasons and celebrations, such as Gawai Dayak, Christmas, and Deepavali. Kek Lapis comprises at least two colours and the cake layers are stuck together with a sweet jam. Most Kek Lapis come in a combination of vibrant colours and stunning, perfectly arranged patterns. 
Most bakeries and cake shops in Sarawak sell Kek Lapis, but you can also find them at supermarkets and certain food courts. 
Kuih Jala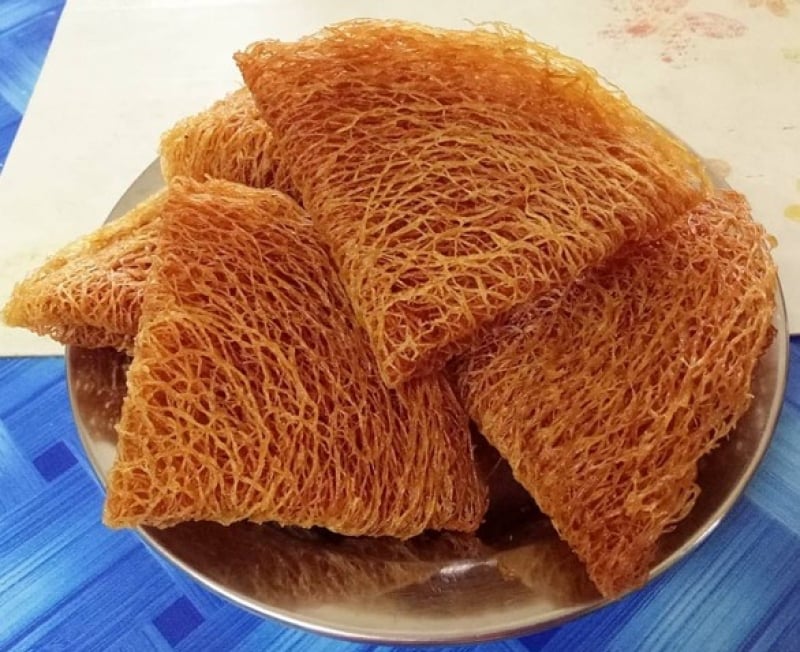 Sarawak's Kuih Jala may remind you of the Roti Jala in Peninsula Malaysia, but they're quite different. Kuih Jala is a traditional snack from Borneo, also often known as "kuih sarang semut" for the Iban people. Traditionally, the batter is made with rice flour, sugar and water, then poured into a coconut shell with tiny holes below. It is then spilt in hot oil and fried in high heat. Once cooled down, it becomes Kuih Jala, a crispy and delectable snack that leaves you wanting more. You can purchase Kuih Jala at Kuih Jala Puan Faridah, or other supermarkets and cake shops in Sarawak. They're available in pre-packed versions too. 
Tebaloi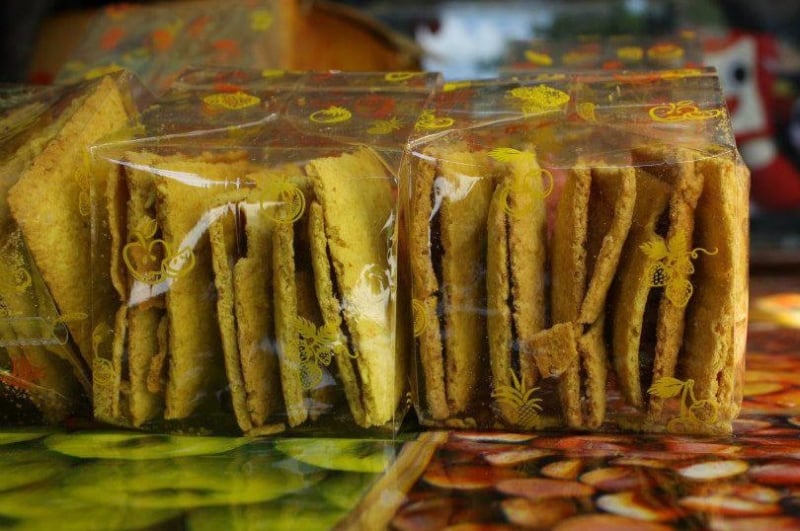 Tebaloi, or Sarawak Sago Tebaloi, is a traditional Sarawakian snack that makes a good souvenir. It is a type of sago biscuit that is fragrant and crunchy, and sometimes comes in different colours and flavours, particularly strawberry, pandan and chocolate flavours. As the name goes, Tebaloi is made with sago flour, eggs, coconut, turmeric, sugar, and other flavouring ingredients. You can usually find a big pack of Tebaloi with more than three flavours in local stores or supermarkets.
Also read: Sarawak Rainforest World Music Festival 2023: What Is It and What to Expect
Of course, the eateries and attractions listed in this 3D2N foodie's itinerary are merely the tip of the iceberg. Sarawak has so much more delicious food and fun activities to offer, all that's left to do is for you to plan a trip there and explore it all by yourself!
Ready to visit Sarawak for scrumptious cuisines and beyond?
Explore more of Sarawak while you're there by downloading the "Enjoy Sarawak" app. Simply spend above RM250 (with the over 140 travel and lifestyle packages available on the app) to redeem an RM100 voucher!
The offer is available from now till 16 Jul 2023.

---
Brought to you by Sarawak Tourism Board.