Sarawak, without a doubt, deserves mention as one of the top destinations in Malaysia. Featuring pristine beaches and ancient forests that can charm any traveller, it is truly a travel gem unlike any other. And like many other top tourist destinations, Sarawak also offers some truly memorable culinary experiences. 
Kuching, the bustling capital of Sarawak, is a cauldron of multiple cultures and ethnic groups. As such, the city is an absolute paradise for foodies, offering a plethora of different dishes, each with their own unique flavour profile from both traditional and modern cuisine. 
For the first time traveller, figuring out what and where to eat in Kuching may be quite the challenge. Don't worry about it, because today, I'm gonna share with you my top 12 favourite spots to hunt for the best eats in Kuching! Warning, food cravings ahead! 
Also read: 12 Alluring Nature Escapes In Sarawak For A Post-pandemic Break From The City
1. The Dyak (Classic Dayak Cuisine)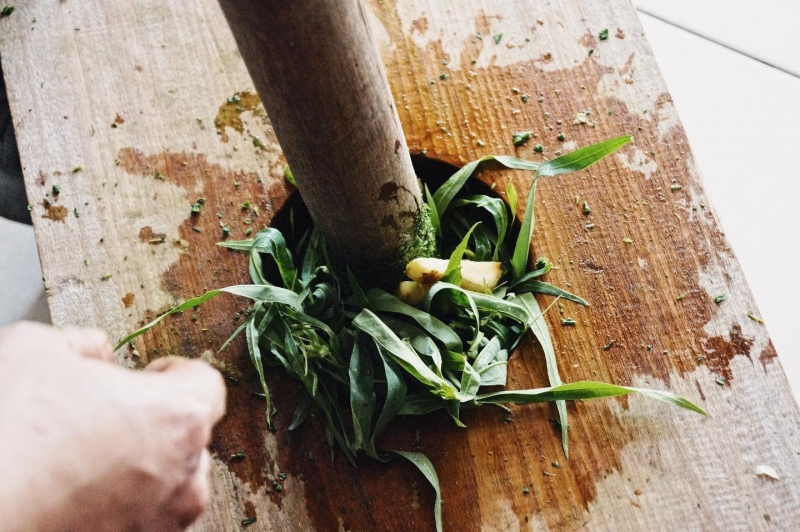 Of all the delicious food one can find in Kuching, none are as unique and rare as the indigenious cuisine of Sarawak. Known commonly as Dayak cuisine, this culinary style showcases the diverse flavours and ingredients used by the local ethnic groups in their cooking. 
There are different versions of Dayak cuisine, each varying slightly based on ethnic groups (Iban, Bidayuh etc.). While there may be some slight difference in terms of preparation, almost all types of Dayak cuisine make use of pristine ingredients and fragrant spices (belacan especially). Meat often takes centre stage too, making each meal a truly hearty affair.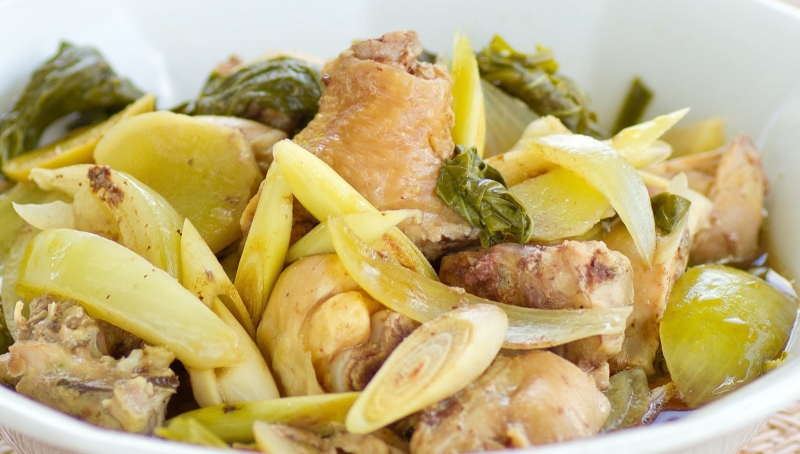 One highly-recommended place to sample classic Dayak cuisine is The Dyak. Tucked away in a corner of Panovel Commercial Complex, this popular cafe serves up stunning authentic Dayak-Kenyah cuisine in a modern, ambient setting. Serving up must-try dishes like succulent Manok Pansuh and terong asam, The Dyak is an eatery that's well loved by locals and tourists alike. 
However, one dish that I personally recommend trying is paku kubok with belacan. For the uninitiated, paku kubok is a type of wild fern that is mainly found in the jungles of Sarawak! Its tender shoots combined with the flavourful spice of the belacan is enough to make anyone's mouth water! 
Address: Sublot 29, Panovel Commercial Complex, Q5A, 93300 Kuching, Sarawak
Business hours: 12pm – 9pm (Monday to Friday); 12pm – 9:30pm (Saturday). Closed on Sundays.
2. Ling Loong Seafood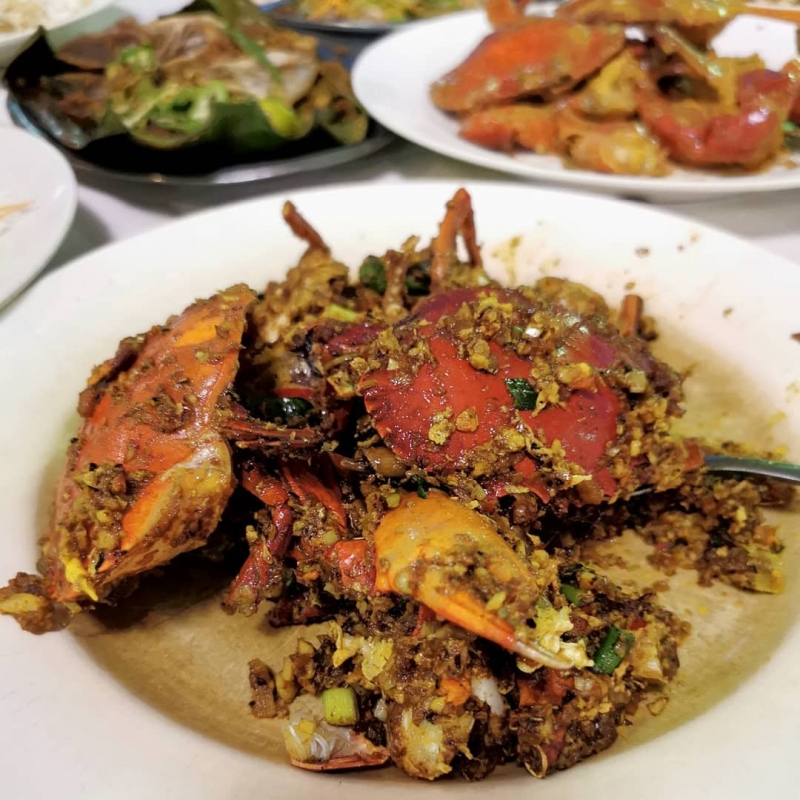 Like most world-class island destinations, Sarawak is no stranger to delicious fresh seafood. In Kuching, one of the go-to places for the best ocean feasts is Ling Loong Seafood. Located in Top Spot Food Court off Jalan Padungan, Ling Loong Seafood is the top spot (no pun intended) that locals go to to savour the freshest catch of the day! 
From succulent crabs and crunchy fried calamari to the freshest fall-off-the-bone steamed fish, Ling Loong Seafood offers both the variety and quality that will satiate even the pickiest eaters. In addition to the pristine seafood (we highly recommend the butter salted egg crabs), you can also find other dishes like their signature tofu and fried midin, which is a type of wild fern that ONLY grows in Sarawak! What's more, it's also certified Halal! 
Address: 6th Floor No 6 & 33, Jalan Padungan, Taman Permata, 93100 Kuching, Sarawak
Business hours: 4pm – 10.30pm daily
3. Song Kheng Hai Hawker Centre (Kompia)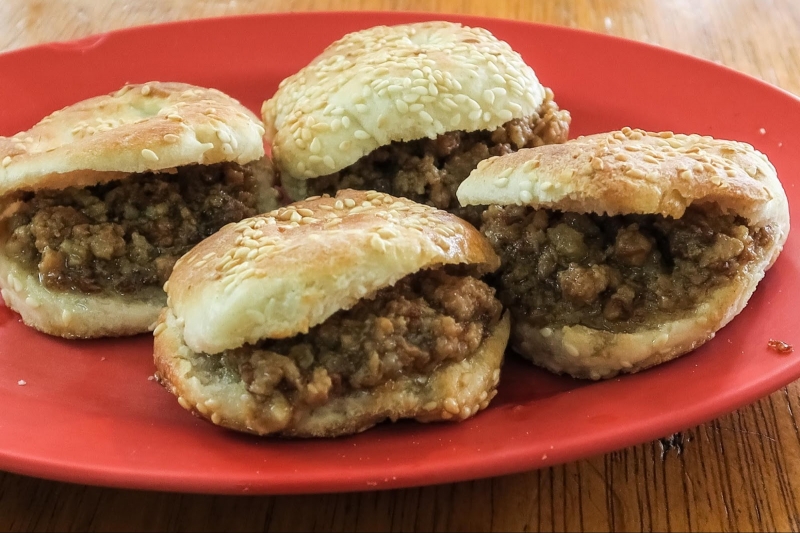 Kompia is a Foochow delicacy that is famous in Sibu. Known sometimes as the Foochow burger, kompia usually consists of savoury minced pork that's sandwiched between crusty baked buns that have a fluffy texture. Sometimes, the buns are also dotted with toasted sesame seeds which add another dimension of fragrance to the mouth-watering treat. 
What makes Kuching such an awesome foodie paradise is that it offers some of the most iconic delicacies from across Sarawak all in one place. To sample the best kompia without making the trip to Sibu, head on over to Song Kheng Hai Hawker Centre and look for stall number 7 (Rihga). The stall, which is famous among locals, sells four different kinds of kompia: traditional minced meat, ham, cheese, and garlic. Why stress over which one to get when you get one of each?  
Address: Jalan Song Kheng Hai, 93100 Kuching
Business hours: 11.30am to 5pm daily
4. Choon Hui Cafe (Laksa)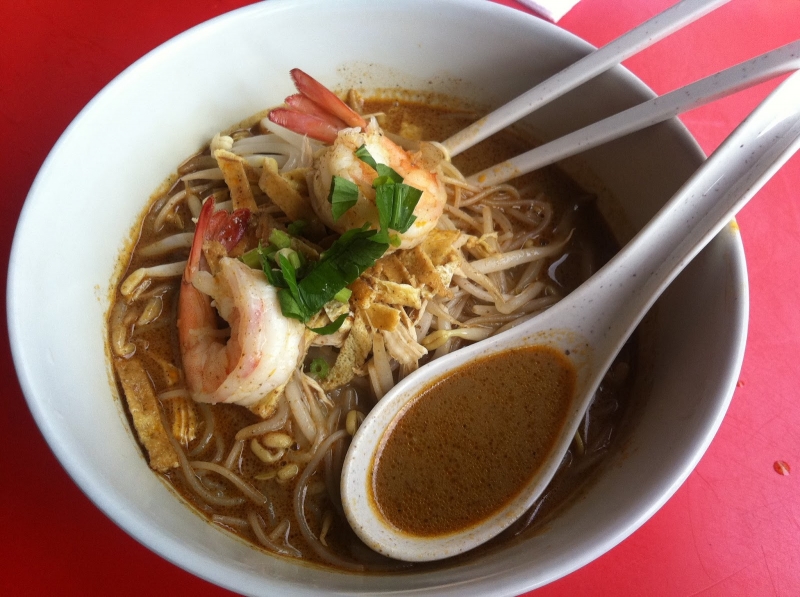 To be called "Breakfast of the Gods" by arguably one of the most famous celebrity chefs who has ever lived is certainly a great compliment. Those of us who used to follow the adventures of the late Anthony Bourdain will fondly remember the episode in which he visited a little kopitiam in Kuching and fell in love with the bowl of Sarawak laksa that he ordered. 
That same bowl of laksa is still being served today in Choon Hui Cafe! Just thinking about the rich, aromatic broth, combined with springy noodles and succulent prawns and shredded chicken is making my tummy rumble! I personally rank this as one of the very top dishes you must sample in Kuching! Apart from Sarawak laksa, the toast and boiled eggs set and popiah are also cult favourites here. Just make sure you get there early because the laksa runs out by 10:30am! 
Address: 34 Jalan Ban Hock, 93100 Kuching
Business hours: 6.30am to 10:30am daily; closed on Mondays
5. Noodle Descendants (Kolo Mee)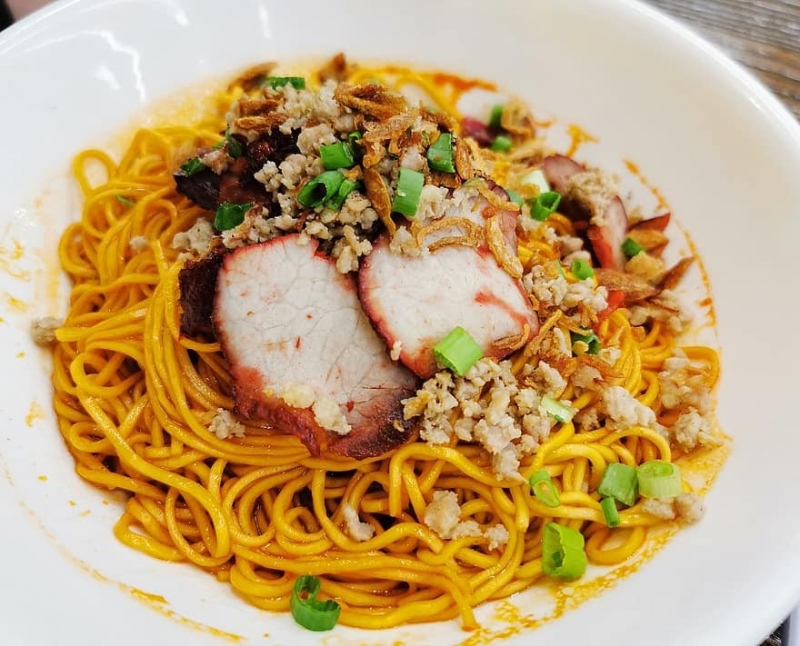 While Sarawak laksa is one of the most iconic dishes in Sarawak, the one dish I never miss out on when I'm in Kuching is Kolo Mee. Frankly, I love this dish so much and since it's not as easy to find this in Peninsular Malaysia, I make sure to never miss a chance to slurp up this delicious staple noodle dish. 
For those who've never tried it (how?), Kolo Mee usually comes with springy noodles, minced meat (usually pork), and slices of char siew. The noodles are then tossed in an aromatic sauce and topped with spring onions. Basically, every mouthful is a wondrous matrimony of flavour and texture. 
My favourite place for Kolo Mee is Noodle Descendants on Jalan Padungan. Operating since 1957, I'm sure many locals will agree with me that it is one of the best stalls in Sarawak for Kolo Mee. What's more, Noodle Descendants pair their Kolo Mee with a piping hot bowl of broth with pork innards (known as zheng)! Trust me, one bite and you'll be in foodie paradise! 
Address: No. 188, Jalan Padungan, 93100 Kuching
Business hours: 7am to 2pm daily 
6. Woon Lam Cafe 1999 (kueh chap)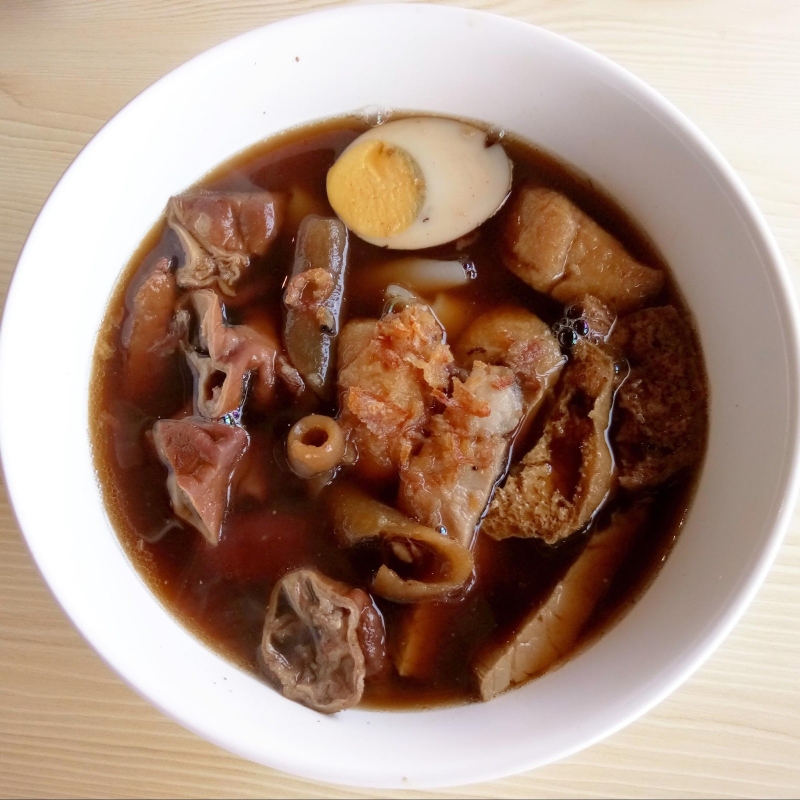 For a more rustic culinary experience, I recommend giving kueh chap a try. A traditional Chinese dish that's pretty common in Kuching, kueh chap is essentially a bowl of rich, herbal broth that contains various cuts of pork and even includes some innards. It is usually served with flat rice noodles that are torn by hand. 
Locals in Kuching typically head to Woon Lam Cafe 1999 whenever they develop a craving for this comfort food. This humble establishment has been around for almost 30 years, serving hearty bowls of kueh chap to loyal customers both young and old! While it may be an acquired taste for some, I feel that kueh chap at Woon Lam Cafe 1999 is one culinary gem that's too good to pass up on!
Address: 187–189, Jalan Song Thian Cheok, 93100 Kuching
Business hours: 6am to 6pm daily
7. 333 Charcoal Fried Kway Teow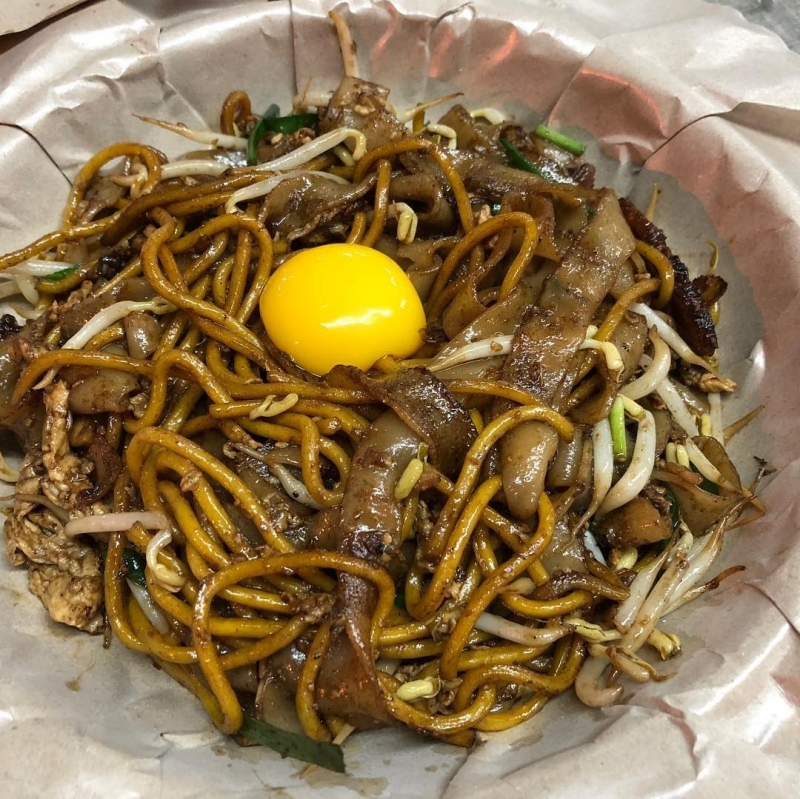 As a Penangite, I take my char kway teow very seriously. So when I say that Charcoal Fried Kway Teow at Jalan Chawan is the best fried kway teow in Kuching, you'd best believe that is the case! Using the traditional method of cooking kway teow over a charcoal stove (everyone say wok hei with me!), 333 Charcoal Fried Kway Teow is one of the most beloved food stalls in the city, having been around for quite some time. 
The stall sells eight different varieties of the smoky dish, with the salted egg fried kway teow and the moonlight char kway teow (egg yolk over the rice noodles) being the most popular orders. Apart from smoky char kway teow, one should also try the popular charcoal char siew rice and chicken wings. They are a real hit among locals too! 
Address: 333, Jalan Chawan, Taman Supreme, 93300 Kuching, Sarawak
Business hours: 6pm – 10pm daily; closed on Sundays 
8. Old Rex Cucur Udang Cafe @ Rubber Road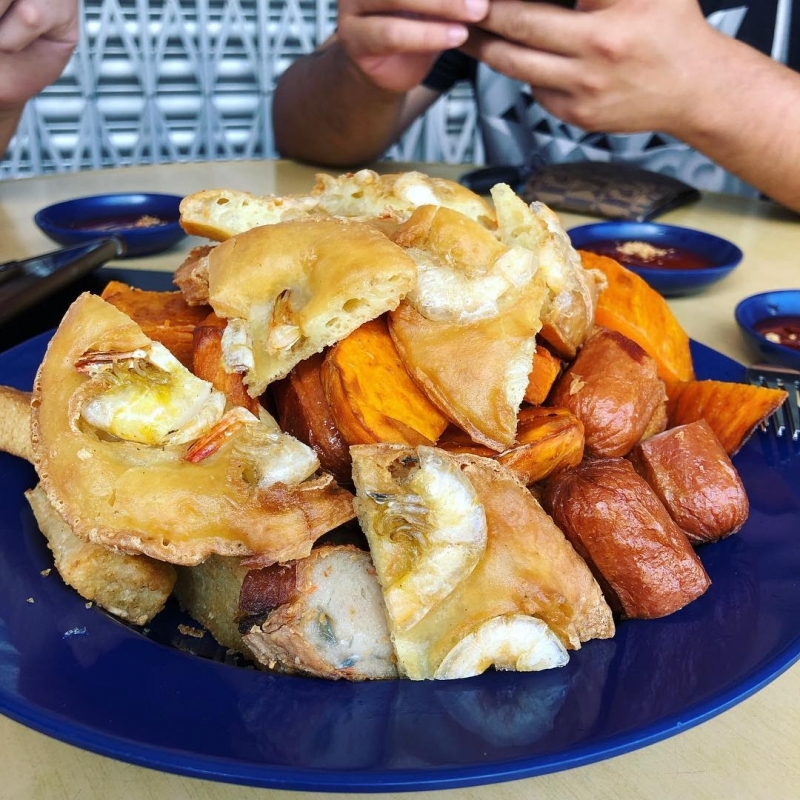 For a delightful afternoon snack, nothing beats the addictive crunch of crispy cucur udang! For those who have never had cucur udang, it is a local prawn fritter made using small prawns that are lathered in batter and then deep fried to perfection. Cucur udang usually comes with a side of dipping sauce and can be a snack all on its own or served with other ingredients. 
Old Rex Cucur Udang Cafe is arguably one of the best cucur udang places in Kuching, if not Sarawak! It's crispy cucur udang is often served alongside other typical lobak ingredients and is one of the most popular dishes in the cafe. Apart from the crunchy prawn fritters, you can also try other delicacies like belacan beehoon and various local desserts! 
Address: 437-438, Rubber Road, 93400, Kuching, Sarawak, 93400
Business hours: 6:30am – 5pm daily, closed on Mondays
9. Mira Cake House (Sarawak layer cake)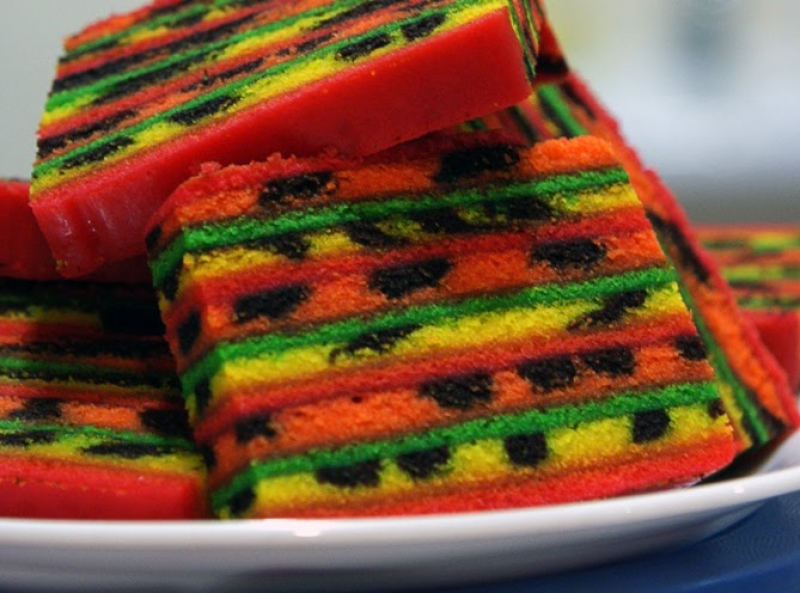 Colourful, yummy oh, so indulgent, Sarawak layer cakes are the epitome of the perfect take-home souvenir. They're also one of the must try local delicacies in Kuching. After all, it is here where you will find the flagship store of Mira Cake House, Malaysia's most popular Sarawak layer cake franchise. 
Featuring intricate designs and a kaleidoscope of colours and ingredients, Mira Cake House's moist layer cakes are incredibly addictive. Their original flavours are one of their best-sellers, with other more innovative flavours like chocolate cheese and even Famous Amos cookies on offer! 
Address: 43, Jalan Brooke, Kampung Gersik, 93050 Kuching (Flagship store)
Business hours: 8am to 12am daily
10. Chong Chon Biscuit Maker (Traditional Chinese pastries)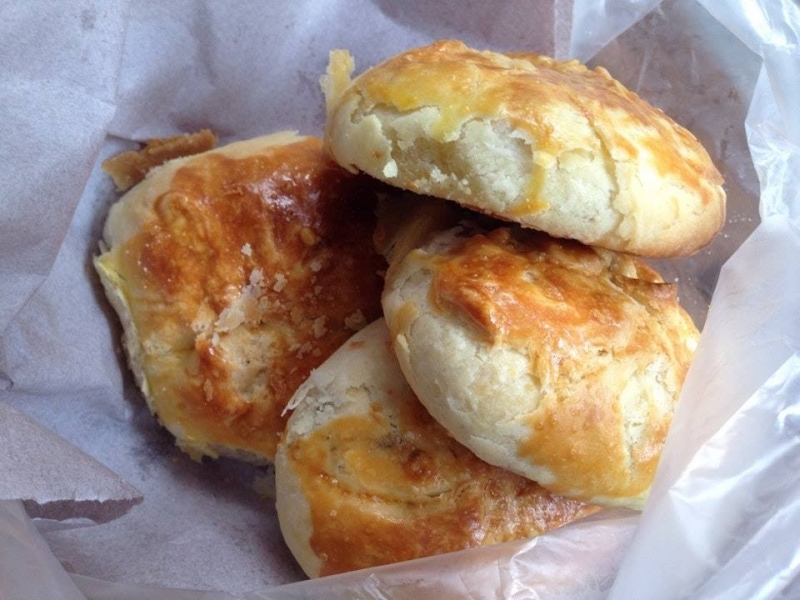 There's always something delightfully delicious about biting into traditional Chinese pastries. Be it the piping hot filling or the flaky exterior that just falls off at the slightest touch, traditional pastries are truly enjoyable culinary gems. This is especially true when they're just fresh out of the oven!
Chong Chon Biscuit Maker at Kai Joo Lane  is a traditional pastry shop that has reached legendary status in the city. Started over 50 years ago, it serves authentic Chinese (Hong Kong style) pastries to eager customers who sometimes line up for hours just for a taste of the popular pastries. The stall's most popular items include the char siew siew pau (which contains bite-sized pieces of BBQ pork!), the yam puffs, and Hong Kong egg tarts! 
Address: 6, Kai Joo Lane, 93000 Kuching, Sarawak
Business hours: 9am – 5pm daily; closed on Sundays
11. Abee Traditional Buns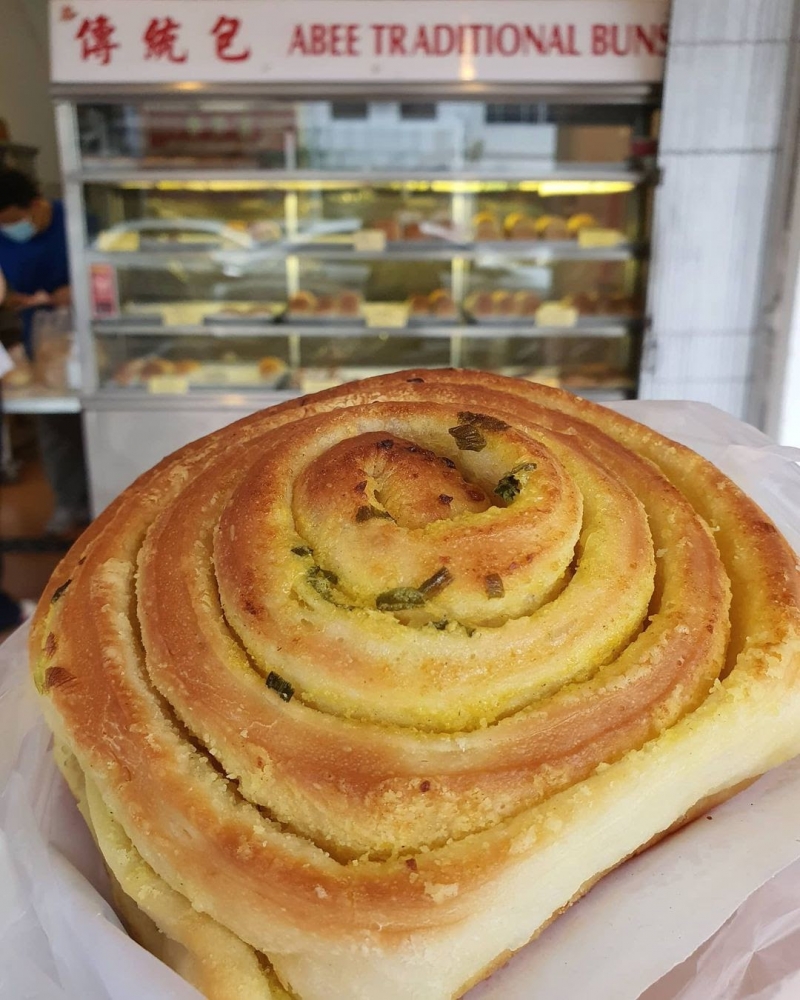 From traditional Chinese pastries, we move on to traditional bakeries! For many of us who are of a certain age, Abee Traditional Buns is a nostalgic throwback to those retro local bakeries that used to be the norm. Increasingly rare to find these days, these bakeries sell a variety of simple buns and pastries, often relying on taste and technique to win over loyal customers. 
Abee Traditional Buns certainly does this well, as evidenced by the (often) long lines that queue up at their storefront in the mornings for a quick breakfast bite. Their top-sellers are the sweet yet savoury butter buns by far. Fluffy and soft, these simple treats, when fresh out of the oven are eternally delicious. Their stuffed coconut buns are also pretty popular! 
Address: 180, Jalan Padungan, 93100 Kuching, Sarawak
Business hours: 7:30am – 6pm daily
12. Hui Sing Hawker Centre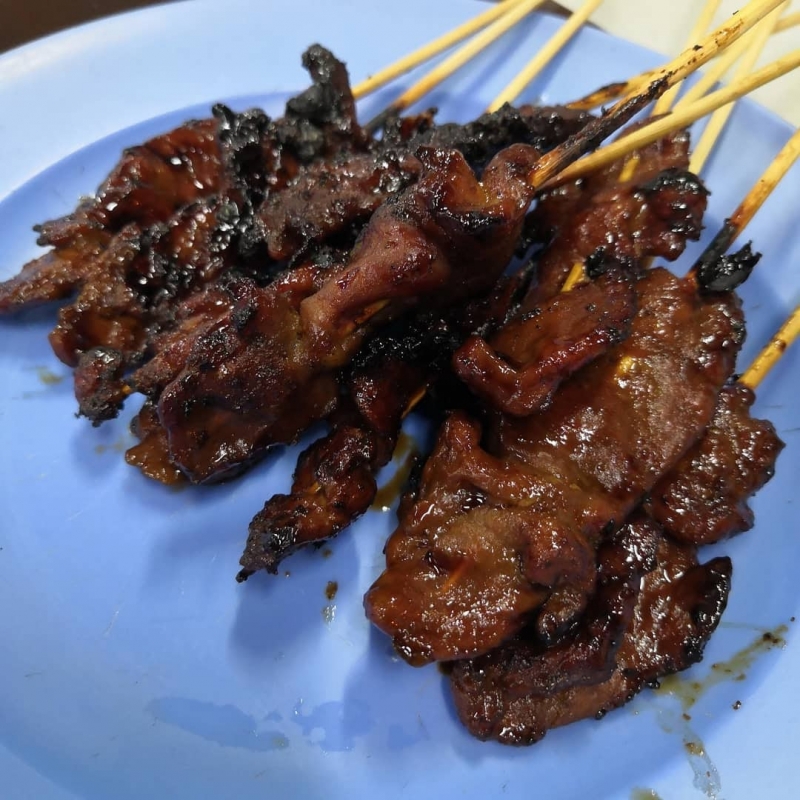 As a true blue Malaysian, I can confirm that nothing is as enjoyable as dining in a hawker centre. The variety, the bustling crowds, the open air simplicity, it's truly one of my favourite culinary experiences. In Kuching, Hui Sing Hawker Centre is widely regarded by many as one of the best in the city, beloved by all generations. 
From classics like crispy tomato mee (very unique local dish) and kampua mee to refreshing desserts like ais kacang, Hui Sing Hawker Centre has it all. However, my personal favourite is the juicy pork satay from Hap Chen Hian. Served with fresh cucumber, the pork satays are grilled to perfection and every bite is a mouthful of juicy, tender meat that seems to melt in your mouth. Oh, my mouth is watering already! 
Address: 169-177, Lorong Taman Hui Seng 3, Taman Hui Sing, 93350 Kuching, Sarawak
Business hours: Varies by stall
Also read: The Sarawak Post-pandemic Travel Guide: Places To Visit And The Sops You Need To Know
Let the food hunt begin! 
And there you have it, my personal top 12 spots for the best food in Kuching! Of course, there are plenty of other fantastic eateries in the city, so much so that I couldn't possibly cover them all in one go. There are also plenty of Halal options for the same dishes mentioned above so regardless of your preferences, Kuching is truly the ultimate foodie destination in Sarawak! Whet your appetites, my friends, because it's time to dig in to some sumptuous Sarawakian cuisine! 
---
Brought to you by Sarawak Tourism Board